The Consumer Electronic Show 2021 is taking place virtually this year in lieu of the COVID-19 pandemic. We are keeping a close watch and have a complete list of all AR and VR at CES 2021! From products to concepts, there is plenty to unpack?
So, does CES 2021 have any:
new VR headsets?
new virtual reality companies making their debuts?
any exciting augmented or virtual reality products or apps?
We have all of the details below. If we've missed anything, make sure to comment down below and let us know.
The Top AR and VR at CES 2021
Once we have look at all augmented and virtual reality products at the Consumer Electronics Show 2021, we will post our best-of list here.
What is the Consumer Electronics Show?

The Consumer Electronics Show is the biggest tech event in the world. It takes place yearly in Las Vegas and is a 4 day event that showcases technology and innovations. Some of the world's biggest brands unveil and showcase new hardware and software that will be released in the future. Over 120,000 people go through CES in Las Vegas each year.
Augmented reality and virtual reality have both been prominent at the CES show in previous years. HTC has showcased new VR headsets at the show before. Each year, companies show off their augmented reality-enabled products.
CES also features a conference program with presentations from the world's business leaders. They discuss the future of technology and address the industry's issues.
CES 2021
CES 2021 took place from January 11th – 14th. Due to the COVID-19 pandemic, CES is all virtual this year. Certified media members could apply for a virtual pass to the event. All keynote speeches and product showcases were virtual and online.
Next up, we will showcase all of the best AR and VR at CES 2021.
Virtual Reality Products at CES 2021
bHaptics TactSuit X40
bHaptics is a full body tracking solution for VR games. It is a Wi-Fi-powered wearable device that gives VR enthusiasts full body tracking while in place. It consists of a few different pieces:
Tactosy arm sensors
Tactot vest
hand and feet fits
a mask that is attached to your HMD display
The new TactSuit X40 contains 40 different sensors for tracking and haptics. This is less sensors than the original TactSuit, but makes the X40 much cheaper than other full body tracking solutions in the past.
The bHaptics Tactsuit gives vibrating feedback. If you are playing a first-person shooter game, you will immediately feel where shot are coming from if your enemy shoots you. This makes you respond more accurately since you can feel the direction your enemy is firing from.
The TactSuit X40 is a CES 2021 Innovation Awards Honoree in Virtual and Augmented Reality. It's one of the top VR at CES products.
Click here to view the bHaptics TactSuit.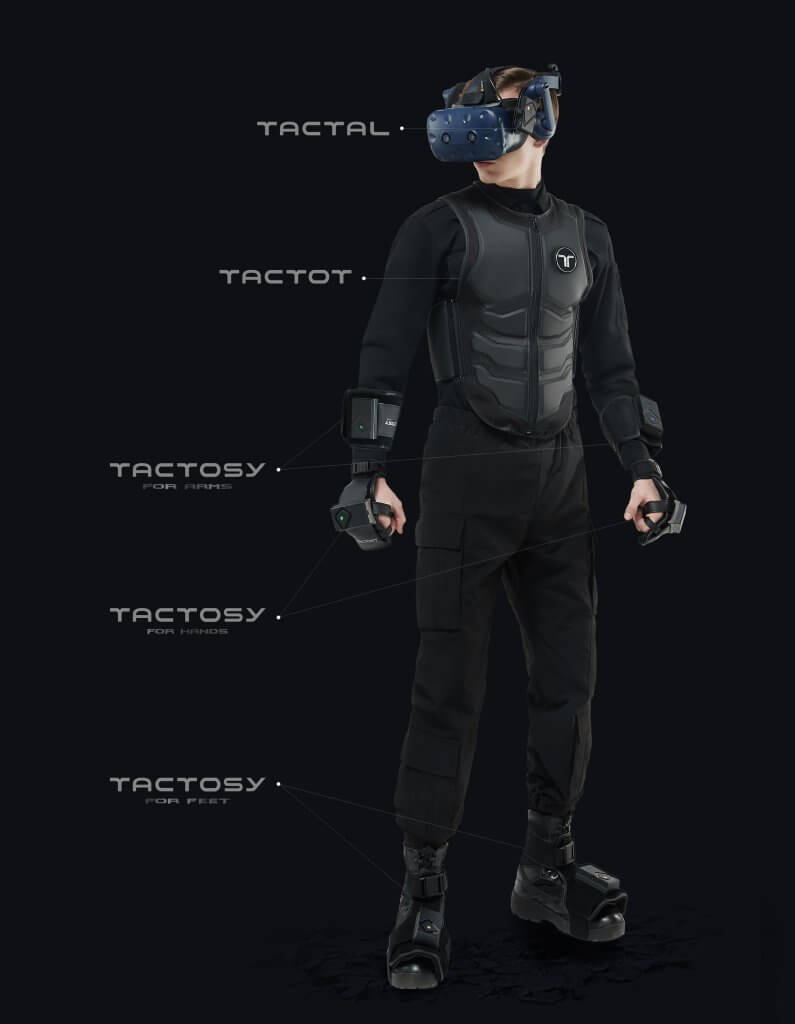 New Slim Panasonic VR Glasses
Panasonic unveiled new mixed reality glasses at CES. The glasses are slimmer than any consumer VR headset available today. The glasses feature 6 degrees-of-freedom movement and a few other improvements verses last year, where Panasonic unveiled a similar prototype.
The Panasonic VR glasses contain no onboard computing or power. Instead, it connects to either a 5G smartphones or PC via a USB-C cable. It's close to a lightweight tethered option for those that want VR without the extra bulk on your face. Panasonic also said that the glasses work with SteamVR, which could be big for those that want to play the best PC VR games.
Other improvements to the glasses this year over earlier prototypes are:
Integrated audio in the frames instead of dangling earbuds
Better weight distribution
IPD adjustment
Diopter adjustment
The field of view for the glasses is estimated to be 70 degrees, less than other consumer VR headsets. There was no price or release date announced.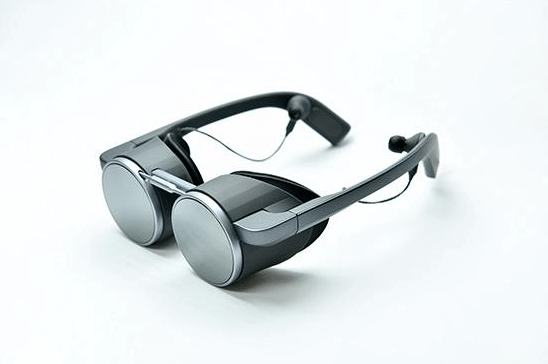 Nolo VR Headsets
Nolo, a popular motion tracking, unveiled two traditional VR headsets at the event. They were the only new consumer hardware for VR as CES.
The first headset is cloud-based solution featuring the Nolo N2 mobile VR headset. The N2 is a Google Cardboard-style display. The kit comes with the Nolo CV1 Pro motion tracking kit. It connects to your smart phone over Wi-Fi to stream cloud VR content over 5G or WLAN. The bundle is aimed for mobile network operators focused on cloud VR projects and was developed with China Mobile.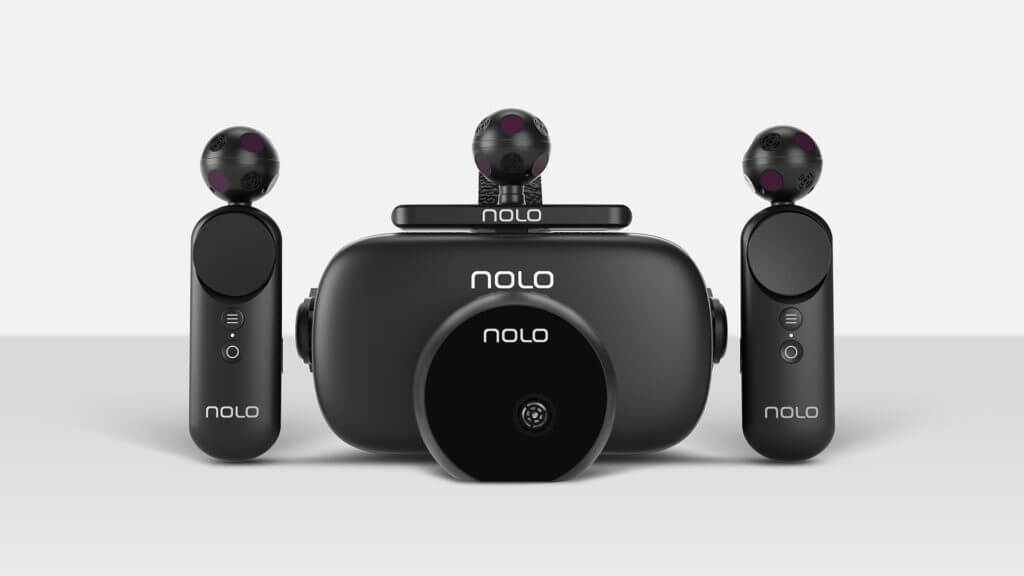 The second Nolo VR headset unveiled by the company was a new standalone headset called the X1. It features:
ultrasonic positioning technology
dual-camera SLAM system
6 DoF inside-out tracking
Steaming of cloud VR content over 5G or WLAN
The headset comes with two Oculus Touch-style controllers. It is aimed for mobile networks and commercial brands. It is unlikely that the new Nolo VR headset will be available for purchase in North America anytime soon.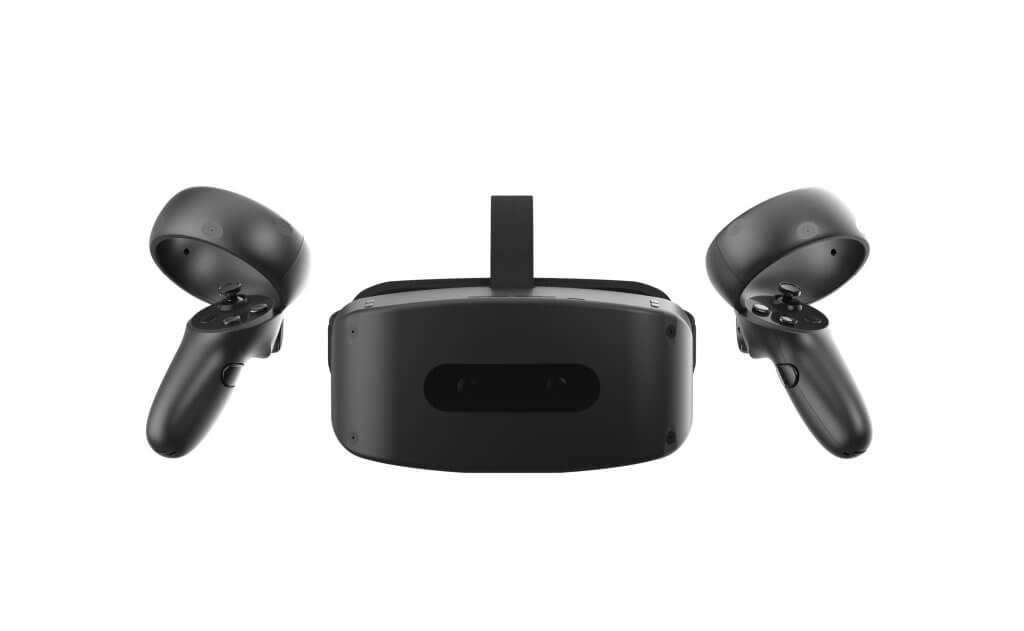 New Nvidia VR-ready Laptops with RTX 30-series GPUs
Nvidia announced brand new VR-ready laptops featuring their new RTX 3060, 3070, and 3080 GPUs.
VR-ready laptops with the RTX 3060 GPU launch on February 2nd and start at $999 USD.
Laptops with the RTX 3070 and 3080 launch on January 26th and start at $1299 and $1999, respectively.
The news comes as many potential buyers have been unable to get their hands on the RTX 30-series GPUs due to low stock everywhere. That applies to both the Founders Edition and third party GPUs using Nvidia's 'Ampere' architecture.
At CES, Nvidia called the upcoming launch its biggest laptop launch ever. Over 70 different VR-ready laptops from all manufacturers are in on the launch.
The company is making bold performance claims, saying that the RTX 3060 $999 options are more powerful than the PlayStation 5 or previous RTX 2080 SUPER laptops which launched at $2000.
You can view more information on how to buy these laptops in our Nvidia 30-series guide.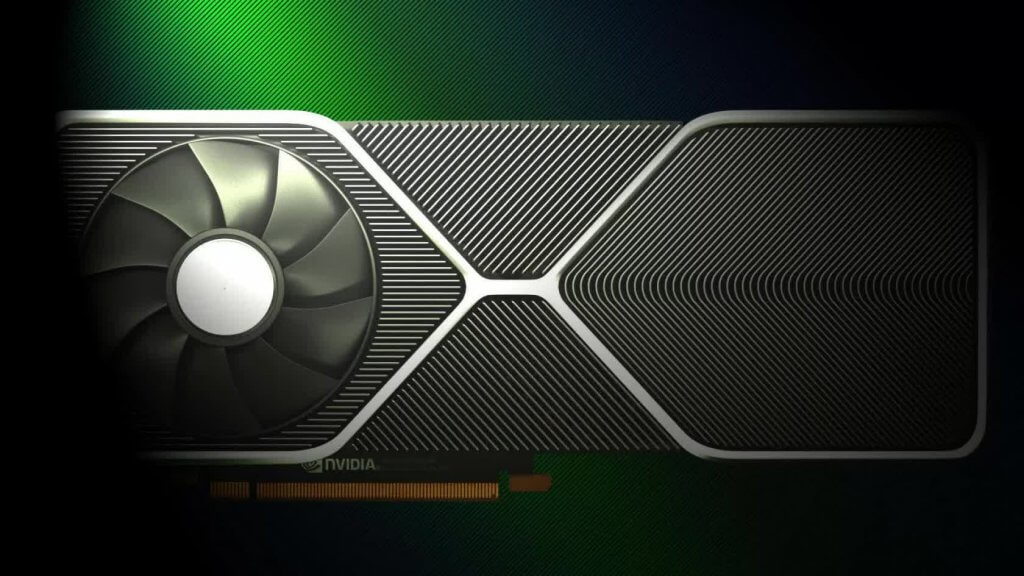 Augmented Reality Products at CES 2021
Lenovo AR Glasses
Lenovo unveiled new augmented reality glasses at CES 2021. Not many details are fully known about the Lenovo AR glasses yet, but the company promises more information soon.
You can see in the pictures below that the glasses contain video sensors in the upper corner of each glass frame. All of Lenovo's augmented reality focus so far has been in the enterprise world. That's not to say that these glasses aren't for consumer use, but history would dictate that they are made for businesses.
Vuzix Next Generation Smart Glasses (NGSG)
Vuzix showcased it's next generation smart glasses at CES 2021. It's one of the first consumer AR glasses being released in 2021, ahead of Facebook's Project Aria results. The Vuzix NGSG combines smartphone and smartwatch capabilities into comfortable glasses that enable hands-free connectivity. They feature a see-through 3D display powered by one of the smallest micro-LED displays ever.
The Vuzix AR glasses connect to your phone, but enable hands-free easy voice commands and gestures to get information from your phone.
An overview of the Vuzix Next Generation Smart Glasses can be viewed on YouTube and a hands-on sneak peek of can be viewed here.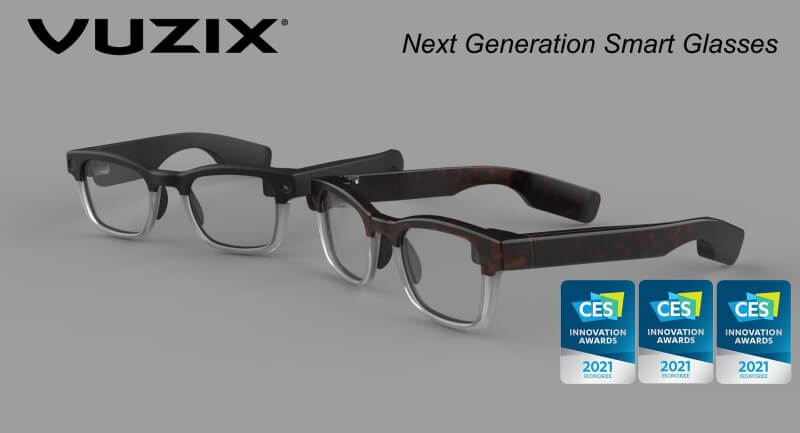 Youcam Video
Youcam Video is a brand new augmented reality app from Perfect Corp that was unveiled at CES 2021. It is built on the popular YouCam Makeup app.
Youcam Video lets users edit portrait-style footage with makeup, reshape facial features on selfie videos, and add stunning video effects in seconds. It is the most accurate way to edit videos on the fly. All edits are applied in real time and show as the video plays.
Youcam features patented AgileFace technology that tracks each individual's facial features to deliver a natural-looking makeover.
Other YouCam Video features arae:
Hundreds of instant makeup styles, including lipstick, eyeshadow, eyebrows, eyelashes, eyeliner and blush.
Extensive selection of reshape and retouch tools for selfie videos including face slimming, as well as eye, nose and lip fine-tuning and skin smoothing.
True-to-life hair colors in a wide range of styles for users to experiment with, including single color and ombré.
Wide selection of stunning video augmented reality effects.
Quick and easy social media sharing to Snapchat, TikTok, and more.
The new Youcam Video app can be downloaded here.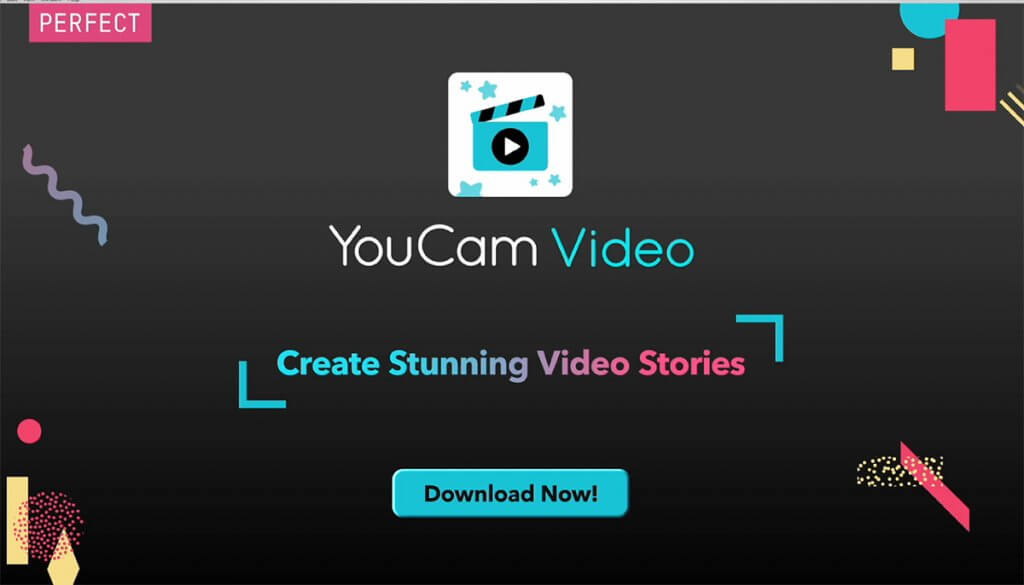 Other AR and VR at CES: Tidbits
Other than new products, there was plenty of other AR and VR at CES. Companies used augmented and virtual reality to showcase their stuff during the virtual event in unique ways. Some examples were:
John Deere sent out Oculus Quest 2 headsets to some media members, which had an interactive and virtual demo of their upcoming 2021 products.
Hisense is adding its 2021 TV lineup to its Hisense AR app so that you can view its new TVs in augmented reality in your home.
What augmented and virtual reality products from CES 2021 are you excited about? Comment below and let us know.