The Consumer Electronics Show, CES 2022, took place from January 5, 2022 to January 8, 2022 at Las Vegas. In this article, we'll cover all of the AR and VR at CES 2022.
We have been keeping a close eye on all things AR and VR at CES and have a complete list of everything AR/VR related so you don't have to search for it elsewhere.
From new concepts and designs to products, there's a lot to unravel in this article.
Here are the pointers from CES 2022 you should know about being an AR/VR fanatic:
Which product or concept are you excited about? Where do you think the VR industry is heading in 2022 and further? Let us know in the comments section down below!
Must-read: The Best VR Headset in 2022: The Ultimate Guide
What is the Consumer Electronics Show?
The Consumer Electronics Show is the biggest tech event in the world. It takes place yearly in Las Vegas and is a 4 day event that showcases technology and innovations.
Some of the world's biggest brands unveil and showcase new hardware and software that will be released in the future. Over 120,000 people go through CES in Las Vegas each year.
Augmented reality and virtual reality have both been prominent at the CES show in previous years. HTC has showcased new VR headsets at the show before. Each year, companies show off their augmented reality-enabled products.
CES also features a conference program with presentations from the world's business leaders. They discuss the future of technology and address the industry's issues.
CES 2022
The CES 2022 was held in Las Vegas between January 5th, 2022 and ended a day prior to the scheduled closing day on January 8th, 2022 owing to the COVID-induced decision made by the Consumer Technology Association (CTA) that runs the event.
It was conducted digitally and as an in-person event at Vegas. The pandemic forced most companies to not attend the event and instead host virtual shows, one of the few changes the pandemic brought to the event. You could watch all CES content in VR via the Bigscreen VR app.
We couldn't make it to the CES 2022 physically but made sure to follow all the AR/VR at CES this year so we can get you the best of concepts and products unveiled at the event. Read on to know about the newest entrants into the AR/VR market!
Without further ado, let's get started with the AR/VR at CES 2022.
Sony PlayStation VR2
The next-gen standalone VR headset for the PlayStation 5, Sony PS VR2, is one of the best kept secrets of the Tokyo-based company.
Not much was known about the headset until a blog released by Sony 3 days ago on their official website. The headset is officially released as PlayStation VR2 and the controller is named PlayStation VR2 Sense controller.
PS VR2 takes VR gaming to a wholenew level "enabling a greater sense of presence and allowing players to escape into game worlds like never before."
High fidelity visuals, new sensory features, enhanced tracking, and simplified single-cord setup are some of the key features of PlayStation VR2.
Here are some of the details shared by PlayStation about the PS VR2.
The PS VR2 will have an OLED display with a panel resolution of 2000 x 2400 per eye.
It will have a panel refresh rate of 90 Hz and 120 Hz.
It will give additional input for the game character for a new level of realism with eye tracking. This will allow you to highlight interface elements simply by looking at them.
It will have an approximately 110-degree field of view.
It will have a USB type-C connection for communication with PS5.
It will support foveated rendering.
It will have advanced controllers with finger detection, adaptive triggers, haptic feedback, and action buttons / analog sticks.
What is Foveated Rendering?
Foveated Rendering is an efficient rendering technique that uses an eye tracker with a VR headset to reduce the rendering load. It does so by reducing the image quality in the peripheral vision. It can use processing power more efficiently by rendering the content on the center of the vision.

It works by predicting the position of the wearer's eye so that the portion of the screen the wearer is looking at at any given time is prioritized for high-quality visual rendering. if leaks are top be believed, Oculus Quest Pro headset would come with foveated rendering. Note that the feature is also available to Quest 2 developers.
What the new PS VR2 will look like is still a mystery, but it is surely going to compete with the best player in the market, the Meta Quest 2.
Click here to read our complete guide on everything we know about the Playstation VR2.
HTC Vive Wrist Tracker
HTC announced its all-new wrist-attached VR controller for its business-focused headset, the HTC Vive Focus 3.
Most of the headsets currently available in the market come with a controller for each hand, and the same is used as the input device. HTC's new Vive Wrist tracker makes your hand itself a controller.
Hand tracking concept is not new to VR. VR headsets use hand tracking to monitor the position, orientation, and velocity of a user's hands using a system of inside-out cameras. HTC has taken a different route here though, although the destination is the same.
You will have to wear the Vive Wrist tracker so that the dependency on cameras is eliminated. The trackers are packed with sensors so it can see what remains hidden to the cameras.
For instance, when one hand is covering the other, or when your hand isn't in the camera range like when using a full swing of the golf club.
The Vive Wrist tracker will cost you $129 and shipping will start in the first quarter of 2022. The wrist tracker is predominantly targeted towards the enterprises who want to invest in virtual production, simulation training, and motion capture.
Also, it is apt for developers and gamers who just want to bring a new dimension to their VR toolbox and play respectively.
Click here to grab your HTC Vive Wrist tracker from the official site.
Shiftall Meganex VR Headset
Remember the HTC Vive Flow VR glasses? There's a new entrant in the sleek and portable VR headset market, the Shiftall Meganex. The Panasonic subsidiary Shiftall's extremely ultra-lightweight ultra-high-resolution Meganex caught everyone's eyes at CES 2022.
Maganex promises us of the days when we will be free of those bulky and beefy VR headsets on our faces. The Meganex is not a standalone VR headset like the Quest 2. It requires connecting to a computer via a USB Type-C cable for all the heavy graphical lifting. So don't expect to freely wander around donning this sleek pair of glasses.
It is built to be compatible with SteamVR. Its foldable frame has built-in speakers, offers a 5.2K HDR display, is extremely light and portable than most rivals.
Check out the specs of Meganex below:
1.3-inch OLED microdisplay
2560 x 2560 resolution per eye
120 Hz refresh rate
Powered by Snapdragon XR1 platform
6-DoF head position detection
Camera-based inside-out head tracking
Weighs around 250 gms without the cable
Shiftall says Meganex will cost less than $900 and the shipping should start this year.
Also read: Apple VR Headset: All The Latest FACTS
Interestingly, no announcement was made about the Apple VR headset at CES 2022. But the link above has all you need to know about the much talked-about VR headset in 2022.
Shiftall Mutalk
Shiftall also announced the launch of a prototype, the microphone cum silencer device named mutalk. The product is advertised as "leakage voice suppression microphone 'mutalk'." It works on Bluetooth and sports an internal mic that picks up and amplifies the voice while preventing it from leaking out.
When enjoying your VR time, it's obvious to shout, laugh, or yell nasty stuff at your friends which would rather be embarrassing for people around to hear. The mutalk Bluetooth mic vows to fix that by muffling the speaking voice.
It can be detached and used for conference calls as well. You simply need to attach it to the mouth when speaking. The device works with Windows, Mac, and smartphones.
Shiftall says mutalk will cost close to $200 and is expected to be out this summer 2022.
Nvidia RTX 3050 Graphics Card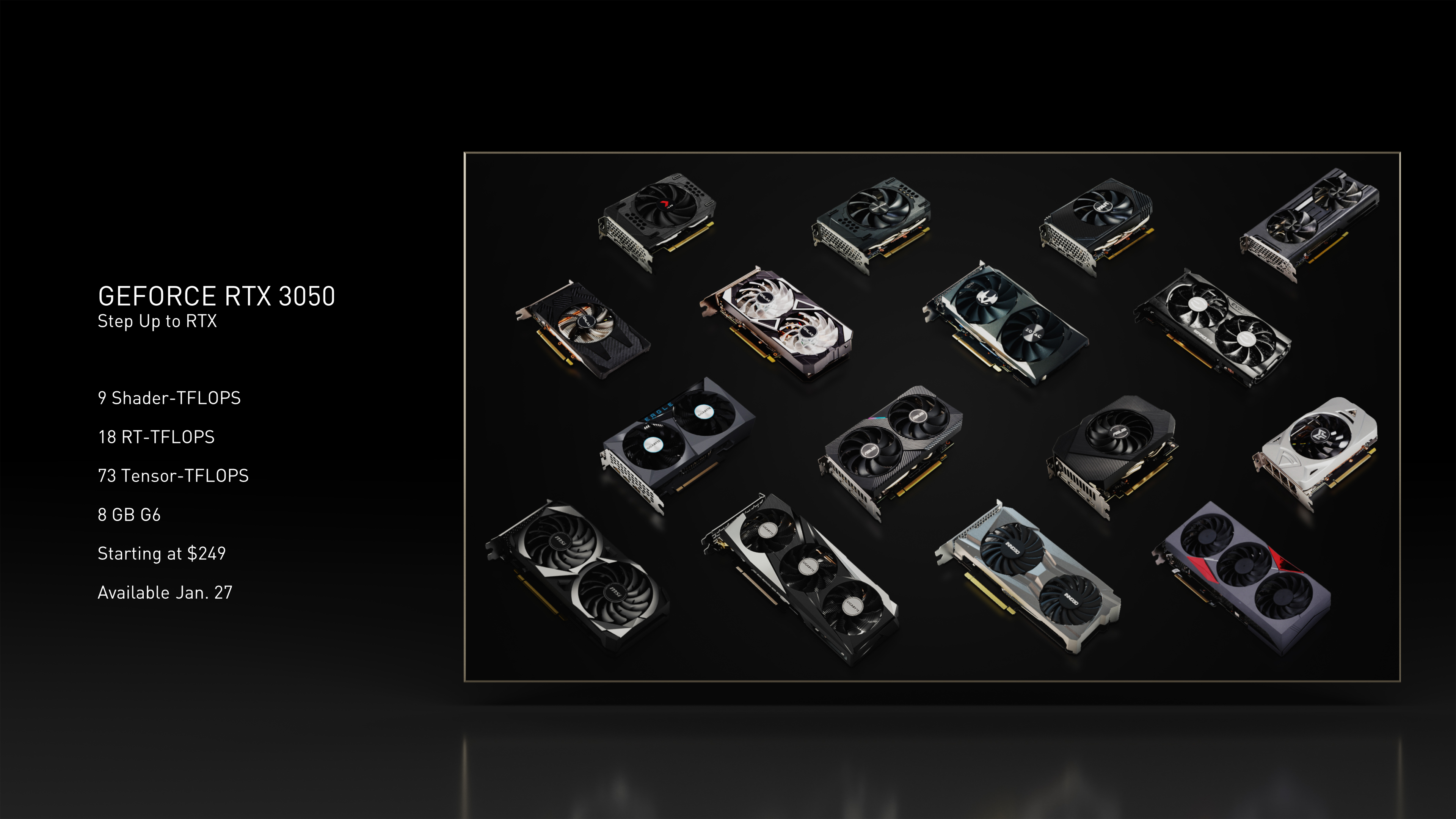 One of the best highlights of CES 2022 was the release of the Nvidia GeForce RTX 3050 graphics card. As the production value of games continues to rise, so do the GPU requirements of the modern games.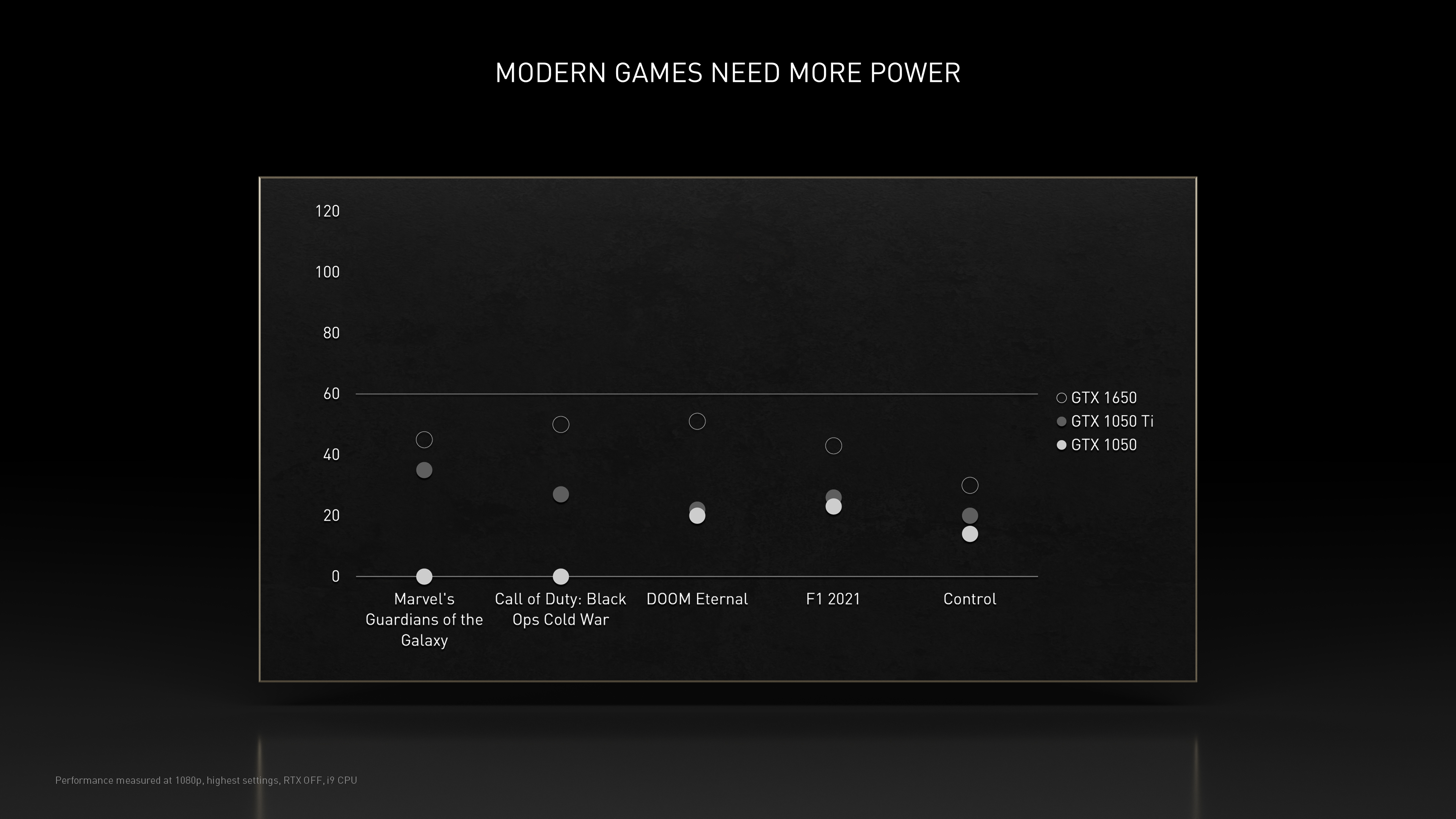 RTX 1050, or even the RTX 1050 Ti and RTX 1650 find it tough to keep up with the requirements of the latest games at 60 fps without tweaking the settings.
GeForce RTX 3050 brings together the "performance and efficiency of the Nvidia Ampere architecture to more gamers than ever before."
Nvidia Ampere architecture is a GPU microarchitecture announced in May 2020 and the first GPU to use it was the Nvidia A100. It was designed for data centers and AI, this pretty much gives an idea of the performance you can expect from the new GeForce RTX 3050.
The GeForce RTX 3050 comes equipped with RTX-powered ray tracing and DLSS standards enabling you to play ray traced games at over 60 FPS on an Nvidia 50-class GPU.
Additionally, it comes with 8GB of GDDR6 memory (a type of Synchronous Dynamic Random Access Memory with high bandwidth designed for graphics cards and high-performance computing and gaming).
Here are all the benefits you get with a GeForce RTX 3050:
Minimize system latency in games with Nvidia Reflex
AI-powered audio and video with Nvidia Broadcast app
Speed up and enhance creative apps with Nvidia Studio
Reliable game ready drivers and studio drivers
The high-end GPU like the GeForce RTX 3050 is a treat for professional VR gaming. The graphics card is priced at $249 and will be on sale worldwide on January 27th.
You might also like: Nvidia GeForce RTX 3070 Ti vs 3080 Ti For VR
Nvidia RTX 3090 Ti Graphics Card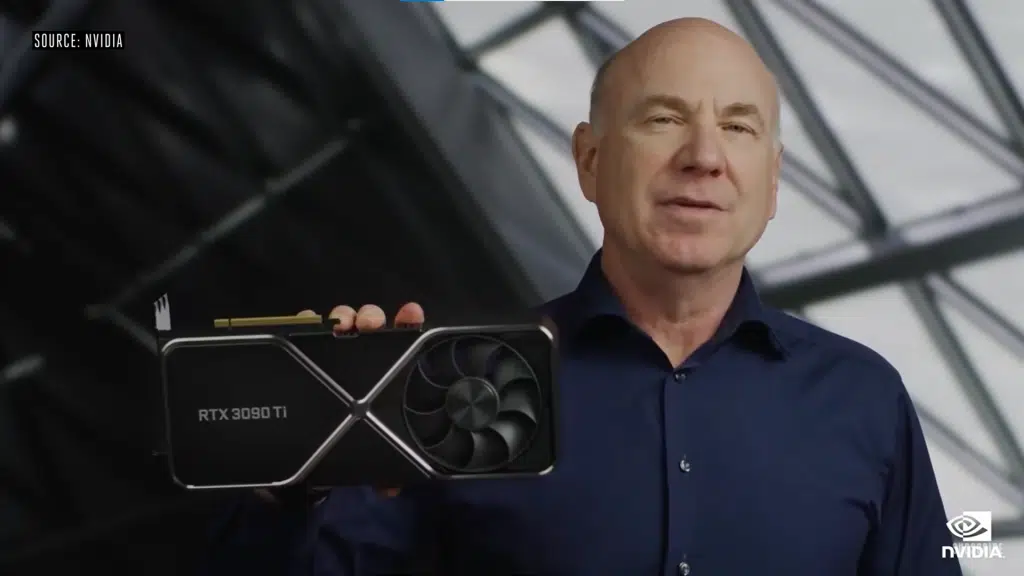 If you are seeking for the fastest graphic card around, you need to look at Nvidia's new flagship RTX 3090 Ti.
This graphics card from Nvidia easily sweeps all the superlative mentions of a graphic card. Known as BFGPU, aka Big Ferocious GPU, the Ti version of the standard RTX 3090 GPU offers a 10% speed enhancement over the standard 3090 processor.
It will have 12.5% more flops across the board and peak at 40 shader teraflops, 78 RT teraflops and 320 tensor teraflops. It will retain the same 24GB memory as the GDDR6X at 21Gbps , faster than the standard version's 19.5Gbps.
As The Verge points out, it is the same amount of VRAM as its predecessor RTX 3090 but with a close to 7.7% faster memory clock. This in turn promises for better performance for 4K gaming and AI tasks.
More details of the Nvidia's flagship graphics card are awaited, which Nvidia says to reveal "later this month." Hopefully, they will include the pricing and shipping details as well. We will update this article once we get more details about the product.
Watch the 6-minute Nvidia CES 2022 keynote below.
AMD RX 6500 XT
AMD unveiled the Radeon RX 6500 XT budget-friendly graphics card for PCs at CES 2022 at Vegas. AMD Radeon RX 6500 XT comes with a 4GB GDDR6 memory and targets the entry-level 1080p gaming segment with lower encoding / decoding capabilities in comparison with the Radeon RX 480.
It offers the same TFLOPS as the Radeon RX 6500 XT. It is based on a brand new 6nm GPU architecture and is equipped with advanced driver RSR and FSR feature support.
Given the pricing details the company is planning to launch the product, it will be interesting to see how it fares against its competitors RTX 3050 and Nvidia GTX 1650.
Dr. Lisa Su, AMD CEO, revealed that they are positioning to launch the video card at $199. In an interview with PCWorld, AMD CEO Dr. Lisa Su was quoted saying:
I think the overarching message for gamers is, we really look at this as a portfolio where we want to support the full range of gamers from top of stack to more mainstream. We understand that there haven't been enough GPUs out there in 2021. We did actually ship a lot more desktop GPUs in the second half of 21, than we did in the first half.

So not everyone has gotten them, but more people have definitely gotten them in the second half of '21. And you're going to see many more in 2022. We're positioning the launch such that—and I know, you guys always say, 'Well, yeah, they're just saying that'—but we really are positioning the launch at a $199 price point. It is sort of affordable to the mainstream. You know, we intend to have a lot of product out there.

Dr. Lisa Su, AMD CEO via PCWorld
We have to wait and watch how things unfold with the AMD Radeon RX 6500 XT, especially the real market price.
Suggested read: Nvidia RTX 3080 vs AMD Radeon RX 6800 XT For VR
VR at CES 2022
These were the key highlights in VR at CES 2022. With lots of exciting concepts, designs, and products like the ones mentioned above and TCL AR glasses in line for launch in 2022, which one are you most excited about?
Let us know in the comments section below!