Galactic Bar Fight
Price = FREE
Galactic Bar Fight is a fast-paced arena game. Your goal is to destroy enemies using blasters, blades, and explosives. So far, the game is a working demo where you have to clear out the first environment. You are timed, so work fast!
Click here to view Galactic Bar Fight.
Galaxy Forces VR
Price = FREE
Galaxy Forces is a single player space shooter Oculus App Lab game. You are in control of a ship and your goal is to race against the clock to get the fastest time. There is also a smission mode where you have to transport cargo and get the best score. Along the way, you travel in a narrow space cave with different enemies.
Galaxy Forces features 55 different levels and 16 user-created missions. It also has over 21 different achievements to unlock.
Click here to play Galaxy Forces VR.
Goalienator
Price = FREE
Goalienator is a hockey goalie simulator. You play a goaltender in a number of game modes and training scenarios. There are shooting drills, breakaway games, and other games that you play with AI players. This is the number one goaltender simulation game for VR.
Goalienator features multiple settings and environments. The graphics have a sharp realistic look, which makes this game look great.
Click here to view Goalienator.
Gorilla Tag
Price = FREE
Gorilla Tag is a fun tag game where you play a gorilla. This game has gone viral for its perfect virtual reality mechanics. You have to swing your arms like a gorilla in order to move, with no button, sticks, or teleportation. In Gorilla Tag, you push off of surfaces to jump and squeeze them with both hands to climb.
Simple tag mode features 3 players and infection mode features 4 or more. The game has cross play with the Steam version, so you can play with people on any VR platform. This is one VR game you have to experience!
Click here to view the Gorilla Tag App Lab game.
Guardians
Price = $15
Guardians is a sci-fi VR shooting game. It has a single player campaign and multiplayer player-vs-player and co-op modes. It is compared a lot to Halo, Destiny, and Titanfall.
In Guardians, you are part of an elite unit responsible for protecting the federation while they extra a new mysterious energy source. Use a powerful arsenal of weapons to fight off enemies and protect your base. You can also instantly summon and control defensive structures and units to help them fight invading armies.
Gun Raiders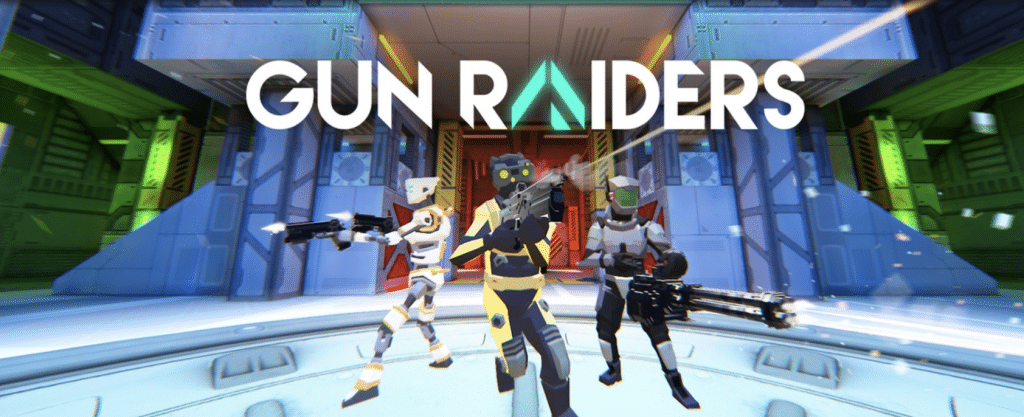 Price = FREE
Gun Raiders is an online multiplayer VR shooter game. You play 4 vs 4 against another team in a number of different game modes:
Escape – Reach the end zone first
Control – Capture control points
Team Death Match – Last team standing wins
The game is similar to Solaris or Hyper Dash and is a fast-paced VR shooting game.
Click here to view Gun Raiders.
Gym Class

Price = FREE
Gym Class is a multiplayer basketball VR game. You can play hoops online with up to 8 other players or else practice your shooting, passing, and dunking on your own.
Gym Class features realistic physics and full-body kinematics. It does a great job at making VR basketball feel like the real thing. Again, there is not a lot of VR sports games for the Oculus Quest yet. This is a great showcase at the possibilities. Gym Class does a good job of using your guardian space to play basketball.
Click here to play the Gym Class Oculus App Lap game.
Hand Posing Tool: Pirates!
Price = FREE
Hand Posing Tool is a technology demo that showcases the grabbing of different tools and objects in an accurate way. It works both with the touch controllers and hand tracking. In this demo, you explore a pirate ship. All objects can be interacted with in a realistic way. The data from Hand Posing Tool can be used by different VR developers to improve their games too.
Click here to view Hand Posing Tool.
Hand Spell
Price = $5
Hand Spell is an escape room App Lab game with a magical twist. You have to cast spells with your hands in order to beat enemies and escape a mysterious prison. The game is roguelite, so the levels and gameplay are different each time. The game is a seated experience with no motion sickness. There are 3 different biomes to play through and each game is between 15-40 minutes in length.
Click here to view Hand Spell.
Harvest VR
Price = FREE
Harvest VR is a farming simulator. Like Deisim, you are the God in your world and your job is to make your farm flourish. You can grow plants, plant veggies, or head to town to buy new things.
Harvest VR receives regular updates to add new features. Recent features include fishing and apple picking.
Click here to view Harvest VR.
Headjack Link
Price = FREE
Headjack Link is a companion app toe Headjack, a tool that allows you to create your own augmented and virtual reality apps. With Headjack, you can upload, sync, and manage your 360 degree videos. Headjack has simple, high quality templates to pick from and utilize. It works on all VR headsets. For the Oculus Quest 2, you just need this companion Link app.
Click here to view Headjack Link.
Healium
Price = FREE
Healium is a collection of mental fitness videos, shown to improve your mood and make you happier. You can float through a crystal forest, feel a healing rain wash over you, or sit quietly in a field of sunflowers. Virtually travel to Mauii, listen to the rustle of a bamboo forest and the ocean waves lapping at your feet. Experience different colors of healing, trace a mandalynth, or glide through a breath-taking fractal. Use your feelings of focused calm to make the flurries fly inside a magic snow globe.
Help Club
Price = FREE
Help Club is a unique and anonymous mental health community.
After passing a short screening, you'll be able to join peer-led groups that follow a form of group intervention called Cognitive Behavioral Immersion. These event-based group sessions focus on issues that are important to users. They aren't led by therapists or doctors—in fact, anyone can train to become a helper and begin to make an impact in the lives of others.
Help Yourself
Price = FREE
Help Yourself is a first-person puzzle game. Solve each level by cloning yourself and then playing around with different time elements. You have to work together with yourself in a time loop. Every action you perform Is replicated by a clone in the next loop. Plan ahead and pass each level accordingly.
Like Superhot VR, Help Yourself is the kind of puzzle game made for VR.
Click here to view Help Yourself.
History of a Painting
Price = FREE
History of a Painting is an animated VR and 360 series aimed at engaging young audiences with art. It creates accessible and relatable experiences focused on the human stories behind some of the world's most iconic art. The visuals and virtual environment of each episode appear in support of the narration, helping to illustrate and anchor the narrator's story in the viewer's mind.
Click here to view History of a Painting.
Hitstream – Demo Version
Price = FREE
Hitstream is a VR exercise App Lab game. You have to punch, squat, stretch, and step your game up to work up a sweat. The game has a big focus on positive energy and mental wellbeing. You workout in different locations around the world. Each action is timed with the beat of the music.
This demo has a select number of workouts. The game is in constant development and is working up to a full version.
Click here to view the Hitstream.demo.
Home Plate Baseball
Price = $3
Home Plate Baseball is a baseball VR sports game. You can play a normal 3-inning baseball game or choose from a collection of mini-games including the Home Run Derby! There is also a catching game and an umpire simulator. In hard mode, pitches come at you at over 100 miles per hour!
Click here to view Home Plate Baseball.
Hoops Madness
Price = $6
Hoops Madness is a realistic basketball VR App Lab game. It has different arcade game modes to try out in a full basketball court setting. You can play games like Dominion, Shootout, Hoop Derby, Whack-A-Hoop, and more.
There are individual and player-vs-player multiplayer games to play. Hoop Madness also has achievements, full leaderboards, and tournaments to play in too.
Click here to play Hoops Madness.
Human Anatomy Puzzle
Price = $3
Human Anatomy Puzzle is an educational VR game where you have to solve anatomy puzzles. Place body bones, muscles, and parts on your mock skeleton and prove what you know about human anatomy. If you've ever had to learn or understand anatomy, this game is perfect to assist you.
Click here to view Human Anatomy Puzzle.
Hyperstacks
Price = $17
Hyperstacks is an action platform game for VR with a nice puzzle component to it. You have to pass each level by fighting enemies, climbing, and dodging traps. Along the way, you have puzzles to solve as well.
One of the biggest features in Hyperstacks is its fully-featured level editor and creator. You can create levels, share them with the community, and play what others have created. It makes the replay-ability of Hyperstacks really great!
Click here to play the Hyperstacks App Lab game.
Imercyve: Living With Intellectual Disability
Imercyve is an educational experience that allows you to experience every-day tasks through the eyes of a person with a disability. Developed in partnership with Mercy Connect, a non-for-profit, this App Lab game simulates a variety of effects that people with disability and high care needs go through.
Click here to view Imercyve: Living With Intellectual Disability.
iQIYI VR
iQIYI VR is a Chinese Youtube alternative. You can stream thousands of videos in a single app, including IMAX movies, 3D movies, panoramic videos, and more. iQIYI is recommended for use in Chinese mainland.
Jigsaw 360
Price = $2.99
Jigsaw 360 is a relaxing VR puzzle experience. It is suitable for all ages, with dynamically generated puzzles between 8 and 162 pieces. You can choose from 10 different scenes or add your own pictures from JumbliVR.
The game features full VR motion controller support. It also has experimental hand tracking support. The game features calming music and sounds of nature, rain, or raves.
Click here to view Jigsaw 360.
Jigsaw Puzzle VR
Price = $8
Jigsaw Puzzle VR is another puzzle App Lab game. You can procedurally generate puzzles from any image that you upload. This is a no stress, high comfort game. 30 puzzles are included by default, but you can add more on your own. You can turn gravity on and off to assemble everything in mid-air or on a table in front of you.
Click here to view Jigsaw Puzzle VR.
Jun's Adventure
Price = FREE
Jun's Adventure is a multiplayer adventure game that uses virtual reality and real physical cards. You need the physical print cards to play this. Unfortunately, the website is in Japanese so we can't tell you more!
Click here to play Jun's Adventure.
Laid-Back Camp

Price = $20
Laid-Back Camp is a narrative interactive story that takes place in virtual reality. You play Nadeshiko and you join your friend, Rin, on a camping adventure at Lake Motosu. While there, you plan on taking pictures and eating lots of delicious food. Along the way, you encounter a variety of unique situations.
Each section takes place in an episode format and the game has a lighthearted anime theme to it. Characters are fully voiced and each scenes contain beautiful scenery and immersion.
Click here to play Laid-Back Camp in the App Lab store.
Legendary Hunter VR
Price = $6
Legendary Hunter is a VR duck hunting game. Inspired by the old Nintendo classic, this is a recreation with realistic graphics and a full 360 degree environment. The game features realistic gun physics that you control with your VR motion controllers. The weather in the game Is dynamic.

Click here to view Legendary Hunter VR.
Liminal
Price = FREE
Liminal is a collection of short virtual reality experiences that make you feel different emotions. It empowers people to consciously choose how they feel and perform. The video categories are calm, energy, pain relief, or awe, and others. New experiences are added frequently to the collection.
Calming experiences are relaxing and beautiful. Energy videos are fun and invigorating. Pain relief experiences are designed to make you more comfortable. Finally, awe experiences will leave you speechless.
Click here to view the Liminal App lab game.
Click on Page 3 below to see App Lab games from M-R.