MarineVerse Cup

Price = $20
MarineVerse Cup is a VR sailing game! You get to learn how to sail and race in different locations and various sailboats. MarineVerse has an active VR sailing community that enjoys playing together and interacting.
The game features a good tutorial to get you started in the game. There are time trials available with global leaderboards for each race. Multiplayer racing against other players is available with a MarineVerse "Sailing Pass". The Sailing Pass is available on Patron for $9 per month.
MarineVerse has set up legitimate eSports tournaments using the game.
Click here to play MarineVerse Cup for the Oculus Quest.
Metal Multiball
Price = $4
Metal Multiball is a unique VR game that is a mix between pinball, Guitar Hero, and pong. It is a celebration of metal music where you have to hit balls to activate your riffs. There is a global leaderboard you can play to be on and the game works both sanding or seated.
Click here to view Metal Multiball.
Minsar Studio
Price = FREE
Minsar Studio helps developers create interactive and engaging augmented and virtual reality experiences. You can import your 2D or 3D images, videos, and sounds and then use the software to design experience for mixed reality.
Once you are done, you can export your product to social media, your website, app, or another device.
Click here to view Minsar Studio.
MonkeybrainVR
Price = $5
Monkeybrain is a VR memory game. Remember where the numbers are and turn around your discs in the correct order to pass each level. The game gets harder as you pass each level and it is completely procedurally generated and random.
Click here to view MonkeybrainVR.
MRRox
Price = FREE
MRRox is a professional virtual platform for events, exhibitions, trade shows, and conferences. It is available for PC, cell phone, Microsoft HoloLens, and virtual reality.
Brands and companies can use MRRox to host their events on the platform. Then, consumers log into the app to interact with others and take in the event.
Multibrush

Multibrush is a fork of the now open source for for TiltBrush. The game includes multiplayer implementation, letting you play, create, and enjoy art with your friends.
In Tiltbrush, you have a 3D canvas to create art. Draw objects in 3D with a variety of different tools, shapes, and colors. In multiplayer mode, you join in a single room with your friends and hang out while you create are together.
Click here to try out Multibrush.
Mythic Mage
Price = FREE
Mythic Mage is an action game that takes place in a procedurally generated world. This means that the game is generated in your room-scale guardian in a 1:1 scale so that you can walk around.
As you explore your dungeon, you have to battle monsters and practice your attack skills. The game features RPG components such as levelling up and earning more attacks and weapons.
Click here to view Mythic Mage.
Nanome
Price = FREE
Nanome is a tool for global real-time collaboration using Virtual Reality from general chemistry to pharmaceutical drug discovery. You can build your own molecular structures or explore a DNA strand. Import your own structures from RCSB Protein Databank, Pubchem, or Drugbank. Then, you can manipulate the structure by grabbing it and manipulating it in VR.
NoMeN1VR
Price = FREE
NoMeN1VR is a 360 experience movie. We don't have any other information about the movie and it is Japanese language.
NP Skills Lab
Price = FREE
NP Skills Lab is a learning application for nurse practitioner students. Using the Oculus Quest, nurses can practice their hands on learning in a safe and virtual environment.
Click here to view NP Skills Lab.
Occupational Safety and Health for Electricians
Price = FREE
Occupational Safety and Health is a training program for Electricians to teach them the safety of working on electrical equipment in VR. This training covers key electrical safety topics such as isolation of energy, hazard identification, use of PPE, and other key topics.
Click here to view Occupational Safety and Health for Electricians
OceanCraft
Price = $6
OceanCraft is a VR survival game that takes place on a boat in the ocean. Your job is to survive by crafting, building, growing food, and other things. You can play on your own or with your friends in the game's cross-play multiplayer.
This is an early access game, but new features and mechanics are being added regularly. You can play in public and private games and full voice chat is supported.
Click here to play the OceanCraft App Lab game.
Omagatoki VR
Price = FREE
Omagatoki VR is a samurai action game. You play a blind female samurai who has to face bandits, warriors, and other samurais. The game has a unique artistic style worth checking out. In the game, you play in an endless mode until you die. The game has a local leaderboard.
Click here to view Omagatoki VR.
Omega Blade
Price = $5
Omega Blade is an action VR game that features several different challenges. You are armed with a set of blades or guns and must hack or shoot your way through each level. Some levels require you to be accurate and precise, and others have you swinging through bad guys as fast as possible.
The game features challenges and leaderboards to keep you hooked. It is a nice showcase of close, medium, and long range contact in virtual reality.
Click here to check out Omega Blade.
Open Brush
Price = FREE
Open Brush is another open source fork of the Tilt Brush code. You have a 3D canvas to create art and you can draw objects in 3D with a variety of different tools, shapes, and colors.
Click here to view Open Brush.
OPERATION SERPENS
Price = $8
OPERATION SERPENS is an arcade-style shooting game. If you are looking for fast-paced action and a challenging VR shooting game, you will want to check this out. In the game, you play on an elite squad formed to dismantle the evil Snakes organization. Each level has different challenges and scenarios to complete.
SERPENS has lots of guns, grenades, flashbangs, and other weapons to use. There is also a Zombies survival mode. It also has bHaptics full body suit support too. Check it out today!
Click here to view OPERATION SERPENS.
Oxygen Dreams
Price = $3
Oxygen Dreams is a VR platform App Lab game. It looks and feels like a first-person version of old Super Nintendo platform games. You have to move, jump, and shoot your way through each level. There are mini-puzzles like switches to arm and disarm.
Click here to view Oxygen Dreams.
Pangman
Price = $10
Pangman is a VR platform App Lab game. When alien spheres from outer space invades, Pandman is called on to burst spheres using his pair of guns. Your guns transform into hooks when you throw them. Pangman features 140 different levels to complete and work your way through. There is also a multiplayer game with up to 8 players.
Click here to view the Pangman demo.
Paradiddle
Price = Free
Paradiddle is a VR drum kit. Learn how to play drums in virtual reality. The game features over 25 different percussion instruments that you can arrange and set up as you want. Each instrument has realistic sound.
Paradiddle features the ability to load any song or audio file into your Oculus Quest and play it back in the app. You can also save and load different drunk kits depending on what style you are playing.
Click here to view Paradiddle.
Pavlov Shack Beta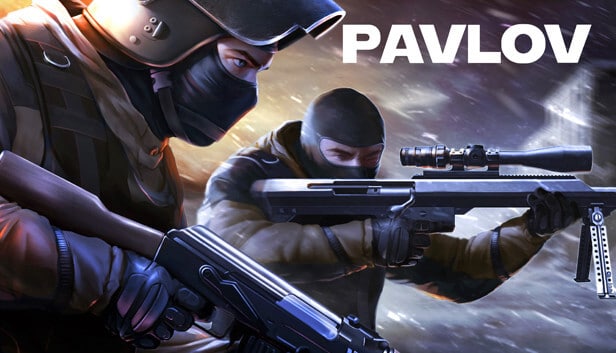 Price = FREE
Pavlov Shack is a realistic VR military game. It is a multiplayer shooter with realistic weapon mechanics and various maps. Gameplay is 4 vs 4 and there are some different game modes to try out.
Pavlov Shack is one of the most popular Oculus Quest games available. It was traditionally only available through SideQuest, but is now an App Lab game. There are plans to launch the final version in the Oculus store later in 2021 for $25.
Click here to view Pavlov Shack Beta
Peco Peco
Price = $10
Peco Peco is the third jigsaw puzzle game added into the App Store (after Puzzling Places and Jigsaw360). in addition to a collection of puzzles included in the game, you can also cut your own custom ones for friends as a gift.
Peco Peco features over 24 different puzzles to complete, each with multiple puzzle cuts. You can also create your own puzzles for your family and friends.
The game physics in Peco Peco work and feel great. Pieces can be manipulated and snapped together with ease. Sounds and animations make your experience even better.
PentaPuzzle Demo
Price = FREE
PentaPuzzle is a tetris-style game where you have to complete puzzles using 12 unique five-square shapes. The demo contains 12 puzzles for you to work your way through. Select your shape and place it onto your board. Complete the level to move on to the next. PentaPuzzle features a unique and original soundtrack.
Click here to view PentaPuzzle Demo.
PePiBo
Price = $10
PePiBo is a pinata bowling game. You play young Peregrino, tasked with saving the island from the ancient Lava Dragon. The storyline is fun and mostly unimportant, used to have you bowl different pinatas for points. Each level must be cleared out similar to Angry Birds, using a limited number of balls. There are different power-ups like explosions to help you clear levels.
Percussive VR
Price = $30
Percussive VR is a set of virtual instruments that you can play accurately in virtual reality! Some of the instruments included are:
Marimba
Xylophone
Vibraphone
Steelpan
Glockenspiel
You can import sheet music into the game and play them. Each instrument has adjustable heights and other features that make them realistic. Percussive VR is one of the most expensive App Lab games, but a lot of fun if you are a musical person.
Click here to play Percussive VR.
Perpetuum Mobile
Price = FREE
Perpetuum Mobile is a vector graphics game in virtual reality. You play a pilot on that has to fly through tunnels of doom and destroy an army of villains. Navigate the max and stay safe while you shoot and battle enemies.
Click here to view the Perpetuum Mobile App Lab game.
Pick-Up League Hockey

Price = FREE
Pick-Up League Hockey is a hockey VR game with realistic physics and a full-sized rink to play on. It is a 3 vs 3 multiplayer VR game.
Pick-Up League Hockey features realistic skating and braking features. You can stick handle with single and dual hands too. Outside of the 3 vs 3 games, you can practice shooting and puck handling. This will let you get used to the controls before you play. Any hockey fans should give this one a try today.
Click here to play Pick-Up Hockey.
Pipe Dream Co.
Price = $10
Pipe Dream Co is a VR puzzle game based on similar mobile games of the past. You have to add, remove, and rearrange pipes in order to keep the water flowing smooth from the tap to the drain. You are scored based on your time and number of pieces you use. There are also multiple game modes to check out. Pipe Dream Co is a new game, designed for the Oculus Quest.
Click here to view Pipe Dream Co.
PLAY'A Video Player
Price = FREE
PLAY'A Video Player is a popular third party media player for VR. It has a simple interface, can play any media file, and is a great alternative or supplement to the official Oculus Browser. You can adjust the zoom, tilt, pan, and other parts of VR videos. It Is popular for adult VR content.
Click here to view PLAY'A Video Player.
POLLINATOR PARK
Price = FREE
POLINATOR PARK is a tech demo about a future Europe in the year 2050. It is a crossover between a zoo, theme park, museum, and crystal ball. The experience lasts between 20 to 30 minutes and shows off the park through the story of its founder.
Click here to play POLLINATOR PARK.
Private Agent
Price = $5
Private Agent is a VR shooting game. You are a secret agent asked to destroy a crime organization called Echidna. Switch between weapons and conquer the boss in each stage. Private Agent has simple controls and is easy to learn. There is no need to reload or learn difficult actions.
Click here to view Private Agent.
Project Snowflake
Price = FREE
Project Snowflake is a VR documentary film about the Adventure Thru Inner Space ride at Disneyland. The ride sought to use the tools of cinematic set design to explore the lessons of science, with massive structures representing water molecules and elaborate projection revealing the microscopic world of the atom. The ride was developed during Walt Disney's final years and you can view the entire history in this experience.
Click here to view Project Snowflake.
Pub Darts
Price = $5
Pub Darts is a realistic darts game. You can play solo or invite a friend to join you for a match. The game has been calibrated to feature accurate dart throwing and board response. Pub Darts features both left and right handed playing. Like real darts, games are played from 501 points down.
Puzzling Places

Price = FREE
Puzzling Places is a 3D jigsaw puzzle App Lab game. You put together miniature landmarks from around the world which have been created in puzzle form. Puzzling Places can be played seated, standing, and at full roomscale.
Puzzles in the game are generated from unique photogrammetry 3D scans. Each piece you place together adds to the unique and immersive soundscape in the game. It works similarly to Tetris Effect, which has a similar feature.
Puzzling Places started with a 98 piece puzzle of the Tatev monastery in Armenia, but is being updated with new content to check out. Now that it is an App Lab game, we hope to see new updates and features coming soon.
Click here to play Puzzling Places.
Quest For Runia
Price = $10
Quest For Runia is a puzzle game wheer you have to break all the barriers in each level with a fixed number of shots. Your aim is to find the most effective way to solve the puzzle by destroying as many cubes as possible with one shot and clear the entire barriers. Earn three stars in every level by finding the most effective way to finish it.
click here to play Quest For Runia.
Range Day VR
Price = $18
Range Day is a VR shooting game simulator. You visit a gun range and select your firearm from a list of authentic options. Then, you get to shoot your guns in different indoor and outdoor ranges. Over 40 guns are supported. Range Day is going to eventually launch as a single player game, before implementing cross-platform multiplayer as well.
Click here to view Range Day VR.
RealFit
Price = $20
RealFit is a VR workout game that will have your heartrate up and body active. You choose from a bunch of different bodyweight workouts which focus on specific body parts. There are also gamified modes where you play games in VR while you work out.
RealFit has support for multiple user profiles. It also features stat tracking so that you can keep track of your workouts.
Click here to view the RealFit Oculus App Lab game.
Realms of Eternity
Price = $10
Realms of Eternity is a combat game inspired by titles such as "Blade of the Darkness", "Dark Messiah", and "Thief". You have access to different kinds of weapons, whichi you can use to complete different levels and challenges. Each quest can be solved using force or stealth, so you can play the game how you want.
Realms of Eternity is in active development and the physics are being tweaked regularly for user experience.
Click here to play Realms of Eternity.
Reflecto Ray
Price = FREE
Reflecto Ray is a VR puzzle game involving mirrors. You have to guide a ray into the final destination by using mirror reflections. The game features multiple levels, more of which are being added over time.
Click here to view Reflecto Ray.
REFLEX UNIT 2
Price = $10
REFLEX UNIT 2 is the sequel to the first action game. When an army of drones attacks cities around the globe, you have to pilot war plans and fight back invading forces. The game features a 1 or 2 player campaign mode and 2-4 play verses and survival modes.
REFLEX UNIT 2 is completely cross-platform between iOS, Android, Oculus, and Nintendo Switch. You can play with your VR motion controllers or with a Bluetooth controller such as the xBOX Game Controller.
Click here to play REFLEX UNIT 2.
Remio
Price = Free
Remio is a virtual business headquarters for companies to use in virtual reality. Businesses can use Remio to collaborate, work, or relax. Teammates join the same office in Remio and collaborate using whiteboards, presentation rooms, and public and private offices.
The team can also play activities together such as paintball, tower defense, basketball, hide-and-seek, and more. There are also Yoga and Tron rooms too. Everything is built for 4 or more people.
Repeat Please
Price = FREE
Repeat Please is an action and puzzle game based off of Superhot VR Time only moves in the game when you do. Defeat enemies using punches and weapons. Work through each level and figure out how to win.
Click here to view Repeat Please.
Resilience
Prrice = $1
Resilience is a unique VR game that takes place in the year 2043. You control a rebellion drone and you have to rid the world of sentinel robots. Each level is procedurally generated, making over 10,000 different combinations.. Hoist yourself higher to eliminate the sentinels and avoid their deadly absorbing rays.
Resilience is unique, progressively difficult, and fun to play, It has a retro gameplay style and a world ranking to track your progress.
Click here to view Resilience.
Resonark X Lite
Price = $13
Resonark X Lite is a VR rhythm game, similar to Beat Saber. You use your hands to clap and manipulate six strings. The stage direction changes depending on your performance. Resonark features electronic music, trance, instrumental, techno, and ambient music. Each song has three different difficulty levels and each chart is created by hand.
Click here to view Resonark X Lite.
Rest in Pieces
Price = $4
Rest in Pieces is a monster combat game with high quality graphics and gameplay. You have to save the earth by battling hordes of undead monsters and demons. The game features over 20 weapons, from knives to guns, that you can choose from and upgrade their stats while you play. There are multiple mission types and horde levels, giving the game high replay value.
Rest in Pieces features realistic blood and gore. There are global leaderboards to compete with other players on and different difficulty levels for each mission. The game is full of features and for a really reasonable price.
Click here to play Rest in Pieces.
Revolver Widow
Price = $2
Revolver Widow is a wild west shooting game. Armed with a revolver, you have to pass eight different shootouts. The boss of each level is one of the fastest gunfighters from the old west. The game features simple graphics and atmospheres, but realistic gun physics. Speed and accuracy are important if you want to win.
Click here to view Revolver Widow.
Rhythm 'n Bullets

Price = $9.99
Rhythm 'n Bullets is a musical shooting game where your hands become starfighters that shoot orbs. Enemies fly in around you travelling to your core. You have to shoot them before you die.
Each level in the game is timed to the music and you get more points if you shoot on beat. There are power-ups to collect as you play too. Rhythm 'n Bullets also features a multi-level campaign mode. It has a global leaderboard so you can compare your stats verses other Oculus Quest players.
Four different themes are included in the game: Tech City, Japanese Garden, Galaxy Zone, and Holiday Forest.
Click here to view Rhythm 'n Bullets on the Oculus App Lab Store.
Rodent People: Origins
Price = $10
Rodent People is a VR escape room game. You play a human-rat hybrid who has to solve puzzles and escape from jail in a number of different missions.
Rodent People is best experienced in multiplayer mode with three of your friends. You can solve missions together and work together to escape. You do have the option of playing the game on your own too.
Click here to view Rodent People: Origins on the App Lab.
Roll or Die!
Price = $3
Roll or Die is a VR platform game with unique VR mechanics. You are in a giant hamster ball that you spin with your hands to move. Escape eah level as fast as you can, grabbing gems along the way. Some levels have unique details, special gem, and other surprises to find.
Click here to view Roll or Die!
Click on Page 4 below to see App Lab games from S-Z.