Oculus has announced that their are rolling out the v26 software update for Oculus Quest users, which includes the ability to bring your couch or chair into VR for the first time.
You can enable this option in the "Experimental Settings" page on the Quest. Once enabled, you can draw out your couch in your boundary and it will appear in the Oculus Home environment.
Inside of games, you can now switch from standing to seated mode. Your passthrough is activated as you approach your couch to sit down. The couch is saved, so it will be in the same position when you next use your Quest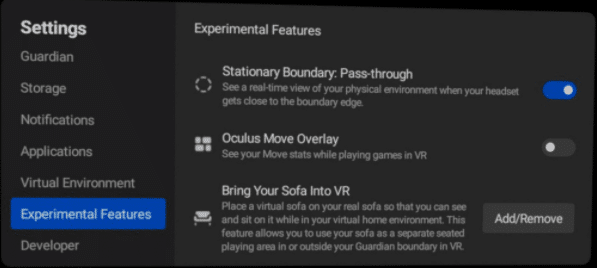 Full v26 Features
Here is a full list of features being rolled out in the v26 update for the Oculus Quest. Be patient, as updates are rolled out gradually to users.
Bring Your Couch into VR
We've added the ability to place a virtual couch on your real couch to use while you're in-VR. Now, after an energetic game of Beat Saber, you can head over to your real couch, see it in your virtual space, and easily take a seat and catch your breath while you watch Netflix in-VR.
Virtual couch boundaries are automatically saved and detected so you don't have to re-add them each time you put on your headset.

We recommend staying seated while using the couch.

You can opt-in to this experimental feature by selecting Settings > Experimental Features

Please note, the experiments section includes features that are still being developed, and so you may encounter anything from minor issues to app crashes.
Hand Tracking
We've made improvements to the point and pinch gesture to make it easier to highlight and select things while using hand tracking in-VR.
v25
Previously, Oculus released v25, which included the brand new App Lab. App Lab is a SideQuest alternative that allows developers to distribute early access VR games on the Quest platform without being in the official store.
Games in the App Lab do not need to be side loaded to the device. They can be installed right from the headset and will receive automatic updates as well.
A SideQuest VR alternative was announced in the summer of 2020 by Oculus, but not many details were given. Now, App Lab is available as a tool for developers to apply to. We will have comprehensive App Lab tutorials and guides on our home page in the coming days.
Oculus App Lab Games
On launch day, 12 different titles were available in the Oculus App Lab. Many of them you will recognize from our best SideQuest games list: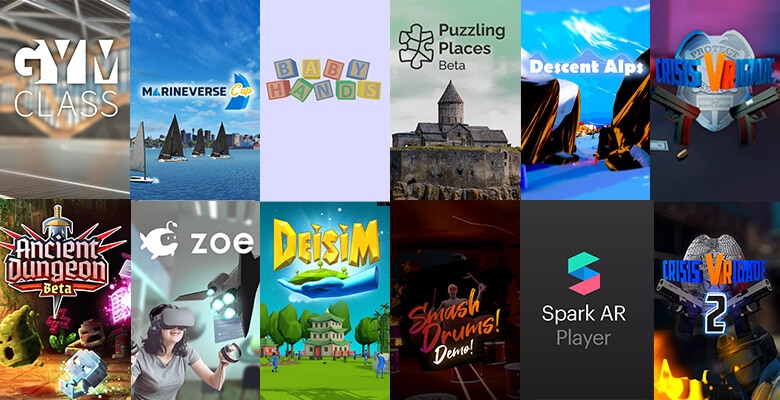 More games have been added over time to the App Lab. We have a complete list of games here.
Other v25 Software Improvements
Also included in the v25 Quest update is the Messenger integration that was announced back at Facebook Connect. This update allows you to sync your Facebook Messenger account into your VR headset and quickly find friends to chat with and play in VR.
A full list of changes in v25 are:
Messenger
We're starting to roll out Messenger on Oculus to people who have logged into Quest and Quest 2 using their Facebook account.
With this update, you can choose to chat with your Facebook friends anywhere they have Messenger, even if they're not in VR. You can:

Chat with friends anywhere they have Messenger, without taking off the headset.
Invite friends to join you in a game or experience.
Jump into games together by sending a party invite.

Please note this will continue to roll out in the coming weeks, so you may not see the update right away — stay tuned as it continues to be released.
Guardian and Passthrough
Stationary Guardian 2.0

We've improved Stationary Guardian with the following updates:

Updated Stationary Guardian visuals to remove the grid.
Adjusted Stationary Guardian to be responsive when you move your headset, no controllers needed.
Added a new in-VR tutorial explaining how to use Guardian.

Passthrough Shortcut

We're moving our Passthrough Shortcut from the experiments panel to general availability. This feature allows you to activate your Passthrough view by double-tapping the side of your Quest or Quest 2 headset. Double-tap again to switch back to your view in-VR.
VR Profiles
We've updated the look, feel, and functionality of in-VR profiles and info. Some of the specific changes you'll see include:

Having profile cards show up directly from your menu bar, so you can look up your friend or check out their new avatar without leaving your current app or experience.
We've made it so that people who use Facebook to log into Oculus can display Facebook friends and more easily communicate.

Keep in mind, you can change or update your privacy settings at any time.
Universal Menu
You can now access the Universal Menu across any apps, games or experiences you're currently in.

To enable this feature, put on your headset and select Settings > Experimental Features > Universal Menu Overlay.

We've also made updates and improvements to the the design and function of the Universal Menu. These include:

A sleeker toolbar design with easier to select menu items.
When you're in a Party, you can now view Party details and leave the Party directly from the Universal Menu.
Improved tablet behavior when launching apps, switching panels, or resuming headset use.
Menu Navigation Tutorial
We've added a new tutorial to walk you through how to navigate the various menus and panels from your Quest home environment. The in-VR lesson plan includes:

How to use the Universal Menu.
How to navigate between the different menu options and panels.
Understanding how the different panels and menu bar work together.
Oculus Browser
You can now resize windows horizontally when using Oculus Browser. To do this:

Open Browser and hover over the left or right edge of any window. Use either your grip or trigger buttons to grab the handle and resize the window.
You can open up to three Browser windows at a time and adjust each panel separately.
Bluetooth Mouse
You can now use a Bluetooth mouse while you're in-VR. To do this:

Ensure that your Bluetooth mouse in is pairing mode, then go to Settings > Experimental Features > Bluetooth Pairing
Once you select your mouse from the pairing menu, you'll be able to use it in VR.
Camera roll
You can now trim the length of your captured videos to share out exactly the right moments by entering the edit mode after opening a captured video.

To do this: select your captured video from your camera roll, select the pencil icon in the top right portion of window, and drag your clip to the desired length.

Keep in mind, you can only trim a video if it's more than 30 seconds in length.
Oculus Link
You can now set your refresh rate to 80hz and 90hz when using Link with a USB-2 cable.

Keep in mind, that even with some of the newest and most powerful GPUs, maxing out values for the render resolution slider with a 90 Hz refresh rate may result in dropped or missing frames.

Fixed an issue causing Link to show a black screen after exit.
Reduced incidence of "Oculus Link is not working" errors that were happening on shut down.
Fixed numerous black screen issues that could prevent you from being able to use Oculus Link.
Fixed an issue where the new graphics settings in the Oculus desktop app weren't showing for some people.
Comment below and let us know what you think about the new update!