The Oculus Quest 2 is now the most used VR headset on Steam, just four and a half months after it was released. The news was announced by Steam when they released their monthly VR statistics on platform usage yesterday.
As you can see in the chart below, the Oculus Quest 2 is the headset used by 22.91 of Steam VR users, a 5.52% increase over last month's numbers. This 5.52% increase comes with a 3.94% decrease in usage by Oculus Rift S, Rift, and Quest 1 owners. So while most Quest 2 users are upgrading from other Oculus hardware, this shows that Oculus is taking market share from other VR headsets as well.
No other VR headset made gains in the last month in market share. Other than older Oculus devices, the HTC Vive lost 1.00% of share and Windows Mixed Reality lost 0.57%. This is disappointing for Windows especially, since the HP Reverb G2 is new and should be capturing some market.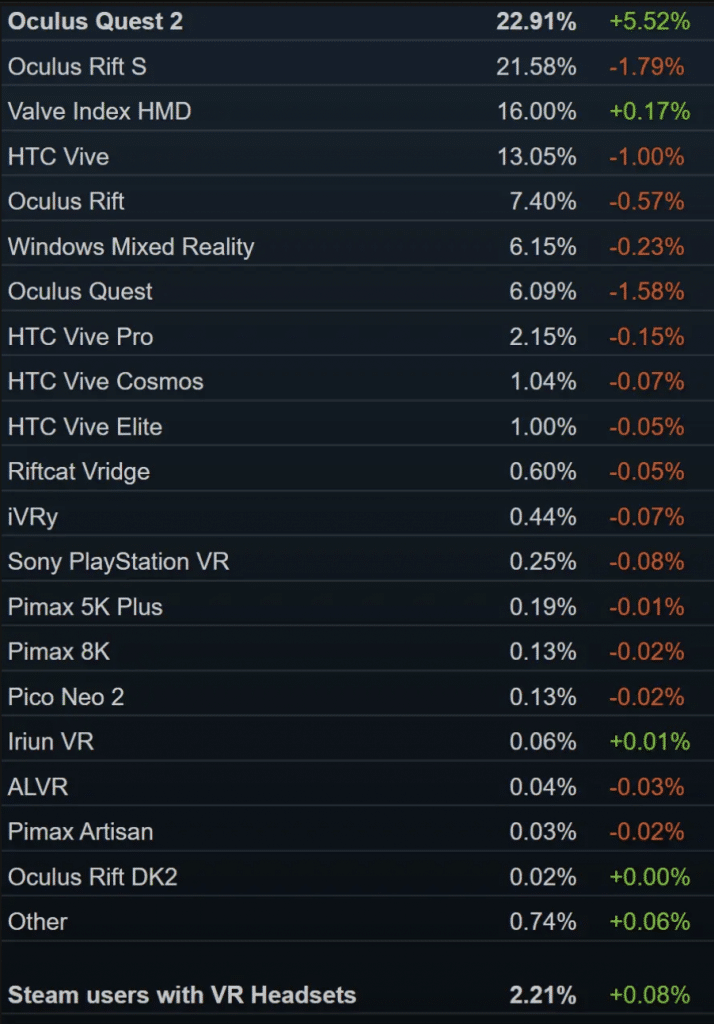 This news isn't that hard to imagine: the Oculus Quest 2 is the best VR headset in 2021 thanks to its nice price point and solid display. What is surprising is how quickly the Quest 2 was able to take the top spot. It was only released in October 2020.
The other big factor in this news is that the Oculus Quest 2 does not support Steam VR games on its own. It requires a tethered or wireless connections to a PC in order to become a PC VR headset. Right now, this is accomplished in one of three different ways:
Oculus Link (tethered)
Virtual Desktop (wireless)
Shadow PC (cloud)
the Steam Hardware Survey is offered to a random sample of people each month playing on the platform. If they accept, their PC specifications and log is sent to Steam's servers and included in the numbers.
There are no new major VR headsets with release dates today, so Oculus should be able to increase their share with the Quest 2 in the coming months.
Click here to learn how to install Steam VR on your PC today.