Mark Zuckerberg highlighted the success of the Oculus Quest during the quarterly Facebook earnings call with investors this week.
During the call, Zuckerberg said that the Quest "is on track to be the first mainstream virtual reality headset." Some of the sales numbers are hard to determine, since Facebook places Oculus revenue in its "Other" category lumped in with other miscellaneous service.
However, we've compiled some of the sales statistics for Q1 2021 that we were able to determine for the Oculus Quest.
Year over Year Q4 Growth
Facebook's "Other growth" in Q4 during the holiday season rose from $346 million in 2019 up to $885 million in 2020. This is noteworthy, since it gives us an idea of how well the Oculus Quest 2 sold in its first quarter of availability.
Quest 2 "is doing quite well, and I'm really proud of what we've been able to do there," said Zuckerberg. "We're continuing to work on new hardware, the new hardware…the content that works on Quest 2 should be forward compatible."
This revenue increase of 539 million would mean sales of around 1.8 million more Oculus Quests in 2020 over 2019. However, some of this revenue is based on games and accessories too, so the number is not that straightforward.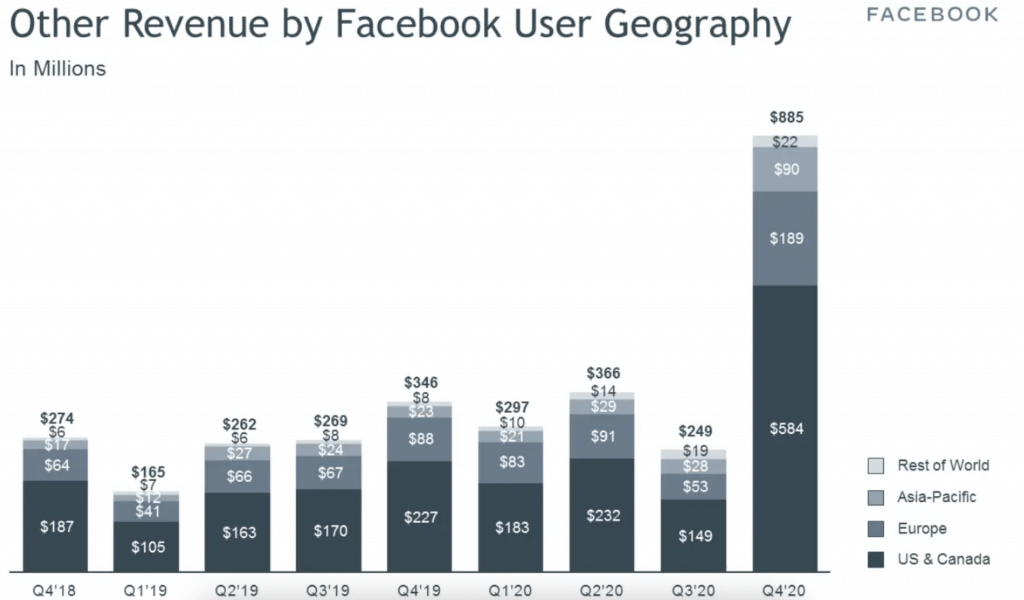 US, Canada and Europe Lead the Growth
As you can see in the chart above, Europe and North America led the growth for Oculus, both more than doubling their revenues over the previous year.
Europe saw 115% growth in Q4 year-over-year and USA & Canada saw 157% growth.
The Asia-Pacific region was relatively flat in sales overall, while the rest of the world saw a modest $14 million dollar increase (175% increase).
Over 60 Oculus Quest Games Make $1 Million
Andrew Bosworth, Vice President of Facebook Reality Labs, also announced that over 60 different Oculus Quest games have now surpassed $1 million in revenue.
This list includes some of the best Oculus Quest 2 games such as The Walking Dead: Saints and Sinners, Beat Saber, Population: ONE, and more.
Facebook previously said that 20 titles had passed the million mark back in March 2020. In September 2020, they had said that 35 titles had passed that mark.
With around 200 titles currently available in the Oculus Quest store, this means that around 30% of all games have made one million dollars. That is an extraordinary feature and we at AR/VR Tips want to congratulate those who have passed the mark.
Advertising Still Rules
Despite the awesome sales news around Oculus, Facebook still made 97% of its revenue last quarter from advertising. While this is less than the 99% they've made from advertising in the past, it shows you how much more virtual reality has to grow.
It also provides a hint of where Facebook focuses their business efforts.
We will update this guide each quarter with a Facebook revenue update for the Oculus Quest.