BigBox VR has unleashed new details about Population: ONE Season One, set to launch on February 25th for all VR headsets including the Oculus Quest and Rift S, HTC Vive, Windows Mixed Reality, and Valve Index.
This guide was updated on February 25th.
Season One Trailer and New Items
Check out a preview of the new season in this trailer from BigBox.
In addition, check out the teaser image below which outlines some new weapons and features being added to the game: shield soda, zone grenade, and more.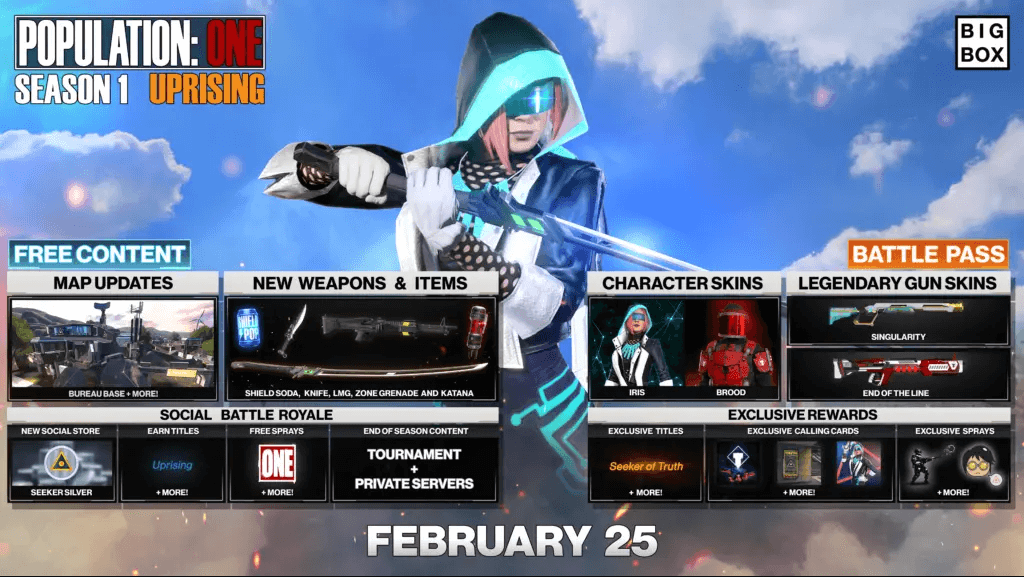 Season One Length
Season One begins on February 25th and will run for ten weeks long. It will lead directly into Season Two and consistent changes after that. So far, the game has been fine tuning its gameplay. Now, BigBox VR feels comfortable enough to offer special features as part of the season pass feature that other popular battle royale games use.
Storyline
In Season One, Seekers form the "Uprising" to fight against the Bureau, the fictional mega-corporation that controls the universe of Population: ONE.
Fans of the game will also be interested to know that players will get the chance to go inside of the mysterious tower in the middle of the map.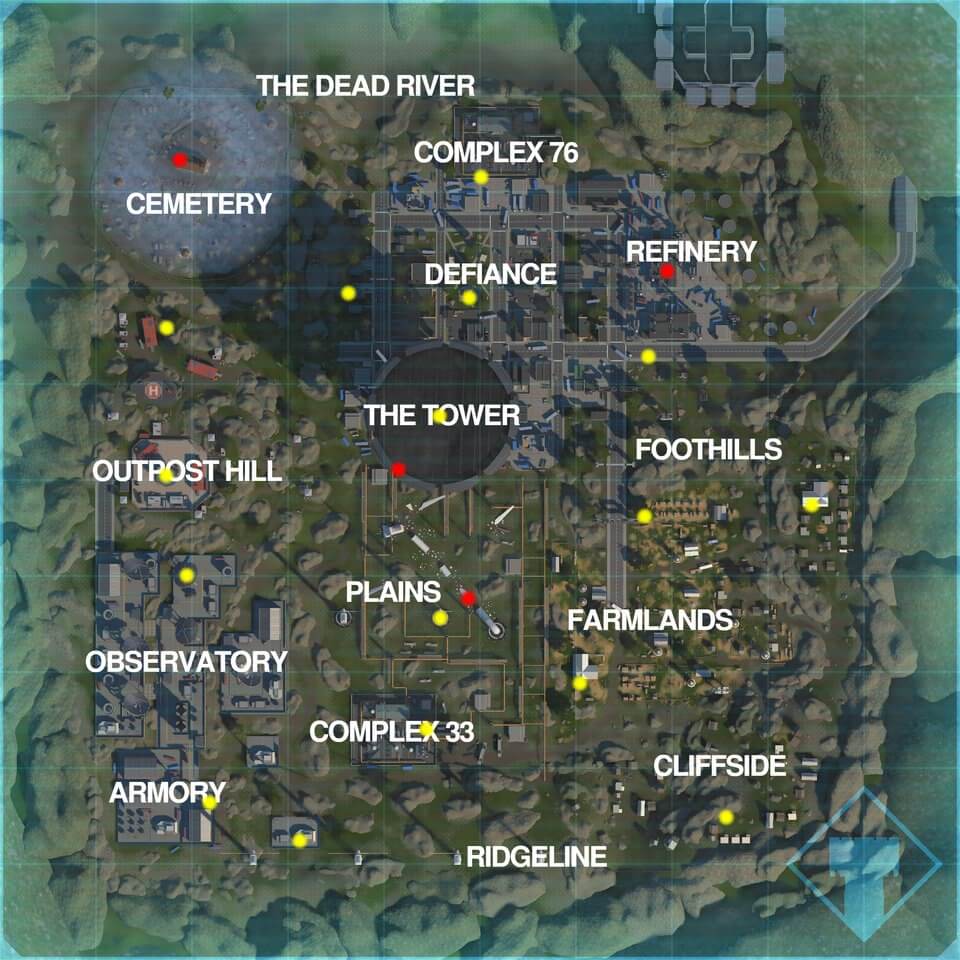 New Features
During the season, Population: ONE will receive updated cosmetics on the map. There will also be new weapons too. A katana and knife have been added for some close combat options. A new gun class for the Light Machine Gun (LMG) is also coming. 5 new weapons will be live in the update in total.
"The Season One update builds upon our Vertical Combat System to give players even more ways to play and create social connections, only possible in VR. We can't wait to share more details soon on what's coming in Season One," said Chia Chin Lee, BigBox VR's CEO and co-founder.
Social Interaction
Season One is also bringing new ways that the community can connect. To start, players can gift Seeker Credits to each other that unlocks exclusive content for the season.
Also, Private Servers are also coming to Population: ONE in Season One. In a private server, players can hang out in a lobby with people who they choose to play with. Players can start games on demand when they like and have more control over the lobby.
About Population: ONE

Population: ONE is one of the top trending Oculus Quest VR shooters right now. It is a battle royale multiplayer game, similar to Fortnite or PUBG.
In Population: ONE, you are dropped into a large map. Your job is to eliminate other players while running around hunting for guns, ammo, and gear to help you out. A death wall encloses the game every few minutes until one winner is left standing.
Population: ONE is one of our favorite games for the Oculus Quest 2 and PC VR. You can find and play with us by looking up the user arvrtips in the game.
Click here to check out 30+ Population: ONE Tips to help you get more kills in the game.
What are you most excited to see in Season One of Population: ONE? Comment below and let us know.