On December 21st, SideQuest announced that it's new Communities feature was opening for beta. In this guide, we'll go over everything there is to know about SideQuest Communities, including:
How to create an account
How to earn XP point
How to sync your Discord and SideQuest VR accounts
How to find, interact with, and save Oculus Quest games to your profile.
SideQuest is aiming to be the top Oculus Quest community for players and developers to interact on. We are apart of SideQuest Communities and you should be too!
RELATED: Check out the top 26 SideQuest VR games to play today.
What is SideQuest VR?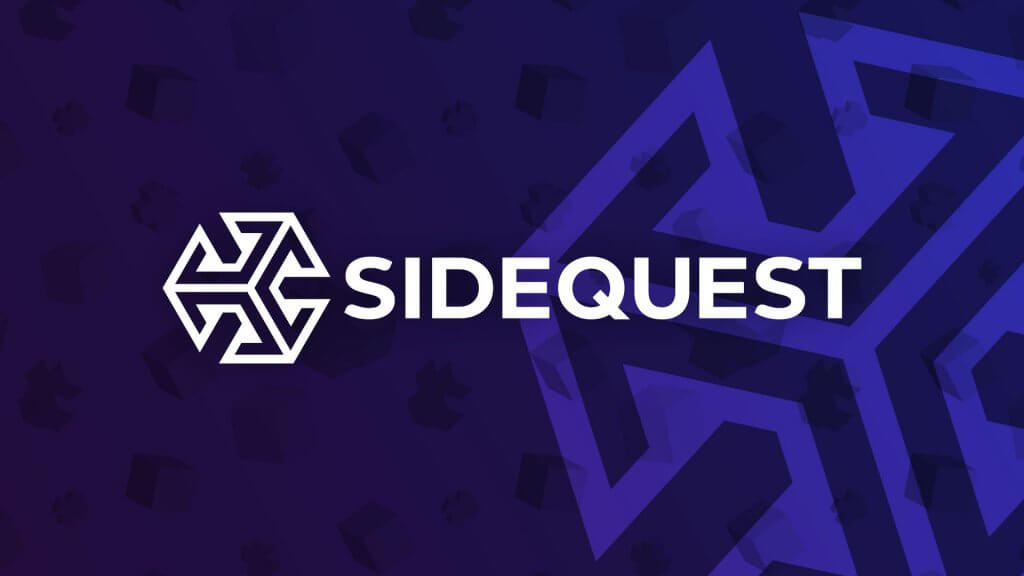 SideQuest VR originated as a program and marketplace for Oculus Quest games that didn't exist on the official Oculus platform. The program makes it really easy to sideload onto the Oculus Quest. It's available for Windows, Mac, and Linux.
Once setup, SideQuest comes with some really nice features:
SideQuest has a built-in store where you can quickly sideload a bunch of cool VR apps and demos made by developers. You can also view the store from the official website too.
You can quickly view, alter, and delete all of the apps you currently have sideloaded.
SideQuest has a bunch of smarts built in to it to make sure that you alter your headset safely.
Once configured, you can install games from Sidequest remotely onto your headset if the two are on the same wi-fi connection.
You should use SideQuest with your VR headset to try out apps not found in the Oculus Store. Lots of these apps are free and showcase new VR development. With SideQuest, you can improve the quality of your VR experience!
If you have an Oculus Quest 1 or 2 and don't have SideQuest set up yet, check out our tutorial guide for step by step instructions on how to get setup.
What is SideQuest Communities?
SideQuest Communities is a brand new evolution of SideQuest that puts interaction front and center on the platform. Communities can be setup for Oculus Quest games, subject matter experts, or influencers in the community. Once setup, you can chat, interact, and provide feedback directly to the people creating things for the Oculus Quest.
Right now, a select number of communities are open to interact with and test out how it all works. Sometime in the middle of January, communities will open up to be created by anything who thinks they have a need for one.
Click here to see all of the SideQuest Communities currently open.
Discord / SideQuest VR Integration
Discord is a chat platform where users can communicate via text message, voice, or video calls. You can also easily send media files to other users or in communities. Many Oculus Quest developers have a Discord server set up where they interact with fans, take feedback, and post game updates.
SideQuest is very active on Discord and alongside the rollout of Communities, Discord members are going to start to get rewarded too.
XP Points
Users are awarded XP points in exchange for chatting with and interacting on Discord. As you engage more, your XP points level you up. The higher the level you are, the more features you get access to. The level rewards are as follows:
[Level 5] Adventurer – You can enter any giveaways on the server to be in with a chance to win some great prizes including Oculus Quest headsets and game keys.
[Level 20] Quest Completionist – Now things get interesting, you get Adventurer benefits plus exclusive access to our discord integrated Minecraft server – woohoo! See the discord for instructions on how to use Minecraft on Oculus Quest
[Level 35] Raid Leader – You get all the previous benefits of Adventurer and Quest Completionist and on top we will distinguish you above the rest on our discord server.
[Level 50] Legend – You get everything in the previous levels as well as an honerary mention on the SideQuest website in our Legends Roster.
If these levels sound a bit like terminology from OrbusVR, that's because they are standard RPG game terms.
All these benefits are completely free and all you have to do is get involved and chat about cool things with the rest of the community on the SideQuest discord.
How to Sign Up For SideQuest Communities
Getting started and registered is easy. First, go to the SideQuest login page. If you already have an account, sign in here. If you are new to SideQuest, click on Sign Up Instead.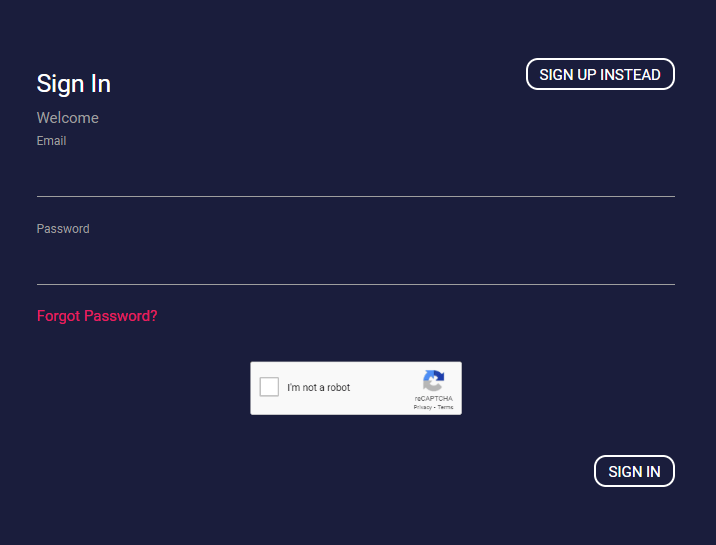 Follow the prompts on the screen to sign up and make sure you activate your account like clicking the link in your email.
When you log in, you will see your home profile page. It will be blank, unlike mine below.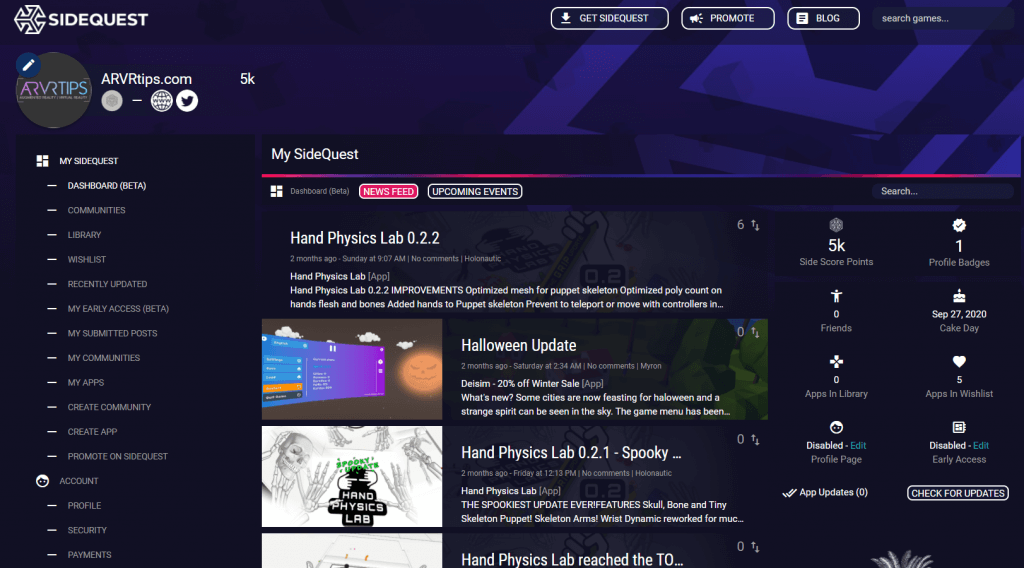 Click on the Communities link on the left side to view a list of communities that you can join.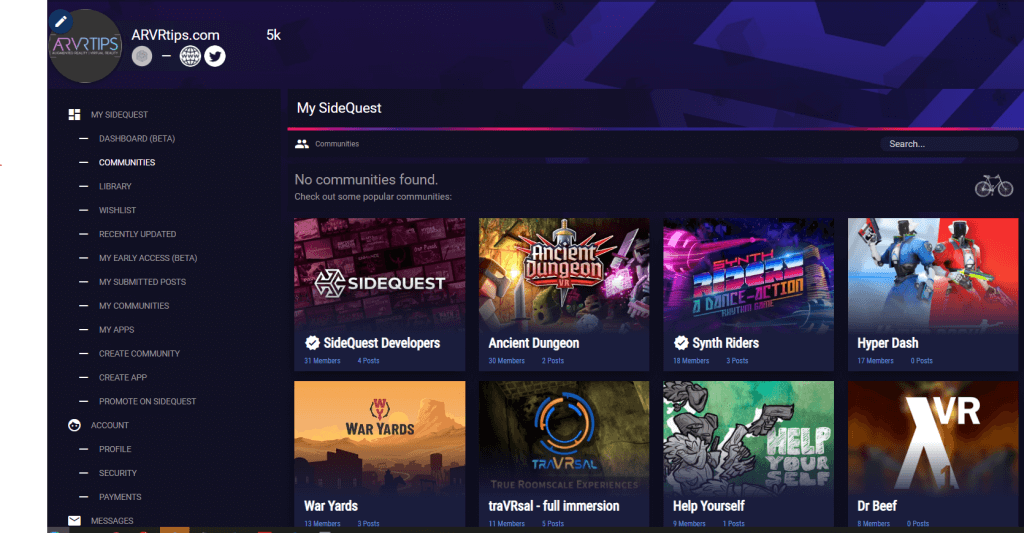 Click on a community and then click the Join Community button to join it. After you join, you will be able to add a post and interact with the community for that game, developer, or influencer.
How to Join the SideQuest Discord
If you want to join the official SideQuest VR Discord channel and starting earning XP points, follow the instructions below.
Download and install the Discord app on your phone from your App Store.
Launch Discord. From the left menu, click the + icon and then select Join a Server.
For the invite link, enter https://discord.com/invite/r38T5rR or if you are on your phone reading this guide, just click the link.
The first thing you are want to do is go to the start-here page on the SideQuest Discord, read the rules, and click the green checkmark. After that, you will see all of the different individual different categories to chat in.
You are now a SideQuest Communities member on the website and on Discord! In the future, we expect to see even closer integration between SideQuest Communities and Discord.
Do you want to know anything else about how to interact with SideQuest Communities? Comment below and let us know what you think and we will help you out!