Steam has released the January 2021 hardware survey, released periodically to gauge hardware and software usage by players on its platform. The results include a "VR Headset" section, which can give us clues on how some of the most popular VR headsets are performing.
Perhaps unsurprisingly, the largest growth in the survey belongs to the Oculus Quest 2, which has sold over one million headsets since it was released in the middle of October 2020.
The Oculus Quest connects to a gaming PC or to a cloud gaming PC like Shadow PC with Oculus Link or Virtual Desktop.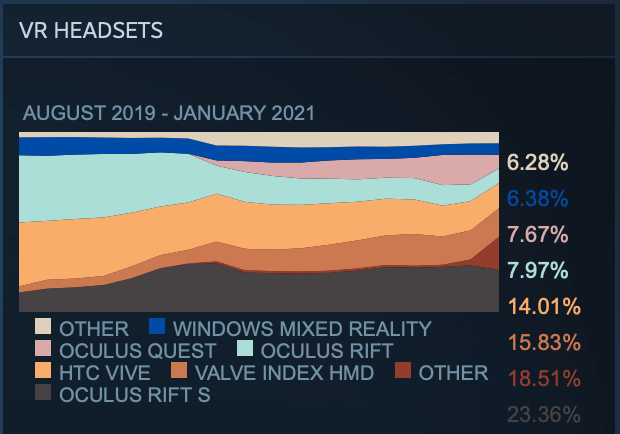 The percentage breakdown and change compared to the last survey is as follows:
| VR Headset | Percentage (Jan 2021) | Change (%) |
| --- | --- | --- |
| Oculus Rift S | 23.56% | -2.56% |
| Oculus Quest 2 | 18.51% | +15.20% |
| Valve Index HMD | 15.83% | -0.29% |
| HTC Vive | 14.01% | -2.26% |
| Oculus Rift | 7.97% | -1.35% |
| Oculus Quest | 7.67% | -8.82% |
| Windows Mixed Reality | 6.38% | +0.15% |
| Others | 6.28% | -0.10% |
As you can see, the only double digit gain was for the Oculus Quest 2. However, you can see that its 15.20% rise comes at the biggest expense to the Quest 1 (8.82% drop) and the Rift S (2.56% drop). This means that it is mostly Oculus users who upgraded their headsets in 2020.
The only other headset to be released new during this time was the HP Reberb G2. Windows Mixed Reality only rose in market share by 0.15%, which might be disappointing for HP's sales numbers.
The only other noteworthy change in 2020 was Valve announcing that stock on the Index headset had improved in shipping time. Despite this, the Index lost market share as well.
It was always expected that a large number of Quest 1 users, who had bought into the concept of mobile gaming, would be the ones to upgrade. It will be interesting to see if the Quest 2 can take market share away from older PC VR headsets.
Click here for a step-by-step tutorial on how to install Steam VR.
Subscribe to us today for free and get 101+ VR tips in your inbox! These tips cover everything from getting started in VR to hardware and software tricks and specific game help.