Virtual reality is a booming industry and anyone who has been watching has heard this for a while. Below, we've compiled the most comprehensive list of VR statistics and graphs on the internet.
These are real facts and statistics for 2021. They give a great snapshot of where the industry is at today.
Share these with your friends. Re-blog these on your website (just give us some credit)! Spread the word about VR.
General VR Statistics
The general VR statistics below focus on market share and where the industry is currently and where it will go in the future.
The market size of virtual reality is projected to increase from 6.2 billion dollars in 2019 to 16 billion by 2022.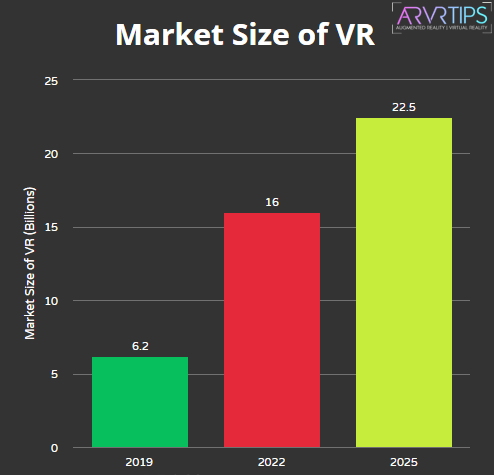 Even bigger, Jesse Schell from Schell Games predicts that the market size of VR will increase to 22.5 billion by 2025. This is almost 4x growth in just six years!
Compared to console gaming, VR is still almost 6 times smaller!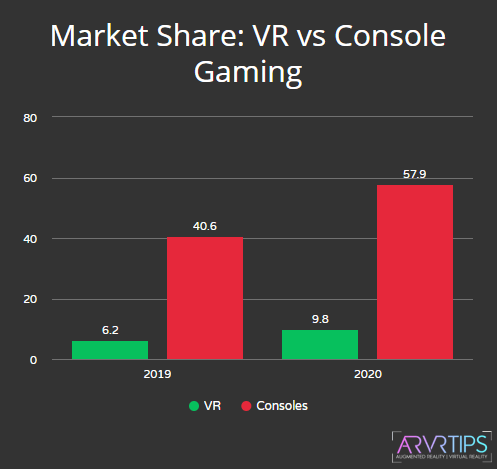 Despite some serious growth in virtual reality market share, it is still almost 6 times smaller than the console gaming industry, which is 57.9 billion dollars in 2020.
China Is going to be the #1 spender of virtual reality content in 2020 with 5.8 billion USD dollars spent. USA is #2 with 5.1 billion dollars!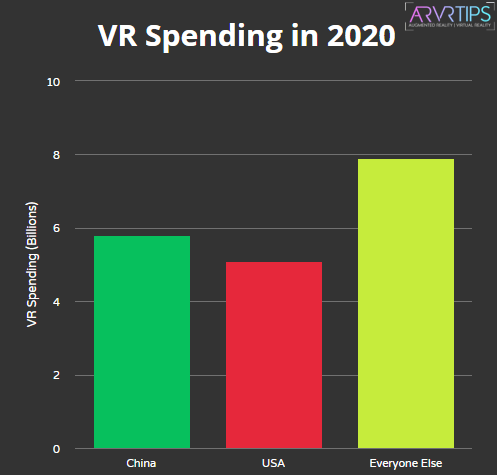 This helps to explain why the Asian market has gotten some VR game and hardware exclusives over the last few years! In fact, Facebook announced a number of games for the Asian market alongside the Oculus Quest 2, including ALTDEUS, Rez Infinite, Hatsune Miku VR, and more.
53% of Americans do not know anything about virtual reality technology
That is a ton of room for growth in the coming years, up to 170 million Americans to grab the attention of.
55% of Americans believe virtual reality is too expensive
Oculus announced that their Quest 2 headset retails for $299, the lowest consumer price ever. This stat is a big reason for that.
The biggest obstacle to VR adoption is user experience, which 27% of industry experts claim
20% cite customer and business hesitation
19% cite poor content offering
Improving user experience is why Oculus focused on a cheaper, lighter, and more attractive VR headset with the Quest 2. Also, not requiring the purchase of an expensive gaming PC is good for user experience too.
There was 171 million VR users worldwide in 2018
To put this into perspective, there are 2.4 billion gamers worldwide in total across PC and consoles.
67% of VR headset owners use their device once per week
Current owners use their hardware regularly. Even so, there is still a lot of growth opportunity in the space.
70% of VR headset owners anticipate their device usage to increase over the next year
With exclusive VR games coming from the developers of Assassins Creed and Splinter Cell, there will be a few big titles for fans to check out.
77% of VR users want more social engagement. Social activities, playing games together, watching videos, communicating
This is a big reason why Facebook is focusing their effort on Horizon. Its a full social platform for users to interact in virtual reality, play games, and watch media together.
Only 14% of women have bought a VR headset online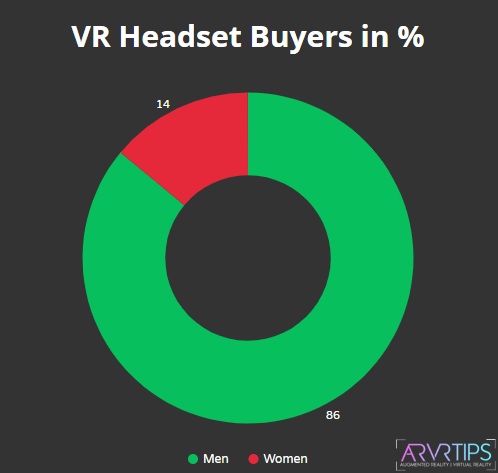 Predictably, VR headsets are bought by males. If a company can figure out how to engage women too, it has a huge opportunity.
From 2018 to end of 2019, the PSVR was the highest selling VR headset: 1.6 million in 2018 and 1.2 million in 2019
The PSVR was overtaken by the Oculus Quest as the highest selling VR headset per quarter starting Q4 2019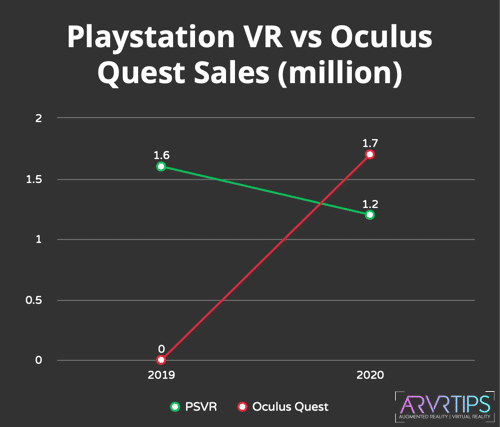 Can Sony take the lead back with a solid Playstation VR offering with the new PS5 console? So far, Sony has been quiet about the release of Playstation VR 2 alongside the Playstation 5 console. Predicably, this is to not interfere with the hype of the new game console. We expect to see a brand new release announcement from Sony soon on some new VR hardware.
A number of patents have been filed by Sony lately to suggest that a new VR hardware with inside-out tracking is being developed.
Hardware VR Statistics
The following VR statistics below focus on virtual reality hardware devices.
12.5 million VR headsets will be shipped to customers in 2020
2020 was the biggest year for VR headset sales yet and the prediction is that 2021 will be even bigger yet with new hardware from Oculus and HP coming out.
When you add in augmented reality, 14 million AR and VR devices were sold in 2019
With Facebook announcing Project Aria as the first step towards AR smart glasses, we should see AR devices increase in the future.
2.6 billion dollars will be spent on consumer VR hardware in 2020
68.6 million AR/VR devices will be shipped in 2023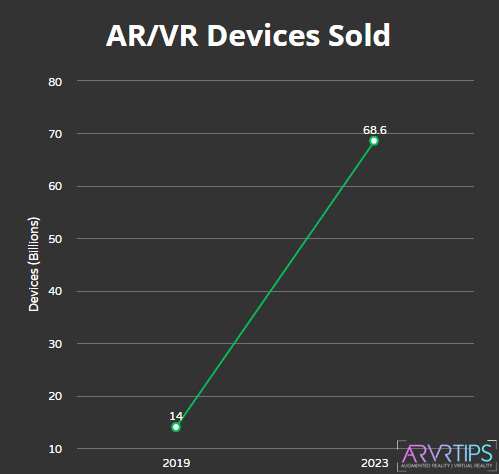 This represents a 4x increase in the next three years.
According to PiperJaffary, over 500 million VR headsets will be purchased in total by 2025
As the numbers grow, we'll see more virtual reality developers jump on board to release quality VR games to play.
Oculus Quest Statistics
The VR statistics below are for the Oculus Quest 1 and 2, Facebook's Android-based standalone VR headset.
Demand for standalone headsets has gone from 0 to 29 million from 2017 to 2022
29 million in 2022 represents 62% of total headsets
Its clear that the Oculus Quest is a real winner for Facebook. not requiring a full gaming PC in order to get into virtual reality is a HUGE perk for consumers. Oculus is going all in with wireless in 2021, with the focus on the Oculus Quest 2 and the discontinuation of the Oculus Rift S. We think that this will increase the Oculus Quest's market share even more in our next VR statistics update.
In its first 12 months, the Oculus Quest outsold the Rift S by more than 3 times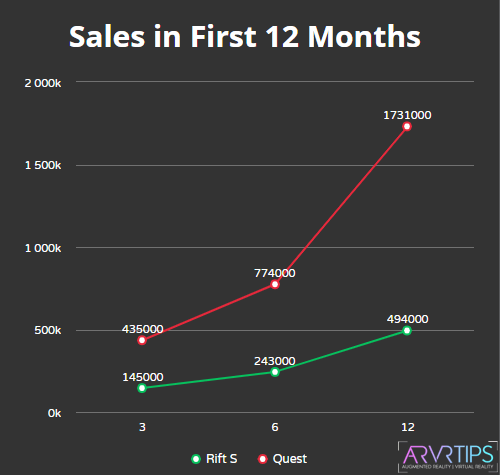 As you can see above, the Quest has outsold the Rift S since the moment it was released. In its first year, it sold 1.73 million copies to Rift S' 500,000.
In its first year, 170 apps and games were launched for the Quest
With only 35 titles available on launch day, this number has been steadily increasing over the last year. 170 does not include the number of games included in the third-party SideQuest VR store, which has an additional 500 titles to check out.
82 of the games released in the first year for the Quest supported cross-buy
Cross buy games can be purchased once for the Quest or Rift S and played on either headset. A lot of users switching from one headset to the other have looked specifically for cross buy functionality. In total, about 50% of VR games are cross buy.
66% of Oculus Quest content is games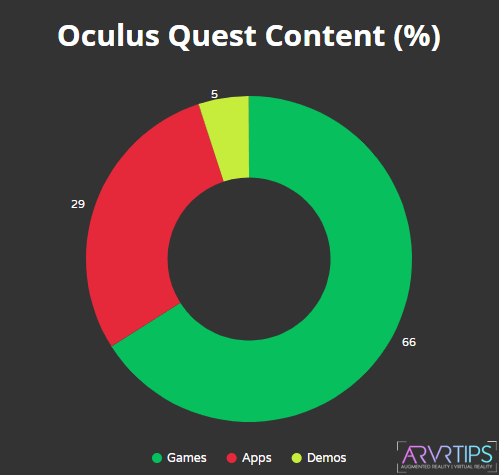 66% of content is games, 29% are apps and 5% are game demos. These stats are for the official Oculus store. When you take into account SideQuest VR, there is a higher percentage of games available in total.
30% of content on the Oculus Quest store is free
From 360 degree videos to media to games and apps, a lot of content in the Quest store is free to try out and show off to your friends.
59% of Oculus Quest content are ports from PCVR games
An initial concern of the Oculus Quest was how much lower processing power it had verses PC virtual reality games. With almost 60% of games being ports, this concern is mostly gone. This VR statistic should increase in the future with the introduction of the Snapdragon XR2 processor in the Quest 2.
Only 6% of new VR games release on the Oculus Quest first
Again, we should see this increase in the future as the Quest takes over market share. We think developers will look to release on the Quest 2 specifically and port to PCVR later.
72% of games support cross buy
92.3% of games released simultaneously for Quest and Rift S are cross-buy
This suggests that more new games are coming out with cross buy functionality. This is great news, as there are rumors that Oculus is phasing out the Rift S in 2021.
100 million in Quest content was sold in the first year
At two million sales, this means that each person spent on average $50 each. The average virtual reality title costs around $25.
35 Quest titles made at least 1 million dollars in the first year. 10 made 2 million
Mark Zuckerberg mentioned in his Facebook Connect 7 speed that 25 titles passed their million dollar mark in between months 10 and 12.
90% of those who received a Quest for Christmas 2019 had never owned a VR headset before
This speaks volumes to how game-changing the Oculus Quest is for the entire VR market.
VR Software Statistics
The VR statistics below focus on the software side of the business, including games, media, and other downloadable content.
20.8 billion dollars will be spent on VR games and VR videos in 2023
If any VR developer is on the fence about jumping into the market, this VR statistic should change their mind!
7 billion dollars will be spend on VR games and VR videos in 2020
This represents a 3 times growth in just 3 years time.
70% of VR headset owners have purchased a game for their headset
Surprisingly, this means that a large number of virtual reality players have never purchased a game or any content for their headset.
Steam VR Statistics
The VR statistics below are for the Steam platform, the largest virtual reality game store in the world. Steam does not host any content for the Oculus Quest, making these VR statistics exclusive for PCVR headsets such as the Oculus Rift S, HTC Vive, Valve Index, and HP Reverb.
Only 2% of Steam users own a VR headset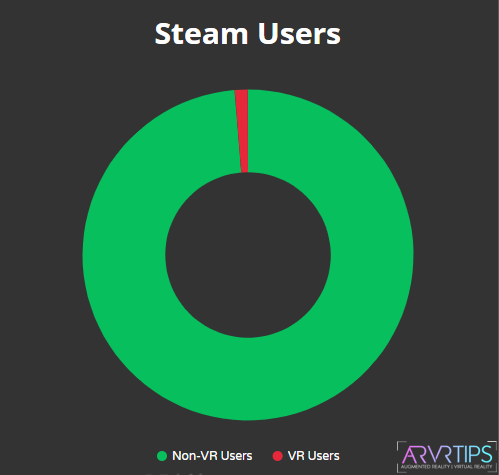 98% of Steam users are exclusively PC users. This represents a huge area of possible growth in the market.
There are 100 million monthly active Steam users, meaning 1.3 million Steam Users own a VR headset.
Considering that 1.7 million Oculus Quests have been sold in the first year, there are less active Steam VR users than there are Quest buyers.
25% of active Steam users own an Oculus Rift S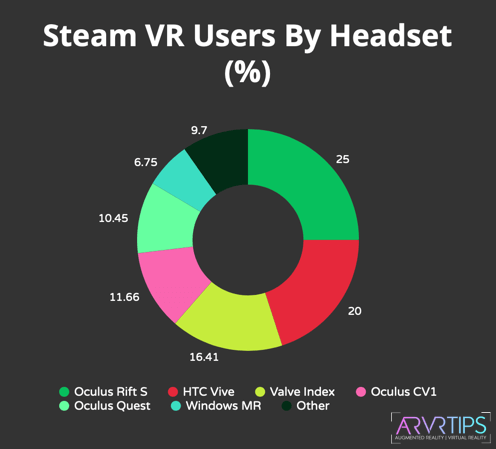 Plus, 20% own an HTC Vive, 16.41% own Valve Index, 11.66% own an Oculus CV1, 10.45% own an Oculus Quest and play Oculus Link, and 6.75% own Windows MR.
Over half of Steam VR players are Oculus owners
Over 1 million new VR headsets joined SteamVR after the release of Half Life: Alyx on March 23, 2020.
Its not clear whether there were only 300,000 active Steam VR users prior to Alyx's release date or how the two VR statistics correlate. Either way, more AAA games for virtual reality means opportunity for a lot of new VR players.
73.68% of VR players have an Nvidia GPU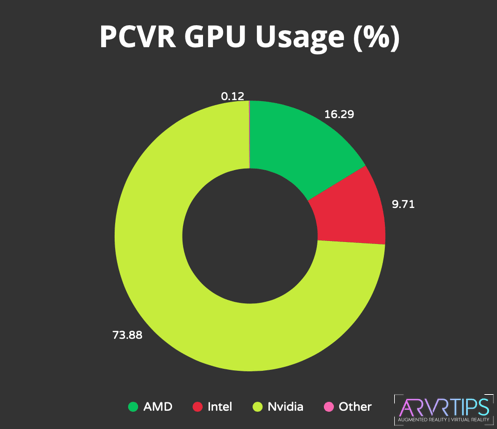 Perhaps surprising to nobody, Nvidia graphics cards dominate the market for VR players. The release of the new RTX 3070, 3080, and 3090 should let Nvidia keep hold of this VR statistic into the future.
74.41% of VR players have an Intel CPU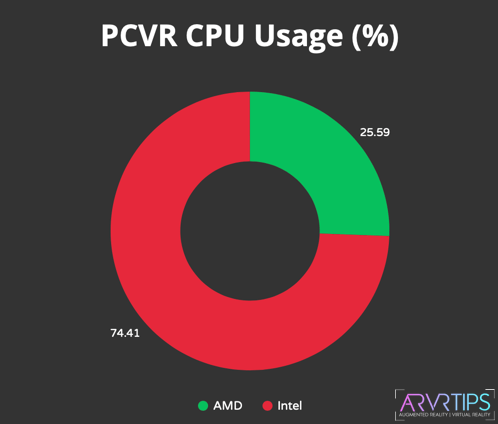 For CPU, Intel dominates the market with a near 75% market share in front of AMD.
VR Business Statistics
The VR statistics below are related to the business and commercial side of the virtual reality industry.
In 2023, it is projected that industrial VR usage will be 3 times greater than consumer usage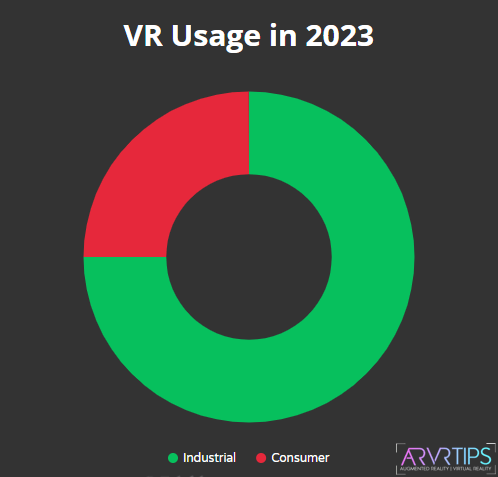 If you are excited about how many more casual players will be joining virtual reality, you should be even more excited at the business opportunities.
E-commerce companies who implement VR can increase conversion rates by 17%
Virtual reality gives you immersion like never before, allowing e-commerce companies to increase sales and revenue.
75% of Forbes World's Most Valuable Brands have invested in AR/VR technology
The world's biggest companies are starting to page attention to the technology. It's a huge positive when big money is involved.
VR gaming jobs increased by 93% between 2015 and 2018
Amongst the different VR gaming jobs available, there are game designers, producers, programmers, artists, business, sales, marketing, and more.
VR Arcades made 287 million in revenue in 2018, 2.3 billion in 2020
10x growth in two years is explosive growth for VR arcades! This VR fact shows that prospective business owners should look at virtual reality for their next opportunity.
The average price for 30 minutes of gameplay is $25 per person.
Startup costs for VR arcades are fairly low, which means that there is big revenue opporunity.
What VR statistic would you like to see more data on? Comment below and we will search for an answer for you.
Again, feel free to use any of these VR statistics, facts, and figures in your website or presentations. Just give AR/VR Tips credit for compiling the information together.