At a Glance
HTC's XR Elite VR headset features inside out tracking, an Android-based system, PC VR support, and pancake lenses. The result is an interesting premium headset that is cheaper than the Meta Quest Pro, more comfortable to wear, but needs the platform of apps and games to drive support.
Key Features
Pancake lenses provide a thin form factor
Full color passthrough for XR apps and features
Manual IPD adjustment and diopter dials for a perfect fit
Detachable battery pack
How to Buy
You can buy the HTC Vive XR Elite from Amazon around the world:
Sale
HTC Vive XR Elite Virtual Reality Headset + Controllers
Lightweight XR. A sleek headset that goes where you go.
Finely tuned viewing. Adjustable IPD and diopter dials for the most natural and clearest visual experience.
Fun and imagination amplified. Crisscrossing realities with vibrant, high-resolution XR passthrough.
Click here to browse the official HTC store.
The HTC Vive XR Elite
The HTC Vive XR Elite is a 2023 VR headset from HTC, who has released the HTC Vive, Vive Pro, Vive Focus, and Vive Flow in the past. The XR Elite is one of the growing mixed reality headsets which have traditional virtual reality support along with full color passthrough to enable XR apps and games.
The Vive XR Elite has flat pancake lenses, which give the form factor a slim look. A manual IPD adjustment dial and diopter adjustable lenses allow the device to work with any head and eye combination. The display resolution of the device is 1920 x 1920 per eye, which is slightly higher than the Meta Quest Pro, its main competitor.
The Vive XR Elite can play PC VR games through both Viveport and SteamVR. You can connect to your gaming PC via a standard USB-C connection or wirelessly over Wi-Fi 6 with a compatible router.
This headset also contains a Qualcomm Snapdragon XR2 chip with an Android platform and 128 GB of storage space. That makes this all in one, allowing you to play compatible Android games from the Viveport store. The selection is not as great as the Meta store, but HTC's move to support Android-based VR is a good sign at where the company wants to go in the future.
One other noteworthy feature is the detachable battery on the rear of the headstrap. When detached, you can wear the device like a traditional pair of glasses and offload charging to an attached cable. This is the same feature that Apple VR has been rumored to have for a while.
Below is a complete outline of specs for the device.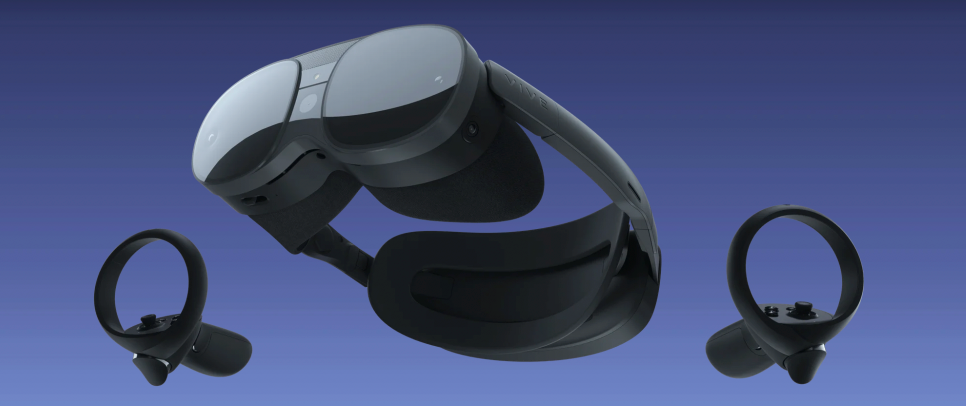 Release Date
The HTV Vive XR Elite was released in February 2023. Pre-orders for the new VR headset became available on January 5th, 2023.
HTC ran a neat launch incentive that gave you five popular VR titles for free (a value of over $100 USD): Green Hell VR, Les Mills Bodycombat, Unplugged: Air Guitar, Figmin XR, and Glimpse. These include fitness, adventure, and music games to integrate you with the XR Elite.
Display Lenses
Like the Meta Quest Pro, the HTC Vive XR Elite has two pancake lenses instead of a traditional LCD screen. Pancake lenses have a smaller form factor, which allows the headset to take up less space and weight overall.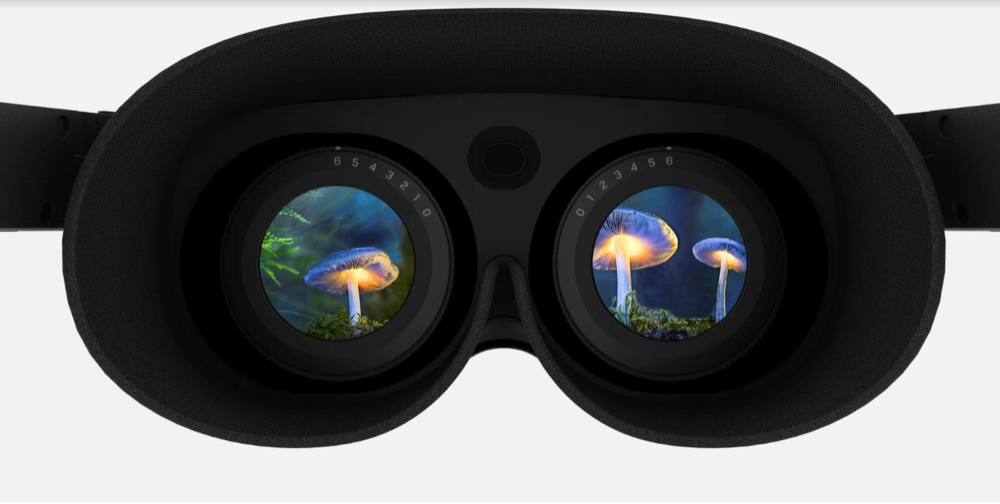 Resolution
The resolution for each pancake lenses is 1920×1920 per eye and 3840×1980 combined, providing clear and vibrant visuals for all apps.
You will also get a wide 110-degree Field of View that will provide the best picture for your headset.
Depth Sensor
The HTC Vive XR Elite has a depth sensor and four tracking cameras outside the headset to enhance tracking accuracy and immersion. This depth sensor also works in many lighting conditions and will ensure sufficient play area.
Once you put the headset on, you will have to designate your play area, and the headset will ensure that you stay in this area while you play.
IPD Adjustment
The HTC Vive XR Elite allows you to find the perfect sweet spot distance between the lenses through the adjustable IPD slider on the outside of the headset. This means that you can turn the dial clockwise if you want to increase the distance between the lenses, and turn it counter-clockwise to decrease the distance between the lenses. The range of the IPD is 54 to 73mm.
Diopter Dials
The headset features diopter dials that you can adjust for each lens to ensure you are getting the crispest, sharp image possible for each eye. This allows users who usually wear glasses to take them off while wearing the headset and get the most comfort.
Each dial goes from 0-6; as you turn them, the image will get crisper depending on your eyesight.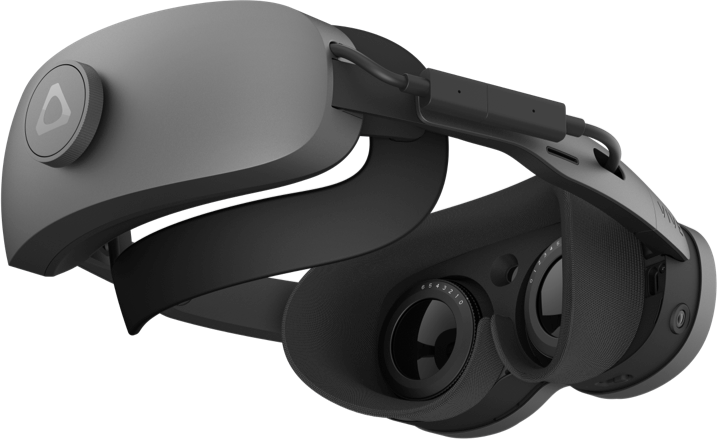 Refresh Rate
The maximum refresh rate through the XR Elite is 90hz. For the most part, this will ensure a smooth and seamless experience when playing with the headset. This refresh rate comes in handy when playing games that have more speed and motion.
CPU
The Vive XR Elite runs on the Qualcomm Snapdragon XR2 processor, the same processor on which the Meta Quest 2 and Pico 2 headsets operate. You can also connect directly to your PC and access all of your PC VR content that you may have on Steam or HTC Viveport.
The Elite comes with 12 GB of memory.
Storage Options
The XR Elite is only available with a standard 128 GB option. HTC has yet to announce whether more models with higher storage are in the works.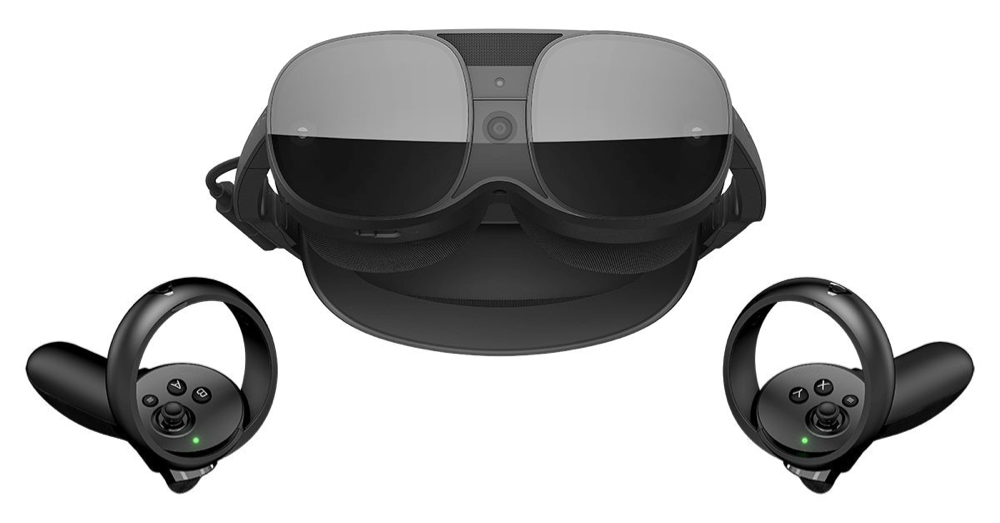 Strap
The HTC Vive XR Elite does not come with the standard over-the-head strap that other VR headsets come equipped with. Instead, the battery cradle sits on the back of your head, connected with straps that go to the front where the lenses are.
This makes the headset more comfortable and fits many different head sizes. You also don't have to worry about messing your hair up while playing VR anymore.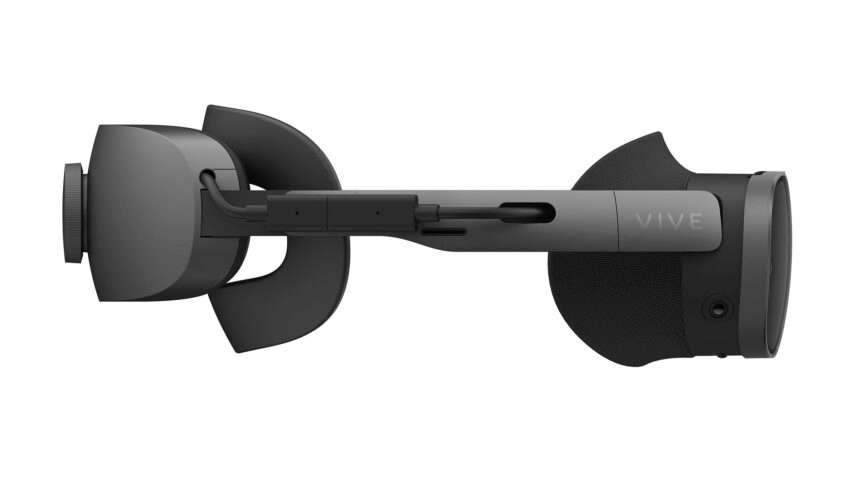 Tracking
The Vive XR elite features inside-out tracking with four wide FOV cameras that face outward from the headset. You do not need to buy or setup any base stations to get tracking working. The spatial accuracy is high.
Battery
The HTC Vive XR Elite's battery life lasts for up to two hours. It is a single strap that has the battery sit on the back of your head. It is also reasonably lightweight, only weighing about 625g with the battery attached.
The battery pack is also a modular design, allowing you to remove it and make it more like you are wearing glasses. The battery will only last a few minutes in the glasses mode, so you have to plug into a compatible USB-C charger or Android phone to provide charging.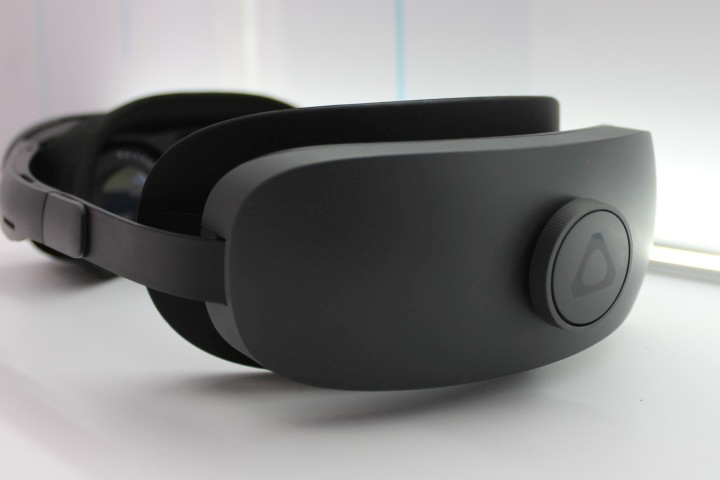 Speakers
The HTC Vive XR Elite has immersive audio throughout the headset. The speakers blend right into the headset on both sides just above your ears, so you can't tell they are there. The audio is crisp for all apps and has a built-in microphone.
Weight
The Vive XR Elite is exceptionally lightweight and comfortable on the head. With the battery cradle attached, the entire headset weighs 625g.
You can also remove the battery cradle and wear the headset in glasses-only mode. This drops the headset's weight to 273g. If you detach the battery, you'll need to plug into a charger or an Android phone to use the headset for longer than a few minutes.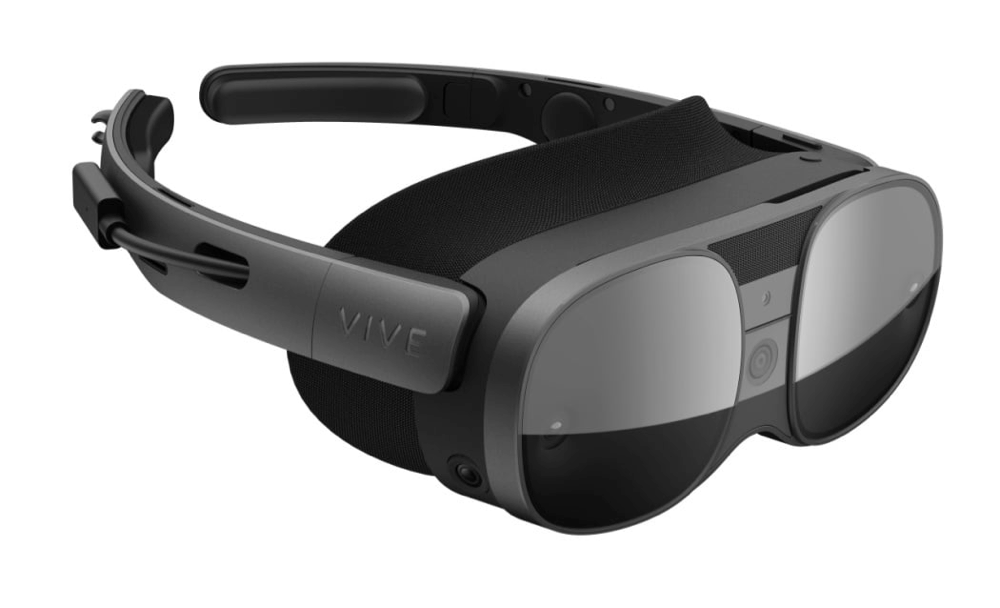 Controllers
Included with the headset comes two Vive XR controllers, dubbed 6DoF (6 degrees of freedom). Each controller weighs about 142g and contains capacitive face buttons, joysticks, a touchpad, and both index and middle finger triggers.
The controller's battery life is around 15 hours and it is easily rechargeable. The controllers are slick and very comfortable to hold for long periods.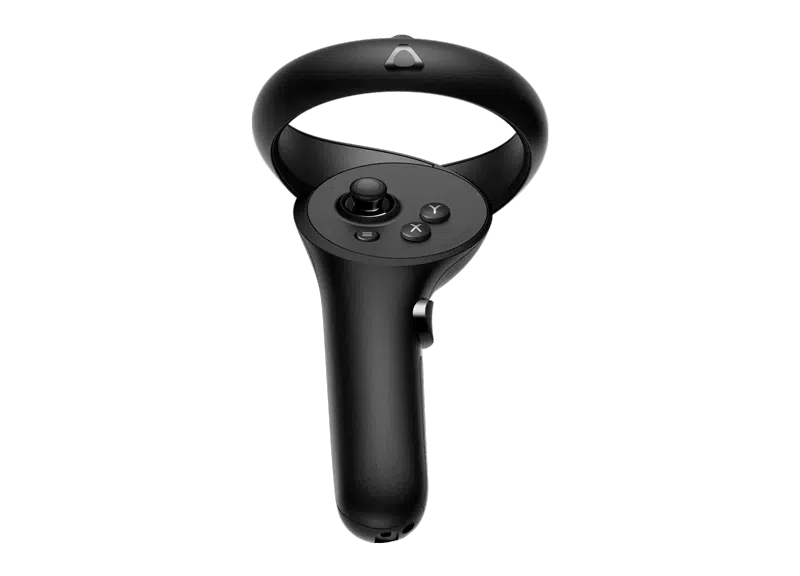 Hand Tracking
The XR Elite has built-in hand tracking, which means you don't need to use the controllers. Using only your hands and fingers, you can play compatible games with gesture controls. This is convenient for users who only want to hold the two controllers sometimes.
Passthrough Cameras
The HTC Vive XR Elite has included passthrough cameras allowing you to see the outside world while wearing the headset. HTC advertisers that you can read text on your cellphone through the VR headset.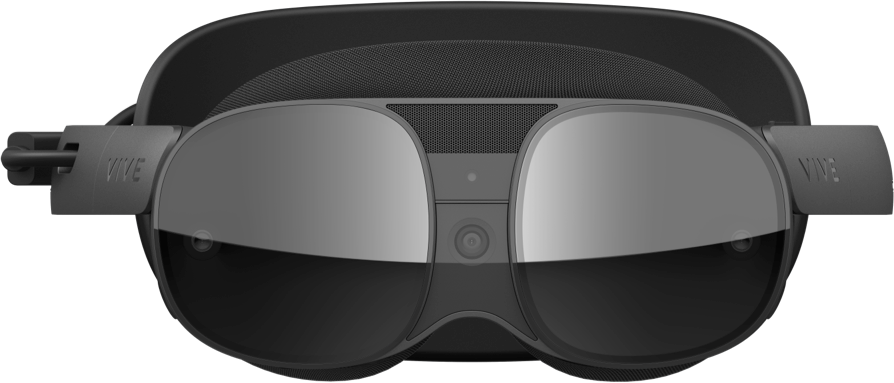 Mixed Reality Mode
On top of providing Virtual Reality through the headset, the XR Elite has full mixed reality capabilities as well. The XR Elite comes equipped with a full-color RGB passthrough camera, allowing you to use the headset in many different ways.
Mixed Reality is when you can see the world around you through the included outward-facing camera. HTC plans on releasing over a hundred games that mix VR and MR so that you can use the world around you when playing.
Mixed reality mode also means you no longer have to completely remove the headset to know what is happening around you. You can also see others around you and keep a conversation going without taking the headset off.
Games
The XR Elite supports standalone Android-based games and PC VR games (wired or wireless) through the Viveport platform.
During the initial launch window, a pre order of the headset awarded you with five free games:
Green Hell VR (adventure game)
Les Mills Bodycombat (health & fitness)
Unplugged: Air Guitar (music)
Figmin XR (creativity & education)
Glimpse (entertainment)

Later in the year, you will also have access to content such as Everslaught: Invasion and Eggscape. These are some of the more popular VR games set to release.
One game that won't be on the Viveport platform is Beat Saber, which is owned by Meta.
More and more games are set to be released, along with games that HTC said will work with both VR and MR (mixed reality). This is HTC's first real standalone headset marketed for gaming, so it might take a while for developers to add support for Viveport's Android platform.
VIVERSE
Viverse is a Metaverse created by HTC in which you can interact with other users and attend social VR events such as concerts, sporting events, and more. Viverse is a fully secure digital life located right inside your VR headset. It allows you to escape reality and get lost in the Metaverse.
Viverse also allows you to connect with co-workers and vendors in a next-level type atmosphere. You can meet and collaborate with your team regardless of where everyone is. You can go to expos, conferences, social gatherings, and more.
Official Accessories
There are several official HTC Vive XR Elite headset accessories available to purchase alongside the headset:
Extra VIVE Controllers
VIVE Streaming Cable: allows you to connect to your PC for PC VR games
VIVE Protective Case: a sleek protective case to protect your headset
VIVE Wrist Tracker: enhances hand tracking and finger movements
VIVE Battery Cradle: swappable and replaceable and provides an additional 2 hours of battery