There are some great accessories and add-on hardware that can make your HTC Vive VR headset better. We've compiled 10 must have HTC Vive accessories below to check out.
From improved sound, more comfort, and other cables, we'll show you everything you need.
If we missed an accessory you've bought lately, comment down at the bottom of this guide and let us know!
The Best HTC Vive Accessories
Don't feel like reading a bunch? Click here to purchase our best HTC Vive accessories no matter where you live in the world!
Types of HTC Vive Accessories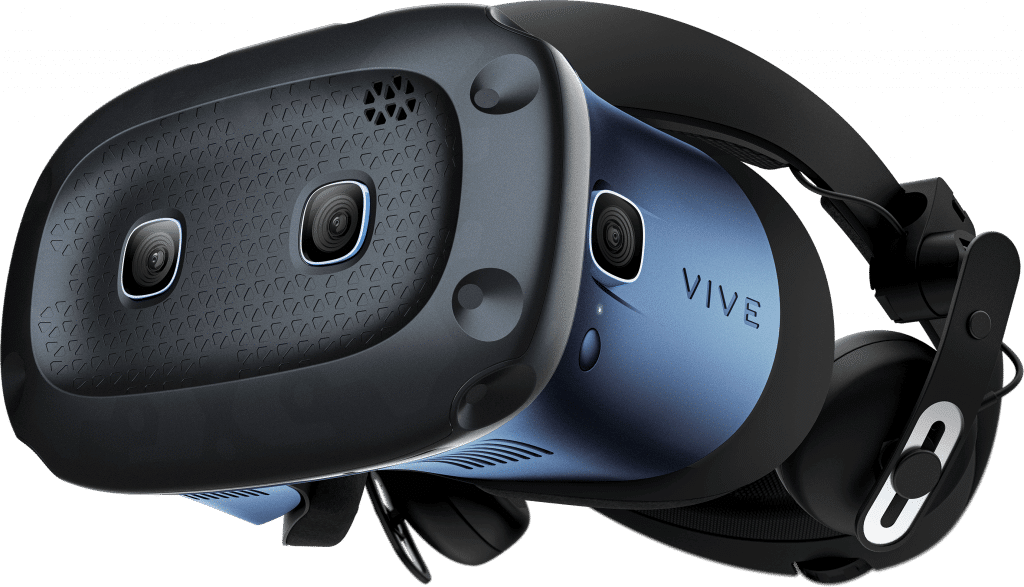 The Vive is a line of PC VR headsets from HTC. The headsets connect to your gaming PC, which processes and displays your games in your headset. There are a number of different product lines depending on how professional and high of quality you are looking for. All of these HTC Vive accessories below work on all of these headsets:
HTC Vive
Vive Pro
Vive Pro Eye
Vive Cosmos
If any of these HTC Vive accessories don't work with any of the headsets above, we'll tell you in the descriptions below. Before we go into more detail, here are the different types of accessories that are common.
Comfort Accessories
This hardware improves how comfortable the headset is sitting on your face. It includes new facial interfaces or hand accessories for your controllers. With these, you'll be more comfortable playing VR for longer sessions.
Hardware Accessories
There are a bunch of third party add-on accessories for the HTC Vive, including:
Charging docks
Better audio headphones
Improved tracking
Base stations
and more! This category includes extra hardware that supplements your HTC Vive headset.
Next, we check out some top HTC Vive accessories in more detail!
Deluxe Audio Strap
The Deluxe Audio Strap for HTC Vive is designed to help you take off the frustration of using your own headphones or headset. This strap replaces the standard straps and integrates audio right into the headset design.
The DAS is comfortable and the plastic housing allows for improved weight distribution while gaming. The design of this HTC Vive accessory means less cable in the way when you play your favorite games. Simply put the Vive on and you are ready to experience a whole new reality.
The Deluxe Audio Strap features an adjustment dial, height or angle adjustment, and hard-sided construction. It also features proved cable management.
Base Station 2.0
The Vive Base Station keeps track of your position and movement in your VR guardian space. While HTC Vive headset comes with two Base Stations, you can get a standalone replacement in case one of the official base stations fail. Or if you have the 1.0 base stations, this is what you want to upgrade to.
This HTC Vive accessory powers the immersion and presence of VR and room-scale. It also helps the controllers and headsets to track their exact locations.
Out of the box, Base Station 2.0 fits standard threaded mounting points. It is also compatible with the Vive Pro and VIVE Cosmos External Tracking Faceplate.
Drill Free Mount for Base Stations
The Drill Free Mount For Base Stations save you the troubles of drilling holes on your wall to mount the HTC Vive base stations. It is flexible and easy to use. In fact, you can install this HTC accessory on your room wall without drilling holes to save space.
The Drill Free Mount For Base Stations is compatible with HTC Vive, Vive Pro, and Valve Index Base Station. It is also compatible with the Oculus Rift guardian sensor, Lighthouses, and camera camcorder.
Tripod Stands
If you don't want to use the drill free mount to mount the base stations to your walls, Tripod Stands present an excellent alternative. These hold your base stations in place.
You can easily set up the Tripod Stands, move them around, and turn the base stations in any direction. With a height of 7 feet, these HTC accessories position your VR base stations so that they capture your every move.
The Tripod Stands are made from durable aluminum and are compatible with base stations, the Oculus Rift guardian hardware, and other tripods.
The kit includes a cushioned carrying bag for easy movement from one place to the other. If you are traveling, your VR base station stands can go with you.
Vive Tracker
The Vive Tracker is one accessory you should include in your HTC Vive kit if you want to immerse yourself completely in the VR world.
Vive Trackers offers a robust solution for adding high positional tracking to your games. For example, with the Vive Tracker you can more accurately track your arm movement, feet movement, hips, chest, and more.
It can track the physical presence of your entire body within the virtual space. It works with gloves, basketball bats, and fake guns. Additionally, the micro USB port can be used to input controller button events.
New for 2021 is the 3.0 Vive Tracker, which is smaller and more accurate! Buy it below:
Here is the 2.0 Vive Tracker to purchase:
Tracker Belt and Straps
Tracker belt and straps is a full body tracking device. They are designed for VR gamers who enjoy long session games. These HTC Vive accessories can easily attach to your hands, waist, and feet for full body tracking.
You attach your Vive Trackers into your belt to hold it into place and keep things working and accurate.
Tracker belts and straps are resistant to wear and tear. In other words, they are made to absorb low-intensity and high vibrations ensuring accurate tracking. Depending on the size of your waist or hand, you can adjust these accessories for comfortable fit.
Cable Management System
The Cable Management System is designed to help HTC Vive users to reduce noise and cable tug during game play. This accessory makes it easier to get immersed without tripping over cables.
It also serves as cable length adjuster. Simply pull up the Noise Dampener and use the Allen wrench to adjust the cable length.
Cable Management System is a must-have if you want to enjoy your favorite VR games. It keeps cables off the ground, making it easy for you to bend and get up without stepping on cables.
This VR accessory is compatible with HTC Vive, Pro, and Cosmos. It is also compatible with Oculus Quest 2 Link Cable, Oculus Rift, Rift S, PlayStation VR, Samsung Odyssey VR, and Microsoft MR too.
Wireless Adapter
The HTC Wireless Adapters lets you move around in VR without cables by providing a wireless point-to-point connection from your headset to your computer. Tethering the headset to a computer and then walking around an environment is tedious.
The Wireless Adapter is designed to turn your HTC Vive into a wireless unit. This accessory creates a cable-free connection between your Vive and PC.
Powered by Intel wig, Wireless Adapter offers a near-zero latency cable-free VR experience. It is responsive, fast, and laden with maximum performance. It works with the Vive Cosmos series, Vive Pro series, and Vive Pro eye series.
This accessory comes with a powerful battery that can serve you up to 3 hours of gameplay. Plus, it allows up to 3 VR gamers in a single room-scale environment. There is some third party hardware available, but the official wireless adapter is superior.
Charging Station
The HTC Vive charging station is designed to enable you to store and charge your controllers. It helps get rid of wired charging and is flexible and convenient to use.
As soon as you finish playing your favorite game, all you need to do is to put your controller on the Charging Station. The installation is very simple and straightforward. You don't have to remove the USB connector all the time.
Foam Cover Replacement
The Foam Cover Replacement is an excellent alternative to the original face cushions that ship with the HTC Vive. This accessory is what your body will be in contact with most of the time. As such, wear and tear is highest in this region of the headset.
This accessory increases the Vive's field of vision and is more hygienic. It also offers improved comfort and easier cleaning.
If you enjoy VR fitness games, order a few of these covers so that your friends and family don't have to use the same cover you do.
What are your must have HTC Vive accessories? Comment down below and let us know what you purchased recently!