There are some great accessories and add-on hardware that can make your Meta Quest 2 VR headset better. We've compiled the 29 best Meta Quest 2 accessories below to check out.
From improved sound, more comfort, and other cables, we'll show you everything you need.
Meta is the new brand name, so this guide is the same as Oculus Quest 2 accessories.
Newly added: The new D-Link VR Air Bridge, a new protective case and magnetic covers for your Quest 2 controllers!
In a rush? Here is our list of the best Meta Quest 2 accessories:
What are the Best Meta Quest 2 Accessories?
Comfort Accessories
Strap and Counterweight Accessories
Hardware Accessories
Accessories for Protection
Accessories for PC VR Gaming
Meta Quest 2 Comfort Accessories
Quest 2 Face Cover From VR Cover
VR Cover is a face cover that prevents sweat from soaking into your Meta Quest 2 padding. It is an essential Quest 2 accessory that every user should have on hand.
VR Cover is a soft, washable, medical grade silicone cover to protect your Quest 2 from sweat and dirt. Now you can work out in VR with a safe silicon cover that doesn't let sweat soak in.
What if you intend to show off your Quest 2 with friends or family members? Grab a few clean covers to play some multiplayer VR games.
The hygiene cover is the top selling accessory for VR.
Click here to check out the face covers from VR Cover.
Kiwi Knuckle Straps
KIWI knuckle straps for the Meta Quest do a better of holding your touch controllers in place while you play. They are an alternative to those who don't like the flimsy soft strap that comes by default with the Meta Quest.
A lot of Meta Quest fans enjoy the added flexibility they get while wearing these accessories. We have both the Quest 2 and Quest 1 straps listed below.
Official Fit Pack
The Fit Pack is an official Quest 2 accessory directly from Meta. The official pack includes a pair of light blockers and two alternate-width facial interfaces for various face shapes.
The two alternate interchangeable facial interfaces will allow you to find your ideal fit. There are wider and narrower options to either increase or reduce padding between your face and the headset. The Silicone light blockers will prevent excess light from entering around your nose area.
The facial interfaces are made from the same premium materials as the standard interface, so you know they are quality.
ProxiMat VR Space Traveller
The Proximat VR Space Traveller is one of the essential Meta Quest 2 accessories that help in improving your gaming space, while keeping you within a safe zone.
It works with all guardian systems built into your VR headset. This makes it easy to carry around and set up new game spaces in your house, hotel, office, or VR arcade.
Proximat offers a truly immersive experience by making use of physical buttons to set up your home centering and forward. It is useful to set up your location and direction to improve your virtual experience.
Meta Quest 2 Strap and Counterweight Accessories
Quest 2 Elite Strap
The Meta Quest 2 Elite Strap equips the headset with a premium padded headband. The Quest 2's default band is different than its predecessor: It's smaller, lighter and has a softer strap. However, the Quest 2 is still a front-heavy device that will weigh on you after a short amount of time.
Many users have put the Elite Strap in their required Quest 2 accessories list.
You can easily remove the existing strap by removing the headset's foam face-lining and two side fittings. Once done, replace it with this elite alternative.
The Elite Strap has a hard lining to better handle the Quest 2's weight. It also has a dial at the back that can be turned for a tighter fit on your head. It makes fitting the Quest 2 to your head a much more accessible experience. Turning back the dial lengthens the strap to easily fit over any head. You can then twist it back in until you find the right fit for yourself.
Elite Strap with External Battery
The Quest 2 Elite Strap comes with an optional external battery pack option. This premium ergonomic strap increases balance and support with a quick twist of the fit wheel. The strap's built-in battery doubles your playtime on a single charge.
The Elite Battery Strap also has its own charging port so you can charge the strap and headset's battery together at once. Other Meta Quest 2 accessories to extend the battery life are cheaper, but not as optimized to distribute the weight of the headset better.
BOBOVR M2 Head Strap
The BOBOVR M2 head strap is a really good alternative for the Elite Strap. It is easy to install and ergonomically designed to improve your comfort. It also has 5 different nodes that makes it easier to adjust as per the player's comfort.
The strap is designed in such a way that the gravity is evenly distributed to different parts of the head. It also reduces pressure on the face. The M2 is made with high quality ABS and PC mixed plastic material, which makes it both hard and tough.
You can get the BOBOVR M2 with an included battery pack for additional Quest 2 counterweight balance.
VR Balance Counterweight And Comfort Kit
The VR Balance is designed to take the weight off the front of your headset. It attaches to the back of the Meta Quest head strap via a removable Velcro design. It weighs around the same as three 10,000 mAh power banks. The mod redistributes weight across the headset, promising more comfortable immersive experiences in which you almost forget you're wearing a headset.
The VR Balance 2.0 is a soft elite strap alternative that is easy to attach an external battery pack to.
You can buy the VR Balance 2.0 and 1.0 on the official website here.
Portable 10000mAh USB-C Battery Pack
Seeking an effective way to extend the battery life of your Meta Quest? One of the best Meta Quest 2 accessories is the Anker USB-C power bank. It can extend your headset's battery life by many hours longer than the rated 2 hours. It allows you to put away your charging cable for longer or leave it at home while you travel.
A lot of Quest owners attach this on to the back of the headset using these velcro strips to act as a counterweight. This makes the headset feel more comfortable on your face for long-term VR games play.
Meta Quest 2 Hardware Accessories
Anker Wireless Charging Dock
This Oculus Quest 2 wireless charging dock from Anker provides and easy way to store and charge your Quest 2 without messily throwing everything on a nearby counter.
The dock comes with rechargeable batteries and magnetic battery covers that allow your controllers to fit nicely into place on the dock. A magnetic USB-C connector comes for your Quest 2 VR headset to fit into place on the dock too.
When you aren't playing, fit your hardware on the wireless charger and it will charge everything back up in 2.5 hours or less. The dock features overcharge protection, which automatically turns everything off when it is fully charged up.
The wireless dock comes from Anker, but is certified by Oculus to work flawlessly with the Meta Quest 2.
BeswinVR Magnetic Charge Kit
If you want to make controller charging simple on your Meta Quest 2, the Magnetic Charge Kit from BeswinVR is for you. It comes with a few different components:
Rechargable batteries
A custom battery cover that replaces the default Quest 2 ones
Two magnetic charging cables, one for each controller
When you are done playing, simply connect the magnetic charging cable to each controller and they will top back up to 100% for the next time. The magnetic connections work with popular Quest 2 grips and covers, which is a nice touch too.
Logitech G Pro VR Headphones
The Logitech G Pro VR Headphones is a variant of the existing G Pro Headphones. Logitech partnered with Meta for these exclusive Quest 2 headphones. It is designed to be sturdy, comfortable and better at blocking out external sound so that you can concentrate on your game.
The G Pro comes with a short cable designed for VR, so you don't have to deal with a long dangling wire. It features 50 mm audio drivers and a steel-reinforced headband to make you comfortable. Sound will be better in all of your VR games.
Logitech G333 VR Headphones
The Logitech G333 earbud headphones offer improved audio immersion in a lighter and cheaper package. The Meta Quest 2 has its own built-in rear-firing speakers, but these suffer sound bleed. This means people around you will hear what you're playing. Logitech G333 VR Headphones might be the solution for a more personal VR experience.
These accessories are the first in-ear headphones from Logitech G to feature an asymmetrical, custom length cable specifically created for the Meta Quest 2.
They are drive by dual dedicated audio drivers, one for highs and mids, and one for bass. The G333 VR is designed with sturdy aluminum housing and elegant flat cables that are less likely to get tangled.
SteelSeries Stratus XL Bluetooth Controller
The SteelSeries Stratus XL Bluetooth Controller is a wireless gamepad that feels like a solid console controller, and works equally well with the Quest 2. This Meta Quest 2 accessory lets you play 2D and non-VR games on the Quest with the controller instead of your hands.
It also works with any PC running Windows 7 or above that can pair with Bluetooth devices. It uses a software engine that lets it control far more PC games than a generic gamepad. It's a capable dual-purpose controller that can fill a unique niche for some gamers.
According to SteelSeries, the Stratus XL can last for up to 40 hours of gameplay on two batteries. Out of all Bluetooth controller Oculus Quest 2 accessories we looked at, the Stratus XL is our top pick.
If you pick one of these Meta Quest 2 accessories up, use your Bluetooth controller setup guide to get started today.
Orzero VR Lens Cover
If you're carrying the Quest anywhere, it's very easy to accidentally brush it against something and scratch the lenses covering the display. The Orzero lens protective cover is one of the Oculus Quest 2 accessories you need if you take your headset anywhere.
The Orzero protective dustproof cover is designed to avoid your lenses getting scratched. It simply clips over the end of your Quest and prevents all contact with the lenses. The cover is made with fabric to give it the stretch it needs to stay firmly in place over the end of your Quest.
Perhaps more importantly, this specially designed cover can be easily washed and reused on a regular basis. Of course, it won't need washing often. But, if it does need it, you'll be grateful that it's possible.
Pistol and Rifle Gun Stocks
If you play a lot of shooting VR games, then you need a rifle to improve your experience. It makes it feel like you are holding a real gun.
This double handle rifle gun works nicely. Your Touch controllers fit inside of the holder with a magnet and stay in place while you play. The double handle bracket controller is very ergonomic and feels comfortable in gameplay for long periods. The installation process is very easy.
As a bonus, this kit also includes pistol stocks as well to improve those games. The pistol stock wraps nicely around your controller. We like how accurate the aiming fields when you are looking down the barrel.
Here are some other VR gun controllers to check out.
No products found.
Google Chromecast
Using a Google Chromecast, you can cast VR games from your headset and stream your Meta Quest to a TV. The Chromecast can also connect to the web using an Ethernet connection. This streaming enables others around you to watch what is happening in Virtual Reality on a TV.
There are two types of Chromecast devices: the Google Chromecast and the Google Chromecast Ultra. The only difference between these devices is that with the Ultra, you can play 4K content. You can view our Chromecast guide for more information.
If your TV is 4K, then the Ultra is perfect as it will stream full quality in other apps.
Click here to view the Google Chromecast.
Rechargeable Batteries
Each of the Oculus Quest's Touch controllers requires a AA battery. The worst feeling is when your batteries die in the middle of your session. If you are using your headset a lot, the Touch Controller battery is going to get depleted pretty quickly.
Grab these rechargeable batteries to help you enjoy an uninterrupted play time for your VR games library. This kit comes with 8 rechargeable batteries so that you'll always have a few spares on hand when you need them.
Meta Quest 2 Accessories For Protection
Meta Quest 2 Carrying Case
This Meta Quest 2 carrying case is designed to help you safely tuck away your headset when you are on the go. It is lightweight and easy to carry around. It provides sturdy protection for your virtual reality gear, whether you're at home or on the go.
The padded interior fits the following:
The Quest 2 headset with Elite Strap or Elite Strap With Battery
Two Touch controllers
Charging cable
Power adapter (all sold separately).
This accessory has a durable case with custom inlay to keep all parts of your headset neatly organized. It also features an easy-carry handle which offers comfortable portability.
SARLAR Protective Case
One of the most popular Meta Quest 2 cases is the SARLAR Fashion Travel Protective Case. It is engineered specifically for Meta Quest 2, its accessories and touch controllers. This hard shell protective case is made of 900D waterproof Nylon and 6MM 80 degrees EVA to greatly improve its shock resistance.
The materials make it portable and lightweight for travel. SARLAR's inner lining uses brushed fabric to avoid scratches caused by friction between your headset and the box.
The package consists of a piece of lens protector cover, one pair of touch controller grip sticker, and one VR stand.
VR Stand
If you use your headset frequently, then packing it away in an Oculus travel case can be inconvenient. The KIWI VR stand is what you need to make things easy for you. This accessory is a "home" for your Quest 2.
You can use this accessory to organize your system, instead of leaving it to perch on a shelf or table. The KIWI designed VR Stand feels pretty solid. Its wide stance does not make it feel like it will tip over with the weight of the headset added to it. Each arm that protrudes out of each side of the stand can hold each controller on them.
The front of your Quest 2 then sits on the front resting plate. The back strap slides over the rear halo ring at the rear of the stand. This stand was made for the original, but it works great as part of our Oculus Quest 2 accessories.
LensPen VR Headset Cleaning Kit
The LensPen VR headset cleaning kit boasts a half an inch cleaning tip and can be used on goggles or optic lenses of any size.
The cleaning tip is made up of black carbon, which removes smudges, fingerprints, dust and grease from your Oculus Quest without any trace. The cleaning tip covers all edges and corners.
With the patented carbon cleaning technology in the cap, the tip cleans itself and recharges every time the cap is turned on and off.
The kit also contains a FogKlear cloth that is eco-friendly and cleans the lens and optics to clear them up from fogging and a MicroKlear cloth to clean the smudges and oil stains from the external side of the VR/AR headset.
MagicFiber Cleaning Cloths
MagicFiber MicroFiber Cleaning Cloths is one of many jack-of-all-trades Quest 2 accessories that will keep your headset's lens clean without scratching.
The MagicFiber Microfiber cloth comes in a pack of six. Each cloth has smaller fibers that keep the surface extra soft and smooth. It retains the grippy surface needed for a good clean up job. At 6″ x 7″, the cloth is a good, average size to keep in a pocket for your Quest when its lens gets smudged.
The surface can also remove dust and oil smudges from lenses when necessary.
Meta Quest 2 Accessories for PC VR Gaming
D-Link VR Air Bridge
The D-Link VR Air Bridge was specifically built to provide optimal wireless performance for your Meta Quest 2. The VR Air Bridge is a wireless adaptor that plugs directly into your laptop or desktop computer's USB-3 port.
The Air Bridge then wirelessly connects directly to your Meta Quest 2 headset, providing a direct wireless connection and allowing for an even better gaming experience.
The VR Air Bridge creates a one-on-one wireless connection to the headset, allowing for faster speeds, better connection, and an overall better VR gaming experience. The Quest operating system is configured to directly connect and work with the Air Bridge, so you have the closest possible integration.
Oculus Link Cable
The Oculus Link cable is one of the top Quest 2 accessories available today. It enables you to connect your standalone Oculus Quest virtual reality headset into a VR-ready PC. When connected, you can access and play VR games on your Quest through the Oculus Link Beta.
The official Oculus Link cable is of very high quality. It is thin, flexible and with a length of 5 meters. It's an optical USB-C cord. The official cable gives you the assurance of quality, reliability and excellent performance.
Check out our full Oculus Link tutorial for the Oculus Quest here to get started.
Virtual Desktop
We don't have many software Oculus Quest 2 accessories in the list, but Virtual Desktop is an exception. Virtual Desktop is an Oculus Quest app that takes your standard Windows desktop and fully drops it into VR. From home theatre setups to giant floating curved monitors in space, Virtual Desktop has become a huge part of every VR enthusiasts' daily usage.
The number one use for Virtual Desktop is playing Steam VR games off of your computer wirelessly. This makes your Quest a PC VR headset without any hard-wired connection. Grab a new dedicated dual-band router (see below) and you can play VR games wirelessly without any latency!
Virtual Desktop is robust, extremely customizable, and fun to use too. Click here to check out our full Virtual Desktop on Oculus Quest setup guide.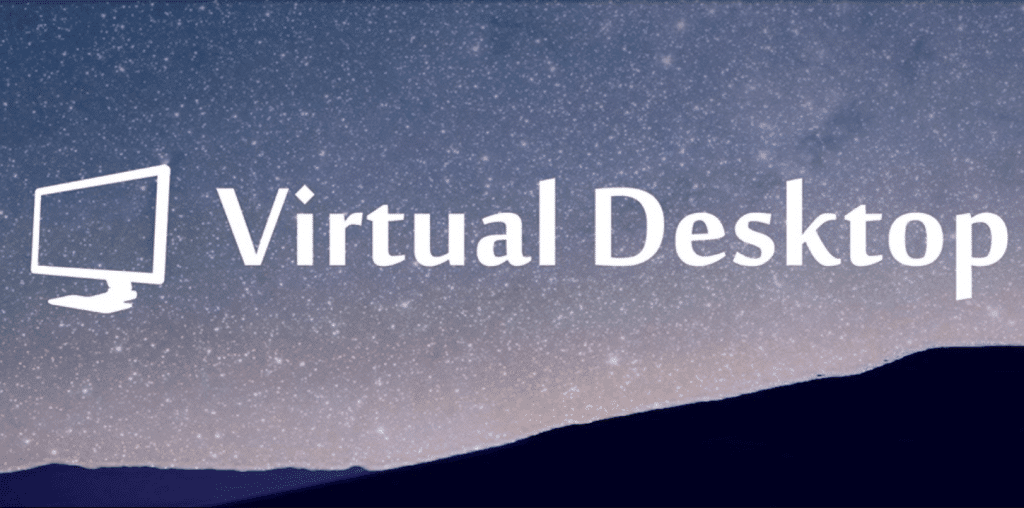 Tenda AC1200 Dual Band WiFi Router
If you plan on using Virtual Desktop, you need to give serious consideration to a dedicated router for minimal latency. The Tenda AC1200 Dual Band WiFi Router is a basic Oculus Quest 2 router. This router is easy to setup, fast, and efficient. It help your Oculus Quest's Virtual Desktop application to connect to your PC for fast game streaming.
With the Beamforming+, built-in high-powered amplifiers and external antennas, you can enjoy lag-free gaming and uninterrupted video streaming anytime anywhere.
The biggest disadvantage to the AC1200 is that it does not have gigabit ports included. This means that your Virtual Desktop internet speed is limited to 100 mbps. This isn't a dealbreaker for some, but the added cost for the AC10U router below might be worth it for you.
Tenda AC10U Dual Band Gigabit WiFi Router
The Tenda AC10U offers extra speed that the AC1200 above can't. It's nearly identical in shape and ports, with 4 directional antennas built into the router. The AC10U is a big win because it has gigabit ethernet ports. This means that you can connect and stream on Virtual Desktop up to 1 gbps. That is serious speed!
Amazon regularly has deals on the AC10U which make it closer in price to the AC1200 above.
Asus RT-AX86U WiFi 6 Router
If you are really serious about playing PC VR games on the Meta Quest 2 with Virtual Desktop, then consider a full WiFi 6 router. WiFi 6 offers some improved speed and reduced latency features that can help you play PC VR games wirelessly as close to wired VR as possible.
Ports on the AX86U router offer up to 2.5 Gbps. This is the latest in wireless technology and one of the best Oculus Quest 2 accessories you can get your hands on.
NOTE: This WiFi 6 router is only for the Oculus Quest 2. The Oculus Quest 1 does not support WiFi 6.
Types of Meta Quest 2 Accessories
The Oculus/Meta Quest 2 is the second generation wireless Android-based VR headset. The Quest 2 features a new single-panel LCD display with over 50% more pixels than the last generation. It features a new soft strap which is lighter and different than any other Oculus strap.
At $399, the Quest 2 is unbeatable on its own. However, there are a bunch of different accessory types that improve things even more.
Comfort Accessories
This hardware improves how comfortable the headset is sitting on your face. It includes new facial interfaces or hand accessories for your controllers. With these, you'll be more comfortable playing VR for longer sessions.
Straps and Counterweights
The Quest 2 features a new soft strap which isn't as sturdy as the Oculus Quest 1. Luckily, there are a bunch of third party straps that fit more comfortable. Also, the weight of the Quest can put pressure on the front of your face. So, we have a bunch of Quest 2 accessories that counterweight the headset nicely.
Hardware Accessories
There are a bunch of third party addon accessories for the Quest, including:
Charging docks
Better audio headphones
Rechargeable batteries
PC VR Gaming
On its own, the Quest 2 cannot play PC VR games on the Steam platform. However, Oculus Link and Virtual Desktop offer solutions to enable this. We have a few different Meta Quest 2 accessories to help you play PC VR games in the best way.
Next, check out some of the top Meta Quest 2 accessories in more detail! These accessories also work for the Quest 1, unless we say otherwise.
Conclusion
Which of these Meta Quest 2 accessories is your favorite? Let us know in the comment section below.
If other new Quest 2 accessories are released, let us know too so that we can check them out!