Playing augmented reality games allow you to fight aliens, capture fantastical creatures, and defend kingdoms in the real world. Finding new AR games can be tough because there aren't a lot of great resources on the internet.
In this guide, we will showcase some new augmented reality games to download on to your phone today.
Compared to buying a VR headset, playing AR games is not expensive. Only an AR-enabled smartphone or tablet is needed.
If you know of any new AR games that we should showcase, comment down at the bottom of this post or contact us today! We like to partner with developers who want to advertise their games on AR/VR Tips.
This guide was updated towards the end of 2021 with several new games: Father.io, Reality Clash, RealTag, Coachy, SolAR, EON-XR, mARvelous Golf, and Cats in Time.
New AR Games To Play in 2022
Click the links below to go directly to the description and download page for each app:
What are AR Games?
Augmented reality games use your phone's cameras and internal sensors to place digital objects into your game vision. New AR games use these digital objects in fun and unique ways.
Apple has focused on augmented reality features since 2017 and has promoted the technology numerous times. The iPhone 12 Pro comes with an upgraded LIDAR scanner which improves tracking in AR games.
It is suspected that Apple is including the technology into an upcoming Apple VR headset, which is a precursor to eventual AR smart glasses later on.
Below, you can see some of the new AR games worth checking out for both iOS and Android.
Mario Kart Live: Home Circuit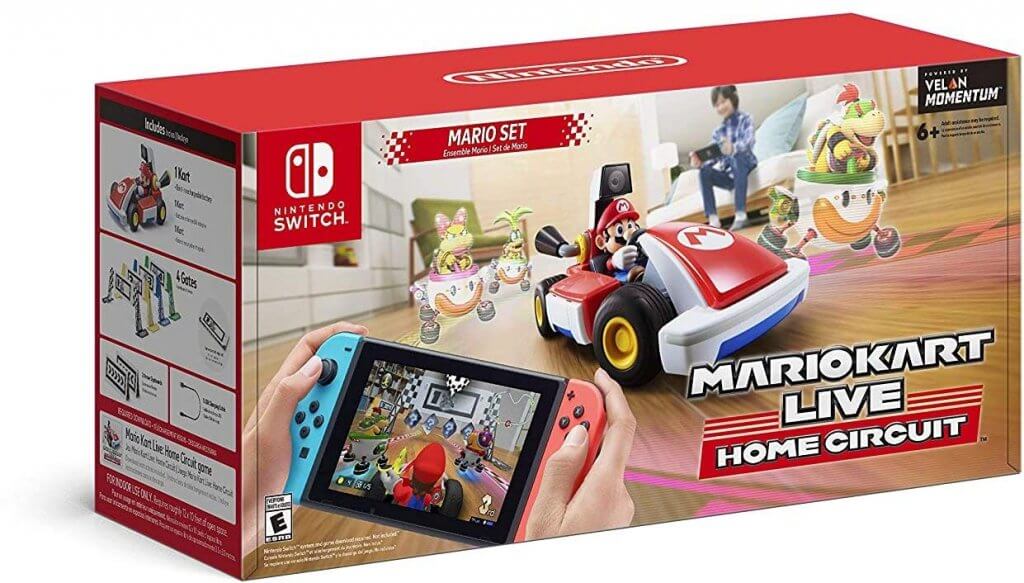 Price: FREE
Platform: Nintendo Switch
Nintendo has brought augmented reality to the Nintendo Switch in a big way with Mario Kart Live: Home Circuit. The game allows you to create a racing course in your house and then race your favorite Mario charracters around it in augmented reality.
The game comes with gates and signs that you can place along your path. In the digital game, these accessories light up and become interactive.
Up to four players can race together around your house at one time. You can see what is happening in real-time on your TV screen, similar to any other Nintendo Switch game. Mario Kart Live: Home Circuit is one of the funnest ways to use augmented reality in 2022.
You can buy the package off of Amazon around the world. There are quite a few fake listings, so use the link below to make sure you get the right one!
No products found.
ClipDrop – Best AR Drag and Drop App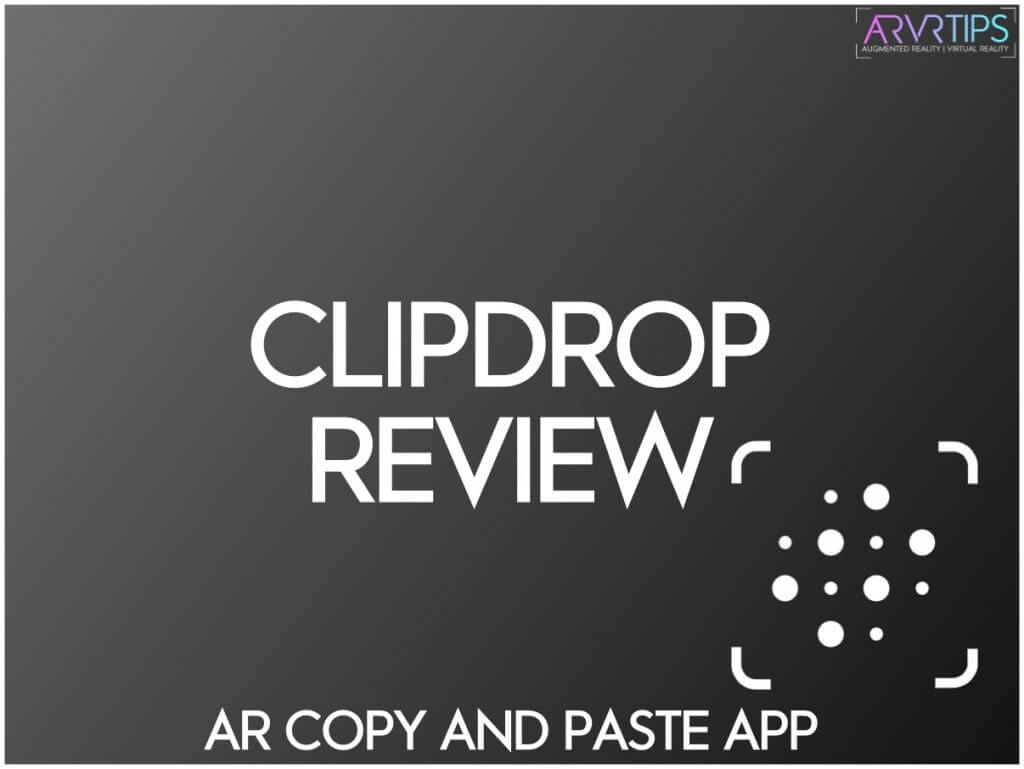 Price: FREE (with premium subscription upgrade)
Platform: iOS, Android, Mac, Windows
ClipDrop is an augmented reality copy and paste app. You can capture a screenshot on your computer or take a picture with your phone and ClipDrop uses artificial intelligence to crop the background out automatically.
If that sounds impressive, it's not even the best part.
You can take a picture on your phone and automatically drop it into place on your computer. ClipDrop supports copy and pasting between some of the most popular photo editing apps such as Photoshop, Sketch, Figma, Canva, and more.
Plus with your subscription, you get unlimited cloud storage. This means that you can save photos in ClipDrop and access them on all of your devices.
The app trended on the internet earlier this year when a demo was released. Since then, the developers have worked hard to release this as its own app.
Check out our full ClipDrop review, tutorial, and setup guide.
Father.io – Long Distance Shooting Game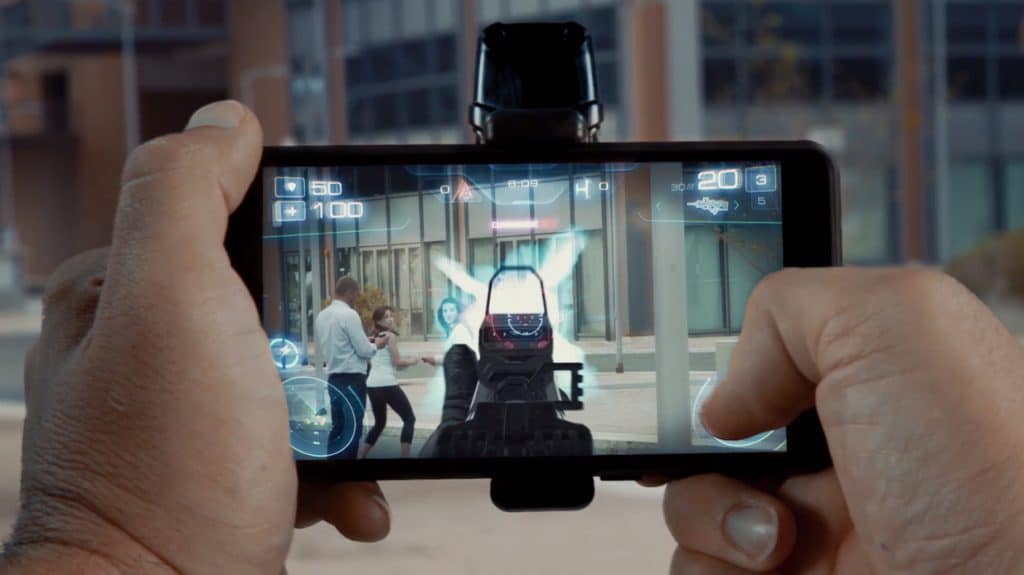 Price: Free (Inceptor hardware required)
Platform: iOS and Android
Father.io is an action-packed first-person shooter game in augmented reality. The game converts public parks, squares, and any other outdoor spaces into battlegrounds. In Father.io, players are divided into different factions, with each faction fighting to gain control of the battlegrounds.
This multiplayer game uses a special AR tool known as Inceptor. This gives all players a similar advantage, since every phone has different augmented reality hardwar. Inceptor makes it easy for players to confront their opponents at 50 meters range. It also makes it easy for players to do headshots up to 15 meters away.
There are 4 different weapons available to you, including handgun, submachine gun, and sniper rifle. Each of these weapons has its unique shooting accuracy and range. Plus, you can play the game both outdoors and indoors. Father.io is a fun multiplayer AR game.
Reality Clash – AR FPS Game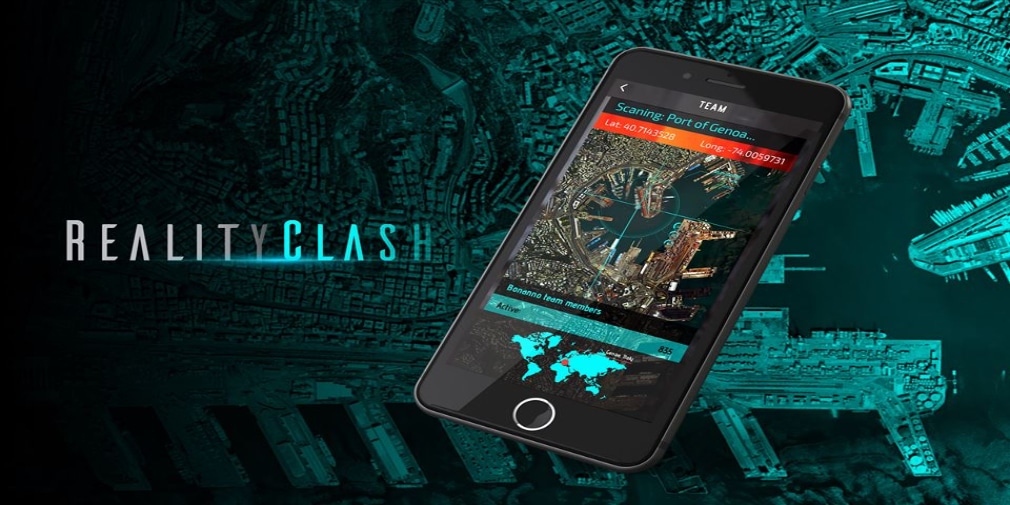 Price: Free
Platform: iOS and Android
Reality Clash is a combat or first-person shooter game created by the Reality Gaming Group Ltd. In the game, you hallenge your opponents (they can connect remotely from anywhere) in a battle and strive to emerge the winner. While your opponents will appear as digital avatars, you have to compete with them to test your shooting skills.
You can play both in real and virtual worlds. Players will be able to build and customize a wide variety of weapons, including shotguns, submachine guns, and sniper rifles. Other weapons include assault rifles and rocket launchers.
You can train for battles by using different training modes embedded in the game. The training will help you better navigate around the virtual environment. Training also helps you improve on your shooting accuracy and develop new tactics.
Reality Clash features daily rewards and incentives, vibrant graphics, and incredible combat animations. It also features unparalleled use of AR technology.
RealTag – Augmented Reality Laser Tag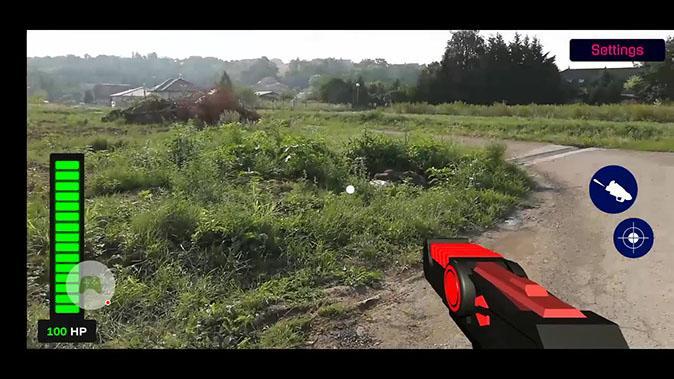 Price: Free
Platform: iOS and Android
RealTag is a laser tag game in augmented reality. Playing the game is only possible with your smartphone and a strong internet connection.
Being a multiplayer FPS game, you can aim your friends or opponents that are caught in your phone's camera range. RealTag has a system that detects whenever you hit someone.
It is simple to play, as you don't need to purchase any special equipment or tools. All you need is your smartphone and a strong internet connection. RealTag is very similar to Father.io above, but you don't need to buy any additional hardware. This can be a bad thing, since hit detection varies by device slightly.
Coachy – AR Personal Trainer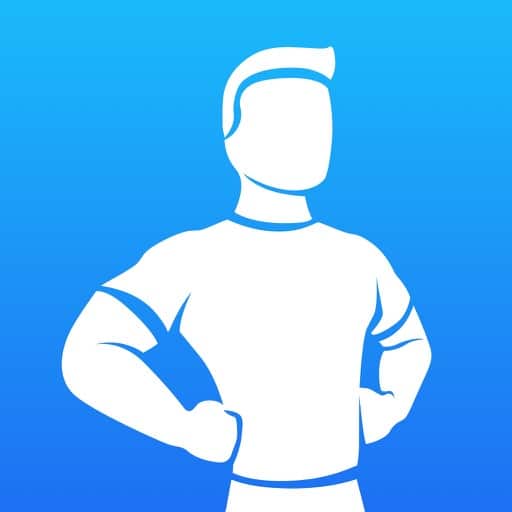 Price: Fre
Platform: iOS
Coachy is an augmented reality fitness game that's available on iOS, watchOS, and other Apple devices. Coachy is perfect for those who want to stay healthy, shed weight, or increase their wellness levels.
The game has pre-made workouts for four fitness levels. It also lets you create personalized workouts. Coachy offers workouts for suspension trainer, kettlebell, and body weight. It also offers workouts for dumbbells, dip bar, and pull up bar.
With Coachy, you can view workout instructions in augmented reality. Check your form in real time as you work out. You can also move, scale, and rotate the 3D character wherever you are.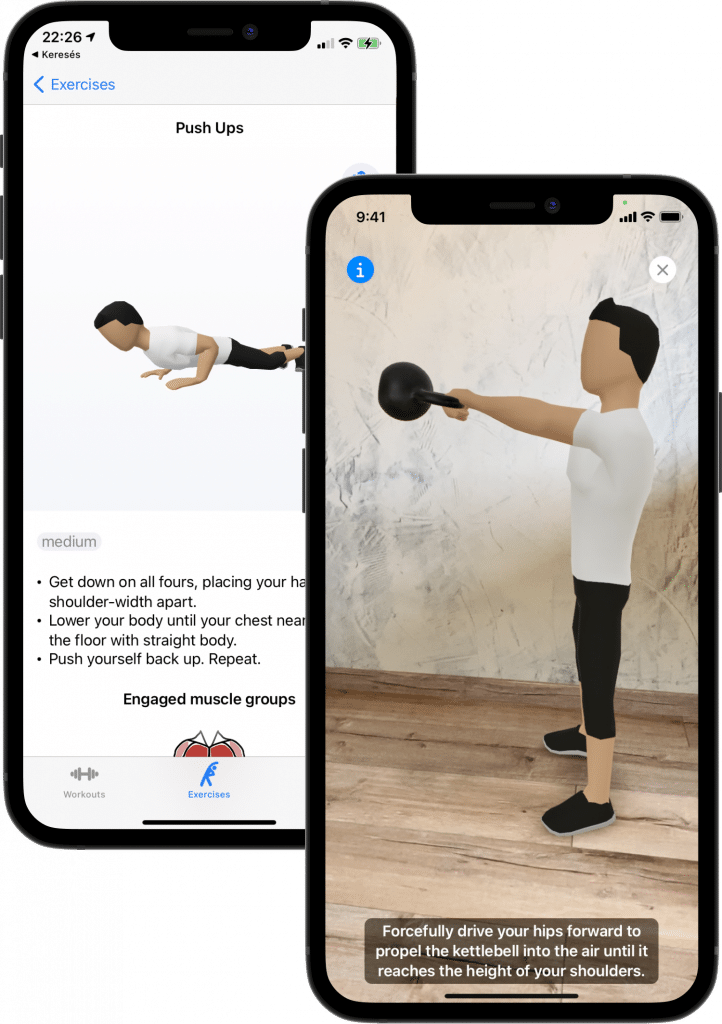 SolAR – AR Solar System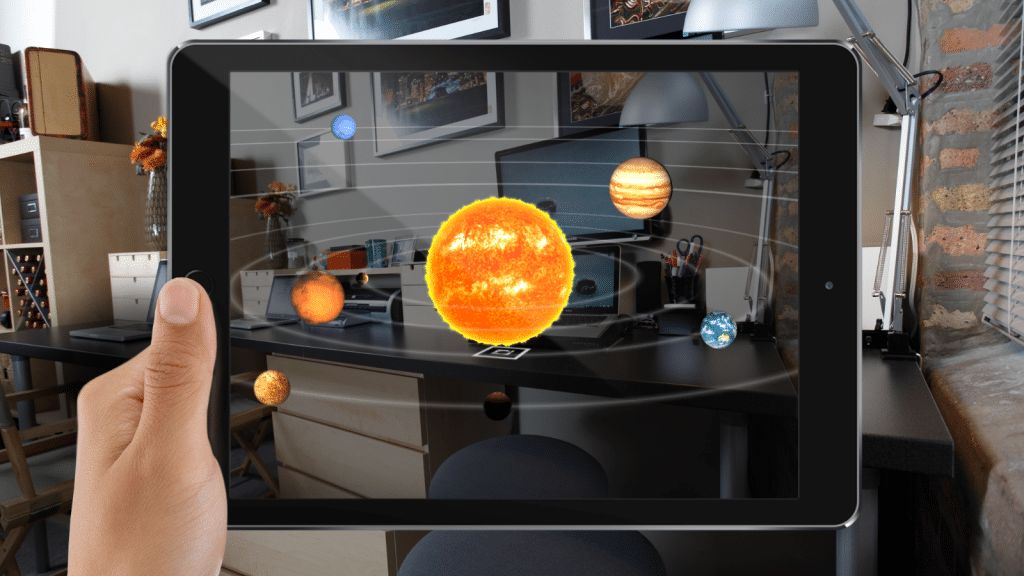 Price: Free
Platform: iOS
SolAR is a game that lets you explore the solar system in AR. Created by Michael Stoeckli, SolAR places the whole solar system in your garden or living room. In the game, you will walk on different planets and their moons.
One of the exciting features of SolAR is that you can place the solar system in your living room or any football pitch. SolAR creates magnificent and immersive experiences with all the planets and beautifully created models of the sun.
SolAR is optimized for a wide range of Apple devices, including macOS, iPadOS, and iOS.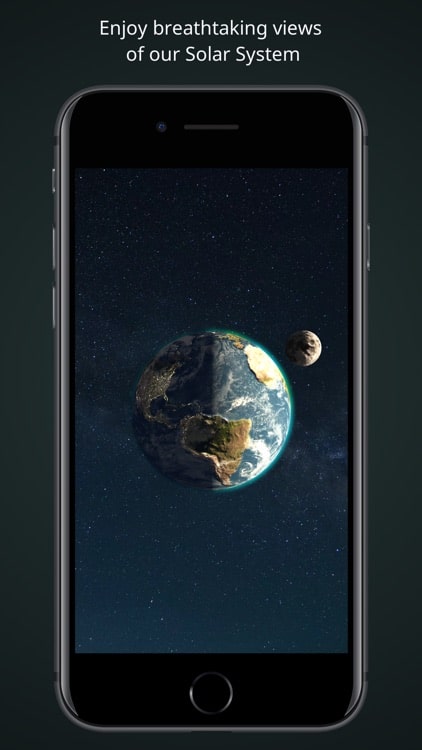 EON-XR – AR/VR Education Integration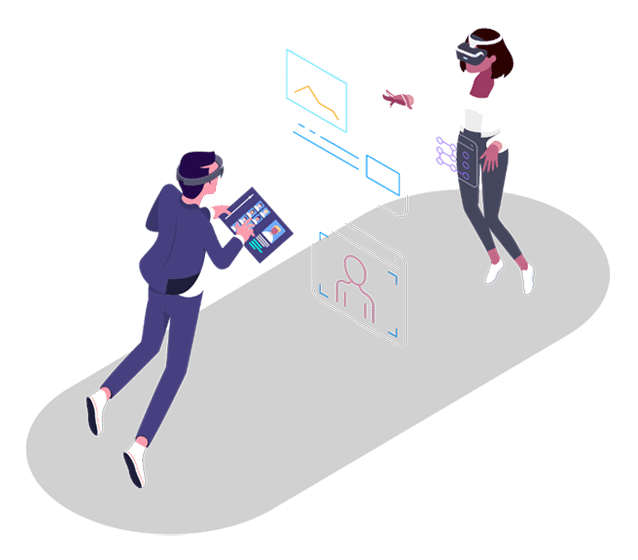 Price: Free Demo,
Platform: iOS and Android
EON-XR is an AR app that brings both Virtual and Augmented Reality solutions to players. If you face any obstacle incorporating VR or AR into an industrial or academic environment, EON-XR lets you remove the obstacle with ease.
This app also lets trainers, educators, and employers to easily create immersive and interactive VR and AR lessons without coding knowledge. After creating lessons, you can distribute the same to your audience for consumption on laptops, headsets, and smartphones.
EON-XR prepares users for the present and future and also replaces traditional teaching and training methods across the world. Trainers or teachers can record lessons before their training period or walk their students through a live session.
EON-XR is compatible with HTC Vive, Oculus, as well as other branded headsets. Plus, you can import your existing content into the app with optimization and decimation tools.
mARvelous Golf – AR Mini Golf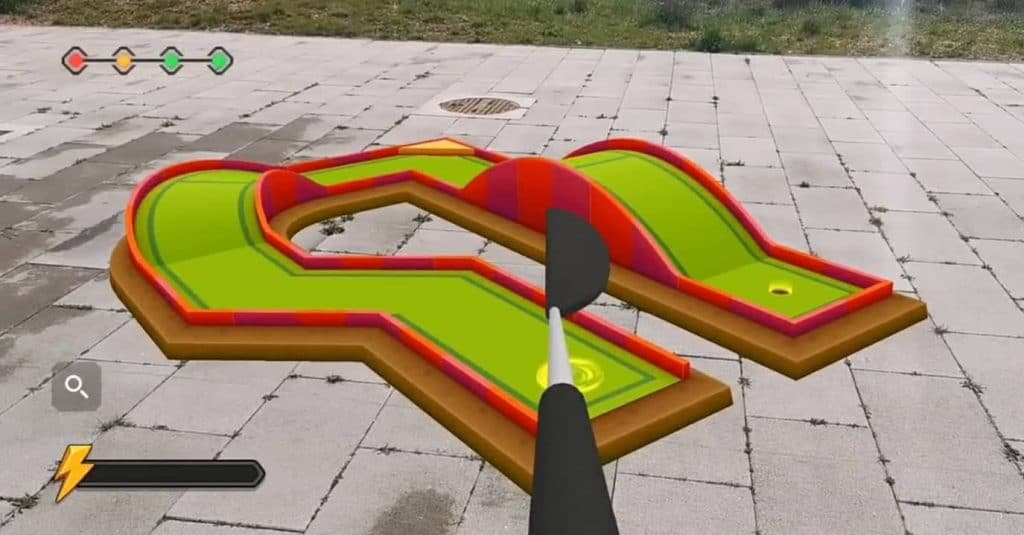 Price: Free
Platform: iOS and Android
mARvelous Golf is a golf game in augmented reality. It comes with both single and multiplayer modes. You can challenge your friends or family members in mARvelous Golf to see who possesses the best golfing skills. All you need is your phone's camera and a strong internet connection.
mARvelous Golf features 100 unique courses in three difficult levels. While in-game, you have the opportunity to win prizes, gems, and coins. You can challenge up to 6 players online and win prestige or trophies. On top of that, you can customize your ball with cool trails and funny hats.
mARvelous Golf allows you to practice on a number of mini golf courses. With improved playing skills, you can collect daily rewards and also save your daily progress on the cloud.
Cats in Time – AR Puzzle Game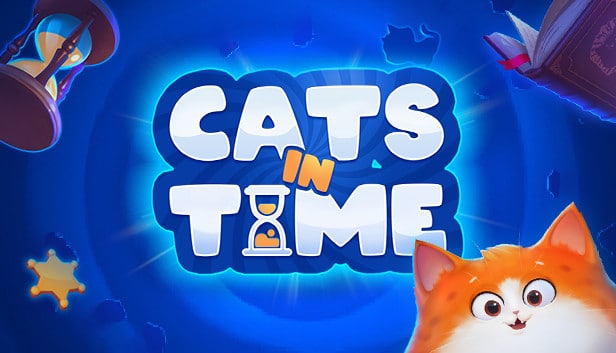 Price: Free
Platform: iOS and Android
Cats in Time is an AR puzzle game created by Professor Tim E. The game lets you solve puzzles and explore 3D dioramas in a bid to save tiny cats that are missing.
You can play Cats in Time both in AR and regular mode. In-game, you will travel to different places, starting from ancient Egypt to Tokyo and even New York in search of missing cats.
The interesting part of the game is that the cats are good at hiding. Cats in Time features over 20 cats in unusual places. To save any trapped cats, you have to solve riddles and amazing puzzles. While exploring, you will enjoy relaxing sounds to keep you going. The first two ages are completely free to try out. After that, you need to unlock the rest stages with a single purchase.
AR.fx Review – Augmented Reality World Builder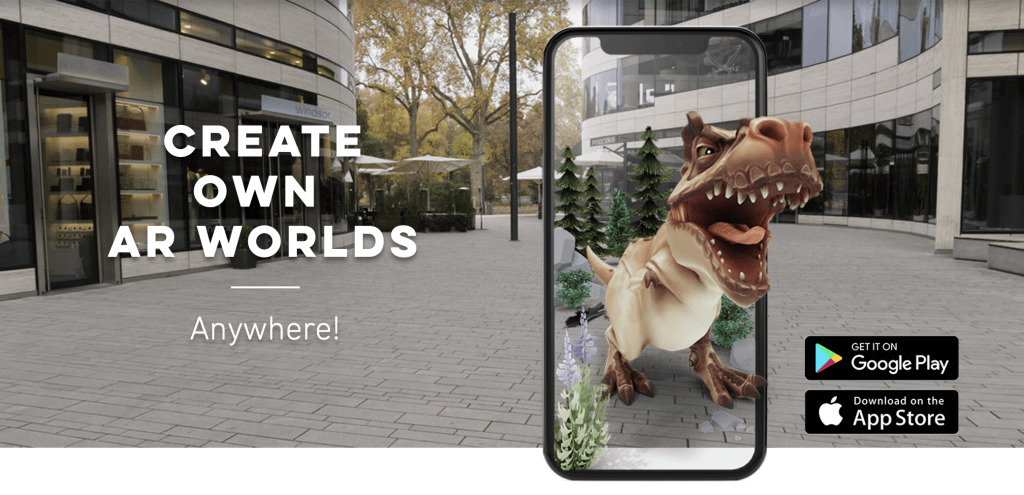 Price = FREE
Platform: iOS and Android
AR.fx is a true-to-scale new AR game that you can play around the world. It is an augmented reality world builder where you have to find characters and objects in your neighborhood. You can claim these objects for your own personal gallery.
There are hundreds of game assets to collect and your local area is refreshed regularly with new objects to find. Like Pokemon Go, AR.fx encourages you to go out exploring your neighborhood on foot.
After you are done collecting, you can bring all your objects back to your house or yard and create unique play areas in augmented reality. AR.fx is fun and casual and worth checking out today.
Wallace and Gromit: The Big Fix Up – AR City-Scale Adventure Game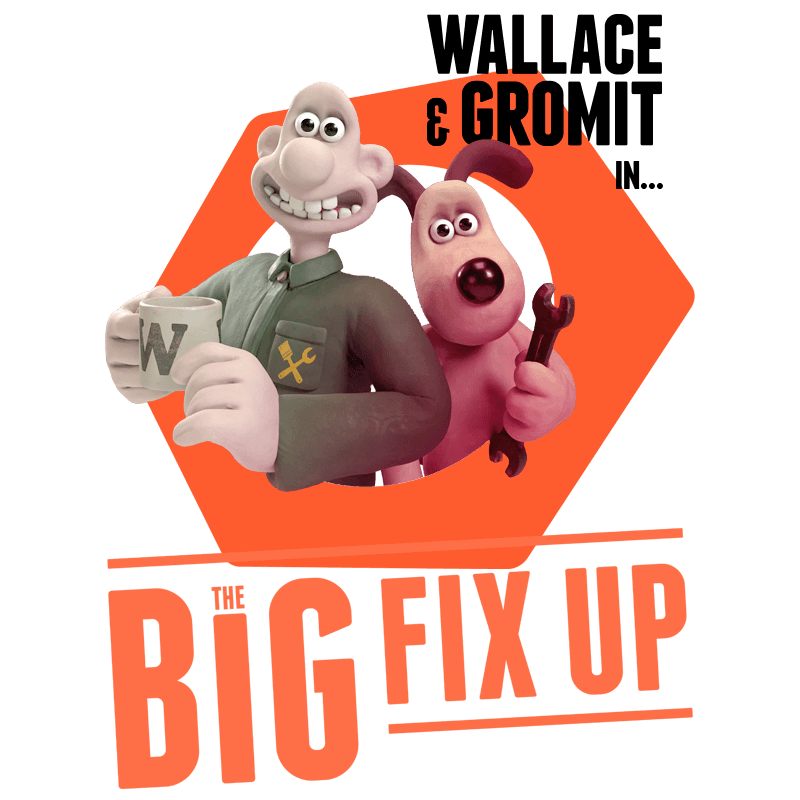 Price: FREE
Platform: iOS and Android
Wallace and Gromit: The Big Fix Up is an augmented reality game that uses your neighbourhood and surroundings to tell a cool adventure story. You have to help Wallace and Gromit start up a business to fix their fictional British town.
Along your way, your neighborhood is transformed into a comic strip that you walk through and read along. You have to perform tasks in AR such as finding objects and using tools to pass levels.
The game is non-linear, allowing you to explore and complete different tasks as you want. It's a fun adventure game in augmented reality that we hope other popular games use as inspiration in the future.
Table Trenches Review – AR Battlefield Game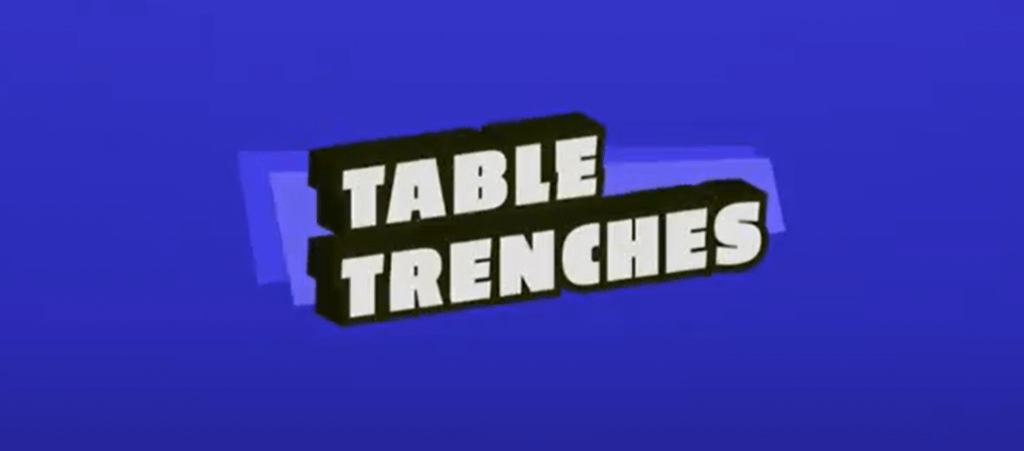 Price: $1.99
Platform: iOS & Android
Table Trenches is a battlefield AR game. You scan your table to transform it into a battlefield. You have to deploy forces, capture towers, and fight to the last in this real-time tactics game designed completely for augmented reality.
Some of the powers you have at your disposal are the ability to smash enemies or melt their towers to the ground. There are 12 unique units included in the game, each with their own abilities. There are also 4 different commanders, each with their own special unit.
Version 2.0 of the game has just been released with local multiplayer and language support! It's a unique new augmented reality game worth checking out today.
Landlord Go Review – AR Real Estate Games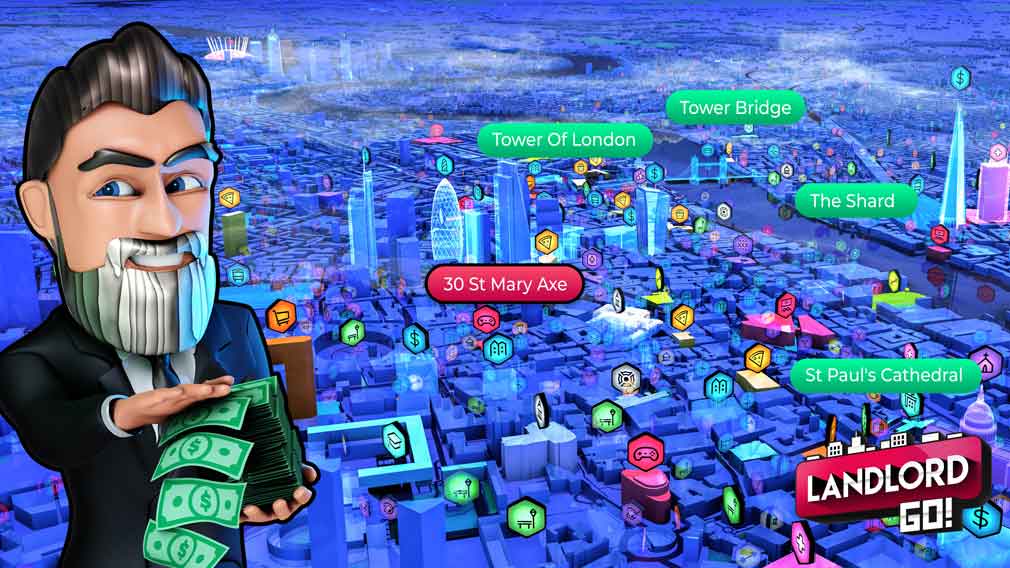 Price: Free
Platform: iOS & Android
Landlord Go was created by Reality Games LTD to give AR enthusiast the opportunity to buy shares in properties around the world. As you build your real estate empire, you can buy the donut shop down the street or the Sydney Opera house.
The aim of Landlord Go is for players to become a virtual property magnate who trades in the world's most famous real estate. You will buy, sell, and collect rent on iconic buildings and landmarks. The more shares you own, the more income you bring in. Use that income to buy more properties and become a powerful real estate tycoon.
The entire Landlord Go game takes place in augmented reality. You navigate around your neighborhood looking for different property to invest in. The game just launched in July of 2020 and is a brand new AR game.
Catan: World Explorers Review – AR Catan Game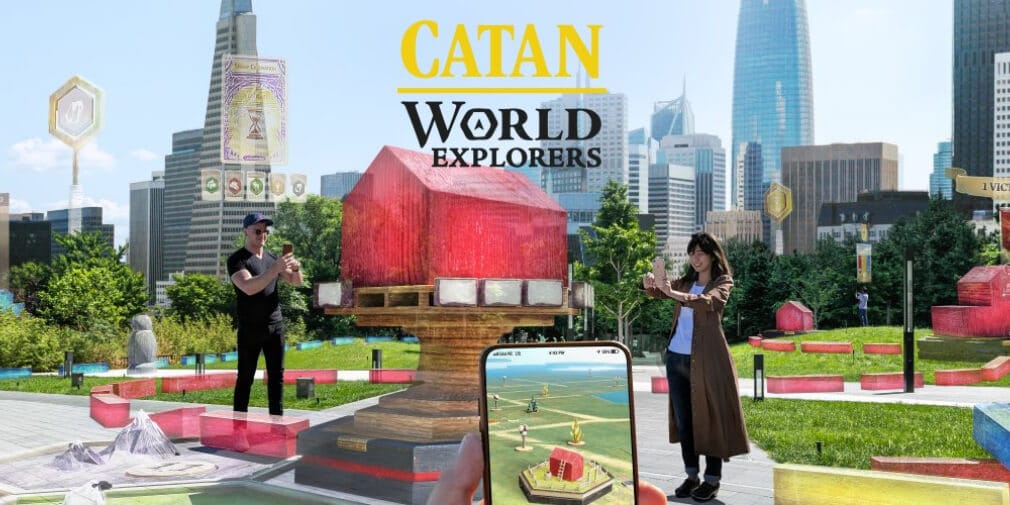 Price: Free
Platform: iOS & Android (Coming Soon)
Catan: World Explorers is a GPS map-centric new AR game from Niantic. The game is based on the widely known Catan board game. In the game, you need to find and collect several resources that you will use to build cities, towns, and roads. Your mission as a player is to try to accumulate a high number of victory points.
The game transforms the entire Earth into one giant game of Catan. Players will use their smartphone to view the world of Catan in augmented reality. While you're playing Catan, you're also able to explore the virtual recreation of your actual real-life surroundings. As you do, you will come upon different useful resources like Lumber, Ore, Wool, Brick, and Grain.
Niantic is the developer behind the Pokemon Go and Ingress game franchises, so you know that Catan will be quality.
This game comes out soon and you can sign up to be part of the beta phase, which launches soon. This new AR game could be a game changer for the technology.
Wildeverse Review – AR Adventure Game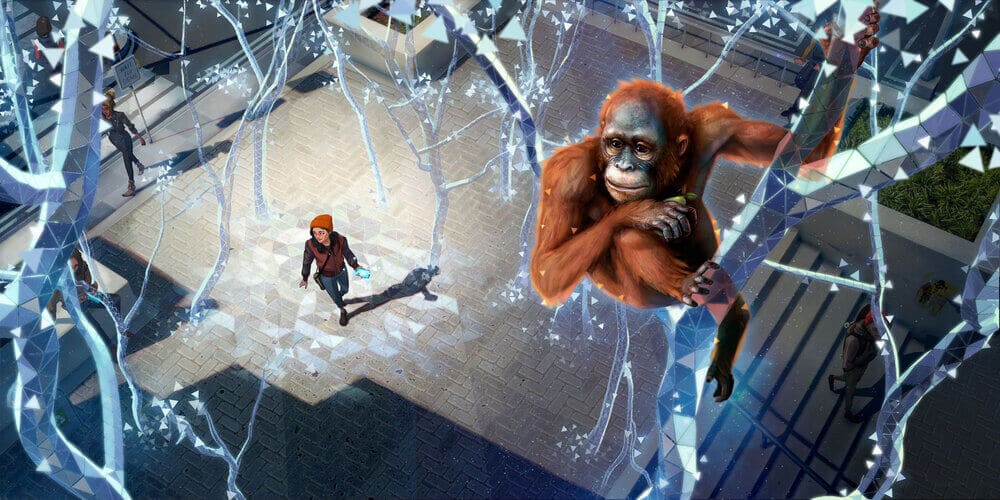 Price: Free
Platform: iOS and Android
Another exciting new AR game released this year is Wildeverse. Wildeverse uses AR to create a virtual forest that players can explore to find animals and clues. The game starts with a chat-based segment introducing players and setting up some context around the virtual environment to explore.
There's an in-game timer that keeps track of how long a player takes to complete a mission. Wildeverse was created in collaboration with Borneo Nature Foundation and Goualougo Triangle Ape Project. These two organizations are at the forefront of science and protection of rainforests in Africa and Asia.
Wildeverse is one of the best story-driven augmented reality games we've ever played. There are a ton of great features and the game is easy to pick up and play.
The game can be played on any iOS or Android device that supports ARKit or ARCore. Check out our full Wildeverse review here.
Five Nights at Freddy's AR – Augmented Reality Horror Game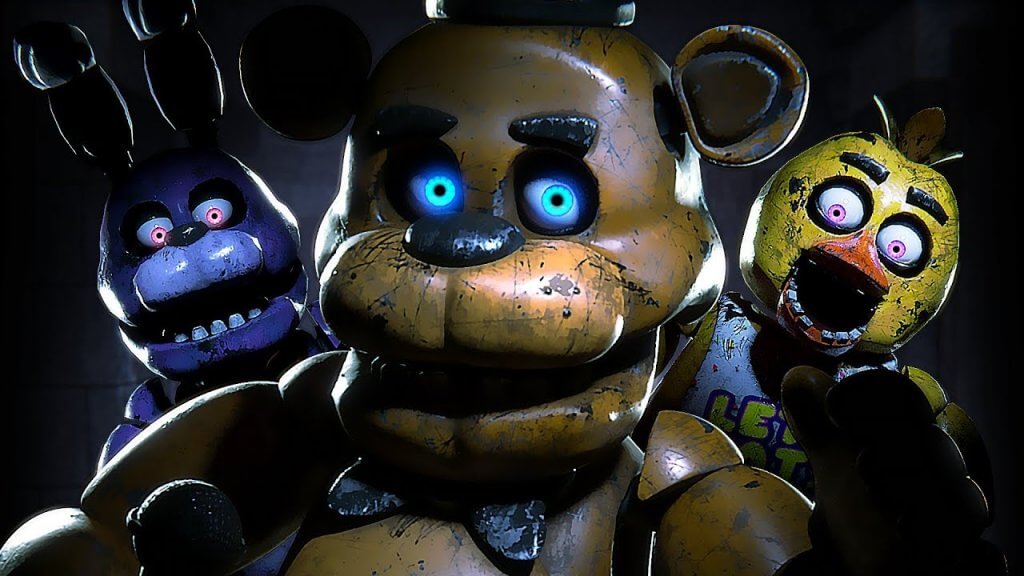 Price: Between $4.99 and $7.99
Platform: iOS & Android
Five Nights at Freddy's AR is an augmented reality horror game. It came out in 2019, but constant updates make it feel like a new AR game. It uses your location to send animatronics after you or your friends as you scavenge for supplies.
You are a night guard in charge of watching different security cameras for animatronic toys who come to life. As you switch between cameras, you use up your limited amount of power that you have for each level. If you run out of power, watch out!
Audio and visual sequences used are unique to each character and will keep you glued to your smartphone. Five Nights at Freddy's AR is available on both iOS and Android.
The Walking Dead: Our World – AR Zombie Game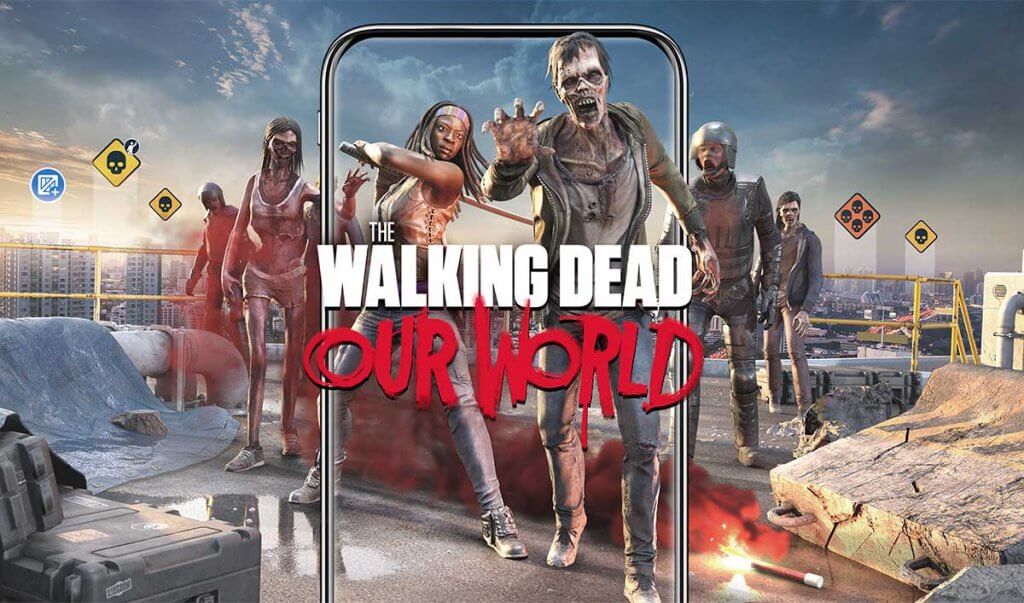 Price: Free
Platform: iOS & Android
The Walking Dead: Our World is similar to the popular Pokémon Go. Your real-world surroundings become a post-apocalyptic landscape. The landscape is riddled with supply crates, zombie encounters, and player-built shelters that serve as drop off points for survivors.
Though this game is not brand new, the developers recently updated the game with 3 new chapters to the storyline.
Unlike Pokemon Go, you can play this game staying in one place. The combat is a simple first-person shooting experience, with selectable guns. You have the option of pairing with characters from the Walking Dead TV show. You can access this game for free if you have an Android or iOS device.
Adobe Aero – AR Development Tool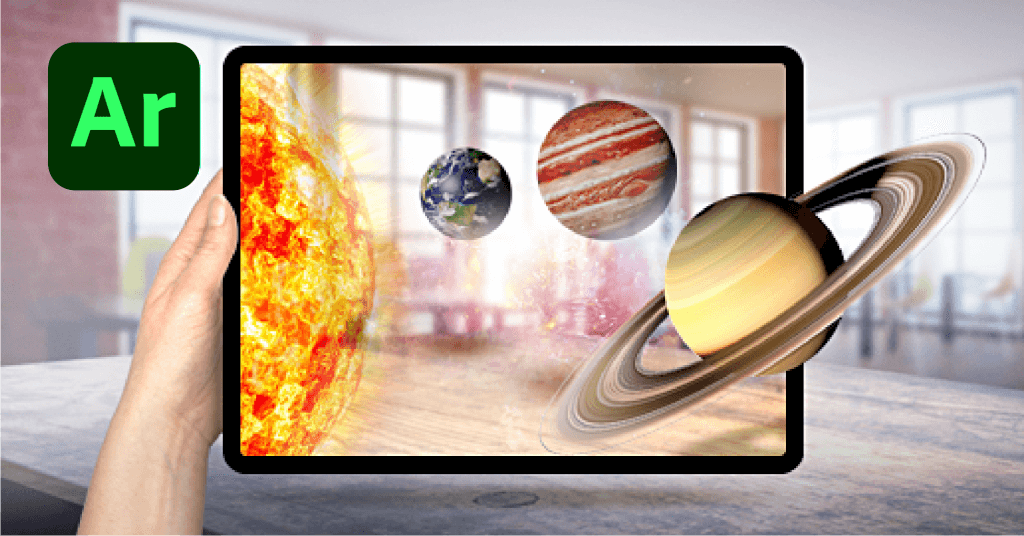 Price: Free
Platform: iOS only
Adobe Aero was designed to enable designers without coding knowledge to build AR experiences. You can build everything inside the app with step-by-step instructions provided. It integrated nicely with other Adobe Programs, enabling users to import 3D files from Dimension, and 2D layers from Photoshop and Illustrator.
It is built for both casual and professional users to create interactive AR experiences. Users can also use Adobe Aero with third-party software like Maya and C4D to place scalable objects into scenes viewed through their phones. Users can add animation triggers that react to touch.
If you're an artist, Aero enables you to get into the world of augmented reality easily and efficiently.
Which new AR game is your favorite? Tell us down in the comment section.