This is the ultimate guide to the Playstation VR2. We've compiled all information and everything there is to know about the PSVR2. Some of the things we will go over include:
What does the Playstation VR2 look like?
What is the release date of Playstation VR2?
What new features will PSVR2 have?
What are the new Playstation VR2 Sense controllers?
Can PS VR be used on the Playstation 5?
How does Playstation VR compare to new headsets like the Oculus Quest 2 or HP Reverb G2?
The latest update is from September 26th, 2022! It contains everything we know since the PSVR 2 was sent to media reviewers in the wild for first impressions.
You can find those below, along with additional details on the design and features. Previously, the PSVR2 name was confirmed and Sony released the official Playstation VR2 specs, which include:
4K OLED display
110 degree field of view
Eye Tracking
Foveated rendering
Heading tracking details
Sensory features in the headset and controller
We'll cover all of these things down below in more detail!
RELATED: Check out what we know about an upcoming Xbox VR headset!
How to Buy the Playstation 5
In order to play the Playstation VR 2 when it comes out, you will require a Playstation 5 console. You can buy the console below.
Sale
PlayStation 5 Console CFI-1102A
Stunning Games - Marvel at incredible graphics and experience new PS5 features.
Breathtaking Immersion - Discover a deeper gaming experience with support for haptic feedback, adaptive triggers, and 3D Audio technology.
Lightning Speed - Harness the power of a custom CPU, GPU, and SSD with Integrated I/O that rewrite the rules of what a PlayStation console can do.
PlayStation 5 Digital Edition - CFI-1102B
Lightning Speed - Harness the power of a custom CPU, GPU, and SSD with Integrated I/O that rewrite the rules of what a PlayStation console can do.
Stunning Games - Marvel at incredible graphics and experience new PS5 features.
Breathtaking Immersion - Discover a deeper gaming experience with support for haptic feedback, adaptive triggers, and 3D Audio technology.
As soon as the Playstation VR2 pre order is available, we will update this section and show you how to buy the PSVR2.
Playstation VR2 Overview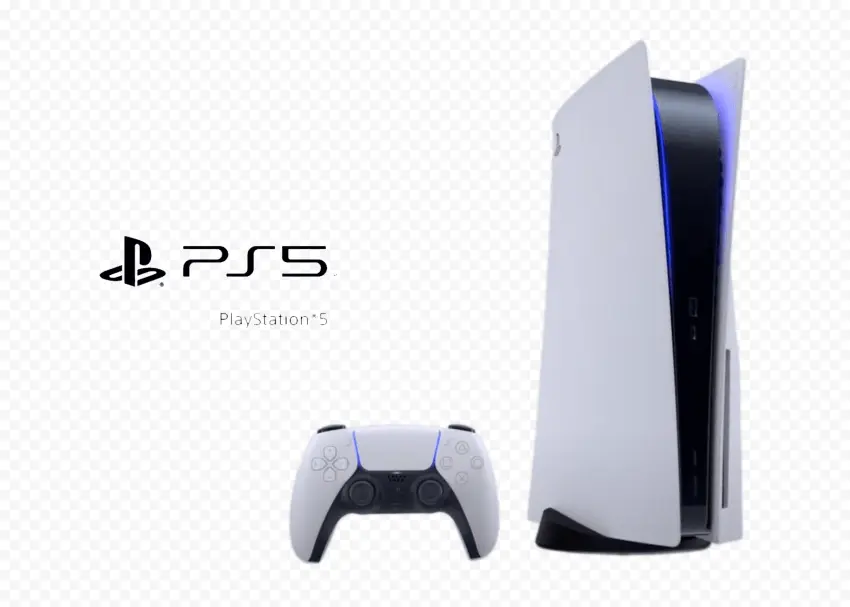 Sony has officially announced the Playstation VR2 VR headset as an attachment for the PS5 game console.
Sony has been taking feedback from fans on the device. The hardware features an OLED display and extra sensory features that help immerse you in VR games. The device has also switched to inside-out tracking so that you no longer need to sit a webcam on your TV.
We go into all Playstation VR2 features in more detail in the next section. We'll also dive into the PSVR2 release date.
If you still want to use your original PSVR hardware with your PS5, Sony has a solution for you. We cover that down below as well.
Unreal Engine 5
The Playstation VR2 is primed for a big splash when it is released because Sony has optimized the console for Unreal Engine 5. In addition to gorgeous graphics and gameplay, UE5 is also powering the next generation of mixed reality (augmented and virtual) content.
Just take a look at how gorgeous graphics can be rendered on Unreal Engine 5 below.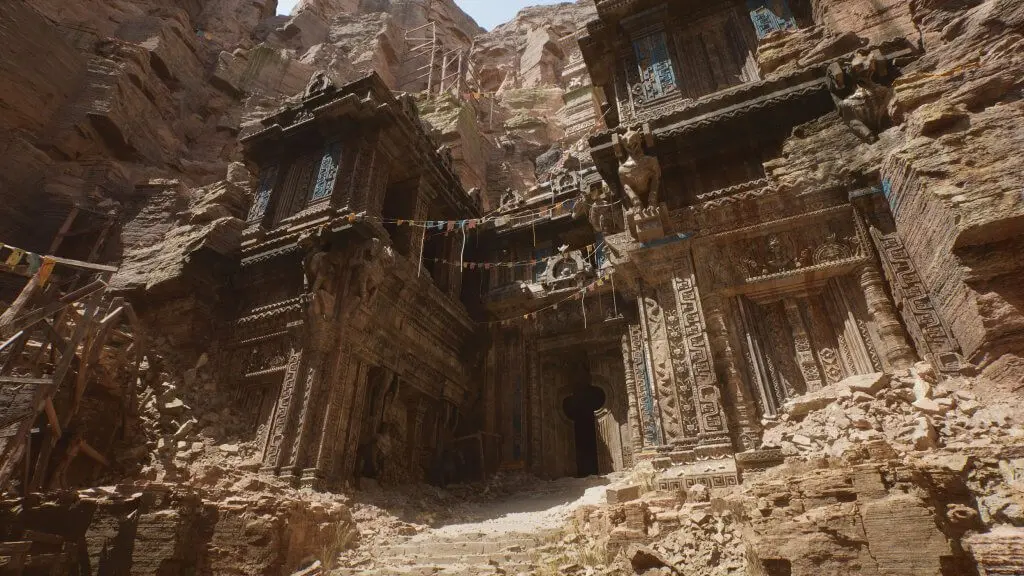 Playstation VR2 Design
In late February, 2022, Sony released the official design details and pictures for the new headset. The images show the PSVR2 headset alongsie the previously announced and detailed Sense controllers. The headset has a white-on-black design similar to the PS5 system. It is slimmer and slightly lighter than the existing Playstation VR 1 headset.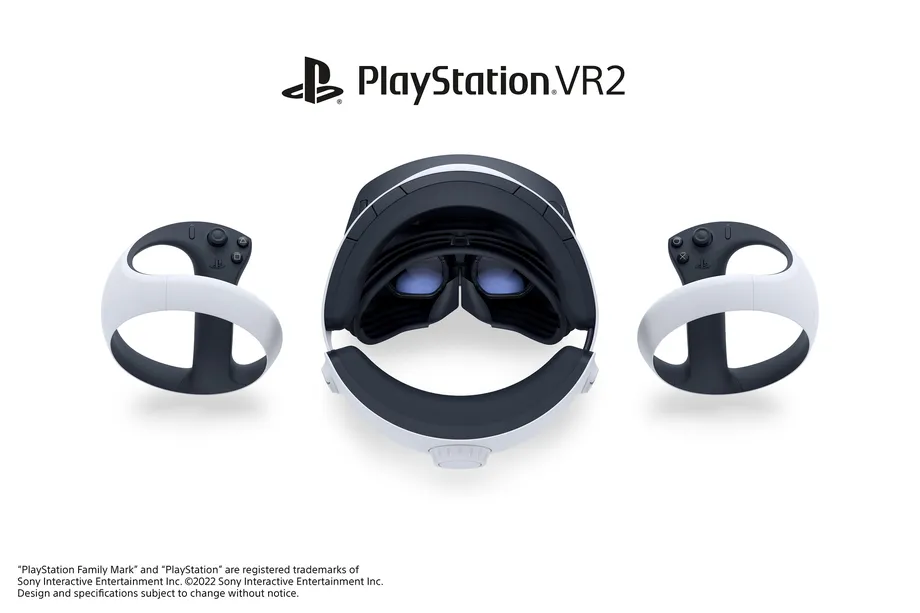 A cooling vent is included in the design, which will prevent the lenses from fogging up. It should also help out the performance during more graphics-intensive games.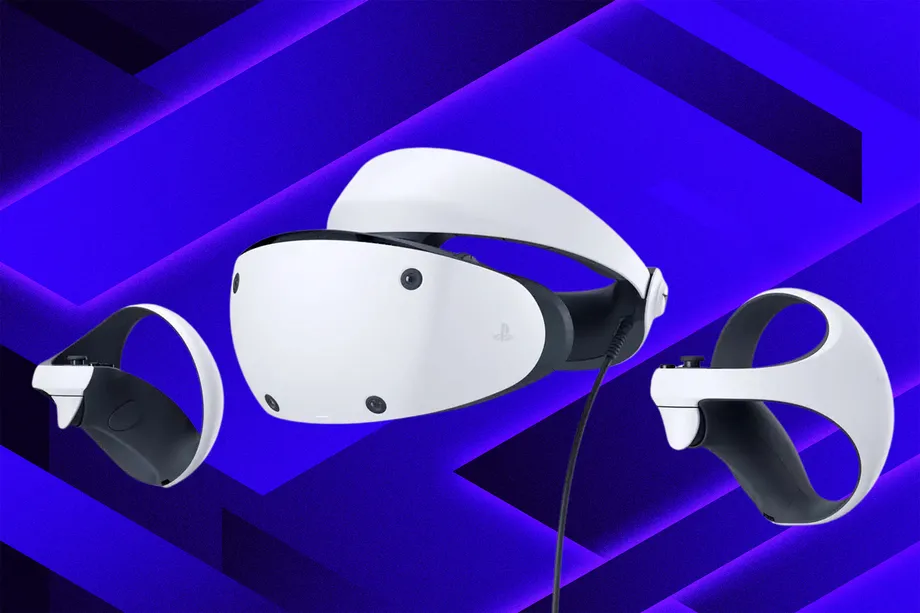 The headset has a very similar headband style to the original PSVR. It has an adjustable scope to fit your head nicely. A new adjustment dial helps users match the lens distance to their IPD distance.
We now know nearly everything about the Playstation VR2 headset except for its release date. We will update this post with that information as soon as it is available.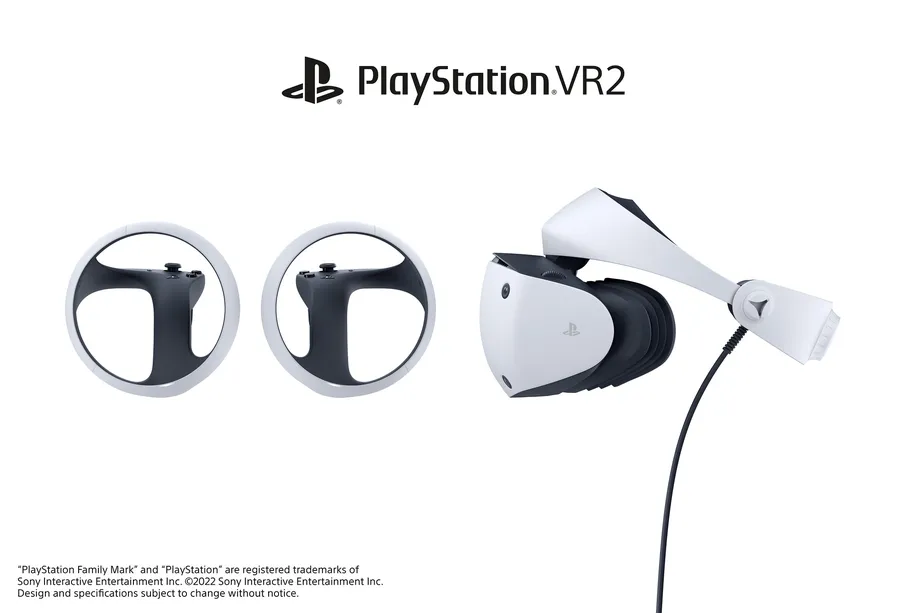 How Much Will the PSVR2 Cost?
The Playstation VR2 will cost $549 USD when it released. For this price, you receive the PS VR2 headset, 2 PS VR2 Sense controllers and stereo headphones.
A bundle that contains the Playstation VR2, controllers, headphones, and Horizon: Call of the Mountain will cost $599.
There is a Playstation VR2 Sense controller charging station, which is available for $49.99.
Next, I'll go through all Playstation VR2 specs and features which are known!
Playstation VR2 Release Date
Officially, the release date for Playstation VR2 is February 22, 2023.
Sony has talked about not wanting to overshadow the release of the Playstation 5 with virtual reality, confusing customers and forcing people to pay more up front. It is smarter to allow players to pay for the console and then pay for virtual reality later on.
We will hear a TON of new information soon including PSVR2 release date, games, reviews, and more.
Playstation VR2 Specs Summary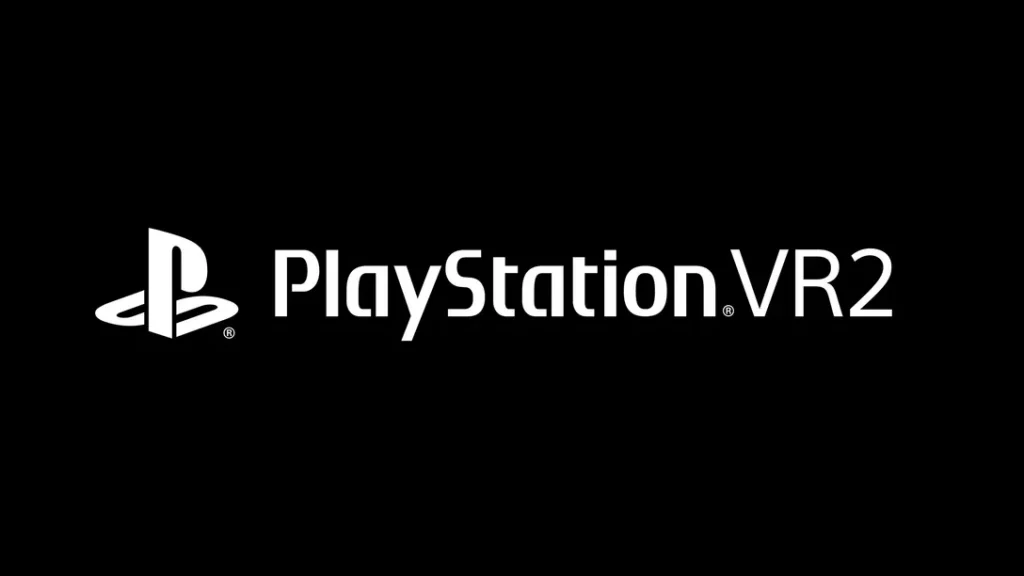 In this section, we go over all of the PSVR2 specs and features we know about so far. This will give you a really good idea of what to expect in the hardware!
Here is a summary of the PSVR2 Specifications:
Display
OLED
Display Resolution
2000 x 2040 per eye
Refresh Rate
90 Hz, 120 Hz
Lens Separation
Adjustable
Field of View
110 degrees
Sensors
Six-axis motion, IR proximity
Cameras
4 inside-out cameras
IR camera for eye tracking
Sensory Feedback
Vibration on headset
Vibration and capacitive on controller
Connection
USB Type-C
Audio
Input: Built-in microphone
Output: Stereo headphone jack
Controller Buttons
[Right]​
PS button, Options button, Action buttons (Circle / Cross), R1 button, R2 button, Right Stick / R3 button
​[Left]​
PS button, Create button, Action buttons (Triangle / Square), L1 button, L2 button, Left Stick / L3 button
Controller Communication
Bluetooth v5.1
Controller Battery
Built-in lithium-ion rechargeable
Playstation VR2 Display
The display resolution on the Playstation VR 2 has jumped from 960 x 1,080 on the original PSVR up to 2,000 x 2,040 per eye, making the Playstation VR2 headset much clearer and more detailed. This resolution is slightly higher than the Meta Quest 2 (1920 x 1832 per eye) and just lower than the HP Reverb G2 (2160 x 2160) and the HTC Vive Pro 2 (2448 x. 2448).
Reviewers are unanimous in saying that the PSVR 2 doesn't have any screen-door effect, which is the shadowing effect on objects. However, there is some amount of mura, which is an inconsistent coloring between pixels in the headset. Mura is usually worse on OLED displays, like the one on the PSVR 2, then on LCD displays.
Another exciting thing about the headset's lenses is that the 110-degree field of view is larger than the original PSVR (100°). This allows you to see more of your environment around you.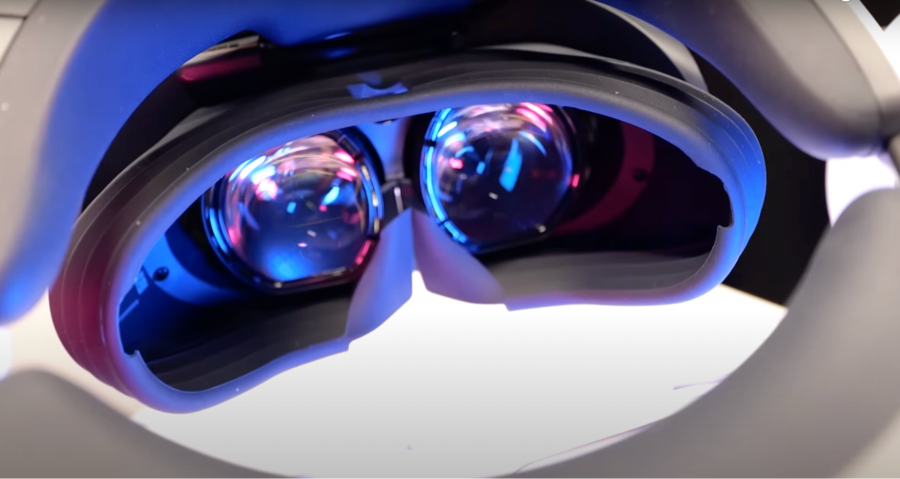 Depending on the game you are playing with the headset, the PSVR 2 supports 4K HDR gameplay with smooth frame rates between 90Hz and 120Hz. This high frame rate makes everything look detailed and incredibly crisp, even at a distance.
Like other headset, the PSVR 2 uses foveated rendering to help make the graphics look high-end. Foveated rendering makes the center of your vision look crisp and clear while blurring the edges of the display your eyes aren't looking directly at. Because the PSVR 2 has eye tracking technology, it can adjust its foveated rendering as you look around.
The Unreal Engine makes Playstation 5 games crisp and highly detailed and the VR headset does its best to emulate that as well.
IPD Adjustment/Calibration
The Playstation VR2 supports both eye-tracking and IPD adjustment. It excels over the original PSVR and indeed other VR headsets, thanks to its straightforward "in-headset calibration." The calibration is for proper eye relief.
Eye tracking in the headset helps you automatically find the correct IPD value for your eyes. The calibration of PSVR 2 ensures proper alignment and adjustment of the lenses to your eyes within seconds.
When you calibrate PSVR 2, a cartoon head will appear in front of you with holes cut out of the eyes. There are blue circles inside the holes representing your actual eyes. For proper alignment, the blue circles should be at the center of the holes, and you can achieve this by adjusting the way the headset sits on your head or by turning the IPD dial. Once everything is in order, the holes will light up green, telling you the alignment is in order.
This software-based IPD adjustment is more efficient than any other VR headset today.
Playstation VR2 Audio Facts
The Playstation VR 2 does not have any built-in audio in the headset, which is unlike every other modern headset on the market. Like the original PSVR, you will only hear the sounds playing through your TV. The biggest issue is playing games where you have to rotate or frequently have your back to your TV. The audio location will not match your vision in the display.
The virtual reality headset does have a built-in microphone and audio-out stereo headphone jack. You can also sync wireleass headphones, such as AirPods, to the headset. In order to have the most accurate audio, Sony is pushing its Pulse 3D headphones as the best solution for the PSVR2.
You can buy these below for an extra $100.
PlayStation PULSE 3D Wireless Headset
Built for a new generation - Fine-tuned for 3D Audio on PS5 consoles. Enjoy comfortable gaming with refined earpads and headband strap. Play in style with a sleek design that complements the PS5 console. Available when feature is supported by game.
Designed for gamers - Chat with friends through the hidden noise-cancelling microphones. Quickly adjust audio and chat settings with easy-access controls. Internet and account for PlayStation Network required.
Take your adventures further - Enjoy up to 12 hours wireless play with the built-in rechargeable battery. Easily connect to your PS5 or PS4 console using the wireless adaptor. Connect to PS VR and mobile devices with the included audio cable. Built-in headset controls not supported on PS VR and mobile devices.
Design of Headset and Head Strap
The headset's design is inspired by most of the products in the PlayStation 5 family. The PSVR2 is mostly white with black accents. It stubbed with cameras and cut with sharper edges to resemble the PS5 hardware.
The PSVR2 has a button underneath the front of the device. You can press this button to switch to a see-through view of your room with the aid of the inside-out cameras built into the device. This arrangement lets you pause a game to pick something up or talk to someone in the room without taking off the headset.
The PSVR2 has a single cord sticking out of the back that plugs into the PlayStation 5. The single wire management is better than the original PSVR, but it is not perfect. You will accidentally hit the cord as you play.
Like most premium VR headsets, PSVR2 comes with an adjustable head strap. You can adjust the tightness and angle on your face so that everything rests comfortably.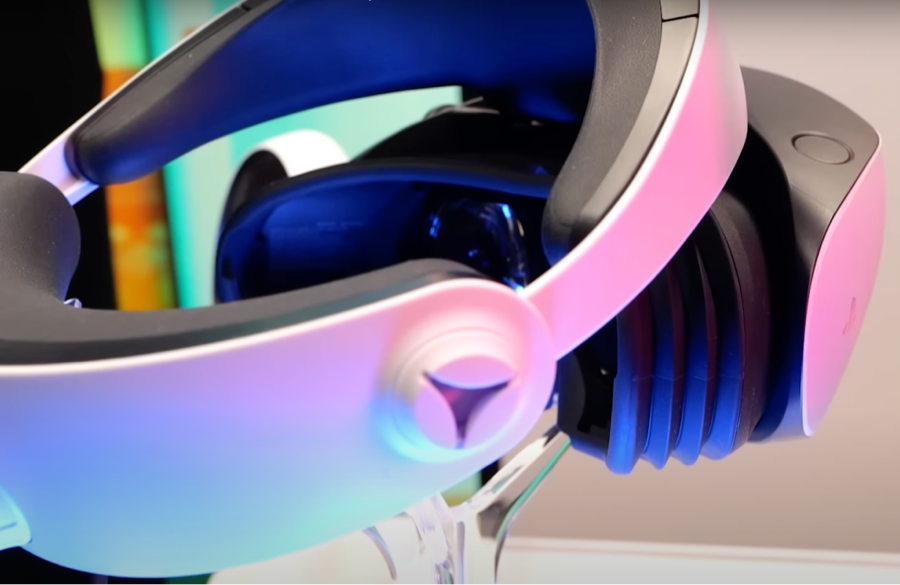 Passthrough & Playspace Setup
Unlike the PSVR, PlayStation VR2 has onboard cameras for inside-out tracking and to help see the real world. The passthrough video also helps you define your playspace boundary.
The passthrough view has a higher resolution than Meta Quest's passthrough to help you make out details in your room clearly. The cameras are still black and white though, so you don't get full immersion yet.
The playspace setup process is similar to the Meta Quest 2: it scans your playspace to detect objects around you and make recommendations where your boundaries should be. You can then refine or expand as you deem fit by using the controllers to draw an outline of your room.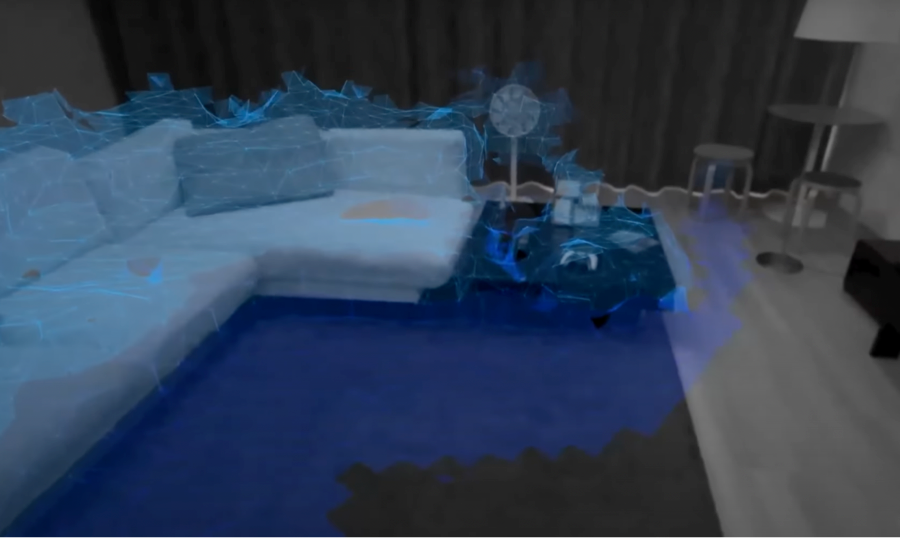 Single Cable Connection
Sony has reduced the cabling in the PSVR2 down to a single USB-C connection between you and your console. To some, this is one cable too many compared to the Meta Quest 2. However, this cable has some advantages:
You can have 10 GHz of data transfer without any wireless quality loss
Graphics will be converted from the PS5 to the PSVR2 at maximum quality
Feedback and tracking from the headset and its sensors will happen in real-time
Size and Weight
The size is very similar to the original PSVR. The halo-style headstrap is a good replacement for the original and it fits very comfortable.
The Playstation VR2 weighs slightly under 600 grams, a little less than the original. This is impressive, since Sony did add an extra motor into the headset for vibrations and haptics. It weighs less than the Vive Pro 2, which clocks in at over 850 grams.
It's easy to forget the device is on your head, since there's no light leakage from outside the device.
PSVR 2 Controller Facts
The PSVR 2 has Sense Controllers, which are leagues ahead of the previous model's Move Controllers. Thanks to the headset's inside-out tracking and the controller's finger touch detection, you can accurately track any movements made in real life in VR.
Each controller has identical buttons:
an analog thumb-stick with an L3/R3 button built into the stick
two main action buttons (triangle / square on one controller and circle / cross on the other)
L1/L2 and R1/R2 shoulder buttons
PS Button on each controller
Create button (left) and Options button (right)
The reactive triggers and rumble haptics in the handles of the controllers are the same as those found on the PS5 controller.
Each controller has a rechargeable lithium-ion battery and a USB-C port for charging. It communicates with the headset using Bluetooth 5.1 wireless technology.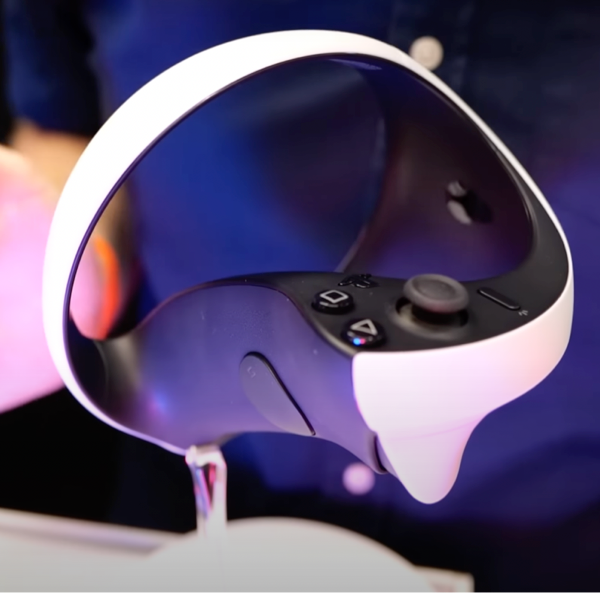 The sensor controllers come with built-in a six-axis motion sensor system (three-axis gyroscope + three-axis accelerometer). This allows the VR hardware and PS5 to read the controller's position, movement, and buttons in real time. Each button has capacitive finger touch detection to help with finger controls and position.
The Sense Controllers make movement effortless in VR. You can play more complex FPS games like The Walking Dead: Saints and Sinners without the frustrations that came with using the Move Controllers. The Sense Controllers are comfortable to hold, and the buttons are nicely spaced to fit your fingers.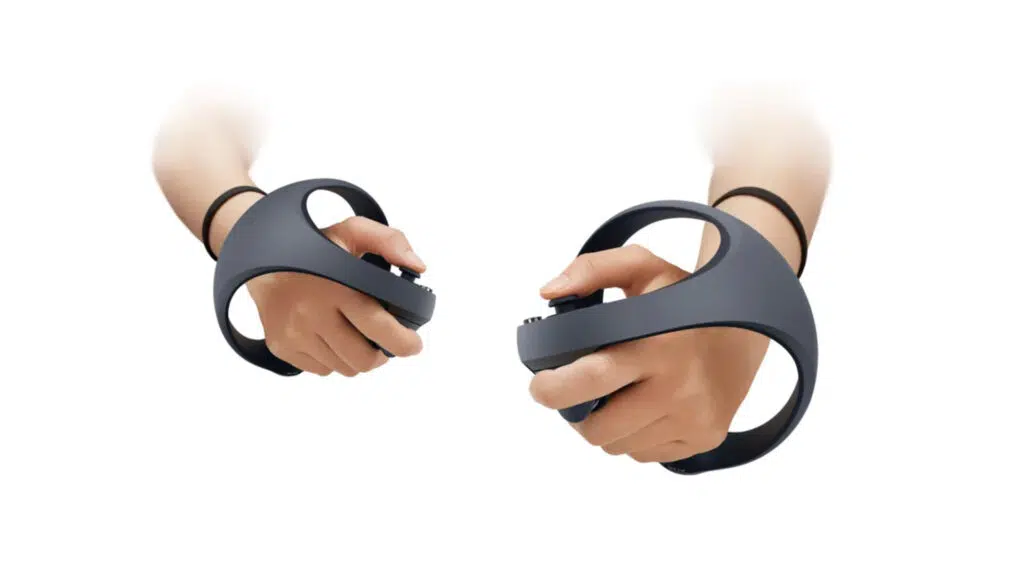 Playstation VR2 Games
Some of the games that are confirmed for the Playstation VR2 are:
The Walking Dead: Saints & Sinners.
Horizon Call of the Mountain.
Star Wars: Tales from the Galaxy's Edge.
Resident Evil Village.
Low-Fi
Chapter 2 – Retribution
Samurai Slaughter House.
Demeo
No Man's Sky.
Resident Evil 4.
Firewall Ultra
Among Us VR
Ghostbusters VR
Firmament
Requisition VR
Sony will be announcing other launch day titles throughout the rest of the year to build anticipation.
Curiously, original PSVR games are NOT compatible with the VR2, which is a curious decision. Sony has not offered up any reason why this is the case.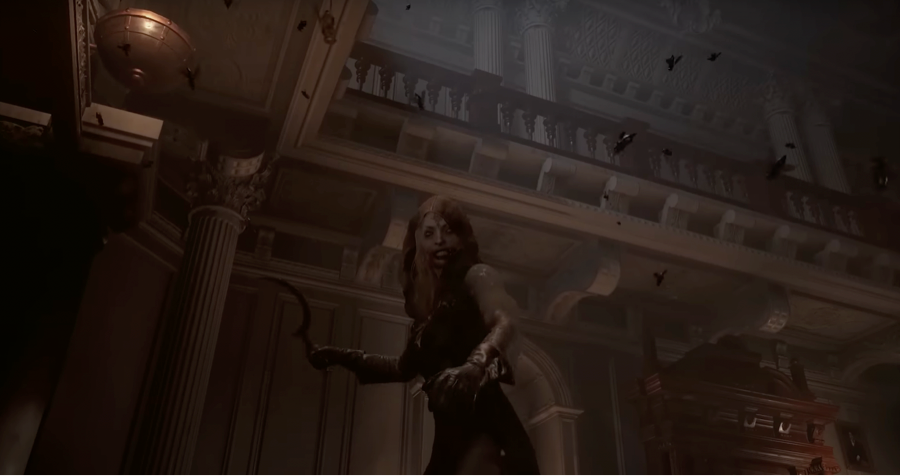 Playstation VR2 Tracking
The Playstation VR2 features inside-out tracking. Four cameras on the outside of the headset (one more than the PSVR) view your play environment in real-time. It can detect the sensors in your controller to understand movement and position. Accelerometer, gyroscope, and positioning sensors inside of the headset understand where you are looking and moving within the game.
All tracking is done within the PSVR2 hardware. Unlike the original PSVR, you don't need the Playstation Eye camera or any base station cameras setup in your room in order to play.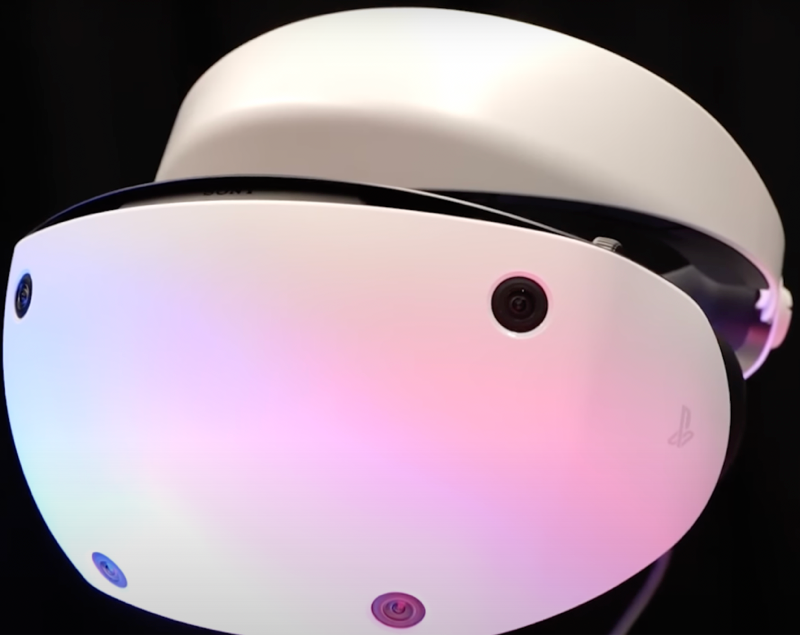 Eye Tracking
The PSVR2 has full eye tracking that will detect the motion of your eyes. Looking in specific directions can create additional inputs for your game character.
Sony promises that eye tracking will allow you to interact more intuitively with your environment and increase realism. Some of the patents filed below hint at the possibilities of this feature.
PSVR2 Haptics
One of the features that sets the Playstation VR2 apart from any other headset on the market is the use of haptic feedback in the head and adaptive triggers in the controllers.
Haptic feedback helps to increase immersion. For example, an explosion on the right side of your game will create headset vibrations in that direction. A patent by Sony also suggests that this haptic feedback will reduce disorientation and motion sickness.
Adaptive triggers in the controller can artificially make buttons easier and harder to press. For example, if you need to press a button to either open a door or smash a window, the strength of your button press can be adjusted on-the-fly with the capacitive sensor.
Setting Up the Playstation VR 2
Setting up and calibrating the PSVR2 is straightforward. You need to select the PSVR2 card on the PlayStation 5 dashboard. The PSVR2 comes with a single cord sticking out of the back that plugs into the PlayStation 5. Fortunately, the passthrough camera lets you see your immediate environment while adjusting your setup.
Once you turn the power on, you can personalize your VR experience by adjusting the eye tracking and visibility fields. The control center in the software lets you enter menus that provide accurate readings.
The best part of the setup process is when defining your play area. The headset scans your playspace to make recommendations about space size and objects. Using the controllers, you can refine or expand manually as you deem fit.
As easy as the setup process is, remember the headset is tethered through a cable to your PlayStation 5. You will feel the cable hanging around your body as you move and may even step on it.
Other Playstation VR2 Facts
Here are some other tidbits of information about the PSVR2 experience you might be interested in:
The software comes with a 2D cinematic mode, which allows you to play movies and 2D games in flat-screen within your headset. This is key if your TV is in use and you don't want to play in virtual reality.
The controllers have capacitive touch sensors all around, not just where the buttons and triggers are. Games will detect where you rest your thumb, index, and middle fingers and display your grip in the game.
Haptic feedback in the headset pulses during high intensity and tense moments, which brings a high sense of presence to each game.
Next we take a look at some of the PSVR2 patents which have been filed, which give us a teaser about other potential features.
Playstation VR2 Patents
The following patents have been filed by Sony and approved, leaking out into public domain. This does not indicate exactly where Platstation VR2 is going to go, but patents are not trivial to design and submit. Thus we think that most or all of these rumours may actually be true when the PSVR2 is actually announced.
New Controllers
On September 26th, 2020, a new patent from Sony shows redesigned controllers that look much like other VR controllers that Oculus and valve has released in the past. They look much more ergonomic and a better fit in your hands.
Like most VR controllers, they each contain an analog joystick and two main buttons on the top. It looks like there are index and middle finger triggers on the controllers as well.
Details in the patent note a number of different sensors located in the controller for position, speed, and motion tracking. This leads us to believe that the Playstation VR 2 will contain inside-out tracking.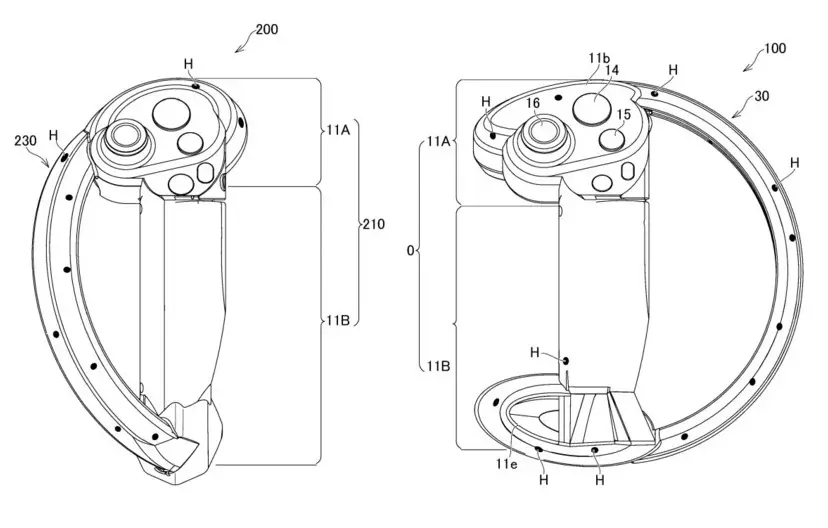 Inside-Out Tracking
In the same patent showing the new controller design above, there are references to inside-out tracking. The patent shows a camera on the front of the headset which views outward to track each controller.
Sony has also confirmed inside-out tracking for the headset. This means that you'll no longer need the Playstation Eye webcam sitting on your TV in order to track your movement!
When Sony released the PC VR, outside-in tracking via the camera was the most popular method. Over time, Oculus has shown that inside-out tracking provides nearly the same accuracy without an extra external device to setup. We believe that the PS5 VR hardware will contain a similar tracking method.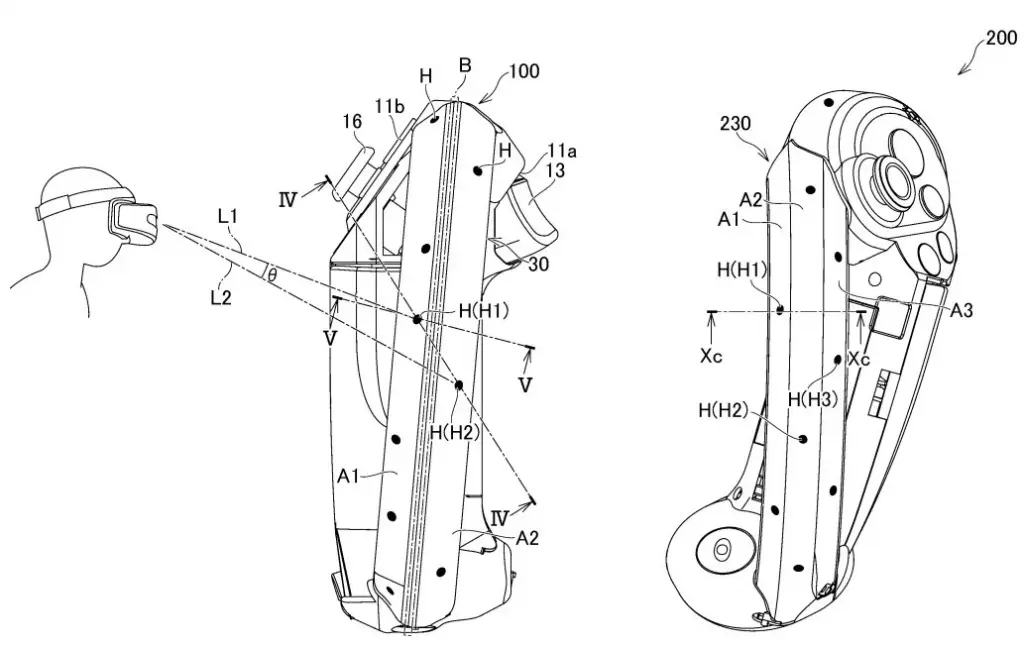 Finger Tracking
Another early patent from February of 2020 shows a mock PS5 VR controller that contains full finger-tracking capabilities. The patent describes a "home-use game machine" which "detects the movement of a user's hand". Other wording in the patent talks about the lack of a need for controller input, meaning that it can detect fingers just based on where they are placed.
Again, this early patent does not show the redesigned controllers from October 2021. However, this feature patent can be applied to any controller design.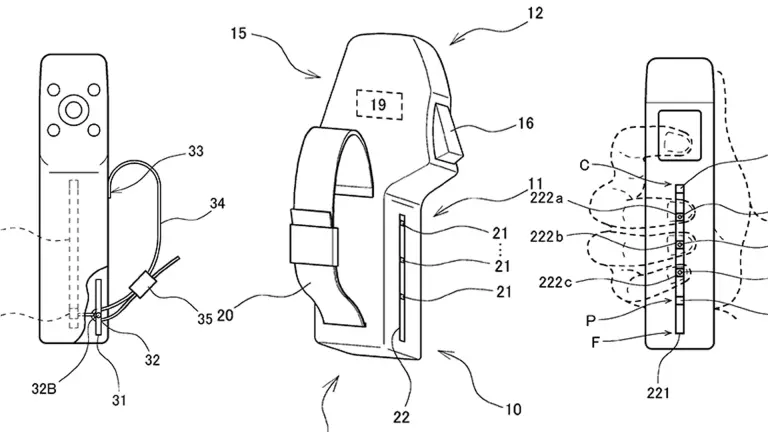 PSVR2 Headset
There are not many patents published yet that hint at a possible redesign for the PS5 VR headset. The one good look so far contains the same design as the original Playstation VR hardware. The design will have to be modernized to include inside-out tracking, so we should see some cameras places facing outward on the headset.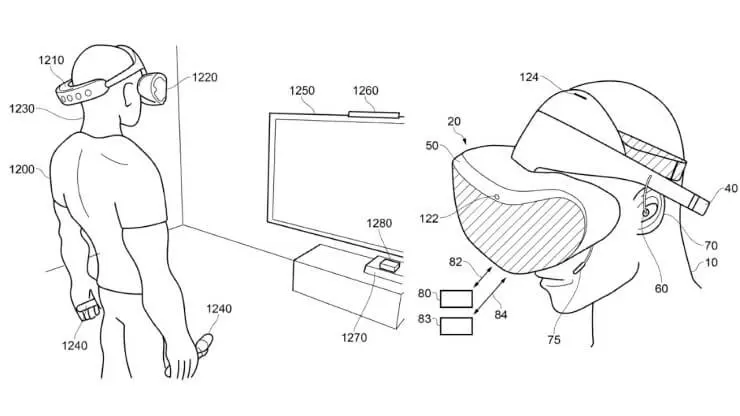 Audience Participation
A brand new patent filed by Sony shows off an interactive audience participation functionality. The patent describes "integrating audience participation content into virtual reality content." It goes on to describe several scenarios where spectators could interact with or affect a VR player's game with the use of DualShock controllers or their phones.
The idea sounds similar to certain asymmetric multiplayer VR games like Acron: Attack of the Squirrels. In Acron, players on their phones control squirrels who try to attach a tree, which the player in VR controllers.
So while we only have text information and patent teasers so far, Sony's Playstation VR2 features look great! We can't wait to see more.
Original Playstation VR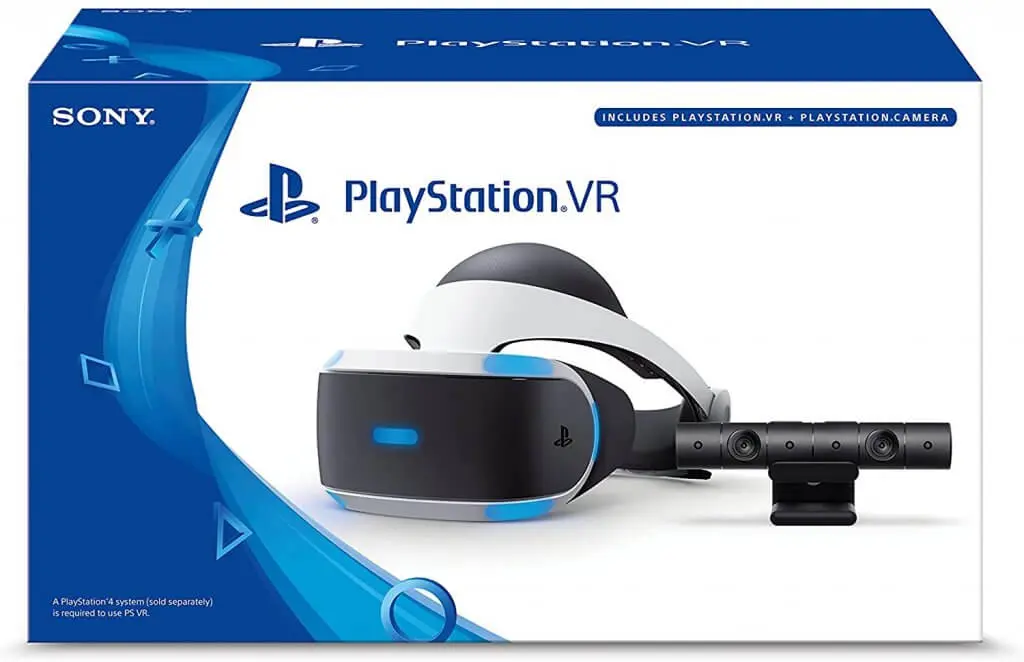 Hardware and Features
Playstation VR Mega Pack Bundle and Offers
Sale
PlayStation VR - Marvel's Iron Man Bundle
Bundle includes Playstation VR headset, Playstation camera, 2 Playstation move motion controllers, Marvel's iron man VR blue-rays disc, and Demo disc 3.0.
Using two Playstation move motion controllers Fire up iron Man's repulsor jets and Blast into the skies with an arsenal of iconic iron man Gear at your fingertips.
Face off against One of iron Man's greatest foes in high stakes, action-packed battles.
Playstation VR on the PS5
What exactly do you need to buy for PS VR on PS5?
If you want to play the original PS VR on the PS5, what exactly do you need to buy? You need to make sure you have the following:
Playstation VR headset
An original Playstation camera (included with any PS VR bundle)
Playstation Move controllers (also included with any bundle)
PS5 to PS4 camera adapter cable (free from Sony.
The adapter cable allows you to plug the PSVR camera into the Playstation 5. Sony will send you one for free if you click here.
How to Connect Playstation VR to the PS5
The Playstation 5 contains three USB Type-A ports, but only two on the back are rated for faster USB 3.1 speeds. This is a potential problem because the Playstation VR camera and new PS5 camera both require the faster speeds. The PSVR processing box can plug into the slower speed USB Type-A port.
If you have an external hard-drive to plug into the Playstation 5, you won't have enough ports unless you plug into the USB Type-C at the front of the console or use a USB Type-A hub to connect additional devices.
So to connect and use PS5 VR functions, plug your Playstation camera (and extra dongle from Sony) into a faster USB-A port. Plug your VR processing box into a slower USB-A port. Plug your new Playstation camera into a faster USB-A port.
This should allude to the fact that the new PS5 VR solution will contain inside-out tracking and will not require the camera plugged into your console device at all. As it is right now, there are a few too many connections to your console to make everything run properly and this can seem clunky for a brand new console in 2021.
Otherwise, gameplay of Playstation VR games is identical on the PS5 as they were on the PS4.
Playstation VR vs Oculus Quest 2 vs HP Reverb G2: Specs
The Playstation VR headset is 2016 technology, so you would expect to see that it has fallen behind new hardware from Oculus and HP. Below is a comparison chart between the PS VR vs Oculus Quest 2 vs HP Reverb G2.
| | | | |
| --- | --- | --- | --- |
| | Playstation VR | Oculus Quest 2 | HP Reverb G2 |
| Resolution | 1080 x 1200 per eye | 1832 x 1920 per eye | 2160 x 2160 per eye |
| Display Type | 1 x OLED | 1 x LCD | 2 x LED |
| Refresh Rate | 120 Hz | 90 Hz | 90 Hz |
| Tracking | Outside-In | Inside-Out | Inside-Out |
| IPD | Software adjustable (48-78mm) | Hardware Adjustable (58, 63, 68 mm) | Hardware Adjustable (60-68mm) |
| Wireless-capable | No | Yes | No |
| Weight | 600g | 530g | 550g |
| Price | $349 | $299 | $599 |
| | | | |
| | | | |
The biggest drawback of the Playstation VR over the Oculus Quest 2 and HP Reverb G2 is its outdated display. At only 1080 x 1200 pixels per eye, the maximum quality is more than half what you get on a newer headset. We expect to see a big increase in display resolution on the next PS5 VR hardware.
We also see a few areas where Sony was a bit too ambitious in the specifications of the original PS VR. 120 Hz refresh rate offers buttery-smooth graphic visuals in the games you play, but your eyes cannot process a refresh rate that fast. We expect to see a refresh rate closer to 90 Hz on the next version of the hardware.
As well, the original Playstation VR contains an adjustable software IPD range between 48 and 78 mm. We expect to see a more limited IPD in the 58-72 mm range and maybe one that is hardware adjustable too.
Price will also be the biggest factor in the upcoming hardware from Sony. Oculus changed the game with a $299 price tag for the Quest 2 for a device that works without a gaming PC or Playstation 5. We think Sony will have to meet this price point in order to entice new buyers.
Conclusion
With the Playstation VR2 release date coming soon in 2022, now is the time to wait before you jump into Sony's virtual reality world.
Stock on the PS5 console is improving every day and the hardware should be more freely available later in 2022 when the PSVR2 launches. It's also evident that Sony is applying a lot of resources to make sure that they have a corner in the VR market.
Until the Playstation VR2 comes you, you can still play PS4 VR the same way you have for the past few years. Or you can connect it to your PS5 with the free converter cable from Sony.
We will keep this article updated with any news and rumors about virtual reality on the Playstation 5.
Are you excited for new Playstation VR2 hardware to come out in the near future? What features are you most excited to see on the headset?
Did we answer all of your questions about the topic? Make sure to comment below and let us know today.