This is the ultimate guide to the Playstation VR2. We've compiled all information and everything there is to know about the PSVR2. Some of the things we will go over include:
What is the release date of Playstation VR2?
What new features will PSVR2 have?
What are the new Playstation VR2 Sense controllers?
Can PS VR be used on the Playstation 5?
How does Playstation VR compare to new headsets like the Oculus Quest 2 or HP Reverb G2?
The latest update is from January 5th, 2022! The PSVR2 name has been confirmed and Sony has released the official Playstation VR2 specs, which include:
4K OLED display
110 degree field of view
Eye Tracking
Foveated rendering
Heading tracking details
Sensory features in the headset and controller
We'll cover all of these things down below in more detail!
RELATED: Check out what we know about an upcoming Xbox VR headset!
How to Buy the Playstation 5
In order to play the Playstation VR 2 when it comes out, you will require a Playstation 5 console. You can buy the console below.
PlayStation 5 Console
Amazon Prime customers will be given priority access to the PlayStation 5 through 12/31.
Stunning Games - Marvel at incredible graphics and experience new PS5 features.
Breathtaking Immersion - Discover a deeper gaming experience with support for haptic feedback, adaptive triggers, and 3D Audio technology.
PlayStation 5 Digital Edition
Lightning Speed - Harness the power of a custom CPU, GPU, and SSD with Integrated I/O that rewrite the rules of what a PlayStation console can do.
Stunning Games - Marvel at incredible graphics and experience new PS5 features.
Breathtaking Immersion - Discover a deeper gaming experience with support for haptic feedback, adaptive triggers, and 3D Audio technology.
Playstation VR2 Overview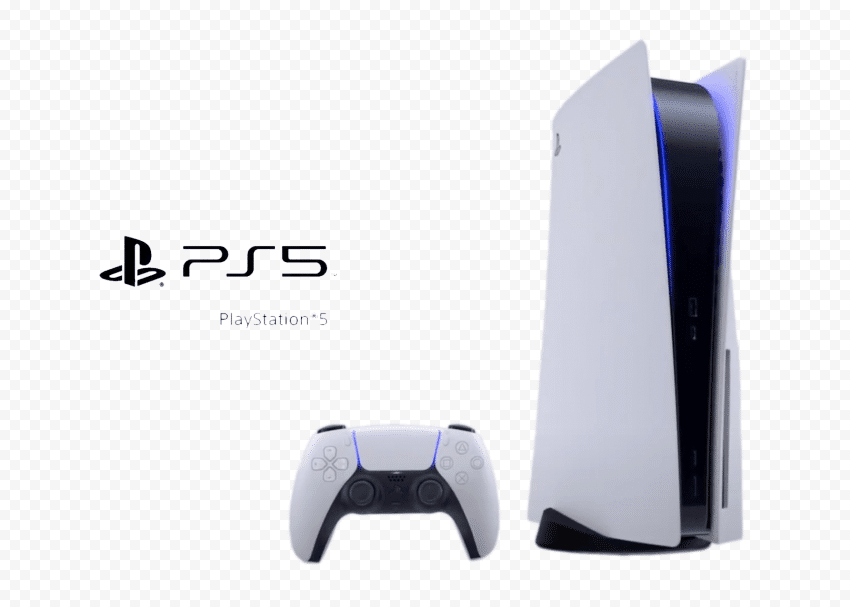 Sony has officially announced that the Playstation VR2 is coming soon for the PS5. It is a brand new VR headset that has been designed to integrate directly with Sony's flagship console.
It looks like Sony has been taking feedback from fans on the device. The hardware features an OLED display and extra sensory features that help immerse you in VR games. The device has also switched to inside-out tracking so that you no longer need to sit a webcam on your TV.
We go into all Playstation VR2 features in more detail in the next section. We'll also dive into the PSVR2 release date.
If you still want to use your original PSVR hardware with your PS5, Sony has a solution for you. We cover that down below as well.
Unreal Engine 5
The Playstation VR2 is primed for a big splash when it is released because Sony has optimized the console for Unreal Engine 5. In addition to gorgeous graphics and gameplay, UE5 is also powering the next generation of mixed reality (augmented and virtual) content.
Just take a look at how gorgeous graphics can be rendered on Unreal Engine 5 below.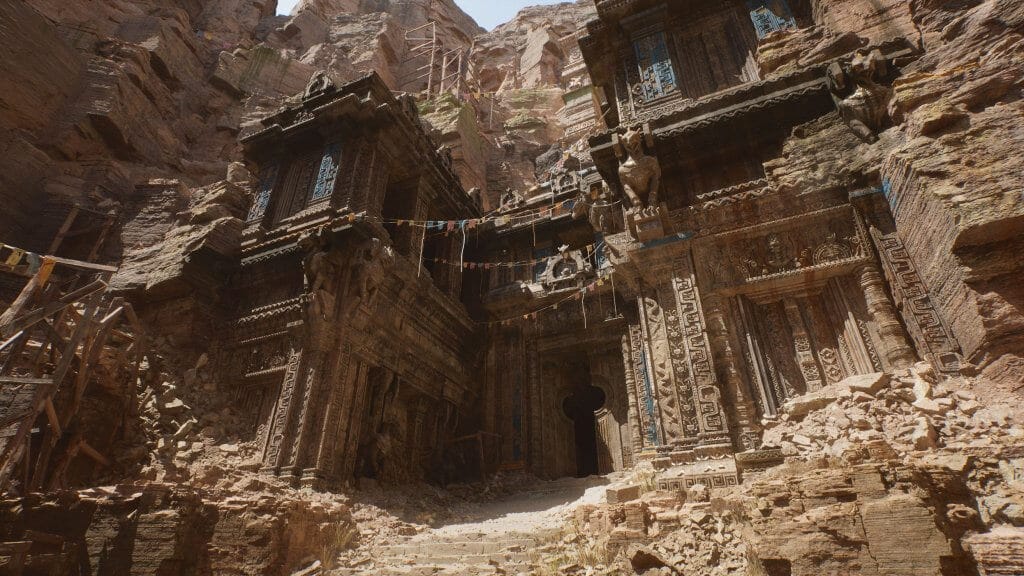 Playstation VR2 Specs and Features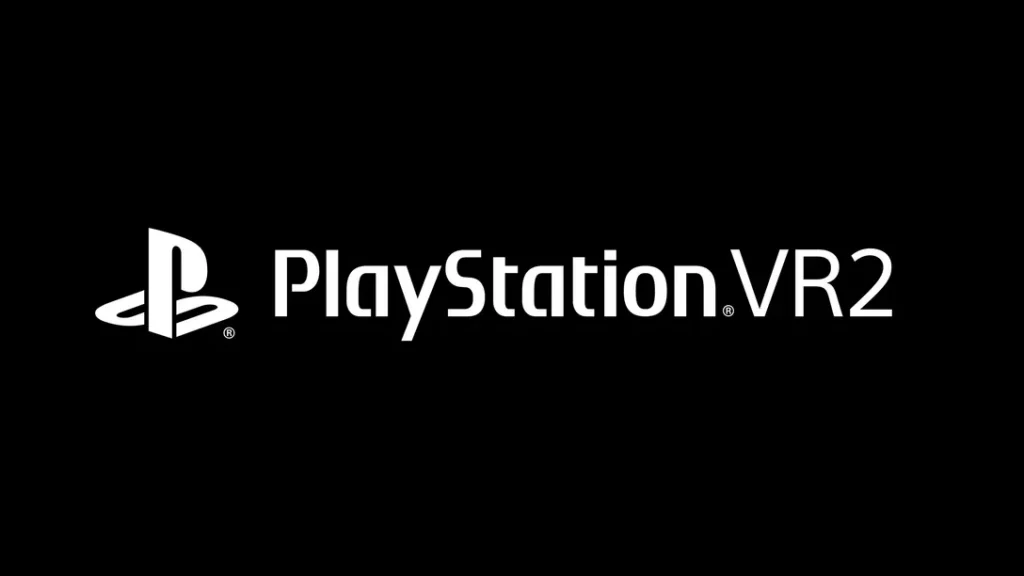 In this section, we go over all of the PSVR2 specs and features we know about so far. This will give you a really good idea of what to expect in the hardware!
Here is a summary of the PSVR2 Specifications:
Display
OLED
Display Resolution
2000 x 2040 per eye
Refresh Rate
90 Hz, 120 Hz
Lens Separation
Adjustable
Field of View
110 degrees
Sensors
Six-axis motion, IR proximity
Cameras
4 inside-out cameras
IR camera for eye tracking
Sensory Feedback
Vibration on headset
Vibration and capacitive on controller
Connection
USB Type-C
Audio
Input: Built-in microphone
Output: Stereo headphone jack
Controller Buttons
[Right]​
PS button, Options button, Action buttons (Circle / Cross), R1 button, R2 button, Right Stick / R3 button
​[Left]​
PS button, Create button, Action buttons (Triangle / Square), L1 button, L2 button, Left Stick / L3 button
Controller Communication
Bluetooth v5.1
Controller Battery
Built-in lithium-ion rechargeable
Display
The overall display on the Playstation VR2 is 4000x2080 pixels, 2000x2040 per eye. This is a full 4K HDR display in the PSVR2 headset.
The field of view on the PSVR2 is 110 degrees with refresh rates of both 90 Hz and 120 Hz.
The headset will feature a lens separation adjustment dial for perfecting the display in your vision.
Inside Out Tracking
The Playstation VR2 features inside-out tracking. Cameras in the headset that point out into your environment take care of your positioning and movement. You no longer need the Playstation Eye webcam setup over your TV in order to watch you!
Inside-out tracking has been preferred by fans ever since the Meta Quest 2 nearly perfected it. We are excited to see how Sony implements the technology for the new VR headset.
Eye Tracking
The PSVR2 will contain full eye tracking that will detect the motion of your eyes. Looking in specific directions can create additional inputs for your game character.
Sony promises that eye tracking will allow you to interact more intuitively with your environment and increase realism. Some of the patents filed below hint at the possibilities of this feature.
Foveated Rendering
The new PS5 hardware will feature gaze tracking capable of foveated rendering. This indicates that the headset will track your eyes and increase the clarity in the display to where you are looking.
Foveated rendering is a trick that allows developers to save graphical resources by only showing off what the user is looking at and blurring the rest of the screen.
Controller
The PSVR2 Sense controllers has been redesigned with a new halo shape. The controllers have both haptic feedback and adaptive triggers which provide for ultra-realism and hand tracking.
The Playstation VR2 Sense controller has a six-axis motion system, three-axis gyroscope and three-axis accelerometer.
Each controller has a built-in lithium-ion rechargeable battery. They communicate back to the headset via Bluetooth 5.1 technology.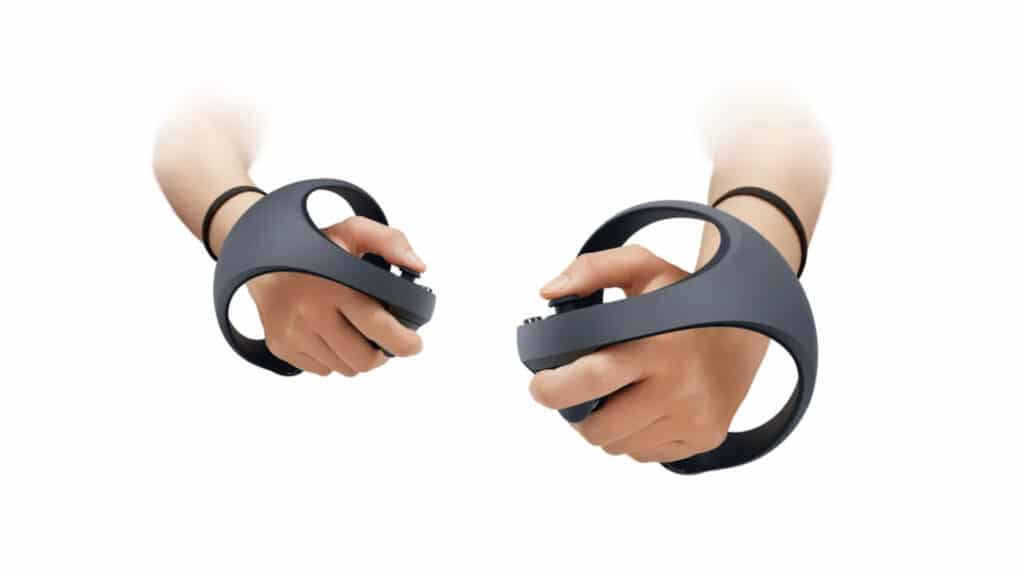 Single Cable
Sony has reduced the cabling in the PSVR2 down to a single USB-C connection between you and your console. To some, this is one cable too many compared to the Meta Quest 2. However, this cable has some advantages:
You can have 10 GHz of data transfer without any wireless quality loss
Graphics will be converted from the PS5 to the PSVR2 at maximum quality
Feedback and tracking from the headset and its sensors will happen in real-time
Headset Sensory
Sony has implemented new sensory features directly into the new headset:
3D spatial audio makes you feel like you are right into the game
Haptic feedback in the headset provides smart vibrations that make you feel like you are right inside of the game.
The examples from Sony on haptic feedback is that gamers can feel a character's elevated pulse during tense moments, the rush of objects passing close to the character's head, or the thrust of a vehicle as the character speeds forward.
Games
Sony is working directly with developers to implement VR support for new and upcoming titles. So far, we know that the Horizon franchise is coming to the Playstation VR2. Horizon Call of the Mountain will include full VR support.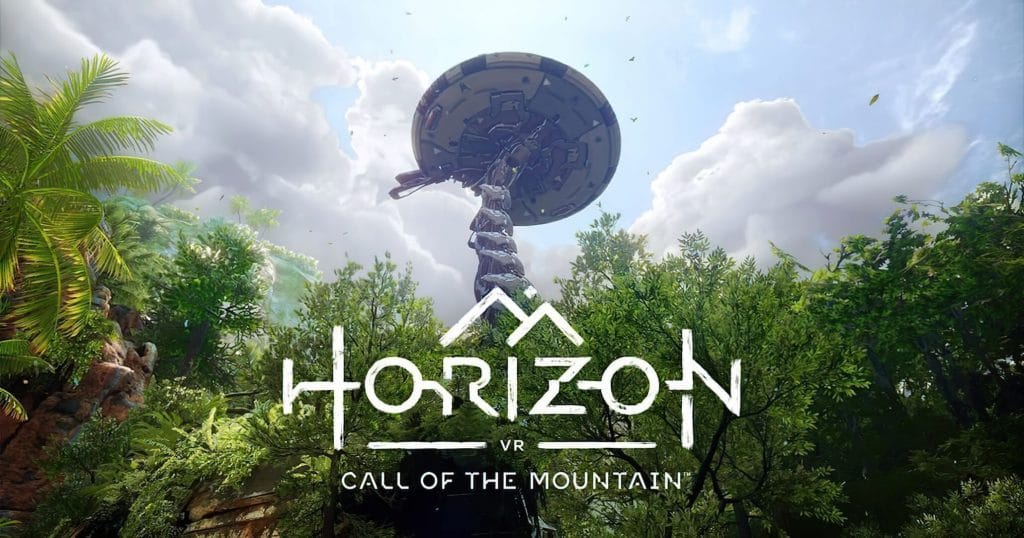 All of these Playstation VR2 specs are confirmed straight from Sony!
Next we take a look at some of the PSVR2 patents which have been filed, which give us a teaser about other potential features.
Playstation VR2 Patents
The following patents have been filed by Sony and approved, leaking out into public domain. This does not indicate exactly where Platstation VR2 is going to go, but patents are not trivial to design and submit. Thus we think that most or all of these rumours may actually be true when the PSVR2 is actually announced.
New Controllers
On September 26th, 2020, a new patent from Sony shows redesigned controllers that look much like other VR controllers that Oculus and valve has released in the past. They look much more ergonomic and a better fit in your hands.
Like most VR controllers, they each contain an analog joystick and two main buttons on the top. It looks like there are index and middle finger triggers on the controllers as well.
Details in the patent note a number of different sensors located in the controller for position, speed, and motion tracking. This leads us to believe that the Playstation VR 2 will contain inside-out tracking.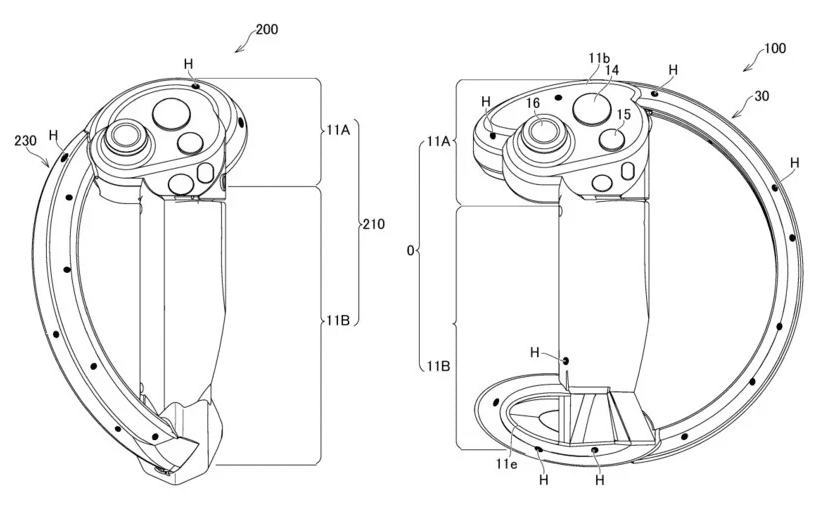 Inside-Out Tracking
In the same patent showing the new controller design above, there are references to inside-out tracking. The patent shows a camera on the front of the headset which views outward to track each controller.
Sony has also confirmed inside-out tracking for the headset. This means that you'll no longer need the Playstation Eye webcam sitting on your TV in order to track your movement!
When Sony released the PC VR, outside-in tracking via the camera was the most popular method. Over time, Oculus has shown that inside-out tracking provides nearly the same accuracy without an extra external device to setup. We believe that the PS5 VR hardware will contain a similar tracking method.
Finger Tracking
Another early patent from February of 2020 shows a mock PS5 VR controller that contains full finger-tracking capabilities. The patent describes a "home-use game machine" which "detects the movement of a user's hand". Other wording in the patent talks about the lack of a need for controller input, meaning that it can detect fingers just based on where they are placed.
Again, this early patent does not show the redesigned controllers from October 2021. However, this feature patent can be applied to any controller design.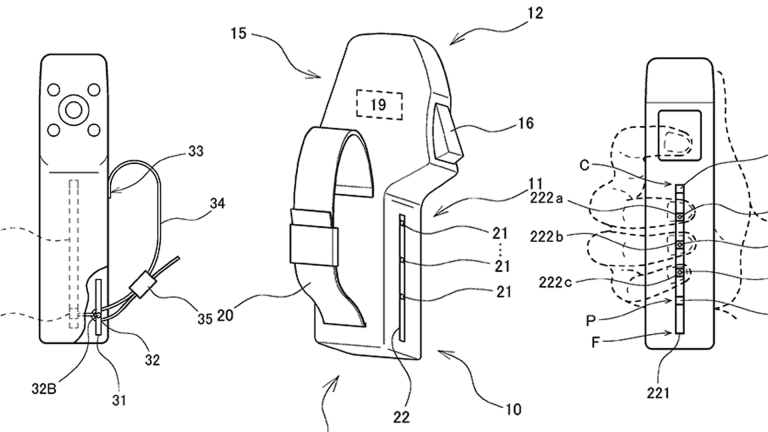 PSVR2 Headset
There are not many patents published yet that hint at a possible redesign for the PS5 VR headset. The one good look so far contains the same design as the original Playstation VR hardware. The design will have to be modernized to include inside-out tracking, so we should see some cameras places facing outward on the headset.
Audience Participation
A brand new patent filed by Sony shows off an interactive audience participation functionality. The patent describes "integrating audience participation content into virtual reality content." It goes on to describe several scenarios where spectators could interact with or affect a VR player's game with the use of DualShock controllers or their phones.
The idea sounds similar to certain asymmetric multiplayer VR games like Acron: Attack of the Squirrels. In Acron, players on their phones control squirrels who try to attach a tree, which the player in VR controllers.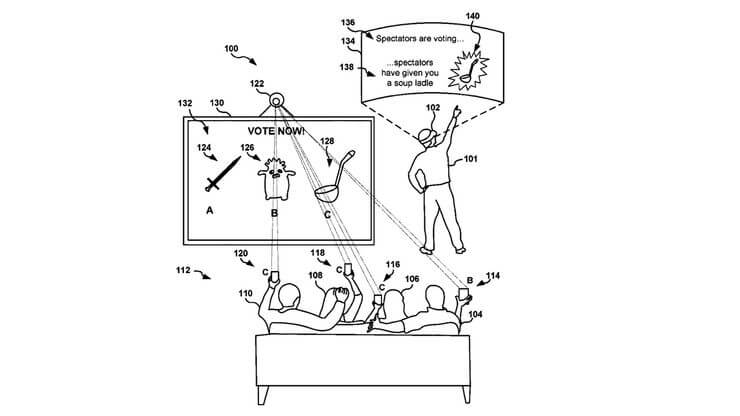 So while we only have text information and patent teasers so far, Sony's Playstation VR2 features look great! We can't wait to see more.
When Does Playstation VR2 Come Out for the PS5?
Officially, the release date for Playstation VR2 has not been announced yet. However, we do know that it is coming in 2022 and Sony has been providing regular blog updates. First they gave us a preview of the controller and then they released full Playstation VR2 specs.
Sony has talked about not wanting to overshadow the release of the Playstation 5 with virtual reality, confusing customers and forcing people to pay more up front. It is smarter to allow players to pay for the console and then pay for virtual reality later on.
We will hear a TON of new information soon including PSVR2 release date, games, reviews, and more.
Playstation VR 2 Concept
If you want to see what a PS5 VR headset and concept might look like, check out this concept video from VR4Player below. Nothing in this video is real, but its a cool look at where the future of VR gaming might go for Sony.
Until we get an official Playstation VR2 release date, let's focus the rest of the article on getting the original Playstation VR working on the PS5.
Original Playstation VR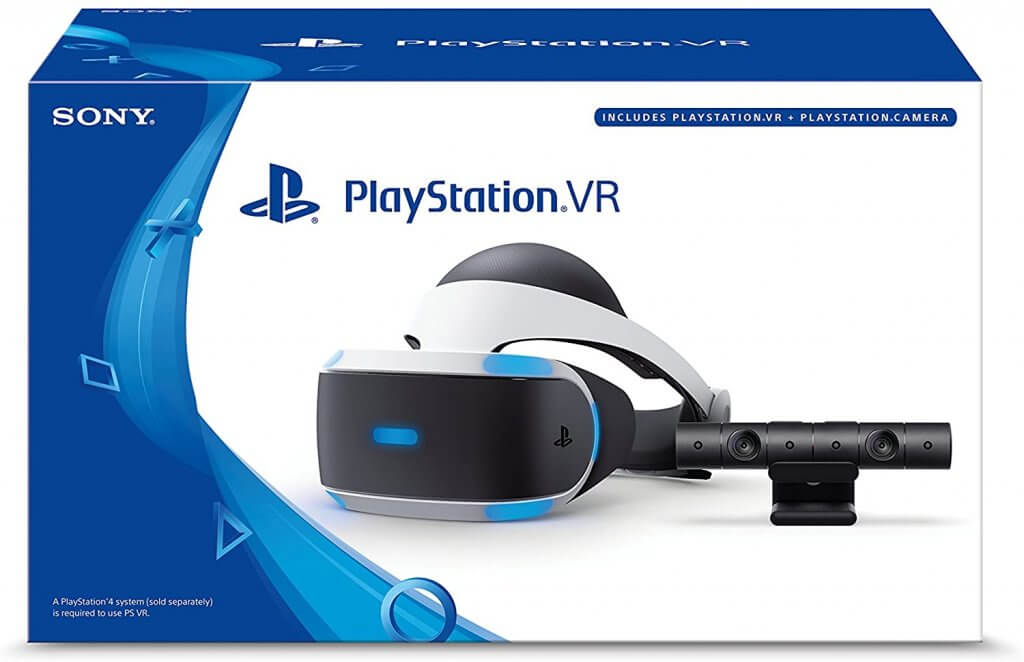 Hardware and Features
Playstation VR Mega Pack Bundle and Offers
PlayStation VR - Marvel's Iron Man Bundle
Bundle includes Playstation VR headset, Playstation camera, 2 Playstation move motion controllers, Marvel's iron man VR blue-rays disc, and Demo disc 3.0.
Using two Playstation move motion controllers Fire up iron Man's repulsor jets and Blast into the skies with an arsenal of iconic iron man Gear at your fingertips.
Face off against One of iron Man's greatest foes in high stakes, action-packed battles.
Playstation VR on the PS5
What exactly do you need to buy for PS VR on PS5?
If you want to play the original PS VR on the PS5, what exactly do you need to buy? You need to make sure you have the following:
Playstation VR headset
An original Playstation camera (included with any PS VR bundle)
Playstation Move controllers (also included with any bundle)
PS5 to PS4 camera adapter cable (free from Sony.
The adapter cable allows you to plug the PSVR camera into the Playstation 5. Sony will send you one for free if you click here.
How to Connect Playstation VR to the PS5
The Playstation 5 contains three USB Type-A ports, but only two on the back are rated for faster USB 3.1 speeds. This is a potential problem because the Playstation VR camera and new PS5 camera both require the faster speeds. The PSVR processing box can plug into the slower speed USB Type-A port.
If you have an external hard-drive to plug into the Playstation 5, you won't have enough ports unless you plug into the USB Type-C at the front of the console or use a USB Type-A hub to connect additional devices.
So to connect and use PS5 VR functions, plug your Playstation camera (and extra dongle from Sony) into a faster USB-A port. Plug your VR processing box into a slower USB-A port. Plug your new Playstation camera into a faster USB-A port.
This should allude to the fact that the new PS5 VR solution will contain inside-out tracking and will not require the camera plugged into your console device at all. As it is right now, there are a few too many connections to your console to make everything run properly and this can seem clunky for a brand new console in 2021.
Otherwise, gameplay of Playstation VR games is identical on the PS5 as they were on the PS4.
Playstation VR vs Oculus Quest 2 vs HP Reverb G2: Specs
The Playstation VR headset is 2016 technology, so you would expect to see that it has fallen behind new hardware from Oculus and HP. Below is a comparison chart between the PS VR vs Oculus Quest 2 vs HP Reverb G2.
| | | | |
| --- | --- | --- | --- |
| | Playstation VR | Oculus Quest 2 | HP Reverb G2 |
| Resolution | 1080 x 1200 per eye | 1832 x 1920 per eye | 2160 x 2160 per eye |
| Display Type | 1 x OLED | 1 x LCD | 2 x LED |
| Refresh Rate | 120 Hz | 90 Hz | 90 Hz |
| Tracking | Outside-In | Inside-Out | Inside-Out |
| IPD | Software adjustable (48-78mm) | Hardware Adjustable (58, 63, 68 mm) | Hardware Adjustable (60-68mm) |
| Wireless-capable | No | Yes | No |
| Weight | 600g | 530g | 550g |
| Price | $349 | $299 | $599 |
| | | | |
| | | | |
The biggest drawback of the Playstation VR over the Oculus Quest 2 and HP Reverb G2 is its outdated display. At only 1080 x 1200 pixels per eye, the maximum quality is more than half what you get on a newer headset. We expect to see a big increase in display resolution on the next PS5 VR hardware.
We also see a few areas where Sony was a bit too ambitious in the specifications of the original PS VR. 120 Hz refresh rate offers buttery-smooth graphic visuals in the games you play, but your eyes cannot process a refresh rate that fast. We expect to see a refresh rate closer to 90 Hz on the next version of the hardware.
As well, the original Playstation VR contains an adjustable software IPD range between 48 and 78 mm. We expect to see a more limited IPD in the 58-72 mm range and maybe one that is hardware adjustable too.
Price will also be the biggest factor in the upcoming hardware from Sony. Oculus changed the game with a $299 price tag for the Quest 2 for a device that works without a gaming PC or Playstation 5. We think Sony will have to meet this price point in order to entice new buyers.
Conclusion
With the Playstation VR2 release date coming soon in 2022, now is the time to wait before you jump into Sony's virtual reality world.
Stock on the PS5 console is improving every day and the hardware should be more freely available later in 2022 when the PSVR2 launches. It's also evident that Sony is applying a lot of resources to make sure that they have a corner in the VR market.
Until the Playstation VR2 comes you, you can still play PS4 VR the same way you have for the past few years. Or you can connect it to your PS5 with the free converter cable from Sony.
We will keep this article updated with any news and rumors about virtual reality on the Playstation 5.
Are you excited for new Playstation VR2 hardware to come out in the near future? What features are you most excited to see on the headset?
Did we answer all of your questions about the topic? Make sure to comment below and let us know today.
Subscribe to us today for free and get 101+ VR tips in your inbox! These tips cover everything from getting started in VR to hardware and software tricks and specific game help.