In this guide, we take a look at the best Oculus Quest 2 games to play today.
You might be asking, why are you focusing on only the Oculus Quest 2 and not the Quest 1, Rift S, or VR headsets in general? Well, the Oculus Quest 2 has some specific upgrades in display resolution, processor and refresh rate over the Quest 1. The VR games in this guide take advantage of these new features to really improve games over what was possible on the original Quest.
If you have a favorite Oculus Quest 2 game, make sure you comment down at the bottom of this guide.
Oculus Quest 2 Features for Better Games
The Quest 2 has made some really nice feature improvements over the Quest 1 which should lead to some really nice game improvements. Here are the new features that all best Oculus Quest 2 games take advantage of.
New Snapdragon XR2 System on a Chip (SoC)
The Quest 2 contains the Qualcomm Snapdragon XR2 processor, a big upgrade over the Snapdragon 835 in the original Quest. The Snapdragon XR2 processor which has support for more realistic textures and shaders that developers can take advantage of.
Oculus says that the XR2 offers twice the performance and six times the video pixel throughput verses the 835. These features should allow the display to come through crisp and clear. The biggest improvement is in artificial intelligence (AI) processing, which is 11 times faster on the new XR2. This should allow games to include more complex materials, better lighting and be more ambitious than on the original headset.
All of these improvements make for better and more ambitious game possibilities on the Quest 2.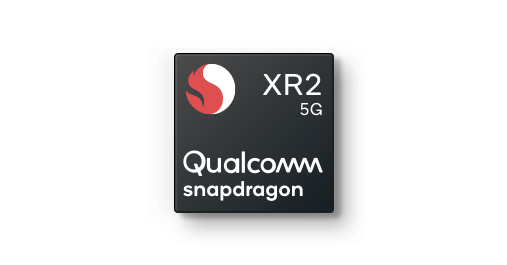 Better Display With 50% More Pixels
The Oculus Quest 2 contains a single panel LCD screen. It is a higher-resolution fast-switching LCD display. The resolution on the headset is 1832 x 1920 per eye. Overall, this is about 50% more pixels in the screen than the original Quest 1, which had individual 1440 x 1600 OLED panels.
More display pixels allow for clearer graphics and less of a screen door effect in the new VR headset. Reviews of the Quest 2 show how it gives better clarity than the previous version. All of the best Oculus Quest 2 games are optimized for the new display.
Click here to see a detailed graphics comparison between the Quest 2 and Quest 1 in existing games.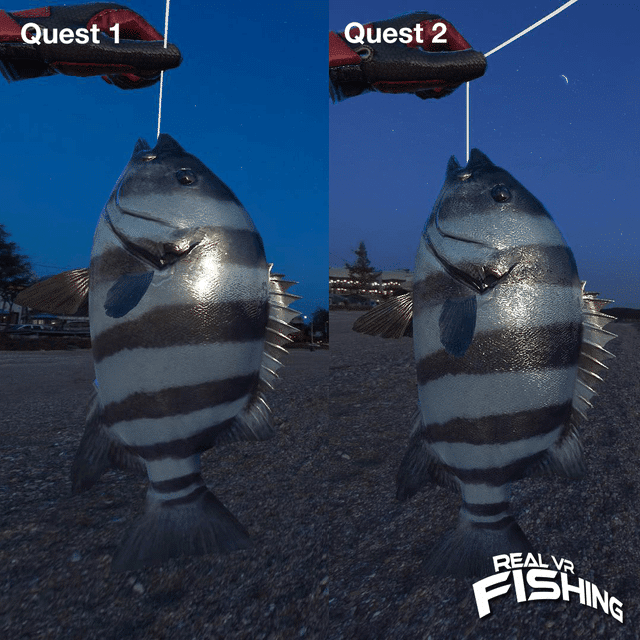 90 Hz Refresh Rate
The Oculus Quest 2 headset contains a maximum refresh rate of 90 Hz. This higher refresh rate removes any flicker in the video and is more comfortable for longer gameplay sessions. Quest 1 games that were created to work with that headset's 72 Hz max will need to add support for the higher refresh rate. This means that 90 Hz will only work for game titles that support this option.
Once 90 Hz support is added, these games will run smoother than on previous headsets. Because this functionality has to be enabled individually, we look at this as a requirement to make our best Oculus Quest 2 games list.
Now that you know what features the new Quest can take advantage of, lets look at the best Oculus Quest 2 games to go and play today.
Best Oculus Quest 2 Games
The Walking Dead: Saints and Sinners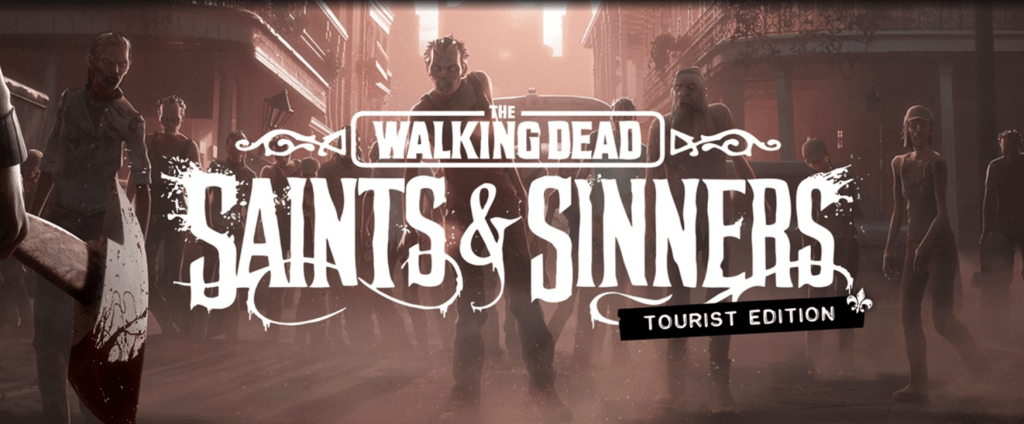 The Walking Dead: Saints and Sinners is a Quest 2 launch title. As one of the most popular VR games of all time, a lot of fans have been waiting for the chance to play the game completely wireless on the Quest 2.
In the game, you face all the horrors that the living and the dead can offer in this new VR adventure in The Walking Dead universe. Travel through the ruins of walker infested New Orleans as you fight, sneak, scavenge, and survive each day unraveling a city wide mystery within the iconic quarters. Encounter desperate factions and lone survivors who could be friend or foe. Whether you help others or take what you want by force, every choice you make has consequences.
The game comes optimized for the new Snapdragon XR2 processor, taking advantage of the extra power to display high quality graphic textures. A lot of fans were nervous about how the Quest processor would handle rendering hoards of zombies on the screen. Luckily, the XR2 offers the extra power needed to create zombies in bulk.
Click here to check out and buy The Walking Dead: Saints and Sinners.
In Death: Unchained

In Death: Unchained is one of the most ambitious VR games of all time. The bow and arrow adventure game through a supernatural world was praised when it came from PC VR to the original Oculus Quest in the summer of 2020.
The game features procedural levels that adapt their difficult level to how well you play. The game favors strategy and tactical positioning over "run and gun" gameplay. The game is similar to Dark Souls but for virtual reality! Users who have played In Death love the procedurally generated levels. The locomotion system works very well, letting you move, shoot, and defend in your virtual space. This was one of the top upcoming Oculus Quest games and it certainly lives up to its hype.
The developers of In Death: Unchained have been very active on Reddit to take user feedback and improve the game, releasing nearly weekly updates for fans to enjoy. Because of this, we know that the team is looking intensely at how to optimize In Death for the Oculus Quest 2 and take advantage of the extra processing power and improved display.
Click here to check out and buy In Death: Unchained.
Population: ONE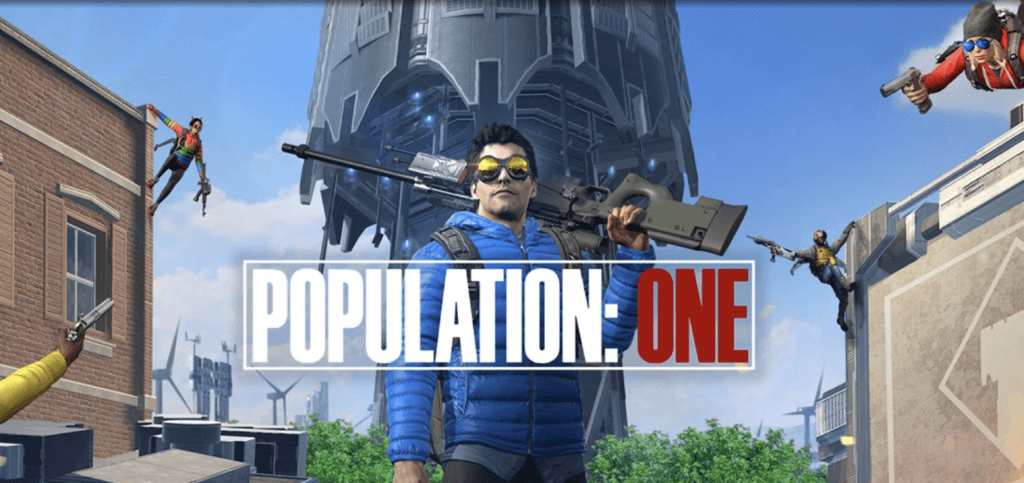 Population: ONE is a multiplayer VR battle royal game similar to Fortnite. It's been an early access title on Steam for a while now and Quest owners have been hopeful it would come to the device.
Drop into a colorful, near future world with limitless combat possibilities. Welcome to POPULATION: ONE, where you and your squad must fight together to survive until the end. POPULATION: ONE delivers unparalleled vertical freedom and mobility with its unique Vertical combat System. Fly through the map to rain down bullets from above. Climb anything you see to gain the high ground advantage. Build strategic cover to protect your squad. Use your environment to FIGHT ANYWHERE.
Poulation: ONE has multiple players playing on one server at the same time. It's important that shooting games have low server latency so that shots and kills are registered fairly in real-time. The new processor makes this a top Oculus Quest 2 game choice.
Click here to check out and buy Population: ONE.
The Climb 2

The Climb 2 is one of the first VR game sequels. As you can see in the splash picture above, it features expansive environments and high quality textures that were not possible on the original Quest.
The thrill of climbing comes alive with The Climb 2 -explore a new city setting and exhilarating new maps with breathtaking views. Ascend grand peaks, navigate vast caves, climb skyscrapers, and discover hidden shortcuts as you find your path to the top. Compete with friends and conquer leaderboards in asynchronous multiplayer modes. From exploring mountain environments to scaling urban settings, feel the rush of climbing without ropes, and experience breathtaking vistas as you scale new heights.
The Climb 2 was made specifically for the Oculus Quest 2 and it has been optimized to take advantage of the better display and faster refresh rate. If you want to showcase good Oculus Quest 2 games to your friends and family, The Climb 2 is a worthy choice.
Click here to check out and buy The Climb 2.
Facebook Horizon

Facebook Horizon is Oculus' social atmosphere, an entire virtual reality world where you can meet friends, watch media, and play games together.
Facebook Horizon is a social experience developed exclusively for Oculus VR headsets. It has been marketed as one of the most ambitious upcoming Oculus Quest games ever created. Horizon is a virtual world full of things to explore. Interact with friends and strangers around the world. It is completely open, meaning that you can create your own games on the system and have others join and play. Coordinate or join media watch parties to watch movies and TV shows in the application together.
Horizon has been in development for over a year and its graphics and scope have evolved to fit the new features in the Quest 2. When released, it will be one of the best Oculus Quest 2 games. And since it is straight from Facebook/Oculus, you can be sure that it will be given priority marketing and improvements in order to evolve in the future.
Click here to check out Facebook Horizon!
What do you think the best Oculus Quest 2 game is? Think about games that take advantage of the new features and offer scope larger than what was possible on the original Quest 1. Comment below and let us know today.