This is the first guide you need to read after you get your new Oculus Quest 2! We'll go through the entire Oculus Quest 2 setup process, unboxing, and getting started.
If we've missed anything, make sure to comment down at the bottom of this guide and let us know.
Let's dive in!
Oculus Quest 2 Overview
The Oculus Quest 2 offers easy access to exactly what makes VR so special, offering high-quality virtual reality experiences at a fair price. Oculus Quest 2 is an immersive gadget that even the most tech-shy members of your family can have a blast with. It allows you to literally step around inside gaming worlds and access 360-degree video content and apps.
It remains very similar to the original Oculus Quest, being a battery-powered and standalone headset. Some things have changed though – it's a more responsive experience overall. This is thanks to improved RAM, the new Snapdragon XR2 processor, and a higher resolution display that's 50% sharper than its predecessor.
Developers now have the option to make their games run at 90Hz refresh rate and the headset itself is lighter than before, too. At a starting price of $299, this is affordable enough to pull a whole new crowd of players into VR gaming. It comes with an all-in-one kit that bundles everything you need to get playing.
Unboxing
When you open the box, the first thing you are greeted with is a small package containing a quick start guide. The package also contain a power adapter, and a USB-C charging cable.
You will also get a pair of Oculus Touch controllers. These controllers are an improvement over the original Quest, with stronger haptic feedback and longer battery life. Two AA batteries are included in the controllers already, so you don't need your own to get started. Remember to pull the battery tabs out before you start playing.
You also get the Quest 2 headset itself. It features 4 tracking cameras on the front play for the inside tracking system. Also, you get a glasses spacer which helps you if wear glasses and want to play VR.
Finally, the box comes with a wall charging block to your local area. You get a 1 meter charging cable, which is much shorter than what you got in the Quest 1 box. Once everything is unpacked, you are ready for our Oculus Quest 2 setup guide below.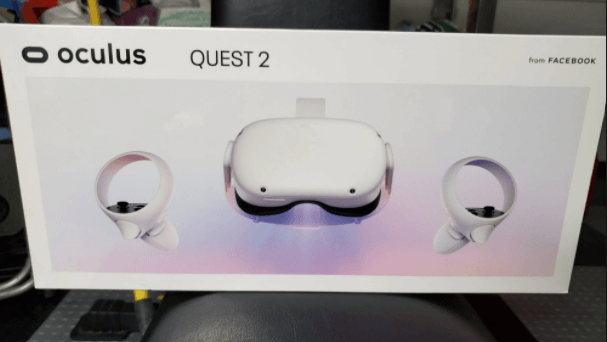 Initial Oculus Quest 2 Setup
Unlike the original Oculus Quest, the Quest 2 setup takes place mostly in the headset itself. Below is the step-by-step process of setting up the Quest 2:
Unbox the Hardware
Before you get the headset on, take note of your Wi-Fi password and remove the battery taps from the Touch controllers to activate them. The headset itself should have around 40% battery charge out of the box.
Put on Your Headset
Press the power button on the right-hand side of the headset for 2 seconds to power the headset, and put the headset on. Adjust the straps so that the headset can fit your head.
The Touch controllers will pair automatically with the headset. You can then use the controllers as pointers by simply using the trigger button to click through the menus.
Choose Your Language
Next, choose your preferred language by selecting your option and using your touch controller to confirm.
Set Up Your IPD
Set up your IPD to enjoy a memorable and comfortable VR experience. The Quest 2 has three IPD setting slots:
58 mm
63 mm
68 mm
Have a look at each setting and decide which one looks the least blurry to you.
Connect Your Headset to Wi-Fi
Enter in your Wi-Fi password to connect your headset to your home network. At this point, the headset requires an update which will take up to 5 minutes. You can take off your headset while waiting for the headset to update if you want.
Download the Oculus Mobile App
After the update is complete, you need to pair the Quest 2 to the Oculus mobile app on your phone. If you don't have it installed yet, you can find it in the Apple or Android app store.
A pairing code is displayed on the headset that you need to enter into the Oculus app in order to sync the two together.
Setup Your Guardian Boundary
The final step in the Quest 2 setup is to configure the guardian boundary system. This is the safe space in your room you will play virtual reality in. The guardian is meant to protect you so that you won't hit the wall or furniture when you are playing VR.
In the next section, we'll go into detail on how to set up your VR room and guardian.
Room and Guardian Setup
In this Quest 2 setup section, we'll have you setup the guardian.
First, set the floor level by lowering the controller to the floor and pressing the trigger button.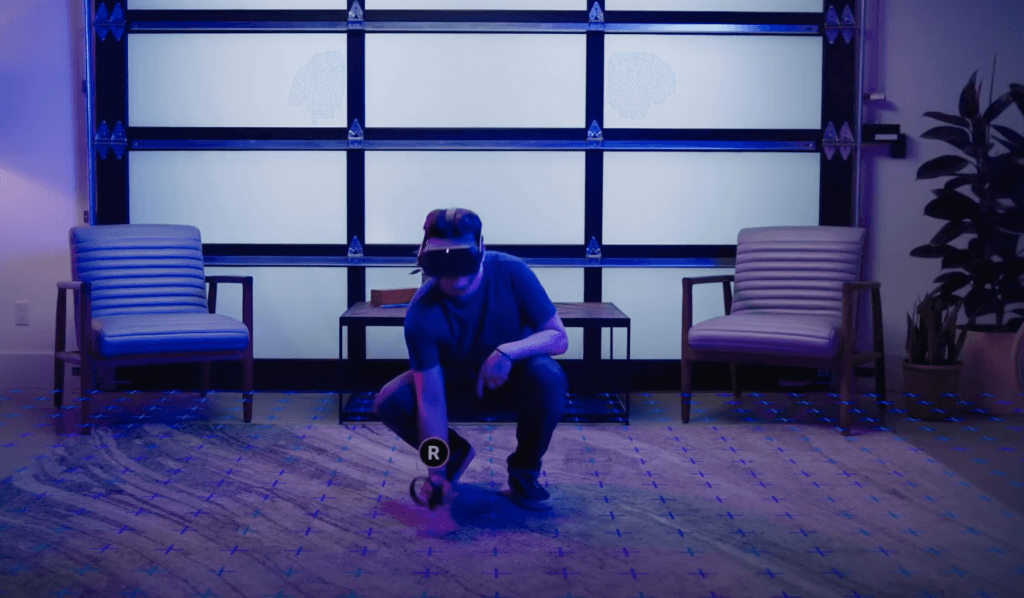 Draw the boundary of your play space by pressing and holding the trigger to draw along the boundary of your cleared playing area.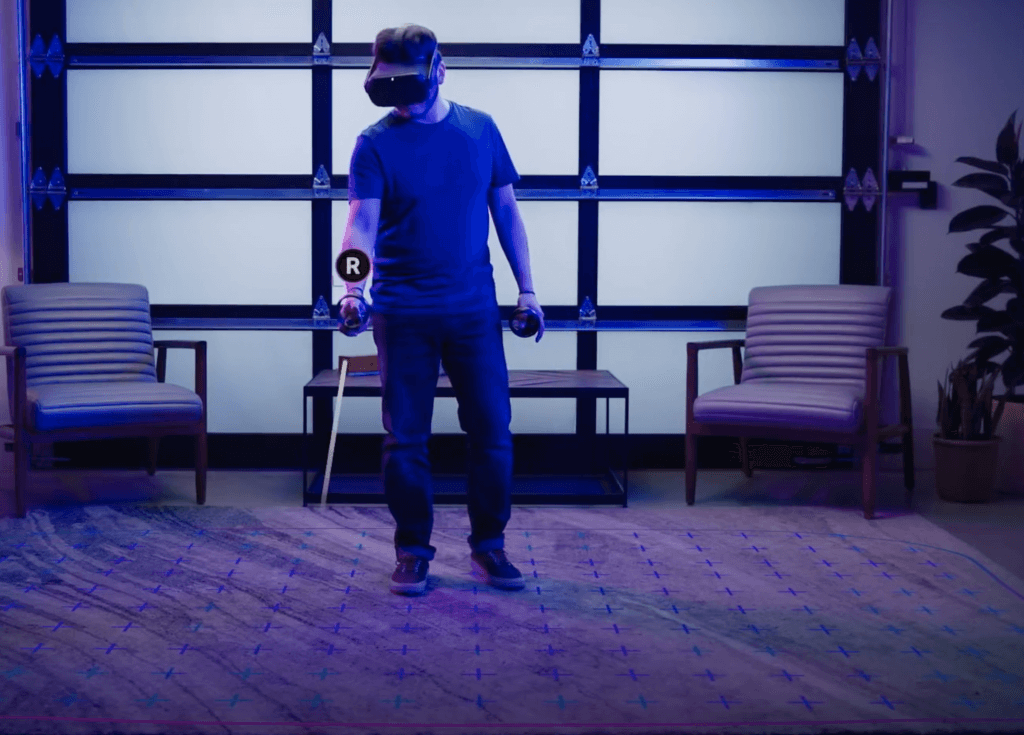 After you are done, your guardian will protect you while you play. If you reach your hand outside of your guardian, a red warning will come into your vision to let you know.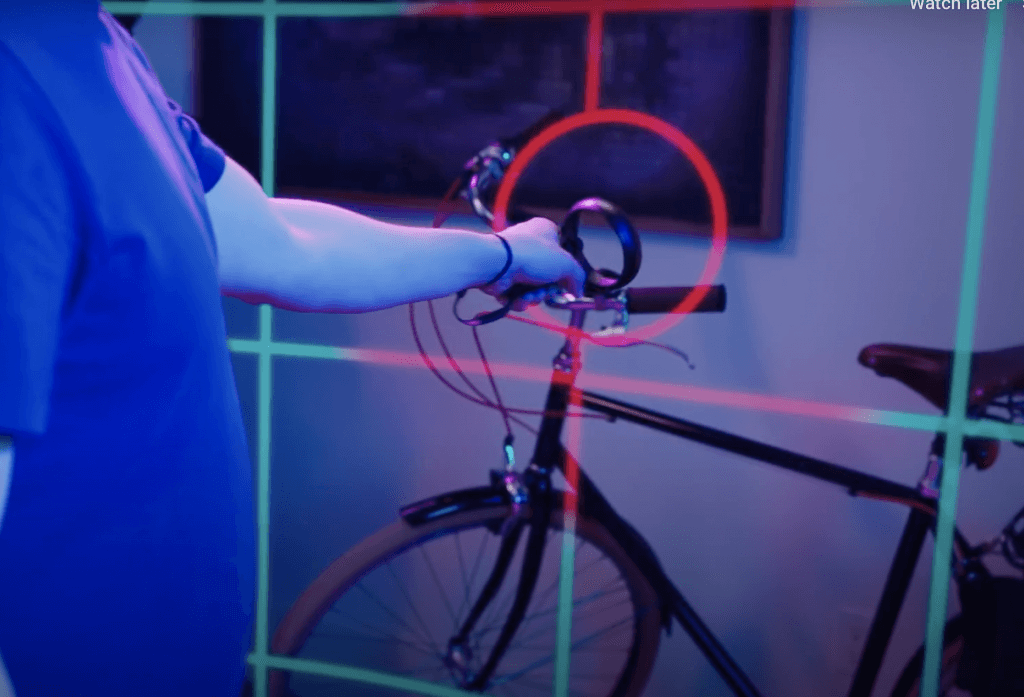 Once you're done with the room and guarding setup for the first time, you are given the option to enable hand tracking.
In the home environment, you can also enable Oculus Quest hand tracking
If you set up multiple boundaries in your home, your Quest will remember them. First, you put on your headset and look at a pre-existing boundary. Your Quest will automatically pop up and let you set the boundary without manually having to draw it again.
After your guardian is set up, you will be placed in the home environment. From here, you can browse the store, play games from your library, connect with friends, and much more.
Your Oculus Quest 2 setup is now complete. Before you go and play, take a look at some beginner tips we have:
Tips and Tricks
Below are some tips to help you to enjoy your new Oculus Quest 2 setup and VR headset:
To change the theme of the home environment, navigate to settings and you will see a few different options to choose from.
If you have prescription VR lenses, they fit perfectly over the Quest 2 lenses.
Take a look at using Oculus Link to connect your headset to a PC. Manage the cable by threading it through the head strap to the back. This way the cable doesn't get on your way as you play your favorite PC games.
Don't use the Quest 2 outdoors. Some weather conditions do not favor the headset. You must never get UV sunlight in the lenses or the headset.
To clean your lenses, use a dry optical lens microfiber cloth. Never use liquid or chemical cleaners.
Considere completing your setup with one of our top Oculus Quest 2 accessories.
Check out our comprehensive VR tips page for 101 other virtual reality tips.
Do you need any help with your Oculus Quest 2 setup? Comment below and let us know.