The Ray-Ban Meta are new smart glasses from Meta and EssilorLuxottica. But are these second-generation sunglasses worth buying? And what new features do they have compared to the Ray-Ban Stories from 2021?
Below, I'll tell you everything you need to know to help you decide whether to buy these glasses.
What are the Ray-Ban Meta?
The Ray-Ban Meta Smart Glasses marks a significant milestone in the evolution of wearable technology. This cutting-edge eyewear is the second collaboration between Meta, formerly known as Facebook, and EssilorLuxottica. With the Ray-Ban Meta, Meta is pushing the boundaries of what smart glasses can offer, aiming to provide users with a blend of style, comfort, and advanced functionality.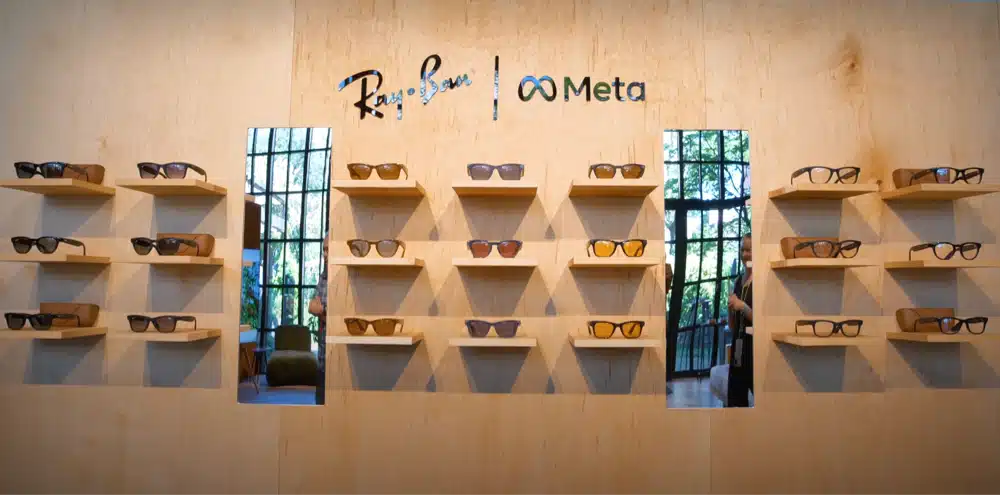 At their core, the Ray-Ban Meta Smart Glasses retain the timeless aesthetics of classic Ray-Ban designs while seamlessly incorporating innovative technology. They are available in two styles: the iconic Wayfarer and the retro Headliners.
Their ability to offer a genuinely hands-free and immersive experience sets these smart glasses apart. They liberate you from the constraints of a handheld camera, allowing you to capture and share life's moments effortlessly. Whether you're attending a music festival, celebrating a birthday, or taking your first steps into the world of smart eyewear, the Ray-Ban Meta offers a unique perspective that lets you relive these moments in a way that feels authentic and engaging.
How to Buy
You can buy the Ray-Ban Meta glasses from the official website or worldwide from Amazon using the links below!
How Have the Ray-Ban Meta Improved from the Ray-Ban Stories?
The Ray-Ban Meta Smart Glasses represent a step forward from the previous generation Ray-Ban Stories. These glasses have been meticulously redesigned based on valuable feedback from the community.
The Ray-Ban Meta improves on the last generation in nearly every aspect with improved audio quality, enhanced camera capabilities, streamlined controls, and extended battery life. The inclusion of Meta AI brings generative AI to these glasses as well.
Whether you're a tech enthusiast or a fashion-forward individual, these smart glasses open up a world of possibilities.
Ray-Ban Meta Styles
The Ray-Ban Meta Smart Glasses come in two distinct styles.
Wayfarer
The Wayfarer style is a timeless classic that has been a staple of Ray-Ban glasses for decades. Synonymous with relaxed and casual sophistication, the Wayfarer Meta design seamlessly integrates advanced technology while retaining the iconic shape that fans would expect.
With the Wayfarer Meta, you get a harmonious fusion of tradition and innovation – a pair of smart glasses that complements your outfit and enhances your daily experiences.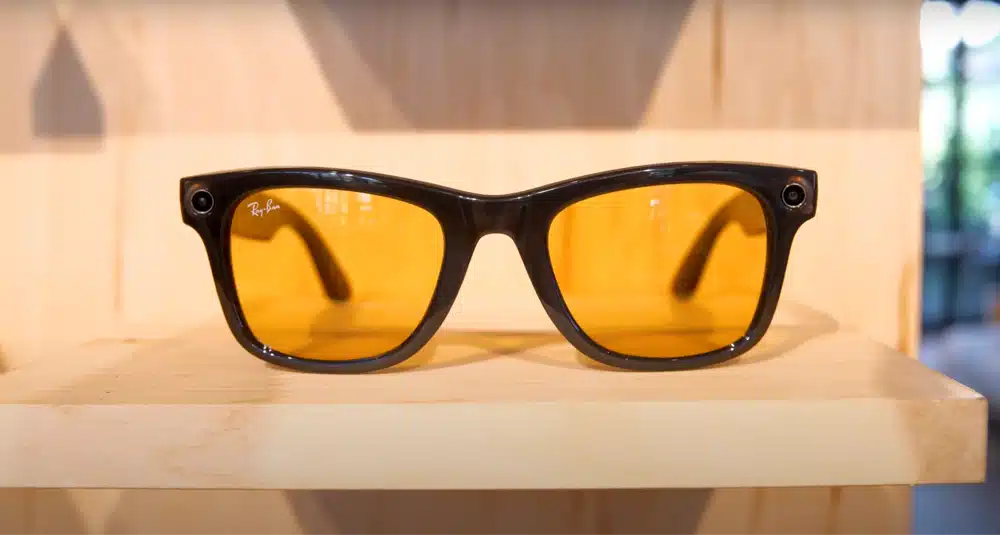 Headliners
The Headliners style offers a refreshing alternative to the Ray-Ban Meta collection if you want retro-inspired flair. This design takes cues from the golden eras of fashion, combining nostalgia and implementing the latest advancements in smart eyewear.
The Headliners Meta is a tribute to the past, offering a distinctive look that stands out in contemporary settings. It appeals to those who appreciate the fusion of vintage aesthetics with state-of-the-art technology, making a bold statement in fashion and innovation.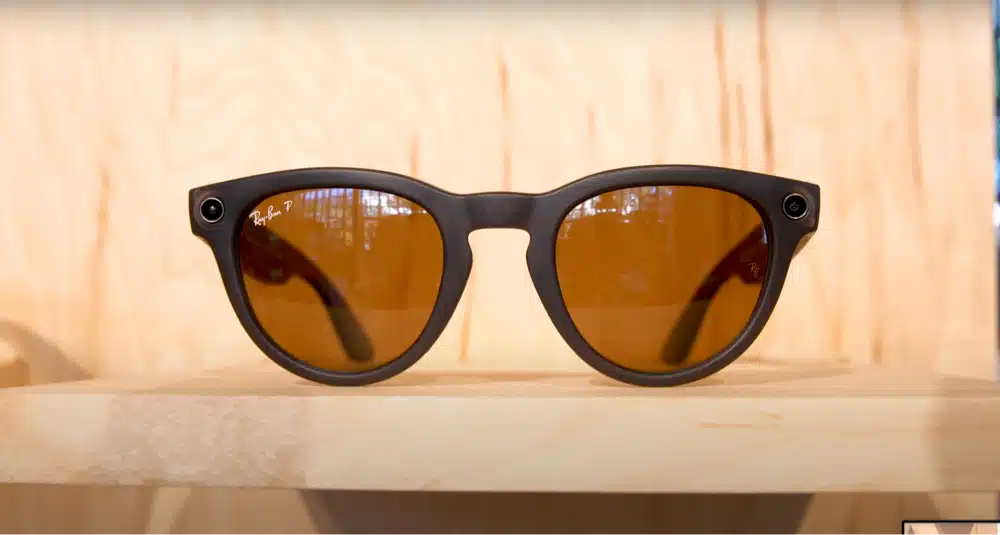 Ray-Ban Meta Features
If you are considering buying a pair of these smart glasses, a few key features might help you decide.
Cameras
One of the standout features of the Ray-Ban Meta Smart Glasses is their advanced camera system. These glasses have two ultra-wide 12-megapixel cameras to take clear pictures and video.
Like the stories, you can capture breathtaking views, document your adventures, and relive moments from your unique perspective.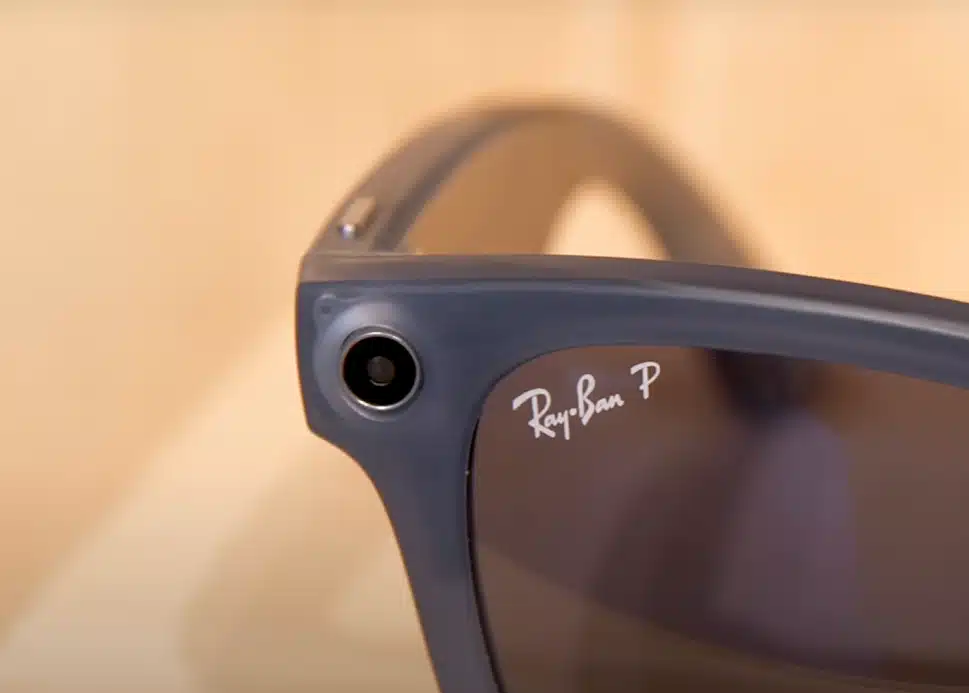 Buttons
The glasses incorporate a user-friendly button interface. The simple yet intuitive controls allow you to take photos and record videos easily. A pulsing light indicates when you're recording, ensuring you're always aware of the glasses' status.
Internal Storage
Ray-Ban Meta offers ample internal storage, with a significant upgrade from its predecessor. With 32 gigabytes of storage, you'll have more than enough space to store your cherished memories and experiences.
Speakers
These smart glasses feature custom-designed speakers that offer enhanced audio quality. Experience deeper bass, higher volume levels, and improved directional audio.
The speakers are optimized to minimize sound leakage, ensuring your calls, music, and podcasts sound crystal clear, even in noisy environments. And best of all, only you will be able to hear them in most situations.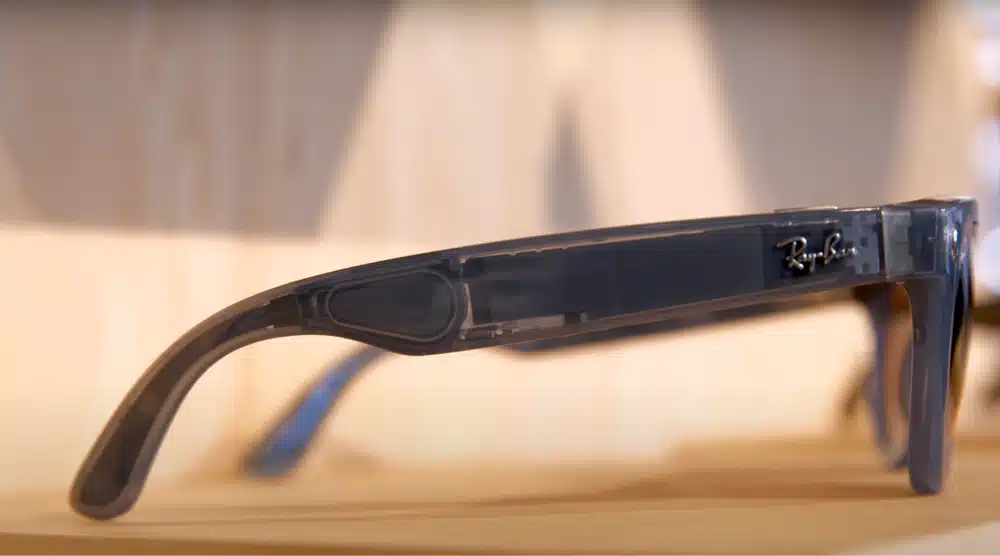 Meta AI
Ray-Ban Meta integrates Meta AI, an advanced conversational assistant. By simply saying "Hey Meta," you can engage with the AI to spark creativity, access information, and control various features – all through voice commands.
Meta AI uses generative AI to answer you, making a more personal experience than other voice assistants.
Video Recording Capabilities
The glasses allow you to record high-quality 1080p videos, each lasting up to 60 seconds. Whether capturing scenic landscapes or creating engaging content, the Ray-Ban Meta Smart Glasses are your trusty companion.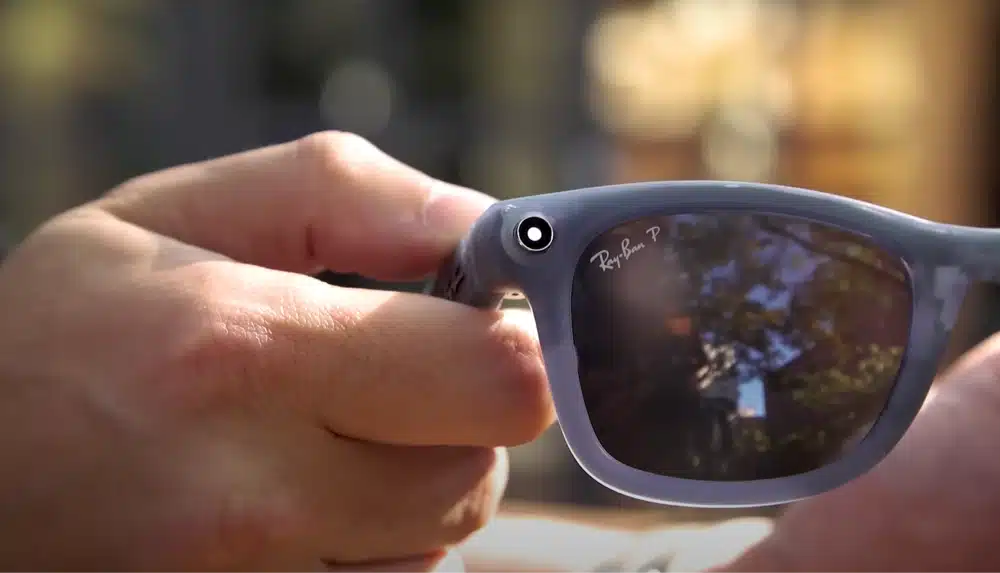 Battery Life
Meta claims these smart glasses offer approximately six hours of mixed-use or up to four hours while live streaming. With a battery case with eight additional charges, you'll have a total run time of around 36 hours.
Carrying Case
The sleek and compact charging case is designed to resemble a classic Ray-Ban case. It features a USB-C port for convenient charging and holds up to eight extra charges, ensuring you're always powered up and ready to go.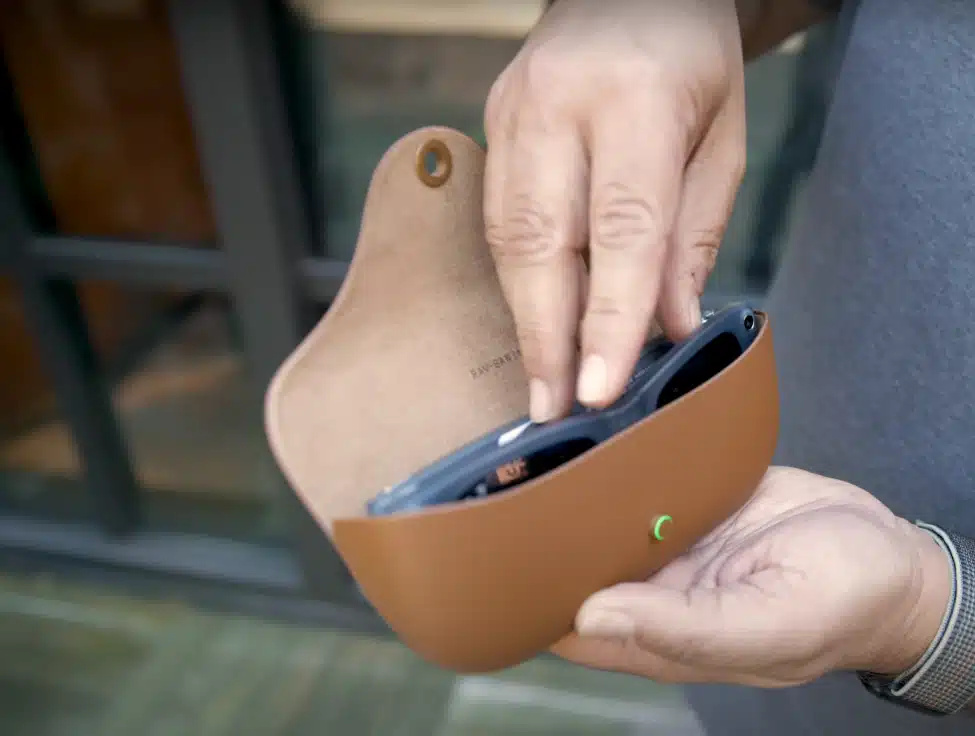 Pricing
The Ray-Ban Meta Smart Glasses start at $299 USD, making them an attractive option for tech enthusiasts and fashion lovers.
What I Like About the Ray-Ban Meta Smart Glasses
As someone who appreciates the fusion of fashion and technology, I find several compelling features that I truly like about the Ray-Ban Meta Smart Glasses:
Advanced Camera Capabilities
Integrating advanced cameras in these smart glasses is a game-changer. The ultra-wide 12-megapixel camera allows me to capture life's moments in stunning detail and from a unique perspective.
Whether I'm exploring scenic landscapes or simply documenting everyday experiences, these glasses elevate my photography and videography game.
User-Friendly Button Controls
The intuitive capture button on the glasses make capturing memories a breeze. With a simple press, I can take photos or record videos effortlessly. The pulsing light indicator provides a clear visual cue when I'm recording, ensuring I always know the glasses' status.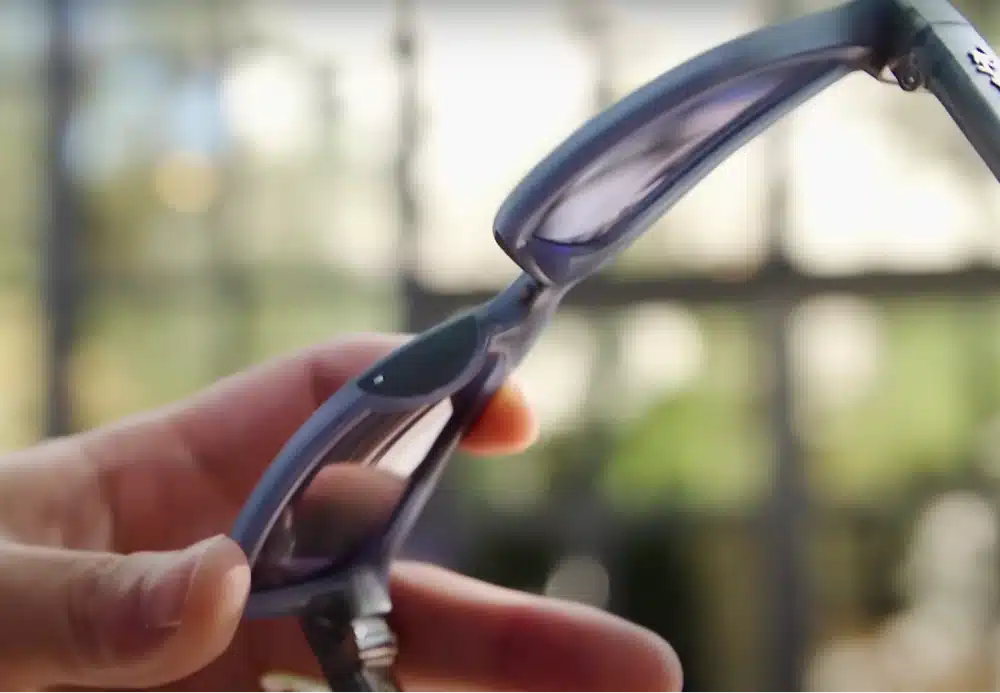 Enhanced Audio Quality
The custom-designed speakers in the Ray-Ban Meta Smart Glasses deliver a superior audio experience. I appreciate the deeper bass, higher maximum volume, and improved directional audio.
Even in noisy or windy environments, my calls, music, and podcasts sound crystal clear, thanks to reduced audio leakage.
Meta AI Integration
Including Meta AI as an advanced conversational assistant is a standout feature. With this feature, I can engage with the AI to spark creativity, access information, and control various features – all completely hands free through voice commands. It adds a whole new level of convenience to my daily life.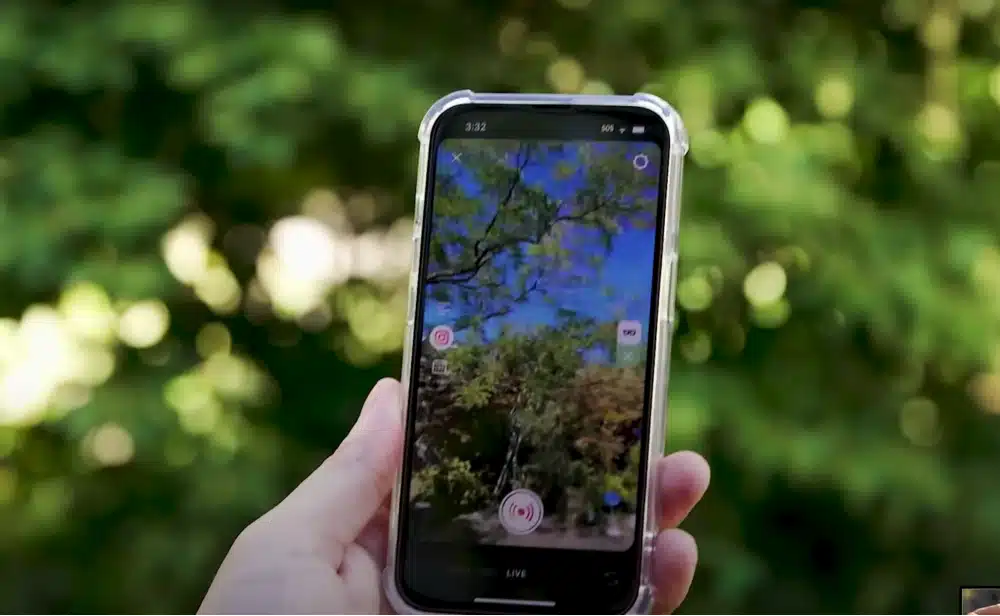 Improved Battery Life and Charging Case
The improved battery life is a game-changer, offering approximately six hours of mixed-use during the day. When you add in standby time, the Meta glasses are fine for all day long.
Adding a compact portable charging case, resembling a classic Ray-Ban case, means I can easily stay powered up. It holds up to eight extra charges, providing a total run time of around 36 hours – perfect for extended adventures.
What I Don't Like About the Ray-Ban Meta Smart Glasses
While I'm genuinely impressed with the Ray-Ban Meta Smart Glasses, there are a few aspects that I'd like to highlight as potential drawbacks:
Price
Although reasonably priced, the starting cost of $299 USD might still be a significant investment for some users. The Meta's sit on the premium end for sunglasses and my main question is: Are these glasses 'smart' enough to justify the cost?
Limited Video Clip Duration
Limiting video recording to 60-second clips is inconvenient, especially if you want to capture more extended experiences continuously. While this is a common feature in smart glasses, it's something to remember for extended recordings.
Dependency on a Smartphone for Live Streaming
A nearby smart phone is required to enable live streaming from the glasses to platforms like Facebook or Instagram. This may not always be ideal in every situation.
Verdict: Should You Buy the Ray-Ban Meta Smart Glasses?
These smart glasses are the best on the market, but are they worth the purchase? I think the decision comes down to how much you'll use two of the main features:
Meta AI to talk to your glasses like a virtual assistant

How often you plan on capturing or recording your day
If you see yourself doing these things, the cost is a no-brainer. For casual users, there is a lot of other wearable tech out there to check out, like the phone that already sits in your pocket. The new Meta Quest 3 VR headset can also play mixed reality games, giving it an advantage over the Meta glasses.
If you've been keeping up to date since when the Stories were released, these next generation smart sunglasses do have a better camera for high quality photos, better audio sound through its built in speakers, and more reliability. That might be enough to sway you.
Use the links below to check out the glasses in more detail!