Ready, set, GO! We're about to take you on a wild ride through the exhilarating world of the best VR racing games!
In this article, we'll reveal the top-tier virtual reality racing experiences that satisfy your need for speed and adrenaline pumping.
In a rush to start driving? Check out the top VR racing games below. If you stay till the end, comment and tell us what your favorite game is.
What are the Best VR Racing Games?
GRID Legends (Best Quest Racing Game)
VR Headset Compatibility: Both
GRID Legends is a brilliant VR racing game, partly because it shows a willingness to strike a balance in areas other game developers are not interested in. GRID Legends doesn't have cartoon graphics nor demand a driver's license to play. It's a game that goes the extra mile to bring fun to players, and it succeeds.
Anyone familiar with a rally game understands that driving aids alone doesn't make a game approachable, which makes GRID Legends stand out. The game combines incredible race variety, thrilling motorsport action, and an immersive story that puts you in the center of the action.
GRID Legends takes you on a world tour, regardless of the mode you choose to play. The game features locations like Dubai, Moscow, London, San Francisco, and Indianapolis.
Vehicles come in different sizes and shapes, and you have lots of options to choose from: GT, Tuner, Street, Touring, Muscle, Track-Days, Trucks, Open-Wheel, and Electric.
GRID Legends is one of the only realistic racing games to come out for the Meta Quest 2. That makes it approachable to play for everyone.
What I Like About GRID Legends
The reason I like this game is because the driving mechanics are stellar. They are easy to grasp but very difficult to master. All through my playing time, the game forced me to learn how each vehicle behaves on different track types, and that's the beauty of GRID Legends over other racing games I have tested.
Some original graphics problems on the Meta Quest 2 version have been fixed. Overall, this is one of the best racing games ever created, and it is both exciting and full of longevity.
Key Features
Accommodates arcade and sim players
Tight controls
There are over 130 Tracks in the game
Over 100 vehicles with varying brands.
Has an in-depth career mode to play.
Click here to view GRID Legends.
Gran Turismo 7 (Most Realistic Car Behavior)
VR Headset Compatibility: Playstation VR 2
VR Headset Compatibility: Both
Introducing Gran Turismo 7, a VR racing game that truly captures the essence of motorsport, blending realism and entertainment to perfection. This game doesn't just give you the wheel – it immerses you in a world where driving is an art form.
Gran Turismo 7 takes you on a heart-pounding journey, showcasing various tracks and cars. Featuring iconic locations such as Fuji Speedway, Daytona Speedway, and Autopolis, this game offers a globe-trotting adventure for racing enthusiasts.
With over 400 vehicles, you'll find the perfect ride for every race – over 6 car manufacturers are represented! Gran Turismo 7's driving mechanics are as impressive as its car roster, offering intuitive controls that are simple to pick up yet challenging to master.
What I Like About Gran Turismo 7
The heart and soul of Gran Turismo 7 lie in its deep career mode, which puts you in the driver's seat of your own racing destiny. As you conquer various challenges and climb the ranks, you'll be forging your own path to glory, one exhilarating lap at a time.
Gran Turismo 7 is a PlayStation VR2 exclusive, its only drawback. It would be even better if other VR headsets could enjoy the experience.
Key Features
Appeals to both arcade and sim racing fans
Responsive and precise controls
400+ diverse and iconic vehicles
Immersive and expansive career mode
Click here to try Gran Turismo 7.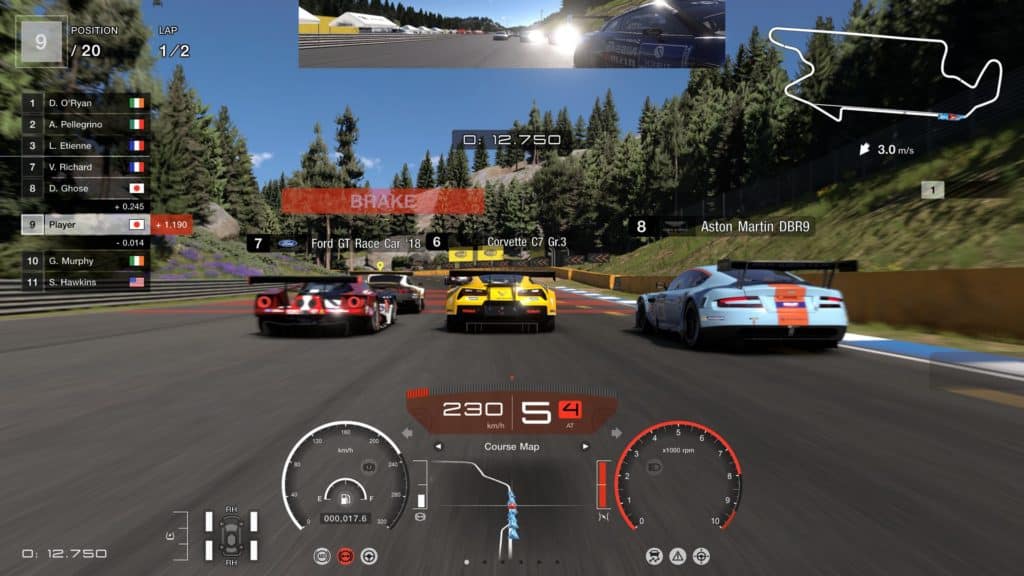 Assetto Corsa
VR Headset Compatibility: PC VR Only
If you want a racing game with attention to detail, then Assetto Corsa is the gold standard. With an unwavering focus on precision and authenticity, Assetto Corsa delivers an immersive and true-to-life driving experience that's hard to beat.
Assetto Corsa whisks you away on an international racing expedition, featuring a lineup of iconic tracks that will test your skills and push your limits. From the legendary Spa-Francorchamps to the challenging Laguna Seca, this game is a treasure trove of racing excitement.
The game's career mode takes you on a gripping journey as you strive to make a name for yourself in the world of motorsport. By tackling a series of challenging events and races, you'll sharpen your skills and rise through the ranks on your way to becoming a legendary driver.
The biggest drawback to Assetto Corsa is that it does not support VR by default. However, this is a really good mod you can install to turn it into a VR game.
What I Like About Assetto Corsa
The car selection in the game is really impressive. There is a large array of vehicles across various classes, including GT, Open-Wheel, and Classic. Assetto Corsa's driving mechanics are the gold standard in sim racing, offering unparalleled realism and responsiveness that will leave you feeling like a true racing pro.
Assetto Corsa is visually stunning, which makes the graphics in virtual reality a real treat.
Key Features
Tailored for sim racing enthusiasts
Exceptionally realistic driving mechanics
A selection of iconic tracks from around the world
Wide variety of finely tuned vehicles
Engaging and challenging career mode
Click here to buy Assetto Corsa.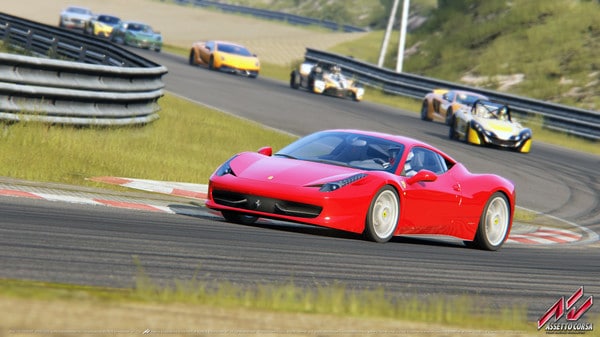 Dash Dash World (Best Mario Kart Clone)
VR Headset Compatibility: Both
Dash Dash World is a combat-focused, rapid pace multiplayer kart racing game that stands shoulder-to-shoulder with giants like Mario Kart. Dash Dash World not only breathes fresh air into the kart racing genre, but it also creates an uplifting experience in a new environment.
In the game, you customize your vehicle as you deem fit and start racing around a wide range of tracks. Each track is filled with hidden shortcuts and obstacles.
There are lots of dangerous weapons in the game that you can use to throw your enemies off track. You can use one or combine different weapons to achieve your objectives. The weapons are compatible with the steering wheel, which helps to maximize the kart racing experience with force feedback.
Dash Dash World supports an online multiplayer mode, allowing up to 8 players simultaneously. You can express yourself as you race on different tracks by using the custom sound of your car and sending personalized emoticons. The game even lets you taunt your rivals at the finish line.
What I Like About Dash Dash World
For me, the best part of the game was that I was able to customize my driver and the car. The driver is a virtual avatar that nicely expresses my personality traits. The graphics are fantastic. One thing that worked for me was sitting down to play so I don't get dizzy.
Key Features
There's an onboarding class for new VR racers
Comes with motion sickness prevention options.
Social features with memes, stickers, voice chat & dance moves
Over 13 unique tracks and growing
Click here to view Dash Dash World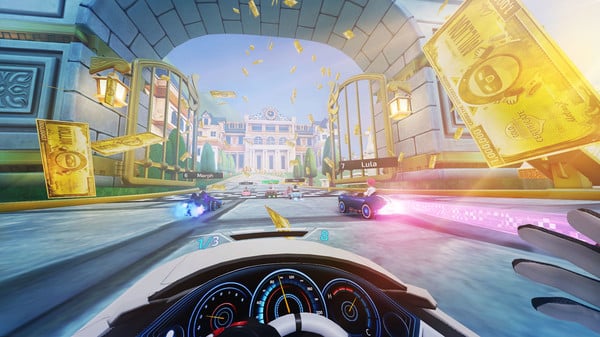 Mini Motor Racing X (Best Arcade Racing Game)
VR Headset Compatibility: Both
These days it takes a lot for a VR racing game to stand out from the crowd, and this is because there's something for everybody. Mini Motor Racing X is a nice VR race with decent graphics and smooth gameplay. The game feels like a cross between Mario Kart and Micro Machines, featuring toy-like cars and abilities like weaponry and nitro boost.
There is a wide range of tracks, some located in African grasslands and others on tropical beach resorts. The tracks are fairly short compared to other games, but each course features four or five laps to compensate for this.
At first, vehicle controls are a bit iffy. You need to apply caution when you get to a bend or corner so you don't oversteer. Oversteering can force the vehicle back in the opposite direction. You will get used to it with time, but it's too fiddly for me.
There are many weapons available for you to leverage. Unlike other games where you pick weapons up, weapons are given out each time you cross the starting line. You will be stuck with no weapons if you use them up before you finish.
The career mode is central to Mini Motor Racing X. As you race through different tracks, you will participate in championships and unlock new vehicles and courses.
What I Like About Mini Motor Racing X
I love arcade style gameplay in my racing games, and Mini Motor Racing X delivers in every aspect. It comes with loads of tracks and vehicles to try out. It's also reasonably fast, only that the tiny tracks attempted to ruin my fun.
Key Features
Race on over 50 tracks in varying weather conditions.
The game supports party modes.
Pump your winnings to upgrade your rides.
There are multiple ways to play (from top-down, in-car, or track-side).
Full online multiplayer with up to 4 friends.
Click here to view Mini Motor Racing X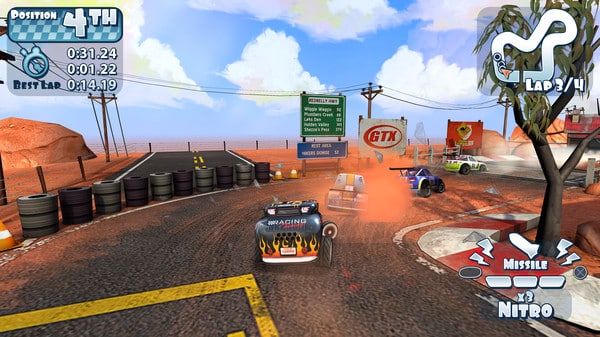 Project Cars 3 (Best Career Mode)
VR Headset Compatibility: PCVR
Project Cars 3 offers an accessible arcade racing experience that puts you in control the driving. If you are a newbie in the VR racing genre, this game is a perfect first stop before moving to any other VR racing experience.
Project Cars 3 is more stunning and polished than other versions in the series. It comes with explosive collisions, dynamic seasons and weather, gorgeous environments, and a genuine hair-raising sense of speed.
The game's AI has been enhanced to create a higher level of challenges and difficulties. It's indeed an experience worth trying. Also, there are over 120 tracks, a full spread of over 200 cars, and game modes (both single and multiplayer).
What I Like About Project Cars 3
Compared to Project Cars 2, this game has no fuel exhaustion or tire wear. For most people, this will be easier to play. Some hardcore gamers will have to look to other VR games for that level of simulation.
Key Features
120+ global tracks
New & deeply engaging career mode
200+ elite-brand race & road cars
Customize your car liveries with racing
There are fun and exciting daily challenges
Click here to view Project Cars 3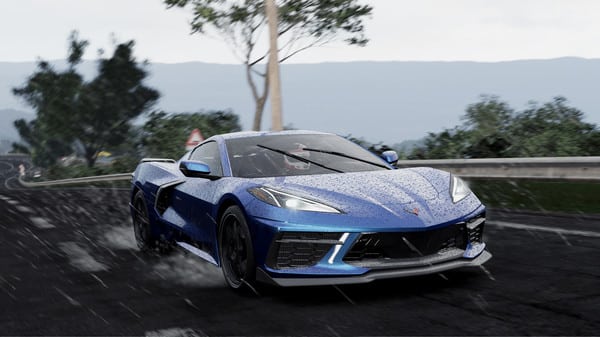 Dirt Rally 2.0 (Best Racing Game with Mods)
VR Headset Compatibility: PCVR
Dirt Rally 2.0 emphasizes realistic driving physics and is a successor to the Dirt Rally video game originally launched in 2015. It focuses more on rallying and rallycross.
In the game, you will compete with your rivals in the off-road and time-trial events in various weather conditions. Dirt Rally 2.0 has a myriad of tracks in a ton of different locations. The game also features the real circuits of the FIA World Rallycross Championship with World RallyCross Supercars.
The game also lets you customize your preferred car from the over 50 rally cars in the game, including historic cars from the 1950s to the present. The new weather modeling system in the game can affect the tire grip, your performance, and your experience in completing the races.
What I Like About Dirt Rally 2.0
Any damage sustained during races will be carried forward from one race to the other. You can source new components to fix any damage to your vehicle. This type of immersion is big for simulation racing game fans.
Dirt Rally 2.0 comes with a single-player campaign, but as far as I know, there's no option to turn the DLC map off. This means unless you buy the DLC, you won't be able to play single player. Luckily, the DLC maps are the same as the ones I had from Dirt Rally 1.0, so I didn't have to get new ones.
Key Features
Stellar handling and driving experience
Same content as non-VR experience
Loads of real-world locations and environments
Huge range of great mods
Click here to view Dirt Rally 2.0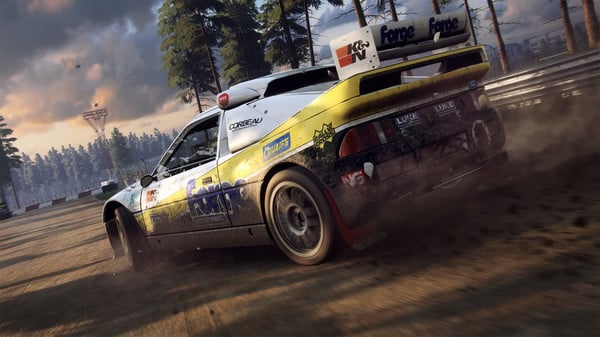 BlazeRush: Star Track
VR Headset Compatibility: PCVR
BlazeRush: Star Track is one of the best arcade survival racing games I have tested. In BlazeRush: Star Track, you can play with your friends in online or local multiplayer.
There are over 20 vibrant cars to choose from. Choose any car and customize it to your liking. If you have ever played a top-down racer before, you will feel very comfortable playing this game.
What I Like About BlazeRush: Star Track
In BlazeRush, you race through different courses of turns and twists and compete with other racers. While in the race, blow up your rivals or cut them off using the various wild weapons in the game and emerge the winner. Each vehicle is tied to a specific character.
My favorite vehicle was Natasha. I liked her car because the acceleration is incredible, which suits my style. I can lean over and look at Natasha in VR to see the little details. The controls in BlazeRush are great and the gameplay is pretty addictive.
Key Features
Many medals for various tricks and frills
Plenty of race tracks across three planets.
Up to 4 players locally and up to 8 players online.
A wide range of cool weapons.
Up to 20 vibrant cars.
The ability to join the game at any time
Click here to view BlazeRush: Star Track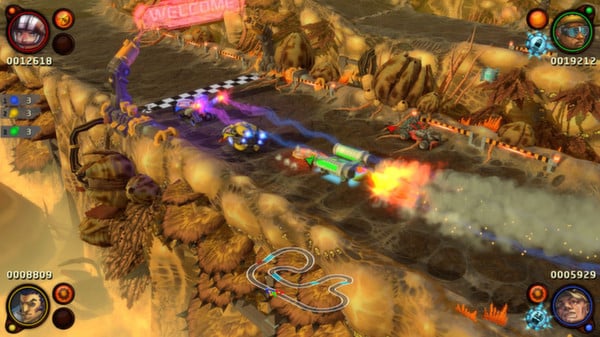 Automobilista 2
VR Headset Compatibility: PCVR
Created by Reiza Studios, Automobilista 2 is a racing simulation game. The game provides a comprehensive experience of the Brazilian motorsports scene, which features racetracks, manufacturers, and the main Brazilian racing series.
In this game, you are a driver of an advanced racing simulator with high-profile tracks and cars, incredible graphical quality, VR support, and an advanced dynamic track condition system. You can jump onto a modern-day race from a rental kart in downtown Sao Paulo for a blast as if you were in the 1960s.
Automobilista 2 has more tracks and cars than its predecessor and has a technical partnership with the Project Cars series for a more enjoyable playing experience. It also has a racing mode, tools for custom modes, and a multiplayer rating system.
Automobilista 2 also offers a catalog of locations and an unmatched variety of cars.
What I Like About Automobilista
For realistic simulation fans, Automobilista stands out. This game is underrated compared to other VR racing games. This game is great in GT1, F1, and GT3.
If you plan on buying it for the multiplayer mode only, you should be careful. I find the online system to be clunky and full of bugs.
Key Features
The game offers beautifully-detailed venues across five continents.
Stunning visuals even on less powerful systems.
Advanced dynamic weather and track condition systems.
Historical racing cars and race tracks.
Click here to view Automobilista 2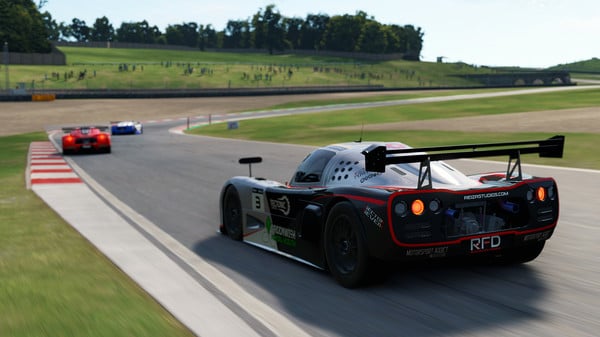 Death Lap
VR Headset Compatibility: Meta Quest
Death Lap is a combat racing game where you drive to survive. This game will leave you howling with laughter as you struggle to survive the battlefields.
In the game, you are captured by a maniacal yet tragic man known as "Nitro Saint Payne" and thrown into a dangerous TV show where you battle for survival, racing with others to regain freedom.
Choose from the five available vehicles, hit the road, navigate traps, perform stunts and drifts, and destroy anything that comes your way. Each vehicle has multiple weapons, from long-range (machine guns, lasers, and rockets) to short-range (a giant claw, wheels, and spiked). Unleash your weapons to destroy your rivals and fight for survival on the battlefield.
You can either tilt your left hand or use the joystick to steer, while keeping your right hand free to apply available weapons.
What I Like About Death Lap
The racing in this game is fast and relentless. This is a great game to play when your friends come over. Due to the fast speed of the experience, you will notice blurry textures on the track and some other glitches.
I enjoyed playing in VR first-person mode. I could look around to admire my vehicle's interior. You can adjust your camera settings to reduce any discomfort and VR motion sickness.
Key Features
Increase your speed with boosters and NOS fuel.
You can rank in the Global Leaderboard.
Control your car in the first or third-person view.
VoIP chat to communicate with your opponents.
Battle solo or with friends to test your might and speed.