This is the ultimate guide to the Meta Quest 2, formerly known as the Oculus Quest 2. We break down every single feature in this virtual reality headset and show you some tips that you need to know!
Some of the things we cover:
Display and other technical specs
The best Meta Quest 2 Games and accessories
How to buy the Meta Quest 2 VR headset
and more!
If we've missed anything, just comment down below and we'll get you the answers!
How to Buy the Meta Quest 2
The easiest way to purchase the Quest 2 is from the Oculus website directly. You can choose between the standard 64 GB version or upgrade to 256 GB worth of space.
Click here to order the Meta Quest 2 VR headset.
You can also check out Amazon to buy the Meta Quest 2 using the link below.
Meta Quest 2 — Advanced All-In-One Virtual Reality Headset — 128 GB
Meta Quest is for ages 13+. Certain apps, games and experiences may be suitable for a more mature audience. Keep your experience smooth and seamless, even as high speed action unfolds around you with a super-fast processor and high-resolution display. (Packaging may vary) Meta Quest packaging will continue to carry the Oculus name and logo during the transition to our new branding.
Experience total immersion with 3D positional audio, hand tracking and haptic feedback, working together to make virtual worlds feel real.
Explore an expanding universe of over 250 titles across gaming, fitness, social/multiplayer and entertainment, including exclusive blockbuster releases and totally unique VR experiences.
Meta Quest 2 Release Date
The Oculus Quest 2 was released on October 13th, 2020. It became available for pre-order on September 16th immediately after the keynote speech at Facebook Connect.
In November 2021, the VR headset was rebranded to the Meta Quest 2, which falls in line with Facebook's company name change. Just before that, the 64 GB hard drive version was replaced with a 128 GB option.
Below, we take a look at some pictures of the new Quest 2! Underneath that, we go into detail all of the features included in the headset.
Did you just receive your hardware? Our unboxing and setup guide will get you up and running!
Meta Quest 2 Videos and Pictures
If you want to see more, here are some pictures of the Quest 2 headset!
Check out this Meta Quest 2 video review from our friend, Eric For President!
Unboxing and Setup
The Meta Quest 2 comes in a box with the following items:
Quest 2 standalone headset
2 Touch Controllers
Charging wall block
1m Charging cable
Glasses spacer
Instructions booklet
You should charge your Quest 2 before you use it for the first time. To turn it on, you hold down the power button on the right side of the headset.
Most of the setup takes place in the headset, where you will select your language and connect it to your home wifi network. You will have to sync your hardware with the companion Meta App, which you download from the Apple App or Google Play Store. This is the first headset where Meta is requiring a Facebook account for new VR players.
However at Connect 8, Facebook reversed course on the long-term requirement for a Facebook account to use the headset. As soon as we have a idea on how to separate your Quest account from your Facebook account, we will have a guide on our home page.
After your headset is configured, you will be asked to setup either a roomscale or stationary guardian, which is a boundary that protects your virtual area.
We have a full unboxing and setup guide to people started in this area.
Technical Specifications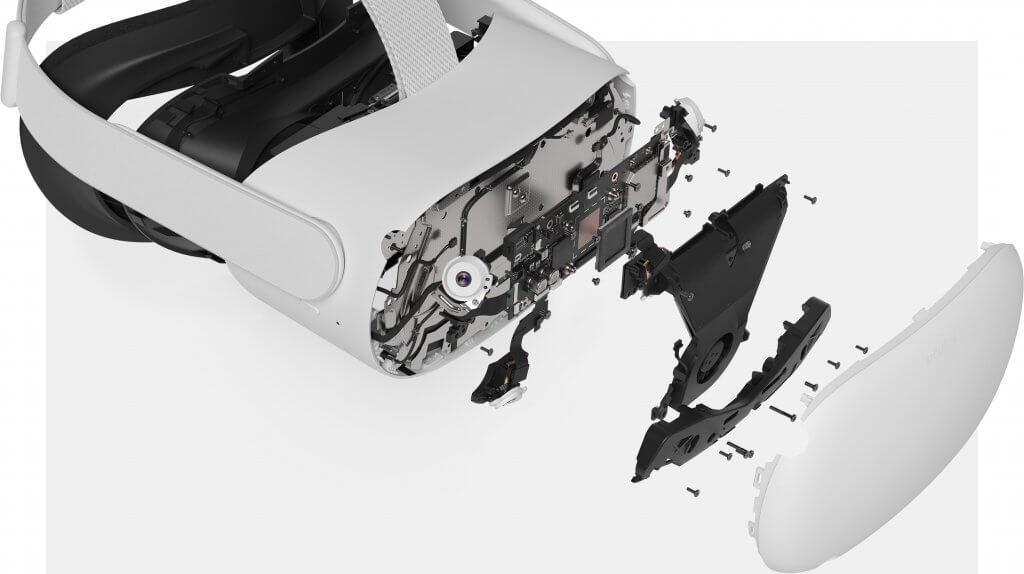 The Meta Quest 2 contains a Qualcomm Snapdragon XR2 CPU. Where the Snapdragon 835 on the Quest 1 was released in 2017, the new XR2 is brand new for 2020.
The Quest 2 comes with 6 GB of RAM, which is two more than the previous generation.
As of today, It comes with storage options of 128 GB and 256 GB.
Qualcomm Snapdragon 835 vs XR2 for VR
How does the new Snapdragon XR 2 CPU in the Meta Quest 2 compare to the Quest 1? Venturebeat broke things down nicely when the XR2 was announced in December 2019.
The Snapdragon XR2 offers twice the CPU and GPU performance of the 835, over 11 times faster AI processing, six times the video resolution support, and four times the video bandwidth, albeit with only four Kryo cores — one Prime, one Gold, and two Silver — rather than eight in the 835. Using XR2, each eye can have up to a 3K by 3K display at 90 frames per second.
Here's another breakdown in the two CPU chips: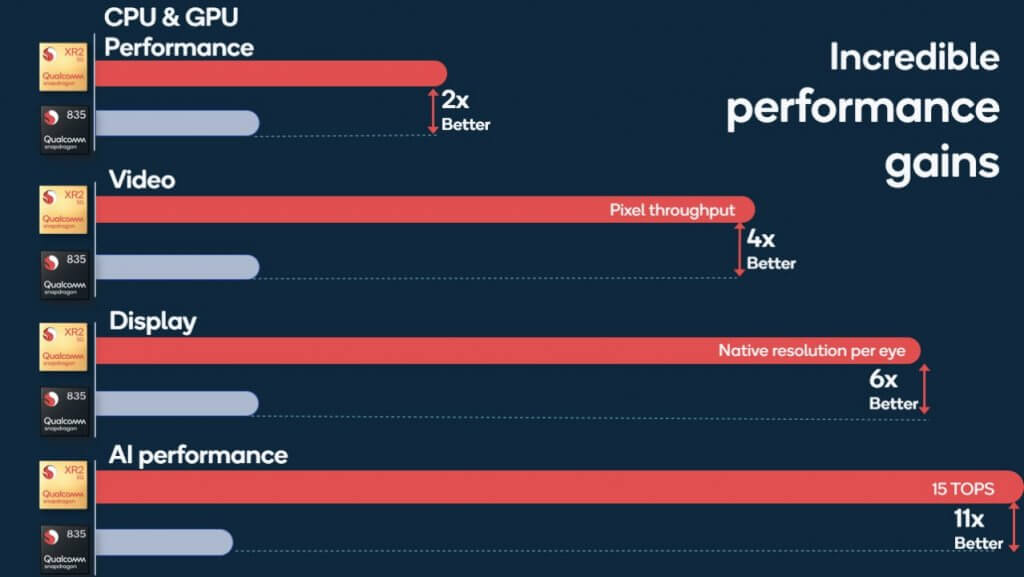 64 GB vs 128 GB vs 256 GB
Should you buy the 64 GB, 128 GB, or 256 GB version of the Meta Quest 2? The original 64 GB version has been discontinued in favor of the 128 GB one, so you probably won't find that size anymore.
Other than the $100 price difference between the 128 and 256, how do you determine which size of hard drive is right for you?
In general, the 256 GB is fine for you if:
You don't care about losing game progress and challenges if you have to uninstall old games to install new ones. Note that SideQuest VR has the option to uninstall games but keep save progress safe in case you want to reinstall later.
You aren't planning to load any media files (videos and photos) onto the headset.
You plan on using Oculus Link, Oculus Air Link, or Virtual Desktopto to mostly play games which are on your computer.
Spending extra money on the elite strap or other accessories is a priority for you.
In general, the 256 GB hard drive is recommended for you if:
You want to regularly stream local movies and TV shows in your headset.
You don't want to have to uninstall and reinstall games.
You plan on carrying a large library of games on your headset.
You plan on trying out lots of SideQuest and third party games in addition to ones from the Oculus store.
Money is not an option.
For most people, the 128 GB is fine. Most of the Meta Quest 2 games are less than 5 GB in size, which should give you plenty of room to load over 20 titles into your game library at a time.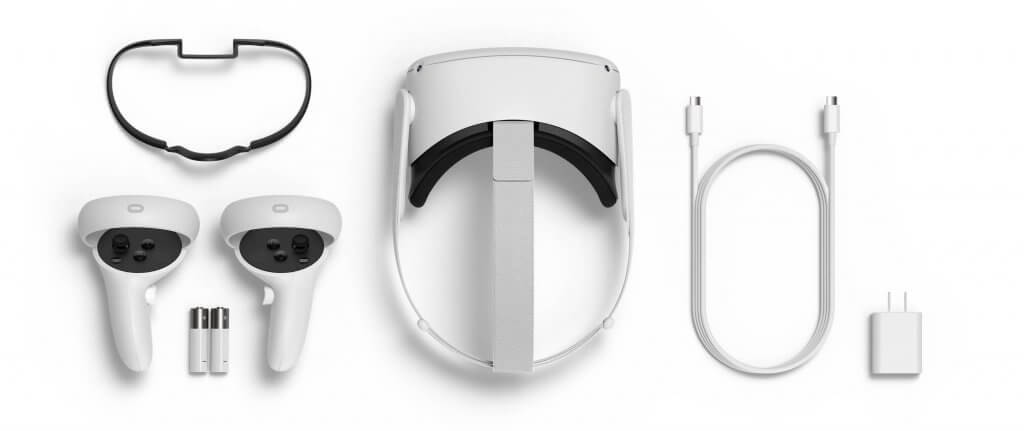 Display
The Meta Quest 2 contains a single panel LCD screen. It is a high resolution display that uses fast-switching LCD technology. The resolution on the headset is 1832 x 1920 per eye. Overall, this is about 50% more pixels in the screen than the original Quest 1 and more than in the Oculus Rift S too.
The new headset has an RGB stripe display, which fits pixels much nicer together on the screen. This eliminates the amount of black space between each pixel, letting everything look clear and crisp in your vision.
The original Quest 1 contained dual OLED screens for comparison with a resolution of 1440 x 1600 for each eye. LCD displays provide a clearer and more crisp display in general and should be seen as an improvement over the original Quest.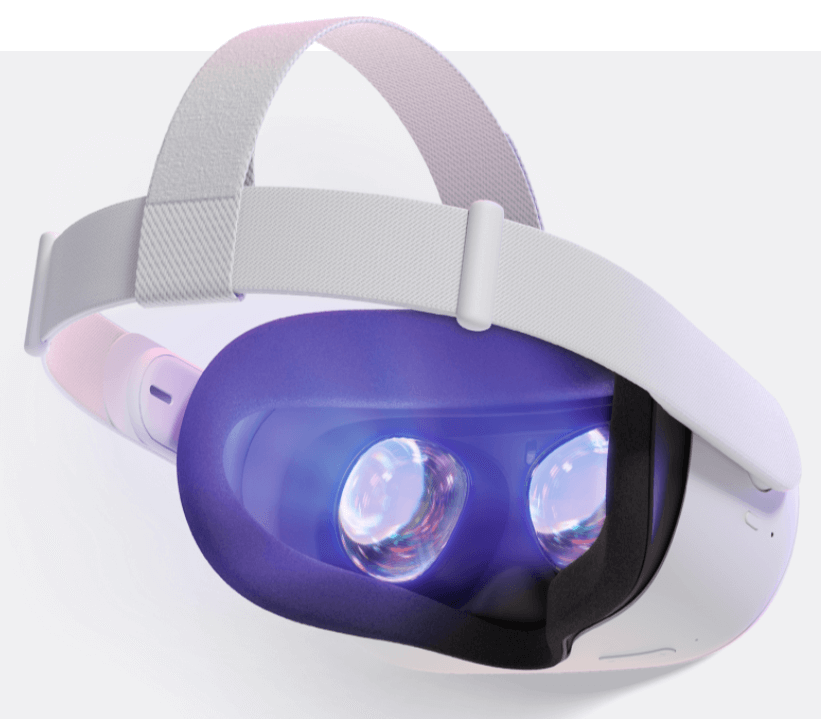 IPD Adjustment
The Quest 2 contains a manual three-slot IPD adjustment feature. This allows you to set the interpupillary distance of the display at either 58 mm, 63 mm, or 68 mm by pushing on the edges of the lenses to slot them into one of the settings. Then in the settings, the software adjusts the pixels on the display that your eyes see so that they are clear and centered in your eyesight.
Refresh Rate
The headset contains a maximum refresh rate of 90 Hz. This higher refresh rate removes any flicker in the video and is more comfortable for longer gameplay sessions. Quest 1 games that were created to work with that headset's 72 Hz max will need to add support for the higher refresh rate. This means that 90 Hz will only work for game titles that support this option.
Casting
The headset can cast to the attached phone running the companion app, a Google Chromecast device, or the Nvidia Shield TV (also a Chromecast device). This allows your friends to watch what you are doing in the headset at the same time.
The Quest 2 has improved its casting, showing higher quality video output and significantly lower latency between your actions and what's happening on the TV.
The Meta Quest 2 also contains support for the Wi-Fi 6 standard, allowing for faster speeds to everything it connects to if you have a supported router.
Audio
Audio has been upgraded to new 3D positional audio. This allows for better audio recognition in busy environments and an accurate audio representation of all 360 degrees.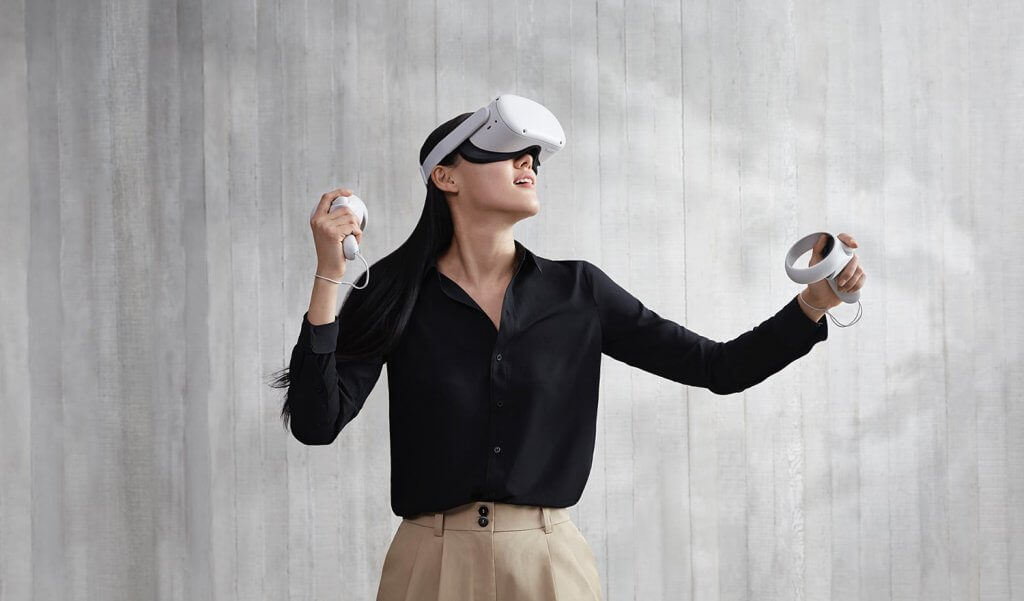 Colors
The new Quest 2 headset is available in a new white color. At launch, there is not the option to buy the headset in the traditional black color that the original Quest 1 came in. There is no indication that the black color will be returning in the future, but we will update this section if more information is released.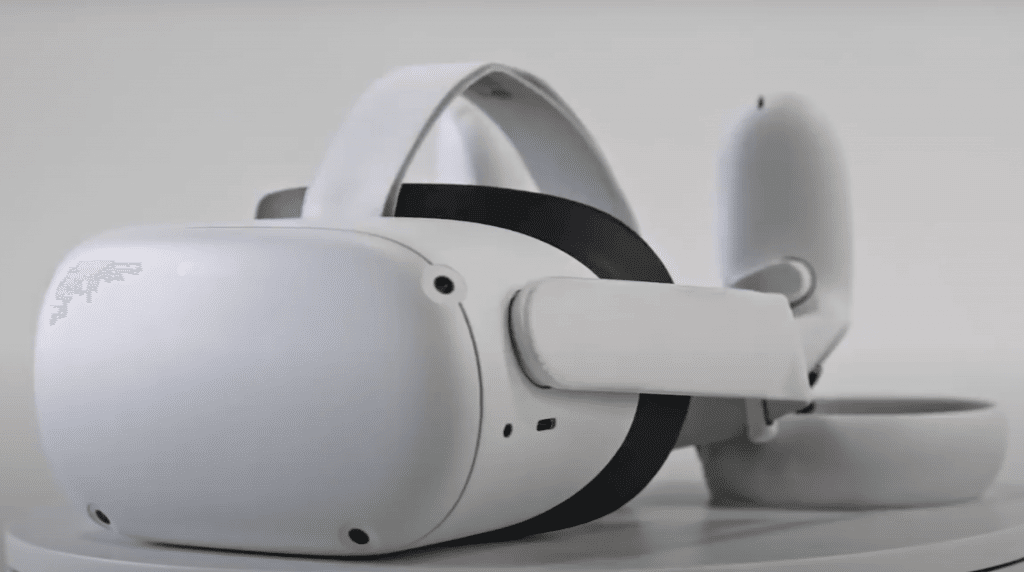 New Soft Touch Strap
The Quest 2 has a brand new soft touch head strap which is easier to slip on and off. The top strap of the headset attaches at the back of your head with a loop that goes around the side strap. The side straps have a two layer adjustable strap instead of velcro.
You pull on the left strap to tighten the fit on yuor head and right strap to loosen the fit. The entire strap is softer to wear and better distributes weight around your head.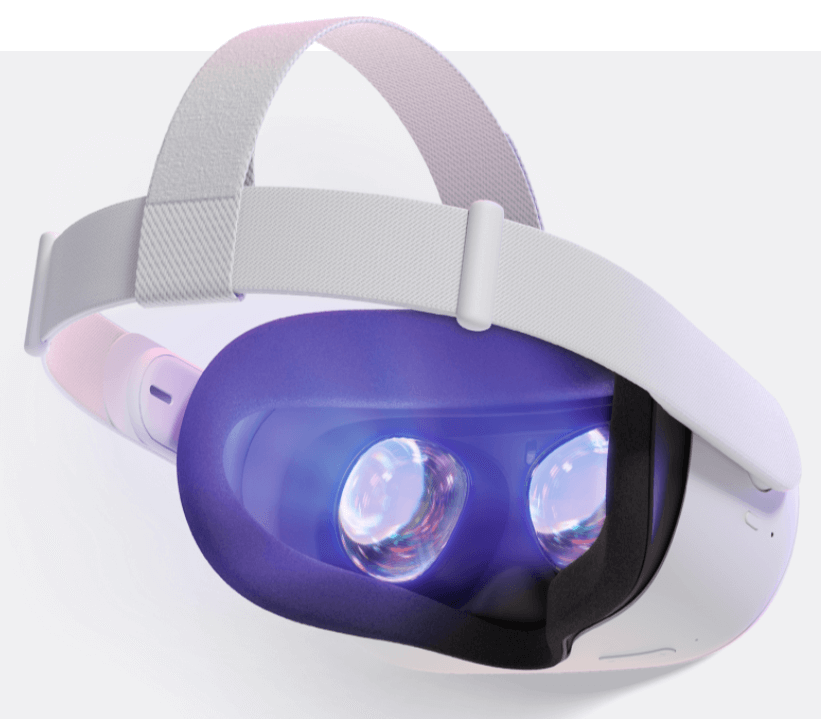 Elite Strap
If you want to make the Quest 2 a more comfortable headset, Meta is selling an accessory for the headset called the Elite strap. This elite strap includes a fit wheel that allows you to quickly tighten and loosen the fit on your head. The fit wheel design is similar to the one found on the Oculus Rift S.
An additional accessory provides an external battery with the elite strap so that you can double your battery life too.
Check out other top Meta Quest 2 accessories here.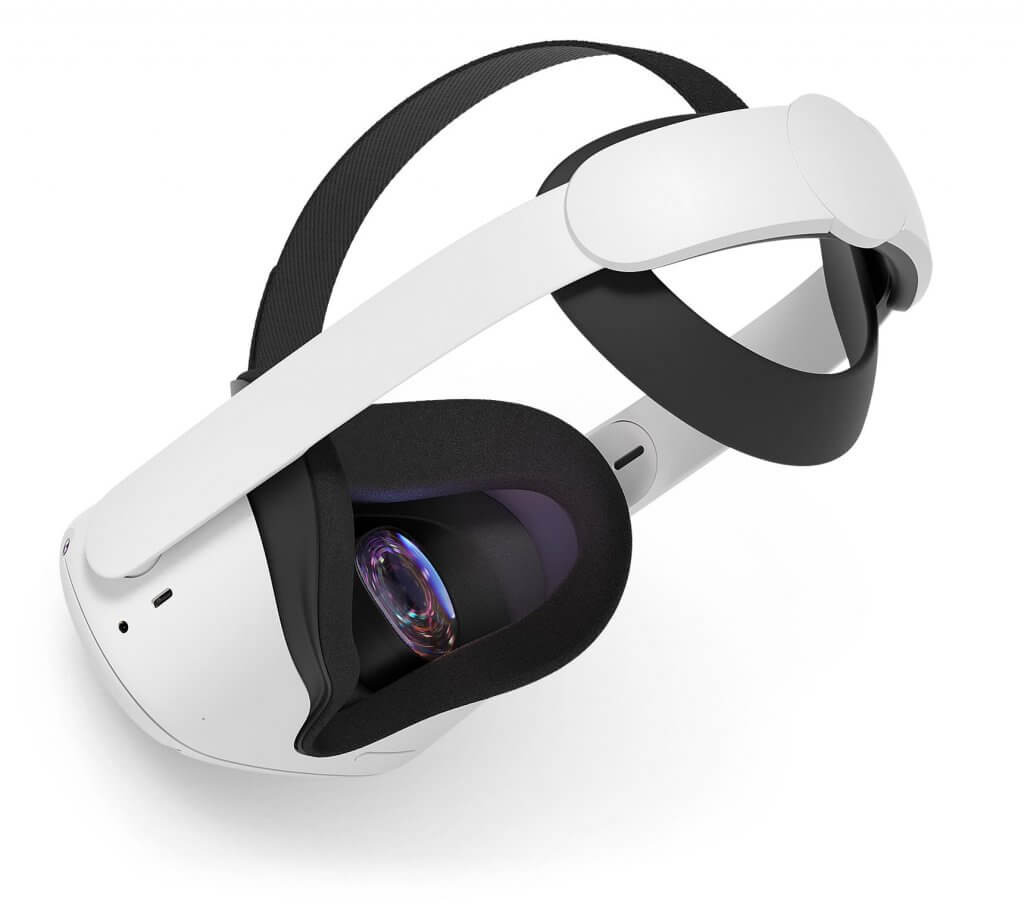 Size and Weight
Officially, Meta has said that the Quest 2 is 10% smaller than the original Quest. The depth of the headset is less than the original model.
A 10% reduction in weight means that the headset weighs 530 grams. The majority of weight difference is in the lighter strap on the headset.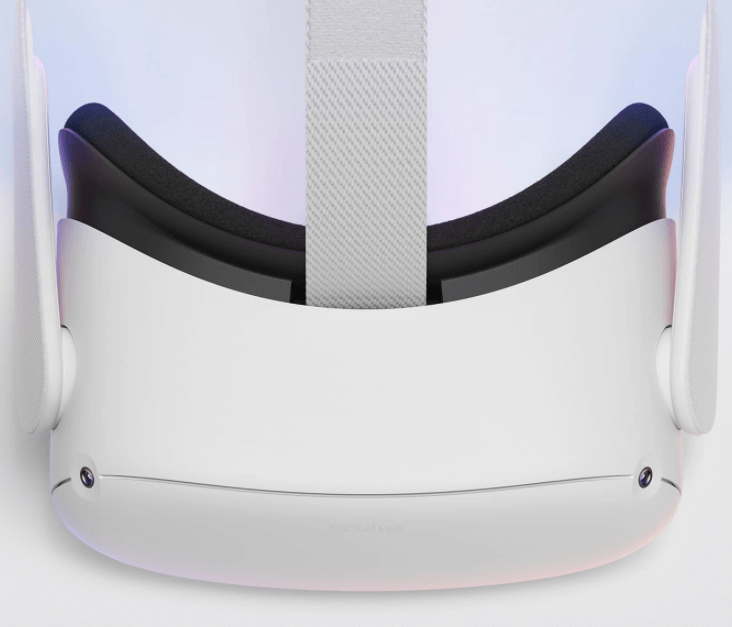 Battery Life
The built-in battery on the new Quest 2 retains the two hours of battery life that the original Quest had. Early reviews show that the battery life is decreased slightly, but these reports have not been confirmed widescale.
Meta is now selling an elite strap with battery pack attachment. This battery pack will double the battery life on your headset. As well, its placement at the back of your head will help the weight distribution of the headset on your head.
Speakers
The Meta Quest 2 features two built-in speakers located on either side of your head. They are designed to be louder than the original Quest speakers and provide a wider soundstage.
There is a microphone integrated into each speaker as well. These microphones are used for voice chat in multiplayer VR games.
Meta Touch Controllers
The new headset has improved Oculus Touch controller with better ergonomics.
Documentation for the new Quest controllers indicate a few features that fans will love. For starters, the tracking rate appears to be doubled from 30 Hz to 60 Hz. This will reduce latency and improve the accuracy of movement on the controllers. Also, there is reference to a new accelerometer and gyroscope which will help with motion and orientation of the controllers.
A few cosmetic changes have been made to the Touch Controllers:
The thumb area has been widened with more space.
The tracking ring appears to be larger and more angled backwards. This should improve the inside-out tracking on the controllers.
The controllers no longer have a cross-hatched grip on the hand piece.
The battery compartment is clipped in instead of a magnetic on the last generation controller, so they don't slip off on accident ever.
The new generation touch controllers have 4x the battery life of the last generation, which is a huge improvement. Part of this was achieved by reducing the infrared sensors in the ring. This might decrease tracking accuracy slightly, but there are not enough reviews to confirm or deny this yet.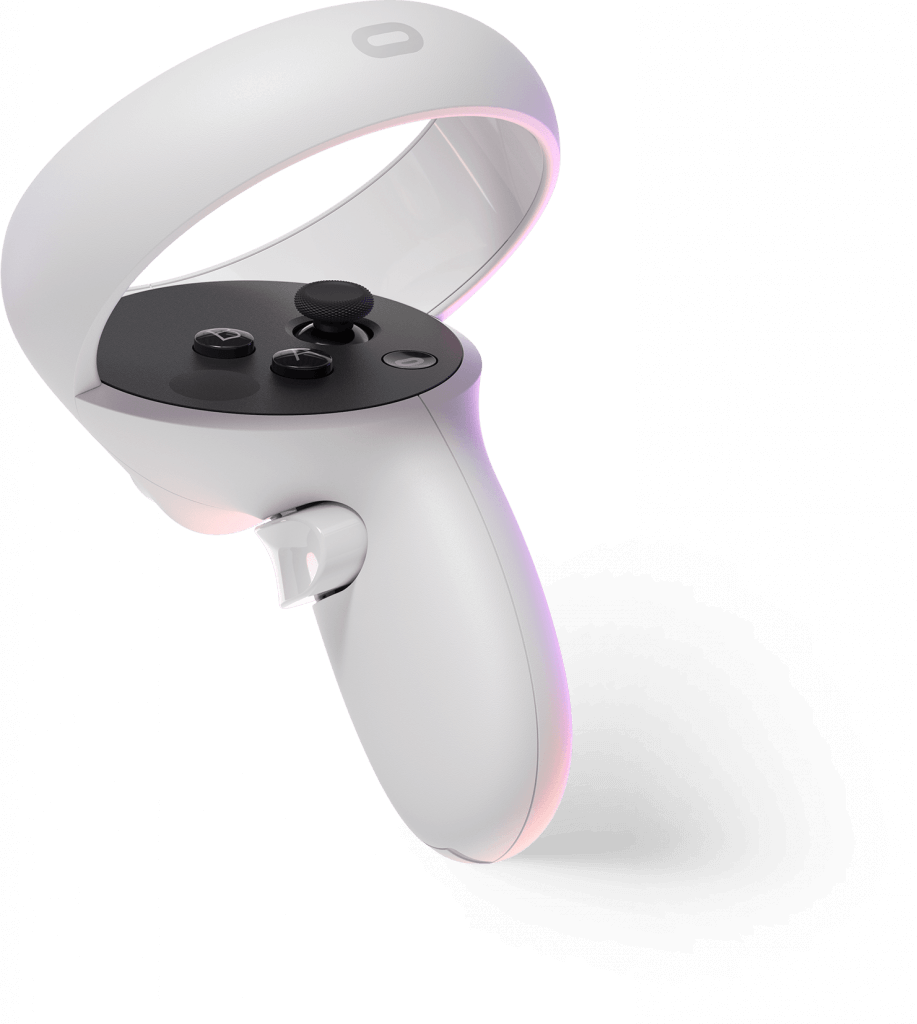 Inside-Out Tracking and Guardian
Like its predecessor, the Meta Quest contains inside-out tracking that does not require any external base stations to monitor your movement. All tracking of your position comes from four external-facing cameras installed on the Quest 2. When you put on your headset, you have to draw a safe guardian around your play space. Your cameras make sure that you stay within this play space and do not go outside of it.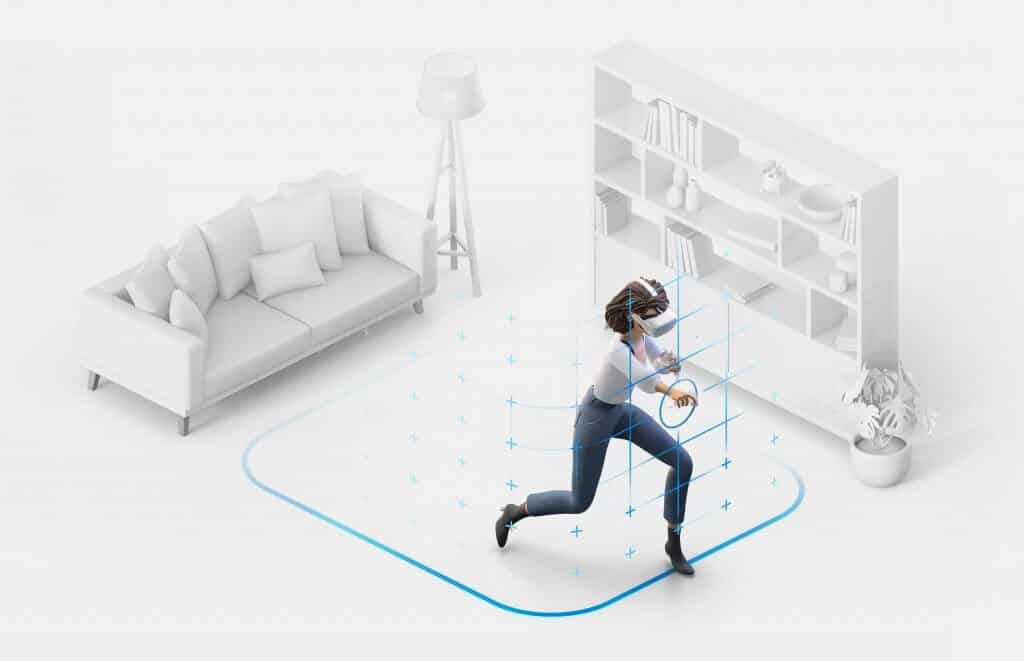 Games
Games for the Quest can be installed directly while wearing the headset or from the companion Meta App, which is automatically synced with the hardware.
A number of new launch games were announced alongside the Meta Quest 2:
Population: ONE
The Climb 2
Jurassic World: Aftermath
Star Wars: Tales From The Galaxy's Edge
Warhammer 40,000: Battle Sister
Pistol Whip 2089
Myst (Reimagined for VR)
In addition, Ubisoft announced that they are developing new Assassin's Creed and Splinter Cell games built from the ground up for VR.
Facebook has also brought Facebook Messenger to the platform so that you can chat and join games with friends even easier than before.
Check out our live list of the best Meta Quest 2 games here.
Meta Move
The Quest 2 features a new fitness dashboard called Meta Move. This shows you real-time fitness stats about your play session including:
Calories
Move Minutes
% of Goal
Streak Information
Per-Game Move Stats
You can share move information with your friends and run competitions with them too.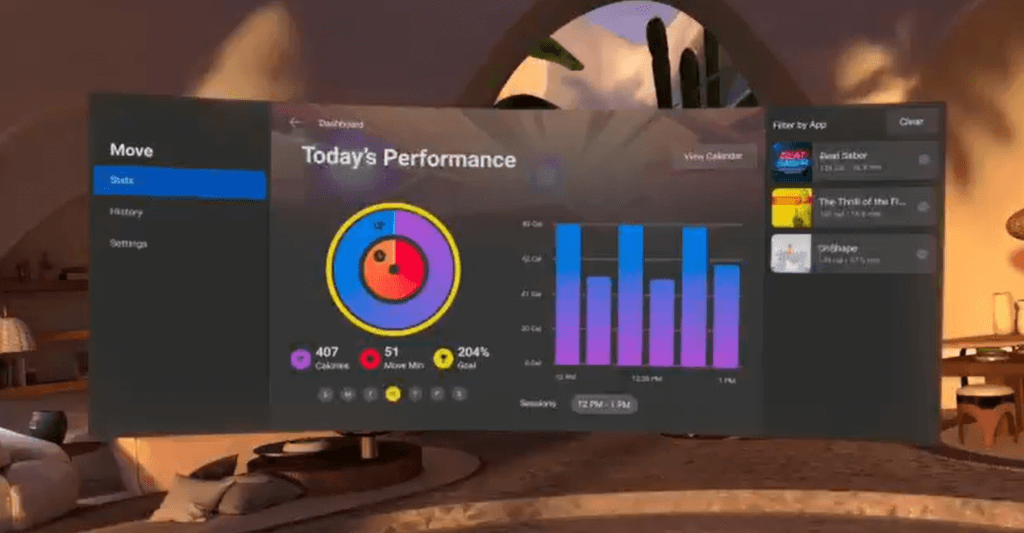 Oculus Link
Oculus Link was a game changer for the Quest when support was added in late 2019. The feature allows you to tether your Quest to your PC and play any PCVR games from the SteamVR or Oculus Rift store. Oculus Link powers each game from your PC and uses the Quest as a simple display headset.
Using an Oculus Link cable with the Oculus Quest 2 allows you to play any PC VR game on your headset. Since the pixel density is greater than the Rift S, this is the highest quality way to play PC VR games with an Meta headset.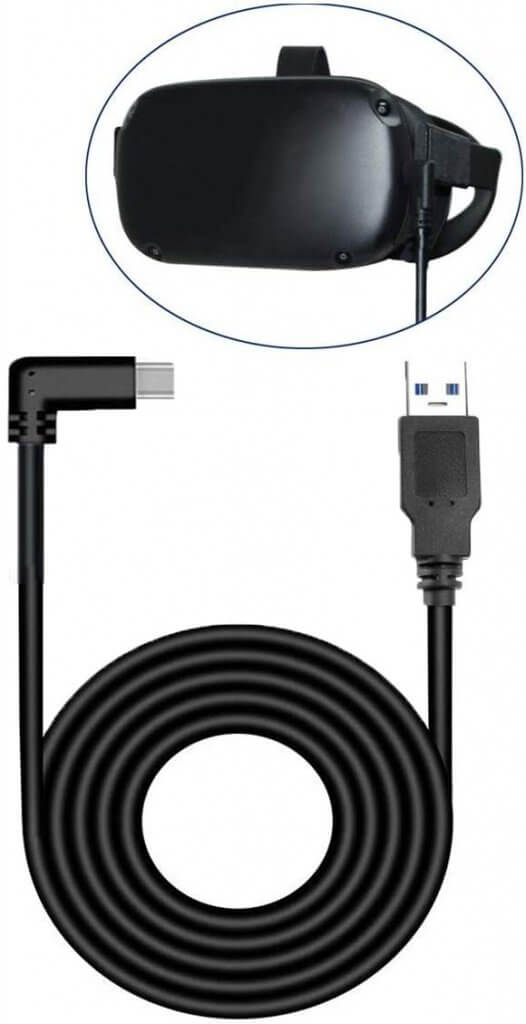 Air Link
Oculus Air Link is a wireless alternative to Oculus Link that requires no Link cable or tethered connection to your PC. It lets you mirror your nearby PC inside of your VR headset. People do this to watch movies, browse the internet, or play games inside of virtual reality.
Once connected, you can play any PC VR game from the Oculus or Steam VR store on your Quest 2. This gives you access to all of the best PC VR games as long as you have a gaming PC that can play them.
You don't need a fancy gaming PC with a premium CPU to make basic functions work. Your basic laptop will be able mirror to your VR headset just fine.
Click here to view our complete guide for Oculus Air Link.
Virtual Desktop
An alternative to Oculus Link is the Virtual Desktop application for the Quest 2. Virtual Desktop allows you to wirelessly play PCVR Oculus or Steam games without the use of any cables. The Quest 2 also supports the new WiFi 6 standard. This means that if you have a compatible modem, you can stream as fast as possible with low latency.
We have a complete step-by-step setup guide for Virtual Desktop on Oculus Quest 2 here which will have you setup and playing PCVR games in no time. A lot of players have raved that Virtual Desktop offers even better performance than Oculus Link, without the cost of the extra cable.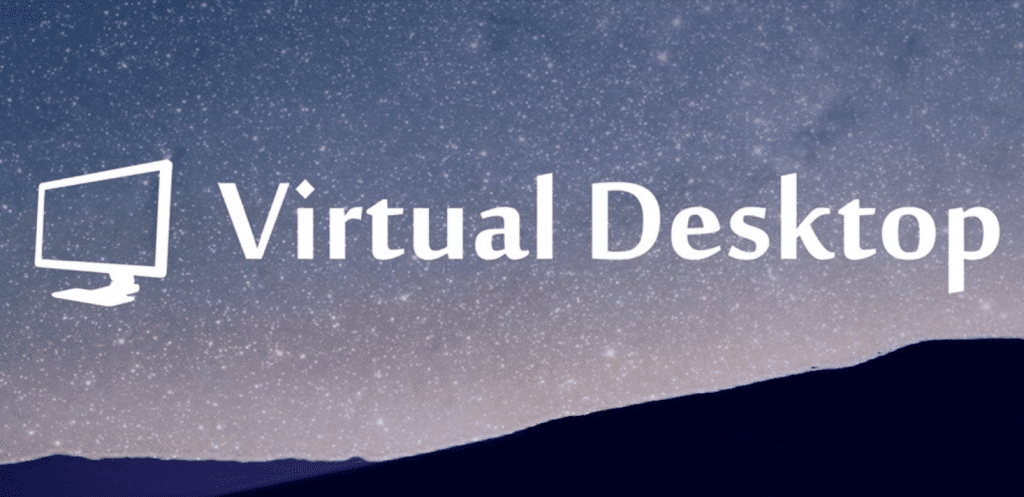 Meta Quest 2 Box
The front of the box contains a picture of the VR headset. On the back, six games are showcased:
Beat Saber
Facebook Horizon
Jurassic World: Aftermath
Star Wars: Tales From The Galaxy's Edge
Population: ONE
The Climb 2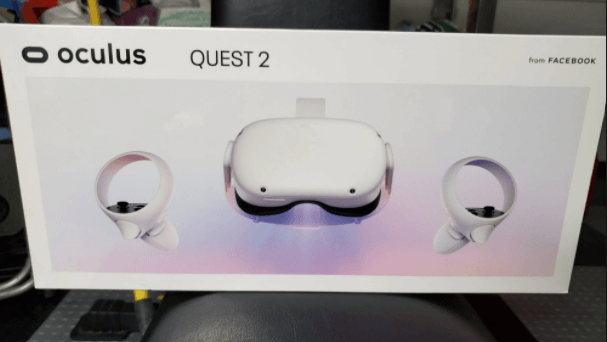 Other Accessories
There are a number of other Meta Quest 2 accessories available to purchase alongside the headset:
Fit Pack – This kit includes a pair of light blockers and two interchangeable facial interfaces for wider or narrower face shapes.
Elite Strap
Elite Strap with Battery
Oculus Link cable
Logitech PRO Gaming Headset– Pro-grade gaming audio with memory-foam leatherette earpads that reduces outside noise.
Logitech G333 VR Gaming headphones– Immerse into VR with in-ear dual-driver gaming audio, and custom-length cable and straps.
VR Facial Cover – Improve hygiene, immersion and comfort with this custom ergonomic solution from VR Cover.
These can all be purchased from the Meta store page.
Software Features
A number of minor software features have been added into the Meta Quest operating system code. Meta regularly releases software updates to include new features for users.
Cross-Device App Sharing
You can share photos, videos, progress, and game data between the new headset and other apps such as Facebook or the Meta app easily from within the operating system.
Software Graphic Improvements
Users can improve and adjust the graphics on their headset in a few different ways:
Antialiasing option
"High Quality Panel Rendering"
Brightness slider
The option to change the font size
New passthrough filters called "HD" or "SuperRes"
Other Software References
Desktop broadcasting
Voice commands triggered by the phrase "Hey Facebook"
"Intrusion alert" when someone enters your Guardian space
A feature to sync your phone with your headset to receive notifications
The ability to add your sofa to your playspace
Passthrough keyboard
Fitness tracker
Instant replay
Multi-user support
Cloud storage
Eye tracking
Other Guides
Check out these other VR guides involving the Meta Quest 2!
What do you think about the new Meta Quest 2? Join our mailing list below and we'll let you know as soon as more information about the new Quest VR headset is released!