Oculus Move is a new fitness tracker app for the Oculus Quest 2 which shows calories burned and exercise during your VR game session. This is the ultimate guide to the Move app in the Quest 2.
In this guide, we cover:
What Oculus Move is
What features are useful to take advantage of
How to setup and keep track of exercise in the Oculus Quest
Tips and tricks
If you have any questions, make sure that you comment down at the bottom of this guide.
What is Oculus Move?
Oculus Move is a cross-app fitness tracker introduced alongside the new Oculus Quest 2. Its main feature is a fitness dashboard which keeps track of your movement and calories in each game you play in virtual reality.
The app was introduced by Mark Zuckerberg during the Facebook Connect 7 keynote speech. He said that the app would be rolling out to users later in 2020 and that Facebook was constantly tinkering with features.
Below, we take a look at what features are included, plus everything else we know about this fitness tracker.
Oculus Move Features
A number of features of the app were shown off during a demo of Move at Facebook Connect. Here are some key features to take a look at.
Global Dashboard
The global dashboard shows your daily fitness statistics while playing in virtual reality. A pie chart shows your calories burned, move minutes, and percentage towards your daily move goal. A bar graph shows your exercise level over time so that you can gauge which games allow you to burn more calories.
Toggle buttons on the dashboard let you compare your stats for each day of the week. You can also add filters for each VR game specifically.
A preview of Move shows that there are pages for viewing your complete history and also a settings page to configure things just the way you like.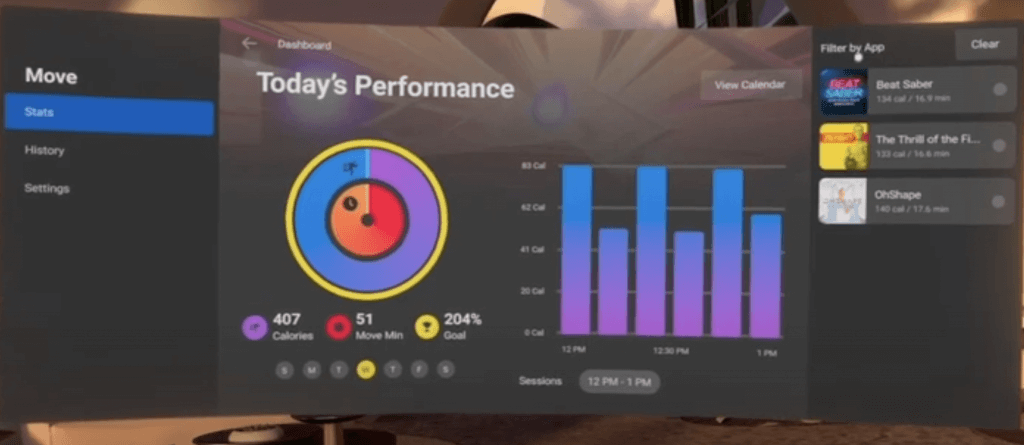 Per-Game Dashboard
In the fitness tracker app on your Oculus Quest 2, you can filter out statistics for each individual game that you play. This allows you to see how many calories you've burned or the number of move minutes in your Beat Saber session today.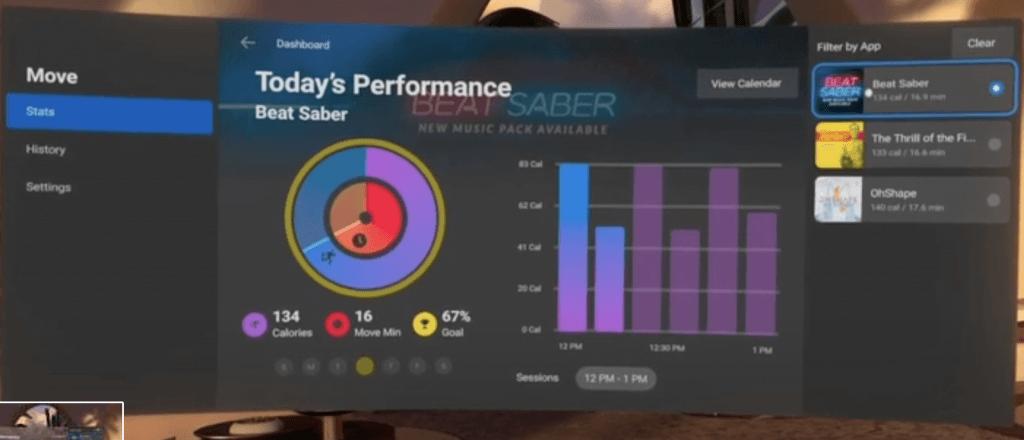 Fitness Statistics
The main part of the Oculus Move app is a pie chart which shows you:
calories burned
number of move minutes
percentage towards your move goal
It's not entirely clear if the app gathers data from an attached Apple Watch, Android Watch, Garmin, or other smart watch. Or maybe, Facebook has their own smart watch hardware planned. This is one part of the fitness tracker we will be watching close to see.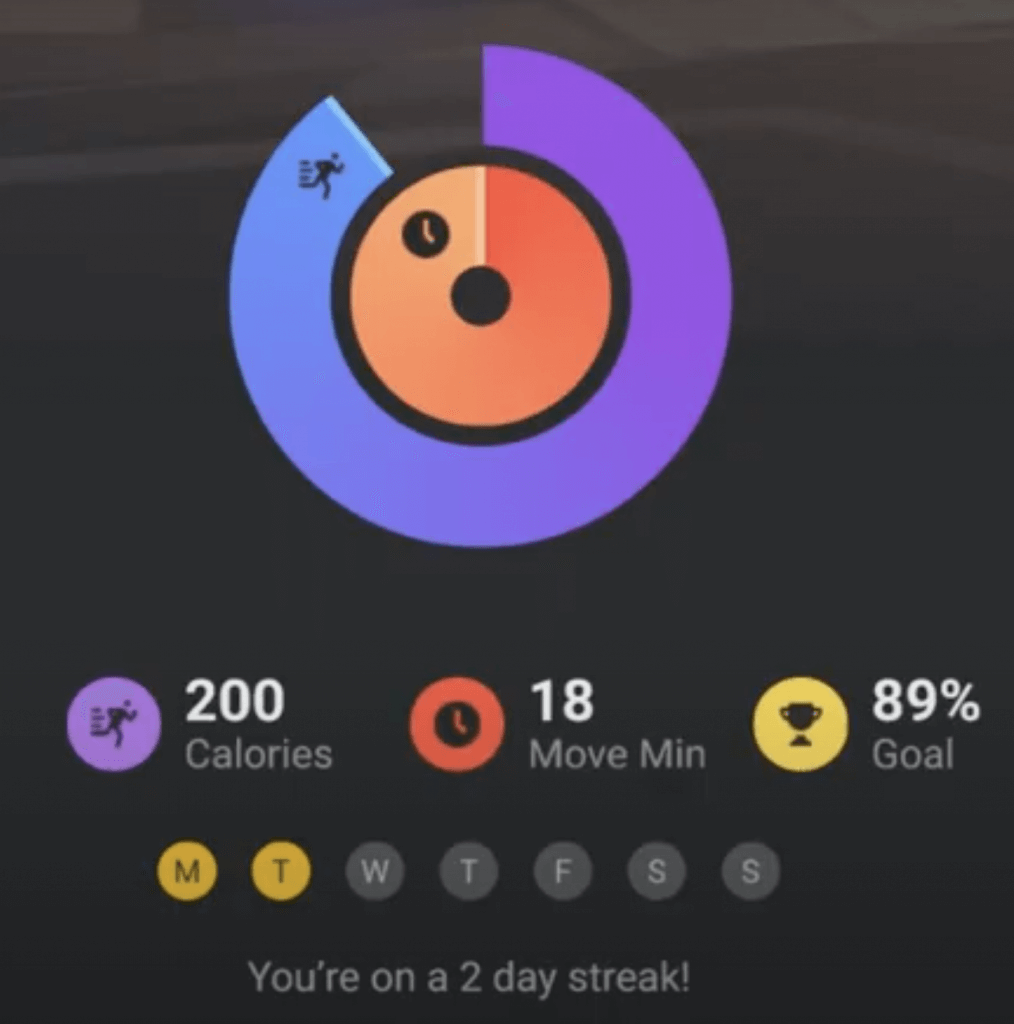 Fitness Trending
A bar graph shows a trend of your calories burned in ten minute intervals. If you've used your VR headset multiple times in the day, you can toggle between your different sessions and see calories burned for each.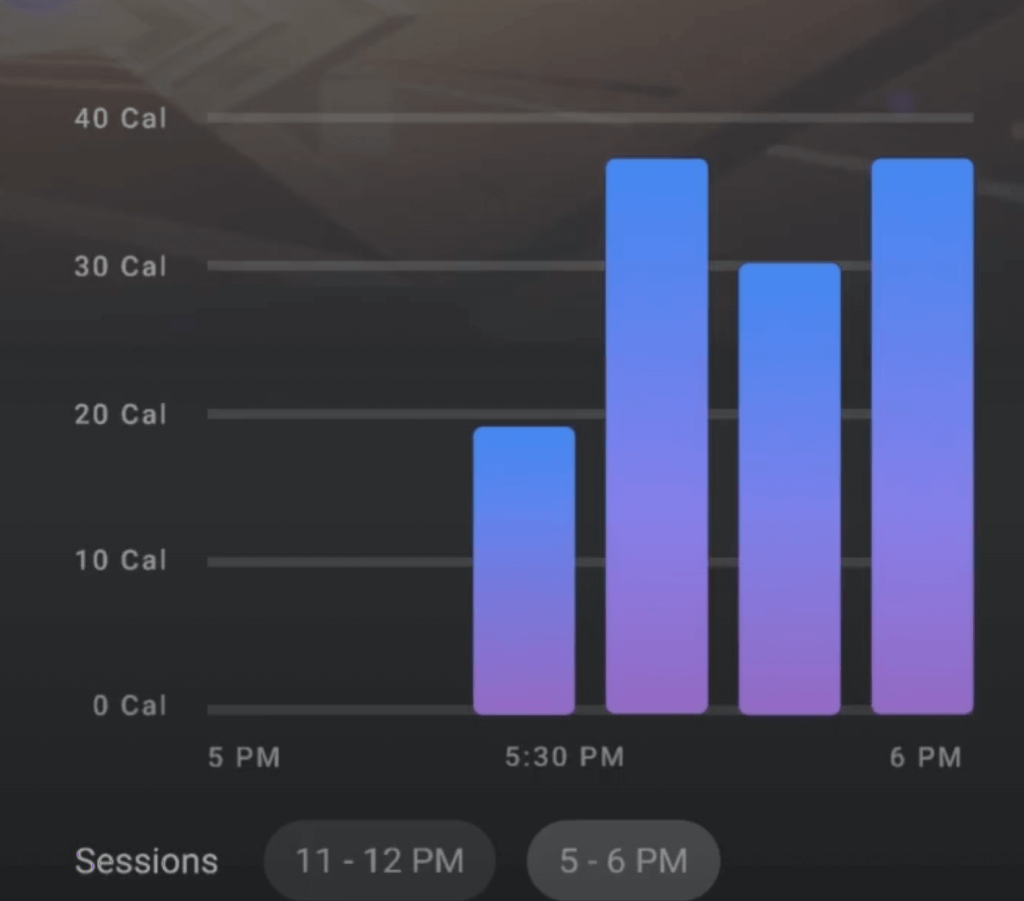 How to Setup Oculus Move
How to Connect Your Apple Watch to Oculus Move
Right now, the Oculus Move fitness tracker is not available to install yet. It's also note clear if the app is available for the Oculus Quest 1, Quest 2, or both.
As soon as the app becomes available, we will have step-by-step instructions here on how to install it.
Oculus Move Tips and Tricks
As soon as the app is available to install, we will have tips and tricks on how to view accurate fitness readings and other diagnostics.
As soon as we have our hands on a demo of the new fitness tracker app for the Oculus Quest, we will add more information above. Comment down below and we'll get back to you.