I've been testing out the best Steam Deck controllers to determine which ones work with Valve's gaming console the best in a number of factors, including:
Compatibility
Button Layout
Ergonomics and Comfort
Flexibility
Price
Below are my favorite Xbox, PlayStation, and Nintendo controllers for the Steam Deck, along with third party controllers from 8BitDo and GuliKit.
If you have a favorite Steam Deck controller, comment below and let us know. Check out other Steam Deck accessories here.
Related: The best games for the Steam Deck.
What are the Best Controllers for Steam Deck?
Steam Deck Controller Comparison Table
| Controller Name | Connectivity | Ergonomics & Design | Compatibility | Customization | Durability | Battery Life | Price |
| --- | --- | --- | --- | --- | --- | --- | --- |
| Xbox Elite Series 2 | 9 | 9 | 8 | 10 | 9 | 8 | 6 |
| PlayStation 5 DualSense | 8 | 9 | 7 | 8 | 9 | 7 | 7 |
| 8BitDo Lite 2 | 8 | 7 | 8 | 7 | 7 | 9 | 9 |
| GuliKit King Kong 2 | 8 | 7 | 7 | 7 | 7 | 8 | 8 |
| PlayStation 4 DualShock Controller | 8 | 8 | 7 | 7 | 8 | 7 | 8 |
| 8BitDo Ultimate | 9 | 8 | 9 | 8 | 8 | 9 | 7 |
| Nintendo Joy-Con Controllers | 8 | 6 | 6 | 6 | 7 | 7 | 7 |
Xbox Elite Series 2 (Best Customization)
The Xbox Elite Series 2 feels great in the hand and is very comfortable to hold for extended gameplay. Although it lacks the fancy gyro that you easily spot on the PlayStation 4 controller, I love this controller mainly because of its height and stick placement. Plus, you can easily customize all of the controls and remap functions to suit your game.
The stick placement makes aiming in shooter games accurate. The sturdy feel, solid grips, and well-placed button layout align everything.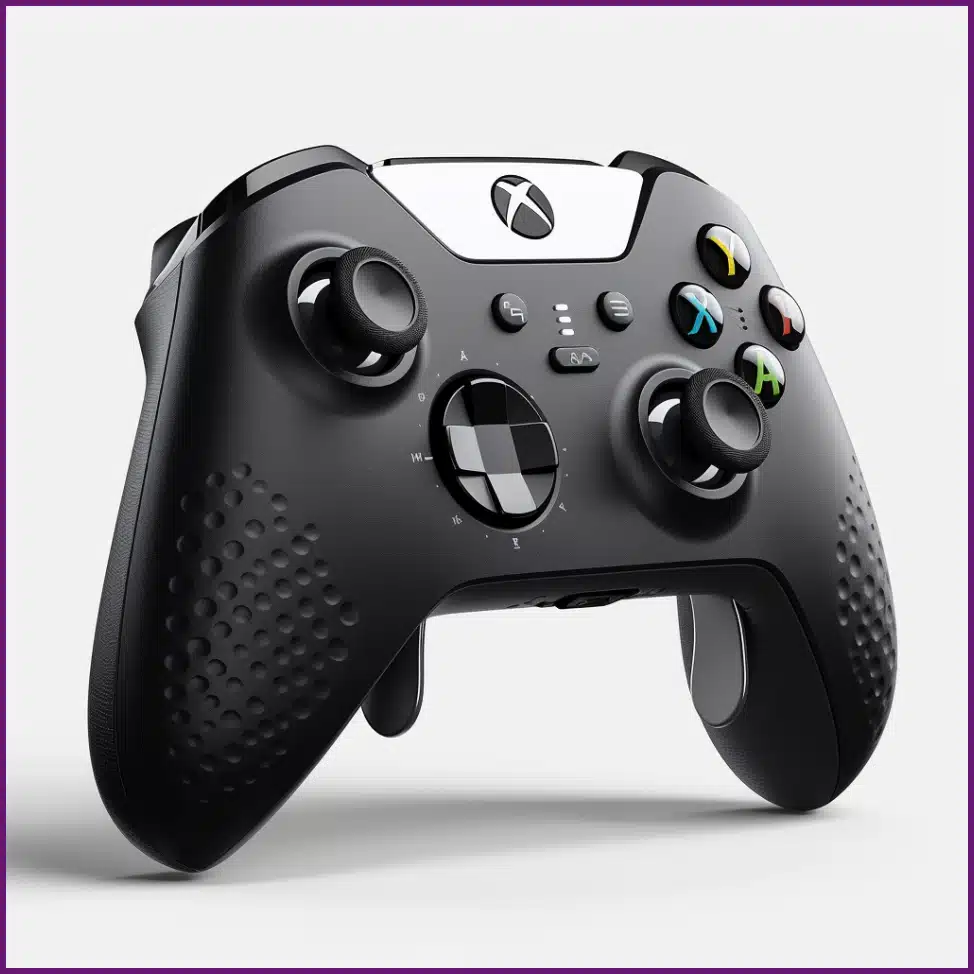 The Xbox Elite Series 2 has a longer battery life and better customization options than other models. Enjoy exclusive button mapping options and interchangeable components in the Accessories app.
The swappable and rechargeable battery can sustain gameplay for up to 30 hours after a single charge. This controller suits your needs if you play many emulated games or use your Steam Deck in Windows mode.
Use Xbox Bluetooth, Wireless, or the USB-C cable with the package to play across console and PC games on Windows, Xbox One, Xbox Series X|S, Steam Deck, and any other device.
Key Features
Stay in the game for up to 30 hours of rechargeable battery life
The controller features adjustable-tension thumbsticks, a wrap-around rubberized grip, and shorter hair trigger locks.
Swap D-pads and thumbstick toppers to tailor the controller to your preferred gaming style.
You can save up to 3 custom profiles on the controller.
What I Like About the Xbox Elite Series 2
There's a lot to like about the newest Xbox controller. I like the ergonomics, back paddles, triggers, sticks, and overall refinement. Being able to setup custom profile settings is a big win.
I also like the throw of the trigger. Considering the feel, the quality of the plastics, the finishing, the overall design, and how the controller fits the hand, no other controller comes close.
PlayStation 5 DualSense Controller (Best Haptic Support + Controller Trackpad)
The PlayStation 5 DualSense Controller is an improvement over the previous edition, with a few next-gen features and a more ergonomic design. It feels great to hold, partly due to the curved and increased surface area.
The DualSense controller features haptic and rumble support, and it really provides a top-notch gaming experience. Playing Sony's first-party titles like Spider-Man and other Steam Deck games with this controller's haptic feedback and adaptive triggers is worth trying.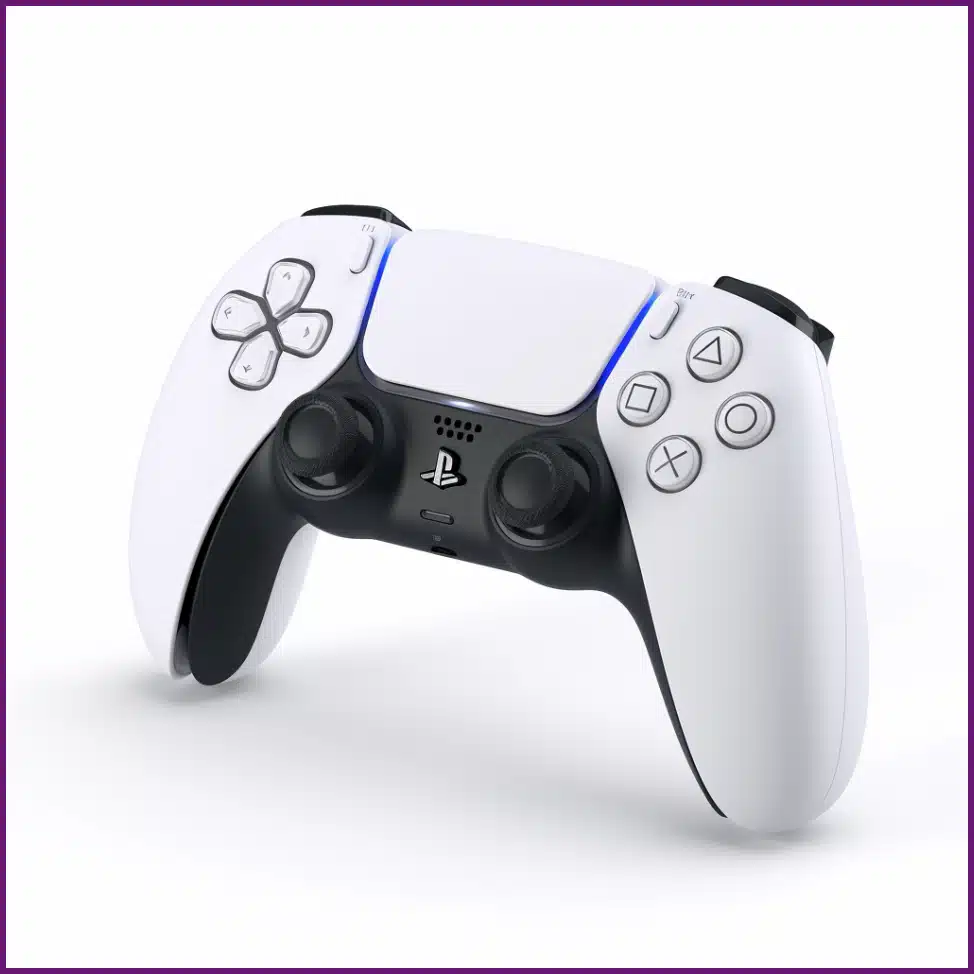 The controller has a 1560mAh battery, an upgrade from the PlayStation 4's 1000. But if your gaming session lasts more than 4 hours, you may experience interruptions unless you connect the DualSense via USB.
The redesigned touchpad gives you more mouse real estate on your Deck. It is the only controller on this list that has touchpad support on it. The PlayStation 5 DualSense Controller is the right way to go if you desire a next-gen controller and have the buck to pay for it.
Key Features
Built-in microphone and headset jack to chat with friends online.
Excellent haptic feedback, adaptive triggers, and gyro functionality.
Equipped with dual actuators, which replace traditional rumble motors.
What I Like About the PlayStation 5 DualSense
I like the responsiveness and tactileness of the controller's buttons and triggers. They allow for precise and accurate control during gameplay.
In fact, the haptic feedback and adaptive triggers will immerse you in a gaming experience you never imagined. I also like its built-in microphone and speaker. It makes voice communication easier with other players.
8BitDo Lite 2 (Best for Portability)
The 8BitDo Lite 2 controller is perfect for those who long to play retro games on their Steam Deck. The concave buttons, d-pad, and color make it feels like you're playing in the 90s.
Compared to Sony's PlayStation controllers, the battery life is impressive, offering three times the total battery life after a single charge. The main selling point of this controller is its portability, making it suitable for kids to play games and perfect for those who want to play games while traveling.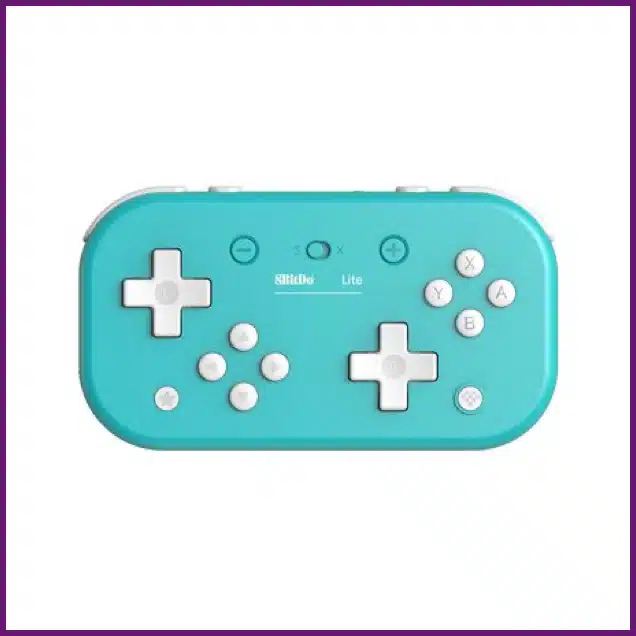 The 8BitDo Lite 2 controller also has terrific customization options. You can remap any button you desire using the Steam Deck's Windows mode. Its comprehensive customizability makes it versatile for any retro game.
The joysticks and shaped trigger buttons are well-laid out. This controller is a must-have if you travel a lot or play games with your kids.
Key Features
Solid controller that is super portable and versatile.
Equipped with a rechargeable battery.
Customizable turbo functionality (D-input)
Joysticks and shaped trigger buttons.
What I Like About the 8BitDo Lite 2
I recently got my 8BitDo Lite 2 controller, which is perfect for traveling. You can disable the button connection to make it stick to your bag or pocket. It's not as bulky as an Xbox or PlayStation controller.
It's a perfect fit if you have young kids or small hands. Plus, the colorful colours are fun.
GuliKit King Kong 2 (Best for Ergonomics)
While the GuliKit King Kong 2 controller takes inspiration from Xbox, the former still has many things under the hood that will excite you.
First, this controller comes with hall sensor technology, meaning the sticks will never drift, no matter how many games you play. The electromagnetic stick helps to prevent the controller from suffering from joystick dead zones. This feature is very compelling, especially for first-person shooter gamers.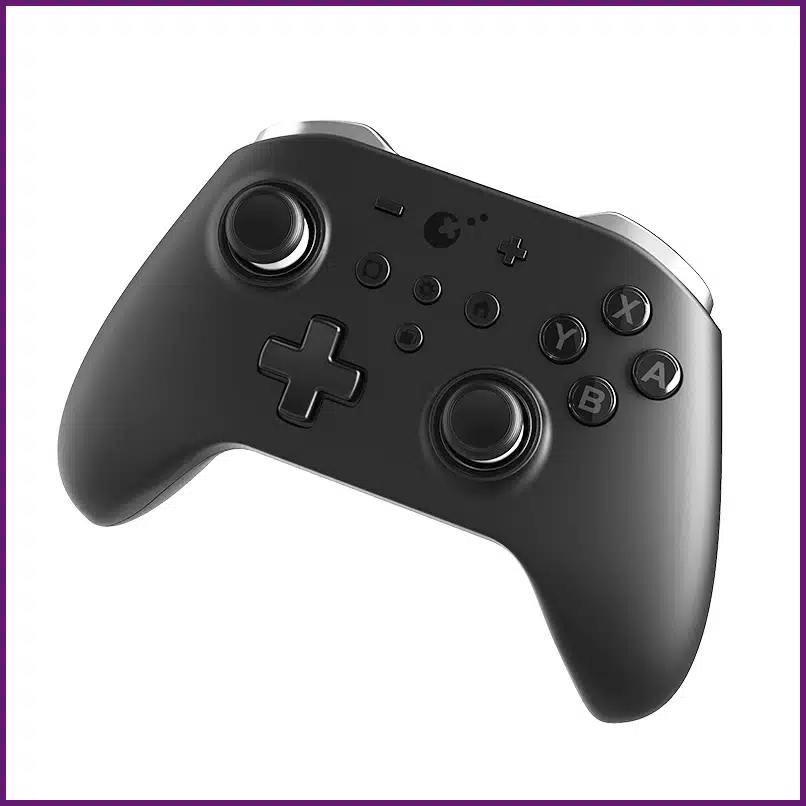 Its ergonomic design is out of this world. The controller is ready to sit in your hands for hours. The buttons are laid out properly, so getting the hang of playing your favorite games on it is a breeze.
This wireless controller has a special AI key that can learn and record your operations and then run on auto-pilot hands-free. This is a perfect way to automate repeated processes.
The built-in dual vibration motors support rumble adjustment and give you a good immersion. It can detect the controller's tilt and react almost immediately, making motion-sensing games fun.
The battery can serve you up to 25 hours on a single charge.
Key Features
The battery life can serve you up to 25 hours of gameplay.
Special AI key to automate repeated presses.
Hall sensor technology makes the controller never drift.
Buttons and triggers are well laid-out.
What I Like About the GuliKit King Kong 2
This wireless controller is simply amazing out of the box. I like that it has one of the best face buttons, nice triggers, and a comfortable D-pad. The grippy texture on the controller's back feels very awesome. This is a serious pro controller for those that are serious about PC gaming.
I also like the analog sticks and plastic hardshell case because the latter protects the controller from dust.
Playstation 4 DualShock Controller (Best Value)
The Playstation 4 DualShock Controller is another excellent buy if you care much about in-game communication.
The built-in speaker and stereo headset jack make communicating easier with other players during gameplay. It puts massive audio options in your hands.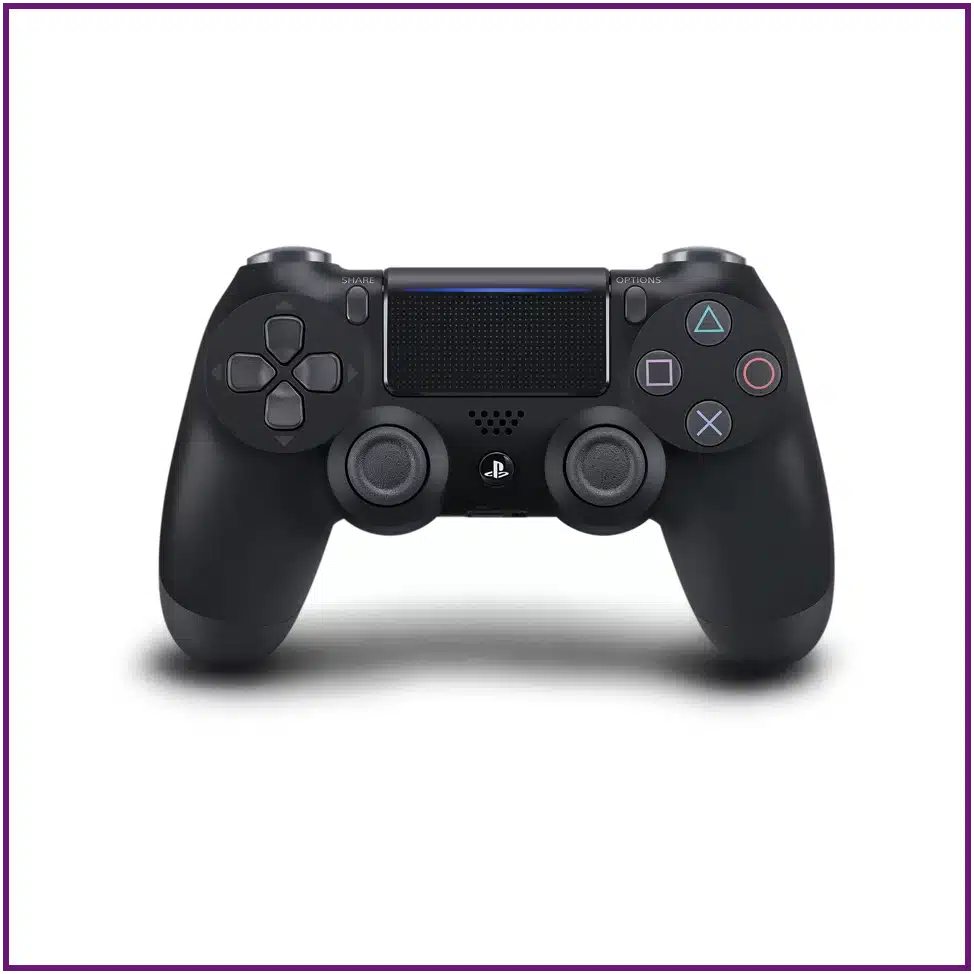 The controller's trigger buttons and analog sticks have been improved for sensitivity and greater feel, allowing for unparalleled accuracy when you make a move.
The Playstation 4 DualShock Controller might not be the best pick under the PlayStation brand, but it's still a great controller to play your favorite titles on the Steam Deck. Plus, it can be bought for cheap because the demand has gone down in recent years.
This PS4 controller has a comfortable button layout and a solid build. All the buttons are very responsive, including the L1, L2, R1, and R2 triggers. The clickable touchpad on the controller's face opens up new gaming possibilities.
Key Features
Quickly recharged even when in rest mode.
Built-in accelerometer and gyroscope help to detect motion.
Built-in speaker and stereo headset jack for easy communication.
Comfortable ergonomic design
What I Like About the PlayStation4 Controller
The Playstation 4 DualShock Controllers are an improvement over the controllers that came with the PlayStation 3. They have slightly longer handles and are responsive and much more sensitive.
I like that they fit nicely into my hands, and it's easy to find mods. No matter the titles you are playing, the shape and sensitivity of the trigger buttons and dual analog sticks provide a greater sense of control.
8BitDo Ultimate Controller with Charging Dock (Best for Charging)
8BitDo makes some of the most popular third party controllers and the Ultimate model pairs really nicely with the Steam Deck. The 8BitDo Ultimate Controller has matching ergonomics and solid build quality. It offers Bluetooth and 2.4GHz wireless connectivity and features the hall effect joysticks.
The highlight of this controller is that it is best for charging. It comes with a cool charging stand that you place your controller on when you aren't playing.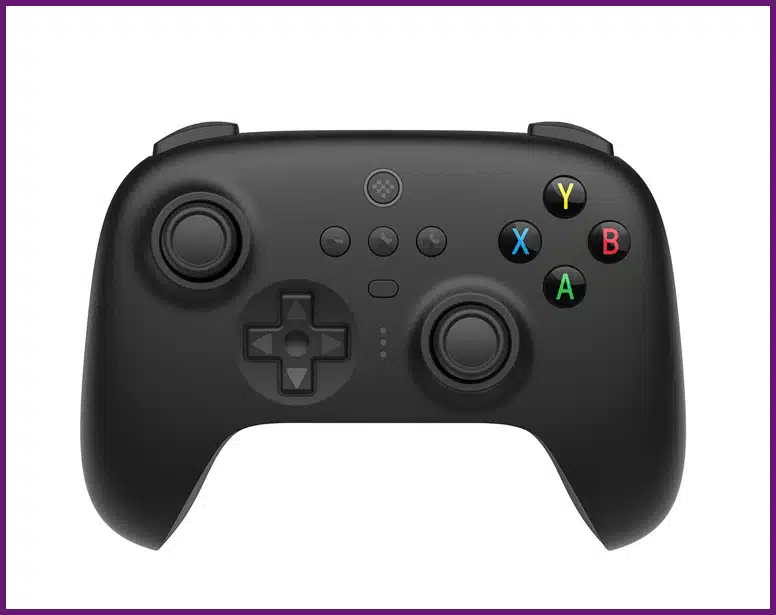 You can customize the back paddles to your liking using the Ultimate Software. With its retro-inspired design, it is a perfect fit to play classic games with. This Steam controller for the Deck also lets you switch between three different profiles and button mapping.
Key Features
Offers up to 22 hours of rechargeable battery life.
2-way mode switching button.
There are 2 Pro back paddle buttons.
Multifunctional charging dock
What I Like About the 8BitDo Ultimate
Of all the controllers made by 8BitDo, this controller offers the best bang for your buck. The addition of a 2.4 Dongle and Dock is the killer here. This feature makes it convenient to pick up the controller and start playing your favorite games without forgetting to charge. Hiding the USB cable is nice for people with OCD.
I also like that the controller itself looks slick. Plus, the buttons are highly responsive.
Nintendo Joy-Con Controller (Best Versatility)
The Nintendo Joy-Con Controller is built for the Nintendo Switch, but it works great for the Steam Deck too. The high point of the Nintendo Joy-Con Controller is that it can be used as two controllers in simple games or together as one controller when attached to the Joy-Con grip.
Each controller has a gyro-sensor and accelerometer for independent right and left motion. As separate controllers, the Joy-cons are perfect for kids who have smaller hands.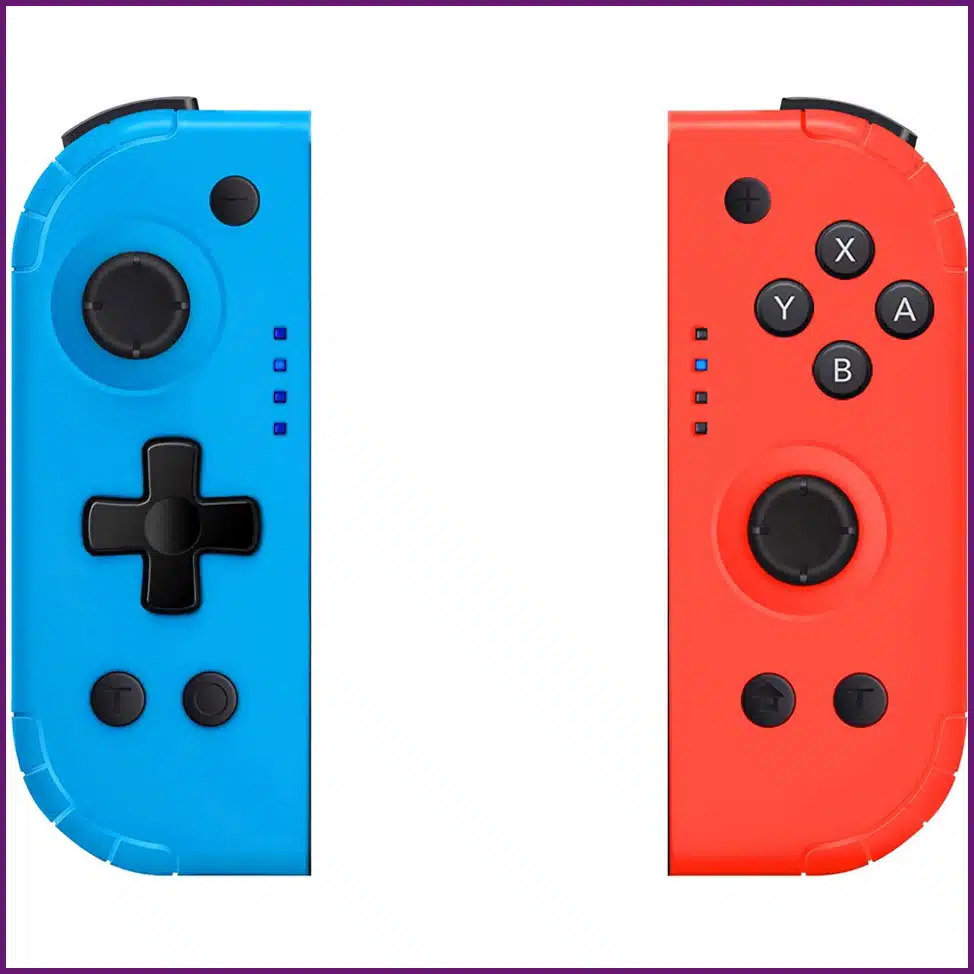 The left and right sticks and directional buttons are highly responsive, making the controllers suitable to handle any titles you throw at it. Controller support can be an issue, but Steam has released several updates to improve the compatibility. Once you get things connected, you shouldn't have any problems.
The package includes one right Joy-Con, one left Joy-Con, and two Black Joy-Con wrist strap accessories.
Key Features
Small and compact for all hand sizes
Features an IR motion camera located at the back of the controller.
The directional buttons are well laid out.
Each controller can be used as two in simple games.
What I Like About the Nintendo Joy-Con
These controls are easy to hook up, work great, and are very easy to use. The ergonomic design is fantastic. The controller will sit well in your hands whether you have small or large hands.
I also like that you can share a single Joy‑Con with your friend for instant two-player fun. The basic layout is good for retro gaming consoles like the Nintendo or Gameboy, which didn't have as many buttons anyways.
How to Pair and Set Up Your Controller with the Steam Deck
To pair a Bluetooth controller with your Steam Deck, follow these step-by-step instructions:
Power on your Steam Deck to the home menu.
Turn on your Bluetooth controller and put it in pairing mode. This process varies between controllers, so refer to the controller's user manual for specific instructions.
On your Steam Deck, navigate to the main menu and select Settings.
In the Settings menu, select Bluetooth.
If your controller is in pairing mode, it will appear on this screen's Available to Pair section. Click on your controller.
Wait for the Steam Deck to confirm that the controller is connected. This may take a few seconds.
Once paired, a new "Paired" section appears on the screen showing that you are connected.
Test your controller in a game to verify that it's working correctly.
Remember that pairing procedures and button mappings may vary between different controller models, so always consult the controller's user manual for specific instructions and troubleshooting tips.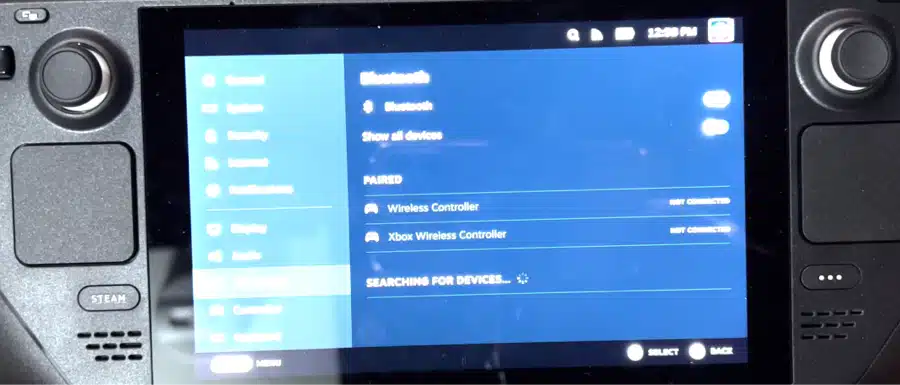 Compatibility: What to Look for in a Steam Deck Controller
When choosing a controller for your Steam Deck, it's crucial to ensure it's compatible with the device. Look for controllers that support:
Steam Input API
XInput
DirectInput
These are the most commonly supported input standards. Additionally, check if the controller offers Bluetooth connectivity, as the Steam Deck has built-in Bluetooth support.
Conclusion
In conclusion, the Steam Deck's versatility means it can be paired with a range of high-quality controllers to elevate your gaming experience.
This guide has explored the best Steam Deck controllers available, including the Xbox Elite Series 2, PlayStation 5 DualSense, and GuliKit King Kong 2. Look at the 8BitDo Lite 2 or Nintendo Joy-Con Controllers for smaller controllers for your kids and for traveling.
Each controller offers unique features and benefits, ensuring there's an option to suit every player's needs and preferences.
When selecting a controller for your Steam Deck, consider compatibility, ergonomics and comfort, wireless vs. wired options, battery life, charging options, customization features, and your budget. By considering these factors, you can find the perfect controller to enhance your gaming experience and make the most of your Steam Deck.
Frequently Asked Questions
Are all controllers compatible with the Steam Deck?
All Bluetooth controllers, especially more recent ones, should be compatible with the Steam Deck.
What is the best controller for customization on the Steam Deck?
The Xbox Elite Series 2 is an excellent option for customization on the Steam Deck, offering exclusive button mapping options, interchangeable components, and the ability to save up to 3 custom profiles on the controller itself.
Should I choose a wireless or wired controller for my Steam Deck?
Wireless controllers offer the convenience of untethered gameplay, while wired controllers eliminate the need for charging and potential input lag. Using a wired controller may require a USB-C hub for the Deck with extra ports.
What game controller is like the Steam Deck?
The Steam Deck's built-in controller is unique, but the Xbox Series X/S Wireless Controller is a popular alternative with a similar button layout and thumbstick placement. It is compatible with the Steam Deck, offers Bluetooth connectivity, and has a comfortable ergonomic design.
Can you use a PS5 controller on Steam Deck?
You can use a PlayStation 5 DualSense controller on the Steam Deck. However, some of the controller's unique features, like haptic feedback and adaptive triggers, may not be fully functional on the Steam Deck, depending on your game.