A good skin can turn your Deck into an eye-catching console. In this guide, I'll show you the best Steam Deck skins you can buy, along with high quality websites where you can browse and find your own.
Below, I'll go through each site in detail and show you some pictures for inspiration.
If you are in a rush, here are the top skin websites and skins for the Steam Deck:
What are the best Steam Deck Skin Websites?
What are the Best Skins for the Steam Deck?
Click here to check out other top Steam Deck accessories.
Table of Contents
Dbrand Steam Deck Skins
Dbrand offers some of the finest Steam Deck skins you won't get anywhere else. The company provides a wide range of great-looking Steam Deck skins, including:
leather looks
concrete patterns
carbon fibre looks
camo options
matte black
a ton of color options
Some of the Dbrand Steam Deck skin categories on the website include Gray Carbon, Real Black Leather, Real Tan Leather, Off Pink, Sky Blue, Mellow Yellow, Sunset Red, and Navy Camo. All the skins listed on the website offer scratch protection and are super thin and precision cut. They also have a high-quality and premium textured feel.
Dbrand allows you to customize a skin to suit your style and design quality. For custom designs, select a category and click on the "Start Customizer" button. It's a 4-step design process you go through to customize your design. If you like what you see, buy your skin today.
Click here to view Dbrand Steam Deck Skins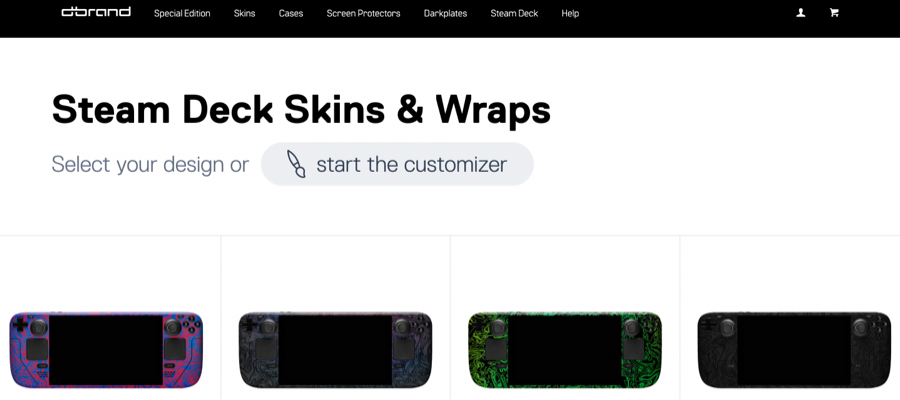 Slickwraps Steam Deck Skins
Slickwraps is a vinyl wraps company offering at least 20 styles of Steam Deck skins available in different color options. A handful of these Steam Deck skins are available for sale.
Some of the Steam Deck skins categories that you will get on the Slickwraps website are:
Artist Series
Designer Series
Camo Series
Marble Series
OilPaint Series
Glow Series
Woven Metal Series
Wood Series
Stone Series
Shade Series
Metal Series
Limited Series
Slickwraps offers a customization option to add your text and images to a custom skin. You can even change the background color.
Click here to view Slickwraps Steam Deck Skins.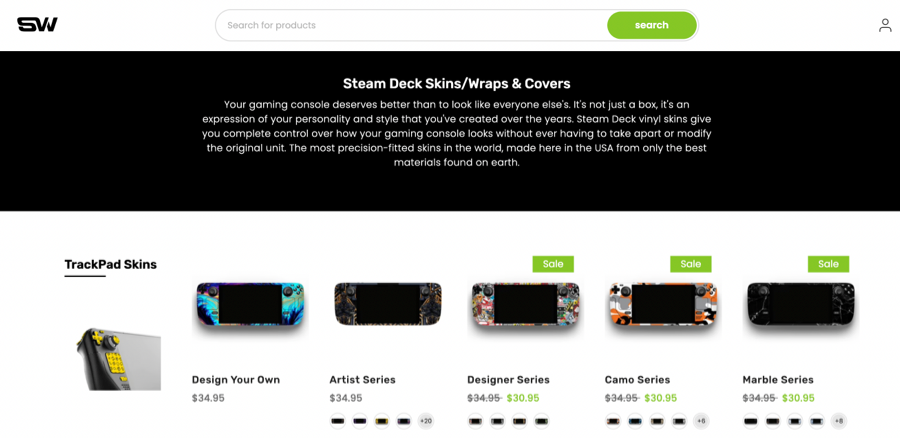 Easyskinz Steam Deck Skins
Easyskinz is one of the reputable companies in the UK offering high-quality Steam Deck skins. Their premium accessories prevent oil, dirt, and other residue from fading your Deck console.
Easyskinz has a number of unique designs, including the signature "Core Skin", Camelion Tortoise Lavender, Black Cyber Amor skin, Daisy White Texture skin, and Satin Blue Matte metallic skin. The skins are designed to follow the lines of your gaming console and keep it protected at all times.
Easyskinz Steam Deck Skins are made of premium quality materials to achieve top-notch results – snap-up, tacking, and easy sliding. The products will keep your Deck's original size and shape without being bulky.
Click here to view Easyskinz Steam Deck Skins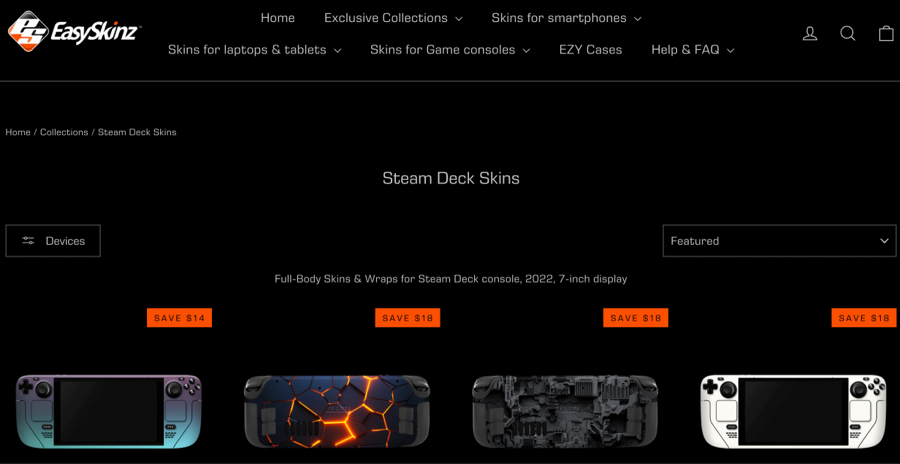 Lux skins for Steam Deck
Lux skins offers colorful and unique designs for your Steam Deck that will be different from what your friends have. Based in Australia, the company creates premium quality skins to protect the Steam Deck from small drops, oil, water, and dirt. Lux skins use state-of-art machines to produce the Steam Deck skins you see on their website.
Some of the Steam Deck skins collections on the site include Colour Blocking, Fall Collection, Signature Series, Pokemon, and Clouds. Include real-world brands and designs is a nice perk. Their Pokemon skins are some of the most popular options.
Lux Skins doesn't offer a customization option.
Click here to view Lux skins for Steam Deck.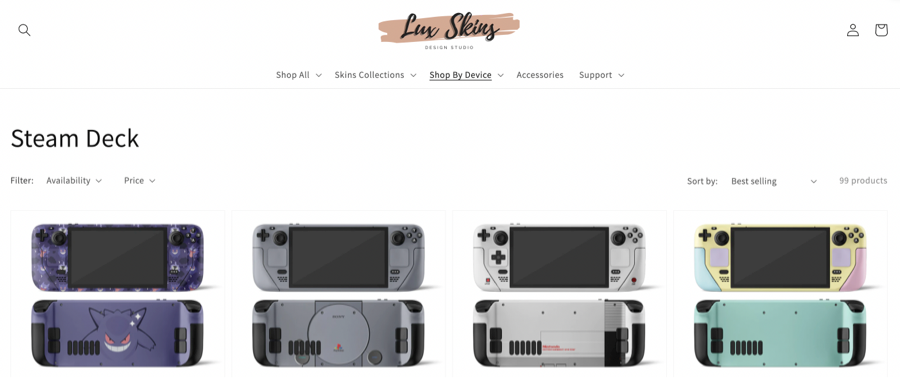 Xtremeskins Steam Deck Skins
Xtremeskins is a UK-based skin production company for Steam Deck and other devices. The company offers a wide range of Steam Deck Skins in fantastic colors, including carbon fibre, clear, gloss, brushed metal, camo, matte, natural stone, textured matte, and wood.
With such a variety of styles to choose from, there are a lot of ways to wrap your device.
Xtremeskins offers a 'custom skin builder' option that lets you build a Steam Deck skin that suits your style and preferences. You get to choose your preferred design and mix and match colors or textures.
Click here to view Xtremeskins Steam Deck Skins.

Most Popular Steam Deck Skins
In the market for a high quality skin to place over your Steam Deck? Here are some of the top options available today.
The Ultramatte Teardown
The Ultramatte Teardown is one of the market's most popular Steam Deck skins. It's one of the designs in Dbrand's product line.
The Ultramatte Teardown makes your Steam Deck appears as if it's transparent and you can see all the components underneath the Deck. It features an oleophobic coating and impeccable scratch protection.
After installing it on your Deck, it can protect the gaming console from small drops, water, and dirt.
Click here to view The Ultramatte Teardown.

Carbon Series
The Carbon Series uses vinyl, a synthetic manufactured material, that has the same feel and look as natural carbon fibre. Any designs you choose will make your Steam Deck colorful and eye-catching.
Made from high-quality material and adhesive, Carbon Series Steam Deck skins from Slick Wraps are both reusable and removable, giving you the flexibility to change styles.
These designs give your Deck the maximum protection it deserves. It also protects your Deck from small drops and minor scratches. It's easy to install and remove and is available in a perfect fit.
Click here to view Carbon Series

Walnut Wood
Walnut Wood is another popular Steam Deck skin design you should consider seriously when buying a skin for your handheld console. Walnut Wood is popular for its coloring, strength, and ability to be shaped into different curves.
Like the Carbon Series above, these wood accents are trendy and professional. It's a product from the Lux skins lineup.
This Steam Deck skin is made of premium 3M air-release vinyl with a sleek matte finish and can protect your device from water, dirt, dust, and scratches. It will perfectly wrap around your device. It's fade-proof and easy to remove from your console without leaving sticky marks.
Click here to view Walnut Wood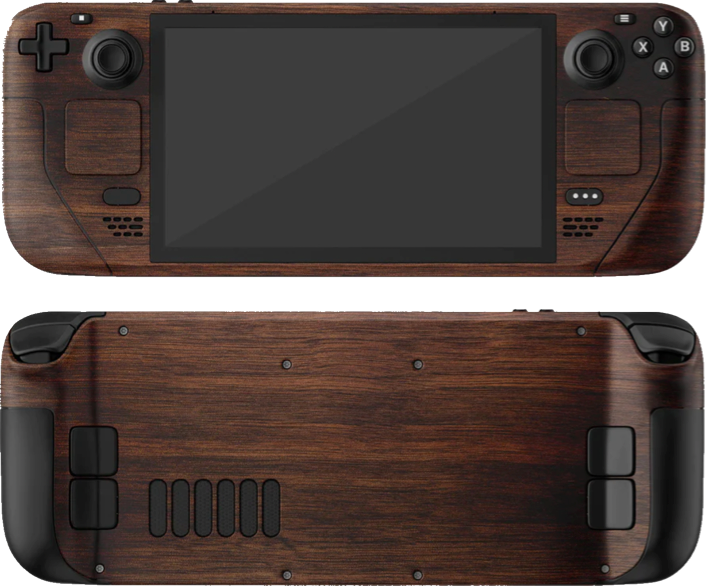 Pokemon Gengar Evolution
Pokemon is still trending after 25 years and this Pokemon Steam Deck skin is the number one seller. It features Ghastly, Haunter, and Gengar splashed all over the front of the skin and Gengar on the back.
Pokemon Gengar Evolution is made of premium quality materials for your Steam Deck by designers and experienced artists at Lux skins. This Pokémon-themed skin is made of environmental protection materials, which makes your Deck unique and colorful.
Click here to view Pokemon Gengar Evolution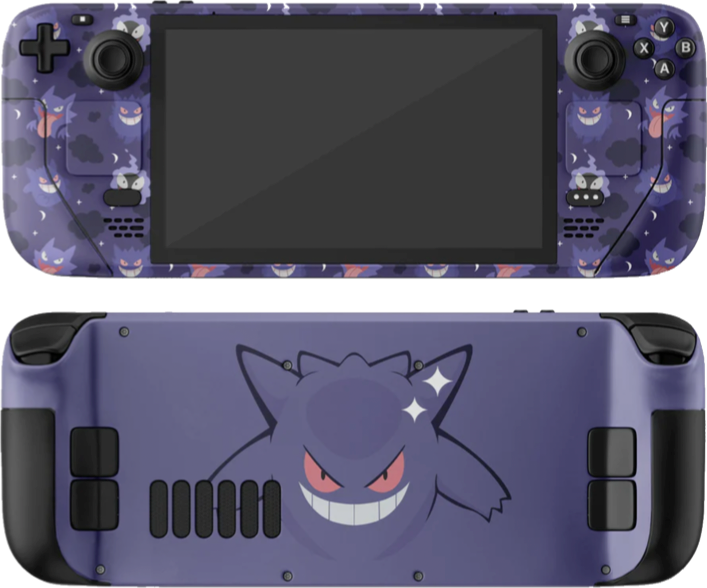 Theh Core
Theh Core from EasySkinz is a unique and popular design that make the inside of your Deck look like hot lava. This Steam Deck skin can free your Deck from minor scratches, wear and tear signs, dirt, and dust. It uses the ultimate air-release technology to guarantee bubble-free application.
When you put this skin on your 7″ screen Deck, it makes it look like the middle of your desk is hot lava. It's also easy to remove this skin from your Deck without any sticky marks. Its superior scratch protection makes Theh Core outstanding and unique.

How to Install Your Steam Deck Skin
The process for installing your skin can be slightly different depending on where you buy it from. In general though, the process is as follows:
Use the provided alcohol wipe to clean the outside shell of your Deck and get rid of any fingerprints and dust.
One-by-one, take your skin template and install it in the direction that is recommended in the instructions. Take your time working around the different buttons on the controller.
If needed, use a soft cloth or wipe to ensure that your skin is sticking down in place and straight.
Use a blow dryer to heat the corners before you make your final press down into place.
In general, your skin will come with four or more template pieces to install: the front, back, and corners.
If you would like to see how it is done, check out the video below.
Frequently Asked Questions (FAQs)
Is it easy to install a new Steam Deck skin?
Installing your own skin is fairly straightforward and only requires a little bit of patience. The website you purchase your skin from should have instructions listed which recommend the best practice to install it.
What is the best Steam Deck skin store?
This answer is subjective because each store has their own unique designs and there isn't a universal store that contains everything. If you like a particular design or style on Dbrand, Slickwraps, Easyskinz, Lux Skins, or Xtremeskins, all of these stores are recommended.
Does a skin protect the Steam Deck from scratches?
A skin will protect your device from dust, dirt, and small debris. However, the benefits are mostly cosmetic and the top of your skin will still get dirty over time.