In this guide, we take a look at the best PC VR games! These Steam VR games that can be played on any of the most popular VR headsets for PC:
Meta Quest 3, Pro, 2, or 1 (through Oculus Link or Air Link)
Oculus Rift S
HTC Vive Pro 2 (and the regular Vive, Vive Pro, and Vive Cosmos)
Valve Index
We've got games in all different categories, including:
Adventure
VR Shooters
Puzzle
Rhythm
Multiplayer
Open-world
Horror
and more! All of these PC VR games are safe for work, but you can check out our list of adult VR games, including VAMX.
For the Oculus Quest 2, you can check out our best Oculus Quest 2 games guide.
If you think we missed a PC VR game for our list, comment below and let us know.
The Best PC VR Games on Steam VR
Half Life: Alyx
Skyrim VR
Pavlov VR
Beat Saber
Population: ONE
Blade and Sorcery
Onward
Eleven: Table Tennis VR
Pistol Whip
Hot Dog, Horseshoes & Hand Grenades
BONEWORKS
Superhot VR
The Walking Dead: Saints and Sinners
STRIDE
Keep Talking and Nobody Explodes
Subnautica
Tabletop Simulator
The Forest VR
Microsoft Flight Simulator
No Man's Sky
Five Nights at Freddy's: Help Wanted
Fallout 4 VR
Minecraft
In Death: Unchained
STAR WARS: Squadrons
Demeo
Sniper Elite VR
Medal of Honor: Above and Beyond
I EXPECT YOU TO DIE 2
Ragnarock
Assetto Corsa
Gorilla Tag
PC VR Games
Introduction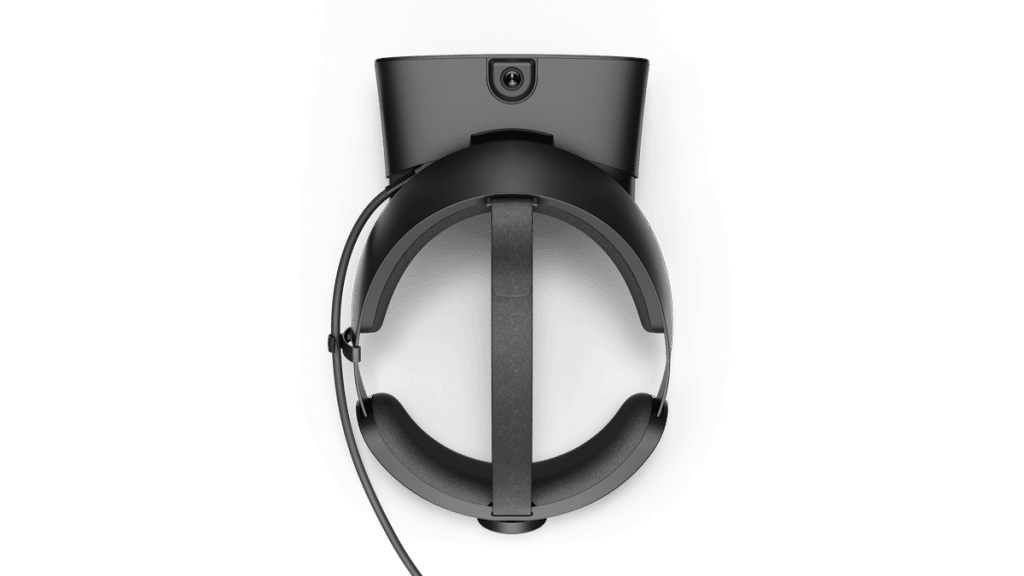 PC VR games refer to any game played on a VR headset for PC. These headsets connect to your gaming PC and act as a high definition display on your face. Your computer runs the game and displays the graphics on your VR headset.
The opposite of PC VR headsets is a standalone headset like the Oculus Quest. The Oculus Quest runs on a modified Android operating system and does not need to be connected to a computer.
Games run on PC VR headsets are more powerful than the Quest because of the limitless power of gaming PCs. So, the best VR games are for PC.
Steam VR
All the PC VR games in this list are found in the Steam VR store, which is the largest app store for PC. For each game, we have a link to the Steam store directly.
Plus, we also have links to some certified third party stores which sell verified Steam VR game keys. These sites are 100% legitimate and can offer extra savings on VR games.
No matter where you purchase the game, you will still launch the game from Steam VR.
Most Steam VR games also available on Viveport and the Oculus Rift store, if you own an HTC Vive or Oculus Rift S respectively. You can look up each game on those stores if you prefer that instead.
Next, we take a look at the best PC VR games!
Half Life: Alyx
Type = FPS, Action
Price = $50
Half Life: Alyx is a premium PC VR game developed by Valve specifically for virtual reality. Most lists have Alyx as the best VR game of all time, and we've included it first in this list for a reason! It is an absolute must buy for any VR headset on PC.
In Half Life: Alyx, you control Alyx Vance on a mission to seize a super weapon belonging to the alien Combine. Each level and mission is built for virtual reality and all objects and game mechanics are perfect for VR. Your main weapon are gravity gloves, which can fight enemies and manipulate objects. Alyx is one of the most popular Steam VR games of all time.
Click here to view the best Half Life: Alyx mods.
Skyrim VR
Type = Open-world, RPG
Price = $60
Skyrim VR is a virtual reality role-playing game in which players assume the role of Dovakin. Dovakin is a prophesied figure with the power to combat dragons in the fictional world of Skyrim.
As players traverse through mountainous open-world environments, they complete missions and quests that impact the eventual fate of their character. Players use swords, bows and arrows, axes, and magic attacks to kill various enemies like wolves, dragons, human bandits and soldiers.
It is one of the most ambitious games of all time and is adapted for virtual reality play. Because of its large fan base, there are thousands of Skyrim VR mods to add weapons, change gameplay, and improve textures.
Click here to view the best Skyrim VR mods.
Pavlov VR
Type = Shooting, multiplayer
Price = $25
Pavlov is the top rated PC VR shooting game on Steam. It is a realistic military game that you play online in multiplayer mode with other real life players. There are different maps included in Pavlov from both modern era and World War II.
Pavlov features some traditional multiplayer shooter game mode:
Search and Destroy
Deathmatch
King of the Hill
Gun Game
The game also supports custom map and mode support and has a growing mod community creating things for the game.
Beat Saber
Beat Saber is a VR rhythm game that combines original music with light saber slashing. It's like Rock Band, Fruit Ninja, and Audioshield all mashed up into one.
Your VR controllers are swords to cut blocks in time with the rhythm of the beat. The game includes a solo campaign with increasingly hard original songs as you progress. The real charm comes from adding custom songs to the game which let you play real songs in the game.
Beat Saber is simple to learn but hard to master. The game dynamics are perfect for virtual reality and fun to play alone or with a group.
Click here to learn how to load Beat Saber custom songs into your game.
Population: ONE
Type = Multiplayer
Price = $25
Population: ONE is a multiplayer VR battle royal game similar to Fortnite. In the game, you drop into a colorful, near future world with limitless combat possibilities. You and your squad must fight together to survive until the end.
Population: ONE delivers unparalleled vertical freedom and mobility with its unique Vertical combat System. Fly through the map to rain down bullets from above. Climb anything you see to gain the high ground advantage. Build strategic cover to protect your squad. Use your environment to fight anywhere.
Blade and Sorcery
Type = Action, Combat, Sandbox
Price = $20
Blade and Sorcery is a top virtual reality game for PC VR headsets like the Oculus Rift S and HTC Vive. It's a built-for-VR medieval fantasy sandbox game where you have to use your body to fight and defend against different enemies.
Its use of crazy physics and experimentation help create a world where your imagination can run wild. The goal of the Blade & Sorcery is to strongly demonstrate that physics-based melee can work in the right conditions.
There are hundreds of Blade and Sorcery mods that you can install which change the theme and gameplay of the game. Blade and Sorcery is an early access Steam VR game. This means that it is not fully complete yet and major features are yet to be added. However, most fans love seeing the game develop in real-time with each update.
Click here to view the best Blade and Sorcery mods.
Onward
Type = Shooting, Multiplayer
Price = $20
Onward is a realistic military VR shooting game. You put on full tactical gear and enter into team death match against another squad. It is slower and more methodical than games like Population: ONE, which move quickly.
Onward focuses a lot on teamwork. You can use hand signals and other controls to work as a team. This PC VR game has a growing online community and is rated highly in the virtual reality world.
Eleven: Table Tennis VR
Eleven Table Tennis VR is the most realistic table tennis game for VR. In Eleven, you use your dominant hand to hit and return ping pong balls to your opponent. Your other hand is only used to set up the ball for a serve. The first thing that stands out is just how clean the game looks. It's minimalist but very clear.
Eleven Table Tennis is a multiplayer PC VR game where you compete against a computer player or online against real people. The game includes challenges and a global leaderboard that you can climb as you play.
Pistol Whip
Type = Rhythm, Shooting
Price = $20
Pistol Whip is a unique rhythm and shooting game that plays well in virtual reality. You mostly stand still and move through a level while shooting bad guys to the beat of the music. At the same time, you have to dodge bullets and obstacles in your way.
Pistol Whip often gets compared to Beat Saber, but we think its more unique. It's a good mix if you want to shoot in VR, but aren't a fan of traditional military games.
Pistol Whip recently launched 2089, a free upgrade which adds a story mode into the game. It is awesome.
Hot Dogs, Horseshoes & Hand Grenades
Type = Shooting, Sandbox
Price = $15
Hot Dogs, Horeshoes & Hand Grenades (HDHHG) is a popular VR sandbox game. It is like Blade and Sorcery but with guns. HDHHG doesn't take itself too seriously and its easy to get lost in all the small mini games it offers.
HDHHG contains over 250 accurate simulations of historical, present, and futuristic weapons. You take each weapon into a collection of gun ranges, structures, and experiments. Once inside, you get to do exactly what you want. Its a good game to experiment virtual reality with and to play with your friends.
BONEWORKS
Type = Action, Sandbox
Price = $25
BONEWORKS is another VR sandbox game experience (the third if you've been counting). This time, its focus is on realistic physics. In BONEWORKS, you can interact with the entire world in a fun and consistent way. Pick up weapons and objects and fight bad guys or experiment in virtual reality. Run, climb, and maneuver in any way you can.
BONEWORKS also contains a loose storyline mode where you have to unravel the mystery of the land. Its a fun way to get you interacting with the world as you play. Unlike Blade and Sorcery and Hot Dogs, Horseshoes & Hand Grenades, BONEWORKS is more structured and professional in its approach.
Superhot VR
Superhot VR throws you into a minimalist all-white void, where blank-faced polygonal red enemies attack. It originally launched on Kickstarter and is now one of the most popular VR games of all time.
At a glance, Superhot VR seems like something out of TRON, but the gameplay is pure Matrix. The killer hook is that time only moves when you do. This mechanic works brilliantly in VR to move around in real space. Each level doubles as a sort of puzzle, challenging you to figure your opponents before they reach you.
Its hard to describe how unique the Superhot VR experience is. It is the type of game made perfect for virtual reality.
The Walking Dead: Saints and Sinners
The Walking Dead: Saints and Sinners is one of the most popular VR games of all time. In the game, you face all the horrors that the living and the dead can offer in the Walking Dead universe.
Travel through the ruins of walker infested New Orleans as you fight, sneak, scavenge, and survive. As you progress through each day, you unravel a city wide mystery within the iconic quarters. Encounter desperate factions and lone survivors who could be friend or foe. Whether you help others or take what you want by force, every choice you make has consequences.
STRIDE
STRIDE is one of the newest games on this list. It is a parkour game where you play a free runner in a chaotic and busy world. You have to run, vault, swing, and shoot your way through areas and levels. If you just take a look at the video below, you can see how perfect it is for virtual reality.
STRIDE comes with a few different game modes. In Endless mode, you have to keep moving as long as you can while your world crumbles behind you. In Arena mode, you can slow your pace down a little, but have challenges and tasks to complete. A full fledged story mode is coming to this Steam VR game in 2021, but STRIDE is still well worth it already.
Keep Talking and Nobody Explodes
Type = Multiplayer (Asymmetric)
Price = $12
Keep Talking and Nobody Explodes is the ultimate virtual reality party game with your friends. One person puts on the VR headset and must describe what they see in order to disarm a bomb. Meanwhile, your team uses a confusing instruction manual to find a solution for the disarmer.
As instructions become more and more confusing each level, this game is sure to test your friendships. KTaNE is easy to pick-up and fun even for people who aren't that into VR gaming.
Keep Talking is a unique genre of PC VR multiplayer games called asymmetric. It means that one player plays in virtual reality, while others play in real life at the same time. It is a fun experience for friends and family to play together.
Subnautica
Type = Open-world, Survival
Price = $30
Subnautica is an open-world PC VR game that takes place underwater. When you start, you will need to go and explore to find water, food, and equipment to use. As you build yourself up, you need to venture further and further away.
In Subnautica, no two games are exactly the same. You can approach the game in different ways and the land under the sea is filled with surprises. When you are done playing in virtual reality, Subnautica is also playable with a traditional game pad or keyboard and mouse, too.
Tabletop Simulator
Type = Games, Sandbox
Price = $15
If you like tabletop and board games, then Tabletop Simulator is the right multiplayer VR game for you. You can play with thousands of other players around the world. Tabletop Simulator ships with 15 different games like dominoes, puzzles, chess, poker, and mini golf.
There is an active community of members that create their own games. You can now go on and play Settlers of Catan, Monopoly, and Secret Hitler.
We have a list of our favorite Tabletop Simulator mods to check out.
The Forest VR
Type = Open-world, Survival
Price = $15
The Forest is a popular survival game where you are the only survivor of a plane crash. You must stay alive as long as possible by using the surrounding land to live and fight off your surroundings. Out of all multiplayer VR games, it's a little scary and a lot thrilling.
In 2018, Endnight Games added virtual reality and multiplayer support. You can now work with your friends to survive off of the land as long as possible. There isn't a lot of open-world PC VR games, but The Forest is our favorite experience. Anyone who has played Subnautica or Don't Starve will enjoy The Forest a lot.
Microsoft Flight Simulator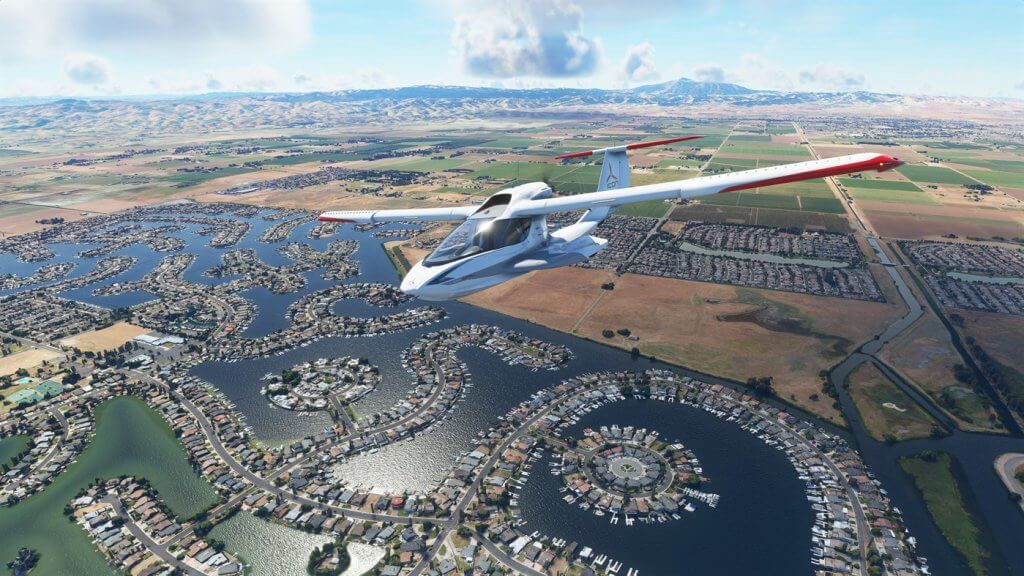 Type = Simulation, Open-world
Price = $60
Flight Simulator 2020 is a brand-new flight simulator game published by Xbox game Studios. The game has received a ton of critical acclaim because it simulates the entire earth using data and textures from Microsoft's Bing maps. Live representations of terrain, trees, grass, buildings, and water are generated real-time in the cloud by Microsoft Azure technology.
Azure is able to render clouds, weather, and other real-world effects in real time as you are playing. The game provides this from its 2 petabyte (PB) database in real-time as you are playing inside the map. All of this makes the game the largest open-world concept ever created.
The game contains over 2 million cities and towns, 1.5 billion buildings, 2 trillion trees, and 37,000 real-world airports. A recent update adds realistic winter weather patterns, which adds snow and ice into the game.
A new update in December 2020 added full PC VR game support to Microsoft Flight Simulator Beware though, the PC requirements are no joke!
Click here to read our complete Microsoft Flight Simulator guide.
No Man's Sky
Type = Open-world, Action
Price = $60
No Man's Sky is an open world space exploration game where you can search and explore an unlimited number of planets. Each planet has different missions and lifeforms to explore and the game is one of the most ambitious ever created.
The game is way better with friends who you can explore and battle with throughout the universe with. And a VR headset makes the entire thing come alive. Out of all multiplayer VR games, No Man's Sky is one of the most ambitious of all. You can play this Steam VR game on your PC without your headset too.
Five Nights at Freddy's: Help Wanted
Five Nights at Freddy's is a PC VR game in the horror genre. You are tasked with watching over Freddy's fun house as a security guard. Watch the cameras and don't let the animatronic bears out of your site. But beware, switching cameras takes up power and you need that in order to make the end of the night and complete the level.
Help Wanted is a collection of levels from previous FNAF computer games. They've all be remastered for virtual reality and the game experience plays really great.
FNAF is popular because it is a light-hearted horror game. It's enough to make you jump out of your VR headset, but not enough to turn you off. If there is one horror game to play in virtual reality, we pick Five Nights at Freddy's.
Fallout 4 VR
Type = Action, Open-world
Price = $40
Fallout 4 VR is a post-apocalyptic role-playing video game that takes placed in the year 2287. The game is set in an open world environment based on the city of Boston and its surrounding region. It takes place 210 years after "The Great War", which has caused catastrophic nuclear devastation across the USA.
In Fallout 4, you play the Sole Survivor, emerging from cryogenic stasis in an underground nuclear shelter. You have to set out into the world to find your missing child by exploring the world and completing quests. You can develop and manage settlements and craft using materials scavenged from the environment.
Click here to view the best mods for Fallout 4 VR.
Minecraft VR
Type = Open-world, Simulation
Price = $40
Minecraft is an action-adventure sandbox title. It offers players a limitless virtual world where they can build anything with an array of different modes. It is perfect for almost any type of gamer.
Minecraft comes with lots of features, including crafting, gathering necessities, creating safety, and exploring. If you are a creative person, you will enjoy the endless playground the game has to offer. You can build virtually anything you can imagine.
The team frequently releases new worlds, equipment, and modifications that keep the game fresh and exciting for players.
Click here to read our ultimate Minecraft VR guide.
In Death
In Death is not a gun shooting game. Instead, you have a bow and arrow to fight enemies in a medieval fantasy themed adventure. In Death is one of our favorite PC VR games to play and one of the best visuals too.
As you progress through In Death, the enemies get harder and more advanced. Shooting arrows is extremely fun in virtual reality. The developers promise a new arcade-style game mode is coming soon for those that don't want to play through the story.
STAR WARS: Squadrons
STAR WARS: Squadrons puts you in the drivers seat as a pilot of a starfighter. You have to travel through different missions and races within the Star Wars universe. There have been a few different tries, but Squadrons is our favorite Star Wars game for virtual reality.
Squadrons has a really fun single player story that takes place after the Return of the Jedi movie. You join the galaxy's finest in the battle between the New Republic and the Empire. There is also a 5v5 multiplayer mode in the game where you race alongside other real players.
Racing games in VR have mixed reviews, but STAR WARS: Squadrons is the gold standard PC VR game experience so far.
Demeo
Type = Strategy, Multiplayer
Price = $30
Demeo is a survival game suitable for gamers that want to survive monster-infested gameplay. Demeo immerses you in the VR RPG genre, an experience we bet you've never had before.
In the game, treasure and terrors await players and their warriors as they brave through the monster-infested dungeon of Sunderhaven and 'The Black Sarcophagus' in the time of the Rat King. The storyline sounds confusing at first, but it really does suck you in and is fun to learn. Demeo is truly an authentic tabletop experience.
You and up to 3 more players will assume one of four positions:
protective guardian
deadly assassin
eagle-eyed hunter
mystical sorcerer
Once you accept your quest, choose your warrior wisely in the adventure. You and your team will battle the unholy force that corrupts the province of Helmaar.
Sniper Elite VR Review
Type = FPS
Price: $29.99
Sniper Elite VR brings first person gameplay to VR in a new and exciting way. As the name suggests, Sniper Elite VR delivers mind-blowing sniper gameplay. The gameplay centers around an Italian war fighter. All moves are nicely translated to virtual reality, which makes the game fun.
Sniper Elite VR features one of the most usable and best looking sniper scopes. Plus, it has a slow-motion feature that lets you zoom in for precise shots.
Using authentic weaponry, stealth, and skilled marksmanship, you need to fight and resist the enemies in this first-person shooter. Use cunning to outmaneuver and distract enemy vehicles and troops across different levels.
For fighting war games, Sniper Elite VR is the best release of 2021.
Click here to view Sniper Elite VR
Medal of Honor: Above and Beyond Review
Type = FPS
Price: $59.99
Medal of Honor: Above and Beyond is one of the best FPS games for VR. It was released on December 11, 2020. The game is an incredible immersive experience set in world war ll.
In war-torn Europe, you will play as an agent of the Office of Strategic Services. The gameplay takes you through different events on sea, air, and land.
Your goal is to stop enemy plans, sabotaging Nazi bases, and aid the French resistance. Medal of Honor: Above and Beyond transports you back to Europe during the 1940s.
Medal of Honor was about celebrating people who stood out from their everyday endeavor despite overwhelming odds, and this game continues that tradition in unique ways.
Click here to view Medal of Honor: Above and Beyond
I Expect You to Die 2 Review
Type = Strategy, Action
Price: $24.99
I Expect You To Die 2 is a survival game and the thrilling encore to I Expect You To Die. In this game, you have to fight villains, pass new missions, and dodge more ways to die.
In the game, you play the role of an elite secret agent. Your aim is to survive the attacks of your enemies in deadly missions using wits, problem-solving skills, and the power of telekinesis. It is either you die trying or you escape each situation.
I Expect You To Die 2 features dangerous locales and more ingenious puzzles. Is it available for all VR headsets no matter what you have.
Click here to view I Expect You to Die 2
Ragnarock Review
Type = Rhythm
Price: $19.99
Ragnarock is a rhythm game in virtual reality. The game places you at the helm of a Viking Longship, and you serve as the Viking drummer. Your job is to encourage the crew by beating the drum. As soon as old Norse runes move over your drums, you swing those large hammers in your hands to sync with the beat of the song.
The performance of your crew depends on the accuracy of your timing. If your accuracy is perfect, then a small flame will rise from your drums to charge the large hammers in your hands and achieve combo rewards. Your combo will continue to grow so long as you keep making perfect hits.
Ragnarock features metal and rock music from popular artists like Wind Rose, Gloryhammer, and Alestorm. It also includes multiplayer modes. You can play with up to 5 people, racing against each other.
Assetto Corsa
Type = Racing, Simulation
Price: $23
Assetto Corsa, with its VR mode, brings the thrill of high-speed racing to virtual reality in an unprecedented way. This game is a must-have for racing enthusiasts who want realistic professional racing from the comfort of their homes.
In Assetto Corsa, you get to experience the authentic and immersive sensation of being behind the wheel of various cars, each with its unique handling and performance characteristics. The game features a highly accurate physics engine that replicates the real-world dynamics of cars to an impressive degree.
The VR mode of Assetto Corsa takes the immersion to a whole new level. You can look around the cockpit, check your mirrors, and feel the speed as you race around the track. The game features a variety of tracks, each with its unique challenges and characteristics.
Assetto Corsa VR is not just about racing against the clock. You can also compete against AI drivers in various race formats or go online to race against other players worldwide.
Whether you're a casual gamer looking for a fun racing experience, or a hardcore sim racer seeking the ultimate in realism, Assetto Corsa VR has something to offer.
Click here to read our complete Assetto Corsa VR setup guide.
Click here to view Assetto Corsa VR.
Gorilla Tag
Type = Action, Multiplayer
Price = $26
Gorilla Tag is a unique and highly entertaining VR game that brings the classic game of tag into the virtual world.
You play as a gorilla in a lush jungle environment in Gorilla Tag. The game uses a unique locomotion system where you must move your arms like a gorilla to navigate the environment. This makes for a highly immersive and physically engaging gameplay experience.
The game's objective is simple: avoid being tagged by other players while trying to tag them. The game supports multiplayer mode, allowing you to play with friends or other players worldwide. The last gorilla remaining untagged wins the game.
Despite its simplicity, Gorilla Tag offers a lot of fun and excitement. The game's physics-based movement system adds a layer of challenge and unpredictability to the gameplay. You'll have to master the art of swinging, climbing, and jumping to evade your pursuers and catch your targets.
Click here to view Gorilla Tag.
If you are 18+, check out our best adult VR games and tutorial guide for Virt a Mate.
What is your best PC VR game on Steam VR? Comment below and let us know what should be included on this list!