In this guide, we will look at how to install, setup, and play Minecraft VR! We have full information on all VR headsets including the Oculus Rift S, HTC Vive, HP Reverb G2, Playstation VR, Oculus Quest, and more.
Specifically:
We will take a look at the differences or similarities between Minecraft VR (Windows vs Java Editions) and Vivecraft.
We'll show you step-by-step how to install Minecraft VR on every virtual reality headset.
We'll show you some general Minecraft tips for virtual reality
NEW: Discovery is a new Minecraft clone for the Oculus Quest 2 or 1 that we highly recommend. We have instructions for installing it below.
If we've missed anything, make sure to comment down below at the bottom of this guide.
Go and check out Minecraft alongside 24 other top PC VR games.
What is Minecraft?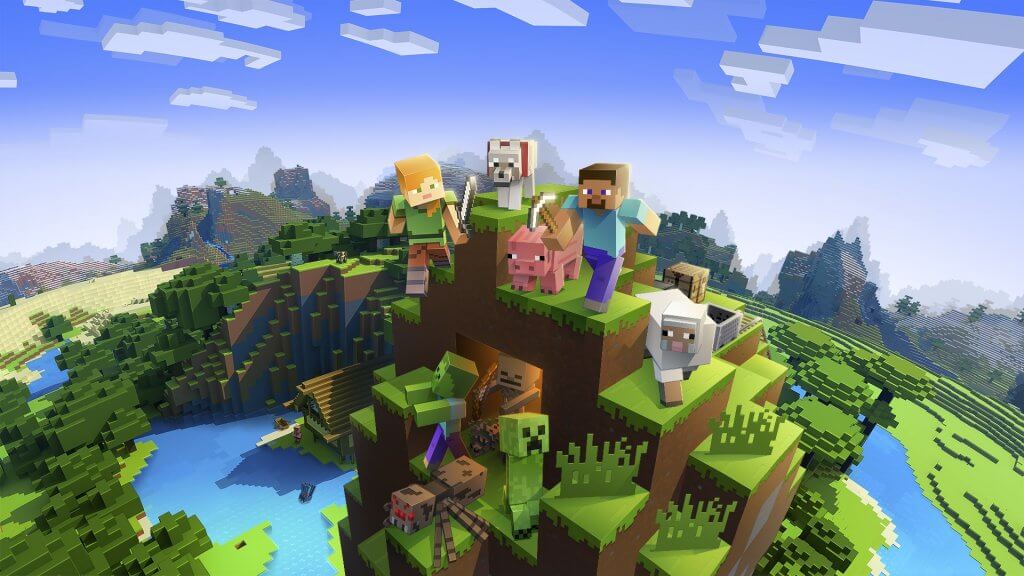 Minecraft is an action-adventure sandbox title created by Mojang way back in 2009 and purchased by Microsoft in 2014.. It offers players a limitless virtual world where they can build anything with an array of different modes. It is perfect for almost any type of gamer. Minecraft is available on almost any gaming platform: computers, Sony Playstation, Microsoft Xbox, Nintendo Switch, VR, mobile devices (pocket edition), tablets, and more.
Minecraft comes with lots of features, including crafting, gathering basic necessities, creating safety, and exploring. If you are a creative person, you will enjoy the endless playground the game has to offer. You can build virtually anything you can imagine. The team frequently releases new worlds, equipment, and modifications that keep the game fresh and exciting for players.
Along with Roblox and Fortnite, Minecraft is one of the most popular games of all time. The popularity of the game has led to online showcases of elaborate lands that have been built. Real world locations like San Francisco, New York, Paris, and other cities have been modeled in Minecraft for users to explore.
The game's two main games are Creative and Survival Mode.
Survival Mode
In Survival Mode, players must find their own building supplies and food. They also interact with blocklike mobs or moving creatures.
Creative Mode
In Creative Mode, players are given supplies and do not have to eat to survive. They also can break all kinds of blocks immediately.
Minecraft VR
When the first virtual reality headsets were released, fans were quick to create a third-party hack that allowed Minecraft to be played in VR. This VR version hack is still available today and it is called Vivecraft.
Over time, Minecraft has added support for virtual reality to some select headsets. The Samsung Gear VR edition was the first to receive support and the Oculus Rift VR headset does today too. At one point, Oculus and Minecraft even partnered on a VR headset and controller bundle.
Today, the official VR version is one of the most popular and immersive VR games available. Virtual reality gives players a more immersive experience verses traditional PC gaming. If you have an Oculus Rift headset and own the PC version, VR Minecraft is available as a free update.
Minecraft gets even more advanced with ray tracing if you own one of the new Nvidia RTX 30-series graphics cards.
Next, we'll go over the official Minecraft virtual reality version verses Vivecraft including their similarities and differences. This will help you decide which VR experience is best for you to install.
Questcraft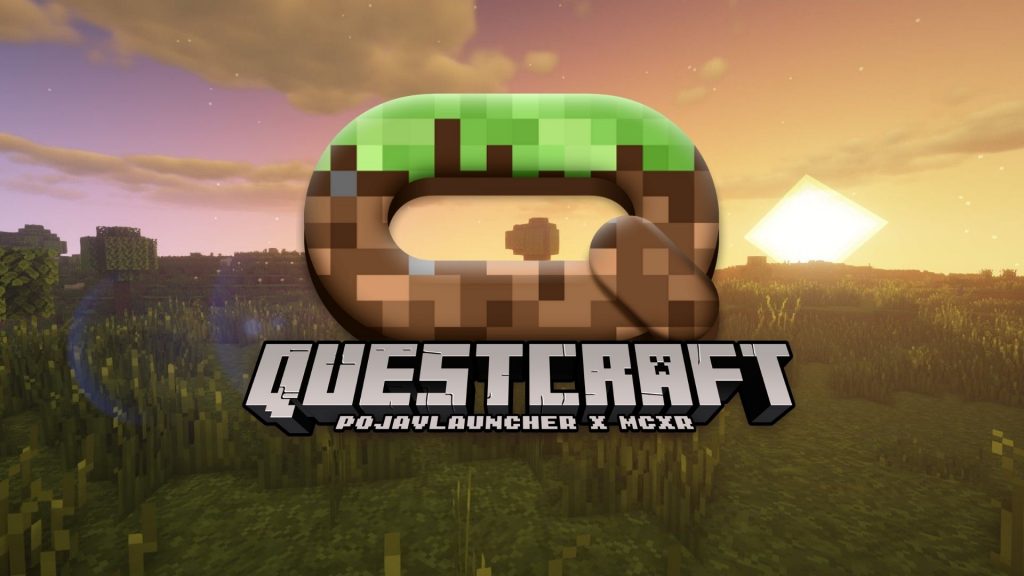 QuestCraft is a playable standalone port of Minecraft: Java Edition for Oculus Quest headsets. Minecraft VR has never been natively available on the Quest without a PC connection via Oculus Link or Air Link.
QuestCraft enables VR compatibility for Minecraft Java. The video released by QuestCraft showing the mod in action has certainly surprised the fans with the features included.
Some of the highlights of the released video of the mod are as follows:
Full-head tracking in Minecraft
Functional menus in VR
Limited touch controls
Button-based interactions
Ability to move items around in a pop-up inventory window
QuestCraft acts as the wrapper to the Java version of Minecraft making it launch Minecraft on the Quest headsets. Since the mod is in beta version, the performance understandably isn't up to the mark yet.
Below under the Oculus Quest section, we'll show you how to install QuestCraft on the Oculus Quest headsets via SideQuest.  
Minecraft VR vs Vivecraft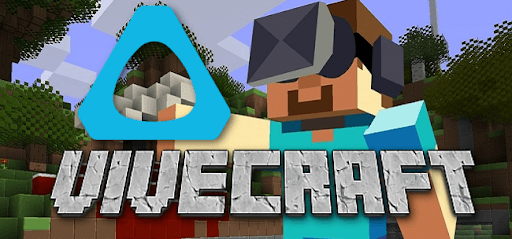 Virtual reality support has been added to Minecraft VR through a close partnership with Facebook and Oculus. Oculus headset owners can download the VR addon for free from the Oculus store. When they run it in their VR headset, Minecraft will launch with full VR support. When the Minecraft game is updated, Rift S owners have VR support immediately. There is no need to wait for a mod to catch up with the main game release.
This sounds great, but it's a bit more complicated than that. For starters, there are actually two active versions of Minecraft: Windows edition and Java edition. Let's go over those two first:
Windows vs Java Editions
Originally, Java was the original desktop version of Minecraft and the Windows edition was a port of the pocket edition. Over time, these two versions will merge together into a single copy. Until there, there are a few big diferences.
For starters, the Java edition allows you to play Minecraft multiplayer with people around the world. There are plenty of VR servers to join and play with other players. The Windows edition supports playing in a single room with up to 10 people at a time only.
If you want to play with Minecraft VR mods and enhancements then the Java edition is going to be your pick. The Windows edition does not currently support third party mods outside of a few texture enhancements.
The Windows Edition of Minecraft supports Xbox and other Bluetooth controllers better. You can configure your controller to work best for you and optimize to your liking. This might not be a big factor for virtual reality players, since VR mode activates VR controller support at the same time.
Lastly, the cost of the Java edition is higher at $28 vs $10. When you buy the Java edition then you also get a code to redeem and play the Windows edition too.
Both editions of Minecraft have free VR support included. However, there is also a third party VR mod for Minecraft called Vivecraft.
Vivecraft
Vivecraft is a third-party Minecraft APK mod that makes the game compatible with virtual reality. It's compatible with all headsets including all HTC and Oculus devices. The official Minecraft virtual reality only works really good on the Oculus Rift. In order to use Vivecraft, you must install SteamVR on your computer.
Other cool Vivecraft features are:
Full roomscale support
World scaling: Scale your size in the world up or down. Play as an ant or a giant
Break blocks and fight by swinging your hands
Shoot your bow by drawing and aiming two-handed
Climb, swim, run, jump, sneak, eat, and row by actually doing the motion!
Feed animals, mount horses, and fill buckets just by touching!
Play with your friends and see each other's VR movements. (even for 2d players!)
Multiple VR locomotion options:

Arc teleportation
Free-movement in the direction you are pointing the controller or your head.
Walkabout-style of rotation using 100% room-scale movement.
Seated play with walkabout-style of rotation in your look direction
Wall-scaling and leaping
Vivecraft is completely safe and is a great option for VR players to have.
Players are mixed on which one is better between official Minecraft vs Vivecraft for virtual reality. Regular Minecraft has motion sickness due to the artificial movement. Vivecraft in teleport mode greatly reduces motion sickness, so it should be a lot better.
Official Minecraft offers better performance because it maintains a solid 90 FPS at much higher view distances. On the other hand, a lot of players prefer the Vivecraft control scheme a lot better.
Ultimately, both are worth checking out if you have an Oculus device. Or else, go with Vivecraft today.
How To Install Minecraft VR on Oculus Rift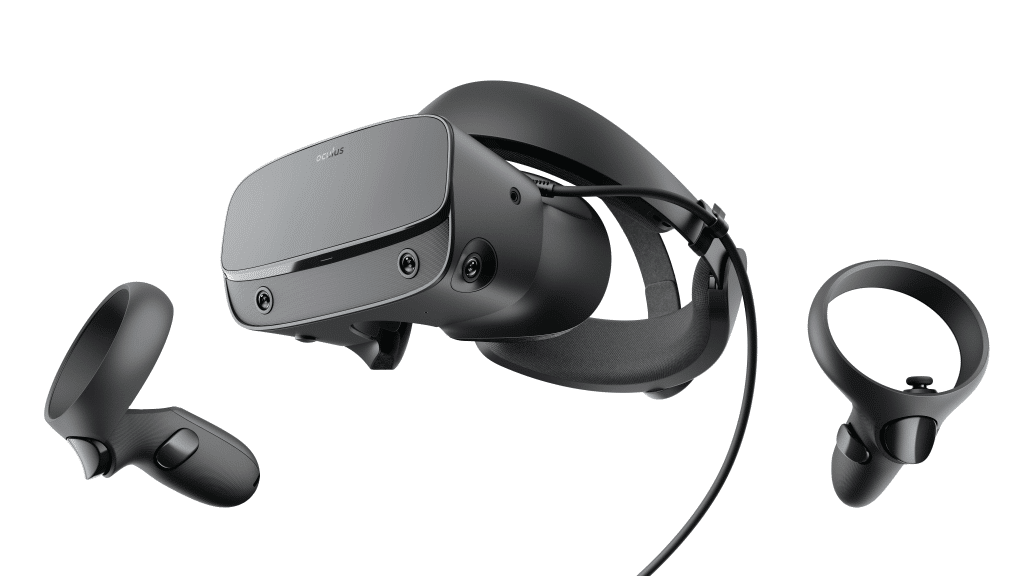 Below is a step-by-step guide on how to install Minecraft on the Oculus Rift PCVR headset:
Purchase the official Windows or Java version of Minecraft (it doesn't matter which one) and install it on your computer.
Download Oculus Home on your computer visiting www.oculus.com/setup and click on the "start download" button.
In Oculus Home, search for Minecraft and install the free game. This will install the virtual reality runtime files.
The next time you launch Minecraft from inside your Rift headset, the regular Windows game will launch with full VR-support.
How To Install Vivecraft VR
Follow the steps below to install Vivecraft VR:
Make sure that you've installed and run SteamVR on your PC before.
Buy, download, and run the Minecraft Launcher on your PC. The Launcher will set up the necessary files.
Download the latest version of Vivecraft. Run the Vivecraft Installer.
Go through the installation options that pop up. You'll be able to see what they do by holding your mouse cursor over each option. It's best if you leave defaults the way they are.
With everything set, go ahead and install Vivecraft. This process might take time because you need to download some files.
After downloading those files, rerun the Minecraft Launcher. You'll automatically see a profile for Vivecraft, and you'll be good to go.
You can now hit play and dive into the world of Vivecraft with the control options you prefer.
How to Install Minecraft on the Oculus Quest
Despite not being available in the official Quest store, you can still install Minecraft VR Oculus Quest as long as you have the following things:
Oculus Quest VR Heaset (duh)
Oculus Link cable (the Quest charging cable works) or Virtual Desktop and Quest mod
Minecraft
Both Oculus Link and Virtual Desktop will work to play Minecraft. Since the charging cable now works for Link, it's the free method to setup Minecraft. However, you will have a cable attached to your PC which some people just don't like. We'll show both options below.
Once you have all of those, here is how to install Minecraft VR on the Oculus Quest:
Oculus Link Method
Install Minecraft Java or Windows 10 Edition (it doesn't matter) on your Windows PC from the official Minecraft website.
Search and download the Minecraft extension from the Oculus Rift store.
Put on your Oculus Quest and attach your Link cable to your PC.
Launch the Rift platform through Oculus Link and start Minecraft VR.
Our Oculus Link guide has instructions on how to download and get the Rift platform setup on your computer if you need more help.
Virtual Desktop Method
Install Minecraft Java Edition on your Windows PC from the official Minecraft website.
Download Virtual Desktop for the Oculus Quest and the mode from SideQuest. View this guide if you are having trouble.
Make sure you have SteamVR installed on your PC.
Download and install the latest version of Vivecraft.
Launch the Virtual Desktop application on your VR platform and put on your headset.
In Virtual Desktop VR, launch the Minecraft Java Launcher that Vivecraft installed on your computer.
In your VR headset, Minecraft will open up in front of you in full virtual reality.
Questcraft Method
Installing QuestCraft on Oculus Quest 2 isn't as straightforward as it seems. However, this is the only good way to play Minecraft on the Oculus Quest without a PC connection.
The process explained on the GitHub page is a bit complicated for a beginner to understand but here's a simple guide to follow. For the official installation instructions, head over to the QuestCraft GitHub page. 
Go to https://github.com/QuestCraftPlusPlus/QuestCraft/releases/tag/1.0.0 and install the app-debug.apk and extracttoroot.zip files under Releases tab. 
Download the APK file on your PC. 
Sideload the APK file to the Quest 2 headset via SideQuest by clicking the Install APK icon on SideQuest's top menu bar. It's the folder with the down arrow, fifth icon from the left. Select the APK file from your computer and SideQuest will let you know if the install was successful or not. Check our complete guide to sideload APKs to Quest 2.
Extract the zip files to your PC.
Copy the net.kdt.pojavlaunch.debug folder to the Android/data folder location on your Quest filesystem using the SideQuest file browser.
On your PC, open the Oculus app and go to Settings > General and turn the toggle on for Unknown Sources.
Now, on your Quest headset, go to Unknown Sources and open Pojav Launcher.
Login with your Mojav or Microsoft account.
Once logged in and the launcher is open, head to Settings > Video Renderers and select the third option.
Select a fabric profile (Minecraft version to install) on the main page of the launcher.
Finally, hit Play for Minecraft to install and launch on your Quest headset. If you get a warning message, select Play Anyway.
Depending on your headset age and model, it can be anywhere from one to three minutes for the game to install and launch. Wait patiently for the game to load.
The game is still in beta version and it is a Java application wrapper which means the primitive data types like int, char, byte, short, etc, are used as objects. So don't be surprised if you encounter performance issues as the game is not yet fully optimized.
Check out the below video tutorial on how to install QuestCraft on Quest 2. 
How to Install Discovery on the Oculus Quest (Minecraft Clone)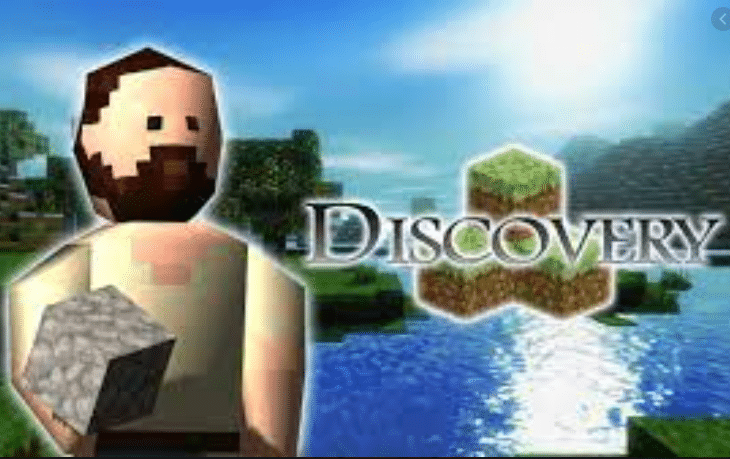 Discovery is a sandbox building game that looks and feels exactly like Minecraft. It has been out since the start of 2021 and has received regular updates.
To install and play Discover on the Oculus Quest, first follow our guide to install and setup SideQuest VR for the Quest.
When you are ready to go, click here to go to the Discovery app page. With your Quest headset connected to your computer, click on Install to Headset to install the app. Discovery has been submitted to the Oculus App Lab and will be available to download and install from there soon.
Also, a group is currently working to port Vivecraft to the Quest platform. We will have more details when that becomes available.
How to Install Minecraft on Playstation VR
As of September 23, 2020, Minecraft for PSVR is now available as a free update to anyone who has the game! Just make sure your game is updated and you will have access to enable Minecraft VR mode when you put on your Playstation VR headset.
On September 7th, 2020, a new blog post on the Sony blog announced that Minecraft virtual reality is coming to the PSVR!
Anyone who has Minecraft for Playstation 4 received a patch that automatically gives access to Minecraft VR functionality. You'll need a PSVR setup to use it, but everything else is automatic.
If you'd like to buy the game, check out the official Sony Minecraft store page.
Minecraft VR Tips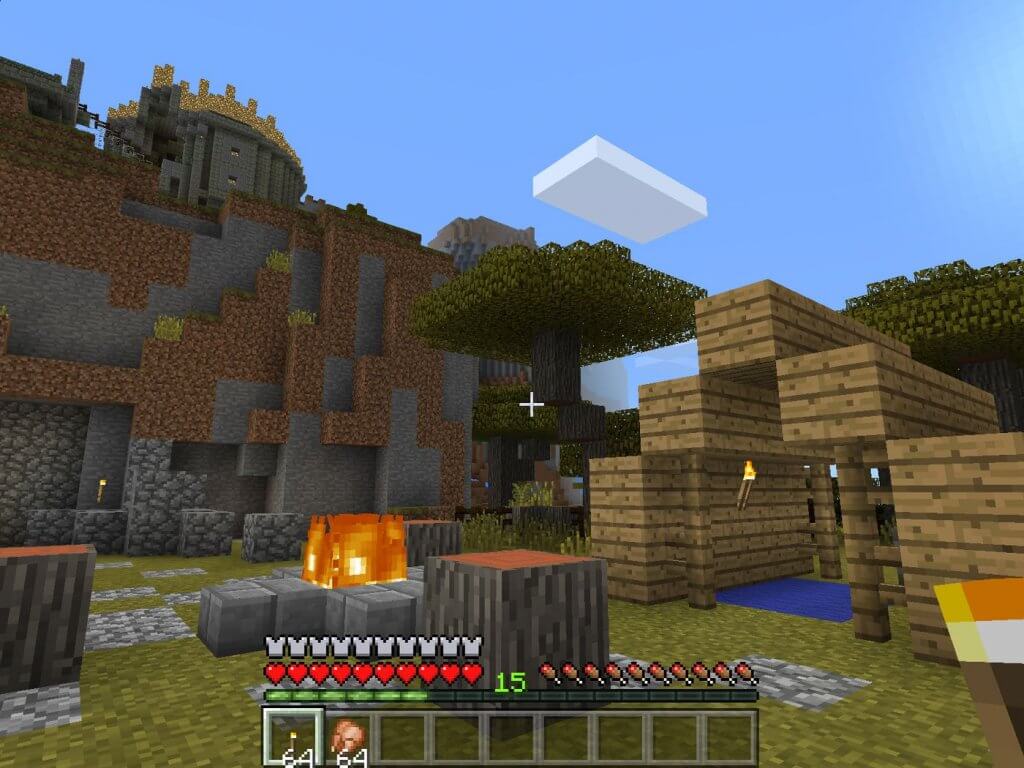 Here are some specific tips about playing Minecraft in virtual reality that you should know about.
If you plan to use mods and enable shader packs, be aware that this will slow down your game and max out your computer resources. This is amplified when playing in virtual reality.
Get familiar with the menu and building controls in virtual reality, which are different than on PC and can feel slower at first.
Play in short bursts in order to get your legs used to playing in virtual reality.
Stop as soon as you feel motion sickness coming out.
We have tons of other VR tips which are useful for playing games in virtual reality.
General Minecraft Tips
The following tips will help you survive in Minecraft VR:
Don't take large risks far from home. Always carry a stack of touches
Don't forget to get enough food. You can find food by robbing villages or grabbing animals.
Build a sustainable house using cobblestone or obsidian.
Make sure to have a lot of lightning.
Use Armor because it is super effective and will help you defend yourself against your enemies.
Cave mining works to gain stacks of loot
Use dogs as your companion; they will do the hard work for you
Try fishing or farming if you are bored
Get diamonds by mining large tunnels at bedrock levels, or find them in village chests.
Have any other tips to add? Let us know at the bottom of the article!
Minecraft VR Gameplay Videos
Not sure what to expect out of this game in virtual reality? Check out these gameplay videos below for VR content.
Minecraft VR is now one of the best games you can play in virtual reality. It is currently available as a free update on the Oculus store if you already have bought the Windows 10 Edition.
You should definitely try it if you have an Oculus Rift S.
What is your favorite game to play on Minecraft? Comment below and help other players out!