So you just got a new headset and you're ready to dive into the world of virtual reality for the first time. That's cool! We are here to help you make the most of your headset with some solid beginner VR tips.
The is the ultimate guide for getting started in virtual reality.
There are currently 110 VR tips in this guide. We have over 7500 words worth of VR tips to check out in a bunch of categories:
improving game quality
reducing motion sickness
tuning your gaming PC better
finding the best VR games
must-have accessories
tips for specific virtual reality games
VR tips for developing your own games
lots more!
If you have any other VR tips to add into this guide, make sure to comment down at the bottom of this guide with your advice!
Let's get started.
Beginner VR Tips You Should Know
First off, here are some general beginner VR tips you should get to know first. After that, we will show you some specific hardware and software VR tips.
Do you own a Meta Quest? We have a special section below for Meta Quest tips so that you can make the best out of the #1 wireless VR headset.
Have anything to add? Comment down at the bottom with some beginner VR tips you wish you knew the first time you put on your VR headset.
Read VR tips, headset instructions and safety warnings
Even if you don't read instructions on anything else, ensure you read or scan through the instructions with the VR headset. Why? For one, you want to ensure you get the most out of your headset. Secondly, it will help you prevent injuries and adverse effects like nausea and dizziness.
You'll pick up the controls as you play, but a glance in the manual can give you a step ahead when you begin. This VR tips guide is also an excellent resource for helping you feel comfortable before you pick up your headset and play.
Prevent Sweat From Getting on Your Headset
If you plan on playing VR fitness games or sweat a lot, you need a nice sweat-proof cover. Any friends you plan on having over to play VR games with will also thank you. We recommend any of the covers from VR Cover. They are cheap, lightweight, and comfortable. Plus, they are available for any VR headset.
Don't expose your headset to direct sunlight
Much like magnifying glasses, the lenses in VR headsets shouldn't be exposed to direct sunlight. Exposing the lenses to direct sunlight will destroy your headset and burn up the display.
Play in a lit space
If the room is too dark, the background noise in the cameras will increase. This can make detection harder and can cause your headset to lose track of your guardian boundary. Use bright lights so that your VR tracking stays accurate.
Sit down
It's tempting to try to take in the entire experience standing up. Just sit your ass down! Even if the virtual experience is stationary, it can screw with your brain's ability to distinguish if your body is in motion. Sitting will help you not to fall in real life and damage your headset. Many games are made for sitting down so you can play more casually.
Remove Reflective or Busy Objects From Your Area
Your VR tracking cameras (inside out or outside in) work best when they clearly envision your entire space. If you have any reflective objects or busy patterns, your trackers might have increased noise in their vision. If you are having trouble with accuracy, try to remove these items and turn up the light in your room.
Use Your Wrist Straps
All VR controllers come with wrist straps that you can use to secure them in place. You might not think they are necessary, but the first time you swing and throw a controller through some drywall, you will thank us. The wrist straps give you peace of mind to play virtual reality to the fullest is one of the top VR tips most people recommend.
Check For Free Games & Bundles
If you haven't ordered your VR headset yet, glance to see if there are any game bundle deals. You can get a free game or two by purchasing your headset to sweeten the pot.
With the release of the Meta Quest 3, Meta offered Asguard's Wrath 2 and six months of Meta Quest Plus for free.
Buy VR Games Deals
VR games regularly go on sale for discounted and bundle prices. Before you buy something, look quickly and see if you can get it for cheaper.
We have a full VR deals guide that we update daily to make things easier for you!
Some virtual reality sales are through Humble Bundle or Green Man Gaming. These are online game retailers that offer discounts on popular games. They are both work checking out for deals. It's always nice when VR tips save you money!
Get to Know Your Home Environment
Each VR headset has their own home environment that comes up when you first turn your headset on. This main dashboard lets you do a ton of things:
Launch games and apps
Launch the web browser
Adjust settings
Enable and disable sharing, recording, and other features
Before you jump into playing a game, spend some time in this home environment, looking through all of the controls. You'll find settings you might want to adjust to improve your personal experience.
Read reviews before buying stuff

While there are a lot of good virtual reality games, applications, and headset accessories, there is also a lot of trash. So, read reviews and get an expert opinion before buying. Our home page offers tons of great VR tips and tutorials to get you started.
In the next section, we'll look at the best VR tips for setting up your hardware. Use the quick jump section below to navigate to a different tips page quickly.
Quick Jump
Quickly move to other sections in this VR tips guide by clicking below
Hardware VR Tips
The following VR tips are for optimizing your VR hardware. From optimizing your headset to considering important accessories to look at, have a read below.
Hold on tight
It's easy to forget to hold on to your VR controllers while you are lost in the world. Most game require you to swing or flail your arms. One way to put this issue out of mind is to loop that tether around your wrist and then dive into VR. This will save your wall or TV from a crack in the future.
Setup Your Base Stations Right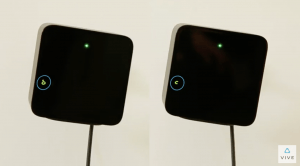 Your base stations are responsible for keeping track of your location in time and space. They must be set up at the proper height and distance away from you. They also need to be connected and back to your PC. Check out our base stations guide for VR tips on properly setting them up.
Use Light Stands For Your Base Stations
Don't want to drill holes into your drywall to mount the base stations on the wall? Consider buying some base station light stands. These elevate your base stations into position quickly and efficiently. Plus, they are moveable and adjustable, and can also help to hide cords in your VR room.
Adjust Your IPD
The interpupillary distance is the millimeters between the center of your two eyes. Most VR headsets can adjust the distance between the eye lenses to match your IPD. This will give you a clearer picture and reduce eye strain when you play, so make sure it feels comfortable.
Find Your Perfect Fit
You must find a comfortable fit on your head to play virtual reality for extended periods. Adjust the top and the side straps and ensure your headset is centered on your head. If everything feels good, the screen should also be clear in your display.
Take a Look at Full Body Tracking
Full body tracking adds new hardware to your body to be tracked for motion in virtual reality. Some games support full body tracking, which allows you to use your arms, legs, and body in VR like never before. We have a full body tracking VR guide with more information on cool products you can buy.
Keep Your Lenses Clean
Your VR display lenses will naturally get dirty and fogged up as you play and move around in your headset. You should use a microfiber cloth to clean the lenses off periodically. Some VR headsets even include a cloth in the box for you. Don't use a paper towel or anything abrasive to clean your lenses because you can permanently scratch them.
Wipe Your Cameras Too
Many users remember wiping their lenses but forget about the cameras. These include cameras on the outside of your headset facing outward and on your base stations. These cameras keep track of your position and movement. If they are dirty, you can't be tracked as well.
Accessory VR Tips
The VR tips below are related to accessories and how you can improve your virtual reality experience even more.
Use Rechargeable Batteries
Use rechargeable batteries in your VR controllers so you don't have to keep spending money each time they die. You can charge rechargeable batteries when they are down to continue your gameplay. Buy double the amount of batteries you need to always have a backup pair ready to go.
Put a Mat in the Center of Your Space
Placing a yoga mat or equivalent in the middle of your space can help you keep your orientation during heavy-movement games. If you move off of the mat, you'll be consciously aware that you are moving towards the edge of your boundary. This helps you adjust on the fly and get back to center.
Keep your headset in a case when not in use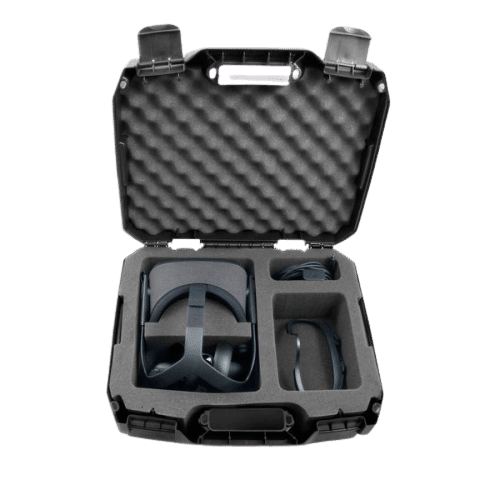 When you are not using your headset, store it in a case. The casing will protect it from damage or scratches. It also looks much neater or organized when things are wrapped up in a case.
Need to travel with your VR headset? A travel case will keep things secure. You can also buy cases with locks to prevent theft as well.
Put a Fan In Front of You
Set up a fan to blow cool air in your face while you play in virtual reality. A fan reduces nausea while playing and makes playing in VR more immersive. A fan can also help you keep track of your orientation because a fan blowing on you means you are facing forward.
Buy On-Ear or In-Ear Headphones
VR headsets offer indirect sound around your head when you wear the headset. You can buy attachment headphones that plug into the headset and offer spatial audio and improved sound. You can wear these headphones on or in ears for better sound.
Buy grips for your controllers
You can buy grips for your controllers so they don't slip out of your hands. These grips offer a more solid feel when you hold them. They slip over the top of your controllers and work better in games with lots of movement.
Use Lens Covers if You Wear Glasses
If you wear prescription glasses, don't wear them with your headset and risk scratching your display. Instead, take off your glasses and look at buying prescription lens inserts for your VR headset. VR Lens Lab makes these inserts for any headset easy to install and take out.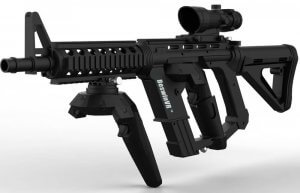 Buy or Create a Gun Stock
Shooting games are addicting, and virtual reality is no different. By default, your hand controllers don't do a great job of emulating gun motion and control. Luckily, several pre-made gun stock options are available for any headset. If you are a bit more creative, there are also options for 3D printing a gun stock for VR. Other users on Reddit have cut pool noodles to size as well.
Tie Your Cables to the Ceiling
Tripping over the VR cable connected from your headset to your PC is a giant pain. You are much better to mount your cable through a loop attached to your ceiling. This will make it easier to move around your space freely.
If you want to get more sophisticated, this VR cable pulley system will give you extra peace of mind.
Invest in Wireless Adapters
In 2023, the move towards wireless VR is more prominent. Consider investing in a wireless adapter for your headset to avoid the hassle of cables and enhance your freedom of movement.
Battery Packs for Extended Play
A portable battery pack is essential for extended play sessions for wireless VR headsets such as the Meta Quest. Choose battery packs specifically designed for VR headsets for optimal performance and safety.
Regularly Update Software and Firmware
Keep your VR headset and accessories up-to-date with the latest software and firmware. This ensures compatibility with new games and features, and can also improve performance and fix bugs.
Optimize Room-Scale Setup
In 2023, room-scale VR is more advanced. Ensure you have adequate space and consider using advanced tracking solutions to enhance your VR experience. This can include setting up additional sensors for more accurate tracking.
VR Hygiene Covers
With the increased focus on hygiene, consider using disposable or washable VR hygiene covers, especially if you share your headset with others. This helps maintain cleanliness and prevents the buildup of oils and sweat.
Still to come, we look at the best VR tips for PC VR, Meta Quest, and specific games.
Software VR Tips
Below are beginner VR tips for your VR software platform.
Find the Best Games
There are thousands of virtual reality games on your new VR headset. Before you start going crazy spending money, research and find out what you want to play first. The Most Popular sections on Steam or Oculus are good places to start looking for games you'll enjoy. We also have a bunch of guides on our website to help you out:
If there are other 'best of' VR game guides you would like us to dig into, comment down below so that we can add it into this VR tips guide.
Keep Your Software Up to Date
Virtual reality requires multiple software platforms to work together:
The operating system of your headset
Game platforms (SteamVR, Oculus Home, Viveport, etc)
You must always check for updates and keep everything at its latest version. This will get rid of any bugs and make sure that you have maximum compatibility with everything.
Try Different VR Platforms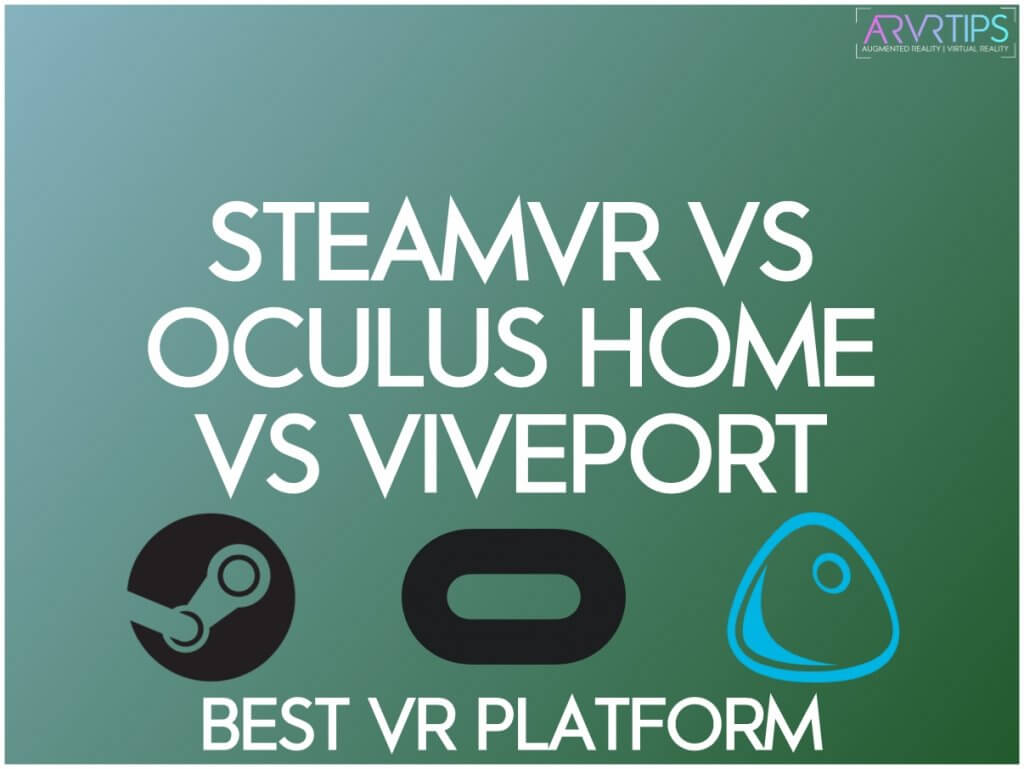 All PC VR headsets support the Steam platform, which is the largest app store for VR games available today. If you have an Oculus Rift, you have the additional option of using the Oculus platform. If you have an HTC Vive, you have Viveport at your disposal too.
Look at the similarities and differences between SteamVR vs Oculus vs Viveport in our specific VR tips guide to learn more.
Compare Prices on Each Platform
Despite having many of the same games, SteamVR, Oculus, and Viveport often have different prices. Plus, each platform has sales throughout the year on games from its store. When you are about to buy a game, compare its price on each platform before deciding. This is especially true if your VR headset supports multiple platforms.
If you have the Meta Quest, be aware that games available for both the Quest and Rift S are cross-buy. If you buy a game for one headset, you'll get it for free on the other.
Cast Your Screen
If you plan on playing VR in front of friends, learn how to cast your VR headset display to a nearby TV. You should be able to hard-wire an HDMI cable from your computer to your TV to make things easy. If you have an airplay or Chromecast-compatible device, these wireless solutions can make things easy, too.
Mix Up Your Settings
To play games optimally, you may need to adjust your visual settings before you play. Get used to what settings your PC offers so that you can play games at their highest quality.
Learn How to Recenter Yourself
Sometimes, you will become off-center in your play area while playing in VR. Learn how to recenter yourself back in the middle of your boundary quickly.
On a Meta headset, hold down the Meta button on your right-hand controller for 3 seconds to make your current position the new center of your play space.
In the SteamVR dashboard, a person has a circle around them in the bottom right corner. When you press the button, you'll be given 3 seconds to reorientate yourself.
Enable Unknown Sources
All VR headsets prevent you from installing apps from unknown sources by default. However, this will prevent you from accessing and editing key files on your headset. You'll be stuck if you ever want to try out a beta game or anything outside of the official game stores.
On an Oculus headset, enable unknown sources by navigating to Settings > General.
On an HTC headset, allow the ability to install unknown apps by navigating to Settings > Apps > Three Dots > Configure Apps > Special App Access > Install Unknown Apps.
Allowing unknown sources will allow you to implement other VR tips and hacks too.
Install OpenVR Advanced Settings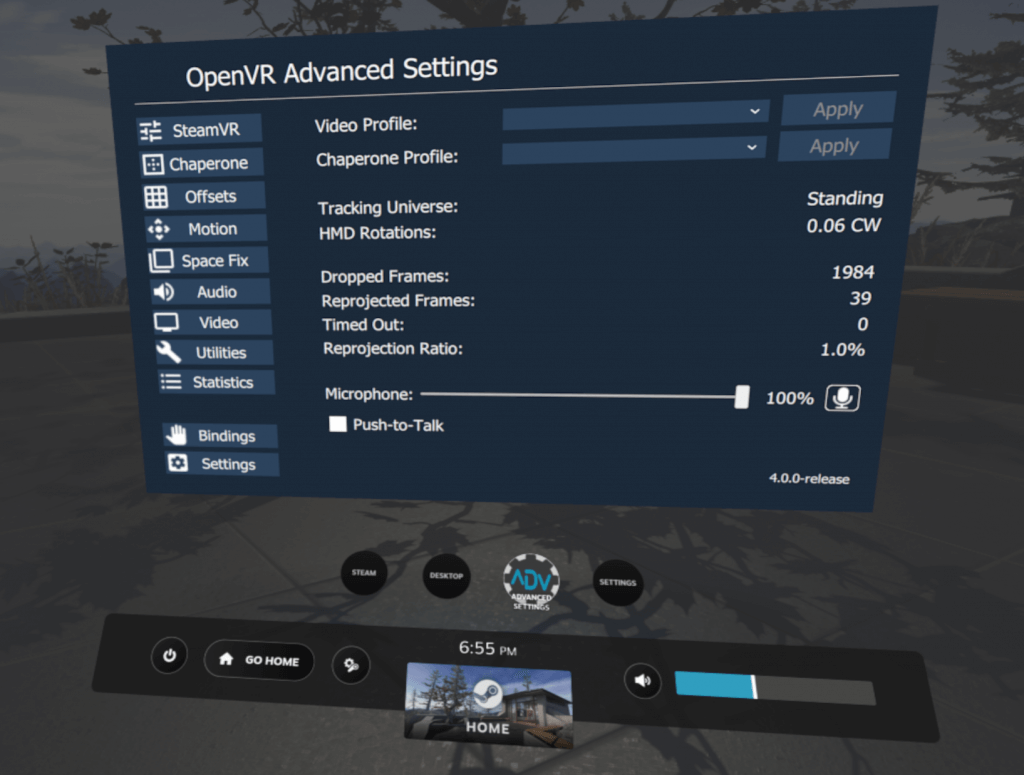 If you have a PC VR headset, you must install OpenVR Advanced Settings. This is a snap-on software tool that enables several useful tasks without removing your headset:
Adjust graphics quality
Move, rotate, and adjust the guardian, play space, and chaperone
Control media and controls on the fly
Take Advantage of Free Games
No matter what VR headset you buy, take advantage of free game opportunities on each platform. These free games can come a few different ways:
Always-free games like Rec Room, VRChat, Pokerstars, Google Earth
Beta and early releases of games
Free games with the purchase of the headset. HTC Vive is offering Half Life: Alyx free with certain headset purchases.
Free credits towards the purchase of a game. Oculus regularly offers free vouchers to its users towards the purchase of a game.
Learn About Discord
The VR gaming community is incredible, and independent developers have released many great VR games to check out. The application of choice for support and discussion with developers is Discord. You'll often find links to join the Discord servers for some popular independent games.
This allows you to provide feedback, offer suggestions, and keep track of new updates. Chatting with the creators are a great way to get immersed in virtual reality.
Explore Youtube
Many users don't know that Youtube is a treasure trove of 180 and 360-degree videos for virtual reality. You can watch documentaries, explore foreign lands, and watch a ton of content in full VR. If you want to brag about virtual reality to a friend who doesn't play games, YouTube has a ton of content to show off to them. You can also find technical videos about VR tips and how to do other things.
Pay Attention to the Comfort Level
Games in the Meta store have a comfort level rating attached to them: comfortable, moderate, or intense. This rating corresponds to how intense the game is:
Comfortable games generally avoid camera movement, player motion, or disorienting content and effects.
Moderate games might incorporate camera movement, player motion, or occasionally disorienting content and effects.
Intense games incorporate significant camera movement, player motion, or disorienting content and effects.
Buy Games From Your Phone (Oculus)
Oculus Rift and Quest users can browse and install games from their phones. The interface is much easier to navigate with your thumbs versus wearing the headset. When you buy a game, it will queue up and download in your VR headset automatically. Then, it will be there the next time you want to play in virtual reality.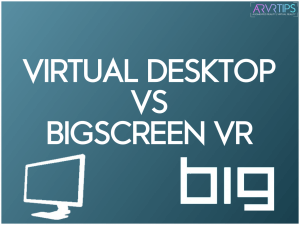 Try a Remote Desktop App
A remote desktop app such as Virtual Desktop or Bigscreen VR lets you mirror your PC inside your VR headset. This lets you play 2D games on a giant cinema screen in your headset. Bigscreen also includes a bunch of cool social features, like watching media with your friends at the same time.
Many users use these apps for productivity, completing work without distraction. Remote desktop apps offer many VR tips to check out.
Use the Refund Policy (Meta)
If you own a Meta VR headset, you have access to a pretty sweet refund policy. If you purchase a game, you can get a full refund within 14 days if you don't play the game for more than 2 hours. This is plenty of time to try out VR games before committing.
However, be aware that you will be denied if you try this more than 5 times in one month.
Implement Voice Control Features
Voice control in VR has seen significant advancements. Utilize voice commands to navigate menus, control games, or interact with virtual environments.
This feature enhances accessibility and provides a more seamless and hands-free VR experience. Many modern VR systems and apps now include customizable voice control options.
Explore Cloud Gaming in VR
Cloud gaming in VR is an emerging trend, allowing you to play high-quality VR games without needing a powerful PC. Services like NVIDIA GeForce Now or PlayStation Now offer cloud streaming for VR games, reducing the need for expensive hardware upgrades.
Check for compatibility with your VR headset and enjoy a wide range of games with minimal setup.
Use Advanced Social Interaction Features
Modern VR software increasingly focuses on enhancing social interactions. Look for apps that offer advanced social features like avatar customization, virtual meeting spaces, and interactive social games.
These features enrich the VR experience and create opportunities for community building and networking in a virtual space.
Incorporate Real-Time Environment Scanning
Some of the latest VR headsets like the Meta Quest 3 include real-time environment scanning features. This technology maps and integrates your physical environment into the VR experience, enhancing safety and immersion.
It allows for more realistic interactions with the virtual world and can alert you to physical obstacles in your play space.
Take Advantage of Adaptive Graphics Settings
Adaptive graphics settings are crucial for a smooth VR experience, especially as games become more graphically demanding. These settings automatically adjust the graphical quality based on your system's performance, ensuring a consistent frame rate without manual tweaking.
Look for VR apps and games that offer this feature to optimize your experience based on your hardware capabilities.
Embrace Multi-Tasking Capabilities
Modern VR headsets now offer enhanced multi-tasking capabilities. Utilize features that allow you to open multiple virtual screens, switch between apps seamlessly, or use picture-in-picture modes. This can be particularly useful for productivity, allowing you to work, play, and communicate simultaneously in a virtual space.
Quick Jump
Quickly move to other sections in this VR tips guide by clicking below
PC VR Tips
Below are some VR tips related to your gaming PC to consider. The computer that powers your headset is the brains behind your entire setup. A good PC will ensure you can run full-quality VR games.
Consider Building Your Own PC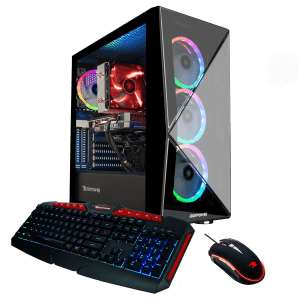 If you haven't bought your gaming PC yet, consider building your own from scratch instead of buying one that's pre-built. Not only can you find deals on parts, you'll also be more comfortable doing your own upgrades in the future.
We have a full guide on building your own PC to check out.
Build Your PC with Long Term Upgrades in Mind
If you are getting into PC VR gaming, consider how easy your gaming PC is to upgrade in the future. With PC and VR gaming requiring high processing power, you already need high specs. If you want to avoid doing a full rebuild later, invest in a quality motherboard, CPU, and GPU now.
Check Your Ports
As you build or look for your PC, consider what ports are available. If you choose a cheaper motherboard, pick one with at least three USB 3.0 and one USB 2.0 port. A DisplayPort slot is also required for quality VR gaming. Also, check for ports that will accommodate your mouse, keyboard, and anything else.
Buy an Extra Cooling Fan
PC builders recommend an extra cooling fan when you plan on doing constant high-resolution gaming. Virtual reality games can be some of the most intensive games you can play, so play it safe and get some extra cooling power. Keeping your PC's inside cool will extend your components' life. Plus, the added cost of a fan is cheap.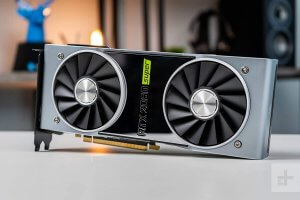 Buy a Quality GPU
The graphics processing unit is usually the most expensive part of your PC. However, it's also the most important part of a virtual reality PC build. A few years ago, the recommended GPU was the NVidia GTX980. In 2020 when Half Life: Alyx was released, the GTX1080 was recommended. We wouldn't go less than the RTX4070. Look to spend your PC build money on the GPU to set yourself up for the future.
Read our latest GPUs for VR guide for more info.
Overclock Your CPU
Overclocking is a term used for increasing a CPU's frequency to drive some extra performance out of it. All AMD and Intel processors with a K on the end of the model number have this ability. Overclocking will increase your CPU's heat, so you must have proper cooling and ventilation in place.
However, a lot of VR players love the extra performance they get. This CPU overclocking guide has everything you need to know.
Go Solid State
Solid-state hard drives can read and write much quicker than a traditional drive. We recommend installing your operating system and core programs on your solid-state drive for maximum performance. A traditional hard drive is much cheaper per gigabyte and is more useful for storing VR games and applications.
Get a BIG Hard Drive
Your hard drive stores all of your VR games and applications on it. And while most virtual reality games are small, you need to consider the future. We recommend buying a hard drive that is 1 TB or larger. This will give you enough flexibility to put whatever you want on it.
Another pro tip is to go with dual hard drives. A pricier solid-state drive (see above) to store the operating system and a bigger traditional drive for games.
VR Safety Tips
These VR tips are to help you with your personal safety while wearing and using your VR headset. They are designed to help you prevent motion sickness while playing virtual reality.
Take small doses at first
Feeling motion sickness and headaches is normal when you first try virtual reality. As cool as virtual reality is, don't overdo it. For most people, it will take a couple of sessions to get used to the sensation of the experience. Small doses will help you get used to the feeling and reduce motion sickness.
Take frequent breaks
When playing VR games, taking frequent breaks to reduce muscle and eye strain is beneficial. Manufacturers suggest a 10 to 15-minute break for every 30 minutes of VR play. Even if you feel fine, walk around to get some fresh air before you put your headset back on to play again.
Have a friend with you
Your friend will guide you in the real world as you experience the virtual one. They are there to ensure you don't trip, fall, or crack your head on the wall. You can also cast your VR headset to your TV and help each other navigate the first time you play.
Do not use VR when you're sick
If you have a health condition that affects your balance, eyes or inner ears, avoid VR! Being sick can impair you while playing virtual reality and disorientate you.
Clear at least four feet of space around you in all directions
For the sake of your body and the place you live, clear at least 4 feet (1.22 m) around you in all directions. This will give you room to move around in virtual reality without worrying about running into your surroundings.
Set Your Guardian Right
Your guardian is the safe space you draw around your area when you first put on your headset. It might be tempting to set the guardian edge right at the wall of your room, but this is a bad idea. The only time your guardian edge comes into play is when you do something fast-paced in virtual reality. When moving slowly, you'll have plenty of time to react to your guardian when it appears. A little buffer room between the guardian and the wall will save your knuckles and your controllers.
Look For Safety Settings in Each Game
Games that require fast movements or more intense controls often have settings to make things easier on your stomach and legs. Look through each game's settings to find toggles and adjustments to prevent you from getting motion sickness while playing VR.
Meta Quest Tips
Below are helpful tips and tricks for the Meta Quest. These VR tips are specific to the Quest, which is an Android-based VR headset that is completely standalone and requires no additional PC.
Download SideQuest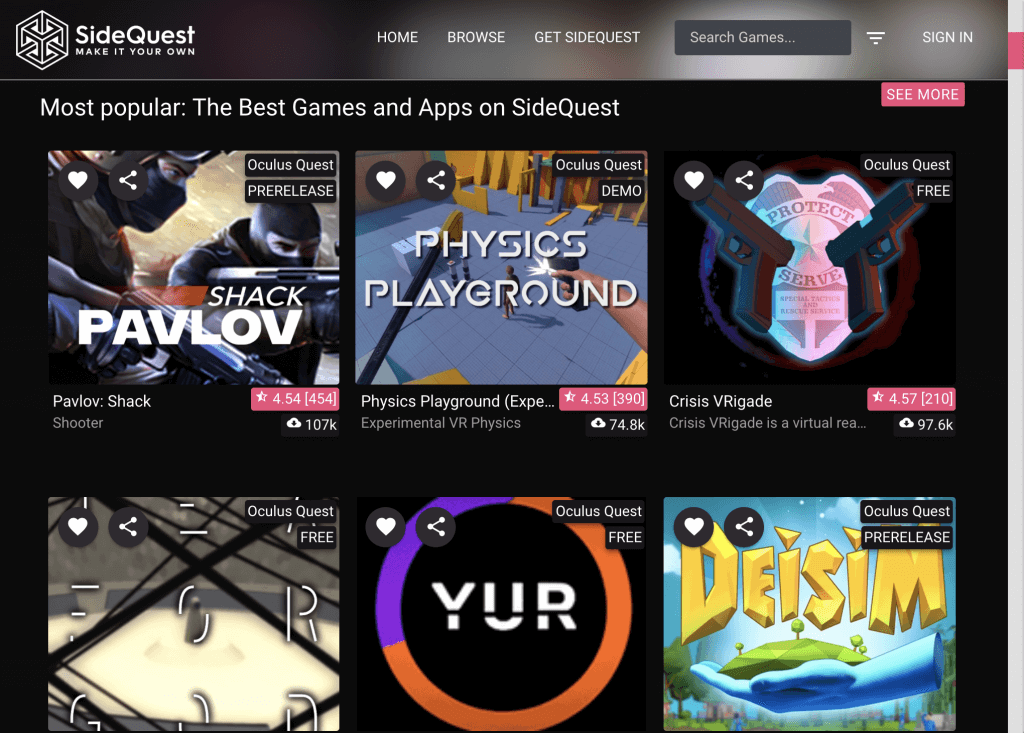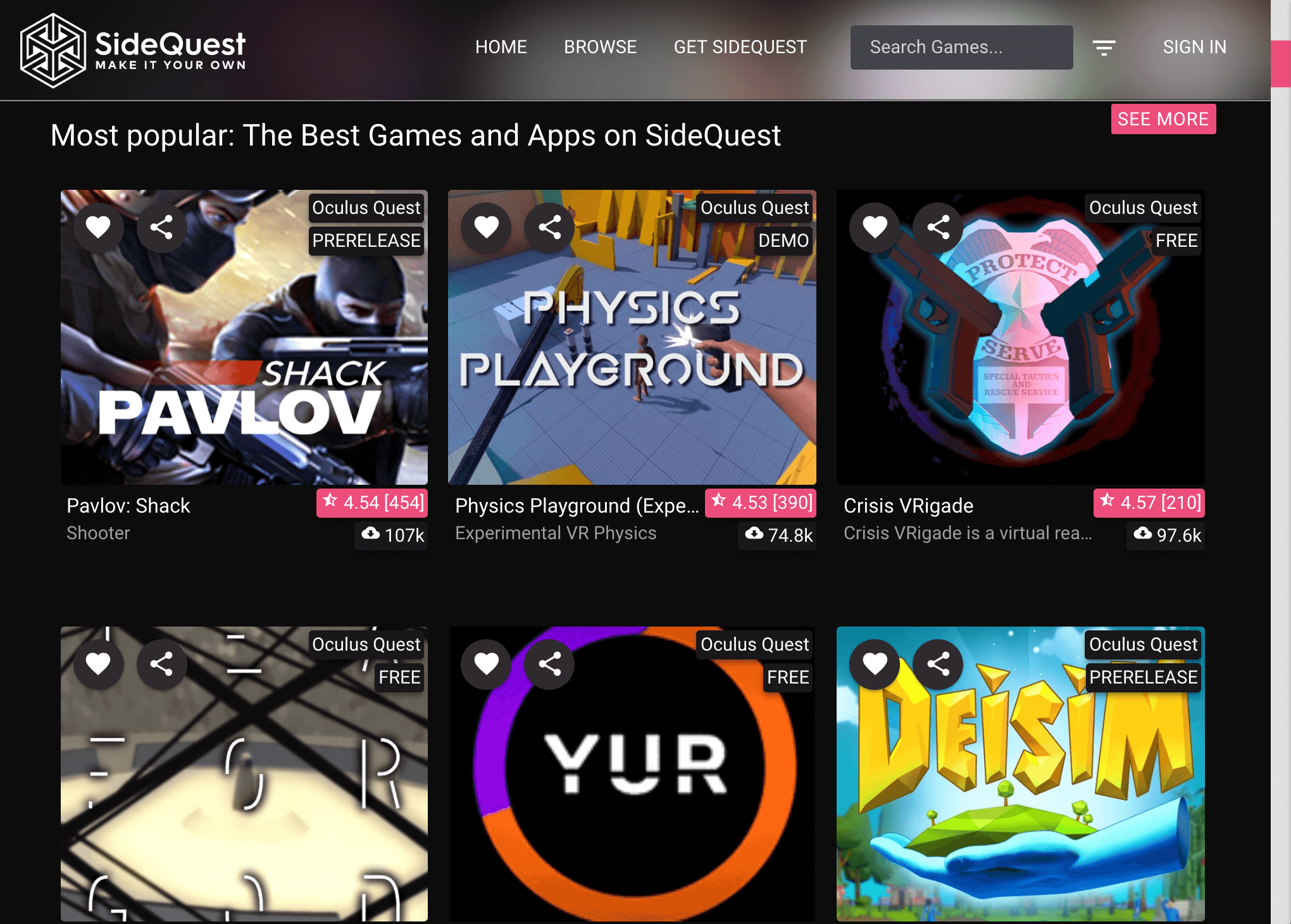 There is an unofficial VR game store for the Meta Quest called SideQuest. It contains over 500 games that are not found on the official Oculus store. Check out our SideQuest guide today and explore some awesome content that SideQuest has.
Being familiar with SideQuest in addition to the official Meta store, is one of the top VR tips a Meta Quest can learn.
Increase Graphics Quality
The Meta Quest has a few hidden settings that allow you to adjust the framerate and the graphics quality. The easiest way to access these settings is by installing SideQuest (see above). Once installed, you can play with these settings in SideQuest. Note that they may introduce some lag into your gameplay.
The good thing is that these settings reset each time you restart your Meta Quest, so play around a bit and see what works.
Buy an External Battery Pack
The Meta Quest comes with a default 2 hours of battery life. If you want to play for longer sessions, check out this top rated battery pack and holder clip. Meta Quest users swear by both products. 
As an added bonus, the battery pack placed on the rear of your headset acts as a nice counterweight.
Take a Look at Hand Tracking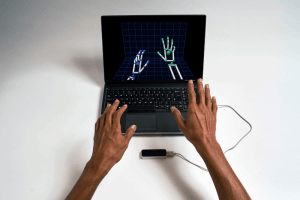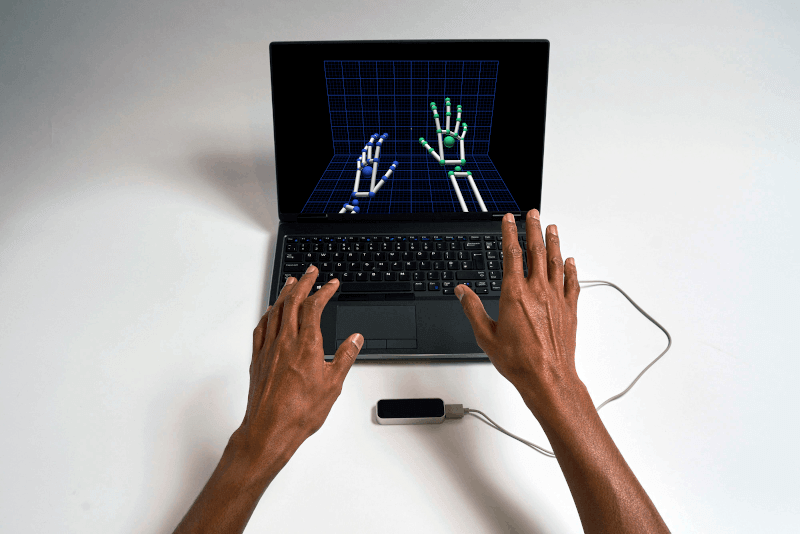 Hand tracking is a cool feature for the Meta Quest that lets you use your hands to navigate menus and play games. You don't need to use your VR controllers at all. While the feature is still experimentally and can have bugs, it's a good way to show off VR technology. 
We have a full Meta Quest hand-tracking guide here with more information.
Play SteamVR Games
A lot of new users love that the Meta Quest is wireless. They are willing to give up the quantity and quality of Steam games in exchange for flexibility. However, with Oculus Link, you can connect your Quest to your PC and play all of those SteamVR games. Oculus Link transfers the computing power back to your PC and uses the Quest as the display, similar to other VR headsets.
Look at the Rift Store for cross-buy
Some VR games are available for the Oculus Rift S in addition to the Quest. These games can be purchased in the Rift S store first, allowing you to download them free from the Quest store. This tactic is called cross-buy. Of all the VR tips in this guide, this one can help you save money buying games.
If the Rift store has a good game deal on a cross-buy VR game, you can save money and get it for your Quest too.
Enable Passthrough to See Your Surroundings
Meta Quest has the option to enable passthrough in its settings. This allows you to view the world outside of your headset through the out-facing camera by double tapping the side of your headset. This allows you to view your room without taking your headset off.
Play the Demo Games
The Meta Quest has a few demo games on your headset: Epic Rollercoasters, Creed, Journey of the Gods, and more. Even if these games don't sound like something you would play on a console, check them out! Playing games in virtual reality is completely different, and you'll get a good idea of what other VR games you want to play.
Try Out a Wide Open Space
The biggest advantage of the Meta Quest is that it is completely wireless. Use that to your advantage and try setting up a giant play space like a full garage or backyard (when the sun is down). You'll have fun playing virtual reality without any concern for your movement.
Some games for the Meta Quest are procedural, meaning the size adapts to your guardian size. In a wide open space, this can be really awesome.
Learn Android Debug Bridge (adb)
ADB is a series of commands that lets you read and write files and information to an Android device such as the Meta Quest. Installing an adb program such as adbLink will let you install your own APKs and files onto your Meta Quest. This helps install third-party games and move media files to and from your Meat Quest when you want.
Next, we'll look at VR tips for games such as Half Life: Alyx, Beat Saber, Echo Arena, and more!
VR Game Tips
The VR tips below are specific to some of the most popular virtual reality games you can play today. They are designed to help you beat each game with helpful pointers. If you want to provide some VR games tips and tricks, comment down at the bottom of this guide!
Half Life: Alyx Tips
Half Life: Alyx was the 2020 virtual reality game of the year. Here are some tips to help you play this adventure horror masterpiece.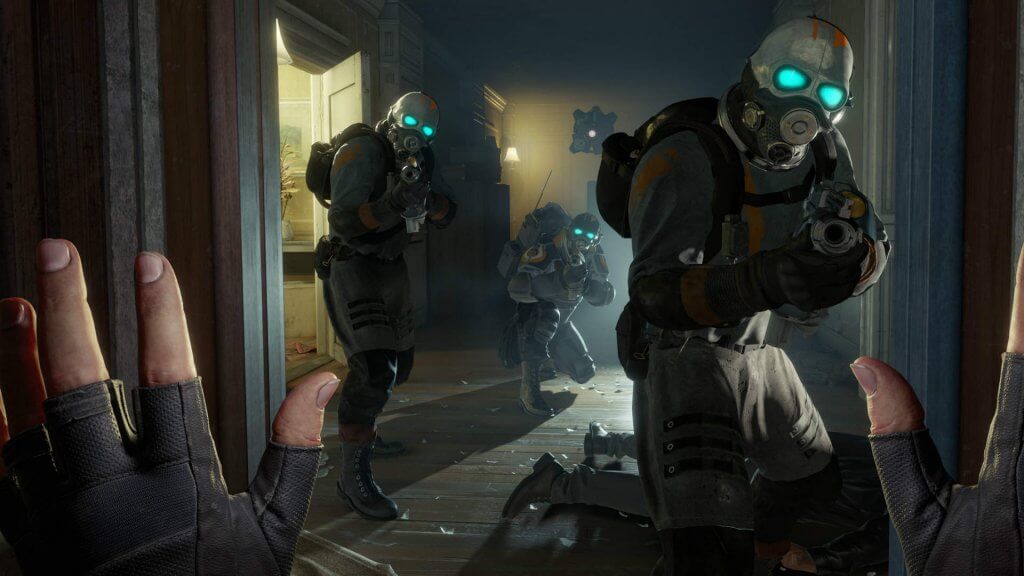 Always be looking for ammo and resin. Ammo for your weapons is key to survival and resin is the in-game currency that you can use to buy upgrades. If you find a room or area that is not part of the game's main path, it is almost guaranteed that you will find items.
If you want to manually save your game, open up your menu and you will see an option there. Half Life: Alyx only has automatic save points at certain times, but you don't want to lose your progress.
Explore the game for objects that you can physically place or move onto your body. Remember that you are playing in VR and the developers have done a great job to include glasses and hard hats and other things that you can place on your head for protection. You can also crouch behind objects and peek out with your body.
All guns are one handed, which means that you can dual-wield or use your second hand for other things as necessary.
Add your VR tips for Half Life: Alyx down at the bottom of this guide, and we will add them here!
Beat Saber Tips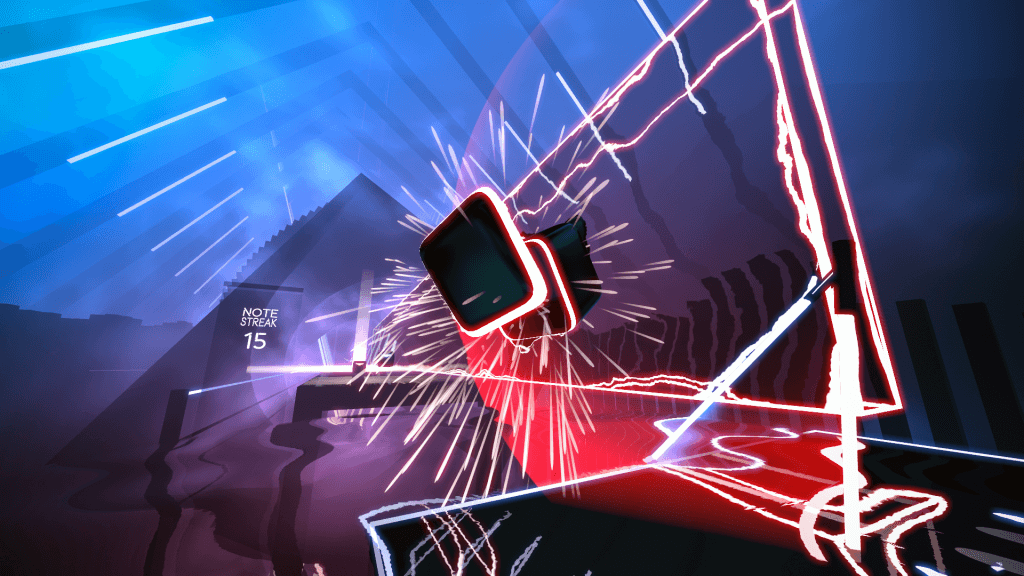 Beat Saber was the number one virtual reality game of 2019. It is available for all VR headsets.
Install custom songs to Beat Saber! It's fun to jam to real-world songs you are familiar with.
Move your wrists more than your arms. You need to contact the blocks with your saber a lot less than you think you do. If you keep your arms mostly stationary and swing your wrists, you can play much harder levels.
Try out the 180 and 360-degree songs for a completely different feel. Many users don't realize that there are different maps for each song.
Always use your wrist straps and grip your sabers tight. You don't think you will let go until you slide up to expert difficulty and your hands start to sweat.
SUPERHOT VR Tips
SUPERHOT VR is a cult classic virtual reality game. In the game, time doesn't move unless you do. The object is to kill enemies with any weapons you have nearby. Here are some tips for completing the game:
Always move slower than you think. Remember. time stays still when you do. Rotate your head and assess the situation before you make any movement.
When you kill a bad guy with a weapon, that weapon will always come flying to you. Use this to your advantage when you need to throw something at the guy with a gun coming towards you.
After you finish SUPERHOT's story mode, you unlock an endless game mode that is a lot of fun. Make sure you go and check that out.
Five Nights at Freddy's VR Tips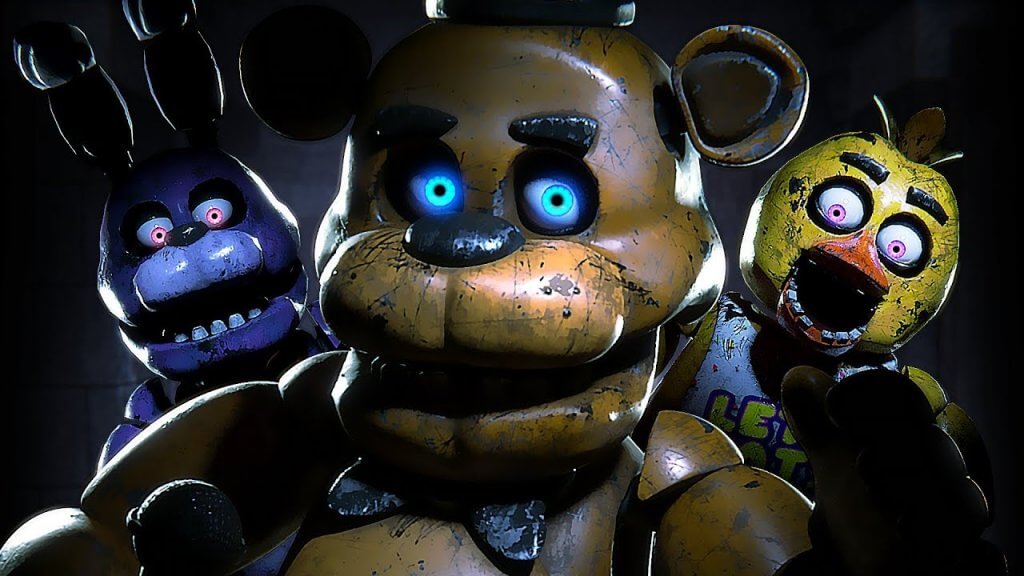 FNAF: Help Wanted is the gold standard for comedy-horror games in virtual reality. The VR game puts you in the action without much of a tutorial, which can be unnerving to some players. Here are some helpful tips to get you started into the game:
Use your ears more than your hands. Your first instinct might be to flip through rooms constantly, but this will just waste power. Instead, listen as animals approach and learn about each animal's specific sounds. When needed, turn on the lights or close the door to prevent an attack.
The exception to the tip above is using the cameras to track Freddy, who moves slower when being watched. Freddy can also bust through your closed door, so keeping him away is necessary.
At the beginning of each level, all animals are on camera 1A. We wasted a lot of power before realizing this by unnecessarily flipping through rooms too early.
No Man's Sky VR Tips
No Man's Sky is a popular space exploration game that plays well in virtual reality. Here are some tips to help you along:
The game is presented as an open-world experience, but take the time to play through the main quest as well. You'll unlock new technologies and objects that make exploring fun and interesting.
If you are having trouble flying, turn down the sensitivity in the settings and rest your VR controller on your need for support. This will reduce the amount of erratic movement in the game.
For a No Man's Sky gameplay tip, get to know all the elements you find. Elements have different rarity levels and can be used to help you out or sold for extra money. Since your inventory is limited, you should be aware of whether a certain element will help you in that moment or not.
The Walking Dead: Saints & Sinners Tips
Saints and Sinners is the first full VR game from The Walking Dead franchise. Here are some helpful tips to know:
Learn how to use all objects in the game as weapons. You can pick up forks, spoons, bottles, broken guns, and other objects and use them to kill zombies. This is one of the funner things to do in the game. Also, guns lose their durability as you use them, so get used to melee attacks.
Despite how fun it is, killing zombies in this game is detrimental to your health because you use up health, weapons, and stamina. Play a more stealth-based game by focusing on completing missions, looting, and finding items to craft with.
When crafting, the sheet metal clever is the most cost-efficient weapon for its power. Jambalaya is the most cost-efficient food to make. Sugar is the rarest ingredient in the game, so stockpile it when possible.
Check out other VR tips guides:
In the last section, we take a look at VR tips for developing and creating your own games!
Quick Jump
Quickly move to other sections in this VR tips guide by clicking below
Virtual Reality Development: VR Tips for Creating Your Own VR Games
The VR tips below are all related to developing games in virtual reality. It's never been easier to create your own virtual reality games, and we'll show you some key tips to learn.
Pick Your Engine and Stay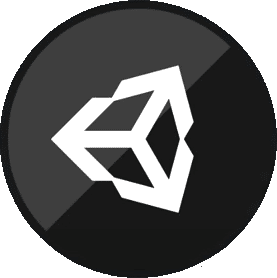 The game engine you use for development is the backbone of your entire journey. The two most common VR game engines are Unreal Engine and Unity 3D. They each have their advantages and disadvantages, so do a little research.
Once you make your pick, stay with it!
Both have made some world-class VR games and are perfect to learn in.
Start Slow
No matter what programming experience you have in your past, always start slow. Even if the first few examples seem overly based (hello world), follow them all through. This will build up your comfort level in the game engine and save you time later. Virtual reality development is slightly different than regular PC development, so even these basic tutorials can be helpful.
Complement Video Guides with Text Tutorials
Youtube has great programming tutorials and VR tips for all game engines. There are tutorials for learning the basics, creating full games, advanced concepts, and more. But text tutorials do a good job of explaining things too. Our site has a VR development section filled with good text tutorials to check out.
Get Beta Testers From the Community
You won't own every VR headset your game will be developed for (unless you are creating an Meta Quest exclusive). Find beta testers in the VR community who will play your game on their headset and polish things up ahead of wide release.
Partner With Us!
At AR/VR Tips, we are augmented and virtual reality enthusiasts. We love promoting good content, reviewing games, and discussing VR. If you have an AR or VR game worth sharing, contact us today and we will feature it on the home page. We'll also chat about some helpful partnership ideas to promote your content on the internet.
Design For the Real World
VR development differs from other games because games occur in the real world. Because of this, always design your games to be real life scale. When you see a table or pick up a gun, these objects must match their real-life proportions.
Keep the First Person in Mind
VR games mostly take place in the first person. You should avoid sudden and abrupt movements unless you want the player to feel motion sick. Just as important, you should keep your player's field of view (FOV) in mind. This is the viewable area that they'll see through their headset. You can strategically hide nearby options or skew a player's view if you know their FOV.
Optimize, Optimize, Optimize
VR games rely heavily on CPU and GPU power, so optimize wherever you can. Bake textures, lighting, and shadows so they don't use up as many resources. Restrain scenes from being too large and eating up resources. These VR tips are even more critical for the Meta Quest, which runs on a Snapdragon mobile processor. Always optimize your game wherever you can.
Take Advantage of VR Assets
Unity has the Asset Store, and Unreal Engine has the Marketplace, but both provide the same thing. They offer pre-made assets and functions to quickly insert into your VR game to speed up development time. Some of the assets you can download include:
Premade textures for different scenes
Natural movement and control schemes for guns, weapons, and other common projects
Drag and drop editors to decrease the amount of code you need to write
Include a Tutorial
Playing VR games is mostly intuitive since the controllers mimic accurate hand movements. However, an excellent tutorial can help ease your players into things, introduce the story, and get them comfortable with all of the controls. It's also a great way to test and fine-tune your controls as you develop the game.
Plan Where to Promote Your Game
When you aren't writing code, you should think about where you will promote your game when it is ready to show off. After all, if you build a VR game but don't have anybody to play it, then what is the point? As mentioned, you can contact us to help promote the game.
Websites like Reddit and Medium are good general places to advertise. And don't forget about social media either. Plant your approach to promotion and you will be rewarded with players worldwide.
And that's it! Over 100 VR tips and tricks for you to digest. From hardware to software, PC to Quest, we've covered all topics.
Add your VR tips below so new players can learn how to make the most of their virtual reality headsets. For more VR tips, check out our home page for tutorials and guides.