Smart glasses that bring the digital world into your view with augmented reality have been in development for almost 10 years. And while we don't have game-changing hardware from a billion dollar company yet, there are headsets you can buy today. In this guide, we'll show you all the AR Smart Glasses you can buy right now!
So if you:
Want to be one of the first people to get your hands on this technology
Are interested in what smart glasses do and why people wear them
Need to know what Facebook, Apple, Google, and other brands are developing for augmented reality hardware
This guide is for you!
The Top 7 Augmented Reality Smart Glasses You Can Buy Right Now
How to Choose the Best AR Smart Glasses For You
Augmented reality glasses are supposed to make your life easier, right?
Yes, 100%
So far, there is not an all-in-one set of smart glasses that can be used universally in your life. There have been rumors that Facebook and Apple are creating solutions, but they aren't available.
Today, AR glasses focus on providing a handful of features really good. Depending on what niche you are looking in, there might be a set of glasses that fits your needs perfectly.
To help you choose the best hardware, here are some important factors you should consider.
Access to Information and Media
One of the main reasons to invest in wearable display hardware is the ability to access information and media faster than before.
You already have a cell phone within arms reach all day long. Augmented glasses should provide you with information even faster or else there's no advantage to wearing them.
All the best smart glasses listed above have a heads up display (HUD) that gives you access information you use every day:
Messages
GPS and maps
Contacts
Music and video
Fitness
A company who can come up with a modern glasses HUD has won half the battle. And you can believe that the biggest companies are fighting to create a modern UI.
Compact Size
One of the main reasons there isn't a pair of good tech glasses wearable all day long is due to the size.
Smartglasses require a number of different components:
Sensors to track your movement, position, and actions
Processing power to make sense of this information
A display to show the user interface to you
Frames to sit the hardware on your face
A battery to make the entire hardware wireless
Other chips for Bluetooth, WiFi, and other connections
Fitting all of this technology into a small space that looks as close to real sunglasses is hard. In our AR smart glasses reviews below, we have plenty of pictures and information on the size of current technology.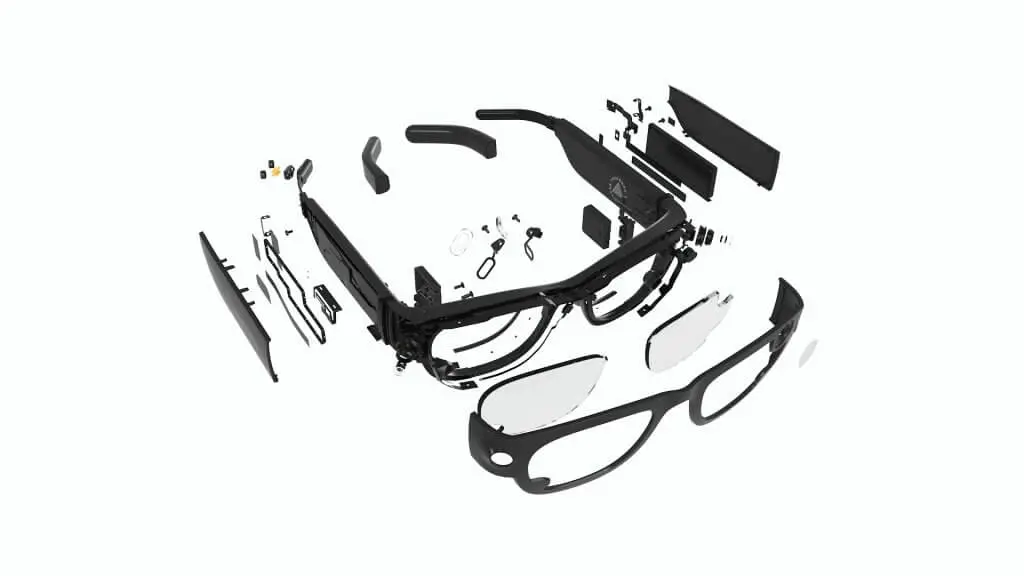 Developer Support
Like all the best technology, a good network of developers and support is required for success.
In order for AR glasses to succeed, they'll need a wide range of apps and games, including:
Augmented reality games that can be played in the real world
The ability to control smart home devices
Control for basic functions like email, contacts, calendar, and to-do lists
Media players that support the latest video codecs
Microsoft has tried to get a leg up by opening up its developer kit for anyone to develop AR apps. It knows that while the hardware needs time to become more compact, the software can be developed in today.
People are excited for Apple, Google or Facebook smart glasses in the future. They already have a huge network of app developers who will jump on board with new applications for the headwear.
The Different Types of AR Smart Glasses in 2022
Augmented reality technology can do a lot of powerful things in 2022. The smart video glasses you want depends on your needs.
At a high level, the following AR device types are available today:
Media Playback
Fitness
Development Hardware
General Use
Let's go in-depth on each type to show you what kind of hardware you can buy right now.
Media Playback and Screen Mirroring
Video glasses is a sub-niche that has gotten popular over the last year. Display size and quality for both AR and VR headsets has increased greatly. Media playback glasses let you view and use your phone, tablet, computer, or phone from a personal screen in your vision.
Instead of tying up your television, you can play video games in a 300-inch equivalent projector in your eyesight.
Media glasses are small and compact because they don't contain all the sensors that full-fledged AR hardware would.
The GodView V5 and GOOVIS LITE are the two most popular glasses in this space today.
Fitness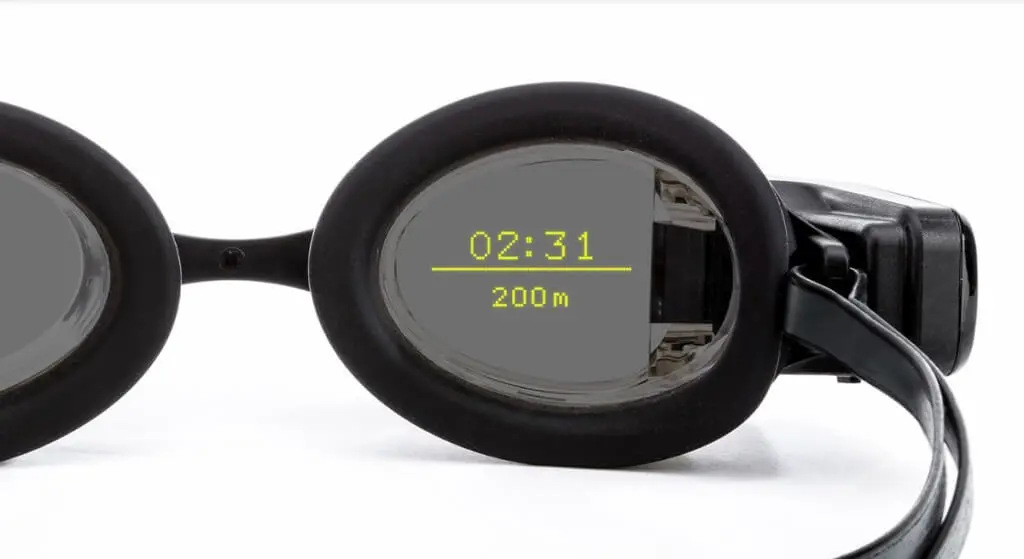 We haven't seen a full-fledged every day use pair of glasses hit the market yet. However, fitness glasses that help you train and work out have become popular lately.
These glasses don't require heavy computing power. Instead of complex calculations, they track specific tasks: your location, movement, and speed. They sync to your phone and mirror specific information in your eyesight.
There are a number of popular solutions available to buy depending on your sport and goal:
Development Hardware
Development smart glasses aren't ready to be worn out in public all day long. They have too many sensors and look closer to a VR headset than a pair of Ray-Bans.
Instead, they are either for pure development or sold to manufacturing businesses who don't care what they look like.
This hardware is laying the framework for the future of augmented reality hardware. A number of companies are gathering data and releasing development hardware so that app developers can create new AR apps.
Some of the most popular development hardware today is:
Microsoft HoloLens
Google Glass
Project Aria by Facebook
General Use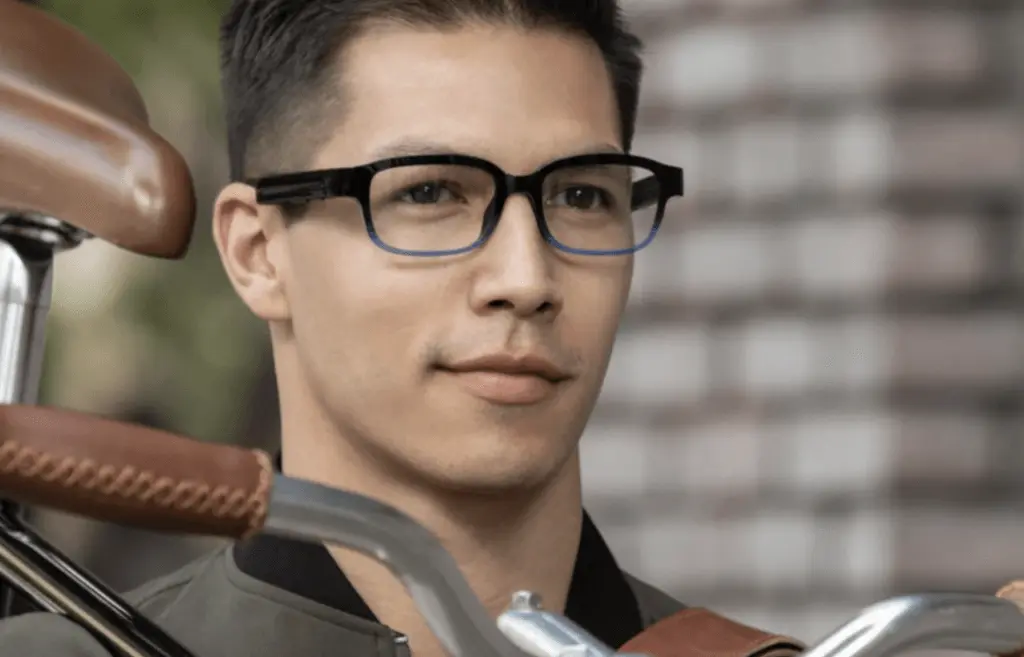 General use glasses are designed to be worn every day if you want. They are the closest thing to a future where augmented reality is in your eyesight 24/7.
This is the category of augmented reality glasses that most people are waiting for. Today, a few limited options exist for consumer purchase:
This is the space where many people are waiting for Google, Facebook, or Apple to enter. These companies have the manufacturing power and ecosystem to create glasses that transform the world.
GOOVIS LITE – Best Overall Smarrt Glasses
The GOOVIS LITE is a personal cinema screen that you wear on your head similar to a VR headset or heads up display. It is the largest and the clearest personal display available to buy today. The GOOVIS is a dual 0.49″ M-OLED display that appears like a 600-inch television in your vision.
With this super high quality and large screen, you can mirror any display you have. You can duplicate your phone, laptop, TV and other devices in your vision either wirelessly or with an HDMI cable. The hardware supports all the latest protocols as well including DLAN, Miracast, and Airplay 2.
The headset is very similar to the GodView V5.
Click here to buy the GOOVIS LITE.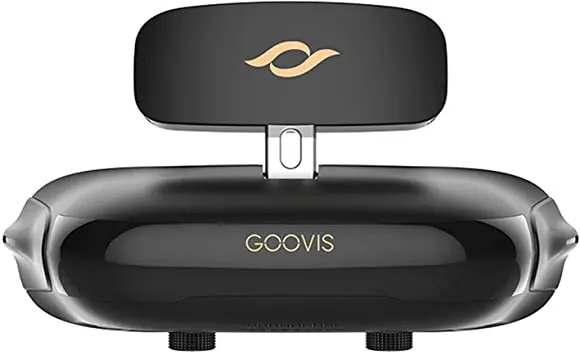 GOOVIS LITE Features
An immersive 600-inch virtual screen in your vision
53 pixels per degree (PPD)
4523 pixels per inch!
Distortion Control < 1.5%
3D Dual M-OLED Display
2,000,000:1 Contrast Ratio
Comfortable fit
Glass Free technology
Anti-Fog and Excellent Heat Dissipation
Wireless Cast or HDMI-capable
Only 200g
56 – 72 mm IPD adjustment
+3D to -8D Diopter adjustment
Click here to read our full GOOVIS LITE review.
Microsoft HoloLens – Best AR Glasses for Business
Microsoft HoloLens is a wearable computer in the shape of high-tech glasses. The headset includes a built-in Windows 10 computer and lenses that act as the display. There is no need to connect a HoloLens to a computer for it to work.
Hololens is in its prototype stage. Developers can sign up to develop real world applications for the lenses today. However, the glasses are too expensive and bulky for everyday consumer user. The technology has so far been used to develop proof of concepts for businesses interesting in integrating the technology in the workplace.
HoloLens also has a built-in rechargeable battery and Wi-Fi connectivity, so it is totally wireless when in use. The wearer can move around an object, manipulate it, and experience it as if it were actually present.
The holographic processing unit (HPU) in the HoloLens handles the processing in the glasses. It also powers the sensors and the cameras for the hologram in real time.
Click here to buy the Microsoft HoloLens.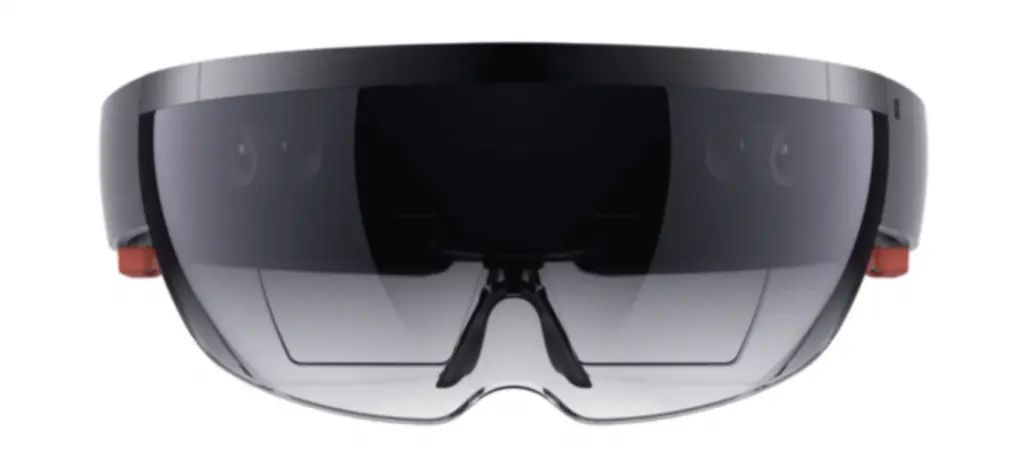 Microsoft HoloLens Features
A 720p resolution of 1268 × 720 per eye
Remote Assist support from directly from Microsoft
Custom HoloLens clicker controller for controlling apps and games
Hand gesture support
Custom HoloLens Processing Unity (HPU) for decision-making
A Windows 10 variant operating system
Click here to read our full Microsoft HoloLens review and guide.
GodView V5 – Best Overall Smart Glasses
The GodView V5 is a pair of HD smart glasses that offer an extremely high resolution. It offers a full 5K resolution.
GodView comes with an amazing 110-degree field of view. It can produce a virtual screen equivalent to a 300″ projection screen, with up to 2000 nits of brightness. The glasses are powered from your mobile phone or computer.
GodView claims to give you a display that is brighter and higher quality than the Oculus Quest 2.
Instead of focusing on its own augmented reality apps, GodView connects to your phone or computer. It allows you to mirror any device directly in your eyesight for a personal television screen.
You can buy the GodView V5 right now off of Kickstarter.
GodView V5 Features
Full 300-inch equivalent display in your vision
High resolution display of 2560 × 2560 per eye
110-degree field of view (FoV)
High brightness of up to 2,000 nits
Myopia adaptability so that you don't have to wear glasses
Wi-Fi connectivity
Omni-compatibility so the GodView connects to all your devices
Has multiple accessory options including a game controller, mini computer, or Wi-Fi receiver
Click here to read our full GodView V5 review.
RealMax Qian Review – Best AR/VR Combo Headset
The RealMax Qian is an AR and VR headset rolled into one package.t performs for augmented and virtual reality gaming and day-to-day tasks. The Qian has been highly anticipated since its original debut at CES 2018 as a prototype. It has gone through multiple iterations and is now shipping to customers.
The Qian headset contains a Qualcomm Snapdragon 835 CPU and requires no connection to a computer. This is the same processor included in the Oculus Quest 1.
Users can switch from augmented reality to virtual reality and vice-versa with the magnetic VR clip-on shade.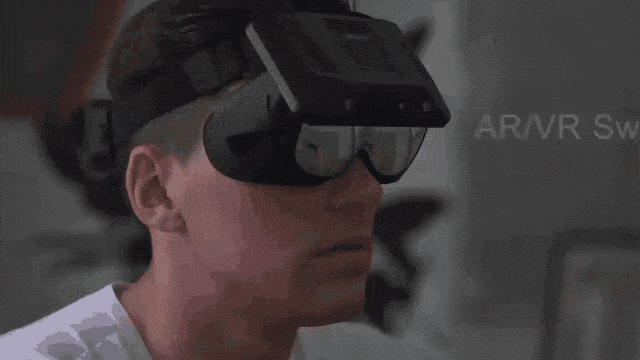 RealMax supports one of the largest open-source augmented reality app stores.
Overall, these aren't augmented reality glasses that you'll wear out in public. However, they give you a chance to try out the technology at your home with some unique and fun games.
Click here to buy the RealMax Qian.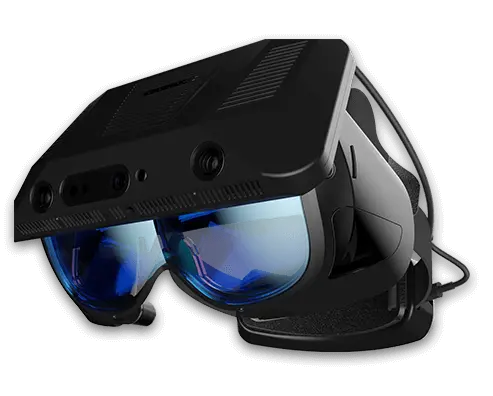 RealMax Qian Features
Qualcomm Snapdragon 835 processor
4 GB ROM
64 GB Hard Drive
6000 mAh battery – over 5 hours of battery life
Dual LCD
Switch from augmented to virtual reality and vice-versa with a magnetic clip
119.5 degree FoV in VR mode
180 degree FoV in AR mode
6 degrees of freedom (DoF) hand tracking support
Click here to read our full RealMax Qian review.
The Ghost Pacer Review – Best Augmented Reality Running Glasses
The Ghost Pacer is a set of glasses that runners can wear while they train. The glasses use augmented reality to overlay a holographic avatar in your vision. This allows you to always have a frame of reference of how fast you should be going.
Using augmented reality, the glasses projects a live avatar in your space in real time. The avatar runs alongside you, showing you what pace you need to run to get better. The Ghost Pacer will always tell you, as you are running, whether you are sticking to your goal pace. If not, the avatar will guide you in shifting your performance to get back on track. By helping keep you on pace, the Ghost Pacer will maximize the value of each run and workout.
A Pro edition adds the ability to give you suggest daily workouts and routes tailored specifically to your fitness profile. As well, the Pro holographic avatar is calibrated to change its pace mid-run along your route. This helps you optimize your work out and improve further.
Click here to buy the Ghost Pacer glasses.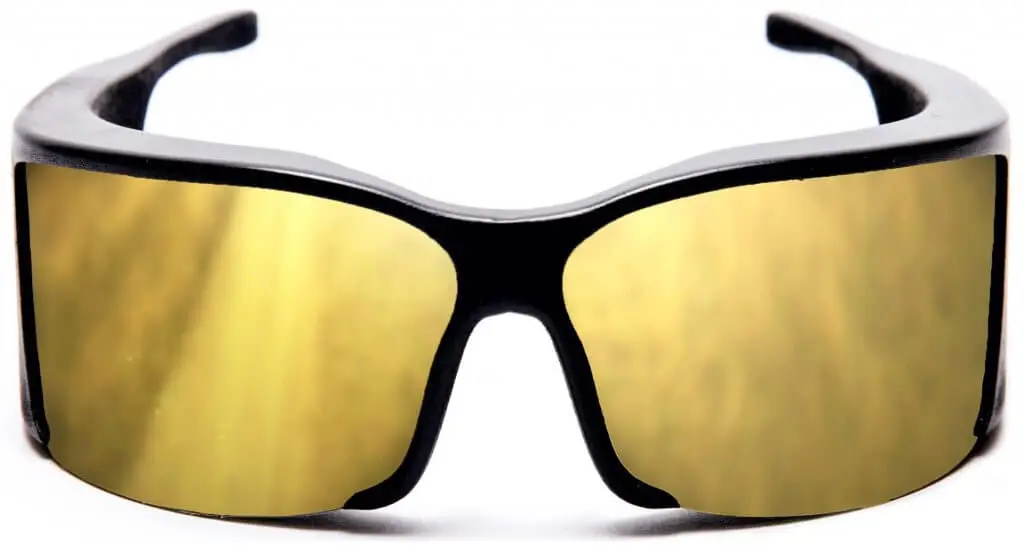 The Ghost Pacer Features
A companion app by Strava to track your runs and progress
The ability to set a target pace for your run
Race your friends virtually through the glasses
Full smart watch integration for fitness stats
Lightweight, only 90 grams
Click here to read our full Ghost Pacer review.
CR Deck Mk.1 Review – Best AR Headset for Developers
The CR Deck Mk.1 from Combine Reality is an open source augmented reality headset platform. The headset uses off-the-shelf components that you can 3D print yourself to create an AR headset. With the hardware in hand, the CR Deck comes with a development platform that makes it easy to create applications in augmented reality.
Unlike the Microsoft HoloLens which is expensive and hard to get your hands on, the Deck should be much easier to obtain.
The development platform is one of the most exciting aspects about this AR headset. It includes integration with Project North Star and Hand-tracking from UltraLeap. Full SteamVR and Unity integration is included to further simplify development.
The main goal of the Mk.1 is to create a cheap device for AR development that prepares apps and games for future major releases. The black frame on the glasses is clunkier than other solutions as a cost saving measure.
The CR Deck Mk.1 comes with 3 components:
Leap Motion Controller – used for hand tracking to recognize commands and gestures.
Left and right eye displays – Individual 1440×1600 displays at 120 Hz
Combiners – Reflective lenses that allow the displays to show up in your eyesight in augmented reality, overlaid on top of the real world.
Click here to buy the CR Deck Mk.1 development kit.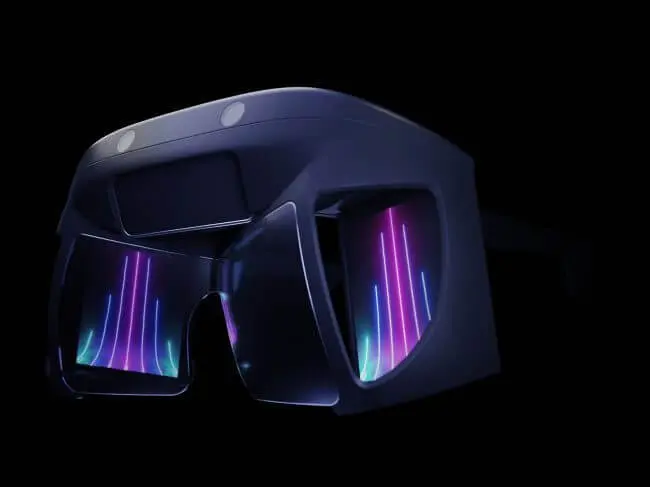 CR Deck Mk.1 Features
Dual LCD display with a resolution of 1440 × 1600 each
Hand tracking support
Leap motion controller support
The ability to 3D print yourself to create a development kit
6 DoF tracking available
Click here to read our full CR Deck Mk.1 review.
Amazon Echo Frames – Best Glasses For Alexa
Echo Frames are eyeglasses for Alexa. The frames are smooth and sleek because Amazon hasn't packed it with additional sensors. Instead, the purpose of the glasses are to provide hands-free access to the Alexa voice assistant.
You can use Alexa to:
make calls
set reminders
add to your to-do lists
get the news
listen to podcasts
control your smart home from anywhere
and more!
Echo Frames direct sound to your ears while minimizing what others can hear. They can adjust volume using artificial intelligence based on the noise level of your environment.
The Amazon Echo Frames are designed for all day use. They are designed to be used over your entire day and can playback music for 4 hours at a time.

Amazon Echo Frame Features
Full Alexa voice assistant integration
You can take your glasses to your doctor and fit your lens prescription into them.
Automatically adjusts volume to your surroundings
Directional audio so that only you can hear
Click here to buy the Amazon Echo Frames.
Upcoming Augmented Reality Glasses
The hardware below is upcoming and under development right now! The latest rumors place consumer headwear by Facebook and Apple available for purchase in 2022. This is when we expect this market to be flipped upside-down.
Project Aria by Facebook
Project Aria is a pair of smart glasses being used as a research device by Facebook Reality Labs. Its goal is to determine what consumer augmented reality smart glasses actually need. Facebook partnered with Ray Ban on a multi-year partnership to place technology inside their glasses.
Beginning in September of 2020, a few hundred Facebook employees and contractors started wearing the Aria smart glasses around San Francisco. The result from the project was the new Ray-Ban Stories glasses. While they do not have any augmented reality features, they do allow you to record HD video on demand.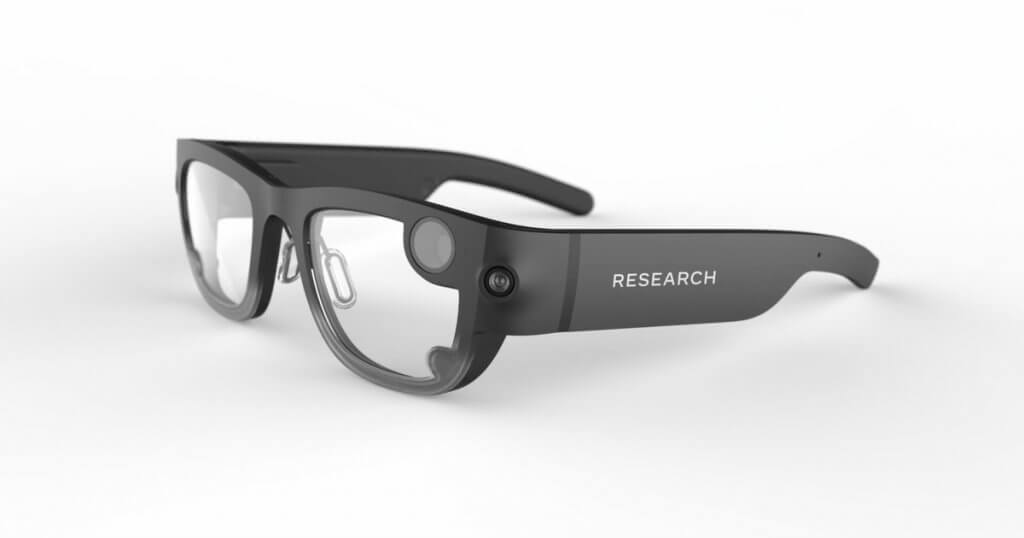 Project Aria is exciting because it's the first announcement from a major company on a consumer AR product.
Facebook showcased a few exciting areas of focus for Aria including:
Bringing information into your glasses automatically and on demand
Mapping the entire world into your vision
Personalizing apps and responses for maximum value
The hope is that Facebook will be announcing their first consumer pair of AR smart glasses in September of 2022.
Click here to learn more about Project Aria by Facebook.
Apple AR Glasses
Apple has been rumored to have been developing AR smart glasses for a few years now. The company has invested heavily in augmented technology. They recently added an advanced LIDAR sensor to their iPad and iPhones.
The company has also been working with developers to develop augmented apps, games, and content.
There is no word yet on when an official announcement from Apple might come. Rumors say that we could be waiting as long as 2021 or 2022. With Facebook committing to a big unveiling in September 2022, Apple may choose to wait and see like they have done in the past.
Augmented Reality Glasses You Can't Buy
The following hardware below is technically available today. However, they are only released for industrial and enterprise purposes. They are not available for consumer purchase and are concept devices so far.
Google Glass
Google Glass is an enterprise device that is being used to pilot augmented reality technology. You must have a special arrangement with Google in order to use the glasses. This hardware is not available for consumer use.
Google Glass is made mostly for manufacturing applications. The goal is to give operators the ability to do their jobs faster, smarter, and safer. They are heavy duty to provide protection to the wearer. The hardware has three main goals:
Allow workers to stay focused
Improved accuracy of work
The ability to collaborate and video chat with co-workers in real time
Google is using the hardware to gather data similar to Facebook. The goal is for Google to introduce a consumer product in the future.
Vuzix Blade
The Vuzix Blade Upgraded Smart Glasses are personal protective eyewear. They deliver a hands-free connection of the digital world to the real world. They show location-aware information, perform data collection, and remote support communications with both audio and video.
See-through Waveguide optics on the glasses merge digital instructions onto real-world tasks. As well, the Vuzix Blade is a complete AV communications tools for remote support. You can buy Blade prescription inserts if you need too.
Industrial companies can purchase the Vuzix Blade Upgraded hardware today to improve their operators. They are certified for eye protection.
Which AR smart glasses are you most excited to buy and get your hands on? Comment below and let us know what you think the future of augmented reality headwear is. As soon as any major new hardware is released, we will have full coverage here at AR/VR Tips.