Facebook and Luxottica have unveiled the Ray-Ban Stories, a pair of smart glasses that sync to your phone. The glasses let you do some really cool things.
In this guide, we go over:
Features in the Ray-Ban Stories
Pricing and how to buy
What Facebook's end-goal is for smart glasses and augmented reality glasses
If you want to share your review for the product, comment down below and let us know!
What are the Ray-Ban Stories?
Developed in collaboration with Facebook, the Ray-Ban Stories are smart glasses that allow you to capture your life on video. They are one of the most sophisticated examples of smart glasses.
The glasses retain some of Ray-Ban's most iconic styles. Instead of the traditional rivet on either side of the glasses, they have multiple cameras and smart sensors included instead.
The Stories are the result of Project Aria.
Project Aria
Project Aria was announced by Facebook at the FB Connect conference in September 2020. At the time, they were called a pair of smart glasses being used as a research device by Facebook Reality Labs.
The goal was to determine what consumer augmented reality smart glasses actually need. Facebook partnered with Ray Ban on a multi-year partnership to place technology inside their glasses.
Facebook committed to announcing a first pair of consumer smart glasses in 2021 and the Ray-Ban Stories is that pair.
Ray-Ban Stories Styles
The Stories come in 3 styles which are familiar to Ray-Ban fans: The Wayfarer, Meteor, and Round.
Wayfarer

The Wayfarer is the most recognizable Ray-Ban style of glasses. Originally unveiled in 1952, Wayfarer Classics have been popularity among celebrities, musicians, and artists.
Meteor

The Meteor has more lines than the traditional Wayfarer and makes an impact. Inspired by the 60s, the Meteor exudes a vintage feel while giving off a bold original look.
Round

The Round is Ray-Ban's take on the round sunglasses shape. This style features a sleek flattened bridge and stylish tinted lenses.
Ray-Ban Stories Features
So what can these smart glasses actually do?
Cameras
Notice that each pair replaces the iconic Ray-Ban side rivets with a pair of high definition cameras. These 5 megapixel cameras can capture video with the click of a button and automatically save your videos to your phone.
Buttons
On the right band of the glasses is a single button that protrudes slightly. This button can be configured to perform different functions based on how hard and long you press on it.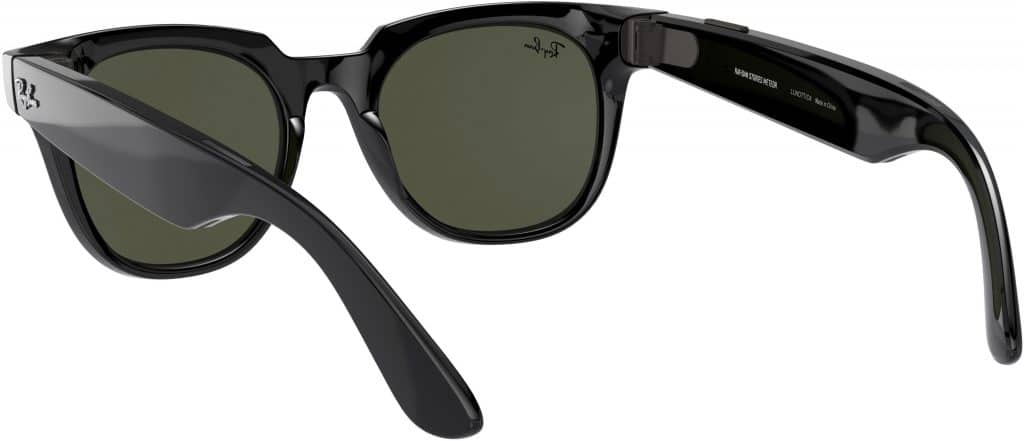 A touchpad is built into the side of the frames. They let you change the volume or play or pause what you are hearing. The touchpad is not noticeable on first glance, which makes the Stories look really slick.
Internal Storage
The glasses feature an internal hard drive. Facebook says that you can capture over 36 30-second video clips or 500 photos on the hard drive.
Speakers
The Ray-Ban Stories feature speakers in the left and right frame. This lets you take calls and listen to music via a Bluetooth connection to your phone.
Facebook Assistant
The Stories come with Facebook Assistant included. You can use the "Hey Facebook" wake phrase to activate it. Then, you can quickly start recordings, take a picture, or ask it to adjust your music.
Battery Life
The Stories have an internal battery that lasts for 6 hours with intermittent use. The glasses take an hour to fully charge back up. A USB-C cable included in the box is used for charging.
Carrying Case
The Ray-Ban Stories carrying case is sturdy and made of faux-leather. It has a built-in charger that can recharge your battery 3 times.
When you want to charge the glasses, you plug directly into the carrying case. The design is similar to the Apple AirPods and removes the charging port from being on the glasses themselves.
Facebook View
Facebook View is the companion app for the glasses. It lets you view photos and videos taken from your glasses.
The app also shows your information about your glasses, including battery status and Bluetooth status.
A Facebook account is required in order to setup the View app.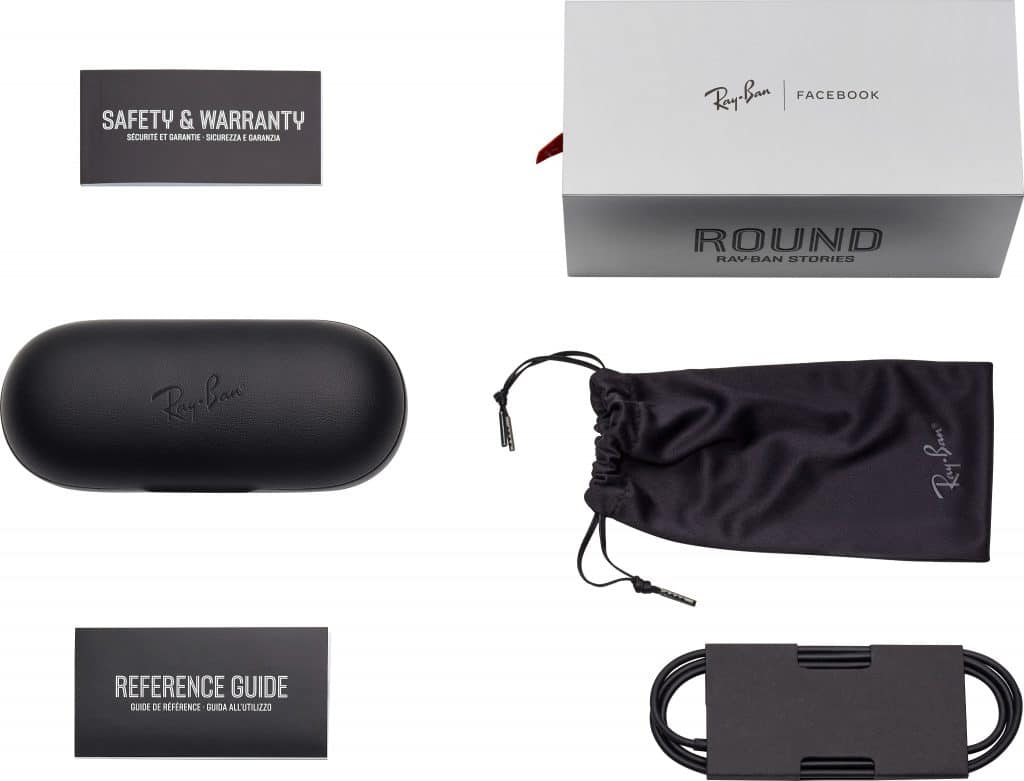 Pricing and Where to Buy
The original Ray-Ban sunglasses which these are based off of retail in the range of $185 to $225 USD for the polarized version. Non-polarized glasses cost in the $150 to $175 range.
Officially, the Stories cost $299 to purchase. There is an additional cost of $30 for polarized lenses and $50 for transition lenses.
In total, there are 20 combinations of styles, sizes, colors, and lens types.
You will be able to buy the Ray-Ban Stories through the official website. They will also be available at LensCrafters and Sunglasses Hut stores.
Ray-Bans are also freely available on Amazon, so we expect them to be there as well. You can preview the original styles of these glasses below in preparation for the Ray-Ban Stories unveiling later today.
To start, the glasses are sold in the United States, Canada, United Kingdom, Italy, Ireland, and Australia.
The Future of Facebook and Ray-Ban
The Ray-Ban Stories are smart glasses and the first in a long partnership between Ray-Ban and Facebook. The end goal is to develop and release a consumer pair of augmented reality glasses.
What if you didn't need to look down at your phone to get real-time data and information? Imagine 3D glasses that could give you information in your line of sight.
The Stories are the first step towards this future reality.
Facebook Reality Labs has been gathering information on how to use and wear glasses, what components are important, and other details.
The project, called Aria, is based off of 4 basic principles:
Never surprise people
Controls that matter
Consider everyone
Put people first
You can see more details about how Facebook will develop their AR glasses in our Project Aria guide.
Frequently Asked Questions (FAQ)
COMING SOON
Check back on this guide later when we add FAQ and other details about the glasses! Comment below and let us know what you think about the Ray-Ban Stories.