Did you know that you can replace the stock Steam Deck SSD hard drive with one of your own? Often for much less than the cost of buying a larger capacity Deck directly from Valve.
In this guide, I'll show you the best Steam Deck SSD upgrade options that you can buy and swap into your Steam Deck. These are different than Steam Deck MicroSD cards, which are inserted as supplemental storage in the Deck.
Underneath each option, I'll explains some of the technical specs and details you need to pay attention to when replacing the Steam Deck hard drive. After you upgrade, you'll be able to install plenty of Steam and non Steam games on the deck.
What are the Best Steam Deck SSD Upgrade Options?
Next, I'll go over these SSD options in more detail and explain why these are the ONLY three hard drives I'd recommend.
The Western Digital SN530 is my top choice for Steam Deck SSD upgrade. The obvious reason is because it is 1 TB, larger than any of the default options through Valve directly.
The second reason I like this solid-state drive is because it's certified for the Steam Deck. You can trust that the form factor is right and that it will fit exactly into your Deck when you open up the back housing.
Lastly, this SSD is fast and reliable. It has 2400/1950 MB/s read/write speeds and 1.75 million hours is the average mean-time-to-failure (MTTF). Put it all together and this is the Steam Deck SSD you want if you are looking.
The options below are more price-friendly, but this drive is future-proof.
Key Features
Sequential read/write speeds of up to 2450/1900 MB/s
Random read/write speeds up to 400K/400K IOPS
Steam-Deck certified solid-state drive
What I Like About the 1TB Samsung SN530
I love the size of this solid-state drive. 1 terabyte is larger than you can get through Valve, so this feels like a good upgrade. Plus, the read and write speeds on this drive are fast, so your Deck games will run fast and smooth with it.
Samsung PM991
Samsung markets the PM991 hard drive for gamers and high-power users, and the company isn't messing around: we're talking about 2200/1200 MB/s read/write speeds. This SSD is 512 GB, equal to the largest option you can buy from Valve directly.
Without going too deep into the technical details, Samsung PM991 packs some of the best-performing tech available on NVMe solid-state drives, which translates into winning performance when installed in your Deck. A few different generic brands sell this chip and all should be equivalent.
It's a good option if you want to replace the Steam Deck SSD.
Key Features
Comes with sequential read/write speeds of up to 2200/1200 MB/s
Random read/write speeds up to 120K/240K IOPS
A M.2 2230 (22mm x 30mm) form factor.
What I Like About Samsung PM991
I like that Samsung PM991 is easy to install and is compatible with the Steam Deck. I also liked that it can load and run high-intensive games through your Deck. Samsung is a household brand and their SSDs are some of the highest quality on the market.
Western Digital 512GB SN530
It can be challenging to get good value when it comes to SSD upgrade hard drives, but the Western Digital SN530manages to provide it.
With a 512GB storage capacity, the Western Digital SN530 delivers up to 2400/1750 MB/s in sequential read/write, respectively. It also provides 310K/150K IOPS in random read/write.
This SSD is durable and very impressive. The manufacturer says it's rated for ultra-long life. The Western Digital SN530 fits perfectly into the Steam Deck and is a direct replacement for the stock option.
Key Features
Delivers up to 2400/1750 MB/s read and write speeds.
Has a M.2 2230 (22mm x 30mm) form factor.
What I Like About Western Digital SN530
I like that the Western Digital SN530 has 512 GB of storage space for a really nice price. This hard drive can handle high-intensive games on the Steam Deck and is a great upgrade option.
Toshiba KBG40
The Toshiba KBG40 is a high-performance solid-state drive that you can purchase to upgrade the storage in your Deck. You are looking at an SSD with up to 2,200 MB/s, and 1,400 MB/s in read/write speeds, respectively.
The KGB40 has single-sided memory and a 2230 interface, which fits nicely into the Deck. With a 256GB storage capacity, it is a little less than other options on the list. However, the Toshiba KBG40 has a really low price point and will work great as an SSD upgrade for the Steam Deck if you only bought the 64 GB version.
Key Features
Pre-wiped and formatted.
High quality heat dissipation.
What I Like About Toshiba KBG40
I like that the Toshiba KBG40 has good performance and ratings. It's reliable and reasonably easy to set up and install.
Reasons to Upgrade the Internal Storage in the Steam Deck
So, why would you ever want to open up your Steam Deck and replace the internal hard drive with something else? Some of the top reasons are:
Your existing Steam Deck hard drive is too small.
The internal hard drive in the Deck has stopped working.
Whatever the reason is, all of the options above will work great.
If you want to find your own solid-state drive for the steam Deck, there are a few requirements you. must look for. I'll go over those next!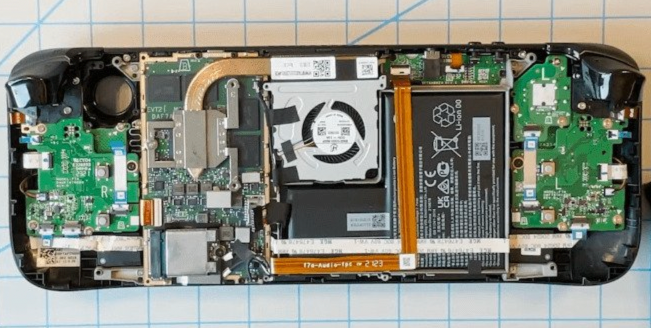 Requirements for a Steam Deck SSD Upgrade
M.2 Connection Type
The M.2 connection type is a specification for internally mounted expansion cards. It replaces the previous mSATA standard, which uses a physical card layout and connectors. M.2 allows different module lengths and widths, making it more suitable for solid-state storage apps, especially in smaller devices like the Steam Deck.
The M.2 connection type supports NVMe as the logical device interface for M.2 PCI Express SSDs. It is required for your Steam Deck SSD.
2230 Physical Size
The 2230 physical size is another important requirement for a Steam Deck SSD upgrade. In deciding to upgrade, the physical size of the SSD makes a huge difference in cost, capability, and compatibility.
The standard physical size for an SSD going into the Deck is M.2 2230 (22mm x 30mm).
Make sure that the SSD you buy is the 2230 size type and not 2242 or any other option.
Single-sided Memory Modules
Memory modules are either double-sided or single-sided memory modules, but double-sided won't fit into the Steam Deck. For single-sided memory, all the memory is accessed at once by the Deck. It is treated as a single "bank" of memory.
Double-sided memory modules are too high to fit into the Steam Deck enclosure.
NVMe Protocol (optional)
This is an optional requirement because the Steam Deck supports eMMC and NVMe, but the latter is superior, so we recommend you go to that. The NVMe is a new storage access protocol for solid-state devices that offers fast response times and the highest throughput. It accesses flash storage through a PCI Express bus to deliver a low-latency, high-bandwidth user experience.
And it's future-proof.
How to Swap the Hard Drive in Your Steam Deck?
So you've purchased a replacement Steam Deck SSD hard drive and you want to know HOW to install it in the Steam Deck? Follow the video guides below for help!