An external MicroSD card installed in your Steam Deck can extend your hard drive space and allows you to store more games and media files. In this post, I'll show you the Best Steam Deck MicroSD cards that you can buy today.
No messing around, you can buy any of these options and you'll have a perfect SD card for your Deck!
If you want to learn more, I'll go over some of the key features that make these cards perfect for portable and mobile gaming.
What are the Best MicroSD Cards for the Steam Deck?'
In terms of features, price, and durability, these are the best Micro SD cards you can buy today for the Steam Deck:
Below, I'll review each card in more detail for you!
Check out some related content:
Sandisk Extreme
512GB Price: $129
When it comes to extra storage for your Steam Deck, the SanDisk Extreme card is a perfect option. It offers up to 160MB/s read speeds and writes up to 90MB/s. It comes in plenty of options for sizes, with 512GB being the highest. Plus, it's A2-rated, meaning you will enjoy exceptional Deck performance.
SanDisk Extreme comes with RescuePRO Deluxe data recovery software, which you can use to recover lost files with your computer. It is temperature-proof, shockproof, waterproof, and X-ray-proof.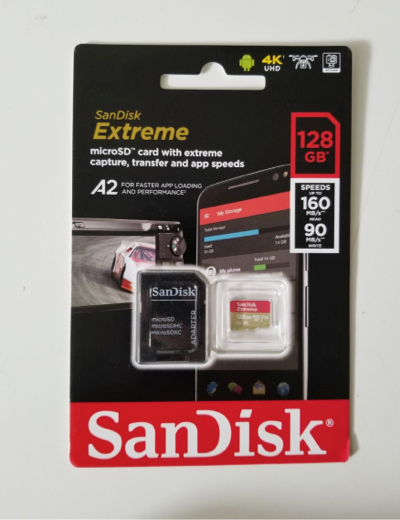 SanDisk Extreme is also compatible with other gadgets like Android phones, drones, or action cameras. It is excellent for shooting 4K UHD videos and capturing fast-action or high-resolution photos. Launching games on the Steam Deck with this MicroSD card will be almost as fast as the native internal hard-drive. Solid performance all around on this memory card.
Key Features
SanDisk Extreme offers up to 160MB/s read speeds to save time launching games and media files.
It is rated A2 for faster loading and Deck performance.
Built for and tested in harsh conditions.
What I Like About Sandisk Extreme
The Sandisk Extreme has over 347,000 positive ratings online! That number alone should tell you how awesome and reliable it is. I have a few of these things for different devices in my house and it was the first MicroSD card I looked up when I needed one for my Steam Deck. I recommend the 512 GB or 1 TB option.
Sale
Samsung Pro Plus
512GB Price: $109
The Samsung PRO Plus is a microSD card designed for the Steam Deck and other demanding electronic devices. It gives you extra space for your Deck so you can easily play high-intensity games.
The Pro Plus is almost as good as the Sandisk Extreme above. It has read speeds of 100 MB/s and write speeds of 90 MB/s. This is a little slower than the Sandisk, but Samsung gets excellent heat dissipation on their cards and this lower speed is part of the reason why. For a large game, this difference in speed will only be a few seconds at most.
One of the reasons I like the Samsung Pro Plus is because of its durability. Samsung promises that you can remove and install this card over 10,000 times without worry. And they have a 10-year product warranty to back it up.
The Samsung Pro Plus is available in 128GB, 256GB and 512GB options.
Key Features
Fast read speeds of 100 MB/s
Very durable and reliable.
Can withstand up to 72 hours in seawater.
What I Like About Samsung Pro Plus
Samsung is a household name that should give you good confidence in the product. The Pro Plus is a higher end card from the company and it will give you plenty of storage space for highly intensive games on your Steam Deck. The 10-year warranty is a nice feature too – Sandisk only gives you 5.
Sale
SAMSUNG PRO Plus + Adapter 512GB microSDXC Up to 160MB/s UHS-I, U3, A2, V30, Full HD & 4K UHD Memory Card for Android Smartphones, Tablets, Go Pro and DJI Drone (MB-MD512KA/AM)
YOUR NEW GO-TO CARD: Capture seamless 4K videos¹ on your compatible phone or drone with this micro SD memory card. Expanded storage gives you freedom to play more high performance, intensive games on your tablet or gaming device as well as extra memory for your GoPro.
TAKE YOUR BURST SHOT: Stunningly fast U3, Class10 rated read/write speeds up to 160/120MB/s, let you shoot more photos faster² and 4K videos¹ look sharp with UHS-I Interface.
ADD SPACE, KEEP IT ALL: Huge capacities of 128GB, 256GB and 512GB give you plenty of storage space for hi-res photos, must-have apps, and all the media you want. Get extra drone memory that will allow you to record high-quality footage on your DJI drone, store it, and transfer it between devices.
Samsung EVO Select
512GB Price: $85
If you are looking for a more affordable microSD card, consider the Samsung EVO Select. It comes in 64GB, 128GB, 256GB, and 512GB options. This card provides a great experience in terms of extra storage space for your Steam Deck.
The Samsung EVO Select will allow you to do more: load and download games at lightning-fast speeds. It is designed to resist water, magnets, high temperatures, and more. It is also durable and compatible with other gadgets.
The higher space models have the exact same read and write speeds as the Pro Plus models above. Therefore, I recommend a 512 GB option. If you are going small on the EVO Select, be aware that you will lower your read and write speeds.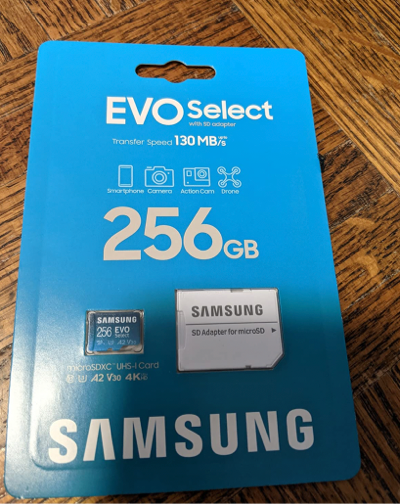 One other thing to note: the EVO Select is the exact same model and specifications as the EVO Plus model by Samsung. Select is exclusive to Amazon to use. However if you see a Samsung EVO Plus card in the stores, it will be the exact same thing.
Key Features
Different transfer speeds depending on size.
Protection from water, temperature, X-ray, magnets, and drops.
Same as the Samsung EVO Plus MicroSD cards.
What I Like About Samsung EVO Select
For beginners who are looking for a bit more value, the EVO Select is the right card for you. It has adjustable transfer speeds that match the size of the card and how much you want to do with it. All of the other specs are largely the same as the Pro Plus lineup, but with a slightly better price.
Sale
SAMSUNG EVO Select Micro SD-Memory-Card + Adapter, 512GB microSDXC 130MB/s Full HD & 4K UHD, UHS-I, U3, A2, V30, Expanded Storage for Android Smartphones, Tablets, Nintendo-Switch (MB-ME512KA/AM)
ALL THE SPACE YOU NEED: Store lots of media on your phone with this micro SD memory card, load games on your Nintendo Switch and other devices, and download more apps on your tablet at top-notch speed.
FAST AND SMOOTH: Superfast U3, class 10 rated transfer speeds of up to 130MB/s¹,²and UHS-I Interface.³
EXPAND AND STORE BIG: The EVO Select card ranges from 64GB - 512GB, allowing you to record high-quality footage on your DJI drone, store it, and transfer it between devices.
PNY Elite-X Class
256GB Price: $43
The PNY Elite-X Class is my pick for a cheaper price MicroSD card for your Steam Deck. Though the read/write speeds are not the highest on the market, it's still good enough for your console.
The Elite-X Class comes as high as 256 GB for storage capacities and offers read rates of up to 100MB/s. I wasn't seeing quite this high of speed, but enough to make me recommend this card.
The PNY Elite-X Class is compatible with many devices, including tablets, smartphones, action cameras, drones, camcorders, laptops, and computers. It has over 11,000 positive ratings.
Key Features
Compatible with a wide range of devices, including the Steam deck, Nintendo Switch, and more.
Read and write speeds of up to 100 MB/s
The included SD adapter makes it easy to transfer files between devices.
What I Like About PNY Elite-X Class
I like that PNY Elite-X Class is easy to install and format. It comes with an SD card adapter, making it an excellent deal for the price. This is a good budget card to try out if you don't have a lot to spend.
PNY 256GB Elite-X Class 10 U3 V30 microSDXC Flash Memory Card - 100MB/s, Class 10, U3, V30, A1, 4K UHD, Full HD, UHS-I, micro SD
Up to 100MB/s read speed
Class 10, U3, V30 performance for recording of 4k ultra HD videos at 4096x3072 pix as well as 60 and 120 FPS
A1 (app 1) performance allows for apps to run faster from MicroSD card, saving space on a smartphone or tablet memory
Why do you need a MicroSD card for the Steam Deck?
The Deck is available in three different internal storage sizes: 64, 256, and 512 GB. However, it also has a microSD slot on it that you can install an SD card in to expand the hard drive. For most people, this means keeping the operating system and core files on the built-in solid-state drive (SSD) and storing additional games and media files on your SD card.
If you install a MicroSD into your Steam Deck, you can expand your total available space and store more games locally on your device.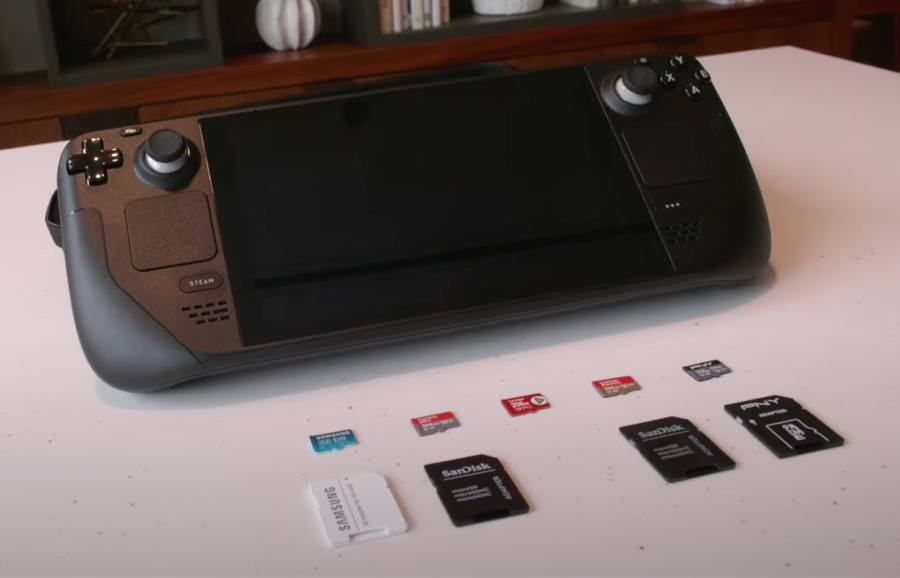 MicroSD Requirements for the Steam Deck
For the most part, any MicroSD card will work fine in the Steam Deck. Even more basic models will do a good job. It may take a few seconds longer to install a game or load it up when you want to play it. After the game starts, everything will run fine.
Note: All MicroSD cards will work, including microSDHC and microSDXC.
If you want the best experience though, here are some requirements you should look for.
Read/Write Speed
Transfer speed is a measure of how fast your Deck's internal hard drive can read from or write to your external SD card. Faster speeds are better because you'll have faster load times when launching games. Once your Steam game launches however, you shouldn't need much transfer speed.
My recommendation is to buy an SD card that supports transfer speeds of 100 MB/s or higher. A card of 130 or 160 MB/s is even better.
Size
The side of your SD card determines how many additional games and files you can load into it. My suggestions is to buy the biggest SD card you can afford. Nobody is ever disappointed after buying a bigger card, but you will notice if you didn't go large enough!
Performance Rating
All MicroSDs have a standard performance and class rating that denotes how durable and quality they are. Cards with a high rating are less susceptible to shock and can be used regularly in more types of applications.
The SD Association does a better job than I explaining these numbers.
I recommend a card with C10, U3, and V30 features included.
Other Frequently Asked Questions (FAQs)
What microSD cards are compatible with the Steam Deck?
Any UHS-I MicroSD card will work, including Expanded Capacity (XC) and High Capacity (HC) carts. 
What size of microSD card should you buy for the Steam Deck?
Because you will be storing full games on your card, go for a larger one that can hold most of your library onto it. 256 GB is the lowest I would recommend and a 1 TB card would be even better.
Can you use UHS-II SD Cards in the Steam Deck?
UHS-II microSD cards are compatible, but you will not be able to get the read and write speeds that are advertised for those cards. UHS-II cards support speeds of up to 312 MB/s, but the specs in the Deck will not get more than 150 MB/s.