Better sound can add to the immersion of playing games in virtual reality. In this guide, we review the best Meta Quest headphones you can wear to increase your sound quality. We have options for the Meta Quest 3, Pro, and 2 and the original Oculus Quest with a different audio setup!
These headphones have been hand-picked for several reasons:
sound quality
integration with the Quest VR headset
made for gaming
a variety of styles, including earbud, over-ear, in-ear, and more
If you bought a different pair of Meta Quest headphones, let us know in the comments so we can look!
What are the Best Meta Quest Headphones (Quest 3, Pro, or 2)?
What are the Best Oculus Quest 1 Headphones?
Meta Quest 3, Pro, 2 vs Quest 1 Headphones
Why do we have separate sections for the Oculus Quest and every newer Meta Quest? The original Oculus Quest VR headset has two separate 3.5 mm headphone ports for the left and the right ear. You must buy special headphones that separate each ear into separate ends.
For the Quest 2, Facebook/Meta moved to a more traditional single headphone port.
Which option is better?
The sound quality for each option should be the same once plugged in. Some users like the original Oculus Quest headphone setup better because the cord is less likely to tangle. Each ear connects to a port a few inches away.
However, the Meta Quest 3, Pro, and 2 compatibility is much higher because most headphones on the market have a single port.
No worries because we have headphones for both headsets below!
Meta Quest 3, Pro, or 2 Headphones to Buy
Logitech G Pro – Official Headphones
The Logitech G PRO is a pair of over-ear headphones designed for the Meta Quest. They were designed with leading e-sports professionls. The headphones sit comfortably on the Quest 3, Pro, or 2 top strap.
The headband and each ear pad are built with soft memory foam wrapped in premium leatherette. The headband is reinforced with aluminum and steel to provide some durability too. The audio driver is optimized for VR gaming. 
The G PRO headphones offer 16 dB passive noise isolation, which will block out your surroundings nicely. They have 50 mm audio drivers, on par with other gaming headsets.
Logitech G333 Earbuds – Official Earbuds
The Logitech G333 earbuds are an in-ear audio solution designed with Meta specifically for the Meta Quest. The silicon ear tips and aluminum housing provide you with immersive sound while blocking everything out for those around you.
The G333 contains a custom-length cable mapped specifically to the Quest 2 so you never have dangling or tangled wires. The color scheme matches the headset too. The Logitech G333 has three different sizes of silicon tips to fit any ear size. The aluminum housing is sturdy in your ear.
The G333 has dedicated dual audio drivers – one for bass and one for high and mid-range sound. The aluminum housing does a good job of keeping sound in your ears, not your surroundings.
SteelSeries Arctis – Best Gaming Headphones
If you don't mind paying for good quality, the SteelSeries Arctis is one of the top gaming headphones you can buy. We recommend the Arctis 5, which has cutting-edge audio technology with independent game and chat controls. The padded ear cushions feel amazing and are adjustable to your liking. The headband is reinforced with steel so that it is durable and sturdy.
Sound quality is top-notch on the Arctis. They output full surround sound spatial audio to immerse you fully. In online multiplayer VR games, you will hear exactly where enemies are coming from. Plus, they have noise cancellation so you can drown out your surroundings.
The SteelSeries Arctis 1 and 3 are at the link below. They have a more plastic frame that doesn't feel as durable. Plus, you sacrifice a bit of sound quality and range. Overall, SteelSeries provides a high-quality Meta Quest headphones worth taking a look at.
Kiwi Design On-Ear Headphones – Best On-Ear Option
The Kiwi Design On-Ear Headphones deliver a complete listening experience while in VR. This on-ear audio solution delivers richer audio with an average higher volume level than built-in speakers.
What I like the most about these headphones is that they are well-designed and give you more immersive VR audio without needing to cover your areas. The headphones also block the noise from the outside world, so you remain fully immersive. The side strap is made of eco-friendly polymer material, which makes it sturdy and can withstand intense pressure.
The Kiwi Design On-Ear Headphones have an adjustable hinge, allowing you to extend the strap to the maximum angle. With ultra-soft protein leather ear pads and a soft thick cushion on the top and back of the accessory, the audio strap reduces pressure and makes you comfortable wearing or taking off the head strap.
Soundcore VR P10 VR Earbuds – Best Wireless Earbuds
The Soundcore VR P10 VR Earbuds are Meta-authorized headphones for the Quest. They deliver a lag-free wireless audio experience to take your VR gaming to the next level.
These premium headphones use a 2.4GHz high-speed wireless connection, superior LC3 codec, and a custom chipset for quick and instant audio transfer. You can simultaneously connect the headphones to the Quest and your phone through Bluetooth to answer calls without stopping gameplay.
You can even charge the headphones while playing your favorite games to prevent a situation where the low battery will reduce your excitement. Thanks to the IPX4 water-resistant build of the Soundcore VR P10 VR Earbuds, you don't have to worry about sweating when you work out in VR. This accessory has four microphones that can reduce noise during in-game voice chats and calls.
AMVR Noise Isolating Earbuds – Best Noise Isolation
The AMVR Noise Isolating Earbuds Earphones are a simple earbud solution to immerse yourself in VR fully. They adopt noise isolation features and good ergonomic design to deliver impressive 3D sound. These headphones have aluminum alloy and TPE material. Their operating frequency range is 20Hz-20KHz.
Each earbud has a 10 mm neodymium magnet driver to ensure your fully immersive gameplay. They deliver crunchy mid-tones, clear highs, as well as powerful bass. They are marked "L" and "R" and identified by red and blue colors, respectively. You can comfortably store the earbuds when you don't need them because they are designed with dual Earphone Silicone Holders. Additionally, they are available in three sizes to choose a perfect fit.
PRISMXR Vega T1 Wireless Earbuds
The PRISMXR Vega T1 are wireless earbuds for virtual reality enthusiasts. These have an expansive sound field for VR gaming, ensuring every footstep and ambient noise can be heard. What stands out for VR users is the ZeroDrag Tech, reducing latency to a mere 25ms. Every action, reaction, and moment in your VR game aligns perfectly with what you hear.
The vibrant, immersive sound was an immediate standout. These earbuds also have a PrismXR companion app, allowing you to customize your listening preferences.
Quest 2 On-Ear Headphones and Counterweight
The Quest 2 On-Ear Headphones and Counterweight rest over the top of your ears so that they don't bother you. They are made with ABS plastic material and memory foam to be a solid counterweight and impressive 3D sound. The material makes it durable and tough. These headphones have a sponge pad with memory foam to immerse you in the VR world.
While marketed to the Quest 2, these are also compatible with the Meta Quest 3.
The headband adaptor is adjustable, meaning each wearer can find a comfortable angle during gameplay. They are also rotatable up to 360°. They can rotate up and down for the perfect angle. They deliver impressive audio at a decent price.
KIWI design Headphones
The Meta Quest KIWI Design Headphones have aluminum alloy and TPE materials. They are durable and lightweight. With the customized composite diaphragm and driver, the KIWI Design Headphones have a pleasant mid-high balance and excellent bass.
These headphones use an ergonomic in-ear design to minimize sound leakage and reduce external noise. They have ear caps to form a comfortable in-ear seal for pleasurable listening. They are designed to operate at a frequency range of 20Hz-20KHz.
Additionally, they come with a 35 cm cable with a high-quality TPE material so that they do not tangle while in use. They are available in 3 different sizes for you to choose the perfect fit.
Meta Quest Stereo 3D Headphones
The Meta Quest Stereo 3D Headphones are designed to provide users with incredible sound quality for complete immersion in VR. They have a 40 mm dynamic driver for 3D sounds. They support frequency within a 100Hz to 3kHz range. The low impedance and high sensitivity amount to 32 ohms and 122dB/mW, respectively.
These Meta Quest headphones are adjustable, providing left, right, back, and forth adjustment functions. They fit an elite strap and the Quest stock strap. They also have a 15 cm wire cable to prevent cable tangling or sound distortion. These headphones deliver superb 3D sounds for a decent price.
Still stuck on the Oculus Quest 1? No worries.
We have our top Oculus Quest headphones below. These headphones have separate 3.5 mm left and right cables to plug in properly to the original Quest headset.
Oculus Quest 1 Headphones
KIWI Design Headphones
The KIWI Design Headphones are specifically designed for the Quest 1 for the ultimate immersive sound experience. The two earbuds have high-quality 10 mm neodymium magnet drivers to deliver great audio and powerful bass. They also deliver crunchy mid-tones and clear highs while gaming.
You Identify the "L" and "R' earbuds with blue and red color respectively. These headphones function at a frequency range of 20Hz-20KHz and deliver 3D 360-degree sounds.
The KIWI Design Headphones are durable, lightweight, and have a custom 8′ cord length to avoid cable tangle. Plus, they are available in three sizes for unparalleled gaming experience.
Equinox In-Ear Headphones
The Equinox in-ear headphones are comfortable and high quality. These headphones have dual audio ports and shorter cord lengths to jump straight into gaming.
The two earbuds deliver 3D 360-degree sounds. They are capable of both deep prismatic sounds and light fluttery ambiance. The Equinox in-ear headphones feature an in-ear vacuum to keep the headphones firmly in place and also suppress unwanted sounds. These Quest 1 Headphones also function at a frequency range of 20Hz-20KHz to deliver impressive sounds. Plus, the low price point is hard to beat. You can easily increase your sound for minimal cost.
Oculus Quest Stereo 3D Headphones
The Oculus Quest Stereo 3D Headphones are designed to provide impressive sound quality so you can completely immerse yourself in VR. They support frequency response with 100Hz to 3kHz and come with a 40 mm dynamic driver. They also function at a low impedance of 32 ohms and high sensitivity of 122dB/mW.
These headphones are equipped with high-quality imitation protein earmuffs. Plus, they look great with the Quest 1. Made of aluminum alloy, they are adjustable to the left, right, back, and forth. Additionally, they provide clear treble, crunch mid-tones, and deep bass to ensure fully immersive gameplay.
Unbranded Oculus Quest Headphones
These unbranded headphones for Oculus Quest are ergonomically designed to stay firmly in the ear without entering your ear canal. It forms a cap that offers the headphones an excellent noise reduction. With these headphones, there is no fatigue in long gaming sessions, as they offer a comfortable listening experience.
These headphones come with robust 12 mm composite graphene drivers for enhanced sounds. They operate at a frequency range of 20Hz-20KHz to offer well-balanced sound. Plus, they have ear adapters in various sizes so you choose the best fit.
Types of Meta Quest Headphones
Depending on what you want, you can buy different types of Meta Quest headphones. They all have their different pros and cons to consider.
Earbuds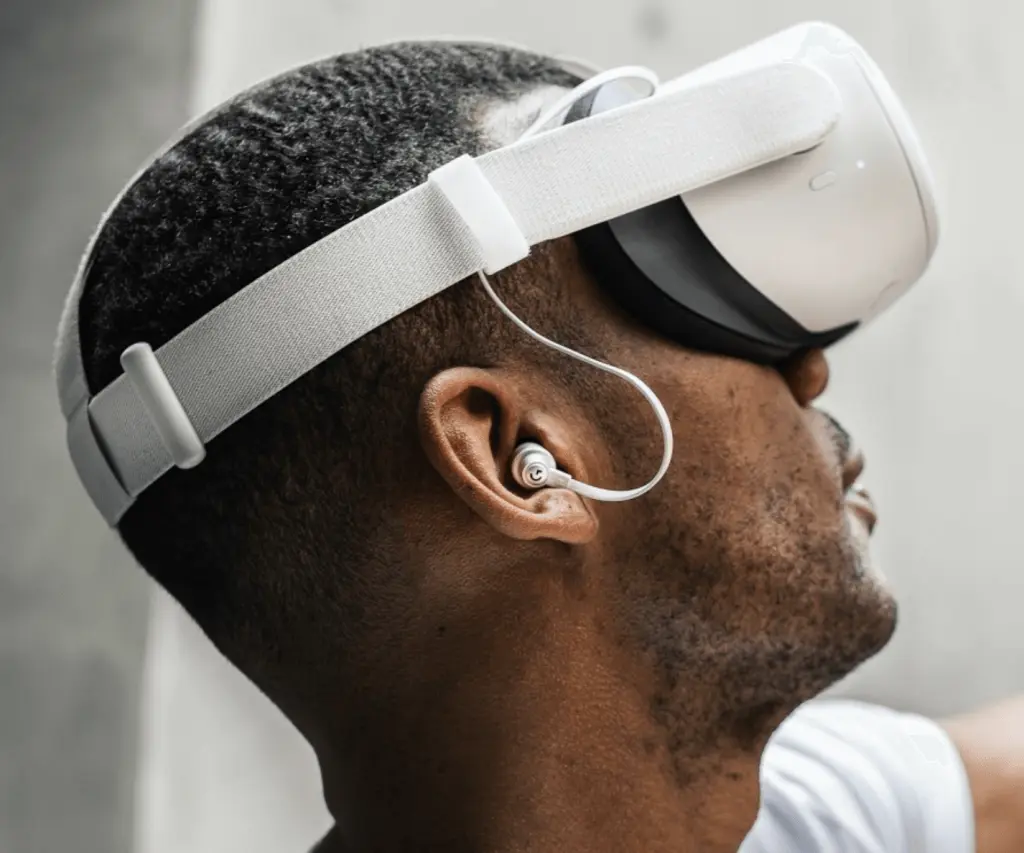 Earbuds are compact buds that sit inside your ear. These are usually the cheapest Oculus Quest headphones you can buy. The main advantages to earbud headphones are:
Lightweight
Adjustable tip sizes to match your ear
Lower cost to buy
However, some people don't like how earbuds feel in their ears. Due to the compact size, they also do not have as wide of frequency and as low of bass.
Over Ear
Over-ear headphones look like a traditional gaming headset, but the cushion of the headphones doesn't sit in your ears. Instead, these headphones hover over the top of your ears.
The biggest drawback is that over-ear headphones cannot be noise-cancelling. This is bad if your VR play area has a lot of ambient noise. Otherwise, overhead Oculus Quest headphones are very popular. The Deluxe Audio Strap and Frankenquest is a popular solution for more.
On-Ear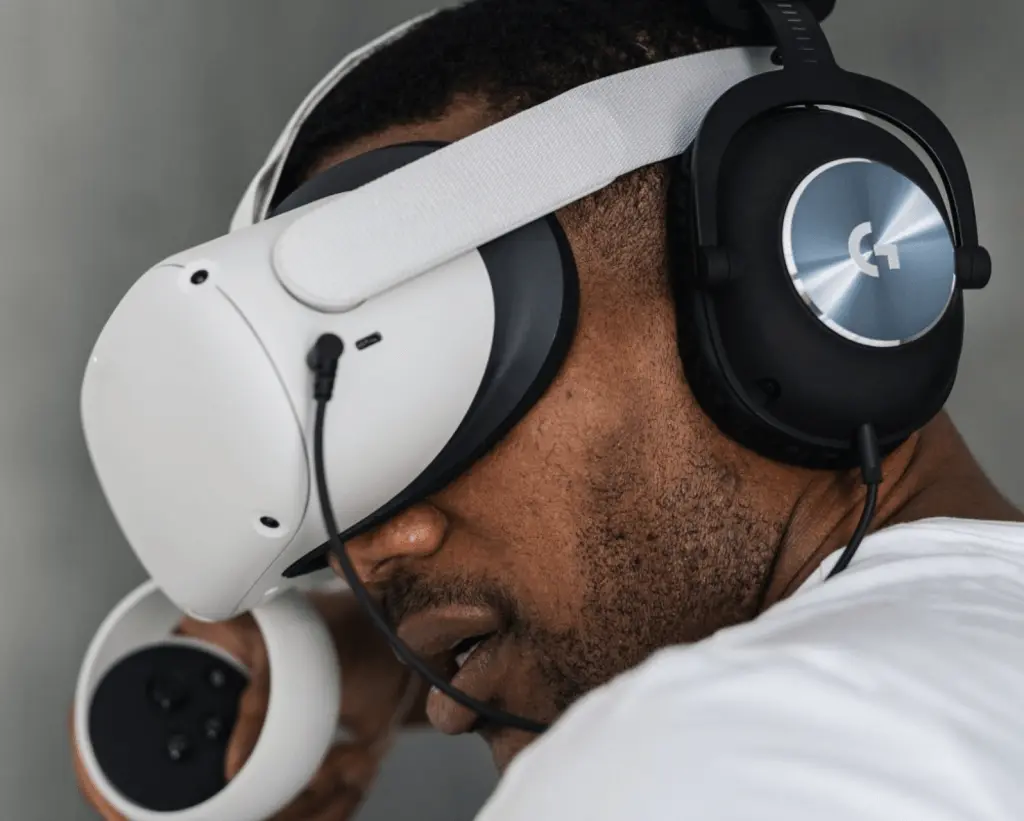 On-ear headphones are full gaming hardware. Padded cushions rest on your ears while you play. This allows for the deepest base and highest sound quality.
Good on-ear headphones have noise cancellation built so you can't hear outside your game. On-ear headphones are often the most expensive option.
What Meta Quest VR headphones do you like using? Comment below and let us know!