Mixed, augmented and virtual reality is a huge trend in the technology industry. There are many MR, AR and VR affiliate programs available to make money on by referring customers. In this guide, we go over 10 businesses and services in the mixed reality space offering affiliate programs.
Once you sign up, you just have to direct potential customers to each service and you'll receive money. This is a great tool if you are a blogger or content writer. You need to know which programs are a waste of your time and which are kosher, right? Don't worry, we've got your back.
We've prepared a list of the best 10 AR and VR affiliate programs you can make money on.
Let's get started.
Best AR & VR Affiliate Programs
#1. Cappasity – 3D Device Creation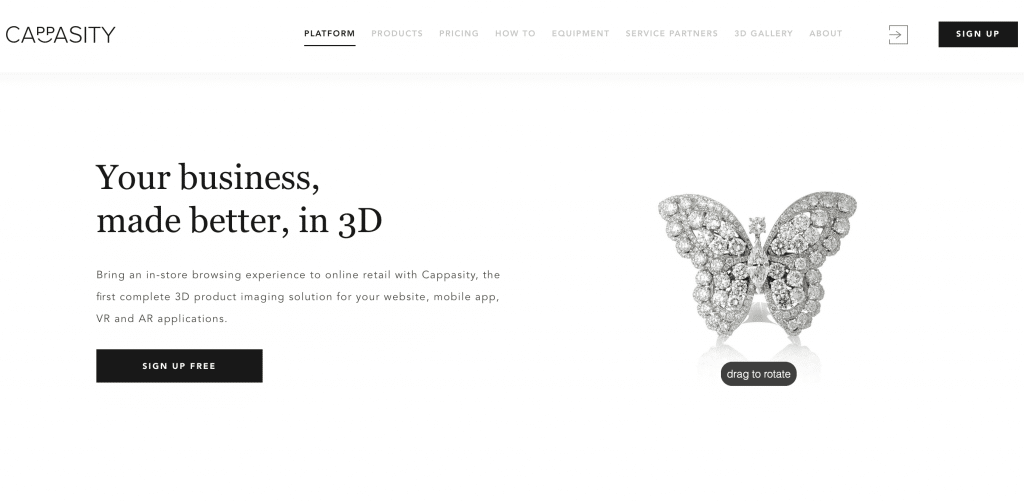 Cappasity is a cloud platform for 3D/AR/VR digital photo creation. Think of digital signage for mobile devices. E-commerce companies like retail stores and services can integrate augmented and virtual reality technology into their business.
Cappasity provides the solution for the creation, storage, and implementation of 3D contents for online shopping. Interactively viewing products allows customers to have a better idea of what they are buying. The customer has the ability to zoom in and view the product from all possible sides. It keeps the attention of the customer longer and allows them to remember it better.
Cappasity is a good summary of where the industry might go in the future. For VR affiliate programs, it's one you need to check out. Affiliate members get up to 20% off all purchases made through the link. Any new customer also gets a 10% discount on Cappasity's monthly plans. To enroll in the affiliate program, sign in or register for a Cappasity account. In the Account menu, open the Affiliate tab and activate the Affiliate Program.
Cappasity Affiliate Details
Affiliate link
Cookies length: Not stated
Commission: 20%
#2 Insta360 – 360 Degree Cameras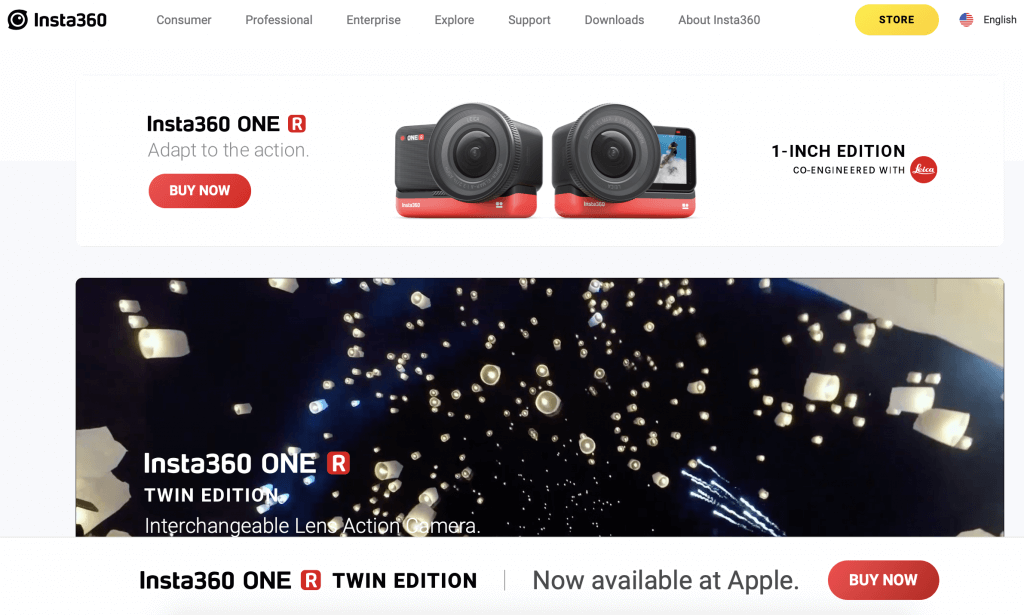 Insta360 is the number one seller of 360 degree cameras for both hobby and commercial uses. They are the perfect VR affiliate program to promote because of their high reputation, good quality, and number of applications.
With Insta360 cameras, you can create 360 degree videos and convert them so that they can be viewed in a VR headset. There are a number of commercial uses for 360 videos including walkthroughs, tour guides, mapping, retail, and more.
The Insta360 affiliate program offers 10% commission per sale, which is great! Insta360 also offers a 45 day cookie.
Affiliate Details
Affiliate Link
Commission: 10%
Cookies length: 45 Days
#3 Oculus – Rift S & Quest VR Headsets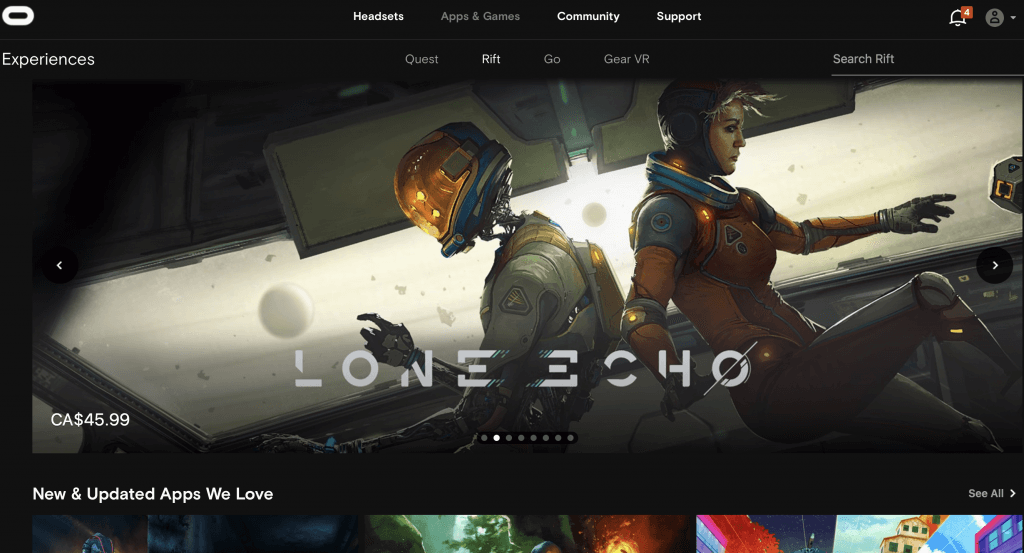 Not many people realize that Oculus has their own affiliate program. You can make money by referring customers to by an Oculus VR headset such as the Rift S or Quest. So far, you can't make any money on VR game sales, which is too bad.
AR/VR Tips is part of the Oculus affiliate program. If you purchase a headset using any of our links (including the one attached at the top), we get a kickback from Oculus at no additional cost to you. This helps pay for things like our server and domain costs.
The Oculus affiliate program is run through Rakuten. You must first become a rakuten affiliate member and then search for Oculus in the advertisers list.
Affiliate Details
Affiliate Link
Commission: 3%
Cookie Length: 1 day
#4. Revealio – Augmented Reality Video Marketing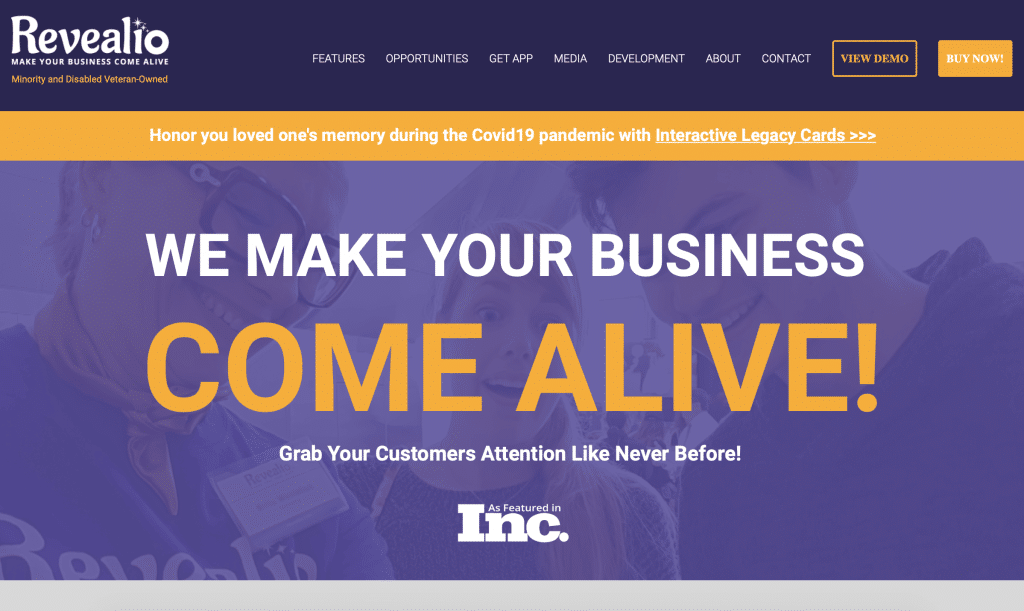 Revealio is an augmented reality video marketing mobile application that overlays video on top of physical print products. Some products that can integrate Revealio include business cards, banners, posters, flyers, and event invitations.
It combines the physical and virtual worlds into one robust, interactive experience. Since augmented reality (AR) is one of the hottest new technologies sweeping the world, Revealio is making AR very accessible. It is also very affordable to use as a marketing tool that will instantly set you apart from competitors.
As a VR affiliate program, Revealio is in line with industry trends for mixed reality. It offers up to 40%, which is a high percentage share.
Affiliate Details
Affiliate Link
Commission: 20-40%
Cookies length: Not stated
#5. VR Cover – Silicon Covers for VR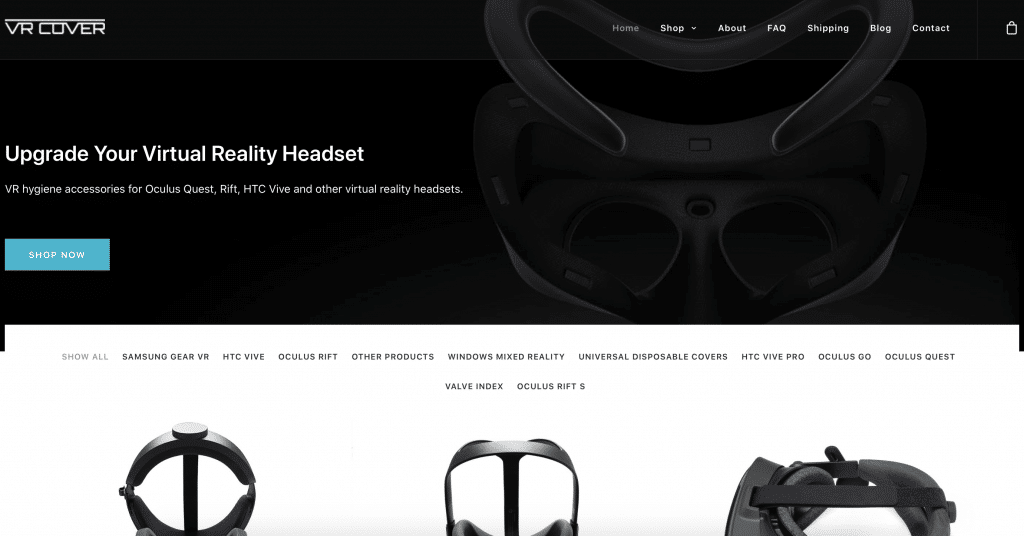 VR Cover sells several virtual reality accessories to help keep VR products clean and sanitary. Their primary products include foam replacement parts for brand-name headsets such as Oculus, HTC Vive, Samsung, and Windows Mixed Reality.
The foam pieces increase comfort, and they can be easily cleaned or replaced to enhance hygiene.
VR Cover is based in Thailand, but there is a fulfillment center based in the United States. Most orders placed in America are processed within 24 hours and arrive within about a week.
You can browse for accessories and cleansers based on the type of headset you use. VR Cover also sells universal headset covers, antibacterial wipes, and VR fan apparel. Product prices range from $10 to $79.
You register on the site and get instant access to the affiliate area. There, you can generate links with your tracking code. On the VR Cover platform, you will also track how people click your affiliate link and the number of products they've bought.
Affiliate Details
Affiliate Link
Commission: 10-15%
Cookie: 30 days
#6. VR Global – VR SaaS for Businesses
VR Global is a technology company providing enterprise level VR Software-as-a-Service (SaaS). The platform is designed for commercial, residential, mixed use real estate and hospitality markets. Using 3D and 360° photo, video, and CGI renderings, the company creates a way for customers to view property tours.
These digital tours can be viewed seamlessly across all devices anywhere in the world. Some specific uses of digital property tours includes real estate demos, architect renders, hotel and resort walkthroughs, and event spaces.
VRGlobal's affiliate program is divided into two: Sales and Agency partners. The sales partner program is created for individuals and companies that need extra income by referring their customers to VRGlobal. The agency partner program is designed for companies that want to improve their brand's image and provides top-notch AR and VR solutions.
Affiliate Details
Affiliate Link
Commission: Not stated
Cookies length: Not stated
#7. VR-Sync – 360 Degree Video Management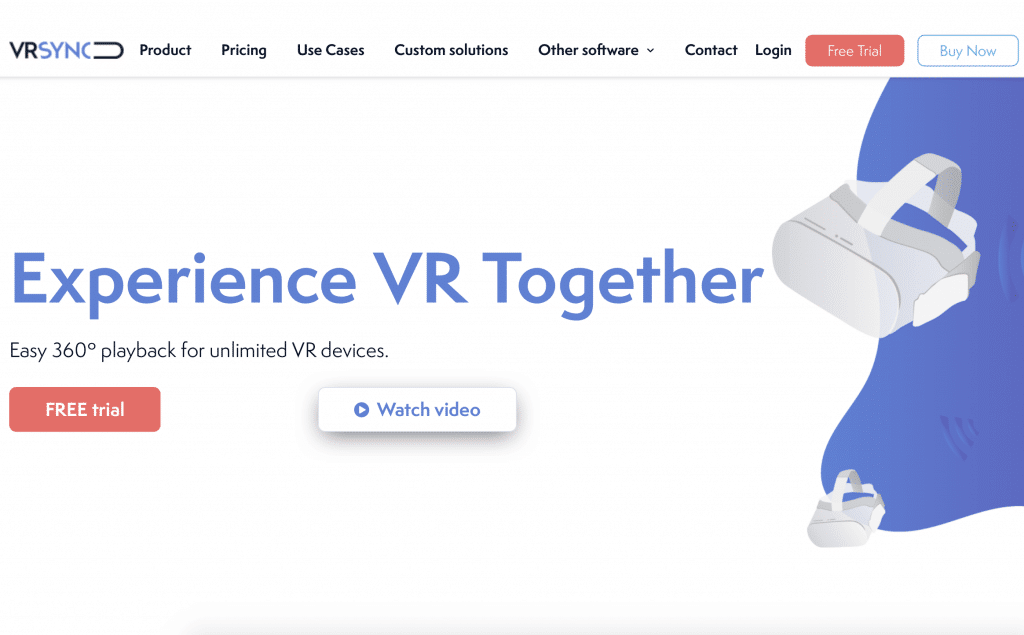 VR Sync offers synchronized 360-degree video playback on an unlimited number of VR devices. Customers can upload their content through the dashboard and push it wirelessly to devices.
This can be fun for a group of friends, but it also has applications for the business world. VR Sync is already used by high-profile companies like Ford, Nike, and the United Nations. The software is easy to use, and it's affordable.
Prices start at €5 per headset for one week of use. The cost for one headset for a year is €80. VR Sync also provides a 72-hour free trial.
Some applications where VR Sync has been used in the past include:
Coordinated VR training that plays video at the same time on every headset
VR theater performance
On-demand virtual tour at a trade show
VR Sync provides its affiliate marketers with a great commission rate and cookie length. Customers get access to software that allows them to push content to several devices at one time. As well, there is a free trial period.
Affiliate Details
Affiliate Link
Commission: 30%
Cookie: 60 days
#8. VRMust – VR Accessories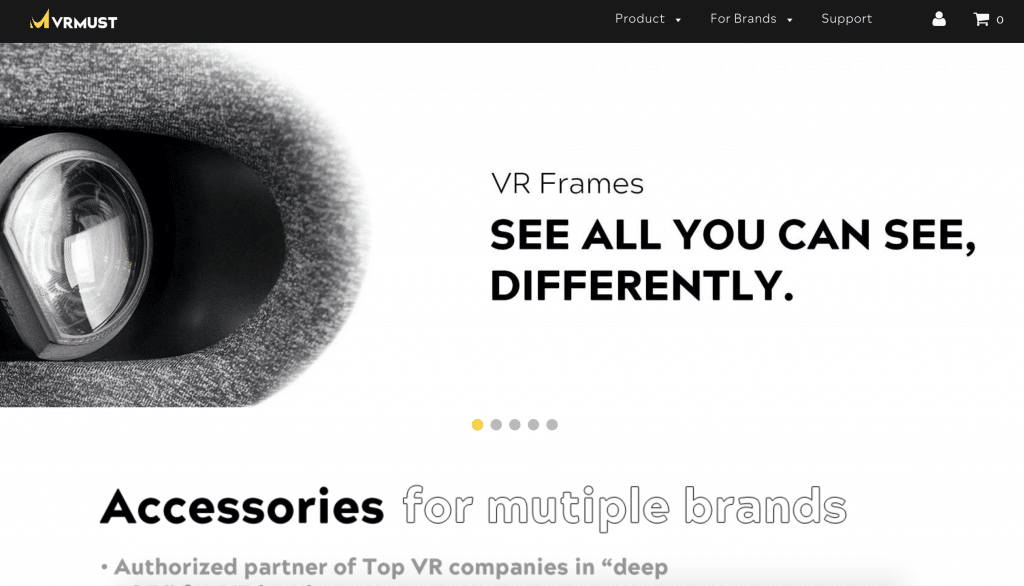 VRMust is a group of geek players and VR enthusiasts. They are devoted to the mission of bringing the best VR accessories to all VR enthusiasts for a better experience. They have partnered with the top VR companies to make sure you can find everything you need.Some VR accessories that VRMust offers includes:
extension cables
protective covers
replacement head straps
Through comprehensive quality control, VRMust guarantees all products to be genuine. Affiliates can earn revenue by helping to spread the word about VR accessories.
Affiliate Details
Affiliate Link
Commission:
20% commission as a base rate
30% for new customers
An extra $10 bonus if the order is over $100.
Cookies length: 90 days
#9. Unity – AR and VR Development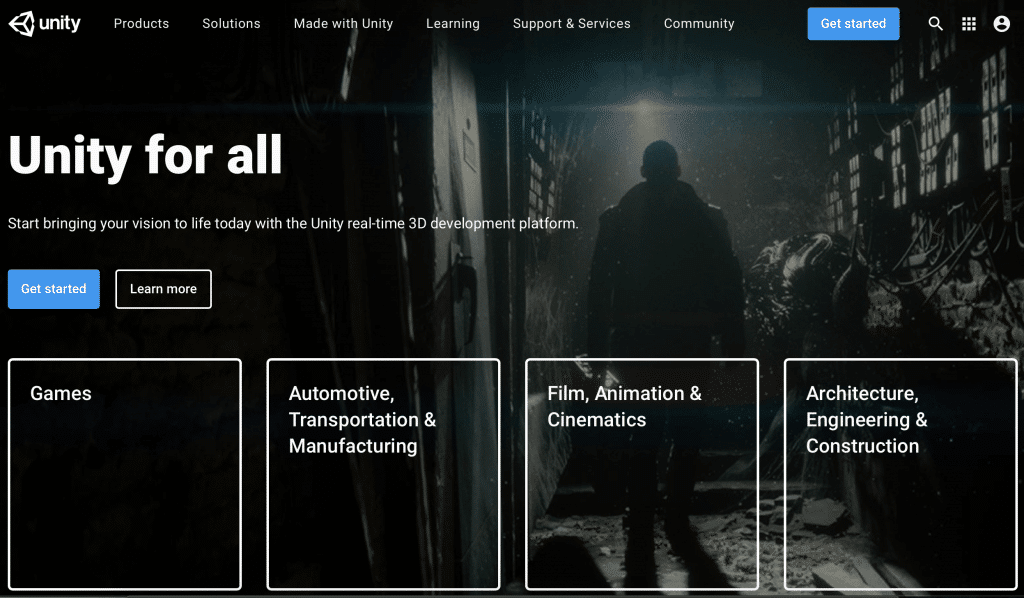 Unity is a game development platform created for both 3D and 2D games, experiences, models and designs. Both indie games and businesses can utilize the popular platform. It's the most popular platform for creating augmented and virtual reality games and apps.
The Unity engine is free and easy to install. Anyone can have a fully featured game development engine installed with minimum fuss.
We have a dedicated VR development section on our website, which offers tutorials on how to program VR games using Unity. Check that out for full details about the platform!
One nice thing is that affiliate commission is available both on Unity Pro subscriptions and on products in the Unity Asset Store. Unity is very popular and its one of the hottest VR affiliate programs.
Affiliate Details
Affiliate Link
Commission: Commission varies depending on the product sold. Example Commissions:
Unity Plus: $17.50 per subscription
Unity Pro: $62.50 per subscription
Asset Store: 5% commission
Cookies length: 90 days
#10. Shopify AR – Augmented Reality Shopping Info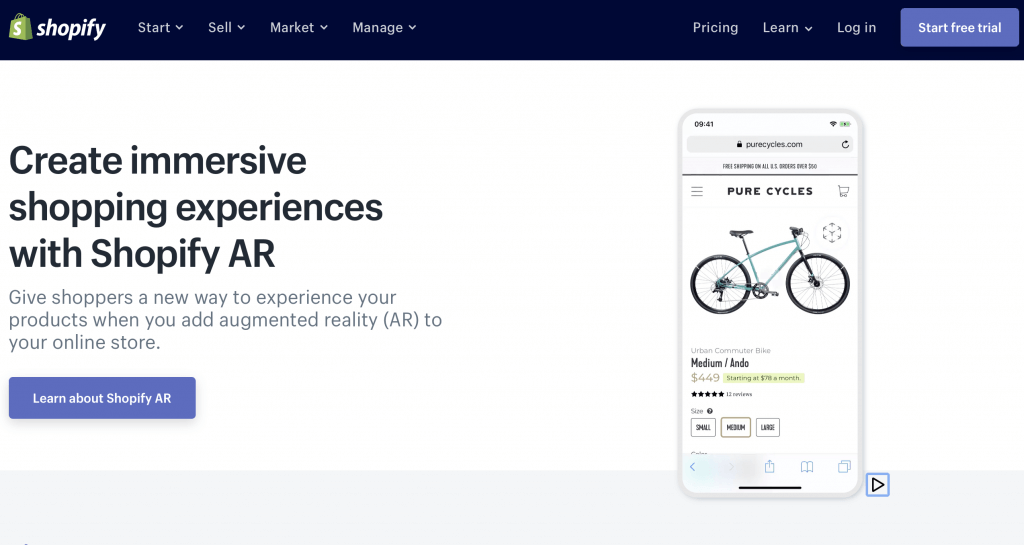 Since the launch of Shopify AR in 2018, Shopify has been committed to helping merchants create better online shopping experiences. Shopify AR offers 3D and augmented reality product displays. Anybody with a Shopify shop can implement augmented reality into their store today.
Shopify AR helps shoppers get a truer sense of the size, scale, and detail of their products. Plus, you can give shoppers on iOS and Android the ability to turn any environment into their own showroom.
Since Shopify is an open platform, any e-commerce store can utilize these augmented reality features.
Affiliate Details
Affiliate Link
Commission: You can earn an average of $58 for everybody you are able to refer to Shopify through your referral link. You can also earn $2000 for each Plus referral.
Cookies length: 30 days
#11. Udemy – AR and VR Training Courses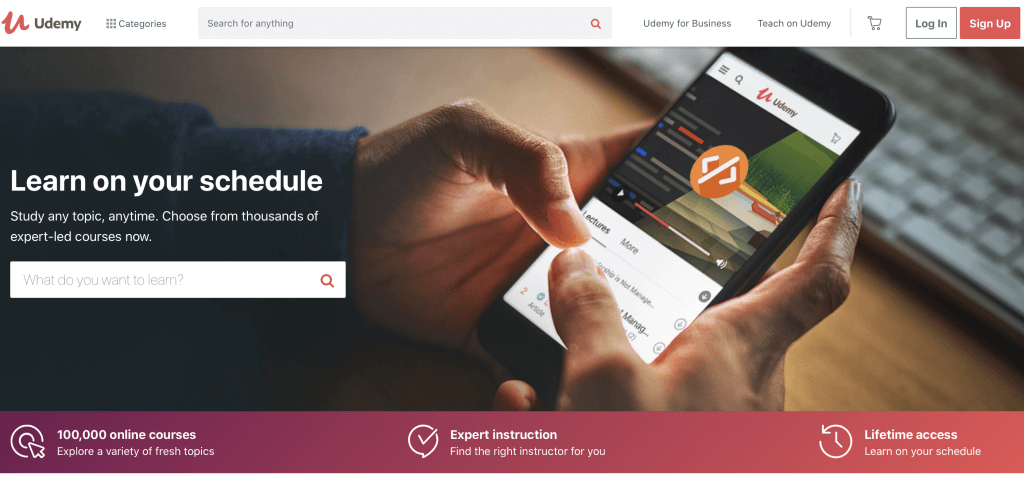 Udemy is an online educational platform. It was developed to provide an ability to learn new things to people who would otherwise not have the means.
Founded in 2010, it is the largest e-learning platform today, with more than 30 million students enrolled in over 100,000 courses. If you're interested in AR and VR, you can go to Udemy and search for courses such as:
"360 Panoramic Photography for VR, AR, and XR"
"Extended Reality (XR) – Building AR/VR/MR projects"
"Game, AR, VR, Development on AWS,"
If you're a teacher, you can also create an instructor profile and upload your VR and AR courses to the platform. Every time a student purchases your course, you earn a portion of the revenue.
You might not think about Udemy as one of the top VR affiliate programs, but it has high commission rates for sales and a ton of mixed reality content. You earn commission on your customers for 7 days after they click your affiliate link. The 7 days will reset if they click your link in the future. The key is to ensure you're driving traffic to your site via your affiliate links.
Affiliate Details
Affiliate Link
Commission: 20%
Cookies length: 7 days
#12. Mobfish VR Studios – Create VR Apps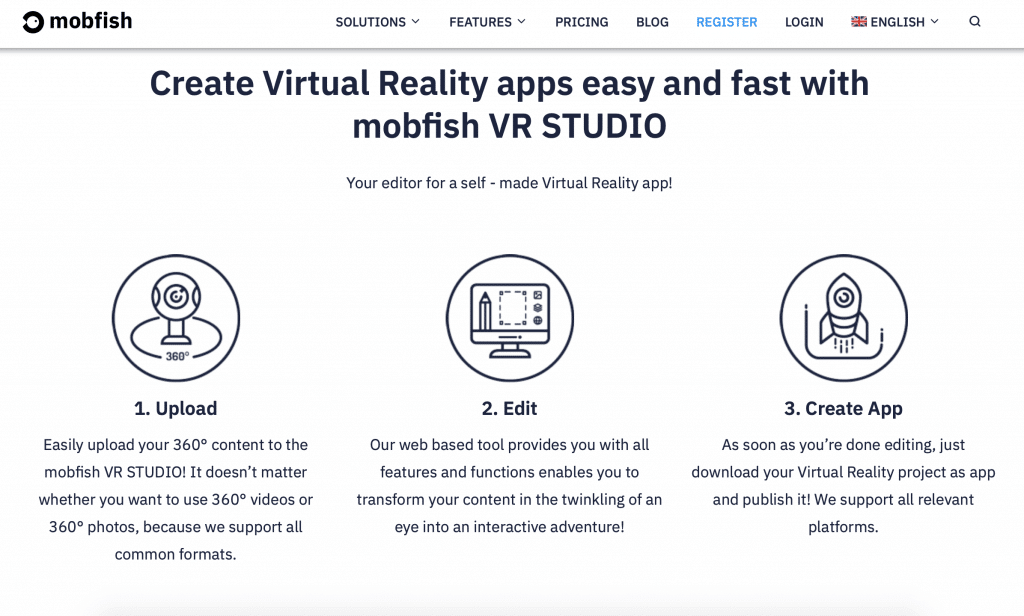 MobFish VR studio is a virtual reality software company that helps customers create their own VR content. The platform has applications ranging from business and education to marketing and trade fairs. It's one of the most popular pure VR affiliate programs.
Mobfish provides software to help people create and upload their own VR content. The affiliate perks include cash or credit commissions, free access to the software, and discounts on full annual licenses.
You can register for free to start creating VR apps right away. Monthly paid plans range from €49 – €399. Affiliate marketers are paid €150 for each annual subscription they refer. They also get a free 3-month subscription and 25% off of a full annual license.
Affiliate marketers who are VR experts can have constant access to all the beta features of the software. They can opt for €200 in company credit rather than €150 in cash.
Affiliate Details
Affiliate Link
Commission: €150 per annual subscription
Cookies length Unknown
#13. Amazon – Promote AR & VR Products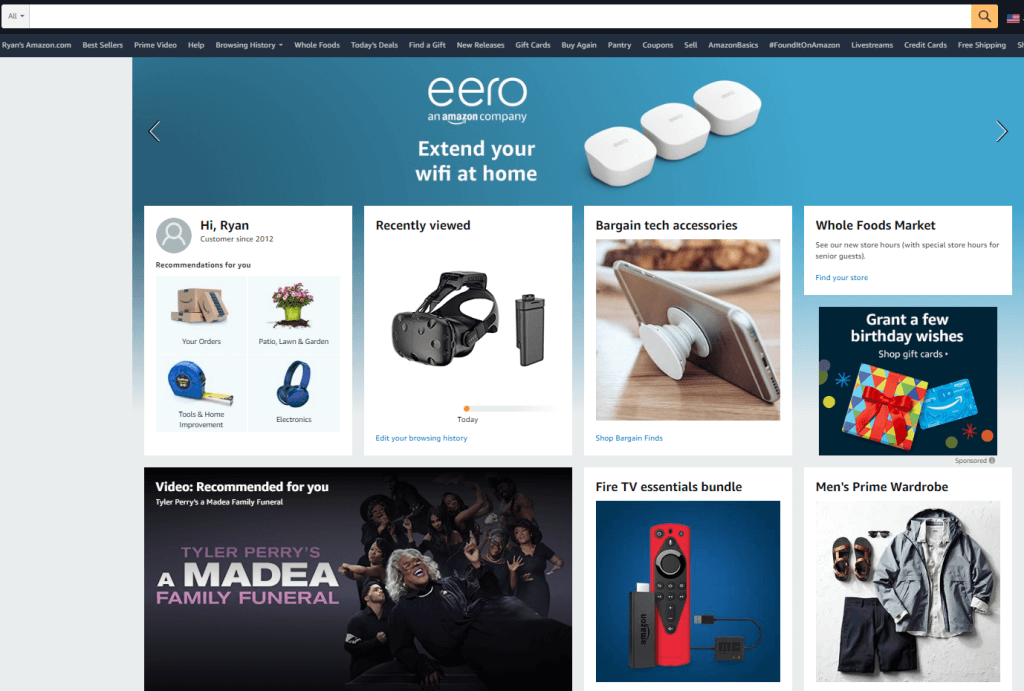 Amazon is one of the most popular affiliate programs in the world. For augmented and virtual reality enthusiasts, there are a ton of good affiliate products to promote and sell. Some ideas of things you can promote in the AR and VR space from Amazon are:
VR Headsets
VR Accessories
AR Hardware
General Electronics
Clothing and Memorabilia
Amazon has cut the commission rate in recent years, which has decreased interest in the program. However, a lot of users on the internet like how reliable and fast Amazon's shipping and refund policies are. For this reason, it's hard to completely get away from Amazon's massive inventory.
If you are looking for any kind of affiliate program, then Amazon should be on your list.
Affiliate Details
Affiliate Link
Commission: Varies (1-10%)
Cookie Length: 24 hours
Affiliate revenue is awesome because it provides you with monetary incentive without charging your visitors anymore.
Have you signed up for any of the AR and VR affiliate programs?
Which one is your favorite?
Have a look and check them all out today.