A good screen protector will help keep your Steam Deck free from scratches, fingerprints, and dust. In this guide, I'll show you the best Steam Deck screen protectors that you can buy today.
For each accessory, I'll go over some key features and reasons why it's a good option for protecting your Deck.
Let's have a look!
What are the Best Steam Deck Screen Protectors?
Check out more Steam Deck accessories here.
Let's take a look at my favorite Steam Deck screen protectors in more detail.
The JSAUX 2-Pack comes with two screen protectors from a top Steam Deck accessory brand in JSAUX. It's tailored specifically for the Steam Deck's size, ensuring full-screen coverage with edge-to-edge protection.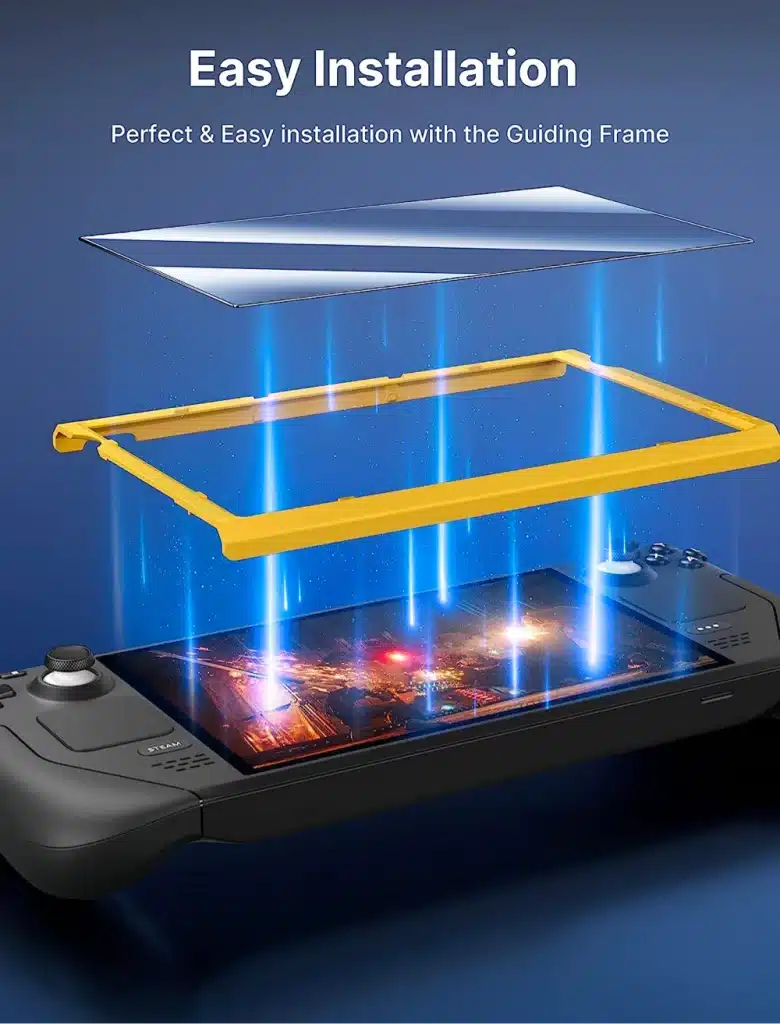 These screen protectors comes with a guiding frame, making it highly user-friendly. Imagine being able to place the screen protector perfectly without having to fuss with aligning the edges – the guiding frame takes care of that.
With 99.99% transparency, this screen protector won't hinder your gaming experience. Imagine playing your favorite game and enjoying the same crisp visuals you would expect without a screen protector. It's as if there's nothing between you and the screen.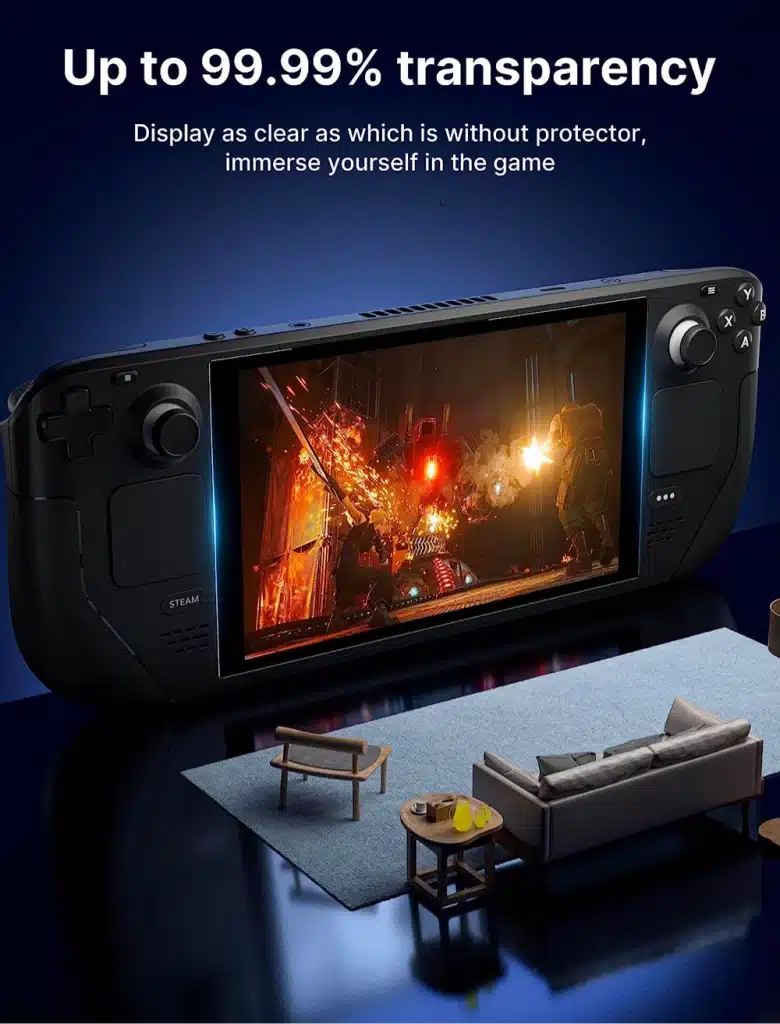 Reinforced at 500℃ for several hours, this screen protector is more durable than others. This extra quality makes the JSAUX screen protector a top pick for us.
The oleophobic coating keeps the screen clean from fingerprints. It ensures that the aesthetic appeal of your screen remains unblemished.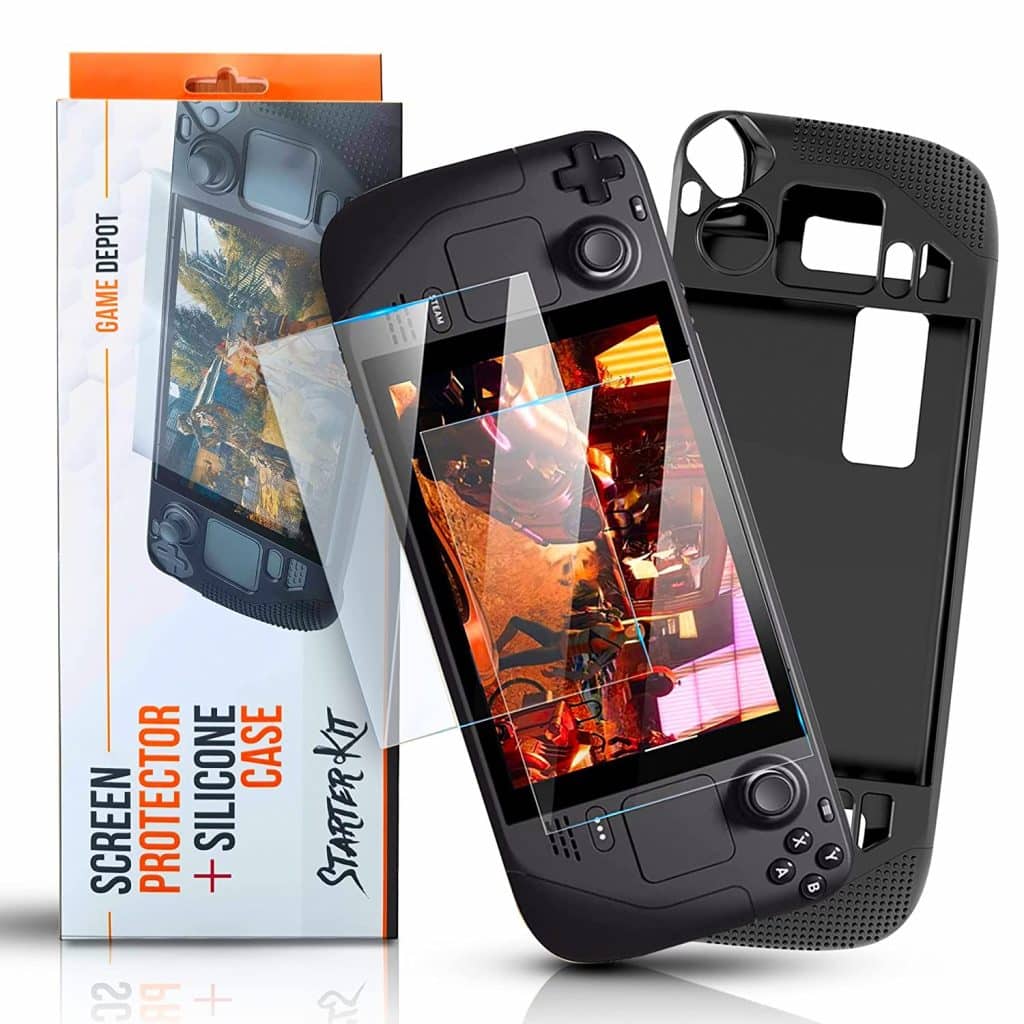 The Game Depot Screen Protector is a critical accessory designed for your Steam Deck. It comes in two units; a tempered glass screen protector and a flexible silicone protective cover. The two units offer better protection to your Steam Deck both at the front and back.
The tempered glass screen protector is made using high-quality material – 0.33mm ultra-thin 9H hardness tempered glass. This protector sheds your Steam Deck against scuffs, scratches, dirt, and fingerprint oils, keeping the screen clean and responsive at all times. It is really easy to install.
One thing I like about this protector is that the touchscreen wasn't compromised in any way. When it's in place, you hardly notice it is there.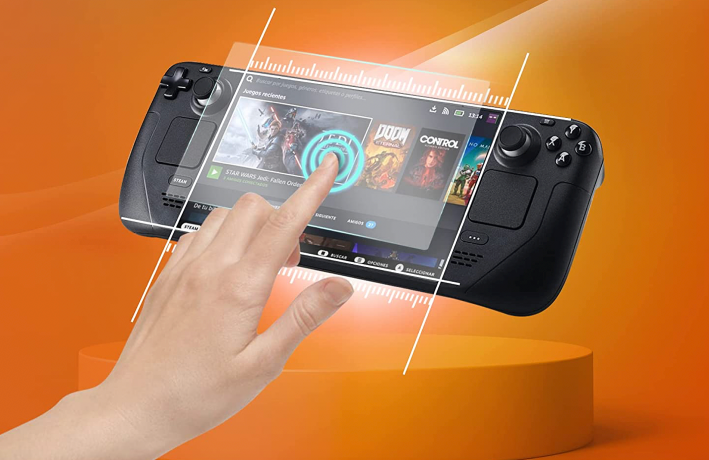 As an added bonus, the Steam Deck screen protector by Game Depot come with a silicone case too. The flexible silicone protective cover adds extra rear drop and shock protection to a Steam Deck and provides a non-slip grip while gaming.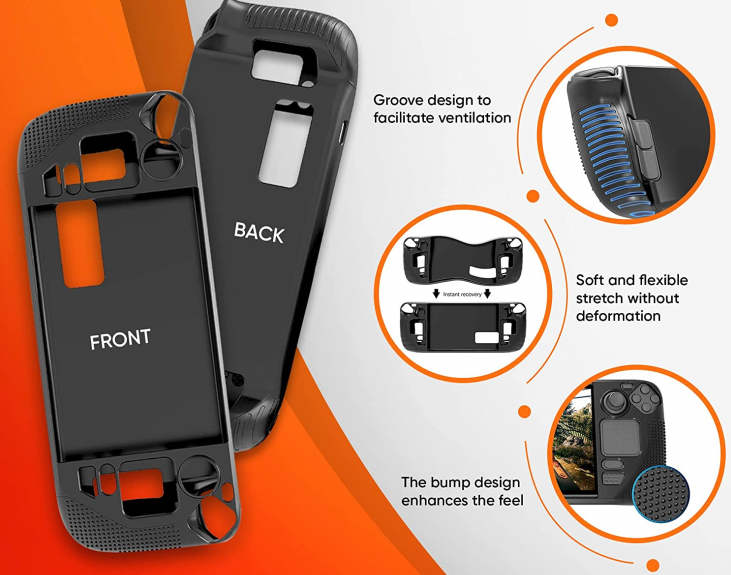 This protection accessory surrounds your Deck without impacting buttons, controls, ports, and other peripherals attached to the unit.
The amFilm Screen Protector is designed specifically for the Deck's size of 7 inches. It provides 99.9% transparency and allows for a natural viewing experience when gaming on the go.
This screen protector protects your Deck from dirt, dust, scratches, and scuffs. It can also save the screen of your Deck from fingerprint oils. It is highly durable and coated to reduce fingerprints from showing.
TheamFilm Screen Protector is 0.3mm thick, promising complete touchscreen sensitivity and reliability. The package includes dry wipes, microfiber cloth cleaning wipes, and an easy installation manual
To install it, you just press the protector onto the screen for installation, and you're good to go.
Sale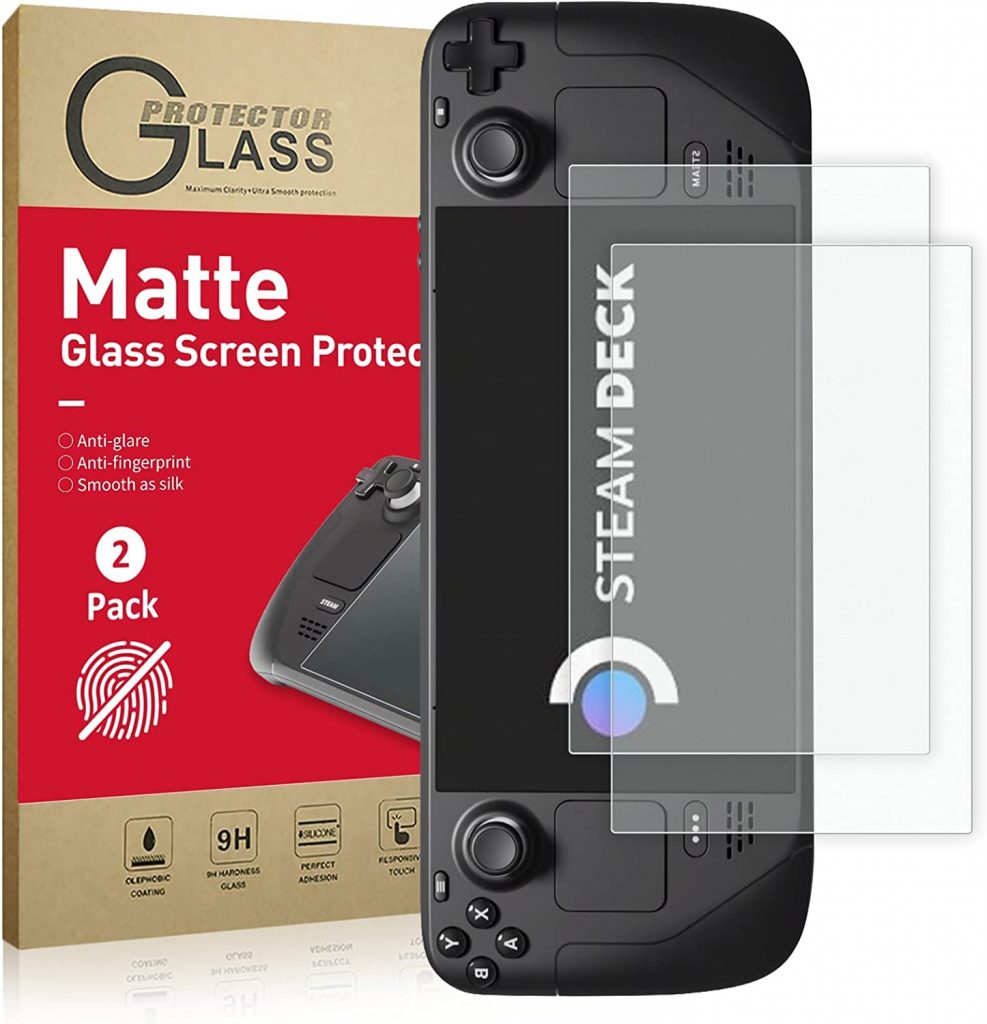 The Ambison Matte Glass Screen Protector is another protection accessory you should consider if you want to protect your Steam Deck safely. It provides maximum protection to the Deck's screen without leaving any gap.
This anti-glare screen protector is as smooth as silk and doesn't generate any bubbles when it sits on the screen. It doesn't interfere with the touchscreen sensitivity.
The Ambison Matte Glass Screen Protector can protect your Deck from scuffs, scratches, dirt, and fingerprint oils. I thought it did a great job keeping the front of your Deck always clean.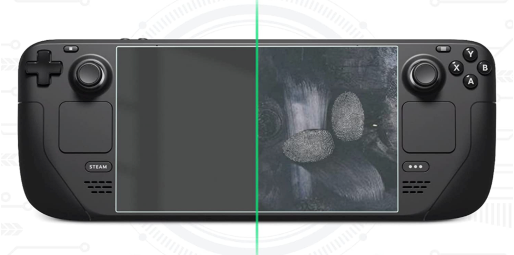 Additionally, this anti-glare etched glass screen protector suppresses light reflection so that you can continue to play your favorite games even under strong sunlight. It also has a surface oleophobic coating to reduce fingerprint action to the minimum.
Ambison Matte Glass Screen Protector Designed for Steam Deck 7inch, [2 Pack] Premium Anti Glare Glass/Full Coverage/Fingerprint Free/9H Hardness/Anti Scratch/Ultra Sensitive/Easy Installation
Compatibility: Matte glass screen protectr is specifically designed for Steam Deck (7 inch) 2021/2022 Release, 64 GB eMMC/256 GB /512 GB.
Anti Glare: Steam Deck premium matte anti-glare etched glass screen protector, with matte on surface, anti glare function to suppress light reflection, gaming in strong sunlight, outdoors or in light, is not dazzling, bring you a better game experience. Surface oleophobic coating to reduce fingerprints.
Full Coverage Screen Protector: The matte glass screen protector completely covers the entire screen, 1:1 customized, preventing the screen from being exposed and scratched, improved 99.99% for screen protection. Surface hardness 9H, effectively protecting your steam deck console against daily scratch and collision.
What is a Screen Protector for the Steam Deck
A screen protector is a thin layer of plastic or glass that covers the entire display area of your Steam Deck. They are used to keep the screen free from damage caused by accidental bumps or drops.
A screen protector is great at shielding your Deck from hairline scratches that occur from regular use. Because the Steam Deck display is a full touchscreen, you will be interacting with it regularly.
Most screen protectors today are made from tempered glass that looks and feels like a clear sticker. You place it over the display and then carefully work to run out any air bubbles.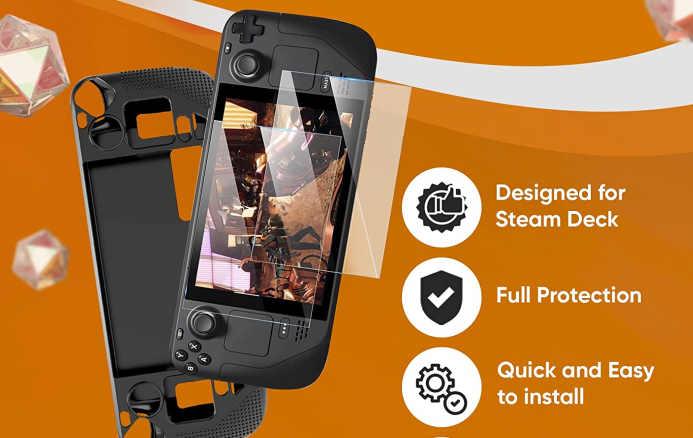 Key Features to Look for in a Steam Deck Screen Protector
There are many different types of screen protectors available. Some are better than others depending on what you need them for. Here are some key features to look for:
Anti-Glare
Since the Steam Deck's screen display is only 7 inches big, you will already have a hard time reading small text. Because of this, you want to make sure that your protector doesn't interfere with your gaming experience more. High quality screen protectors are completely matte and anti-glare.
Thickness
Thicker protectors will better protect your screen from scratches, but will be more noticeable when you touch the screen.They also might interfere with the touch screen, which you absolutely do not want. I recommend buying a thinner protector.
Size
You absolutely want to make sure that your protector covers the entire screen from corner to corner.
Warranty
What warranty doesthe manufacturer offer? Will it replace defective protectors? If you mess up the installation, will you get any replacement?
Give a quick scan to the Amazon page before you buy!
How to Install a Screen Protector on Your Steam Deck
Installing a screen protector isn't difficult. All you need is a little patience and practice. Follow these steps:
Open up your protector and remove the protective film from the back of the screen protector.
Place the screen protector onto the top of the screen. Make sure it fits snugly around the edges.
Press down firmly until all air bubbles are removed.
Use a credit card to gently push the screen protector into place. You want to make sure that no air bubbles remain.
Clean up any excess adhesive residue using a soft cloth.
Enjoy playing your favorite games!
Final Words
In general, all of the highest rated screen protectors for the Steam Deck are very similar. You will want to make sure that they are thin, matte, and high quality. Look through the reviews and make sure people aren't complaining about excessive bubbles in the display.
The three brands we advertise: Game Depot, amFilm, and Ambison, were three of the original brands to come out with Deck accessories. They've built up a good following thanks to their following.
Any of these protectors will serve you well.
If you pick any of them up, comment below and let us know what you went with!
Frequently Asked Questions About Steam Deck Screen Protectors (FAQs)
How do I apply a Screen Protector to my Steam Deck?
Applying a screen protector to your Steam Deck requires careful alignment and pressure to avoid bubbles or imperfections. Clean the screen thoroughly, then peel the backing off the protector, align it with the screen, and gently press it down, smoothing it out from the center to the edges.
Is a Screen Protector necessary for the Steam Deck?
While not mandatory, a screen protector offers additional protection for the Steam Deck's display, safeguarding against scratches and wear that may occur over time. Investing in a screen protector can help maintain the device's appearance and functionality.
Can I use any Screen Protector with my Steam Deck?
No, choosing a screen protector specifically designed for the Steam Deck is essential to ensure a perfect fit and full compatibility. Generic or ill-fitting protectors may interfere with touch sensitivity or reduce visual clarity.
Will a Screen Protector affect the touchscreen responsiveness of my Steam Deck?
A quality Steam Deck Screen Protector is engineered to not interfere with touchscreen responsiveness. Make sure to select a product that is designed for the Steam Deck, as it will be optimized to maintain the screen's touch sensitivity.
How do I clean my Steam Deck Screen Protector?
Cleaning a Steam Deck Screen Protector is usually done with a soft, lint-free cloth and a gentle cleaner. Wiping in smooth, circular motions will help keep the protector clear of smudges and dirt without damaging the protective layer.
Can you put a screen protector on the 512 GB Steam Deck?
Yes, you can put a screen protector on the 512GB version of the Steam Deck. It's advisable to select a screen protector specifically designed for the Steam Deck to ensure proper alignment, functionality, and optimal display protection.
Do you need anti-glare on Steam Deck?
An anti-glare screen protector for the Steam Deck can be beneficial, especially if you often play in bright or outdoor environments. It reduces reflections and glare on the screen, enhancing visibility and minimizing eye strain during prolonged gaming sessions. It's not a necessity but can enhance your gaming experience.