Augmented reality is a swiftly growing field in entertainment and education. There are hundreds of augmented reality books coming out each year. In this guide, I've compiled some of our favorites.
I've looked at kids AR books, coloring books that use augmented reality, and the best books for learning about AR technology and how to program with AR.
These books merge traditional text with digital content to create models from the content or allow interaction with the text. There are a whole host of AR books already in print, but the possibilities for publishing (and self-publishing) books of this type are virtually limitless. 
This augmented reality use case is simple, effective, and easy for the casual buyer to grasp. Without further adieu, let's check them out.
What are Augmented Reality Books?
AR books come in two main styles:
Books that contain augmented reality features that you can access with your phone. Augmented reality children's books are popular for this, but there are AR coloring books and stories for adults too.
Books about augmented reality that teach you about the subject. These include programming books that teach you how to create augmented reality apps and games.
Depending on what you are searching for, these two main styles are completely different for each other.
Books that Feature Augmented Reality
AR books look and feel just like a regular book. However, you can use your phone or AR smart glasses to trigger special animations and augmented reality interactions on your device. Hidden in the background of these books is a hidden code or message that is read by your phone, which triggers the interaction.
AR colorings books also fall into this category. You can color on the page just like an ordinary book.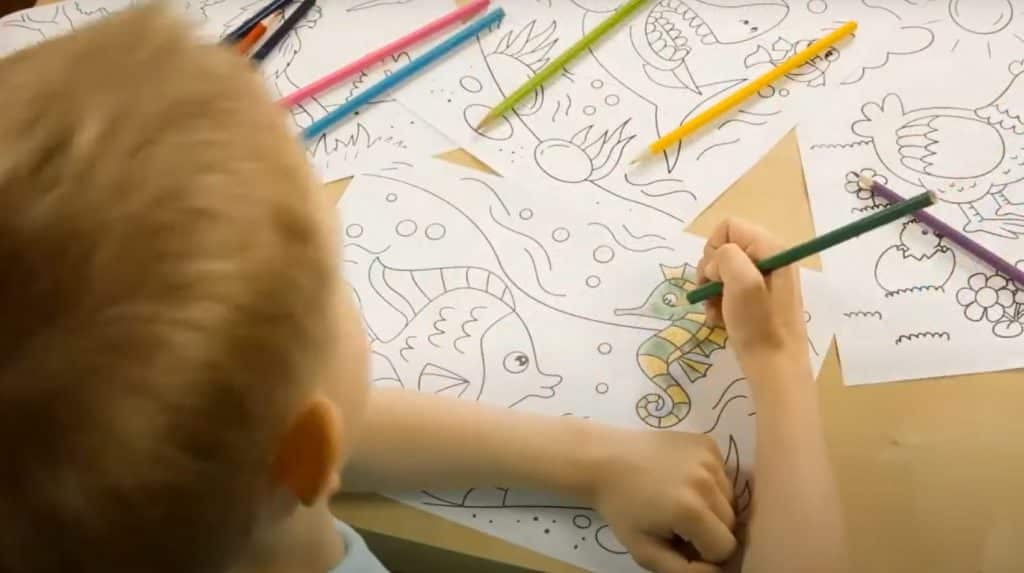 Then, you can bring your creations to life with your phone. Characters you've colored appear in 3D and can be viewed from any angle.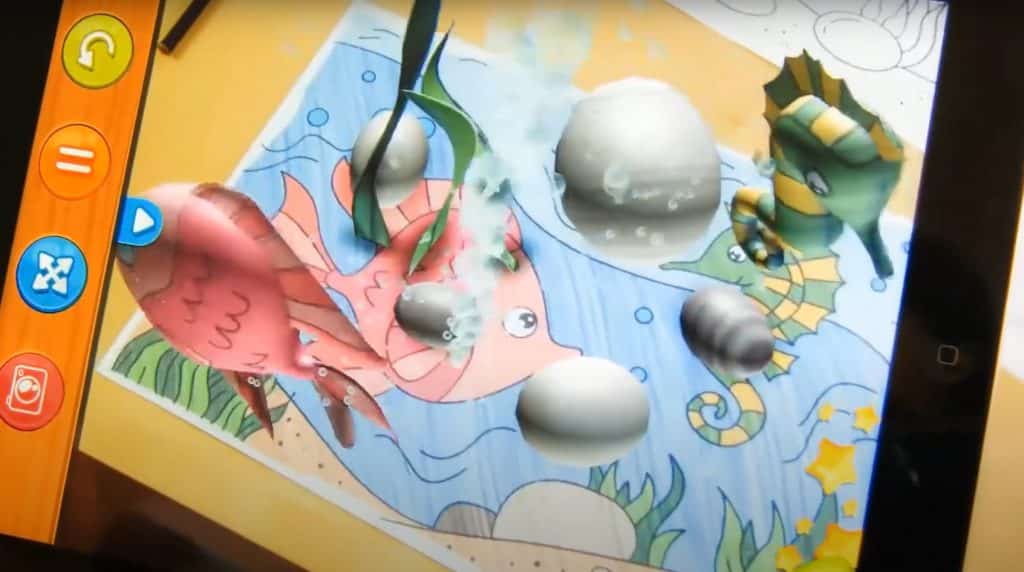 Books about Augmented Reality
Books about augmented reality are more technical in nature. They teach you how to create AR applications and games in all popular languages, including:
These books are popular for college and university kids, but can be bought online by anyone who is curious to learn. And one thing I really like is that you can see your creations come to life as you program them.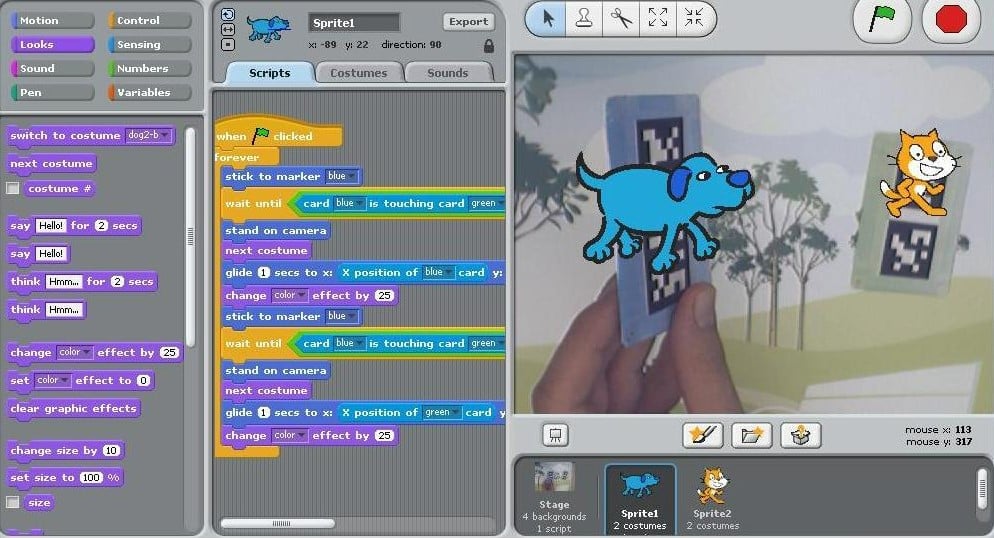 Next, I'll go over some of my favorite AR books today.
Augmented Reality Books For Kids
Augmented reality kids books provide a new way to spend quality family time together whilereinvigorating storytime and facilitating learning. Novel and entertaining for little and big kids alike, these apps turn your phone into a magical portal. Suddenly, screen time can be seen in a different light.
The following AR books for kids use that apparent magic to engage your children in imaginative and educational experiences.
Disney Books
Did you know that Disney has a collection of augmented reality books? These range from stories to coloring books and more.
You can check out a full collection on Disney's Amazon page. My favorite options are the Lion King coloring book or the ABC activity book with Mickey Mouse.
Daring Dinos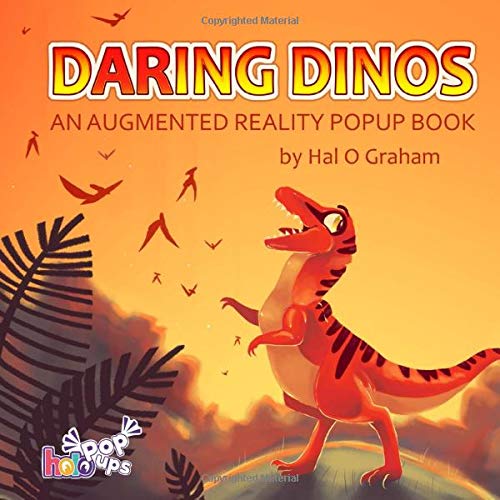 If your children are interested in prehistoric animals, Daring Dinos may just get them excited about reading. Its ancient beasts come stomping to life on either Android or iOS devices, complete with exciting and adorable sounds.
By merging text with digital content, this book encourages reading without getting bored. To explore this AR book, all you need is an Internet connection, a smartphone, and the required app and you can live the story.
Daring Dinos is a collection of books from Holo Popups, a company specializing in augmented reality books for children.
How to Enjoy AR Books From Holo Popups
Download the Holo Pop-ups app from the Google or Apple play store
Open the app and keep the sound on
Open the book and point the cursor over the illustration
A dinosaur lands on your page and puts on a magic show
ABC Animals, Alphabet in Motion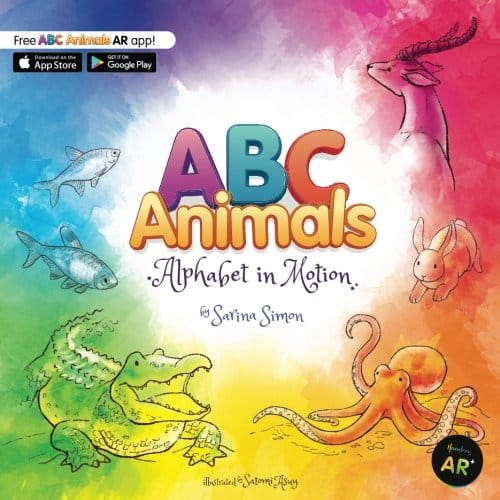 ABC Animals, Alphabet in Motion has the ability to render the unique patterns of your children's coloring in its interactive app, giving your little ones a real sense of creative expression and fulfillment. Its dual-page design encourages them to share and compare work.
If you don't have a smartphone or tablet, this book can be used without the app, and your kids will still enjoy a powerful learning experience. The book comes with 26 live action video clips.
ABC Animals Alphabet in Motion combines the intellectual impact of reading books coupled with positive emotion to enhance your kids learning. The book also teaches interesting animal facts.
ARBI and the Fire Breathing Dragon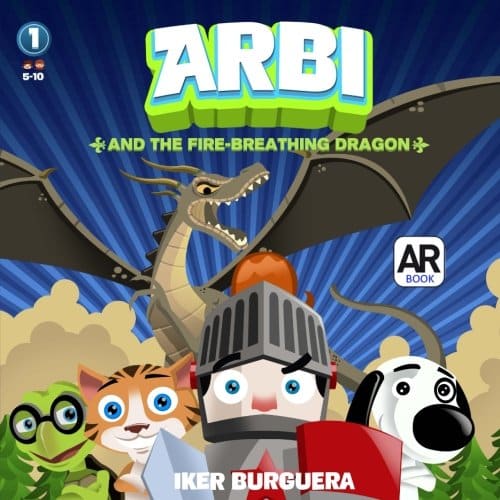 Another interesting AR book for kids is ARBI and the Fire Breathing Dragon. Arbi is one in a series of stories following this brave young knight. It emphasizes the importance of friendship and working together.
In the book, a talented knight by the name of ARBI is asked to secure his village against the attack of a threatening fire-breathing dragon. ARBI is overwhelmed because he can't on his own defeat the dragon. He solicits the support of three friends – tortoise, cat, and dog.
Will the group defeat the dragon? Read the book to find out!
Pet Party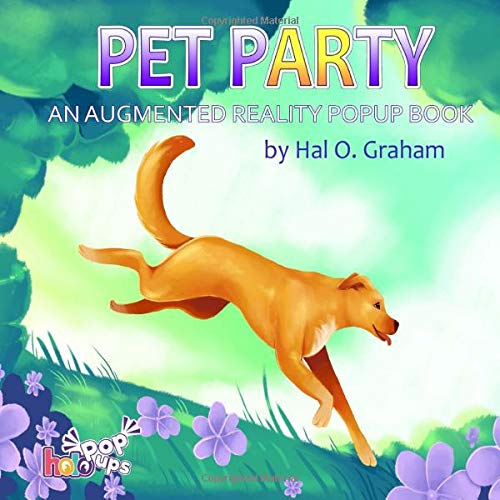 If you don't mind your kids begging you to get their own pet, then Pet Party is an ideal option for their entertainment. It comes in stunning 3D animation to teach your young ones about bunnies, goldfish, dalmatians, and more. 
Pet Party by Hal O. Graham comes with vivid voiceovers, subtitles, and sound effects so that your kids can learn spelling and vocabulary on their own. It's an augmented reality childrens book that promotes learning. The book is from the same company as Daring Dinos above!
Classic Kids Books Recreated in Augmented Reality
A popular trend over the past few years is the recreation of popular books with augmented reality features. This allows some of the world's most popular characters to come alive on your phone to recreate some of the most popular scenes.
Some of my favorite books redone with AR are:
The Velveteen Rabbit
No products found.
The Night Before Christmas
Dracula
Augmented Reality Coloring Books
Augmented reality has. made its way into coloring books. Using digital technology, your colored creation comes to life in 3D and jumps up off of the page!
Here are some of our favorite AR coloring books.
Pukka Fun
Coloring books can help bring your children's creations to life; this is the hallmark of Pukka Fun. If you want to engage your kids in different activities, this book contains interactive pages, games, mazes, dot-to-dot, spot the difference, and others.
Pukka Fun has 30 unique AR pages, including Race Day, Dinosaur, and the Animal Kingdom. With Pukka Fun, your kids' artwork will come to life. 
Some of the games in this AR coloring book are meant for an older age group, so keep reading for other options if your child is under 5 years old. 
ARBI Augmented Reality Coloring Book
Another AR coloring book worth considering is the ARBI. This book has 24 interactive pages to color and is for more mature and experienced drawers.
The book features dragons, creatures, and other mythical lands and buildings to color. It is a companion book to the ARBI fire-breathing dragon book I mentioned above.
A free app can bring the coloring to life right before your children's eyes. Each page comes with its unique interactions.
Each stroke of AR Color Up is also translated to a virtual character. Make coloring fun for the whole family: this book has a sharable dual-page design for kids to color with their parents or friends.
DC Super Hero Girls: Crayola Color Aliv
Do you want your kids to play with two characters at once, apply color effects, change backgrounds, take photos and videos, and add sound effects? The DC Super Hero Girls Coloring Book comes packed to teach your kids creative thinking. It works with the Crayola Color Alive 2.0 app, which you download from the Google Play or Apple App Store.
Once your kids are done coloring all the pages in the book, they can print additional pages from the app to continue coloring.
With augmented reality, your kids can transform their new creations into virtual characters with sound and animation. Plus, they can take photos, apply color effects, and save their creation for easy sharing. DC Super Hero Girls Coloring Book includes 7 Crayons and 16 interactive coloring paper pages.
Augmented Reality Programming
Are you interested in how augmented reality programming works? How does the technology work, and where will it evolve?
These next augmented reality books focus on the technical side of AR and how you can teach yourself today.
Beginning iOS 14 & Swift App Development
This book is one of the best AR programming books you can buy. It will expose you on how to use Swift to develop iOS15 applications, build exciting AR applications on mobile and wearable devices with Unity 3D, Vuforia, ARToolKit, Microsoft Mixed Reality HoloLens, Apple ARKit, and Google ARCore.
The book contains 16 chapters (4 more than the last version in the series) and includes tons of usable examples and reference material.
With Beginning iOS 14 & Swift App Development, you will learn:
how to build a Quotes app using table view
how to create an AR app with ARKit
how to build a crypto price tracker app that retrieves prices via an API.
Ultimately, this book aims to expose you to app development in a friendly way without overwhelming you.
Augmented Reality for Developers
This is yet another great book for AR programming that's worth its salt. If you are a developer with some experience in mobile and web development, this book was written with you in mind.
The book will introduce you to new markets, development tools, and technologies. You will learn the basics of using open-source ARToolKit, Microsoft Mixed Reality Toolkit, Unity and Vuforia AR platforms. You will also complete projects illustrating market sectors like industrial training, education, business marketing, and gaming. 
Additionally, the book will expose you to different AR recognition modes, including objects, markers, target images, and spatial mapping. It focuses on AR devices like tablets, phones, and wearable smart glasses. Also, you will be exposed to UIs, Unity 3D graphics, event systems, and Physics.
This is one of the most comprehensive augmented reality programming books on the market today.
Beginning iOS AR Game Development
Beginning iOS AR Game Development has you building augmented reality apps with Unity and C#. The book is a little more old school than using modern Swift, but it is still a good resource for programmers.
If you want to create a fully-featured mobile application compatible with Android and iOS, then this book is for you. It provides a step-by-step guide on how to create or develop AR games on iOS and Android. If you don't have any programming experience, the book has got you covered. 
The examples in this augmented reality book focus on programming highly interactive games that relate to the real-world environment. It includes step-by-step processes for each example and concept.
Other Frequently Asked Questions About Augmented Reality Booksd (FAQs)
How do you use augmented reality books?
To view and interact with augmented reality books, you must download and install the companion app on your phone that works with your book. Then, you open the app and point your phone camera at a page in your book. The page will come alive with virtual designs and characters from the story.
How do you start studying augmented reality?
Before studying augmented reality, you should know how to program in Swift, Java, or another popular programming language. Then, you can buy one of the AR programming books from this guide to learn how to create augmented reality games and applications.
Do you need an iPhone to view augmented reality books?
Any iOS or Android-based smartphone or tablet can read and display augmented reality books just fine.
Have you checked out or bought any of these augmented reality books? Do you have any augmented reality children's or color books we should check out?
What was your favorite resource for programming AR applications?
Comment below and let us know!