Are you looking to get a good workout in while you wear your VR headset? In this guide, we take a look at the best VR fitness games to play in full virtual reality.
We've collected 6 of our favorites for you to check out. Some of them successfully meld a video game with a fitness app while others are quite the workout indeed.
Virtual reality can inspire and motivate you to get moving. There are plenty of fitness-based VR apps that will whip you into shape. Some of these games use hand tracking and others are controller based.
Let's take a look.
Why You Should Workout in VR
One of inherent benefits about VR is that it gets you up and active while you play video games. VR fitness games are popular because they give you the motivation to work out while you have fun.
You get the benefit of being in a routine while you play games each day. Some games we list below allow you to burn 400 or more calories as a cardio workout during one session!
The Best VR Headset to Workout With
In theory, any VR headset can be worked out in. There are covers for every headset that prevent sweat from building up on the outside of the headset.
The one major drawback about the Oculus Rift S, HTC Vive, and most other headsets is the fact that you need to be tethered to a nearby gaming PC.
For this reason, the Oculus Quest is an awesome workout headset. It is completely wireless, so you can move around your house as you need. It's not a coincidence that every VR fitness game listed below is compatible with the Oculus Quest.
Stop Sweat From Getting on Your Headset!
Before you get too intense in a VR fitness game, you should buy a VR cover for your headset. A silicone cover can go over top the base fabric or cushion and prevent sweat from soaking into your headset.
Trust us, the friends you have over to try out your VR headset will thank yo!
Click here to go to the VR Cover website where you can buy a silicone protective cover for any headset.
The Best VR Fitness Games
#1. Holofit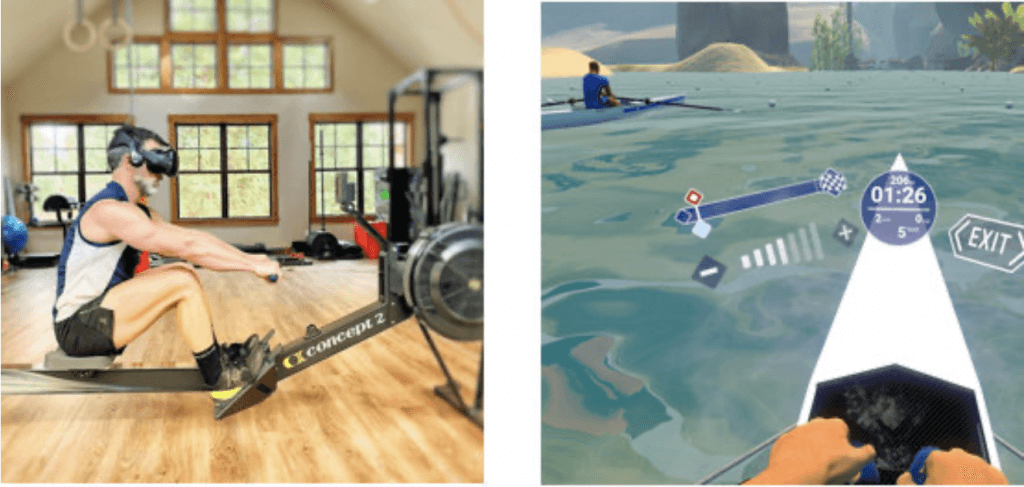 Price: $10.90 per month
Buy Now: https://www.holodia.com
Holofit reinvents interactive fitness through virtual reality. With Holofit, each workout session turns into a new, fantastic adventure that continuously encourages you to explore further and reach your fitness goals. Holofit is compatible with nearly every VR headset.
With Holofit, your real workout equipment pairs with your VR headset so that you can bike, row, and elliptical through exotic environments. The company sells a physical cadence sensor that attaches to your gym equipment and communicates information about speed, incline, and distance.
New as of June 22, 2020, Holofit also includes workouts that do not require any external workout equipment. You can virtual row, cycle, or run wherever you are using your VR controllers and the Holofit app.
Compete with your friends at the gym or online through the app. You can track, improve your progress and get fit while having fun. A racing mode from 500 meters up to a marathon gives you plenty of options and scenery to enjoy in VR.
Holofit users pay a monthly subscription for access to workout programs. You can see your rank by country or sport. The dedicated app keeps track of all your workout information. With immersive environments and modes specifically for your cardio goals, it's an easier way to get in shape quickly with Holofit.
#2. Supernatural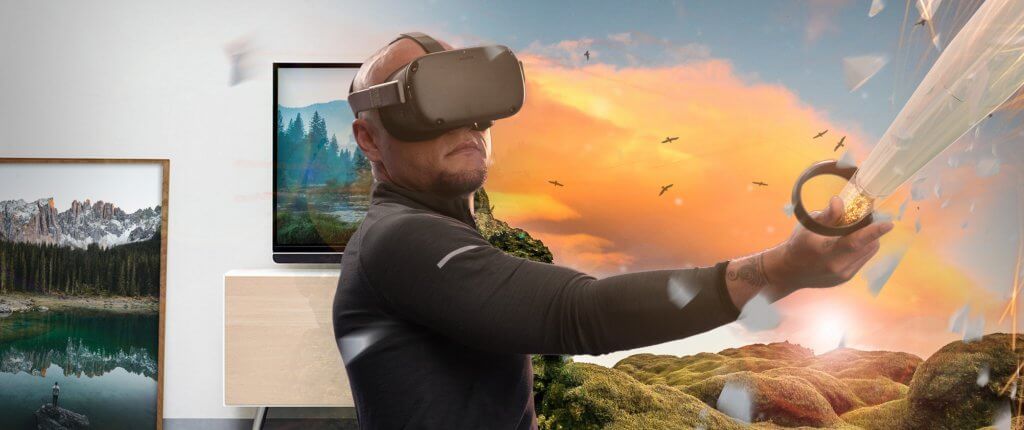 Price: $19 per month
Buy Link: https://www.getsupernatural.com
Supernatural is a beautiful, well-realized VR fitness game. It borrows some game mechanics from Beat Saber and expands them into the realm of fitness. Squatting, lunging, and going for powerful hits is the name of the game here. Supernatural contains licensed real music tracks so that you can work out to classic and current hits.
Supernatural is probably the best VR workout game that doesn't require any other equipment. to make things better. The workouts feel legitimate and new ones come out daily.
This isn't the kind of VR that lets you sit and swivel around in a chair. It sets high-intensity, choreographed, game-like workouts to popular music. You get encouragement and guidance from expert fitness trainers. Supernatural looks great on the Oculus Quest, which is completely wireless.
Workouts are set in 360-degree captures of some of the most beautiful places on Earth. This is a really nice bonus as you are transported from the Great Wall of China to Machu Picchu for your next tune.
#3. VRWorkout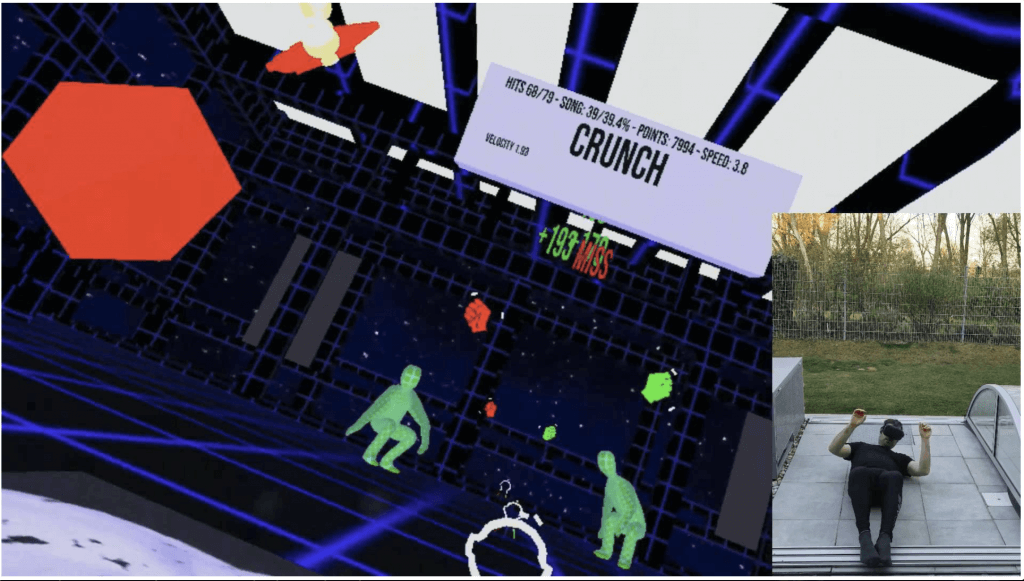 Price: FREE
Buy Link: https://sidequestvr.com/app/413/vrworkout
VRWorkout is a fitness rhythm game with full body engagement. Its designed to accelerate your heart rate. VRWorkout works with Oculus Quest hand tracking, so you don't need a controller in your hands at all.
VRWorkout has you doing 7 popular exercises: squat, push up, burpee, jump, side plank, crunches, and running. It's one of the best workout routines in VR today.
It's actively being developed and has seen several updates since its debut. The developer has been very responsive with feature requests and additions. Enable hand tracking and give it a try today for FREE by installing SideQuest.
#4. BoxVR/FitXR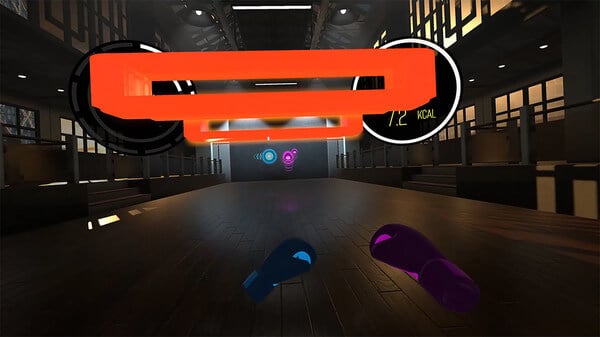 Price: $29.99
Buy Link: https://store.steampowered.com/app/641960/BOXVR/
BoxVR is a cardio-fitness trainer packaged as a rhythm-based boxing game. You get good boxing cardio workouts designed to help you burn calories. From short 3-minute warm-ups to 20+ minute endurance workouts, BoxVR has everything you need for a fantastic cardio workout. You can choose from 45 workouts depending on how vigorous a session you want. BoxVR is great for the upper body and you can even use your own tunes. BoxVR is available on most VR headsets.
For Oculus Quest users, BoxVR has been rebranded to FitXR. It's a new virtual reality studio that offers full-body group classes in virtual reality. FitXR is still built on top of the BoxVR idea, but it's taken things to a whole new level. The arena looks different, punches feel different, and your full body has been integrated better.
Every workout is recorded so you can see how many calories you've burned. Set your own goals and see your progress day by day to stay motivated. Choose from a variety of different music tracks by real artists and create your own workouts with varying levels of intensity. Build and save as many custom routines as you like.
BoxVR/FitXR is one of the original VR fitness games for users.
#5. Thrill of the Fight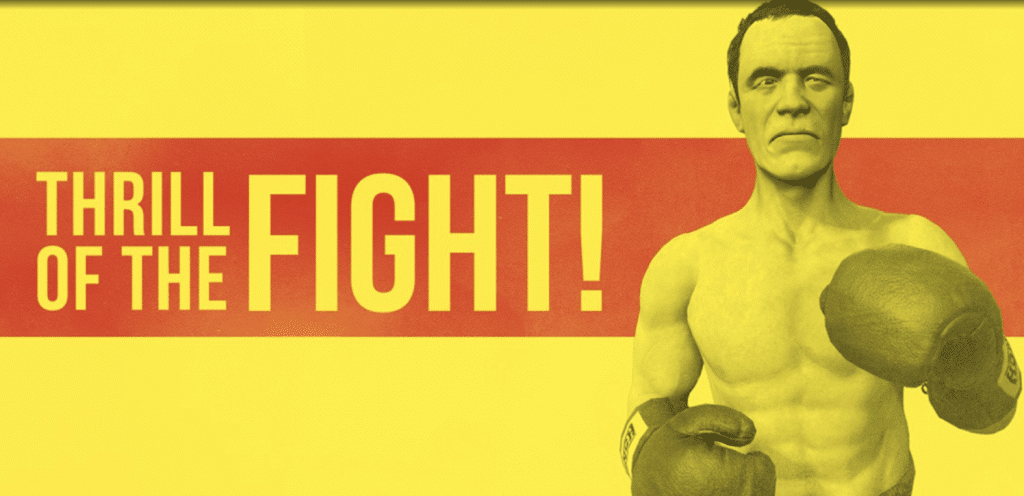 Price: $11.99
Buy Link: https://store.steampowered.com/app/494150/The_Thrill_of_the_Fight__VR_Boxing/
Thrill of the Fight bills itself as an authentic boxing game. It is a room-scale only experience that will have you punching around your house in real time. One of the best aspects of VR gaming is the chance to put yourself into the shoes of someone else. In Thrill of the Fight, you face extreme danger and then get to walk away completely unscathed.
In this game, you get to step into the shoes of an up-and-coming boxer and try to work your way up the ranks. You use timing to land the knockout punches, evade swings, land jobs, and block.
Unlike BoxVR which focuses more on moving your body to the rhythm, Thrill of the Fight is a more realistic boxing workout. If you can complete an entire set, the game promises you could burn up to 450 calories in one hour. That is real results packed into a VR fitness game!
#6. Beat Saber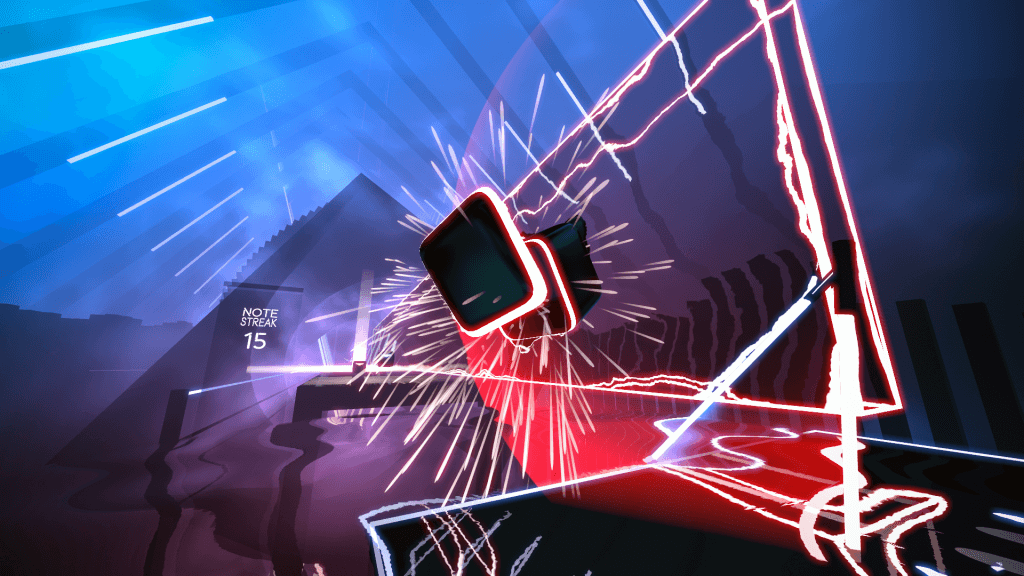 Price: $32
Buy Link: https://store.steampowered.com/app/620980/Beat_Saber/
Beat Saber is one of the most popular VR games of all time. It's not marketed as a VR fitness game, but its frenetic action, original tunes, and play style makes it one. In this workout game, you swing your hands in different directions to the time of the music. The game is available for all VR headsets and platforms. Each song has multiple difficulty levels from easy up to expert+.
Even better, you can load Beat Saber custom songs onto your game and workout to popular music. Our complete setup guide will have you up and running quick.
There's no denying the fact that swinging a couple of swords around to music is terribly addictive. Like a lot of these titles, it's only on the higher difficulty levels that you'll really burn some calories.
#7. Blade and Sorcery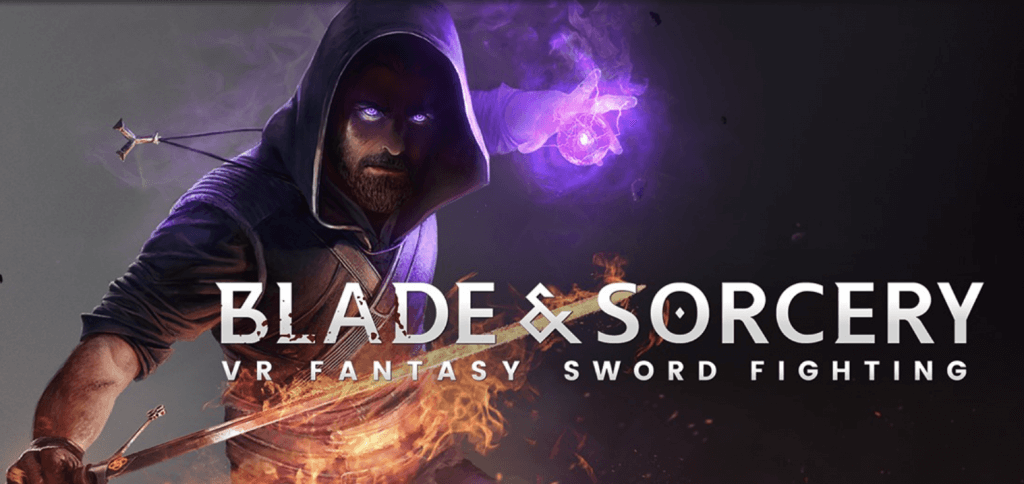 Price: $19.99
Buy Link: https://store.steampowered.com/app/629730/Blade_and_Sorcery/
Blade and Sorcery is a VR sword fighting game where you have to battle hordes of enemies coming after you. The game is a constant game of endurance as you move through different arenas and fight enemies while waving your arms.
Blade and Sorcery mods are also really popular, which lets you customize the game with new weapons, and modifications. You can also install new custom maps to battle enemies on. The game is an open sandbox, allowing modders to add anything they want into the game.
For VR fitness games that are disguised as real ones, Blade and Sorcery is top of the list. We would love to see an Oculus Quest version coming soon.
What are some of your favorite workout and VR fitness games? Did we miss any?
Post below in the comments and let us know.