This is the ultimate information guide for the Meta Quest 3. Information about all the key things you want to know before buying this new headset from Meta.
Introduced officially at Meta Connect 2023, the Quest 3 is the fourth standalone Android headset from Meta following the Quest Pro, 2, and 1.
Let's check out some of the improvements and reason you'll want to buy it.
At a Glance
The Meta Quest 3 is Meta's latest standalone Android VR headset, featuring groundbreaking upgrades like the Snapdragon XR2 Gen 2 chip for enhanced performance, high-resolution LCD panels, 10x camera resolution increase with full color passthrough, a sleek design with a 40% slimmer design, and a redesigned soft touch strap for maximum comfort.
Meta Quest 3 Release Date
The next generation Meta Quest 3 virtual reality headset was released on October 10, 2023.
As a launch promotion, you receive the new Asgard's Wrath 2 game for a limited time when you purchase the 128 GB or 512 GB models. If you buy the 512 GB model for more storage, you are also given a six-month Meta Quest Plus subscription.
This offer ends on January 27, 2024.
How to Buy the
Meta Quest 3
The Meta Quest 3 can be purchased from the official Meta website or worldwide from Amazon.
Meta Quest 3 Features
Design
One of the standout features of the Meta Quest 3 is its sleek and ergonomic design. The headset boasts a 40% slimmer visor than its predecessor, the Meta Quest 2. This size reduction enhances the overall aesthetics of the headset and contributes to a more comfortable fit. The Meta Quest 3 is designed to accommodate any face shape, ensuring maximum comfort during extended VR sessions.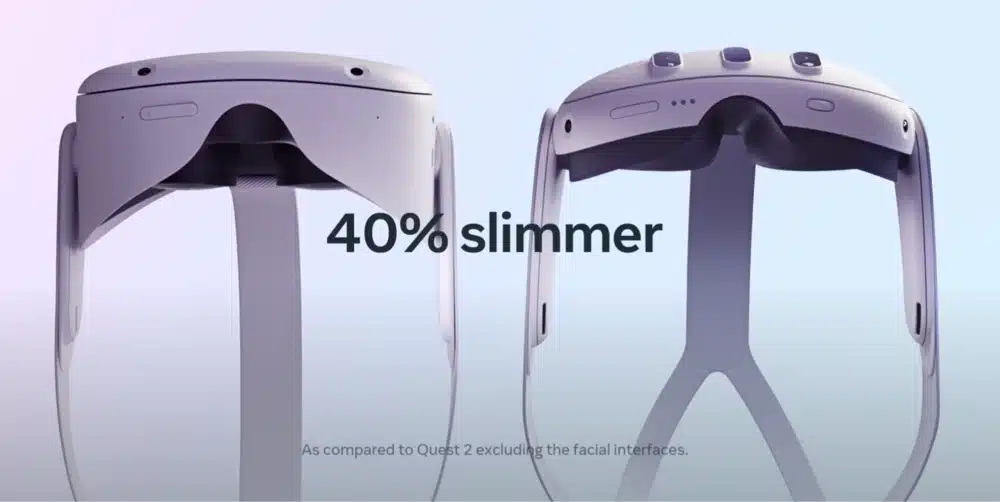 System-on-a-Chip (SoC)
The Meta Quest 3 is the first headset with the Snapdragon XR2 Generation 2 chip. The new XR2 allows for faster load times and more seamless immersive experiences. Shadows are rendered better in VR games on the Quest 3, offering better performance.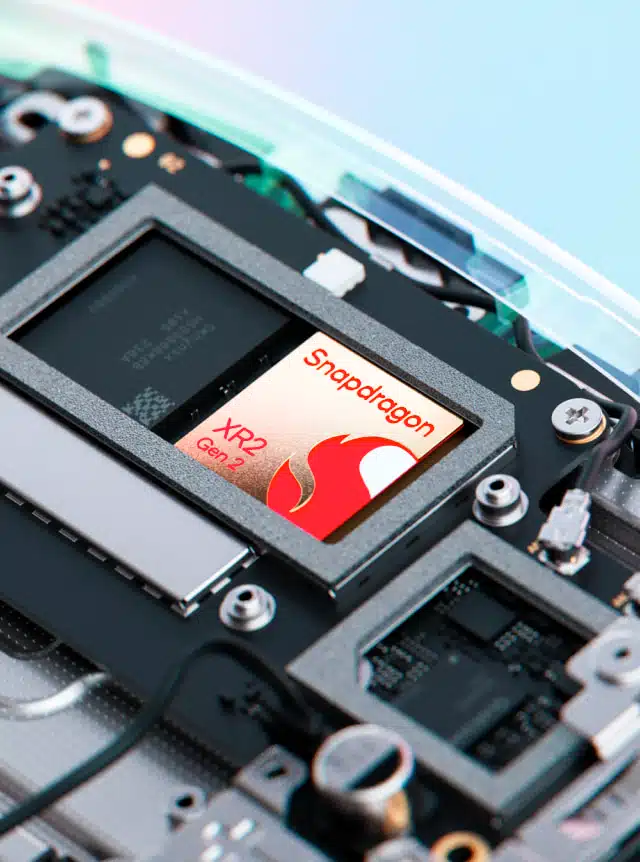 Mixed Reality
The Quest 3 features 2 outward-facing RBG cameras with 18 PPD (pixels per degree). These cameras have ten times the resolution of the Quest 2 and twice the resolution of the Quest Pro. Plus, these cameras offers full color passthrough, which is a huge improvement over the last generation.
These outward cameras offer new mixed reality features for users to place virtual elements in their physical space.
RAM
The Quest 3 has 8 GB of DRAM, 33% more memory than the 6 GB in the Meta Quest 2.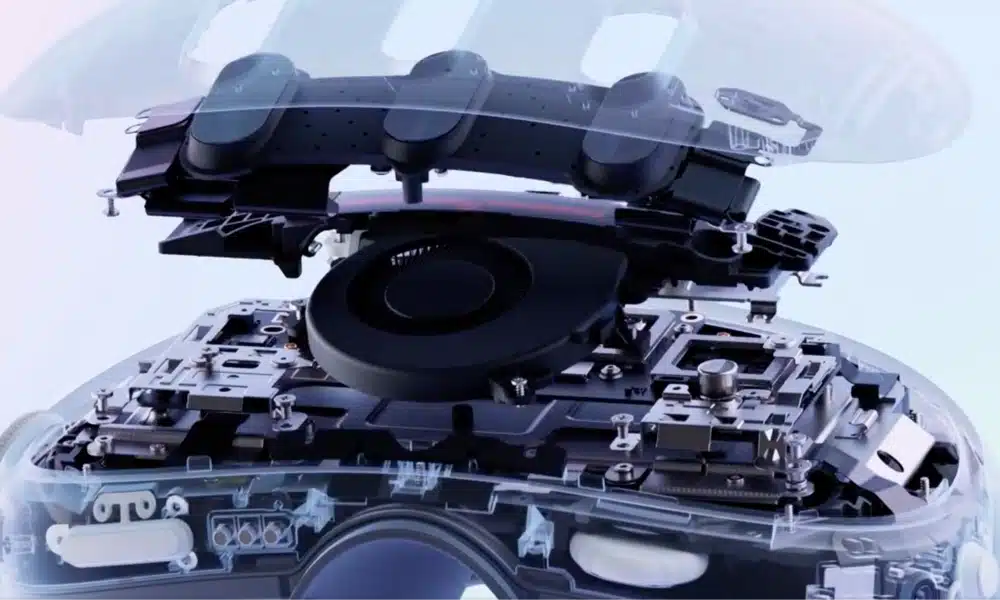 Field of View
The Quest 3 has 110 degrees horizontal and 96 degrees vertical field-of-view. This is slightly larger than the 104 degrees on the Quest 2, which helps to extend your peripheral vision.
Display Lenses
The Quest 3 features pancake optic lenses that increase sharpness by 25% in the center field of view. They are also 40% thinner than a traditional LCD panel, which helps to decrease the overall size o the headset.
Display Resolution
Regarding display, the Meta Quest 3 features two high-resolution LCD panels with 2064 x 2208 pixels per eye. This results in a stunning visual experience with crisp details and vibrant colors.
The two displays are an improvement on the Quest 2, which used.a single LCD panel that weighed more and took up more space.
The pancake lenses used in the headset further enhance the visual quality, providing a wide field of view and minimizing any potential distortions.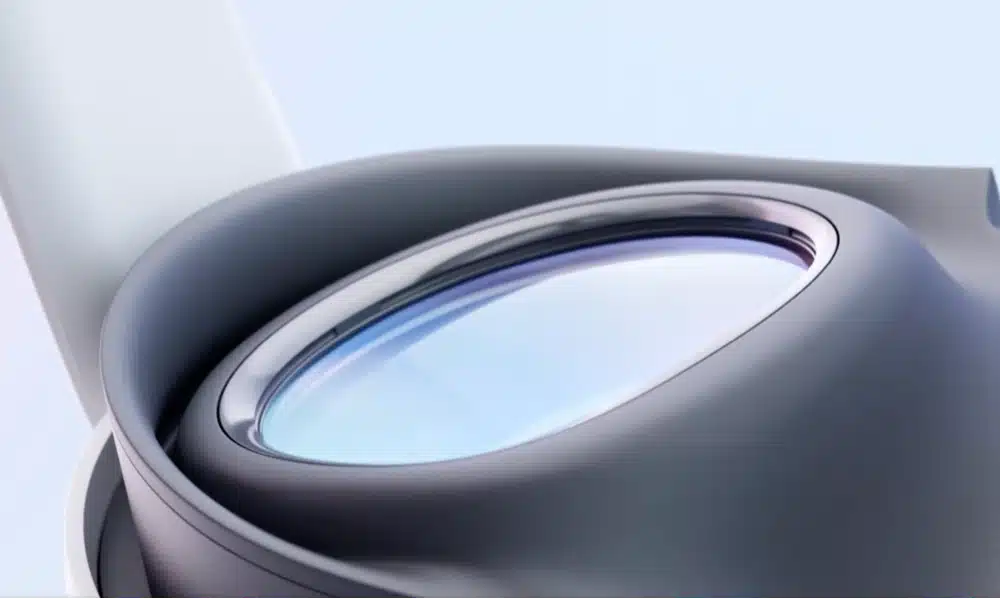 Storage Sizes
The new headset has two storage options: 128 GB and 512 GB. The 128 GB model is priced at $499, while the 512GB model is priced at $649.
Although the Meta Quest 3 comes with a higher price tag than its predecessor, the significant improvements in performance, visuals, and features make it well worth the investment for VR enthusiasts.
IPD Adjustment
The new Meta Quest 3 headset features a Interpupillary Distance (IPD) Adjustment dial. This allows users to customize the distance between the lenses to align with their specific eye distance, ensuring a more comfortable and immersive VR experience.
The IPD Adjustment wheel provides more precise lens positioning and smooth distance adjustment, allowing users to optimize visual clarity and focus based on their needs. This feature is essential as it helps prevent eye strain and discomfort from extended use.
Refresh Rate
The Meta Quest 3 features a 90Hz refresh rate. 120 Hz is available in experimental mode, which some games support.
A higher refresh rate allows for smoother and more fluid visuals, reducing motion blur and improving the overall experience. This means that the images displayed on the headset's screen are refreshed 90 times per second, providing incredibly crisp details. This also helps minimize latency and enhances the realism of the virtual environment with the best resolution.
Casting
The Meta Quest 3 headset can stream your VR experience to another device, such as a smartphone or a TV.
By tapping on the Cast option in the Meta Quest app, you can select the headset you want to cast from and the device you want to. Once you tap Start, the casting will begin, enabling others to see what you see in the VR headset.
New Soft Touch Strap
The new Meta Quest 3 headset has a redesigned soft touch strap that offers improved comfort. It features a plush foam padding that rests gently against the user's head, reducing pressure and evenly distributing the weight. The soft strap is adjustable and secures the headset firmly, ensuring a stable fit for different head sizes.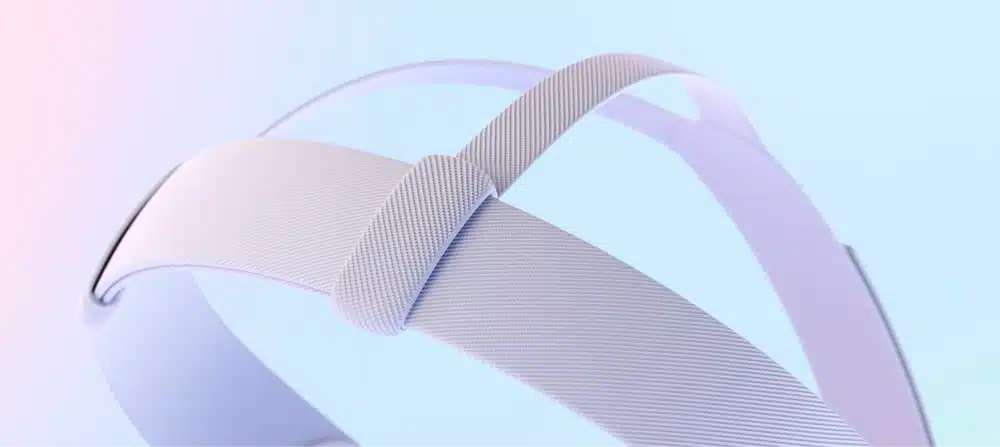 Elite Strap
There is an optional accessory called the Elite Strap, which can be purchased separately. The Elite Strap provides even greater comfort and support with its rigid construction and ergonomic design. It features a rear-mounted battery pack that helps to counterbalance the headset's weight, reducing strain on the user's neck and allowing for longer play sessions.
The Elite Strap also includes a dial to adjust the head strap tension easily, providing a more customized and secure fit.
The Elite Strap can be purchased for $69.
Size and Weight
The new Meta Quest 3 VR headset has an overall dimension of 184mm x 160mm x 98mm. It weighs approximately 515 grams.
The headset is designed to be more lightweight and streamlined than its predecessor, the Quest 2, making it more comfortable to wear during extended use.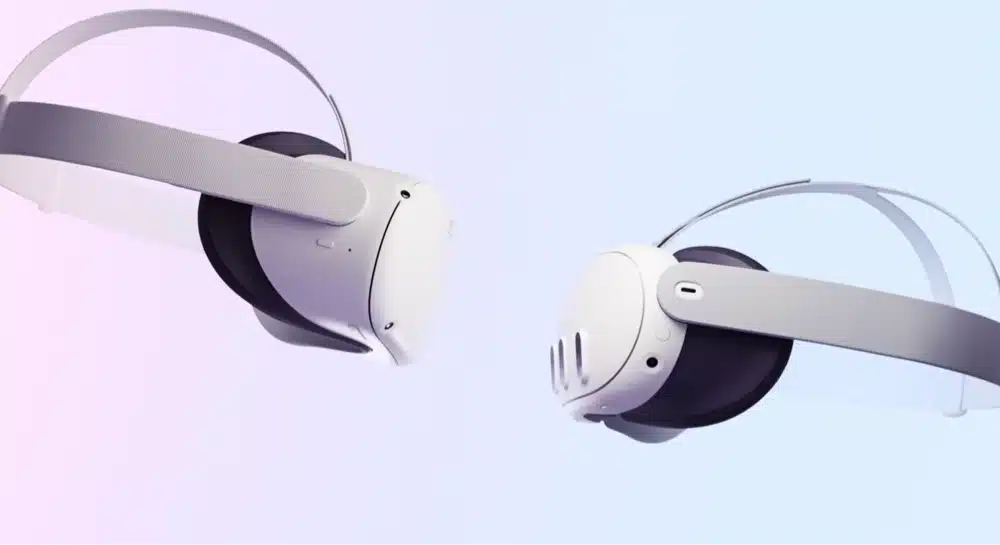 Battery Life
The battery life of the Meta Quest 3 VR headset is rated up to 2.9 hours, which is similar to the Meta Quest 2.
It takes roughly 2 hours to charge fully the headset. Meta has mentioned the potential for further future battery life improvements.
Speakers
The Meta Quest 3 features built-in speakers with improved sound quality, enhanced sound clarity, and a richer bass. Meta claims the audio range is 40% louder than the Quest 2.
There is also still a 3.5mm headphone jack to plug in your headphones.
Meta Touch Controllers
The new Meta Touch controllers with the Meta Quest 3 headset have been redesigned for an enhanced VR experience. These controllers utilize new cameras and offer improved tracking accuracy and responsiveness. They are also ergonomically designed to fit more comfortably in the user's hands and be a natural extension of your hands.
The Meta Touch controllers also feature haptic feedback, providing tactile sensations that further immerse users in the VR environment.
Inside-Out Tracking
Inside-out tracking is a technology used in the Meta Quest 3 headset that allows it to track the user's movements and position in virtual reality without needing external sensors or base stations. The headset utilizes its built-in sensors, such as accelerometers, gyroscopes, and cameras, to track the position of the user's head and the controllers in real time.
Inside-out tracking provides six degrees of freedom (6DoF), allowing users to move freely and interact with the virtual environment.
Smart Guardian
The innovative Guardian system is a crucial feature of the Meta Quest 3 headset. It is an intelligent boundary system that helps users define and maintain a safe play area around real-world surroundings. The system uses the headset's sensors and cameras to create a virtual boundary or Guardian system in the user's physical space.
Unlike the current Guardian system, which requires manual reconfiguration when furniture is moved or switching between standing and sitting modes, the intelligent Guardian system automatically scans your physical environment. This enhances the user's safety and overall experience in mixed reality.
Games
Along with the new headset, Meta also announced 100 titles playable for the Quest 3. This includes 50 new games and 50 updated games from the past.
Some of the new games announced include:
Assassin's Creed Nexus

Roblox

Stranger Things VR

Assasin's Creed Nexus

Ghostbusters
On top of these new games, the Quest 3 headset is fully backwards compatible, meaning you have the entire Quest 2 library at your fingertips.
Mixed Reality Updates
Alongside the new Quest 3 headset, Meta teased several mixed reality updates to popular existing games such as: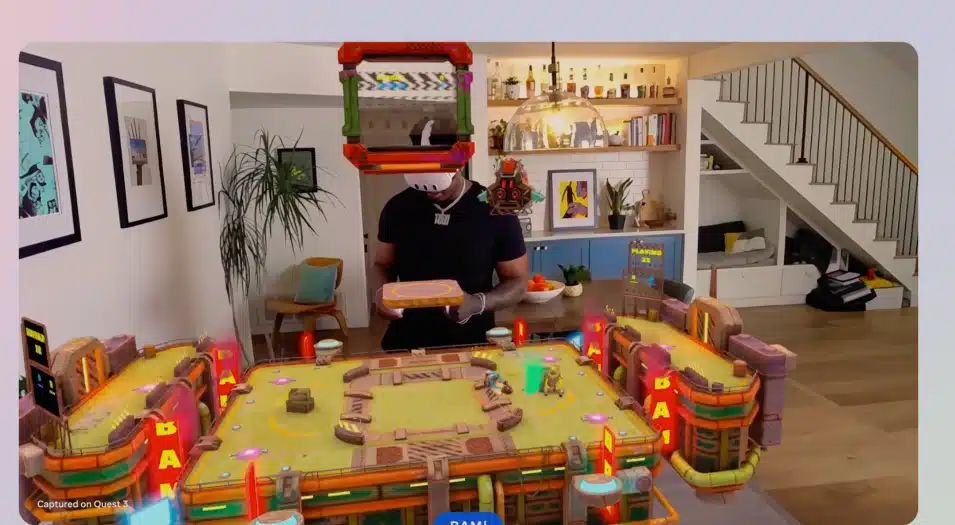 Asgard's Wrath 2
For a limited time, Asgard's Wrath 2 is included free with all new Meta Quest 3 headset purchases. Asgard's Wrath 2 is an action RPG sequel to the original game from 2019. You have to solve puzzles and battle monsters and Gods in Ancient Egypt.
The original game was PCVR only and Sanzaru Games & Oculus Studios have been working hard to bring the same quality of game and graphics to the mobile Android VR platform.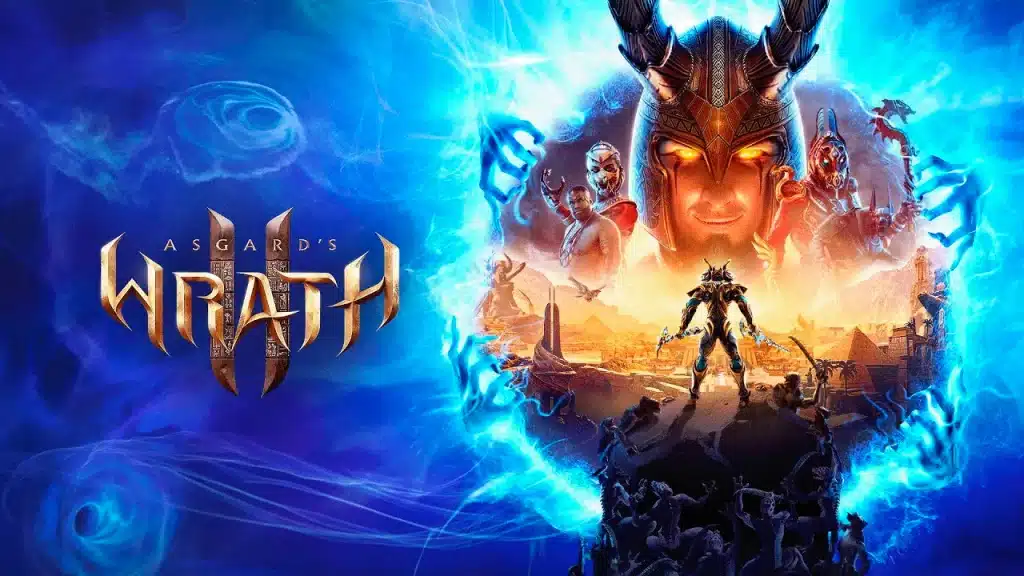 Augments
Mark Zuckerberg announced a new mixed reality game for the Quest 3 called Augments. It allows you to place digital objects and portals in your passthrough vision. The Quest 3 will remember your objects each time you put on your headset, and you can interact with these visual objects in the physical world in unique ways.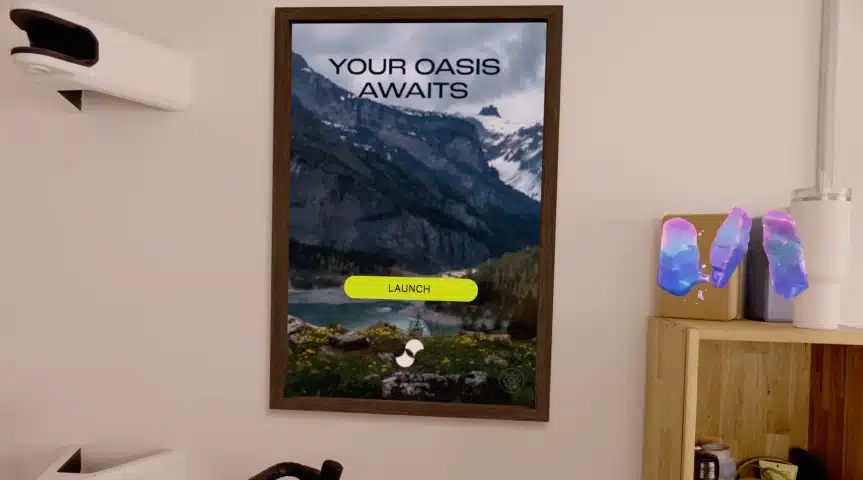 Oculus Link
Air Link
Air Link is a wireless connection feature that allows users to connect their Meta Quest 3 headset to their PC using a secure Wi-Fi network. With Air Link, you can enjoy a high-quality PC VR experience without any cables or wires. It enables seamless gameplay and eliminates the restrictions of being physically connected to your PC.
You can also access and play PC VR games by using Air Link.
Click here to read more about Oculus Air Link.
Virtual Desktop
Virtual Desktop is a highly optimized third-party app that allows users to watch movies, browse the web, play games, or stream PC VR on a giant virtual screen.
Once you open the app, you can instantly access whatever is on your PC screen through your Meta Quest 3 headset. This gives you more access to immersive games and a better visual immersion.
Click here to read more about Virtual Desktop.
Meta Quest 3 Box
Three essential items are included in the Meta Quest 3 box:
Meta Quest 3 Headset with pre-installed Standard Facial Interface

Two Touch Plus controllers with wrist straps and 2 AA batteries

Charging cable and power adapter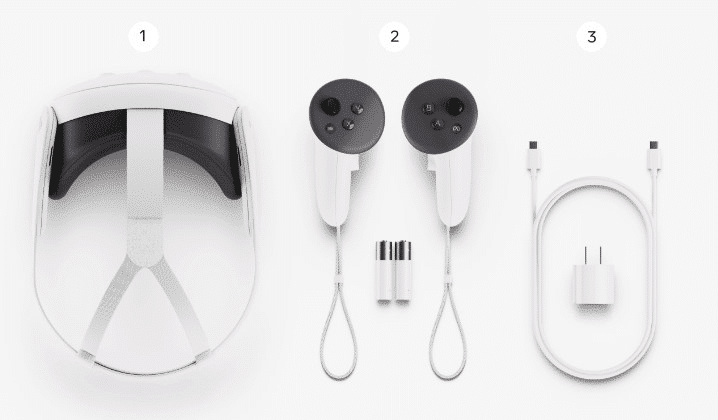 Other Accessories
Although only the essential items are included in the Meta Quest 3 box, there are additional accessories that you can purchase to make your VR experience even better.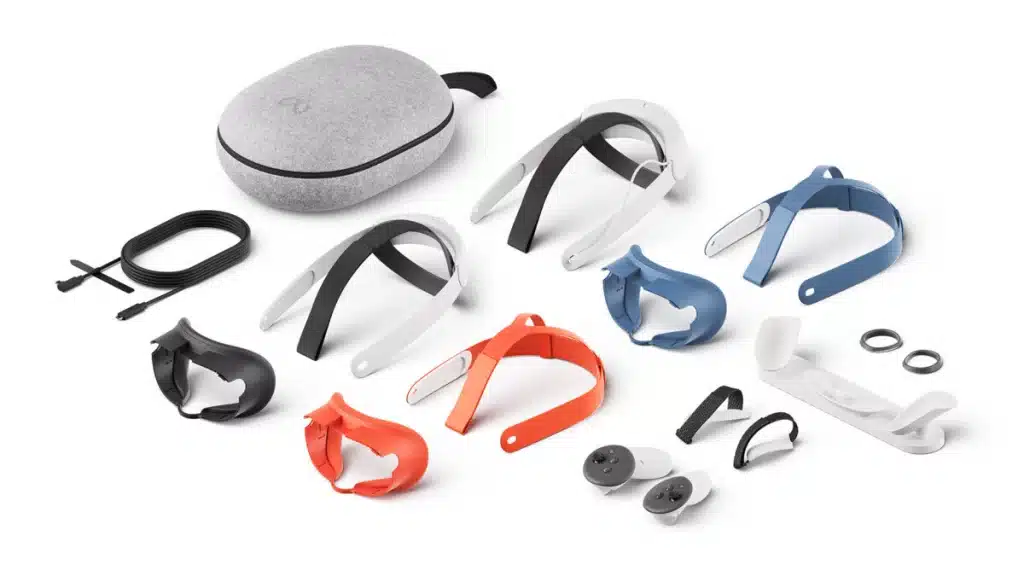 These include:
Meta Quest 3 Carrying Case

Meta Quest 3 Wireless Charging Dock

Meta Quest Active Straps

Meta Quest 3 Silicone Facial Interface

Meta Quest 3 Facial Interface & Head Strap (available in Blue and Orange)