Oculus Air Link allows your Quest 2 VR headset to play PC VR games completely wirelessly without a Link cable or any other hardware required. In this step by step guide below, we'll show you how to setup Oculus Air Link and how to play PC VR from both the Oculus or Steam VR stores.
We'll go over:
How to install and enable Oculus Air Link on your Oculus/Meta Quest 2 and PC
How to setup Air Link with the Meta Quest 2
How to use Air Link to play PC virtual reality games wirelessly
Oculus Air Link vs Virtual Desktop: which wireless VR gaming option works better?
NEW: How to enable 120 Hz refresh rate on Air Link, which was added in the v29 Quest software update
If you want to share your experience playing VR games on the Quest 2 wirelessly, comment down below at the bottom of this guide.
What is Oculus Air Link?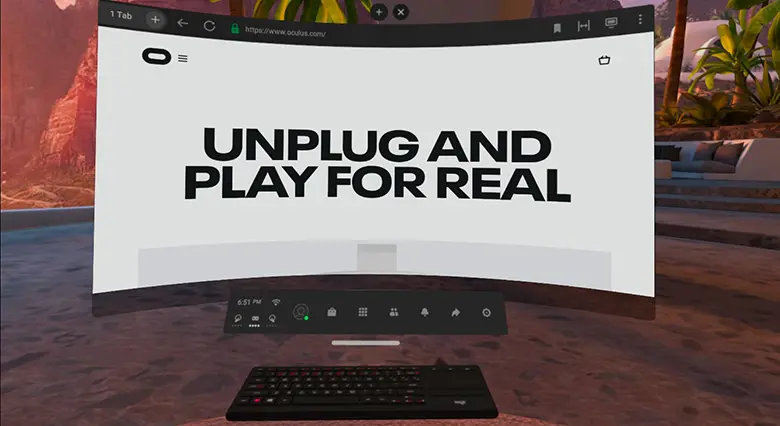 Oculus Air Link is a wireless alternative to Oculus Link that requires no Link cable or tethered connection to your PC. It lets you mirror your nearby PC inside of your VR headset. People do this to watch movies, browse the internet, or play games inside of virtual reality.
Once connected, you can play any PC VR game from the Oculus or Steam VR store on your Quest 2. This gives you access to all of the best PC VR games as long as you have a gaming PC that can play them.
You don't need a fancy gaming PC with a premium CPU to make basic functions work. Your basic laptop will be able mirror to your VR headset just fine.
Below, we have step by step instructions below for setting up Virtual Desktop on Meta Quest today.
Oculus Air Link Requirements
The following hardware and software requirements are needed in order to use wireless VR smoothly:
Oculus/Meta Quest 2 or Quest 1 VR Headset
Oculus Link software setup on your PC
v28 Oculus software installed on your PC AND your headset
Dedicated AC or AX router with 5GHz capabilities (recommended)
Ethernet Cable to connect from your dedicated router to VR-PC)
It is very important that v28 software is installed on both your Meta Quest 2 headset software and PC software.
Oculus is still in the process of enabling the option for VR headsets, so be patient.
Best Router for Oculus Air Link on the Quest 2?
In order to achieve low latency with Air Link on Meta Quest 2, you are going to want a dedicated wireless access point (WAP) to connect to. A WAP is a sub-connection of your regular internet, used to extend your network and allow more devices on your network.
In our case, we want to give the Meta Quest 2 a dedicated 5Ghz connection to connect to that doesn't have any other devices fighting for a connection.
Any wireless router can be used as an access point by placing it in this mode. Just make sure that the router is dual band and supports 5Ghz. Below are two routers that thousands of Quest users have bought to set up Virtual Desktop and Air Link properly.
Base Option
The Tenda AC10U comes with Gigabit ports. This will ensure that you have maximum throughput and minimal latency from your headset while using Virtual Desktop.
Sale
Better Option
The Quest 2 supports WiFi 6. To take advantage of this, you need to buy a router that supports 802.11ax. WiFi 6 is capable of a maximum throughput of 9.6 Gbps across multiple channels, compared to 3.5 Gbps on Wi-Fi 5. Running Air Link on Meta Quest 2 is silky smooth using this new standard.
In addition, WiFi 6 offers a few other nice features including wider channels, longer range, and less interference.
Click here to view and buy this awesome Asus WiFi 6 dual band router on Amazon!
How to Setup Oculus Air Link on the Quest 2
The procedure below will show you how to install and setup Oculus Air Link so that you can wirelessly play PC VR games on an Meta Quest 2 headset. This tutorial starts as if you do not have the Oculus PC software installed. If you do have it installed already, you can skip the first 8 steps.
Total Time: 10 minutes
Install the Oculus PC App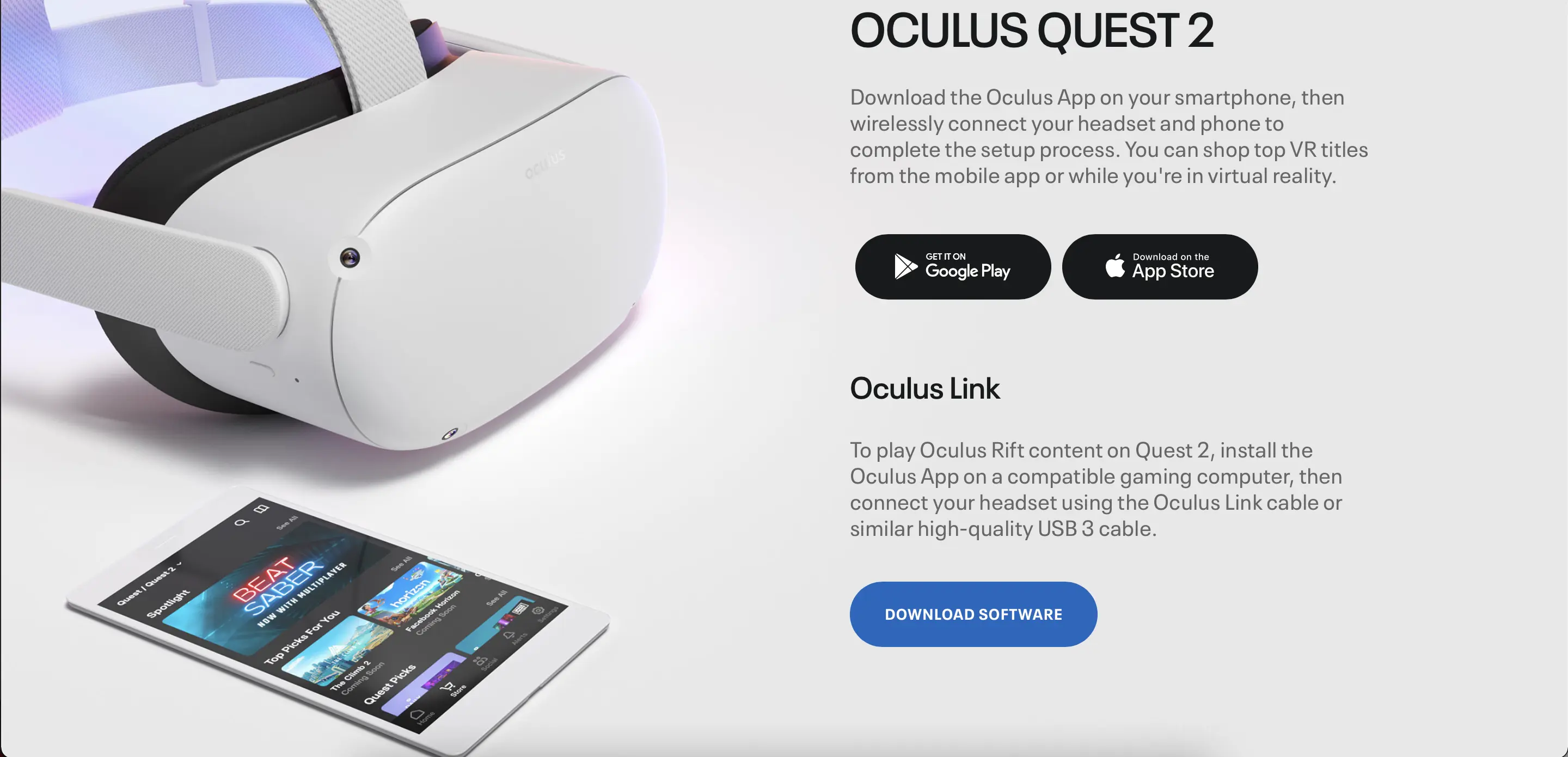 First, click here to go to the official Oculus website and click on Download Software to download the Oculus software to PC if you don't have it installed yet.
When the software is done downloading, double click on it. If you already have the Oculus PC Software installed, you can scroll down until the part where we get to the Oculus PC home screen.
Oculus PC Software – Get Started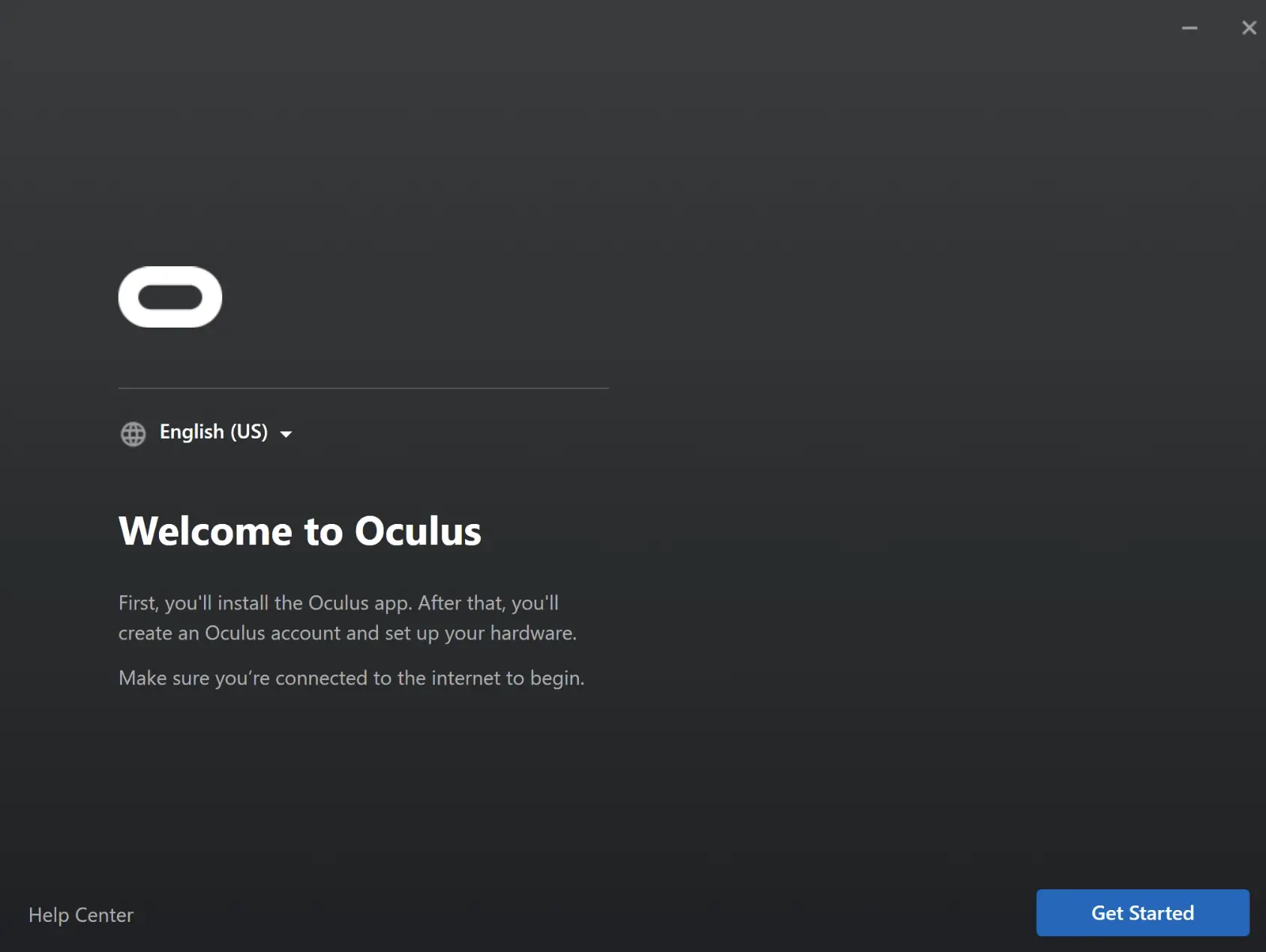 At the opening splash screen, click on Get Started.
Agree to Terms and Conditions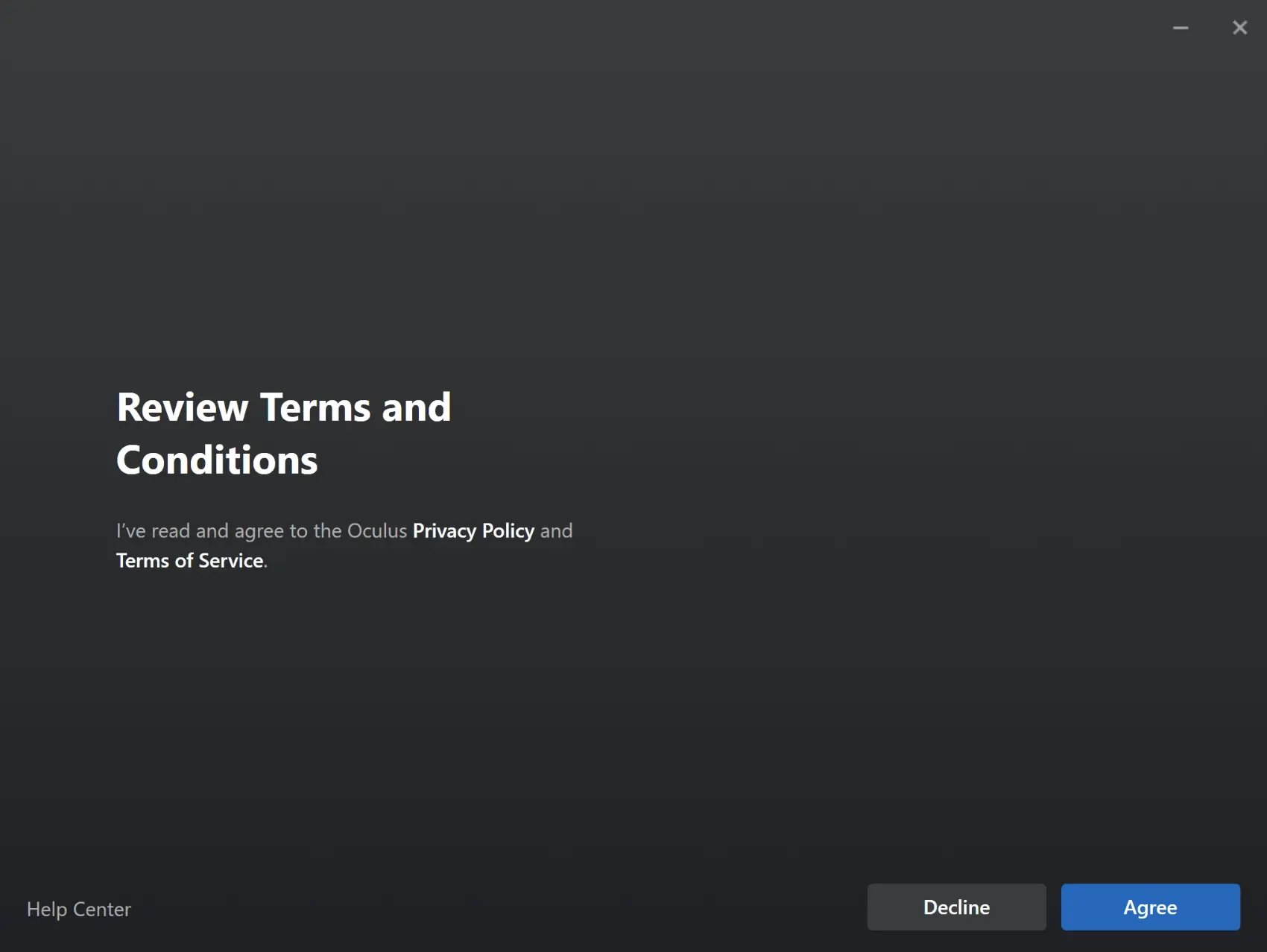 Click on the blue Agree button to accept the terms and conditions.
Install Oculus PC Software Now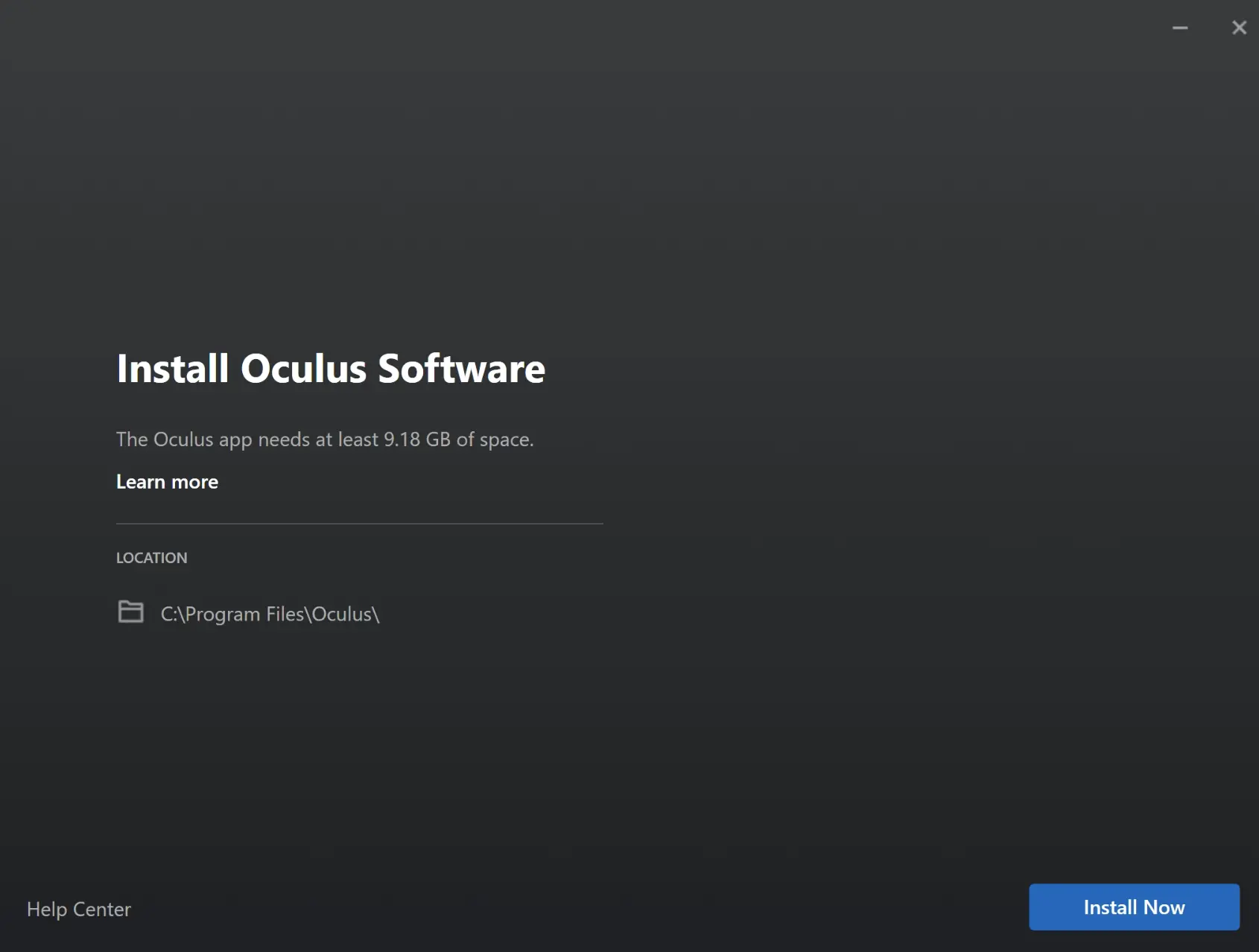 Click the blue Install Now button to install the Oculus software on your PC.
Finish Installing Oculus PC Software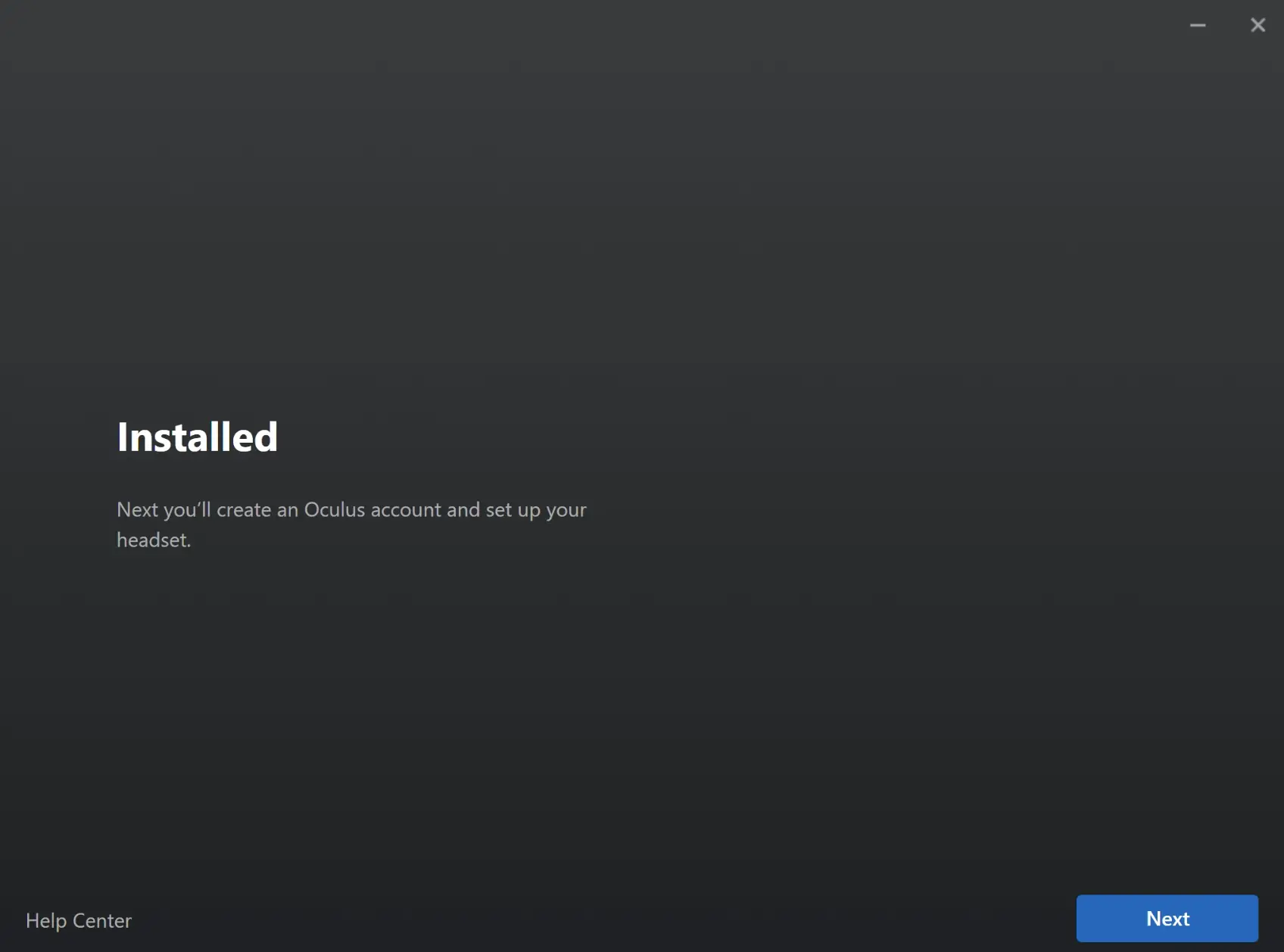 After the software is done installing, click on the blue Next button to log in and set up your headset.
Oculus PC Home Screen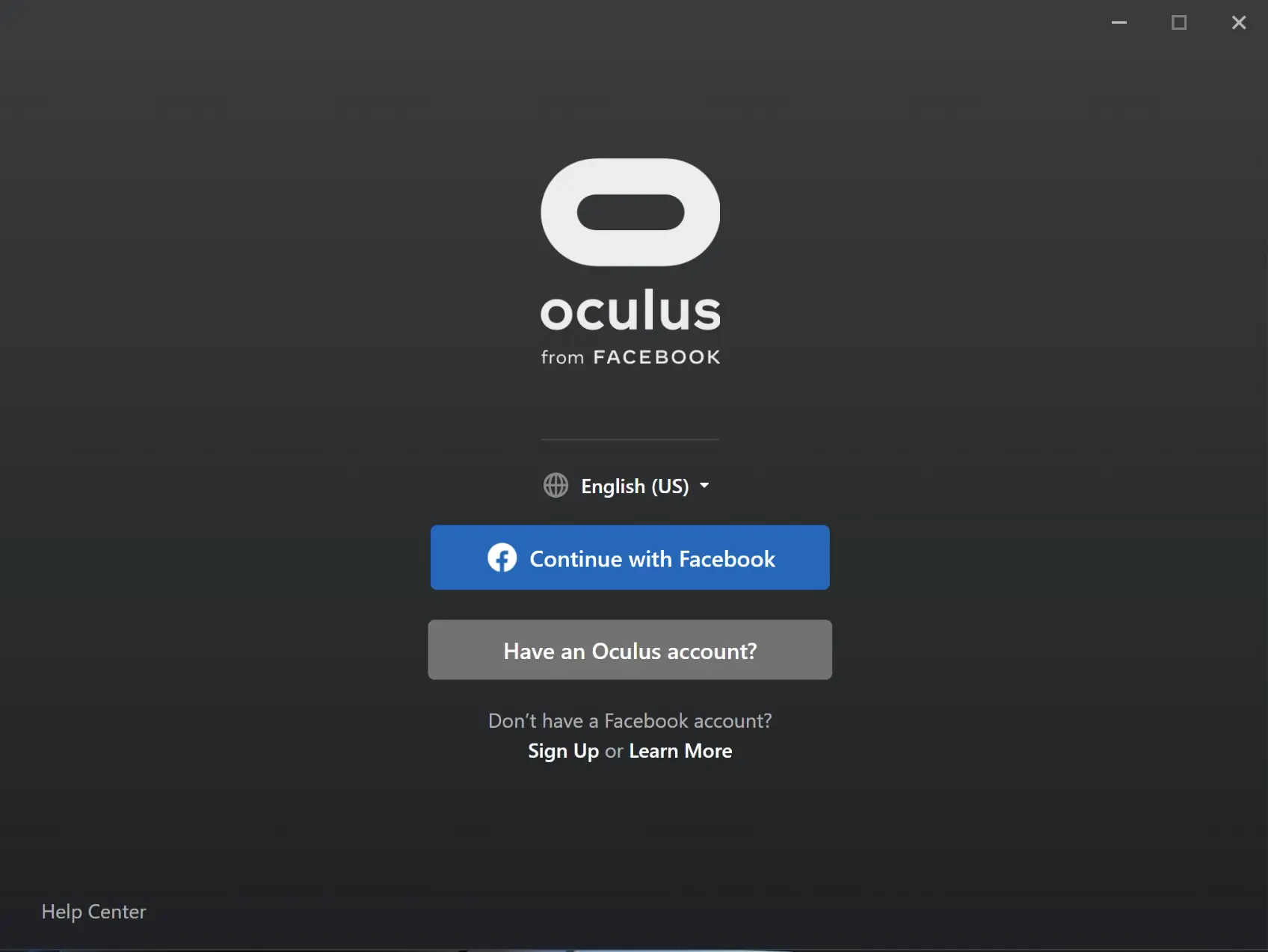 The Oculus PC home screen should look like the image above. Click on the Facebook or Oculus log in button depending on what kind of account you have. If you have to sign up for an account, click that option and then come back here when you are done.
Setup Your Oculus PC Account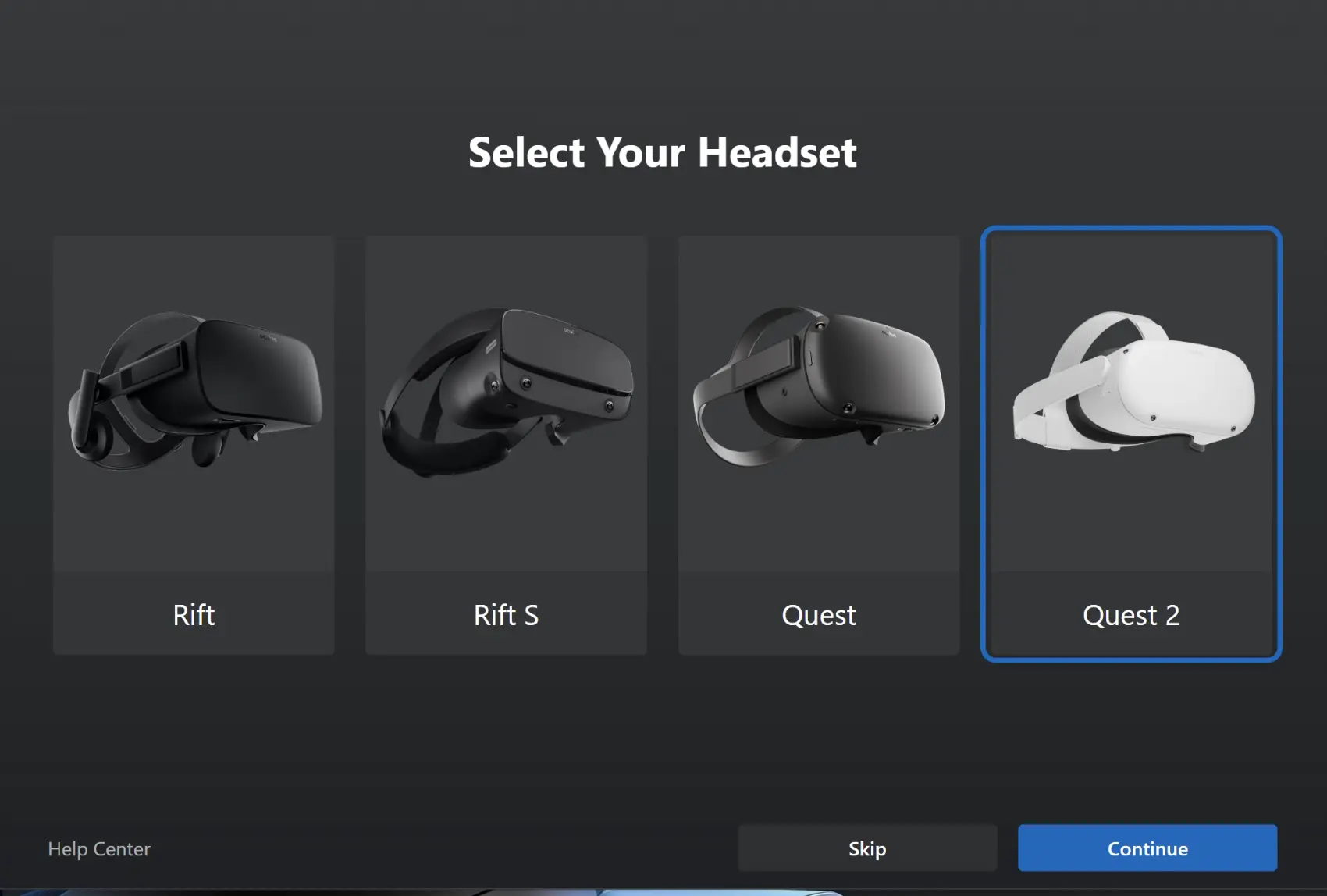 If this is your first time using Oculus PC software, you will be asked to select an avatar and verify some privacy settings. Then, you will be asked to select what your main VR headset is going to be. In order to use Oculus Air Link, you need to select Quest 2 as your option before clicking on Continue.
Connect Your Meta Quest 2 to PC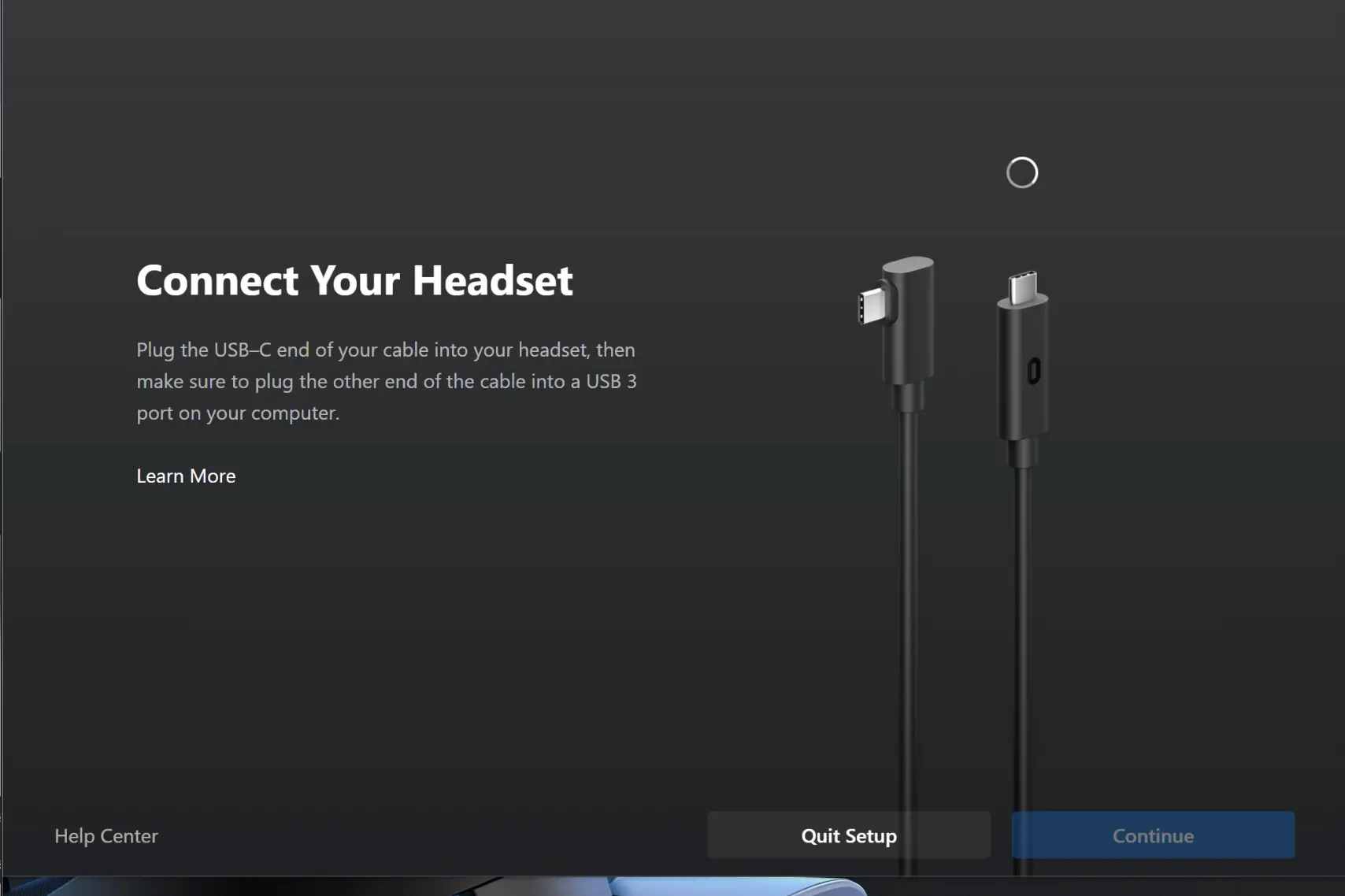 You need to connect your Quest 2 headset to your PC in order to complete the setup. Use your charging cable to connect to the PC and the Oculus software will automatically detect it. Click the blue Continue button when it becomes available.
Enable Oculus Air Link in PC Software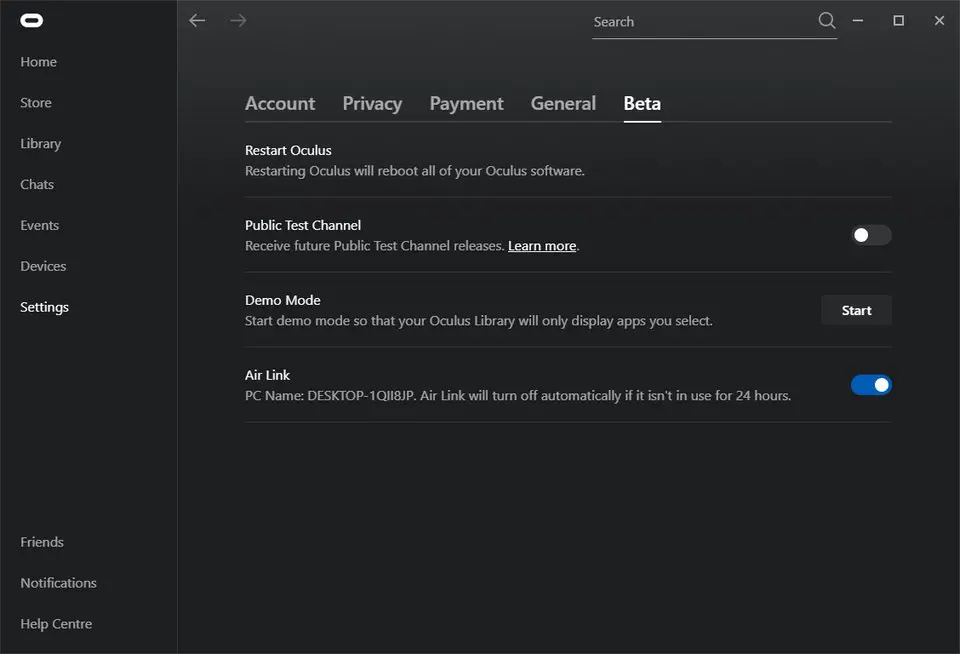 In your Oculus PC software, navigate to Settings > Beta and enable Air Link
This switch will turn itself off automatically every 24 hours for security reasons.
Enable Air Link in Meta Quest 2 Headset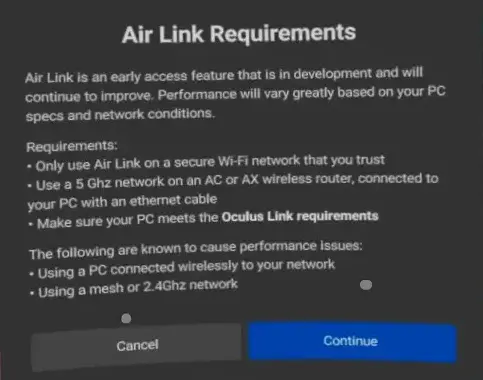 Next, put on your Meta Quest 2.. Press the Oculus button to open up the universal menu and navigate to Settings > Experimental and select Air Link.
Read the Air Link requirements and then select Continue.
Pair Your PC
Find and select your computer in the list of Available PCs. Click on Pair to sync the two together. When it is done pairing, click on Launch.
Quick-Start Air Link
In the future, you can quickly toggle Oculus Air Link on and off from the Quick-Actions menu in the Oculus Settings page on your headset. Just make sure that the toggle is also enabled in the PC software, which turns off automatically every 24 hours.
Change Encode Bitrate to 0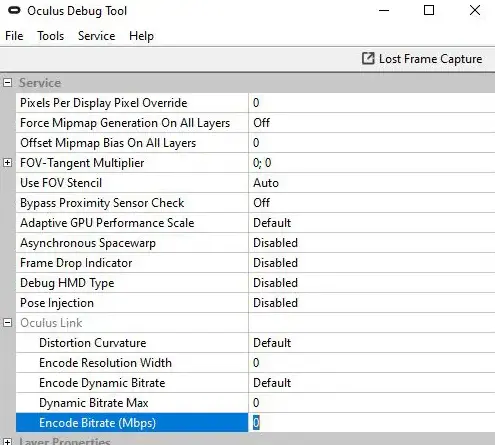 The Encode Bitrate in the Oculus Debug Tool must be set to 0 or else you will see lot of latency while using Air Link. If you've never adjusted this before, it will be 0 by default.
To change the bitrate back or check it, open the Oculus Debug Tool found at Program Files\Oculus\Support\oculus-diagnostics\. Find the Encode Bitrate option under the Oculus Link menu and make sure it is set to 0.
And that's it! You will be connected to your PC wirelessly and you no longer need to use a cable.
After you pair and set up Oculus Air Link for the first time, you can quickly reconnect by turning on Air Link from your Quick Actions menu in Settings.
What's Next
Below, we have an Oculus Air Link FAQ which should answer most of your troubleshooting questions. It shows you how to reduce lag and also how to enable 120 Hz refresh rate while using Air Link.
We also compare Virtual Desktop vs Oculus Air Link in more detail in case you are on the fence about which option to try.
Once we have a good chance to test, we will also be adding a section with the best Air Link settings to optimize gaming. After that, you are going to want to download some SteamVR games and try them out on Air Link!
Before you just go directly to Steam and buy games, check out our VR deals page, which contains discounts on the top virtual reality games. You can get steep discounts on games and save money on titles like Skyrim VR, No Man's Sky, Borderlands 2 VR, The Walking Dead: Saints and Sinners, and more.
Virtual Desktop vs Oculus Air Link
If you already use Virtual Desktop, you are probably wondering what the difference is between Virtual Desktop vs Oculus Air Link.
In general, Virtual Desktop has the following advantages:
Development on Virtual Deskop has been underway since 2017. A lot of bugs have been ironed out to minimize latency and make VR gaming as seamless as possible.
Virtual Desktop works with both the Oculus Quest 2 or Quest 1, while Air Link only works with the Quest 2.
Read how to setup Virtual Desktop on the Meta Quest here.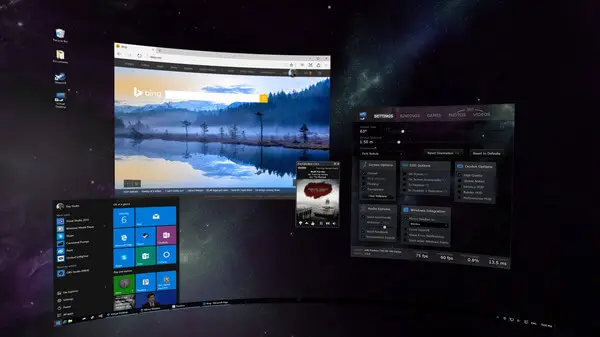 Oculus Air Link has the following advantages:
Air Link is completely free to use, while Virtual Desktop costs $20.
Air Link is built into Oculus' eco-system from the inside, so it should provide maximum compatibility
Overall, Virtual Desktop has the advantage of time on its side. Until there are user reviews that confirm that Oculus Air Link works good, VD is the better wireless streaming option. It already works flawless for thousands of users.
On the other hand, Air Link is completely free. So if you are new to wireless PC VR gaming with the Quest 2, then the Air Link has a lower barrier to entry.
Check out our more in depth comparison between Oculus Air Link vs Virtual Desktop for more information.
Comment below and let us know which option works better for you!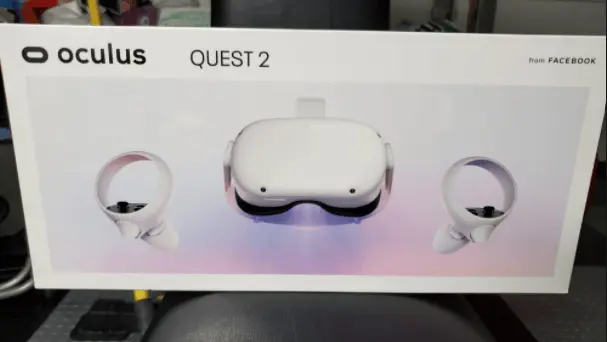 How to Enable 120 Hz Refresh Rate While Using Air Link
120 Hz refresh rate can be enabled wirelessly from the PC Oculus app:
Click on Devices
Select your headset
Click Graphics Preferences from the rright menu
Select 120 Hz and confirm
Oculus Air Link Troubleshooting
Oculus Air Link users may encounter some issues when trying to use the feature for wireless VR gaming. In this section, we'll discuss some common issues that users may face and provide potential solutions to help you get back to enjoying your wireless VR gaming experience.
Connection problems between the headset and PC
Some users may experience connection problems between their Meta Quest 2 headset and their PC. This can manifest as frequent disconnections or the headset being unable to find the PC.
Fixes
Ensure that both your headset and PC are running the latest software updates, including the v28 Oculus software or later.
Check that the Air Link feature is enabled on both the PC and headset.
Restart both your headset and PC to see if the issue resolves itself.
Make sure your PC and headset are connected to the same 5GHz Wi-Fi network.
Poor performance or high latency
Some users may experience poor performance, stuttering, or high latency when using Oculus Air Link.
Fixes
Ensure that your gaming PC meets the recommended VR-ready specifications.
Verify that you're using a dedicated 5GHz Wi-Fi connection, preferably with a dedicated router or access point.
Check for potential sources of interference, such as other Wi-Fi devices or appliances, and move them away from your router or gaming area if possible.
Try adjusting the Encode Bitrate in the Oculus Debug Tool to see if it improves performance.
Sound issues or no audio
Some users might face sound issues or no audio while using Oculus Air Link.
Fixes
Check that the audio output settings in the Oculus software are set to the Meta Quest 2 headset.
Ensure that the headset's volume is not muted or too low.
Try restarting the Oculus software, the headset, and your PC to see if it resolves the issue.
120 Hz refresh rate not working
Some users may find that the 120 Hz refresh rate option is not working or not available when using Oculus Air Link.
Fixes
Verify that both your PC and headset are running the latest software updates.
Ensure that your gaming PC meets the recommended VR-ready specifications for 120 Hz.
Enable the 120 Hz refresh rate option in the PC Oculus app under Devices > Graphics Preferences.
Frequently Asked Questions
Here are some frequently asked questions about Oculus Air Link on Meta Quest 2:
I have slow internet! Can I still use Air Link to play VR games wirelessly?
Yes! Your internet speed has no effect on the performance of the Air Link app when you set it up as a dedicated access point. The most important part is to have a stable connection.
This is why you must connect your PC VR to your main router (through the AP) via an ethernet cable. And why you need to connect your Meta Quest 2 to a dedicated 5GHz access point.
Is it possible to play completely wirelessly, no access point?
Use the utility WLAN-Optimizer program on your PC to disable auto config and background scan easily. This will improve latency back to your home router.
Also, ping your router's IP via command line and try out different 5GHz channels in the router settings to find the best channel with the lowest latency. In Windows, this command is "ping 192.168.xxx.xxx -t".
Can I use my existing router and not buy a dedicated one?
Yes, if your existing router is dual band then you have a few options. You can make it so that only your Meta Quest is allowed to connect to the 5GHz band on your router and everything else will connect to 2.4GHz by default.
Or if you have a tri-band router, you can use one of your 5GHz wireless bands on the Quest specifically. Both of these options are configurable in your router settings which you can access by going to "http://home" in your browser or the router's IP address.
And that's it!
Do you have any other questions about setting up Oculus Air Link on Quest 2? This setup will allow you to play high quality PC VR games on your Oculus Quest 2 and makes the Quest limitless in terms of playability.
Comment below and let us know what you think and if you have any other questions!