In this D-Link VR Air Bridge review, I'll show you why this product is the perfect compliment to use Oculus Air Link to play PC VR games wirelessly on the Meta Quest 2.
I'll also go over:
How the VR Air Bridge works
Key features you should care about
How to setup the D-Link Air Bridge wireless dongle with the Meta Quest 2
How to buy yours today
Overall, the D-Link VR Air Bridge is a good dedicated wireless connection your Oculus Air Link to play PC VR games on your Meta Quest 2 with low latency.
If you have any comments or reviews about the Air Bridge, comment down at the bottom of this guide.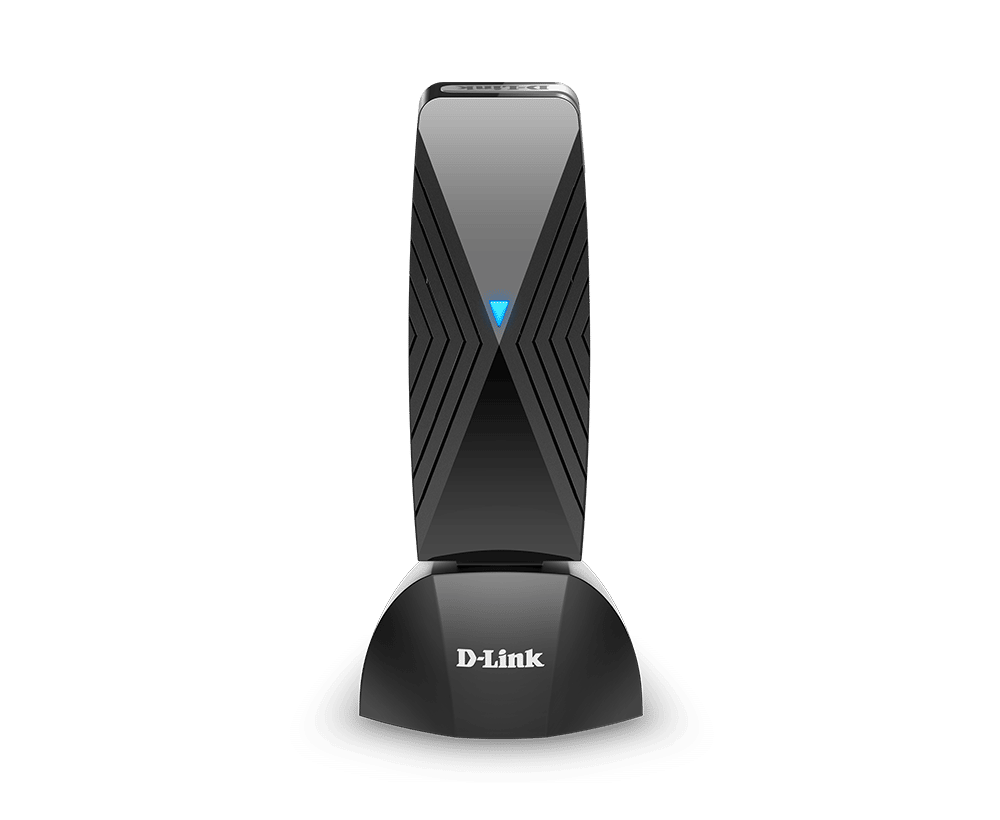 ---
My Review
The D-Link Air Bridge is the perfect companion for Oculus Air Link. It's connection point is built right into the Meta Quest operating system, so you get less room for latency. It might be a little expensive for a VR-only device, but anyone who has dealt with lag during PCVR gaming will easily see its value.
---
Features We Like
Built to work with the Meta Quest 2
Offers Wi-Fi 6 connection speeds
Low latency VR gaming from your PC to your Quest 2
| | |
| --- | --- |
| Best For | Quest 2 PCVR Gamers |
| Price | $99 |
What is the D-Link VR Air Bridge?
The D-Link VR Air Bridge was specifically built to provide optimal wireless performance for your Meta Quest 2 VR headset. The VR Air Bridge is a wireless adaptor that plugs directly into your laptop or desktop computer's USB-3 port.
The Air Bridge then wirelessly connects directly to your Meta Quest 2 headset, providing a direct wireless connection and allowing for an even better gaming experience. The D-Link VR Air Bridge is very compact and does not take up any additional space, and you can be sure to get enhanced speed and a better overall connection for all your virtual reality games.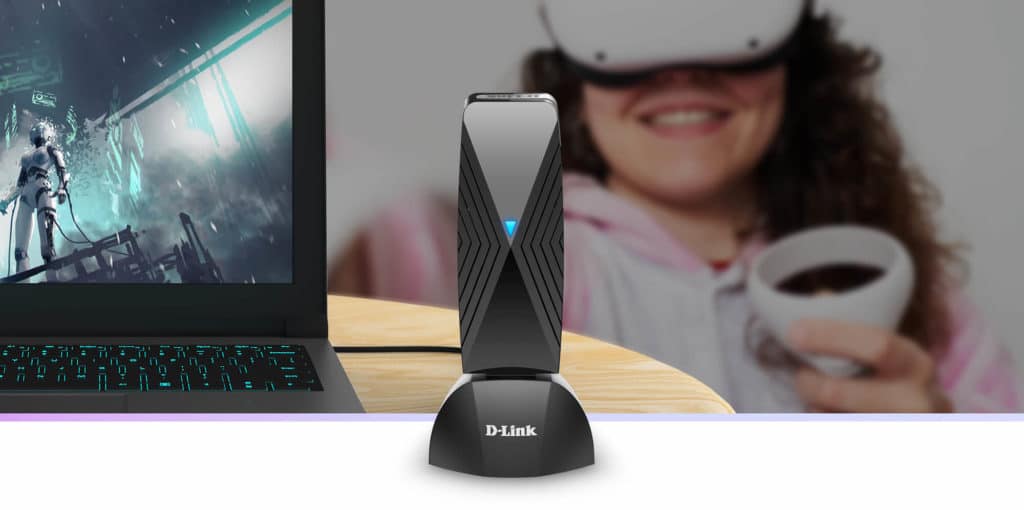 How to Buy the VR Air Bridge
Click here to buy the VR Air Bridge from the official D-Link website.
Click here or use the box below to buy the VR Air Bridge worldwide from Amazon.
How Does the VR Air Bridge Work?
The VR Air Bridge works as its own dedicated wireless access point between your Wi-Fi and your Meta Quest 2 VR headset.
Usually, you would use your VR headset and play games wirelessly over your Wi-Fi network. The connection and speed depend on several factors, such as:
how fast your Wi-Fi speeds are
how many devices are using the Wi-Fi at once
how close you are to your router
The VR Air Bridge creates a one-on-one wireless connection to the headset, allowing for faster speeds, better connection, and an overall better VR gaming experience. The Quest operating system is configured to directly connect and work with the Air Bridge, so you have the closest possible integration.
It's the top way to use Oculus Air Link on your Quest 2.
It is incredibly easy to set up and use and is fully customized to work with the Quest operating system.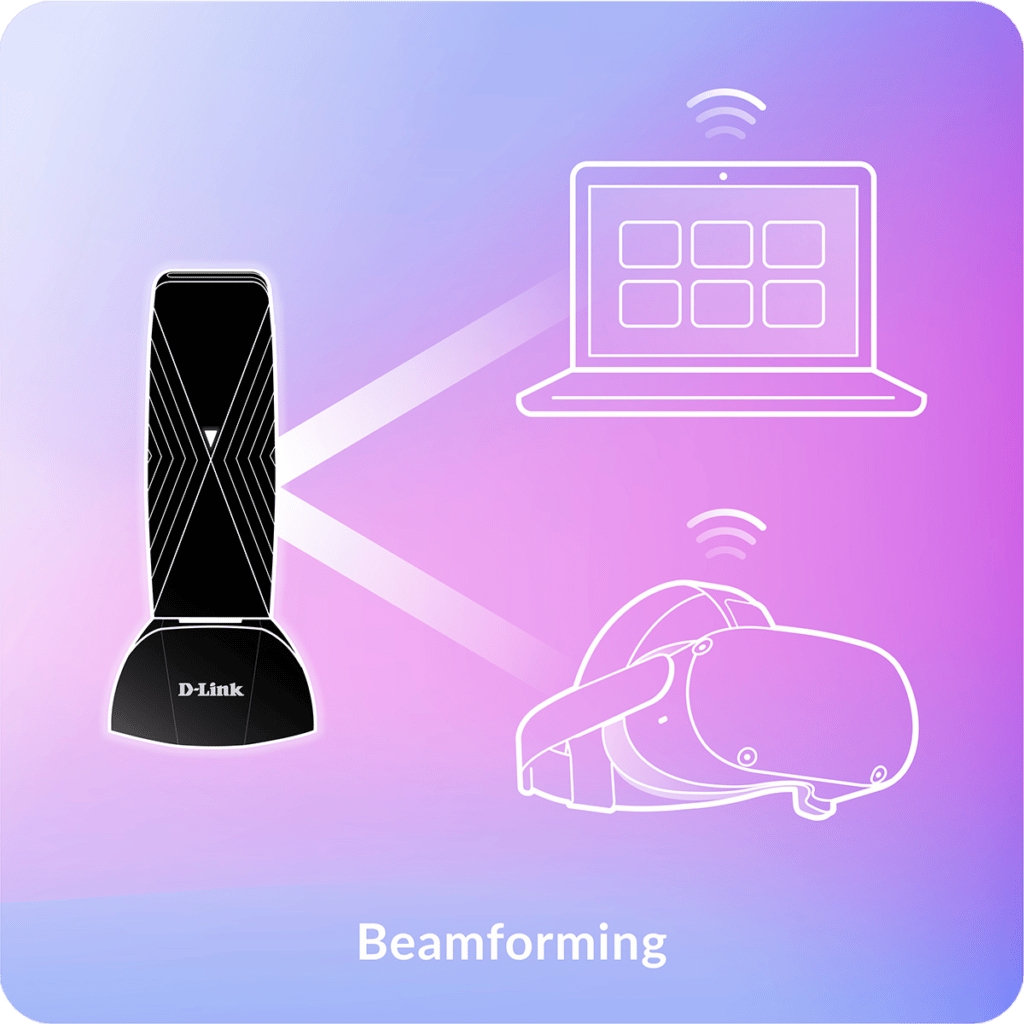 Key Features
Low Latency PCVR Gaming
Having a dedicated wireless link between your Quest VR headset and your wireless connection allows for the ultimate PCVR gaming connection. The VR Air Bridge, once connected, will provide easy and uninterrupted connectivity for all of your VR games.
It offers low latency, meaning minimal delays and the fastest speeds possible. You also don't have to worry about other devices connected to your Wi-Fi slowing it down.
Wi-Fi 6 Speeds
Wi-Fi 6 is the next generation of wireless internet speed and connection. It still does all of the same basic things as before, such as connecting you to the internet but offers even faster speeds, more capacity, and less bandwidth congestion.
The VR Air Bridge is equipped with Wi-Fi 6 technology, meaning you will get the absolute best speeds and performance for your VR games.
Made Specifically for the Meta Quest
The D-Link VR Air Bridge was explicitly made for the Meta Quest 2 VR headset, which is fully customizable and compatible with the Quest operating system. This makes the setup easy as long as you have the most up-to-date Meta Quest software on your PC.
This also gives you peace of mind when using the Air Bridge, knowing it was built specifically for your VR headset.
WPA3 Encryption
Wi-Fi Protected Access (WPA) is the primary security standard for all devices equipped with Wi-Fi capabilities. WPA3 is the newest and most secure connection; however, it is still not recognized by all Wi-Fi devices yet.
The VR Air Bridge has been built with WPA3 Encryption, which means you will get the latest and best security on your Wi-Fi connection.
Compact Design
The D-Link VR Air Bridge has an incredibly compact design that can easily fit into the palm of your hand. This means you can plug it into your PC and not worry about it taking up much desk space.
The Air Bridge is also incredible to travel with as it can be placed away in any small pouch. All you need is the stick, the dock it plugs into, and the small USB3 cord that comes with it.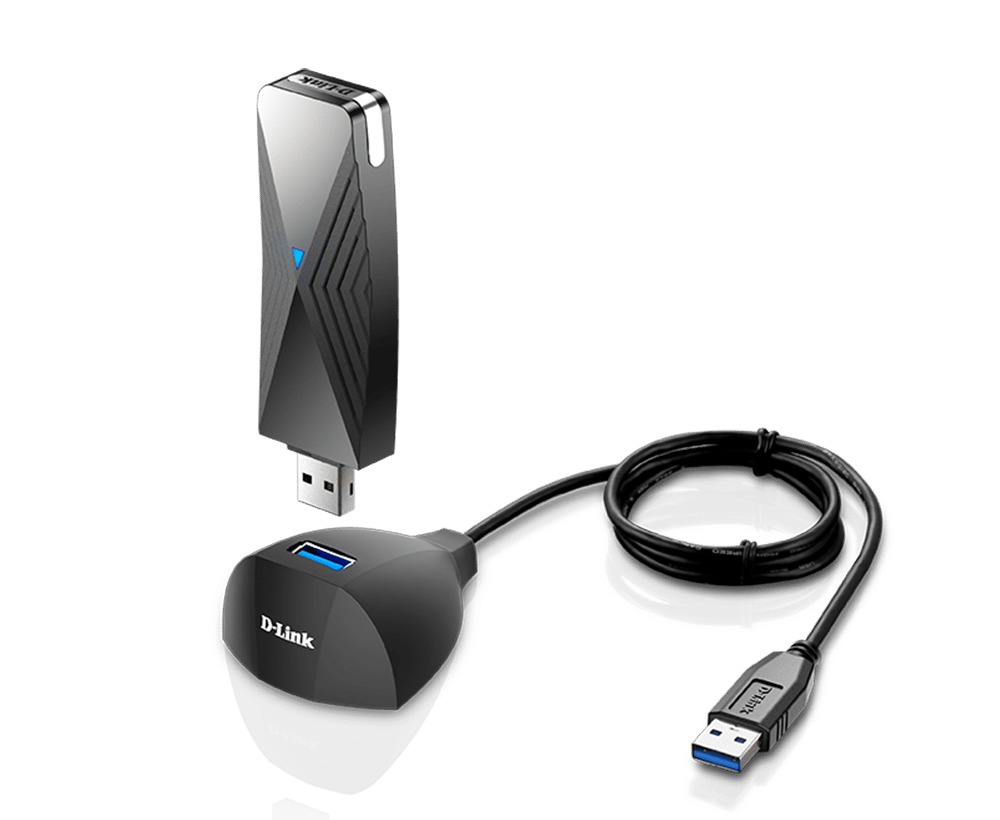 How to Setup the D-Link VR Air Bridge With Your Meta Quest 2
The VR Air Bridge is straightforward to set up with your Quest 2 headset and should only take minutes. Inside the VR Air Bridge box are three items:
the compact wireless device
the vertical stand with the USB3 cord attached
a quick start guide booklet
To setup the Air Bridge with your Quest 2:
First, grab your laptop or go to your PC, whichever you plan on using.
If you have a Quest 2 VR headset, you most likely have the Quest Link software on your computer already. If not, you want to head to oculus.com/setup to download it.
Make sure you have the most recent version running, and if not, download it and restart your computer.
Make sure the VR Air Bridge device is plugged into the vertical stand that it comes with.
Coming out of the stand is the USB3 cord. Plug that into a USB3 port on your computer.
Once the VR Air Bridge is connected to your computer, open the Quest Link Software on your computer. It should show right away if the Air Bridge is connected or not.
Voila! Start playing your games seamlessly.
We did notice the most optimal connection was when we had the VR Air Bridge in the same room we were using our Quest headset.
The Air Bridge sits nicely upright on the desk in its vertical stand.
What I Like About the D-Link VR Air Bridge
I love the idea of playing PCVR games on my Meta Quest headset, but a wireless connection through my router always had its flaws. The VR Air Bridge did precisely what it advertised it would.
I noticed that my online games had less latency and the overall connection and performance were strong. Wi-Fi 6 is a nice bonus.
In my household, we have many devices connected to our Wi-Fi network simultaneously, and online gaming can get slow and laggy sometimes. The VR Air Bridge completely changed that and provided a fast connection for all of the VR games that I tried with it.
I also liked how incredibly easy it was to set up the VR Air Bridge and start using it immediately. I already had the Quest Link software on my computer with the most recent version, so I was able to plug it in and start using it in a matter of minutes. It instantly connected with no runaround at all.
The last thing worth noting is how compact and small the Air Bridge is. It easily plugs into your PC and sits on your desk or floor with its vertical stand. It's not nearly as big as a router and takes up little to no space.
What I Don't Like About the D-Link VR Air Bridge
The fact that you have to spend extra money to get a better wireless experience may be a turnoff for some consumers. If you paid for a good Quest router, you would expect to get an optimal connection already. However that is not always the case, especially if you have many devices connected to the same network.
It will come down to personal preference if you want to spend extra to get a faster and better wireless VR gaming experience.
One other thing that I'm not a fan of is that the VR Air Bridge is not compatible with the Quest 1 VR headset. There are rumors that Meta will expand support for the Quest 1 one day, but it seems silly to block this connection in the software only. These are the types of decisions that undermine the customer.
D-Link VR Air Bridge Alternatives
There are two main alternatives for playing PCVR games wirelessly on your Quest 2 if you don't want to buy the Air Bridge: Oculus Link and a dedicated router.
Oculus Link
Oculus Link allows you to make a direct connection to your gaming PC with an Oculus Link cable. Since this option isn't wireless, you don't have to worry about network latency problems. However, some people hate feeling the cord connection to your computer. You also are required to play your Quest 2 headset in the same room as your computer with this option.
If you want to try Oculus Link, you can buy the cable below.
Sale
Quest 2 Link Cable - Virtual Reality Headset Cable for Quest 2 and Quest - 16FT (5M) - PC VR
Expand your library. Access 1,000+ PC-based VR titles in the Meta Quest Rift library Compatible gaming PC required, not included. See the Meta Quest website for PC specifications.
Maintain your range with an extra long, 16ft (5m) construction that gives you space to move in VR, even when connected to your PC. (Packaging may vary) Meta Quest packaging will continue to carry the Oculus name and logo during the transition to our new branding.
Keep your experience flowing smoothly. Capable of up to 5Gbps, the Link Cable has all the capacity you need for a premium VR experience
Dedicated Quest 2 Router
A dedicated Wi-Fi router will also give you a wireless connection to your Quest 2, similar to the Air Bridge. If your router is truly dedicated and you don't have other devices connected to it, this option can work almost as well as the VR Air Bridge.
I saw almost because the Air Bridge has the advantage of being integrated right into the Quest 2 operating system. It leaves less room for error and messing around.
If you do go with a router, I recommend a good Wi-Fi 6 router to take advantage of the new technology.
Click here to view our list of the top Meta Quest 2 routers.
Or buy our top pick from Asus below:
Sale
Frequently Asked Questions (FAQs)
Does the VR Air Bridge work with the Oculus Quest 1?
No, the VR Air Bridge is incompatible with the Oculus Quest 1 headset. But, this seems to be merely a software limitation, so we could see it becoming compatible in the future.
Does the VR Air Bridge work with any HTC, Pico, or HP VR headsets?
No, the VR Air Bridge is not compatible with any other VR headsets except for the Quest 2. It was built to work directly with the Quest operating system.
Is the VR Air Bridge better than a router for Oculus Air Link gaming?
The VR Air Bridge is much better than a home Wi-Fi router for Oculus VR gaming. It is cheaper, smaller, and offers much better signal strength, latency, and bandwidth. I would highly recommend it if you have a Quest 2 headset.