This is the ultimate guide to the HTC Vive Pro 2. We have information on every single feature in this VR headset announced at 2021 Vivecon. How does the Pro 2 stack up against other headsets?
Some of the things we cover:
Display and other technical specs
Unique features and improvements over the original Vive Pro
How to buy the HTC Vive Pro 2
and more!
If we've missed anything, just comment down below and we'll get you the answers!
Latest in HTC: HTC Vive FLow: Everything You Need to Know
How to Buy the HTC Vive Pro 2
The easiest way to purchase the Vive Pro 2 is from the HTC website directly.
Click here to preorder the VR headset.
HTC also offers the headset through other online retailers such as Amazon.
HTC Vive Pro 2 Headset Only
Visualize in 5K clarity-bring out the finer details with combined 4896 x 2448 resolution. 5K resolution may be subject to processing compatibility
See more of your environment-a wide 120 Degree field of view (FOV) expands the VR viewing experience. The increased angle better aligns with the human eyes, letting you see more naturally
Experience seamless visuals-increase your visual comfort in graphics-intensive games and apps with a 120Hz refresh rate
HTC Vive Pro 2 Release Date
The release date of the HTC Vive Pro 2 is June 3rd, 2021. Pre-orders were available as of May 11, 2021.
Videos and Pictures
Check out some of the pictures and videos of the headset below.
Price
The price of the HTC Vive Pro 2 is $799 USD for just the headset. It is backwards compatible with all Vive hand controllers.
A full kit including controllers and two base stations is $1,399.
At launch, HTC was offering $50 off to users who pre-ordered the VR headset.
Display
The display on the VR headset features 2 LCD displays. The resolution of the headset is 4896×2448 or 2448×2448 per eye. This means that the headset features 5K displays quality, 2.5K each.
This is new display is a change from the Vive Pro 1.0, which has OLED screens.
The field of view on the headset is 120 degrees horizontal, 90 degrees vertical, and 150 degrees diagonal. This makes the field of view on the headset amongst the largest in virtual reality.
The Vive Pro 2 features dual passthrough cameras for seeing your environment.
IPD Adjustment
The Vive Pro 2 features agranular IPD adjustment on the display. You can adjust the view between 58 and 72 millimeters.
Refresh Rate
The refresh rate on the headset is 120 Hz. This is equal to the Oculus Quest 2 after its most recent software update.
You can also set the Vive Pro 2 at a 90 Hz refresh rate for computers that is not high-end.
Audio
The HTC Vive Pro 2 features removable stereo headphones. They are on-ear and connect via USB-C audio output.
The Vive Pro 2 has dual microphones.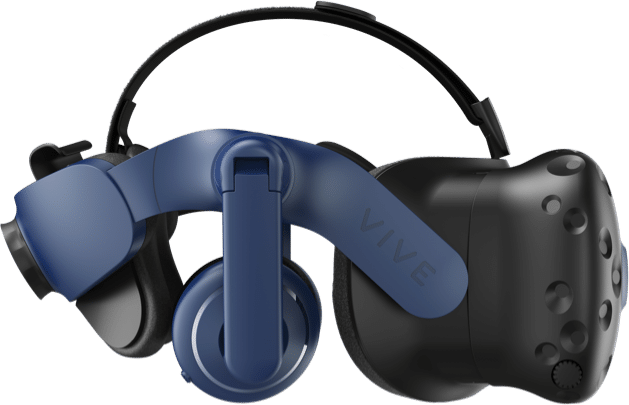 Headstrap
The Vive Pro 2 features a hard padded retractable strap. It connects to a foam and plastic facial interface.
The colors of the headset are black and blue, the same traditional colors that HTC uses.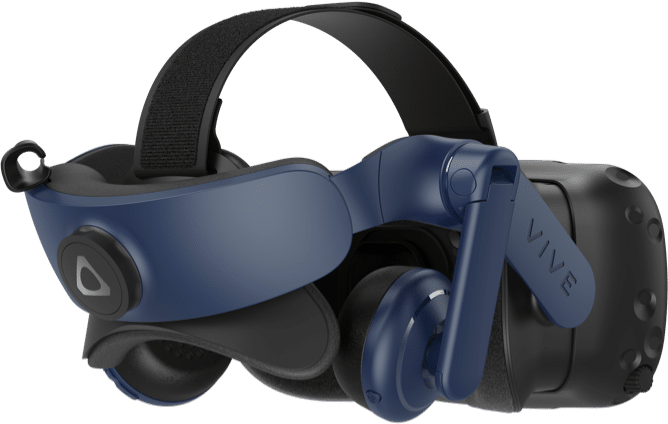 Controllers
The standard Vive Pro wand controller is compatible with the Pro 2.0 headset. It weighs 203 grams, slightly heavier than HTC Vive Flow, and features a trackpad, face buttons, index trigger, and grip buttons. There is partial thumb and index finger tracking and haptic feedback.
The controllers are rechargeable and have 6-hour battery life.
Tracking
The Pro 2 features inside-out tracking with full 6 degrees of free capabilities.
You also have the option to use 2 SteamVR 2.0 base stations for improved tracking.
The headset does not feature any eye, face, hand, or body tracking by default. You can add the Vive Facial Tracker or Vive Tracker for additional accuracy.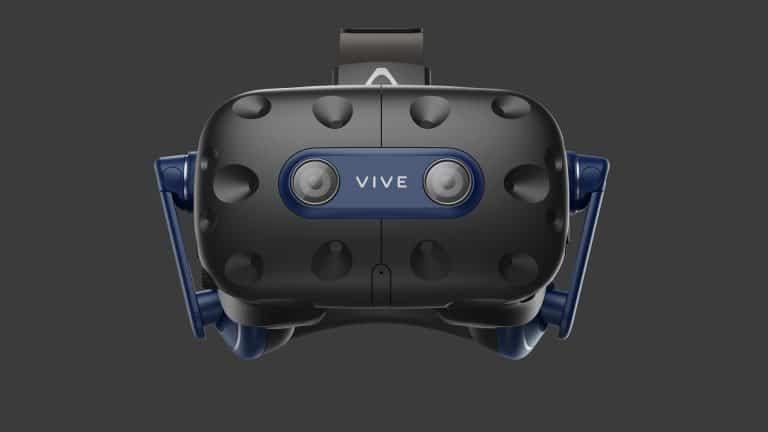 PC Requirements
HTC has worked with Nvidia and AMD to implement Display Stream Compression for maximum visual quality. This allows older graphics cards to support and work with the Pro 2's updated specs. In fact, the Pro 2 has the exact same PC requirements as the original Pro 1:
Video Card: NVIDIA GTX 1060 / AMD Radeon RX 480 or greater
CPU: Intel Core i5-4590 / AMD FX 8350 or greater
Memory: 4GB RAM
Video Output: HDMI 1.4 / DisplayPort 1.2
USB Ports: 1x USB 2.0 port
OS: Windows 7 SP1, Windows 8.1, Windows 10
Many users recommended 8 GB of RAM for optimal settings.
Display Stream Compression allows the Pro 2 to handle 719MP per second.
The Vive Pro 2 connects to your headset via a DisplayPort 1.2 port.
Wireless
The existing Vive Wireless adapter works with the Pro 2. You can check that out and buy it below.
HTC Vive Wireless Adapter for Vive Pro/Cosmos Series
Wireless VR for Vive cosmos, Vive Pro, Vive Pro eye and Vive Pro 2 series
Powered by Intel wigig Technology with near-zero latency. Allows for multi-player VR in the same play space - up to 3 people in a single room-scale environment
Requires available pcie slot
Games
All games on the SteamVR and Viveport platforms can be played on the headset.
Two months of Viveport Infinity are included for free when you purchase a Vive Pro 2.0 headset.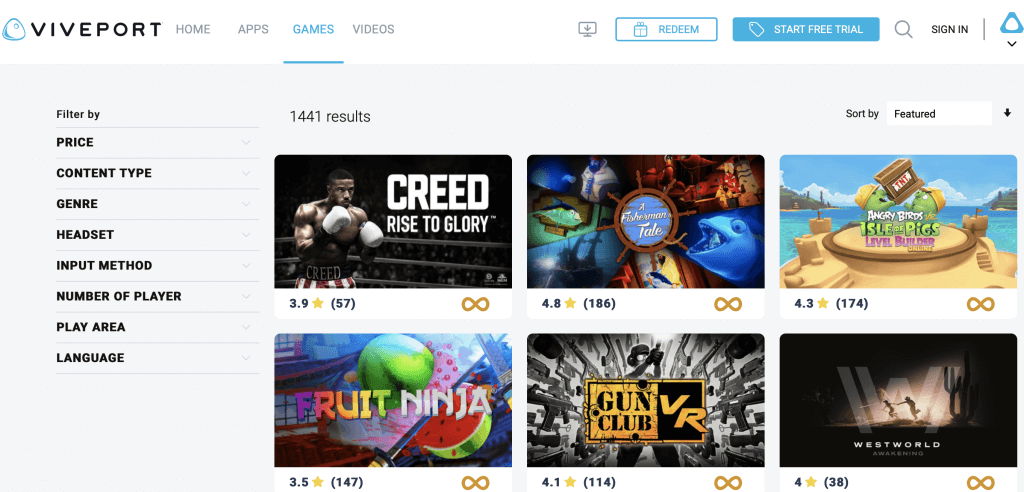 Accessories
All SteamVR hardware and accessories are compatible with the Pro 2. Specifically, HTC has showcased the Vive Facial Tracker, Vive Tracker 3.0, Steam Base Stations, Vive Controllers, and Valve Index knuckles as being compatible with the Pro 2.
Sale
HTC Vive Tracker (3.0)
Body tracking-track the physical presence of your entire body within the virtual environment. Capture full-body motions with as few as 3 trackers
Accessory tracking-enable the tracking of real-world objects to Increase the realism of your simulation or training experience
Data port sharing-in addition to providing power, the USB port can be used to input Controller button events
Sale
HTC Vive Deluxe Audio Strap
Designed with adjustable earphones, allowing you to enjoy the 360-degree realistic sound in even more comfort and convenience.
Features interior padding for extra contentment. An adjustment dial allows for just the right fit. You can place the cable path at a side position to enjoy an even more immersive experience.
Provide integrated earphones with great sound quality so you will have a more convenient VR experience.
What are your favorite features of the new HTC Vive Pro 2 VR headset? Comment down below and let us know if we've missed anything.
Subscribe to us today for free and get 101+ VR tips in your inbox! These tips cover everything from getting started in VR to hardware and software tricks and specific game help.