Good VR sports games are surprisingly rare. In this guide, we show off the best VR sports games in 2022 that you can play today.
Today, we are focused on real sports. That means sports that can be played at a professional level and not "this is a VR game where you shoot a bow and arrow so we called it a sports game (no offense)." These games will have you reaching your Meta Move goals quicker than before.
So if you've ever wanted to be Michael Jordan or Connor McDavid or Sachin Tendulkar, this guide is for you.
Let us know at the bottom of this guide what your favorite VR sports game is.
The Best VR Sports Games in 2021
If you don't have time to read the whole guide, here are our top picks for the best VR sports games based on REAL SPORTS.
GOLF+ (formerly Top Golf with Pro Putt)
Disc Benders: Ace Run
Eleven: Table Tennis
The Final Overs
Descent Alps
Gym Class
Pick-up League Hockey
Walkabout Mini Golf
Real VR Fishing
Premium Bowling
VR Sports Challenge
Hoops Madness
The Patrick Mahomes Experience
Next up, we take a look at our top VR sports games in more detail.
GOLF+ (formerly Topgolf with Pro Putt)
Platform = Oculus Quest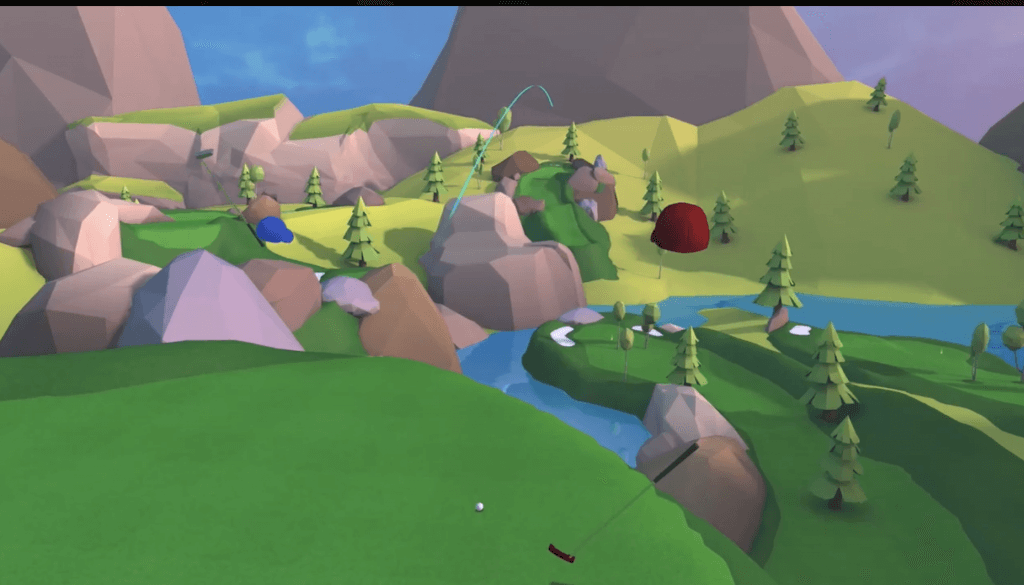 GOLF+, formerly Topgolf with Pro Putt, is a realistic golfing simulator sponsored by the Topgolf brand. The latest update adds full swinging to the game and two full length 18 hole golf courses to play (1 is a DLC). It takes this solid golf VR game and adds an entirely new dimension to try out and play.
If you've never been to a real life Topgolf, it is a multi-level driving range with swing and ball analytics and stats. The VR sports game comes loaded with several Topgolf venue games and 4 beautiful putting courses to help you escape. It has driving range and putting modes to play through and enjoy, along with the new full course mode.
Plus, there is a competition to match your skill level. Pro Putt is a great multiplayer game that you can use to hang out with your friends and challenge them to victory.
Pro Putt started out originally with only putting, but has since expanded with full swing features. It has this one of the best VR sports games today.

Disc Benders: Ace Run
Platform = Oculus Quest
Disc golf probably isn't the first sport you are thinking about when we say "VR sports games", but Disc Benders: Ace Run is too much fun. The game mechanics are made PERFECT for virtual reality.
If you've never played disc golf before, it is a combination between frisbee and golf. You have to throw weighted frisbee-like discs across long fields towards a chain link basket. The object of the sport, like golf, is to finish each hole in the least amount of swings.
Disc Benders includes two different courses, which can be played in either direction. The controls are easy to learn, but very hard to master. We liked how a faster swing speed with your controller actually effected the distance of the throw. If you have an Oculus Quest, add Disc Benders: Ace Run to your list of best VR sports games to try out.

Eleven: Table Tennis
Platforms = Oculus Quest, Oculus Rift S, Steam VR
Eleven is a realistic table tennis game for virtual reality. It brings the table, paddles, and ping pong balls to you. You can play against an adjustable computer AI player or go online and play against other real life people.
The hand motions and gameplay feel surprisingly realistic. If you've ever played table tennis in real life, Eleven is a really good replica. Plus, the computer AI can go from verry easy to insanely difficult if you want.
This VR sports game features multiple arenas to play games in and was recently updated to be 120 Hz refresh rate on the Quest 2. The developer is always eager for feedback and updates the game constantly.

The Final Overs
Platform = Oculus Quest
The Final Overs is a VR cricket game that promises intensive immersion. In fact, the game is an incredible simulation of what it is like to face the high-speed pitches of professional cricket players.
The physics give you total control while you are playing. You can use your bat to ball connection and literal swing power to determine how far you can hit the ball. This game features 6 varieties of blowers with different specialty, last ball replay in slo-mo, and multiple bat choices.
There's also a way to track your progress with a constantly updating leaderboard. Plus, you can play solo or invite your friends to battle it out.

Descent Alps
Platform = Oculus Quest
Descent Alps is a VR downhill skiing game. In the game, you race down a mountain as fast as you can. You sway your hips and body from side to side just like you are wearing real skis. Your goal is to clear all gates, slalom style, and cross the finish line.
While each course comes with a unique rhythm, the key to success is finding the rhythm that works for you. The game does a great job of changing your position by the way you shift or lean your body. With the ski poles visible, your hands should be in front of you.
You can play Descent Alps solo or engage your friends in a challenge.

Gym Class
Platform = Oculus Quest
Gym Class is a multiplayer basketball VR sports game. It is the best way to hang out, while playing basketball, with friends from all over the world. In fact, you can play online with up to 8 people.
When you first launch the game, you will be in an open gym with a basketball court. You can call for the ball from machines around the perimeter. Once the ball is in your hand, you can pass, dribble, and shoot. You can even dunk in the game, which feels extremely satisfying. The game takes a little bit to get used to, since you don't have a real ball in your hands.
Online, you can play a 4-on-4 basketball game. This is where Gym Class is really awesome to try out. Work as a team, pass, block, and score more points to win.

Pick-up League Hockey
Platform = Oculus Quest
Pick-up League Hockey is the only full-scale VR hockey game available. It is a multiplayer game with a full size rink and realistic skating physics.
As a single player, you can practice your shooting skills with an AI goalie. You can also use the traffic cones to work on your stick control. This will surely improve your accuracy with the goal targets. Pick-up League Hockey features single and dual-handed stick controls and accurate puck-handling.
If you are confident of your skill, you can then battle against other players in the multiplayer mode. Games are 3-on-3 and feature all hockey rules and nurances.

Platform = Oculus Quest, Oculus Rift, Steam VR
Walkabout Mini Golf is another realistic golf game for VR. Unlike Pro Putt, Walkabout is more ambitious in its approach and geared more for mini golf fans. You can play Walkabout solo or invite up to 5 friends for a more competitive game. The smooth transition from virtual golf clubs to the touch controllers accommodates all players, including right-handed and left-handed options. Plus, you can collect over 90 custom balls hidden throughout the courses.
Walkabout does a good job showing you courrse and round information on your hand. Golf club handling can be done using one controller. The game repositions you automatically to different locations depending on whose turn it is to play.

Real VR Fishing
Platforms = Oculus Quest, Oculus Rift, Steam VR
Real VR Fishing is a realistic VR sports games for fishing enthusiasts. In the game, you sit quietly by a lake with a fishing rod in your hand and surrounded by beautiful scenery. The game is a good mix between relax and action. You can view your previous catches in the aquarium room outside of the game.
Real VR Fishing has both single and multiplayer modes. In multiplayer mode, you can play with up to 4 players. You can customize your aquarium and purchase unique decorations to make the game more immersive.
The game is beautiful to play. The ripples on the water are accurate and the beach and trees along the coast are realistic. Even if you aren't a fisherman, the game is higly worth checking out.

Premium Bowling
Platforms = Oculus Quest, Oculus Rift, Steam VR
Premium Bowling is the top bowling game for VR. It was released in 2019 and allows bowling enthusiasts to play ten pin in the comfort of their home. You can set up VR teams with other players through online multiplayer. Play multiplayer competitions and work your way to join top ranking players through the bowling leagues.
Single player mode is fun to play too. There are gorgeous bowling alleys to play in. A ball editor allows you to customize your own bowling balls and then use them in game. Premium Bowling players rave at how accurate it is to throw the ball in VR verses real life.
Premium Bowling also features weekly player rankings, daily and weekly top scores, oil patterns, voice chat, and more.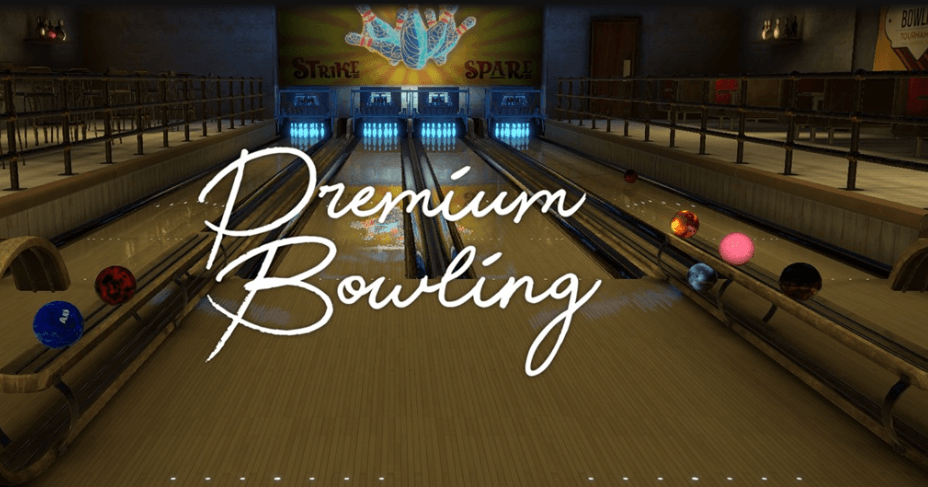 VR Sports Challenge
Platform = Oculus Rift
VR Sports Challenge is a more casual game that has a ton of different sports to try. It was released in 2016 to showcase the features of the motion touch controllers. Sports included in the game are:
Boxing
Bowling
Golf
Tennis
Baseball
Each sport has a few mini games that you can play. In Hockey, you can either play goalie and stop pucks or shoot them. In football, you can either throw or catch the game. In basketball, you can practice shooting baskets.
Each of these games offer immersive experience and a nice workout. You can play with your friends or family members by handing off your headset to each other.

Hoops Madness
Platform = Oculus Quest, Oculus Rift, Steam VR
Hoops Madness another VR basketball games to check out. It really shines in its online multiplayer mode. In Hoops Madness, you earn points for trick shots, consistency, and game mode bonuses.
If you choose to simulate jump shots or free throw motions, you can get some leg work in. If you use both arms, this game can give you a surprisingly great arm workout. The atmosphere is impressive and gives you the feeling as if you are in a real basketball court. If online play is not available to you, you can take advantage of the solo mode to top your own high score.

The Patrick Mahomes Experience
Platform = Oculus Quest
The Patrick Mahomes Experience is a new 2021 VR football game. You play as superstar Quarterback Patrick Mahomes in a variety of game modes and challenges.
Just like a quarterback in real football, you get to:
call plays
throw passes
stiff arm defenders
The game features realistic motion controls for throwing the balls to your receivers and running backs. You can create and run custom plays and also make live audibles before each snap.
The game has a global leaderboard so that you can complete with your friends. You can play the game both standing and sitting, depending on your preference and game space.

What is your favorite VR sports game to play? In the guide above, we broke down real sports like hockey, basketball, and golf. There are a lot of other athletic and fitness games to try out too.