The graphics card is critical to having a VR PC setup that can run all the latest games. This list breaks down the top 8 GPUs for VR gaming available today.
There are as many graphics cards on the market as VR titles to choose from. We've compiled a user-friendly guide below to help determine the best GPU for you, including:
Key features that are good for VR
Drawbacks of each card
How to buy each GPU today
The best GPU for VR gaming can play all of the latest virtual reality games, including Microsoft Flight Simulator, Assetto Corsa VR, Skyrim VR, and more.
Let's get started.
What are the Best GPUs For VR?
What is a GPU?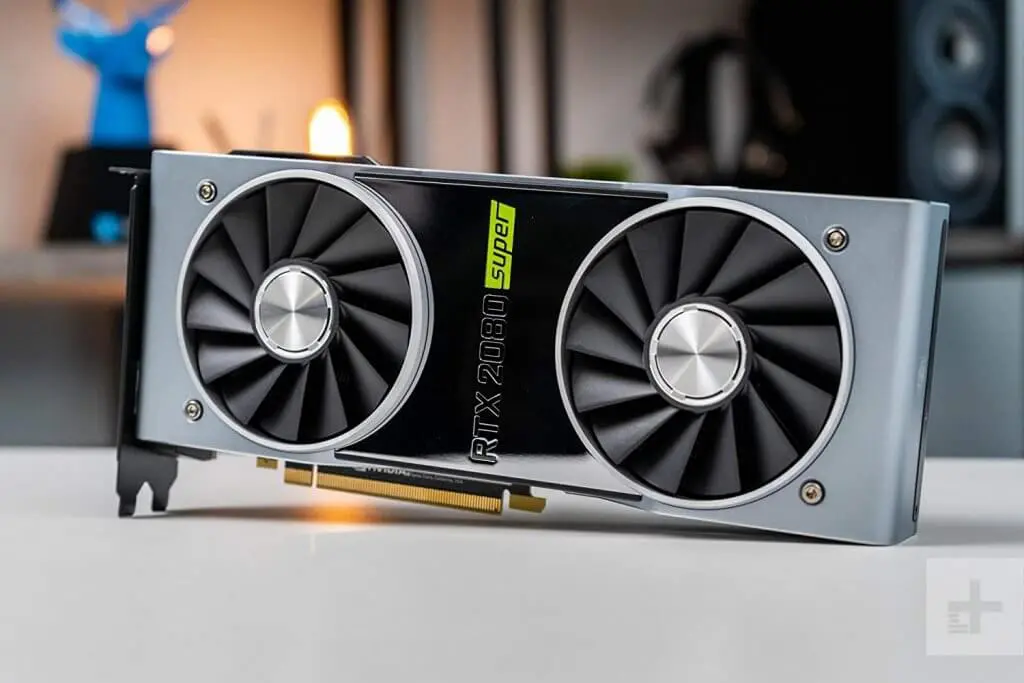 The graphics processing unit (GPU) is responsible for rendering graphics on your PC. It performs millions of calculations each second to render scenes, motion, and commands. The graphics card takes stress off of the CPU, which focuses on distributing commands to all areas of your computer.
For high-end games such as virtual reality, a good GPU is key to rendering games in high quality in your VR headset.
GPU Requirements For Virtual Reality Gaming
If you look at the minimum hardware requirements for a VR game, you'll know what your graphics card specifications need to be. Half Life: Alyx recommends at minimum the NVidia GTX 1060 6 GB or AMD RX 580 8 GB.
The new EA Sports F1 racing game recommends the NVIDIA RTX 2070 or AMD RX 6700 XT graphics cards.
Our list of GPU for VR below contains 8 options that exceed these minimum requirements by a lot. You'll be able to run any VR game on your desktop PC for the next few years.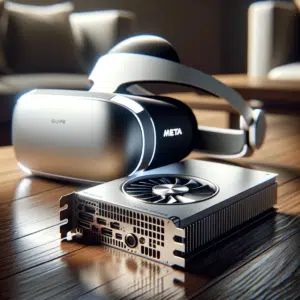 GPU Name: AD104
Architecture: Ada Lovelace
Process Size: 5 nm
Cores: 5888
TMUs: 184
ROPs: 64
Memory Size: 12 GB GDDR6X
Memory Bus: 192 bit
Bandwidth: 504.2 GB/s
Base Clock: 1920 MHz
Boost Clock: 2475 MHz
Memory Clock: 1313 MHz (21 Gbps effective)
Ray Tracing Cores: 3rd Gen
Tensor Cores: 4th Gen
Power Connectors: 1x 16-pin
TDP: 200 W
The Nvidia GeForce RTX 4070 balances performance and price, embodying Nvidia's Ada Lovelace architecture in a mid-range offering. With a substantial 12 GB of GDDR6X memory and a 192-bit memory bus, it can handle complex textures and environments.
While there are more powerful graphics cards on the market, I think that the RTX 4070 is the right mix of power and availability.
This GPU also benefits from Nvidia's suite of performance-boosting technologies, including ray tracing, DLSS, and a robust cooling system to maintain performance under load. The 4070's performance is further bolstered by a boost clock of 2475 MHz, ensuring it can handle the demands of modern gaming.
If you can buy the Founders Edition directly from Nvidia, that's my top choice. However, it is hard to find. The MSI version below is highly rated.
Why The RTX 4070 is Great for VR
From my experience, the RTX 4070 Founders Edition's real-time ray tracing and DLSS capabilities make it a formidable choice for VR.
The 12 GB of GDDR6X VRAM ensures that I rarely encounter issues with frame rates or texture quality, even in the most demanding VR scenarios.
Cons of This GPU
The 192-bit memory bus is narrower than its higher-end counterparts, which may limit data throughput in extremely VRAM-intensive tasks. Its mid-range positioning means it might not handle the absolute cutting-edge VR games a few years later with the same finesse as its more powerful siblings.
GPU Name: AD102
Architecture: Ada Lovelace
Process Size: 5 nm
Cores: 16384
TMUs: 512
ROPs: 176
Memory Size: 24 GB GDDR6X
Memory Bus: 384 bit
Bandwidth: 1,008 GB/s
Base Clock: 2235 MHz
Boost Clock: 2535 MHz
Memory Clock: 1313 MHz (21 Gbps effective)
Ray Tracing Cores: 3rd Gen
Power Connectors: 1x 16-pin
TDP: 450 W
ZOTAC's Gaming GeForce RTX 4090 Trinity OC is a powerhouse designed for those who demand the best. Its gargantuan 24 GB of GDDR6X memory and a wide 384-bit memory bus set the stage for uncompromising performance.
With an impressive 16384 CUDA cores and a boost clock of 2535 MHz, this GPU is overkill for even the most intense gaming sessions. Liquid cooling and a factory overclock ensure that it runs fast and stays cool under pressure.
Why The RTX4090 is Great for VR
As an avid VR gamer, the RTX 4090 Trinity OC's sheer power and liquid cooling system allow me to immerse myself in VR worlds with unprecedented detail and fluidity.
The 24 GB of memory and wide bus width mean I can crank up the settings to the maximum without fear of stutter or lag.
Cons of This GPU
The downside is its size and power consumption. As a quad-slot card with a 450 W TDP, it requires a significant amount of space and a robust power supply, which could be a limitation for some setups.
Additionally, the high performance comes with a premium price tag, potentially putting it out of reach for budget-conscious users.
GPU Name: AD103
Architecture: Ada Lovelace
Process Size: 5 nm
Cores: 9728
TMUs: 304
ROPs: 112
Memory Size: 16 GB GDDR6X
Memory Bus: 256 bit
Bandwidth: 716.8 GB/s
Base Clock: 2205 MHz
Boost Clock: 2535 MHz
Memory Clock: 1400 MHz (22.4 Gbps effective)
Ray Tracing Cores: 3rd Gen
Power Connectors: 1x 16-pin
TDP: 320 W
The Gigabyte GeForce RTX 4080 Gaming OC offers a sweet spot in high-end gaming performance. It comes with 16 GB of GDDR6X memory and a 256-bit memory bus, delivering ample bandwidth for today's games.
The 9728 CUDA cores and a boost clock of 2535 MHz mean it can tackle demanding tasks with ease. Its Windforce cooling system is designed to keep temperatures in check, ensuring sustained performance.
Why The RTX 4080 is Great for VR
In my hands-on VR sessions, the RTX 4080 Gaming OC's performance is robust, with its high CUDA core count and ample memory providing a smooth and responsive VR experience.
The Windforce cooling is particularly impressive, keeping the card cool during extended VR sessions.
Cons of This GPU
While this card is certainly powerful, it's also quite large and has a high TDP of 320 W, which might not be ideal for more compact PC builds.
It's also worth noting that the RTX 4080 is a significant investment, and its features might be overkill for VR games that don't require the highest graphics settings.
Graphics Processor: TU102
Cores: 4352
TMUs: 272
ROPs: 88
Memory Size: 11 GB GDDR6
Memory Bus: 352 bit
Bandwidth: 616.0 GB/s
Base Clock: 1350 MHz
Boost Clock: 1635 MHz
Memory Clock: 1750 MHz (14 Gbps effective)
Ray Tracing Cores: 1st Gen
Power Connectors: 2x 8-pin
TDP: 250 W
Outputs: 1x HDMI 2.0, 3x DisplayPort 1.4a, 1x USB Type-C
DirectX: 12 Ultimate (12_2)
Architecture: Turing
Process Size: 12 nm
The Nvidia GeForce RTX 2080 Ti Founders Edition is a bit of an older card but was a trailblazer for ray tracing technology. It features 11 GB of GDDR6 memory, a 352-bit memory bus, and 4352 CUDA cores.
The boost clock of 1635 MHz and the inclusion of 1st Gen RT cores made it a top-of-the-line option when it was released.
Why The 2080 Ti is Great for VR
During my VR gaming sessions, the RTX 2080 Ti has consistently delivered. Its 11 GB of VRAM and ray tracing capability have allowed for detailed and immersive VR environments with enough graphical muscle to maintain smooth frame rates.
Cons of This GPU
The main drawback of the 2080 Ti is that it's based on the older Turing architecture and lacks the latest advancements in more recent GPUs.
The power efficiency and performance per watt have been significantly surpassed by newer models, making this once-premier card a less optimal for future-proofing a VR setup.
Graphics Processor: Navi 31
Cores: 6144
TMUs: 384
ROPs: 192
Memory Size: 24 GB GDDR6
Memory Bus: 384 bit
GPU Operating Frequency: 1855 MHz
Boost Frequency: Up to 2499 MHz
Memory Frequency: 2500 MHz (20 Gbps effective)
Raytracing Acceleration Cores: 96
Power Connectors: 2x 8-pin
Power Draw: 355 W maximum
Outputs: 1x HDMI 2.1a, 2x DisplayPort 2.1, 1x USB Type-C
DirectX: 12 Ultimate
Architecture: RDNA 3.0
Process Size: 5 nm
Launch Price: 999 USD
Bus Interface: PCIe 4.0 x16
AMD's Radeon RX 7900 XTX is the company's answer to high-fidelity gaming, wielding 24 GB of GDDR6 memory across a 384-bit memory interface. It's based on the new RDNA 3.0 architecture and features a sizeable number of cores and raytracing acceleration cores.
The card's boost frequency up to 2499 MHz ensures it can easily handle modern titles.
Why The RX 7900 XTX is Great for VR
The Radeon RX 7900 XTX's large memory buffer and fast memory speeds are fantastic for VR. I've found the RDNA 3.0 architecture to deliver excellent performance in VR titles, ensuring that visuals are beautiful and fluid.
Cons of This GPU
While the RX 7900 XTX is a strong performer, it's worth noting that AMD's ray tracing performance has traditionally lagged behind Nvidia's, which might affect some VR games that heavily rely on this feature. The card's power draw of 355 W is also quite high, which could require a PSU upgrade.
Why are there different brands for the "same" GPU
If you've done any looking at a GPU for VR, you've probably noticed that multiple brands sell the "same" model of GPU. For example, a quick search on Amazon for "RX 3070" shows results from XFX, Sapphire, Gigabyte, MSI, and more. What does this mean?
Well, AMD and NVidia are the two most popular GPU chip creators. The GPU chip by itself cannot be plugged into your computer and used. AMD and NVidia license and supply these GPU chips to other companies, which add several other components:
Memory
Power supply
Factory overclocking
Cooling fans
Ports for plugging in hardware
Warranty and support
The GPU chip will perform the same on any overall graphics card it is placed on. The amount of memory the card provides and the warranty are the only other factors to consider.
If you want to understand common GPU terms better, we've explained some below!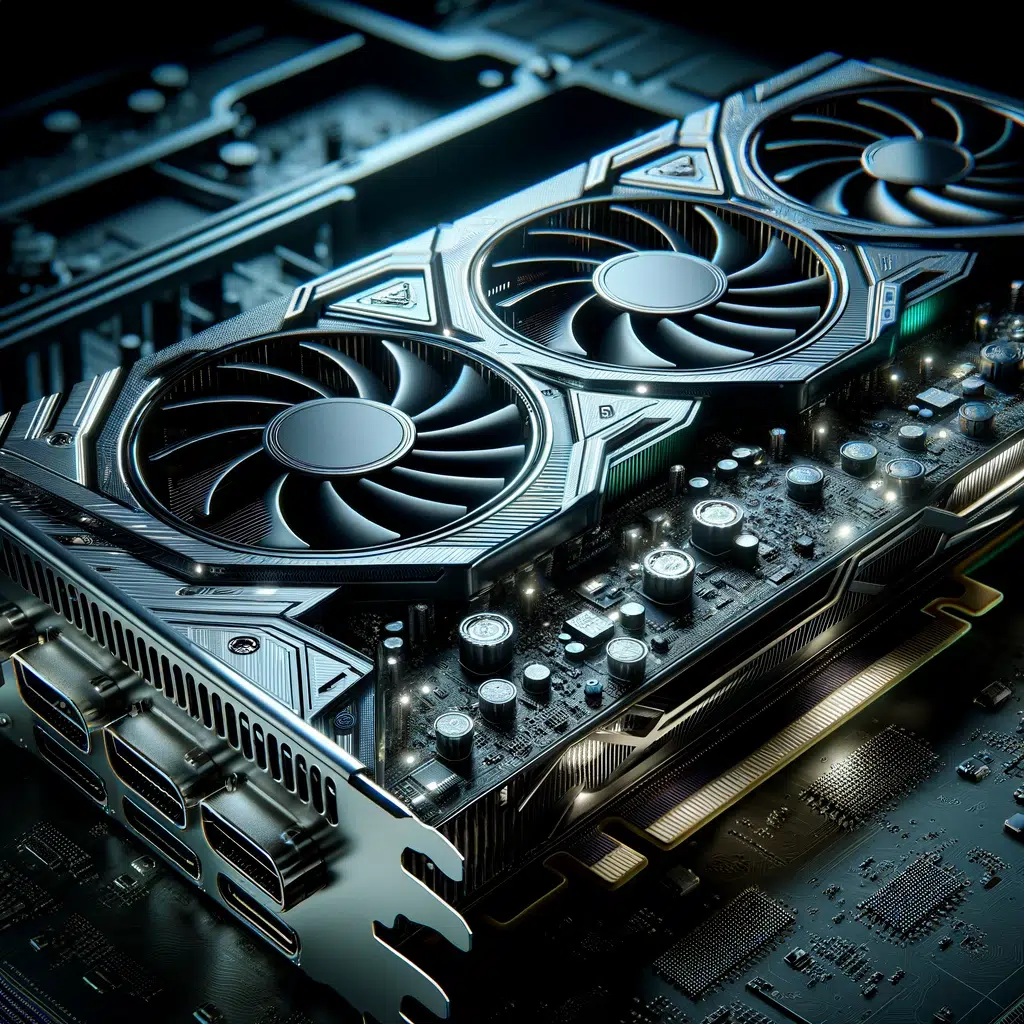 What GPU Specs Are Best for Virtual Reality?
Below are some common specs listed when you are searching for graphics cards. These are important factors to finding a card that will be able to run what you need it to.
Cores: The higher the GPU cores, the better the performance in rendering complex VR environments.
Memory Size: VR games can be demanding on video memory, so a larger memory size (e.g., 11 GB or more) is beneficial for high-resolution textures and to prevent bottlenecks.
Memory Bandwidth: Higher bandwidth allows faster data transfer between the GPU and the memory, improving performance in VR applications requiring rapid rendering of detailed visuals.
Boost Clock: Higher clock speeds can translate to better performance, as the GPU can process more instructions per second.
Ray Tracing Cores: For VR games that support ray tracing, having dedicated cores improves the rendering of realistic lighting effects, which enhances immersion.
Architecture: A newer architecture (e.g., Ada Lovelace, Turing, RDNA) is generally more efficient and performs better than older ones.
These specifications impact the GPU's ability to deliver smooth frame rates, detailed graphics, and overall performance necessary for an immersive VR gaming experience.
Frequently Asked Questions
What GPU is the best for VR?
The best graphics card for VR is the ZOTAC Gaming GeForce RTX 4090 Trinity OC. It boasts exceptional performance with 24 GB of GDDR6X memory, a vast number of CUDA cores, and a high boost clock, which are critical for the demanding nature of VR environments.
Which is the lowest cost GPU for VR?
The AMD's Radeon RX480 is the lowest cost GPU and VR-capable graphics card available on the market. You can go with this if you are looking for a GPU with a low price tag.
Is a GPU necessary for VR?

Yes, it is. As one of the main components, graphics cards further improve the image quality and resolution of the VR for a great visual experience during the gameplay.
Which VR game has the best graphics?
Half-Life: Alyx and Microsoft Flight Simulator are two VR games known for their high graphics quality. These games have received a lot of attention from the media for their high quality.
Can you run VR on a laptop?
There should be sufficient ports to connect your VR headset to the laptop. You require 3 USB 3.0 ports a USB 2.0 port, and sufficient RAM to run the VR on your laptop.
How much VRAM do you need for VR gaming?
For a comfortable VR gaming experience, you should aim for at least 8 GB of VRAM. More complex VR games or higher resolution VR headsets may benefit from 12 GB or more.
Is GPU ray tracing important for VR?
Ray tracing can enhance the realism of VR environments with more accurate lighting and shadows, but it is not a must-have for all VR experiences. It's more important if you want the highest visual fidelity.
There you have it! Which of the above GPUs is your favorite?
Comment down below and let us know which GPU for VR you have.