Are you looking to buy or build a new gaming PC for virtual reality? We've compiled a list of the top 7 CPU for VR gaming in 2021 so that you can play any virtual reality game you want.
The CPU is the brains behind your setup that handles all major processing for VR games. It works hand-in-hand with your VR graphics card.
With more and more VR games and VR experiences, virtual reality popularity is rapidly increasing. The best CPU for VR gaming ensures your graphics card is always well-fed with frames and working to its utmost potential. It's also a worthy investment for non-VR tasks: creative work, editing, and streaming. We break down all of our picks for best CPUs for VR gaming below.
Not sure what some of these fancy CPU terms mean? Down below we break down some of the most important specifications to consider when looking at a recommended CPU for virtual reality.
Let's get started.
What is a CPU?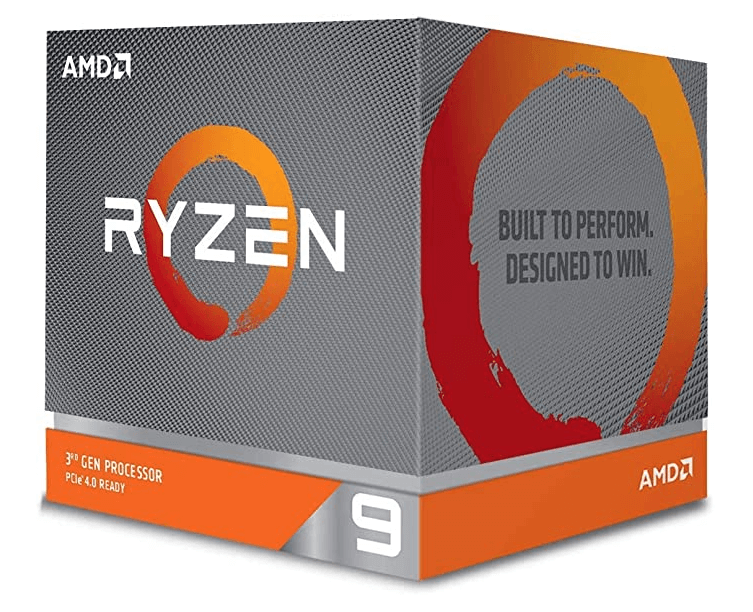 The central processing unit (CPU) is the brain of your computer. It's the most prominent piece to your gaming PC ecosystem. All decisions and information flow from the CPU to other parts of your computer.
The two leading CPU manufacturers are Intel and AMD. Intel's gaming CPU chips are all built into its i-line, while the AMD promotes its Ryzen brand for gaming.
The CPU comes in a bunch of different configurations depending on what specifications are important to you. Some CPUs are optimized for gaming, while others are better for completing productivity tasks. A good gaming CPU is able to communicate flawlessly with the computer's graphics processing unit (GPU). It has to be able to render scenes and handle controller interaction, motion, and AI.
CPU Requirements For Virtual Reality Gaming
If you look at the minimum hardware requirements for a VR game, you'll know what your PC specifications need to be. Half Life: Alyx recommends at minimum the Intel Core i5-7500 or the Ryzen 5 1600.These two CPU for VR meet the following specifications:
Intel Core i5-7500
4 cores
4 threads
Base frequency of 3.4 GHz and turbo of 3.8 GHz
6 MB smart cache
Ryzen 5 1600
6 cores
12 threads
Base frequency of 3.2 GHz and turbo of 3.6 GHz
3 MB smart cache
While these two CPU will be good for Half Life today, requirements change each time when a new game comes out.
Our list of CPU for VR below contains 7 options that exceed these minimum requirements by a lot. You'll be able to run any VR game on your desktop PC for the next few years.
The Top 7 CPU For VR Gaming
#1. AMD Ryzen 5 3600x
The AMD Ryzen 5 3600x processor is a high-quality mainstream processor designed for high-performance VR gaming at 4k resolution. This processor was released in 2019 scores consistently high in benchmark tests. This CPU for VR is one of the most affordable processing units for its price. That makes it one of the most popular CPUs on the market today.
The 3600x comes with six cores and twelve threads, the same as the previous version. However, the new 2019 Zen 2 architecture is built on the new 7nm process. This brings big speed improvements to almost every task. Also, it comes with a PCIe 4.0 interface that is twice as fast as the PCIe 3.0 that is standard on Intel chips.
The Ryzen 5 3600x comes with a built in cooling solution and lower power consumption which means you don't have to worry about overheating too much.
Features
It is a 64-bit octa-core high-end performance CPU.
The processor operates at a base frequency of 3.8 GHz with a TDP of 65 W.
It supports up to 64 GiB of dual-channel memory.
It supports AM4 socket that allows for easy upgrade.
Built in cooling system supplied.
Pros
Impressive multi-thread performance
New attractive AM4 platform
Smooth gaming
Delivers good value for money
Cons
Manual overclocking can lead to performance degradation
#2. Intel Core i9-9900K
The Intel Core i9-9900K is the fastest Intel 9th generation desktop processor. It was introduced by Intel in late 2018. This processor is a great CPU for VR gaming, entertainment, or development. It is based on Intel Coffee Lake architecture.
The 9900K processor can chew intensive multi-threaded workloads like a pro. It can handle your most demanding workload. It allows you to upload and edit your videos quickly. Along with this, you can now experience VR videos in all stunning 4k with the help of this Intel's extreme edition CPU.
It is a mighty, lust-worthy high-end desktop processor.
Features
64-bit octadeca-core desktop microprocessor.
8 cores and 16 threads in LGA 1151 socket.
16 MB L3 cache memory
Operates at 3.6 GHz with TDP 95 W.
Has a Turbo Boost frequency of up to 5.0 GHz.
Also supports up to 128 GiB quad-channel memory.
Pros
Class-leading performance
Runs smoothly
It supports Intel Optane Memory
Cons
A bit pricey compared to other CPUs on this list
#3. AMD Ryzen 7 3700x
AMD's Ryzen 7 3700X is a generational CPU update that's worth considering if you are looking to get a CPU for VR gaming. It is packed with the very latest AMD chipset architecture, AMD Zen 2.
The Ryzen 7 chip is the best eight-core processor in the Ryzen 3000 lineup. The smart design of AMD Zen 2 allows AMS to bring high-performance, high-core-count computing to the mainstream. Chip architecture is built on the 7 nm process node.
The 3700x chip features the same total core count as its predecessor, the Ryzen 7 2700X. This CPU can run any virtual reality game you can throw at it in 2020. As a pure gaming CPU, the 3700X is good. Taking in the entire package, it's one of the best buys right now.
Features
8 cores and 16 threads, making it a powerhouse when it comes to multi-threading computing power.
Built on a 7-nanometer manufacturing process and uses the latest architecture from AMD.
High 3.6 GHz base clock and 4.6 GHz turbo frequency
Unlocked so that you can easily overclock it.
Supports PCI Express 4 and high-speed DDR4 memory.
Low power consumption and stays cool at all times.
Pros
Superb multi-use CPU
Excellent value vs performance
Good Wraith Prism cooler included
It is fast and its single-core performance beats many of Intel's similar processors.
Cons
Limited overclocking headroom
No integrated graphics
#4. AMD Ryzen 9 3900x
The AMD Ryzen 9 3900X is an excellent CPU for gaming. It's also the best Ryzen CPU for VR and probably the most powerful CPU for tasks and non-gaming tasks.
The 3900X costs roughly the same as the same-gen Intel. However, it includes a decent Wraith Prism cooler and packs 50 percent more cores and threads. That translates into 8% slower gaming performance, but 25% faster in multi-threaded workloads like video editing and 3D rendering. If you're primarily worried about gaming, that 8 percent deficit can be easily compensated with a good GPU.
It might matter if you're a professional gamer aiming for 240fps, but anyone else would be ecstatic with the performance the 3900X delivers.
While overclocking is possible, AMD locks you into a single clock speed, which usually means lower clocks in lighter workloads. Precision Boost Overdrive (PBO) can give up to 200MHz higher performance while maintaining turbo ratios and is the better solution for the 3900X.
Features
The processor operates at a base frequency of 3.6 GHz with a TDP of 95 W.
Support for PCIe 4.0.
Compatible with X470 motherboards.
Beats Intel at same price.
12-Cores, 24-Threads in a desktop platform.
Pros
Fastest AMD CPU for gaming
Incredible performance
Excellent for non-game use too
Decent cooler included
Cons
Higher idle power
No integrated graphics
#5. Intel Core i9-10900X
The Intel Core i9-10600K is Intel's flagship microprocessor introduced by the company in 2019. It is one of Intel's Cascade Lake processors, part of the most powerful family of Intel Core desktop processors for VR ever.
It is powerful enough for your demanding applications. It is 10-15% faster than its predecessor because of architectural improvements and slightly higher clock speeds.
The performance of the unlocked 9th Generation Intel Core i9-10900X allows you to game with confidence. It is the most top of the line Intel CPU for VR gaming today.
Features
10 cores with 10 threads
19.25 MB SmartCache for more processing power.
3.7 GHz base clock that can Turbo Boost up to 4.7 GHz.
165 W thermal design power (TDP).
Includes Intel Deep Learning Boost, designed to accelerate AI for faster image enhancement and marker-less motion tracking
Pros
Excellent gaming performance
Unlocked multiplier for overclocking
Offers powerful productivity, gaming and overclocking.
Allows users to experience lower temperatures under load
Cons
Cooling device is not included with the processor
#6. AMD Ryzen 9 5900X
The AMD Ryzen 9 5900X is an ultimate CPU for VR gaming. If you are a hardcore gamer, this CPU has all the essential specifications to make your VR gaming seamless. Also, this CPU improves productivity, with the execution of both simple and complex tasks occurring in less time.
The value this CPU brings to your gaming experience is incredible. The processor is pretty powerful for gaming, and its gaming chip is one of the fastest on the market,
You won't require a new motherboard, which is an added advantage for gamers out there.
Features
12 cores with 24 threads
L3 cache is 64 MB
The base clock is 3.7 GHz, and the boost clock is 4.7 GHz
105W thermal design power (TDP)
500 series motherboards are compatible with this
Pros
High value for money
The gaming performance is excellent
Power consumption is satisfactory
Good single and multi-threaded performance
Cons
No integrated graphics
Cooler not included
#7. AMD Ryzen 7 5800X
The AMD Ryzen 7 5800X's excellent performance for both VR gaming and application is an ideal fit for gamers who require a lag-free VR gaming experience. This CPU also provides robust single-core performance.
The specifications this CPU offers warrant the price tag, and the CPU consumes significantly less power, which is an added advantage.
This CPU is one the best for gamers because it provides an enhanced VR gaming performance and excellent power efficiency, suitable for long hours of gaming.
Features
8 cores with 16 threads
L3 cache is 32 MB
The base clock is 3,8 GHz, and the boost clock is 4.7 GHz
105W thermal power design (TDP)
The architecture is Zen 3, and it uses an AM4 socket.
Pros
Excellent gaming performance
Solid single-core performance
Overclockable
Compatible with 400/500 series
Great value for money
Cons
Cooler not included
No integrated graphics
Now that you know the best processor for VR, let's have a look at some common CPU terms that are important for you to learn!
Common CPU Terms
You can buy any of these CPUs for VR above and you'll be set for playing virtual reality. If you want to get into the details a bit more, below are some common terms used above and how they help VR!
Cores
A core is the thinking part of the CPU. It is the brain of the CPU. Its function is to receive information, process the information, and perform calculations. Modern CPUs can contain anywhere from two to 70+ cores. A consumer CPU for VR will generally carry between 4 and 16 cores.
A lot of people think that the number of cores is the only thing to look at. And while cores are important, how many only paints part of the picture.
Threads
A thread refers to a series of CPU instructions for a specific program. Older CPUs and those with SMT disabled run one thread per core, but most modern AMD and Intel CPUs can run two simultaneously. This allows them to share some resources such as cache.
More CPU threads mean more processing capabilities, which are good when running complicated VR games.
Clock speed
Clock speed is the speed at which a CPU can execute instructions. A processor with a 3.7 GHz clock speed can process 3.7 billion instructions per second. Having lots of cores and threads is a waste if you have a low clock speed.
Clock speed is one of the most critical factors for determining performance in games and workload functions. Another function of clock speed is the ability to enable overclocking. Overclocking a CPU means fine-tuning the power, memory settings, and other components to gain faster clock speed under specific requirements. This can increase clock speed but may wear out your CPU for VR faster.
Caching
Caching is a small segment of memory dedicated to storing frequently used commands and instructions. Storing these instructions in cache can speed up the software execution when they are needed. CPUs contain caches designated as Level 1, 2, and 3, with L1 being the fastest and smallest and L3 being the slowest and largest.
Heat sink
A heat sink is a cooling solution for PCs that either utilizes fans or liquid cooling (active) or aluminum radiators (passive) to regulate temperature. A high-performance CPU for VR can heat up through regular use, which can cause failure. A cooling solution will keep the CPU running fast and reliable.
Thermal Design Power (TDP)
Thermal design power is the maximum amount of heat a CPU chip can produce that the cooling system can deal with. The attendant cooling system is designed to deal with this TDP under workload. In general terms, TDP is an indicator of how much power the device draws. Lower thermal design power requires significantly less cooling requirements.
Frequently Asked Questions
Which is the best CPU for VR gaming mentioned in this article?
I would recommend Intel Core i9-10900x because it increases our productivity. With its robust specifications, VR gamers can enjoy the best gaming experience.
Can a CPU enhance the VR gaming experience?
The CPUs mentioned in this article process the frames faster because the VR is dependent on the CPU after it gets past 60 frames. To experience a solid VR gaming experience, you need a good CPU.
Which CPU is better – AMD or Intel?
Both are equally good, and I recommend going with the latest version for a better VR gaming experience.
Intel – i7 and above
AMD – AMD Ryzen 7 5800X and AMD Ryzen 9 5900X.
Is AMD CPU good for VR?
Although AMD CPU provides a seamless VR gaming experience, your PC further enhances the overall performance. So be sure to use one of the recommended PCs suitable for VR gaming.
Which of these CPU for VR is your favorite?
Let us know by commenting down below!