In this guide, we go over the best Boneworks VR mods to install and check out today.
Specifically, we go over:
What Boneworks VR is and why fans love this game
How to install Boneworks VR mods
The best mods and enhancements for Boneworks
Other VR games that you can mod today
The game has an active modding community that releases new customization options daily, like other VR games like Tabletop Simulator, Skyrim, Fallout 4, and Blade and Sorcery.
If you are looking for mods for Boneworks' sequel, here is our Best Bonelab mods guide.
Before we go too far, let's find out what Boneworks VR is about if you aren't familiar already.
NOTE: The Boneworks VR mod website goes offline from time to time. If the links to each mod do not load for you, bookmark this page and try again later.
What is Boneworks VR?
Boneworks VR is an experimental physics-powered action game. Created and developed by Stress Level Zero in 2019, Boneworks VR supports all popular VR headsets such as the Oculus Quest 2 (with Link or Air Link), HTC Vive Pro 2, HP Reverb G2. I
In the game's storyline, you play as a security director that has to escape a digital city. Each level is an open sandbox, meaning that you can use your surroundings to escape and pass in different ways.
Firearms, melee weapons, and physics can be used to fight your enemies. The game provides you with a wide range of physics-based weapons, including clubs, axes, swords, and nonsensical mystery tools. All weapons and objects are realistic and enemies fight like real life.
There are a few different parts to Boneworks that make it so popular:
Realistic Physics
Boneworks prides itself on accurate physics. You can grab, climb, and manipulate objects the same as you would in real life. This can create fun and unique situations in virtual reality.
Boneworks VR mods, more of those below, let you manipulate physics in fun ways for amusement.
Fun Combat
The number of ways you can use physics to fight enemies is addicting. Use your surrounds to beat up, destroy, and take care of bad guys around you.
Boneworks features over 50 core weapons you can use to pass each level.
Storyline
Boneworks is an open sandbox game. However, the storyline places you in fun environments that fit the mysterious narrative. It pairs perfectly with the physics in the game.
Before we show you some of our favorite Boneworks VR mods, we will show you how to install Boneworks VR mods on your computer.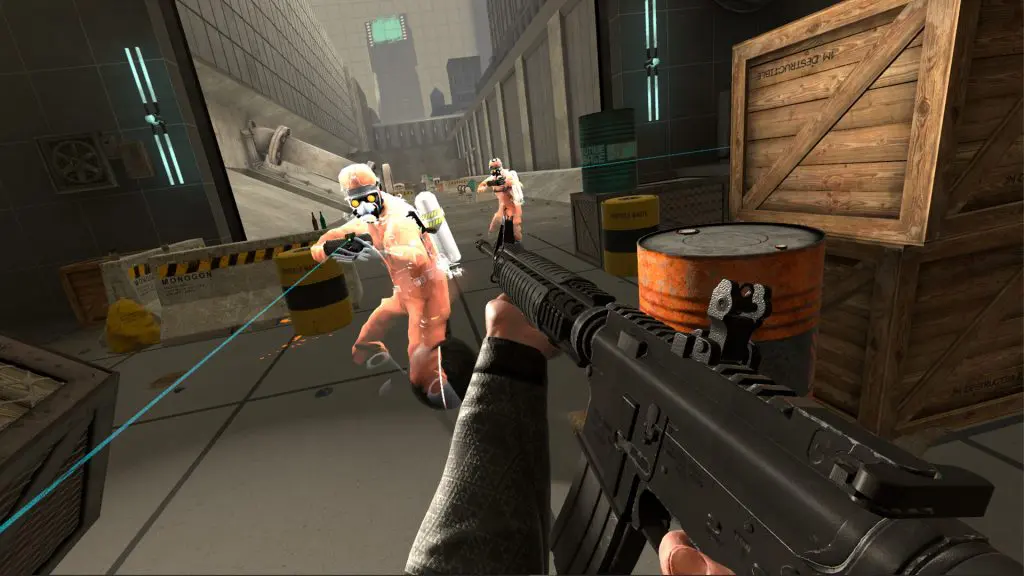 How to Install Boneworks Mods
Installing any Boneworks VR mod on your computer is easy. Just follow these instructions:
Download the Boneworks mod you want to install. If you don't know how to do this, you can find links to our favorite mods below.
Open up the base Boneworks game folder. You can do this by going to Steam, right clicking on Boneworks in your library, click Properties, click the Local Files tab, and then click on BROWSE LOCAL FILES or check out /Program Files/Steam/steamapps/common/BONEWORKS/BONEWORKS
Unzip your mod into this base Boneworks folder OR check out the specific folder specied on the mod page..
Not that a lot of of popular mods require the Boneworks Modding Toolkit so your best best is to install that first. It is the first mod we list down below.
Note that some Boneworks mods are installed in the home folder and some are installed in the mods, user data, or other folder. Pay attention to each mod page to make sure you place your files in the right location.
These instructions assume that:
You have installed Boneworks on your computer through Steam
You have launched the Boneworks game in your VR headset at least once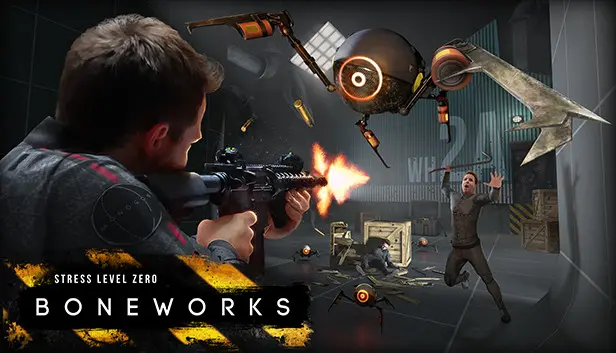 Best Boneworks VR Mods
#1. Boneworks Modding Toolkit
Boneworks Modding Toolkit by YOWChap is a collection of different functions for modding. The mod lets you add custom items to spawn, adjust players, and get properties about the object a player is holding. It also let you load asset bundles from user data, adjust hands and controllers, and fix shaders on imported objects.
Boneworks Modding Toolkit allows non-developers to easily create UI canvases and text in real-time. Non-developers can also use real shaders instead of dummy shaders. It is a toolkit that helps make customization easy.
A lot of the other Boneworks VR mods in this list use the modding toolkit as a required dependency for their mod. Therefore, we recommend that it be the first mod you install. To install the Boneworks Modding Toolkit, the drop the files in the zip file into your Boneworks mods folder.
Click here to view Boneworks Modding Toolkit
#2. Multiplayer Mod
Multiplayer Mod lets Boneworks VR game players shoot their friends as if it were in a real-world scenario. In the mod, bullet velocity, gun damage, and muzzle velocity are all synced. Projectile mass is also synced between all players.
Multiplayer Mod fixes stability for more than two players. It also enables dynamic face animations for players. It allows friends to play in the same environment together.
Click here to view Multiplayer Mod
#3. 100 Save
100 Save contains all the items and weapons unlocked in Boneworks for you. It contains all the melee weapons, guns, fantasy weapons, and all the NPCs. The 100 Save is a popular Boneworks VR mod because you get the chance to try out everything without putting in the effort to unlock it.
When you want to play fairly again, switch back to your regular game save aginst. There, you'll have to unlock each item by playing the game.
#4. Rewind Mod
The Rewind Boneworkds VR Mod by TrevTV allows you to rewind any event or situation within 5 seconds. While playing Boneworks, it's impossible to revive a dead person. This mod lets you reverse your situation and play things back another way.
With the mod active in the game, press and hold your A controller button for 2 seconds on the right controller.
You will see that everything will start to rewind as soon as the vignette appears. To stop the process, release the A button on the controller. Rewind Mod only stores five seconds of the past event or situation.
#5. Force Grab Anything
Boneworks VR is already awesome because you can grab onto and manipulate any object. The Force Grab Anything mod allows you to force pull these objects towards you. It is like having kinetic powers, which opens up a ton of new possibility for melee and combat.
The mod also supports the ability to pull any custom items towards you as well. In this mod page, there is an additional EasyMenu option to install that lets you toggle this mod on and off during gameplay.
Click here to view Force Grab Anything
#6. Time Stop
Time Stop is one of the most downloaded Boneworks VR mods of all time. It lets you stop time anytime you want. When in-game, you can pause the time, walk around an object or your enemy, and use the objects and enemies as a shield. Any object thrown in this mod will maintain its velocity when you resume the time.
When you stop the time, you can move the entire NPCs how you want. This mod can conflict with other mods installed. The Force Grab Anything mod above won't work during stopped time.
#7. Enemy Spawning
Enemy Spawning is a mod that lets Boneworks players to spawn enemies within a customized area. The mod also allows you to change more than 40 settings, including Crablet color, aggression, and health. You can also change the speed and a lot more.
Enemy Spawning also lets you fight infinite enemies without any performance issues. Once you shoot your enemy dead, they are automatically cleared. You can set the spawner to disable after a certain number of spawns or within a specific amount of time.
Enemy Spawning lets you practice your combat skills in a fun and arcade environment.
Click here to view Enemy Spawning
#8. Enemy Scaling
Being a physics-based game, weird things happen when you scale someone or an object. Enemy Scaling lets you adjust the size of any object on a 0.1 to 100 scale. No matter the size, the weight of your enemy rremains the same.
If you make objects too big, most of them can't stand up. Make enemies too small and their head becomes too tiny. Creating fun and unique situations in an open sandbox like Boneworks is a lot of fun. Playing in virtual reality is an even more unique experience.
Click here to view Enemy Scaling
#9. Configurable SuperStrength
Configurable SuperStrength is a mod created by Novius for players to change some of their strength characteristics. This mod allows massless punching, as well as bypassing slow motion hand movements. You can configure your hands to move faster or slower depending on the situation or how you want to attack your enemies.
A lot of players like to combine super strength with another option above, like enemy scaling or time stop. This lets you create fun and unique scenarios to play out in Boneworks.
Click here to view Configurable SuperStrength
#10. Exploding Barrel
The Exploding Barrel mod is a fun new item that adds more chaos to Boneworks. This mod took its inspiration from Garry's mod which has something similar.
The explosive barrel contains 20 health, and if you shoot it, it will make the barrel catch fire. If you keep shooting, the barrel will finally explode, causing significant damage to everything surrounding it. It takes 4 seconds for the barrel to explode once it catches fire.
Using this mod is a lot of fun when you throw, spawn and explode non-playable characters in Boneworks.
#11. Custom Maps
This mod is a custom map loader for Boneworks. The latest version of MelonLoader has to be installed for this mod to work, and you need to install mods such as Easy menu, Boneworks modding toolkit, and custom map interactions.
Install the custom maps by moving the .dll on your Boneworks/mods folder. Run the main menu after you launch the Boneworks and exit the game after that. From the custom maps page, download any map as per your choice in Bonetome.
If you need to use the maps, move .bcm to the CustomMaps folder under the UserData. Now you can start the game again, and you need to spawn the utility gun after you select the spawn menu.
Using the Spawnables category, select any custom map and spawn it. So now, after you get onto the platform, your custom map will load.
#12. Weapon Replacement
Melee weapons and vanilla guns are replaced by this mod with the custom ones. This mod contains many weapons like barrels, magazines, energy weapons, and vanilla ballistic, and these weapons have the power to do some destructible damage.
There is an option to disable if you need to replace the guns or melee on modprefs as per your choice. This mod replaces a range of weapons like vanilla ballistic and energy weapons that come with firearms from the NovaFinch's combined arms weapon pack.
This mod gives you the flexibility to download only one mod which would replace multiple things. Make sure to download your original weapon mod, and after that, you can use any replacers.
If you have a favorite Boneworks VR mod, comment down below and let us know. Having trouble getting them installed? Give us a heads up so that we can update this guide.