The Oculus Quest can function as a PC VR headset with the Oculus Link feature. This means that you can play Steam VR and Oculus Rift S games on your Quest headset. In this guide, we will show you how to setup Oculus Link with the Oculus Quest 2 step by step.
We'll also go over the advantages of connecting your Oculus Quest to your PC
We go through all of those details and other Oculus Link tips and tricks below.
If you have any trouble trying to setup Oculus Link, comment down at the bottom of this guide, and we can help you out.
If you want to use Oculus Link without a wired connection, Facebook has introduced Oculus Air Link, a wireless Virtual Desktop alternative. Click here to read that tutorial guide after this one (will open in a new tab).
RELATED: Check out everything we know so far about the Oculus Quest 2, which will include Oculus Link improvements! Click here to check out the best Oculus Quest 2 games.
Oculus Link Requirements
A VR-ready PC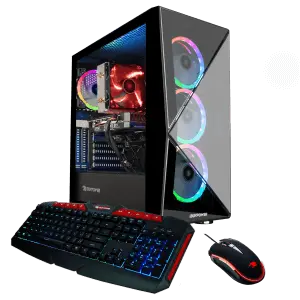 Not all PCs are compatible with the Oculus Link, even if they are "VR Ready" PCs. In order to connect your Oculus Quest headset to your PC, you'll need the following computer specs:
Windows 10
At least 8 GB of RAM
A spare USB 3.0 port
A CPU for VR that is equivalent or greater than the Intel i5-4590 or AMD Ryzen 5 1500X
A graphics card for VR great than the NVidia GeForce 1080.
We have a list of gaming PCs for VR here. Any of these are able to run Oculus Link and any PC VR games you want!
Oculus Link Cable
The original requirements for the Oculus Link cable was a USB 3.0 one that met the following requirements:
Length: 5-Meter Headset Cable
Type: Full featured USB active optical cable. USB 3.2 Gen 1 Type-C.
Signal Requirements: USB 3.2 Gen 1 Signaling 5 Gbps USB 2
Infrared Signal Loss Tolerances: <500mV VBUS @ 3000mA; <250mV GND @ 3000mA
Power Supply: 3A
Bandwidth: 5 Gbps
Support for SuperSpeed USB ports
Oculus sells an official Oculus Quest Link cable on their website so that there is no confusion.
If your Oculus PC software is up to date, it now allows Oculus Link to work with USB 2.0 cables. This includes the charging cable that comes with the Quest. That means that you don't have to buy any additional hardware to make this work – other than the gaming PC!
A recent update by Oculus now allows a USB-C to USB-C or USB-C to USB-A 2.0 cable. The C-to-C version is what comes with the Oculus Quest 1 for charging.
The Oculus Quest 2 only comes with a 1 meter charging cable, which means that it cannot be used for Link play.
Another highly rated third-party cable to setup Oculus Link is this one from JYSW. It has over 200 5-star reviews on Amazon from Oculus users who are happy with its quality.
You can buy the official and third party Oculus Link cable directly from Amazon below.
Quest 2 Link Cable - Virtual Reality Headset Cable for Quest 2 and Quest - 16FT (5M) - PC VR
Expand your library. Access 1,000+ PC-based VR titles in the Meta Quest Rift library Compatible gaming PC required, not included. See the Meta Quest website for PC specifications.
Maintain your range with an extra long, 16ft (5m) construction that gives you space to move in VR, even when connected to your PC. (Packaging may vary) Meta Quest packaging will continue to carry the Oculus name and logo during the transition to our new branding.
Keep your experience flowing smoothly. Capable of up to 5Gbps, the Link Cable has all the capacity you need for a premium VR experience
Sale
Link Cable 16FT Compatible with Meta/Oculus Quest 2 Accessories and PC/Steam VR Headset,Upgraded Version Data Cable for Gaming PC and Oculus VR Connection
WIDLY COMPATIBLE - It allows you to connect the quest/quest 2 to a pc and play vr games that require higher graphics power on your pc. It basically turns the quest into an oculus rift. This way you can play both standalone and pc vr games.
POWERING & HIGH-SPEED TRANSMISSION DATA - Compatible with oculus software, tested at over 2500 Mbit/s data transfer rate with link cable compatible with Oculus Quest 1 & 2 or other VR equipment
16 FEET IS LONG ENOUGH AND FLEXIBLE - With A Combination Of 3 Sets Of Retractable Cable Clamps,Make Oculus Link Cable Better Organized and Stored;16 Feet Quest 2 Cable Extra-long Cable,Whether You Are Playing Games,Watching Movies Or Listening To Music,Brings A Better Experience With More Activity Space.
Click here to check out 20 other top Oculus Quest 2 accessories.
Oculus Home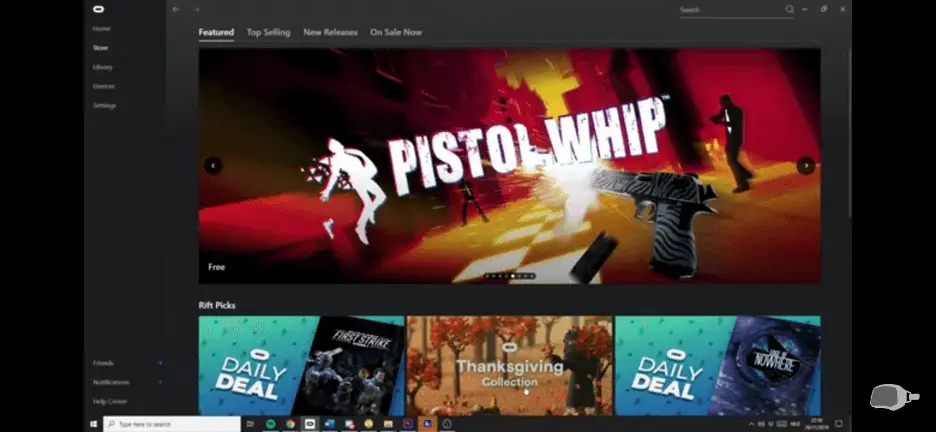 Oculus Home is the PC software that lets you search, download, and play PC VR games. It's also required to complete the Oculus Link setup on your Oculus Quest.
You can play Steam VR games on your Oculus Quest as well, which can be setup after you have Link ready to go. Once everything is setup, you will be able to play Oculus Rift S games on your Oculus Quest using your computer. You can also download new games to your Oculus Home via the Oculus app on your phone.
11.0 Firmware
Your Oculus Quest firmware must be on at least version 11.0 or higher to support and setup Oculus Link. Since the firmware version is up to version 28 or higher now, this shouldn't be a problem for most players. If you don't like to update your firmware though, you'll want to make sure before you follow the Oculus Link setup below.
If you meet the minimum requirements, then you can setup Oculus Link with your Oculus Quest! Quest 2 owners will be good to go right out of the box.
Let's show you how to set things up.
Underneath our setup guide, learn more about the Oculus Link cable and check out some common troubleshooting questions and answers too.
v28 Improvements
Version #28 of the Oculus PC software has introduced a number of improvements to Oculus Link:
Color quality and picture sharpness has been improved
Cable test bandwidth has greatly increases
GPU usage increased in some games, leading to a 100% GPU situation and micro-stutter.
Oculus Debug Tool's default bitrate changed to dynamic instead of fixed 150 mbps
Update to the latest version today for the improvement to your cable bitrate.
What is Oculus Link?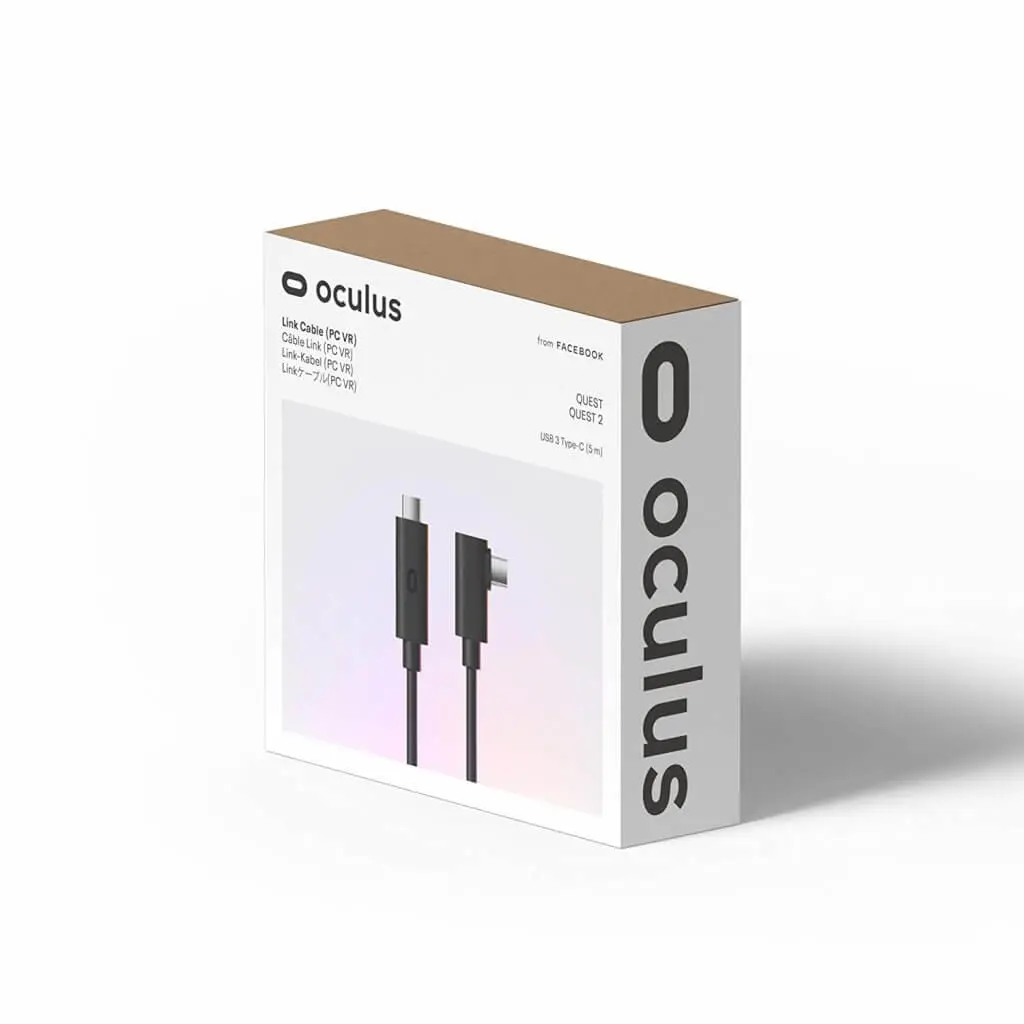 Users love the Oculus Quest headset because it is completely wireless. It runs off of an internal processor and you can take it on the go wherever you want.
However, the internal Snapdragon processor is not nearly as strong as a real VR gaming PC. In fact, some tests suggest that the Quest 1 is almost 5 times less powerful than a typical gaming PC and Quest 2 is 50% less powerful.
When you setup Oculus Link, it gives you the ability to run all of those awesome PC virtual reality games again. You use your Quest display and controllers, but the games are powered by your PC.
Plus, the selection of VR games available for PC in the Oculus Home store or Steam VR is far greater than the Quest. So by setting up Oculus Link, you've just multiplied the number of games to check out. Like Roblox VR or any of the awesome multiplayer VR games we've featured before.
Click here to see PCVR game deals such as Skyrim VR, No Man's Sky, and more.
With the basics out of the way, let's show you how to setup Oculus Link.
How To Setup Oculus Link With The Oculus Quest 2
In this guide, we'll show you how to setup Oculus Link with the Oculus Quest so that you can connect your Quest to your PC and play PCVR games on the headset.
Total Time: 10 minutes
Download and Install Oculus Home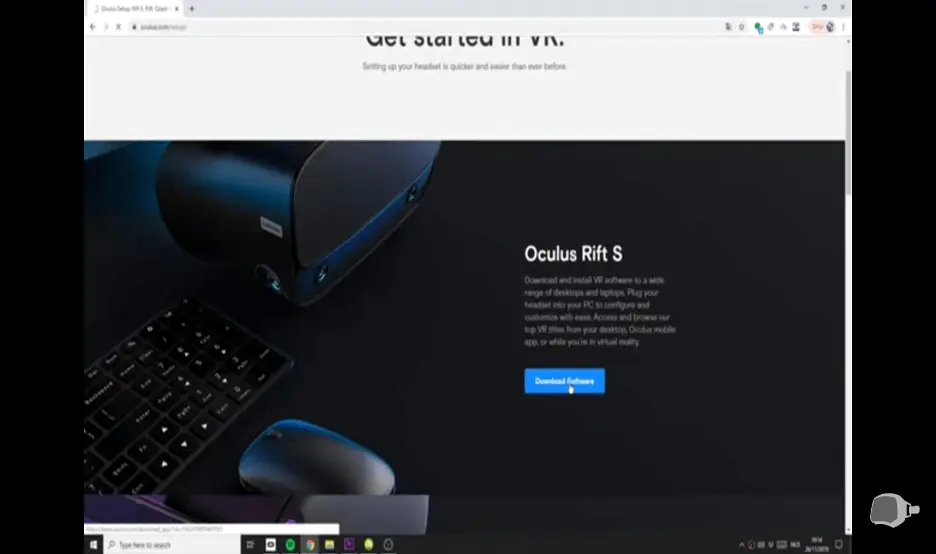 The first step is to download and install the Oculus desktop software from Oculus. Visit Oculus official website via https://www.oculus.com/setup/, click on the Download Software button. After downloading the Oculus Link software, install the software on your PC like you would any other program.
Go to the Devices Page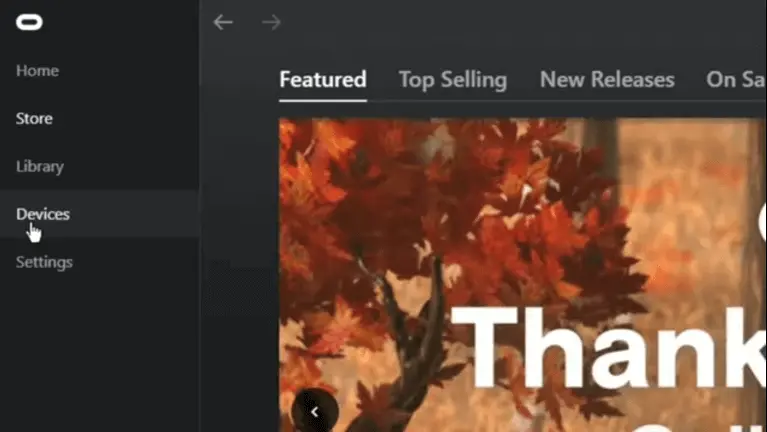 Launch the Oculus desktop app and setup your account if you don't have one yet. Then, select Devices from the left had side menu.
Select the Oculus Quest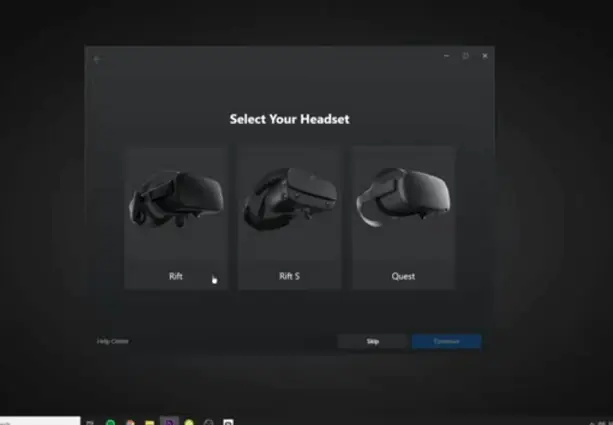 Select Quest from the list of headsets displayed on your PC and continue.
Connect and Enable Oculus Link
After selecting Quest, the next thing is to connect your Quest to your PC. First, turn on your Oculus Quest. Then, plug one side of your USB-C cable into your headset and the other end into a USB port on your PC.
Conformation of Connection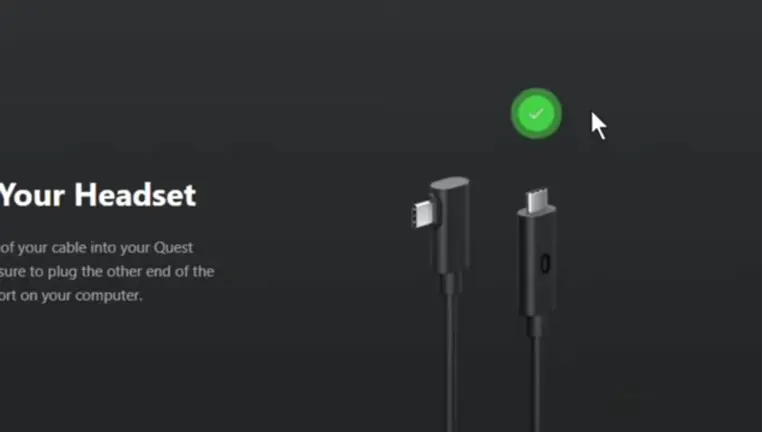 Once the headset is connected, Oculus home will give you a green light – showing you that your headset is connected. 
Confirm that Oculus Link is Enabled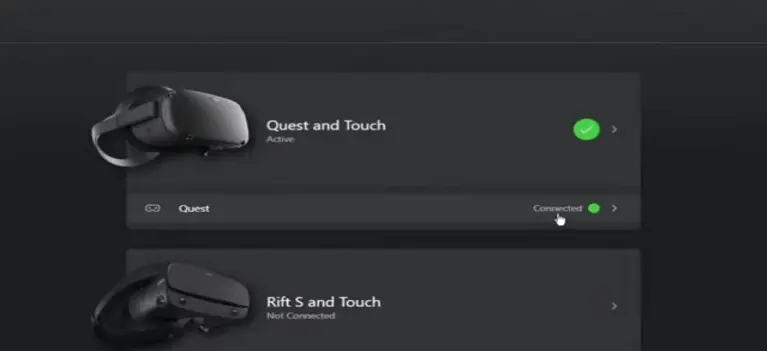 Put on your Oculus Quest to confirm whether Oculus Link has been enabled. 
Set the VR Download Directory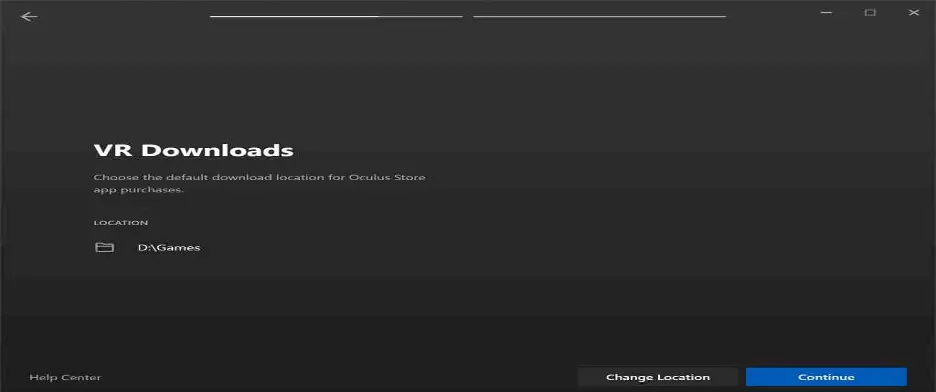 Lastly, Oculus Home on your PC will ask you where to set your default content directory. Since some PCVR games are quite large, don't set this to your main system disk if possible. 
And that's it! You've setup Oculus Link with the Oculus Quest and are ready to start playing PCVR games through your Quest VR headset. You can check out and download games to your PC via your computer or from the Oculus app on your phone.
Below is some extra information for you to check out about the Oculus Link cable. Underneath that, we have some troubleshooting tips and help.
USB 2.0 vs 3.0
The obvious question is whether you have any performance drop when you use a USB 2.0 cable for Oculus Link instead of 3.0. Data transfer in a USB cable is dependent on two main factors:
Speed
USB 2.0 supports a maximum transfer speed of 480mbps, while USB 3.0 supports 5gbps. While this sounds like a large difference, Oculus Quest only requires a recommended 150mbps of data transfer.
So for the speed at which data transmits to and from the gaming PC to the VR headsets, either standard is fine.
Duplex
USB 2.0 cables are half duplex. This means that data can only ever transmit in one direction at a time. This means from the host (gaming PC) to the slave (Oculus Quest) or vice versa. Each side must wait until they've received data before they are able to send data in return.
These sounds complicated, but it happens millions of times per second.USB 3.0 cables are full duplex. This means that your gaming PC and Oculus Quest can transmit data to each other at the exact same time.
Oculus Link 3.0 cables use full duplex communications. This means that data is sent from your headset controller to the PC while your PCVR video is fed to the headset at the exact same time. Since 2.0 cables can't do this, you can expect some additional latency while playing.
Oculus Link 3.0 cables use full duplex communications. This means that data is sent from your headset controller to the PC while your PCVR video is fed to the headset at the exact same time. Since 2.0 cables can't do this, you can expect some additional latency while playing.
Oculus Link Tips
Optimize Oculus Link with these specific tips and tricks that will let you play games with less latency and buffer.
Use USB 3.0
We just went through all of the reasons that USB 3.0 is better above. One other tip to use it is that USB 3.0 will enable the use of 80 Hz and 90 Hz refresh rates. On USB 2.0, you will be forced to a maximum of 72 Hz.
You also need to make sure that you are plugging into a USB 3.0 port on your computer as well or else your cable will be for nothing.
Use a new Nvidia RTX Graphic Card
Your video signal through the Oculus Link cable is compressed by your graphics card in your PC. Nvidia RTX cards (20-series in 2019 and 30-series in 2020) have better video encoding features than AMD or older Nvidia cards. To make your framerate smoother, check out our new Nvidia RTX GPU guide here and pick one up today.
If you have any other ways to setup Oculus Link the best, let us know.
Oculus Link Alternative
The main alternative to Oculus Link is Virtual Desktop. VD for the Oculus Quest has an extra mod available via SideQuest that lets you play PCVR games wirelessly on your Quest.
To get setup, you simply have to install Virtual Desktop, the VD mod from SideQuest, and configure a wireless network connection from your computer to your Quest. If you set things up right, you can play wirelessly with little or no latency. Even the Oculus touch controllers work seamlessly with VD too.
We have a full setup guide for Virtual Desktop on the Oculus Quest which goes through everything!
Oculus Link Not Working: FAQs
If you are having trouble trying to setup Oculus Link, we've compiled some questions and answers to some of the most popular questions on the internet.
Why does my Quest connect to my PC and then quickly crash?
Most often, this is because of incompatible specs on your gaming PC. To check this:
Go to your PC or laptop's spec page and look up the GPU, CPU, Memory, operating system, and USB ports.
Compare these specs against the minimum requirements we started above.
Check your GPU against Oculus' official table. If your GPU is not currently supported, you may be able to setup Oculus Link with your device, but is more likely to have performance issues with Oculus Link.
My computer won't recognize Oculus Link when it's connected.
Make sure that your operating system is up to date on your PC and Quest. Then, restart your computer and see if that fixes things.
I can't see where to select the Oculus Quest in the Oculus PC software.
If you can't see the option to add the Quest, log out of the PC software and log back in. Also, make sure you have the latest version installed.
I can't see the "Enable Link" option on the Oculus Quest.
If you can't see the "Enable Link" option under Settings on your Oculus Quest, turn the headset off completely and restart.
Can you setup Oculus Link with a Mac?
The Oculus PC software is only available for Windows. This means that you can't get Oculus Link working with Mac natively.
However, some users have reported using Bootcamp to install a virtual version of Windows on their Mac. Then, you can install the Oculus software in Bootcamp and run Oculus Link if your Mac specs are good enough.
Were you able to setup Oculus Link with your Oculus Quest? If you have any questions, let us know below!