This guide teaches you all about Virt a Mate (also stylized VirtaMate), one of the top-rated VR porn games ever created. We'll teach you:
What Virt a Mate is and why it is so popular
How to install Virt a Mate
Why you should install the vamX plugin for extra features
The best Virt a Mate plugins, extensions, and scenes to install
Other tips and tutorials to check out
We'll also show you the cheapest way to access Virt a Mate, including all new updates as they come out.
If you have any questions, comment below and let us know.
How to Buy Virt a Mate
Already have an idea of what you want? Download Virt a Mate right now, and then follow along with the rest of the tutorial below. Here are the ways you can get the game:
On VRPorn.com – With a membership, you get the Entertainer version of Virt a Mate, plus access to over 12,000 adult VR scenes and 30 other VR games. It is one of the best adult VR websites on the internet today.
What is Virt a Mate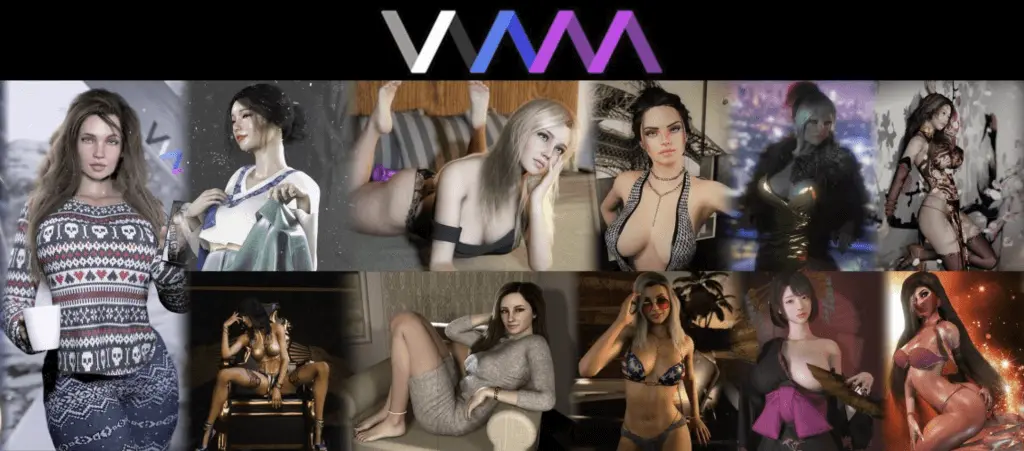 Virt a Mate (sometimes called Virt-a-Mate or VirtaMate) is a VR porn sex simulator game. It is an open sandbox where you can move, manipulate, and play out virtual (adult) fantasies in virtual reality.
The core Virt a Mate game includes realistic movements and physics. Characters move accurately and render in whatever scene or environment you place them in.
The power in Virt a Mate comes from third party mods, extensions, and plugins that add special animations and abilities to each character. If this sounds confusing, don't worry. We have instructions on installing the main game and plugins below.
Virt a Mate can be installed on any PC and played on a PC VR headset. You can also play VaM on your Oculus Quest through Oculus Link, Air Link, or Virtual Desktop.
Installing Virt a Mate is easy and there are two main ways to get the game:
You can install it as part of your VRPorn.com membership. In addition to Virt a Mate, you can access dozens of other VR porn games and over 5,000 high quality videos.
You can buy Virt a Mate alone from their official Patreon.
If you subscribe to VRPorn for a full year, you get VaM for the same price as if you buy it alone. It's the easiest way to access this game and a ton of other content.
Plus, VRPorn.com also has several precompiled VaM scenes for you to download, view, and play as well.
Features
Virt a Mate comes with a ton of features that make it a fan-favorite VR game:
Realistic body movement and physics which allow you to manipulate characters however you want
The ability to record scenes for playback later
Full customization of all characters, environments, scenes, poses, and positions
The ability to add in new Virt a Mate atoms for more functionality
Virt a Mate Atoms
Atoms are additional pieces which can be installed and added to a specific Virt a Mate scene. Examples of atoms are:
People
Animation Patterns
Lights
Props
Clothing
Environments
We'll show you how to add these Virt a Mate mods into the game below. You cannot add atoms if you don't have the Creator package. Don't worry, though, a lot of the custom scenes and props you can get are awesome on their own.
Overall, Virt a Mate is an open sandbox. It works as well as you make it. This is good for power users who can pick up on the controls but can seem complicated for casual players. Luckily, an extension for Virt a Mate called vamX simplifies the whole thing for players.
Virt a Mate 2.0
Version 2.0 is an upcoming major update to Virt a Mate currently in beta stage. Virt a Mate 2.0 has a ton of new features planned:
Improved visual rendering and next-gen AAA quality graphics.
Improved physics.
Improved collision accuracy.
Improved realism of skin, body, clothing, and hair physics.
Improved performance. It will scale better with high-core-count CPUs and also offer more performance options that allows VaM to run on lower-end hardware.
Improved usability.
Version 2.0 will come with a brand new add-ons kit and more features. Version 1.0 will still be supported indefinitely.
Virt a Mate 2 Release Date
As of 2023, there is no more major development taking place on VaMx. All work is on Virt a Mate 2.0, its alpha state.
If you would like access to an early version of VaM 2.0, click here to go to the Patreon page.
You can see a preview of VaM 2.0 in the video below:
Which Virt a Mate Tier Should You Buy?
Virt a Mate is available in a few different pricing and feature tiers.
Teaser
The Teaser tier is $2 per month and comes with the following features through Patreon:
Access to posts and videos detailing the development
Access to "Teaser" builds of Virt-a-Mate. "Teaser" builds unlock nearly all capabilities except the following limitations:

1. You cannot save scenes or packages
2. You cannot create new animations
3. You cannot add new atoms (objects) to the scene.
Entertainer
The Entertainer tier is $4 per month and comes with the following features through Patreon:
Access to "Entertainer" builds of Virt-a-Mate. "Entertainer" builds unlock the ability to save scenes and packages, allowing you to save your changes and share with others. "Entertainer" builds have the following limitations: 1. You cannot create new animations 2. You cannot add new atoms (objects) to the scene.
Plus all previous rewards
Creator
The Creator tier is $8 per month and comes with the following features:
Access to "Creator" builds of Virt-a-Mate. "Creator" builds unlock the ability to:

1. Create new animations
2. Add new atoms (objects) to the scene. Limitless possibilities.

Plus all previous rewards
VRPorn.com Virt a Mate Tier
With a VRPorn.com membership, you get a license to the Entertainer tier. In addition to VaM, you will be able to view over 12,000 other videos and over 30 other VR games to play.
What is vamX
vamX is an extension for Virt a Mate, making the sandbox game more straightforward. Instead of being an open sandbox, vamX allows you to manipulate characters into predefined positions and actions such as:
More accurate arousal and mood indicators
Sittings or standing
Lap dances and other activities
Specific positions and sexual actions
Instead of downloading individual, props, and characters, vamX comes with double-clicking content preinstalled and ready to go.
Once installed, you can change positions and scenes with a single button. vamX is a must-have plugin for VaM, and we'll show you how to get it below.
Virt a Mate on Steam
On November 30th, Virt A Mate officially launched on the Steam Store. The Steam version of the game includes the Creator edition of the game and the vamX extension as well.
The Steam version can be played on your desktop PC or in SteamVR on your VR headset.
Steam lists the minimum requirement for Virt a mate on Steam as follows;
A 64-bit processor
Windows 10 or newer
Intel i5-4590 / AMD Ryzen 5 1500X or greater
16 GB of RAM
Nvidia GTX 1060 / AMD Radeon RX 480 or greater
DirectX Version 11
30 GB of available space
Click here to view Virt a Mate on Steam.
How to Download and Install Virt a Mate
Like we mentioned above, you can install the game as part of your VRPorn.com membership or by itself.
To download Virt a Mate and install it today, sign up and then log into VRPorn.com with your membership.
Then in the top search bar, search for Virt a Mate.

Click on the Virt a Mate (Fully Updated) option in the search results.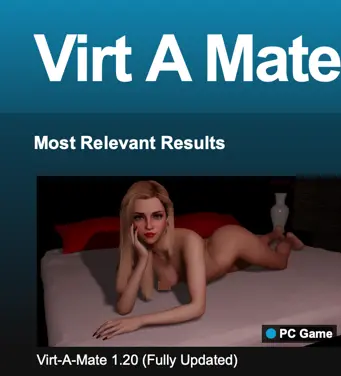 Click on the blue download button to download the game to your computer.

In the folder that downloads to your computer, double-click the VAM_Updater.exe file.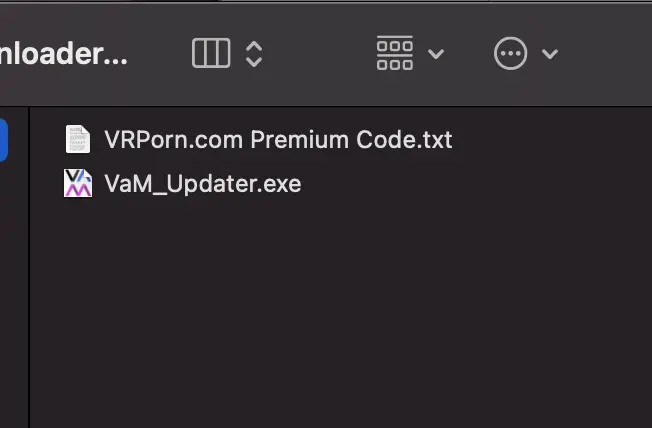 Click the green Install button to install the latest version of Virt a Mate onto your computer. Let the installer work its magic to install everything. Your folder will fill up with files.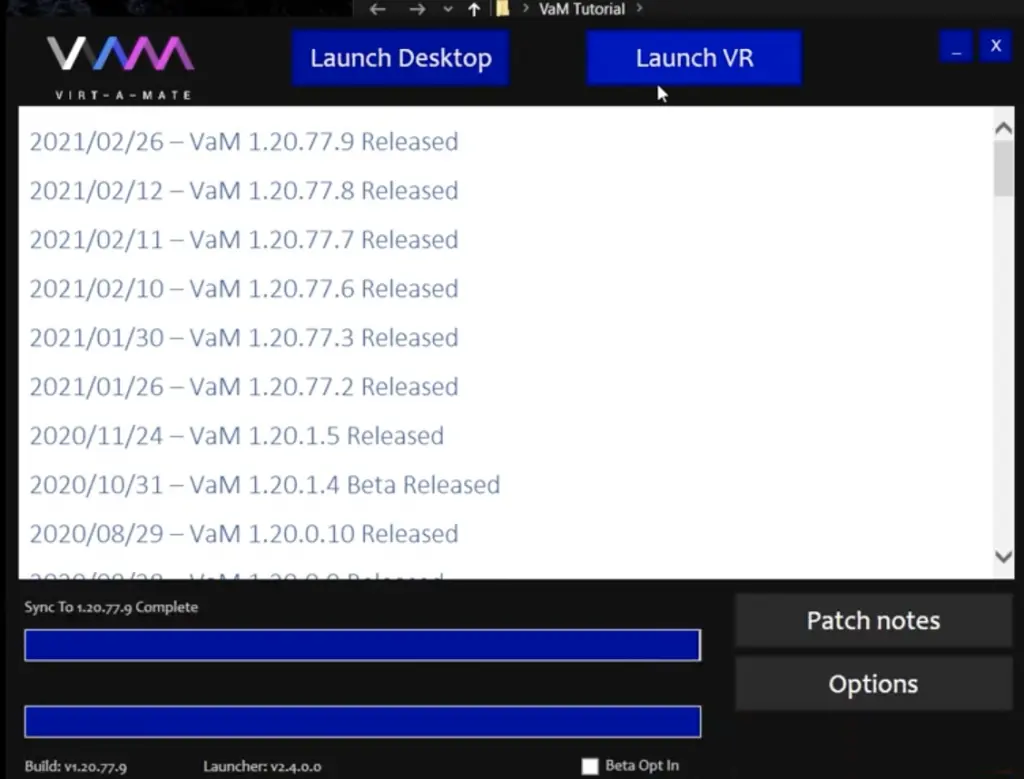 If you would like to change the default settings, start by double-clicking on the VaM (Config).bat file. Here, you can adjust some of your graphical and input settings.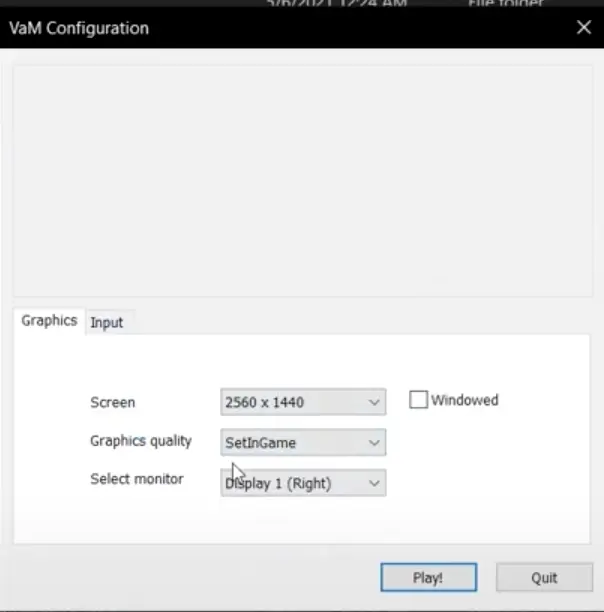 When you want to launch the game, double-click on VaM (Desktop Mode).bat or VaM (OpenVR).bat, depending on whether you want to play the game on your computer or your VR headset.
When the game launches for the first time, the home screen will only show you the Everyone game mode, which is the free version. To unlock premium features, click on the key at the bottom of the screen. Enter the code given to you in the folder when you downloaded the game.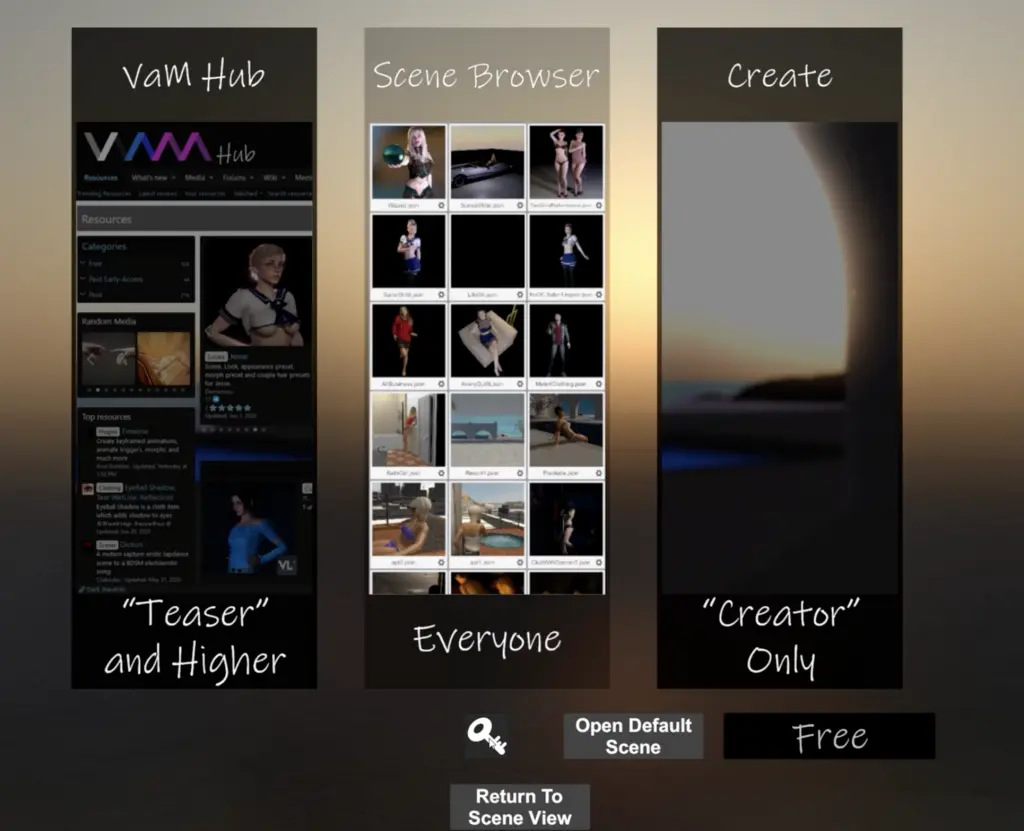 After accepting your code, the "Teaser" or Higher option will light up.
Congratulations! You have just installed the game, and your Virt a Mate download is ready. You can play it on your VR headset by running the OpenVR bat file.
How to Use the VaM Hub
The left option when you launch Virt a Mate is to go to the VaM Hub right from the game's main menu. The Hub lets you install special addons, characters, and scenes into VaM.
Remember that by itself, Virt a Mate is just a physics sandbox. You need to install things from the hub and view them in the game.
Launch the VaM hub from the main menu.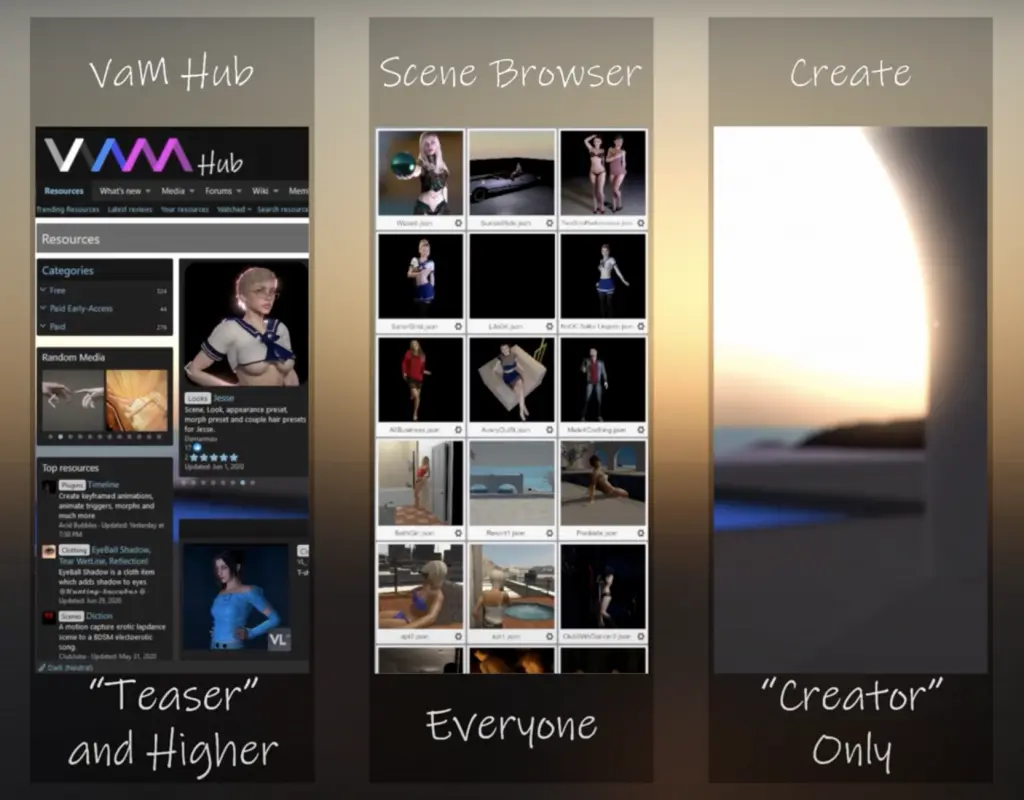 Once inside the hub, you can filter different addons in different ways:
free or paid
addon type
the creator
different tags and keywords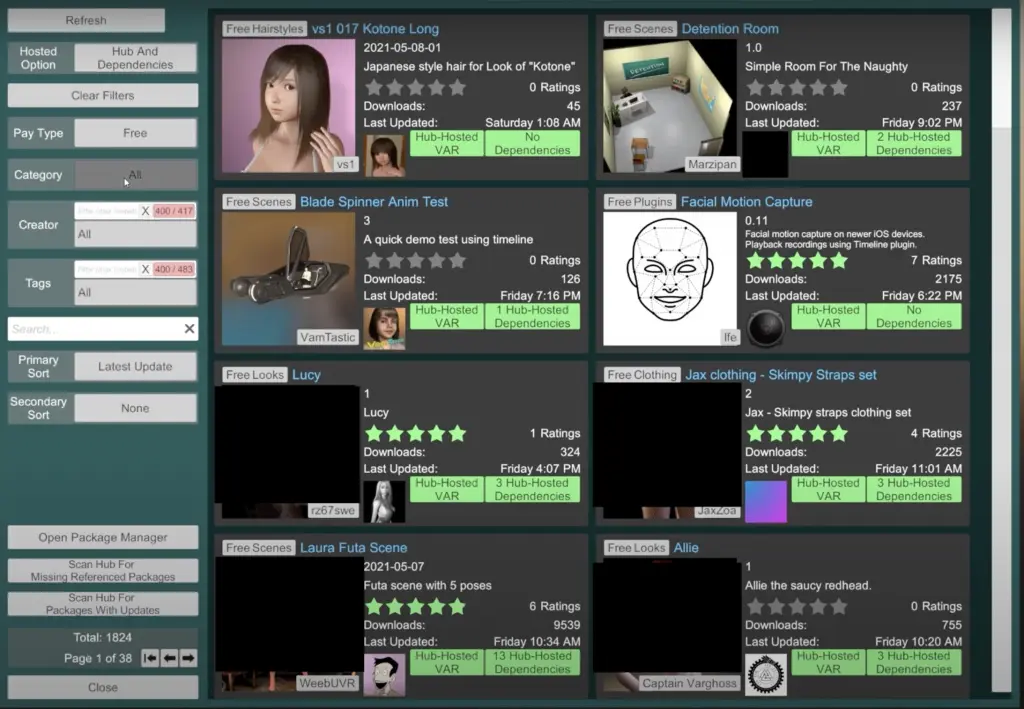 When you click on an add-on, you will open the description page for it. This page gives an overview of the add-on, screenshots, and a list of dependencies and packages required to use it.
Click on Download All to download everything required by the add-on. This will place everything in your library and ready to add into a scene.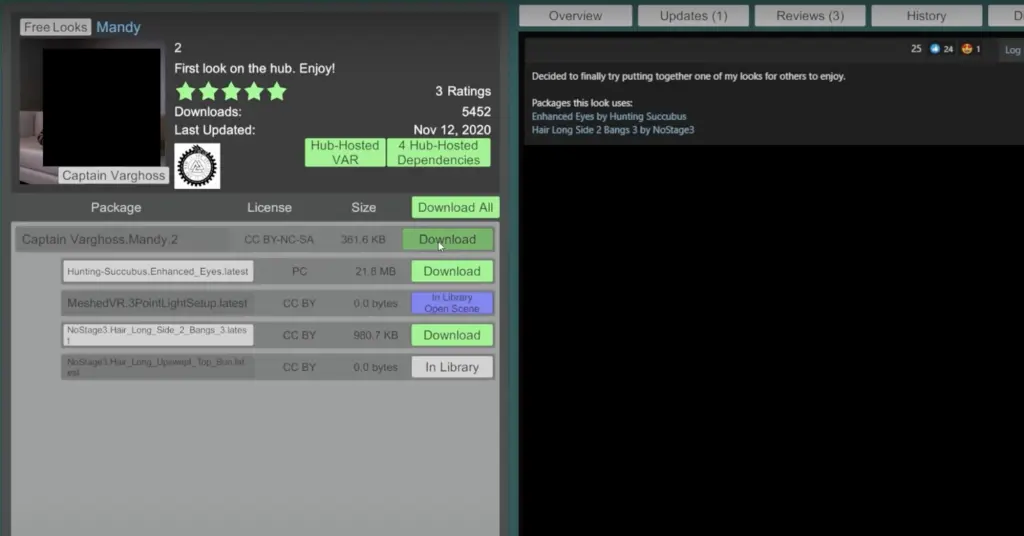 How to Load and Save Scenes
Once you've downloaded assets to play with in scenes, you must launch the Scene Browser from the main menu.
The Scene Browser will list all default and custom scenes you have downloaded for Virt a Mate. Scenes can include a combination of different assets, such as:
characters
flooring
furniture
props
lighting
pre-defined movement
After you launch a scene, you can edit all component within a scene from your menu on the right-hand side.
Saving the scene is also an option from the menu.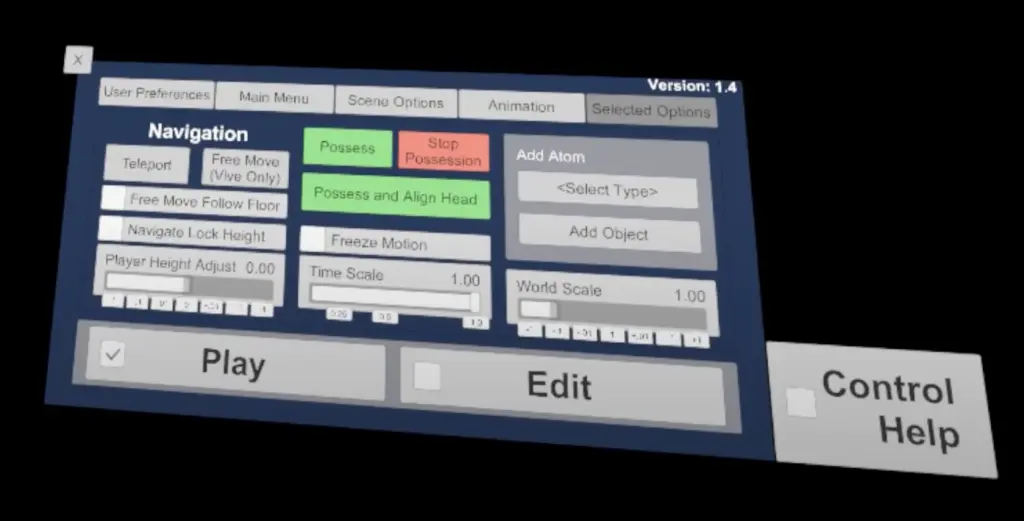 Scenes are great, but it still requires a lot of manipulation to play scenes out. If you prefer to sit back and watch a scene around you, then the vamX plugin is what you want.
Next, we will show you how to install and use vamX.
How to Install vamX
You can install vamX by first clicking on the VaM Hub option from the main menu.
Search for vamX in the search bar and click on it in your search results. Select the Download All option to install vamX on your computer.
If you are prompted if you want to allow loading plugins from vamX.1.5, click Always Allow.
In a scene, you can activate the vamX user interface by clicking the trigger button on your VR controller or on vamX UI in your regular Virt a Mate menu.
In the vamX user interface, you can automatically enable several scenes, poses, positions, and movements automatically on your characters. It is the quickest way to get things setup.
If you want to add some of your own scenes from the VaM Hub, we showcase the best Virt a Mate scenes, plugins, and mods below.
Virt a Mate Hand Tracking
When you use Virtual Desktop to play Virt a Mate on your Meta Quest, you can enable hand tracking and play the experience without using your controllers at all. If you want to try Virt a Mate Hand Tracking, you have to enable the option from the Input Settings from within Virtual Desktop.
Best Virt a Mate Scenes
Here are some of the top-rated and best Virt a Mate scenes you can download from the in-game hub.
Free Scenes
Paid Scenes
Best Virt a Mate Plugins
Plugins can advance and extend this sandbox game in even more realistic ways.
Free Plugins
Timeline – An easy way to set up scenes and transitions.
Life – Increases the life and action of your movements.
MacGruber Essentials – This kit is a collection of 9 different plugins which improve the game.
Paid Plugins
DirectorNeoVAM – This is an all-inclusive mod for improved sounds, animation, and assets.
Relax – Life and Death – This VaM plugins lets you bring your characters to life or death with adjustable personality.
Balance – This plugin makes it easier to set up animations and poses that are lifelike.
You can find other Virt a Mate mods and plugins on the VaM Hub page. This includes individual clothing, hairstyles, textures, and other guides worth checking out.
Go buy and check out Virt a Mate today!
Virt a Mate Gameplay Tutorials
Still confused about how to install and set up Virt a Mate? Below is a collection of tutorial videos we found to be extremely helpful in getting things going! They show you a preview of Virt a Mate gameplay once you get things set up.
As you can probably tell from our Virt a Mate guide, this sandbox game is packed with features. It is as flexible as you make it.
If you have any other questions, comment below, and we will try to help you.
Frequently Asked Questions About VirtaMate (FAQs)
How can I use VirtaMate?
VirtaMate is quite versatile and can be used for various applications, including virtual gaming, 3D art creation, or immersive learning experiences. It's all about what the user wishes to create or explore within the VR world.
Is VirtaMate compatible with all VR headsets?
VirtaMate has been designed with wide-ranging compatibility in mind. It works seamlessly with major PCVR headsets, such as Oculus Rift, HTC Vive, and Valve Index, providing users with a comprehensive, versatile VR experience. It works with the Meta Quest 2 through Oculus Link, Air Link, or Virtual Desktop.
How does VirtaMate compare to other VR software?
VirtaMate is praised for its high level of customizability and realism, setting it apart from many other VR software offerings. The flexibility to shape your VR experience makes it a top pick among VR enthusiasts.
Does VirtaMate offer multiplayer options?
Yes, VirtaMate does provide multiplayer functionality. Users can connect with others globally, enhancing the social aspect of their virtual reality experiences.
Can I create my own VR content with VirtaMate?
Absolutely! One of the key features of VirtaMate is its emphasis on user-generated content. It provides an array of tools to design, create, and share your own VR worlds, enhancing its appeal to creative users.
Is there a good VirtaMate user community?
There is indeed a vibrant VirtaMate user community where users share their creations, provide assistance, and discuss all things VirtaMate. It's a great place for both novice and expert users to learn, share, and grow.
Is VirtaMate suitable for beginners?
VirtaMate can be a bit complex for beginners due to its advanced features, but it offers extensive tutorials and an active community to assist new users. With time, beginners can master its functionalities and fully explore the immersive potential of VirtaMate.