This is the ultimate guide to the best Blade and Sorcery mods and custom maps. We've scanned Nexus Mods for the best mods so that you don't have to spend hours searching. Find out how to enhance Blade and Sorcery, one of the best combat VR games.
In this guide, we'll show you:
The 16 best Blade and Sorcery mods you need to install today
The 6 best Blade and Sorcery custom maps to install and play
An overview of Nexus Mods and how to find even more mods to install.
If you have any other customization for B&S that you recommend, comment down at the bottom of this post.
Don't own Blade and Sorcery yet? Check out our VR deals page for sales and discounts on top VR games, including B&S.
Use the table of contents below to jump down to the best Blade and Sorcery mods section you want.
What is Blade and Sorcery?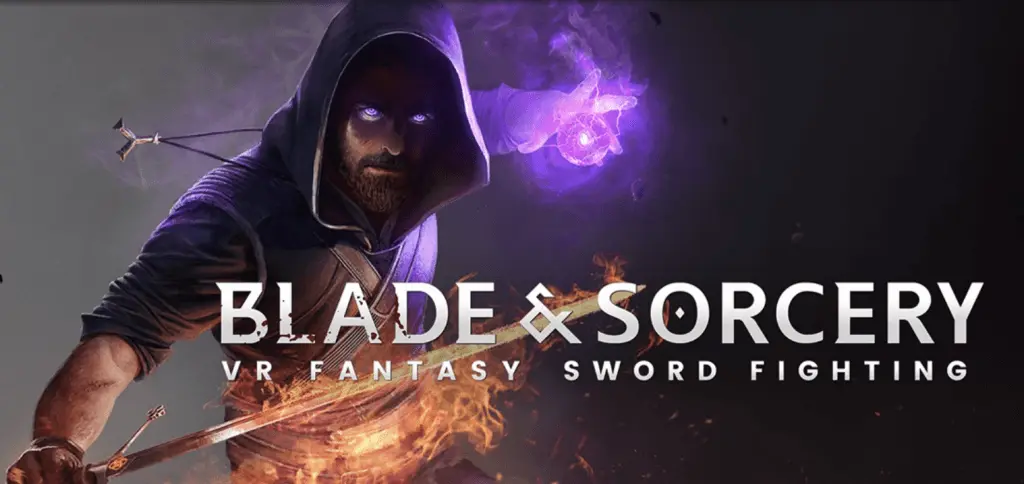 Blade and Sorcery is a top virtual reality game for PC VR headsets like the Oculus Rift S and HTC Vive. It's a built-for-VR medieval fantasy sandbox game where you have to use your body to fight and defend against different enemies.
Its use of crazy physics and experimentation help create a world where your imagination can run wild. The goal of the Blade & Sorcery is to strongly demonstrate that physics-based melee can work in the right conditions.
The release date of the game into early access was on December 11, 2018, and has received regular updates since then.
What are Blade and Sorcery Mods?
Blade and Sorcery mods are a great way to improve the gameplay by improving existing elements or adding completely new ones. Fans of the game have created thousands of new weapons, themes, maps, and modifications to the game. Along with Beat Saber, Tabletop Simulator and Skyrim VR, Blade and Sorcery is one of the most modded VR games of all time.
Below, we'll take a look at some best mods and custom maps that you can add to the game.
If you need help with how to install these mods, you can find a full step-by-step guide here.
Blade and Sorcery Nexus Mods
Nexus Mods is a giant repository of VR mods for Blade and Sorcery. It contains thousands of modifications for the game. Our list of mods below takes the best Blade and Sorcery Nexus content and puts it into a single guide. We encourage you to check out other mods on the site too.
Once you've downloaded a few Nexus mods, go and check out our how to install Blade and Sorcery mods guide. It contains step-by-step instructions and pictures on how to get started.
The Best Blade and Sorcery Mods – Megapacks
The best Blade and Sorcery mods listed below are complete megapacks. They contain multiple weapons, custom maps, and adjustments built around a specific theme. From Star Wars to Harry Potter, these megapacks are some of the most popular mods of Blade and Sorcery.
Outer Rim – Star Wars Mod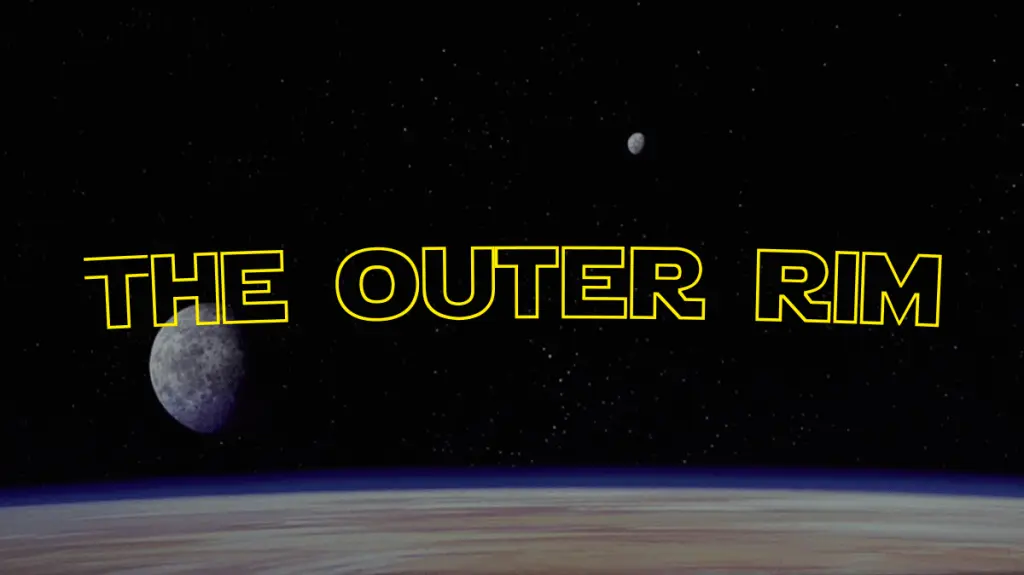 The Star Wars mod called Outer Rim is a huge fan favorite. It completely changes the game into a Star Wars experience. The mod comes complete with dedicated Star Wars memorabilia including:
Custom maps
Lightsabers, blasters, helmets, and more
Interchangeable lightsaber kyber crystals
New weapon fire mods, functions, and features
New Star Wars-themed AI
The Outer Rim is one of the best Blade and Sorcery mods of all time. It is a treat to play in VR and worth the download if you are a Star Wars fan or not.
Marvel Assembled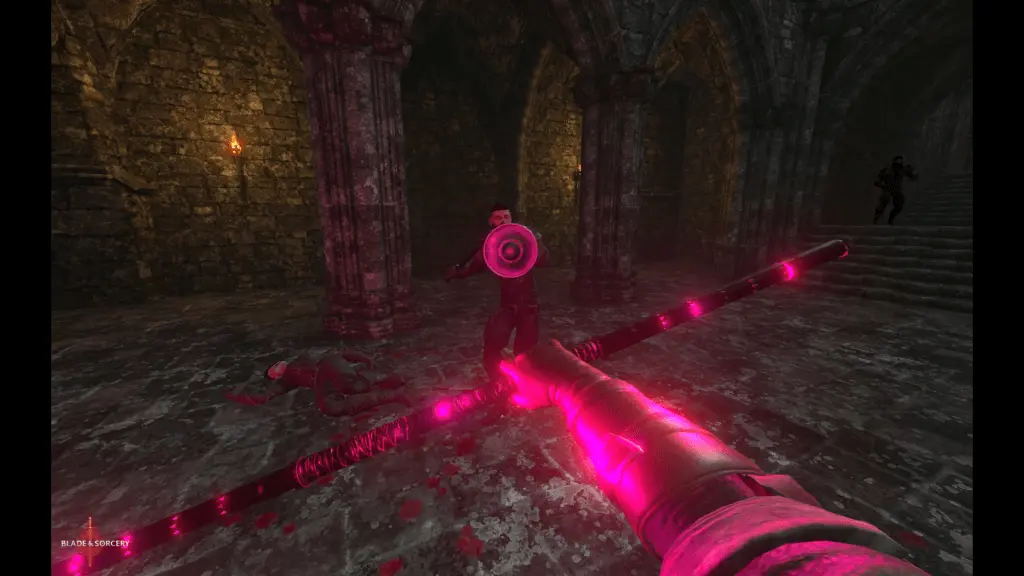 If you are a Marvel fan, the Marvel Assembled Blade and Sorcery mod is a must-have. It gives you customized attacks that mimic your favorite Marvel characters:
WOLVERINE: Adamantium Claw
DEADPOOL: Katana
CAPTAIN AMERICA: Modern Shield & Iron America Shield
DAREDEVIL: Staff and Baton.
BLADE: Sword, Silver Stake, Chrome Glaive
DR STRANGE: Seraphim Disc and Shield
ELEKTRA: Sai
GAMBIT: Staff and Ace Throwing Card
THOR (RAGNAROK). Two Swords (Grandmaster/Collector), and Helmet.
STARLORD: Quad Blaster
The only thing missing from this mod is Iron Man. An individual gauntlet glove mod existed previously, but it does not work with the latest version of the game.
This mod is only available for B&S version 7, and we've been waiting for a v8 update to come.
Witchcraft and Wizardry – Harry Potter Mod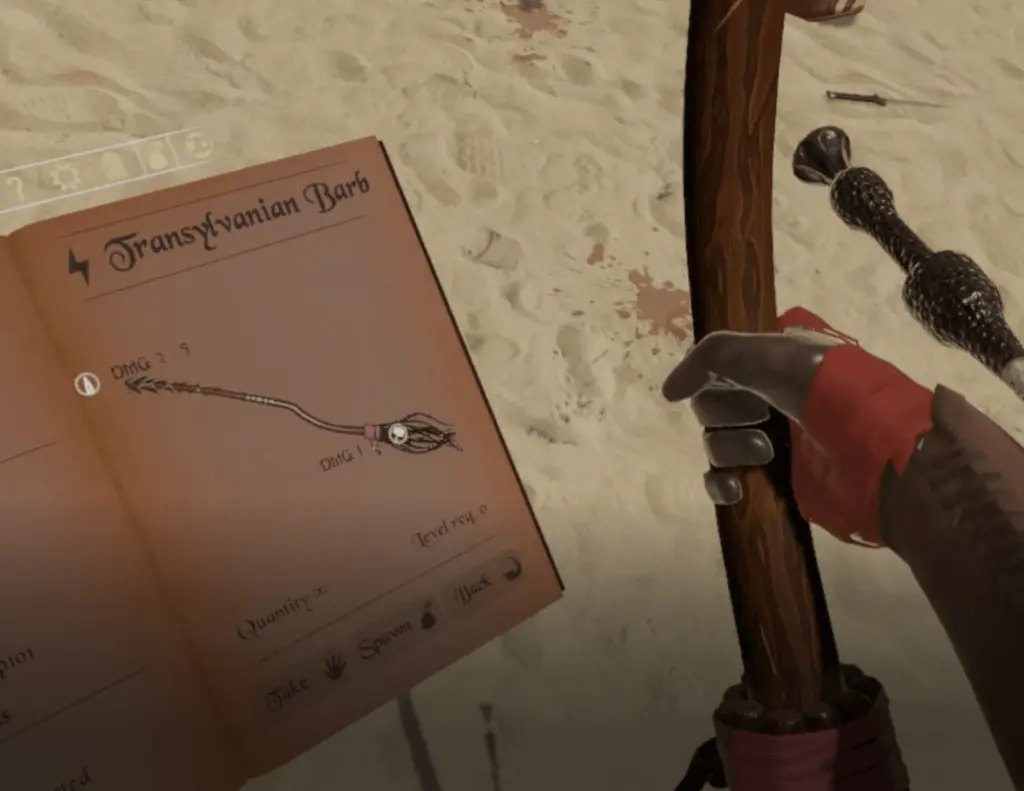 Witchcraft and Wizardy is a complete Harry Potter mod for Blade and Sorcery. When you have it installed, you can cast spells with your wand, fly around on brooms, and more. It contains, maps, mods, and other customization in a Harry Potter theme.
This mod features five different wands from Harry to Snape. There are three new maps included: Hogwarts, Greengots, and Dumbledore's Office. There are five different spells you can cast.
This Harry Potter mod contains new non-playable characters, brooms, potions, and other objects to explore. It is one of the most expansive best Blade and Sorcery mods available to download today.
Medieval Megapack
Medieval Megapack is a popular Blade and Sorcery mod that turns the entire game into a medieval theme.
This massive mod features over 90 realistic European weapons from the middle-ages for you and your enemies to wield. It includes a wide array of daggers, swords, cutlasses, and rapiers. It also includes a few fantasy weapons like a hiltless sword, double-headed axe, and more. Give it a try to see what this offers.
Fantasy Megapack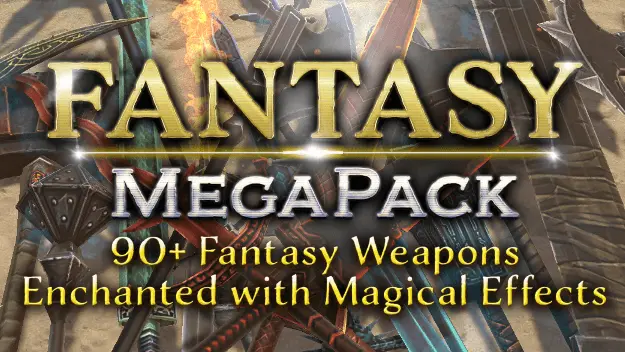 Fantasy Megapack is another popular all-inclusive mod for B&S. It introduces over 90 fantasy weapons with diverse effects.
The weapons themselves are similar to those found on the Medieval Megapack. However, now there is the magic traits like Shredding, which causes blood loss. Plus Volcanic, which carries the power of fire and produces explosions on contact.
Occasionally an enemy may also spawn with a super-powerful weapon, so be on your guard!
Fantasy Megapack is another mod that only works with U7 of the game so far. We are hoping for a U8 version to come soon!
The Best Blade and Sorcery Mods for Weapons and Attacks
The modifications below are to enhance weapons and attacks in the game. Destroy enemies in fun and creative ways using some of the best Blade and Sorcery mods below.
Bloodborne Trick Weapons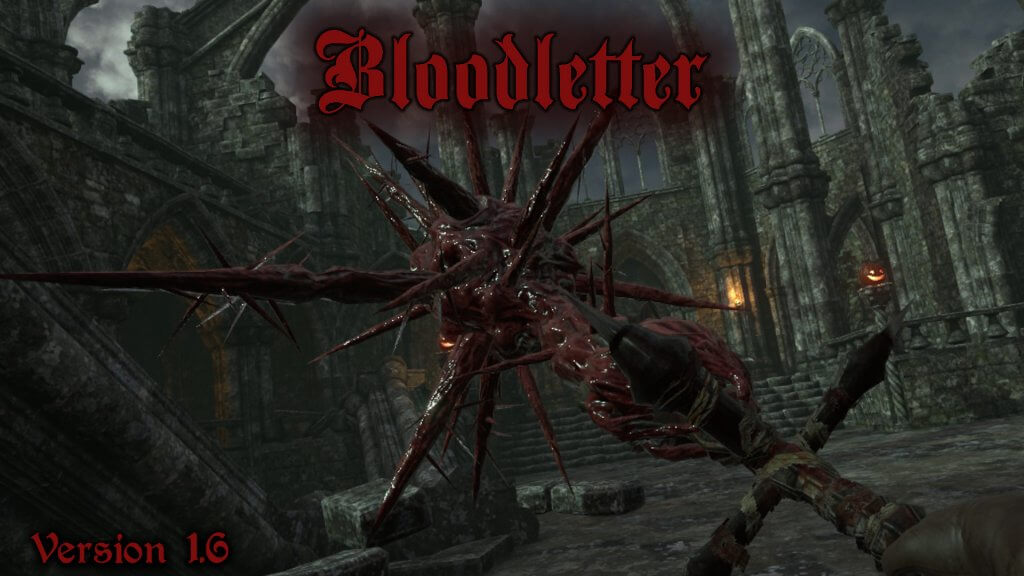 The Bloodborne Tricks Weapons Blade and Sorcery Nexus mod imports all popular weapons from the Bloodborne game. The level of customization in this mod is on another level. The weapons you get access to are:
Boom Hammer
Whirligig Saw
Bloodletter
Plus extendable, sheathed, detachable, guns, and cleaver weapons from the game. Each Bloodborne weapon has special powers and actions, making it one of the best Blade and Sorcery mods you can get. The same author has a number of other Bloodborne related mods and custom maps for the game, so check those out too.
Lightsaber Mod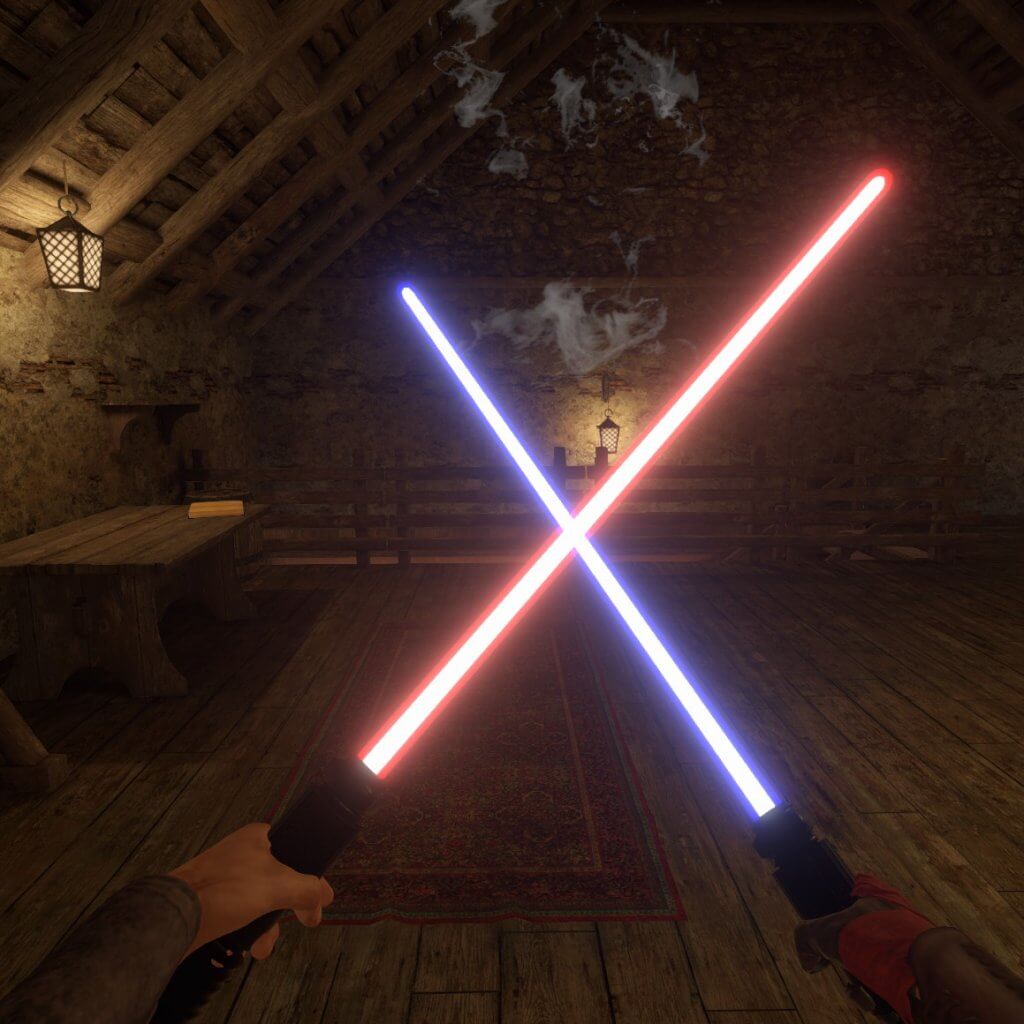 If you don't want the full Star Wars adjustment, the Lightsaber mod is perfect for you. In this mod, Lightsabers are constructed in Lightsaber Forges and used by the players committed to a Jedi or Sith legacy. They can feature different blade colors and features, both during creation and at a Lightsaber Modifier.
Lightsabers can be ignited with the Equip Key to inflict attack damage upon targets. You can also block attacks and use various combat styles, including Dual Wielding and Saberstaff combat.
Fisher's Pistols Pack
Fisher's Pistols Pack adds realistic guns to your weapons arsenal in B&S. Different pistols and revolvers like the 9 mm and flint-lock are included. The ammo capacity, bullet force and recoil are customizable for each weapon.
Other features included in this weapons mod for Blade and Sorcery:
Piercing bullets with custom damage
Instant-kill on headshots
Scripted animations for: Shoot, Reload, Empty
Powerful blunt damage to pistol-whip and knock down enemies
Adjustable Ammo Capacity, Bullet Force and Recoil
Various weapon sounds:
For a mostly melee combat game, these pistols add some new variety to B&S. This is why it is one of the best Blade and Sorcery mods today.
Telekinesis (Dark Chains)
Dark Chains is a lightweight telekinesis mod that allows for new kinetic powers and attacks. You can use your mental power to move objects and attack enemies with ease.
There is a configuration provided to enable it as an enchantment or to have it automatically enabled on every tool. It works with every tool and weapon, including the sword, pickaxe, bow, axe, and shovel. It also works with Silk Touch and Fortune.
Katana Megapack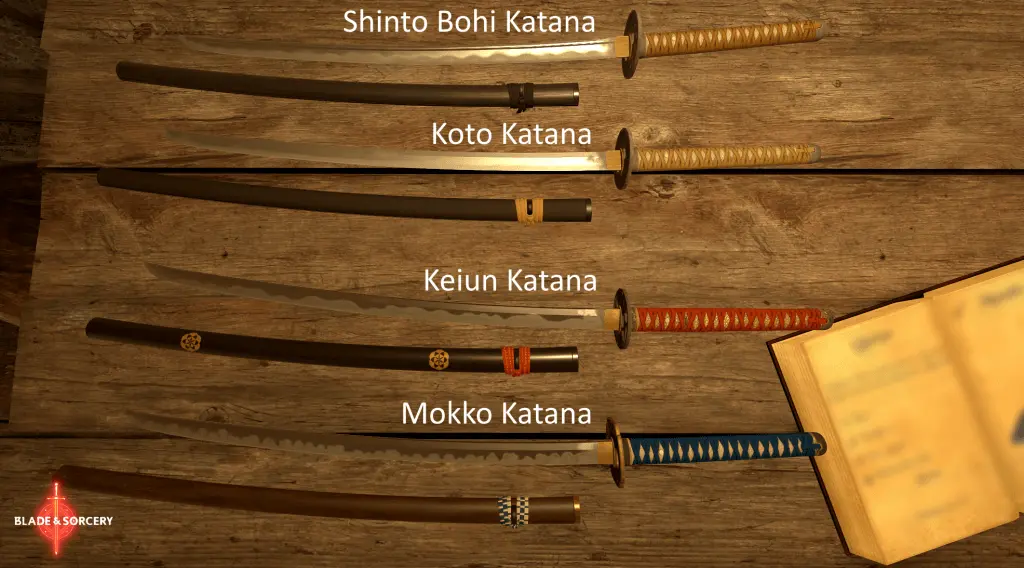 Katana Megapack is a collection of various Japanese Swords, including:
Shinto Tachi – This is a later variation of Tachi made during Shinto period.
Koto Katana – Made during the Koto period.
Koto Tachi – A cavalry sword made during the Koto period.
Uchigatana – An early variation of Katana, well suited for one-handed use.
Musashi Katana – Made to imitate the design conceived by Miyamoto Musashi.
This mod adds different weapons into the game.
Magic Weapon Effects
Magic Weapon Effects is a required Blade and Sorcery mod for a number of other mods, such as the Marvel Assembled mod below. On its own, Magic Weapon Effects does nothing. It doesn't give you any new features or modifications.
However, MWE allows other modders to add different effects to their weapons. It allows modders to add custom effects such as fire, ice, color changes, beams, and power upgrades. It's a key mod that enables a ton of others, so make sure you install it today.
Spartacus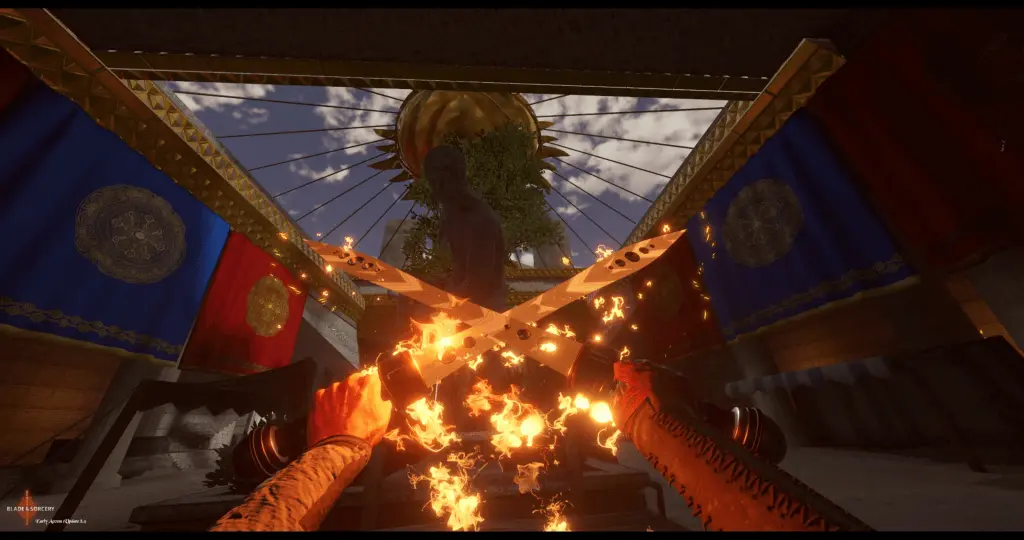 The Spartacus mod for Blade and Sorcery was made to honor the gladiator who led a rebellion against the Romans in the third servile war. It contains a half-dozen or so gladiator swords, daggers, and shields to use in battle.
As well, there are 8 gladiator characters from the world of Spartacus including Agron, Ashur, Nasir, and Varro.
This mod is recommended alongside the Jupiter's Temple custom map we preview below, so make sure to go and check that out!
Earthbending
Earthbending is another great fantasy mod for Blade and Sorcery. Using this mod will give you the ability to control the earth at youer own pace. You can take control of spikes from the map and fire the rocks at your enemies.
To use any of the abilities of this mod, you'll have to select the earth bending spell on both hands. This mod is equipped with a tutorial map, which explains how to use each ability. It adds fun magic combat fighting into the game.
The Best Blade and Sorcery Mods – AI
The mods below improve the artificial intelligence and gameplay of Blade and Sorcery. They change the fighting style and controls in the game to make things harder or different.
Sharp AI
The Sharp AI Blade and Sorcery mod helps improve the intelligence of the game for more intense gameplay. Over 1,800 lines of code have been added to improve the intelligence of the enemy.
Sharp AI gives the computer skills like back-stepping from your attacks and counter-attacking by taking advantage of an opening. They also won't lose their weapons as easily and just pushing them around won't be as effective.
If you prefer more of a challenge or are an expert at the game, then take a look at Sharp AI today. It is one of the best Blade and Sorcery mods for advanced players.
Combat Overhaul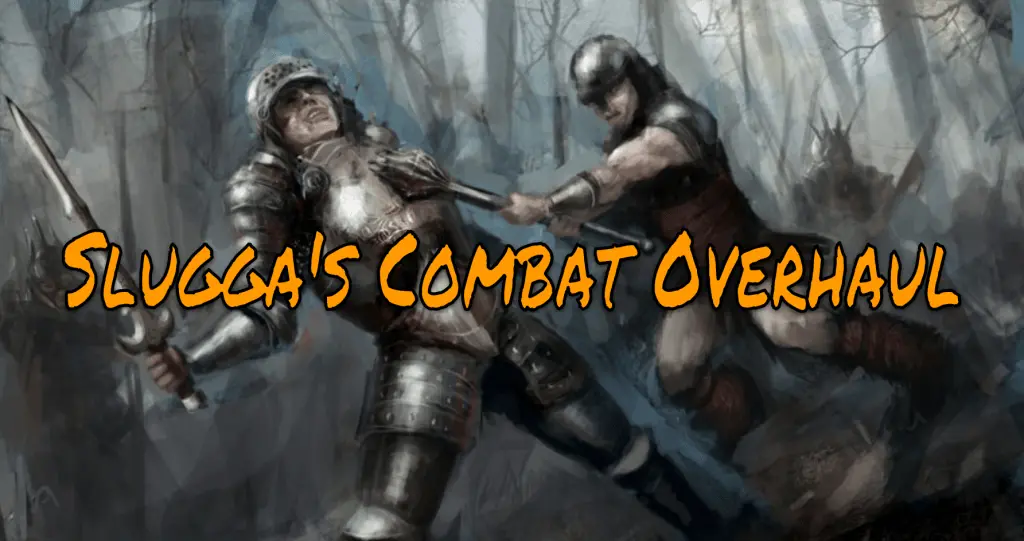 Another great Blade and Sorcery mod is Combat Overhaul. This mod is a collection of tweaks to melee combat to make more realistic physics.
It features rag doll physics, locational damage, and other improvements such as:
Reworked knockouts – Knock down your enemy with a shield bash, leg sweep, or a handle smack.
Tweaks to the material properties of body parts and wood
Arrow quivers and enhanced throwing physics
Injury Reborn
The last Blade and Sorcery mod on our list is Injury Reborn. This mod can help you to increase gameplay tempo. Injury Reborn adds a customizable injury system to the game, including stamina mechanics, bleed mechanics, and other things.
It features the following base injuries:
Legs – This injury will decrease the mobility of the inflicted person. If the injury is on both legs, the person is incapable of walking.
Skull – This injury is easy kill because it causes seizures.
Arms – If a player's hand is broker, you cannot use that hand to fight.
Neck – The neck can only be broken by blunt trauma. When broken, you can easily snap the neck.
Spine – A spine injury will paralyze your enemy's mobility.
What are the best Blade and Sorcery mods to you? If you have one to recommend, make sure you comment down below!
Next up, we take a look at custom maps for Blade and Sorcery that are worth installing.
The Best Blade and Sorcery Mods – Custom Maps
Fort Toth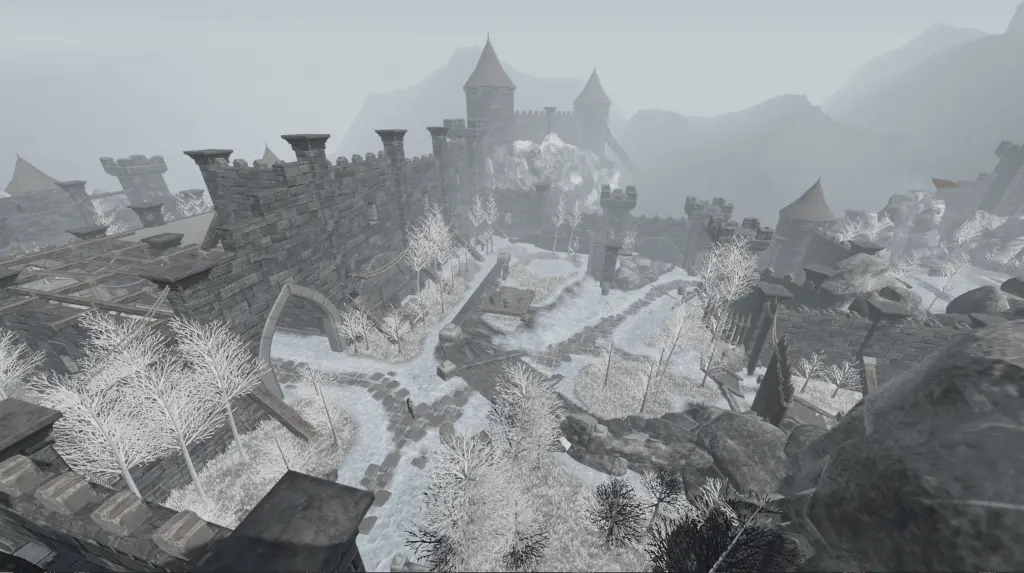 Fort Toth is a town-based map with multiple battle areas to check out. Created by Dragonsnight, Toth has been downloaded over 26,000 times since released in early 2020.
This Blade and Sorcery map is optimized for all VR devices. There are four different wave locations around the map. Recently, objects are now climbable, which adds another exciting feature to the map. Fort Toth is one of the most accurate and high quality maps for the game.
Drags Colosseum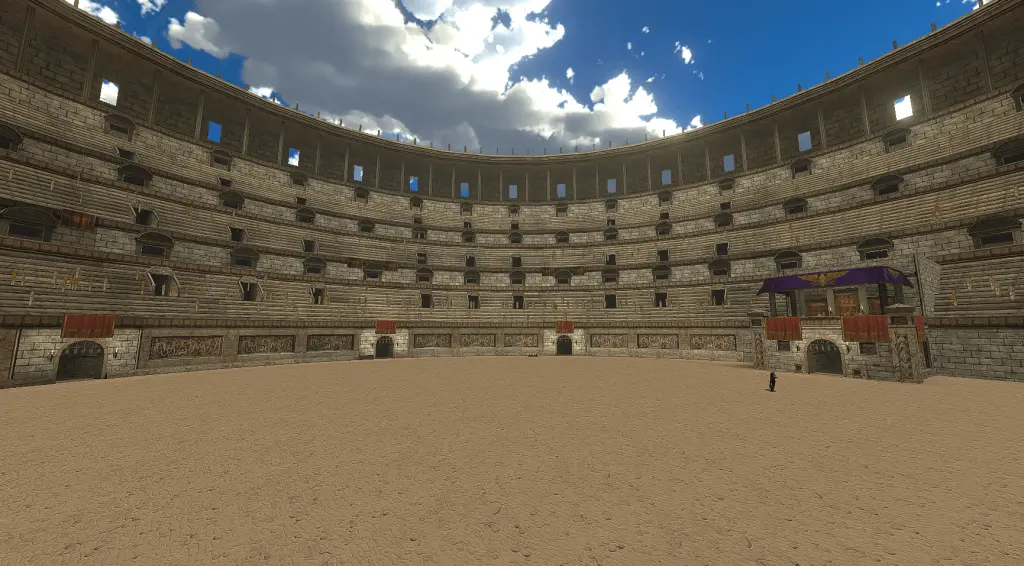 Drags Colosseum is another B&S map by Dragonsnight. It is a mock up of a large roman Colosseum. The map comes complete with an audience in the stands that react to your every move and attack.
There are multiple enemy spawn points around the arena. You'll get a ton of satisfaction defeating enemies in a Colosseum style war zone.
Pirates Attack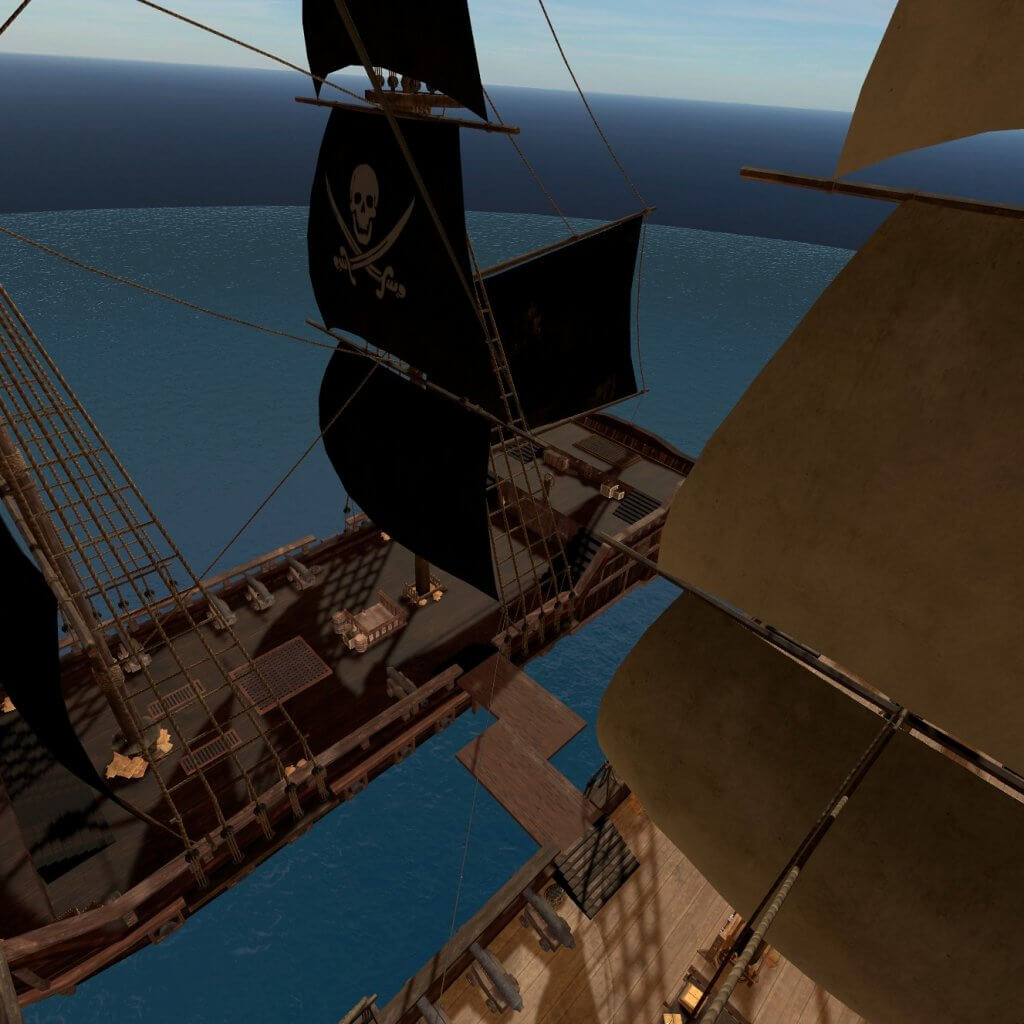 Pirates Attack is a map filled with 2 different pirate ships. You have to defend your ship from pirate attacks. But don't fall into the ocean, or else its game over!
This map has swinging ropes to help you navigate your way between both ships. There are also planks, multiple levels, and scattered items around the map as well.
Kamino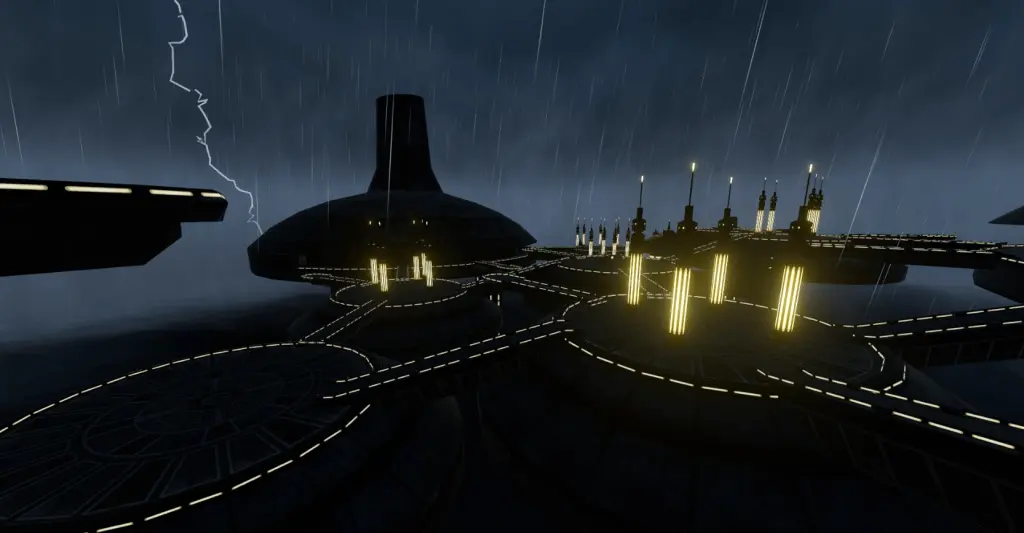 Kamino is a recreation of the popular planet from Star Wars Battlefront 2, released back in 2005. It has constant rain and endless oceans. It is any Star Wars fan's dream map for B&S.
The Kamino map requires The Outer Rim Blade and Sorcery mod in order for it to work properly. The map features multiple sections of the island recreated for VR gaming.
Death Pit Fortress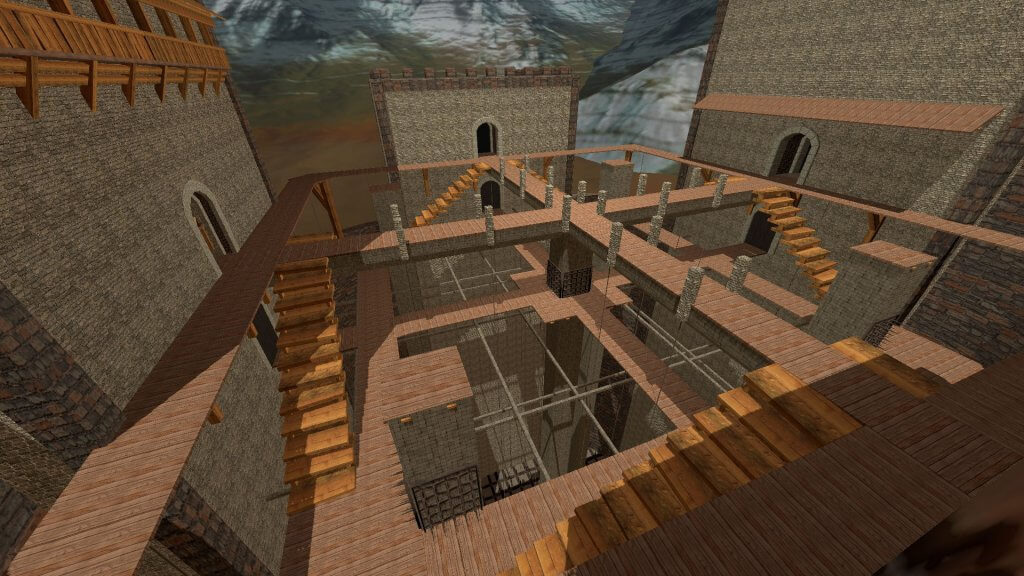 Death Pit Fortress is combat arena map for Blade and Sorcery. The arena contains multiple narrow walkways placed over top of a giant death pit. You can use the pit as a tool to get rid of enemies and create some unique death scenarios.
Death Pit Fortress is the most downloaded Blade and Sorcery map of all time with over 40,000 downloads. It is updated and optimized for B&S version 8.
Jupiter's Temple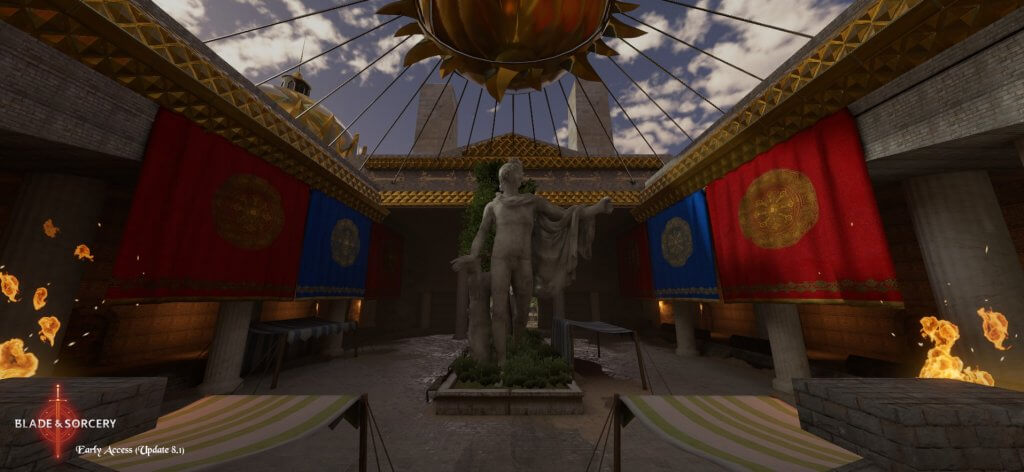 Jupiter's Temple is a medium-sized Blade and Sorcery custom map. At the center of an ancient caldera lies a temple, Visited only by the most dedicated sons of Jupiter. Now it lies empty and under the helm of wicked Sorcerers, Vagrants and the most blood thirsty gladiators. Will you be able to prove yourself worthy?
This custom map is a companion for the Spartacus mod listed above.
What are your picks for best Blade and Sorcery mods or custom maps? Make sure to check out other mods on Nexus mods and give them a try too. Comment below and let us know!