The GOOVIS LITE is a smart headset that displays media directly in your vision. Any content from your computer, phone, tablet, or mobile device can be streamed on a full 600-inch screen in your vision.
These smart glasses hit their Kickstarter goal in just four minutes!
In this guide, we will check out:
What is the GOOVIS LITE?
What features do these smart glasses have?
How to buy your version today
Let us know what you think about this cool new technology by commenting down at the bottom of this guide.
How to Buy the GOOVIS LITE
This cinema headset is available to purchase on Kickstarter right now. Click here to buy the GOOVIS on Kickstarter.
What is the GOOVIS LITE?
The GOOVIS LITE is a personal cinema screen that you wear on your head similar to a VR headset or heads up display. It is the largest and the clearest personal display available to buy today. The GOOVIS is a dual 0.49″ M-OLED display that appears like a 600-inch television in your vision.
With this super high quality and large screen, you can mirror any display you have. You can duplicate your phone, laptop, TV and other devices in your vision either wirelessly or with an HDMI cable. The hardware supports all of the latest protocols as well including DLAN, Miracast, and Airplay 2.
The LITE goes with you anywhere and provides total privacy. Only you see what you are watching.
This headset is similar to the GodView V5 which we featured previously.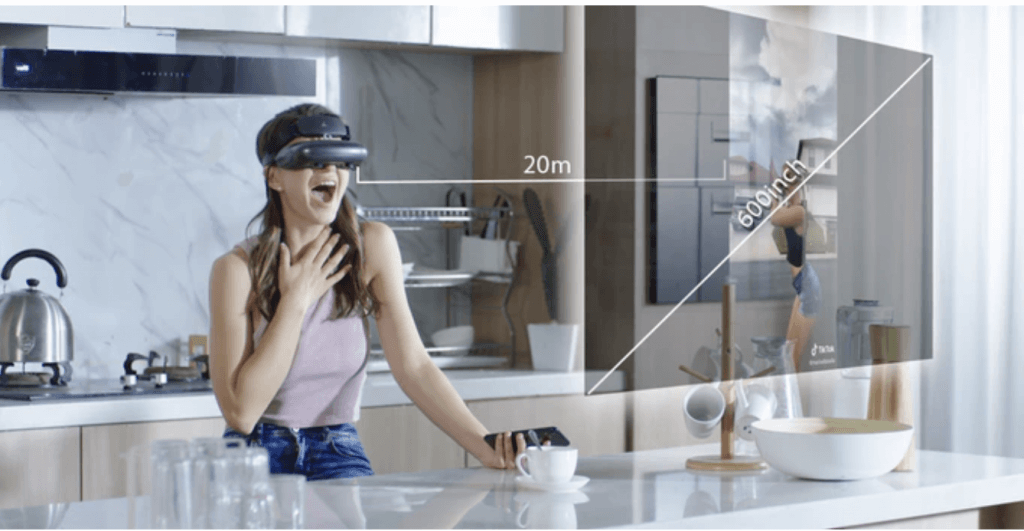 Features at a High Level
An immersive 600 inch virtual screen in your vision
53 pixels per degree (PPD)
4523 pixels per inch!
Distortion Control < 1.5%
3D Dual M-OLED Display
2,000,000:1 Contrast Ratio
Comfortable fit
Glass Free technology
Anti-Fog and Excellent Heat Dissipation
Wireless Cast or HDMI-capable
Only 200g
56 – 72 mm IPD adjustment
+3D to -8D Diopter adjustment
Below, we take a look at some of these features in more detail.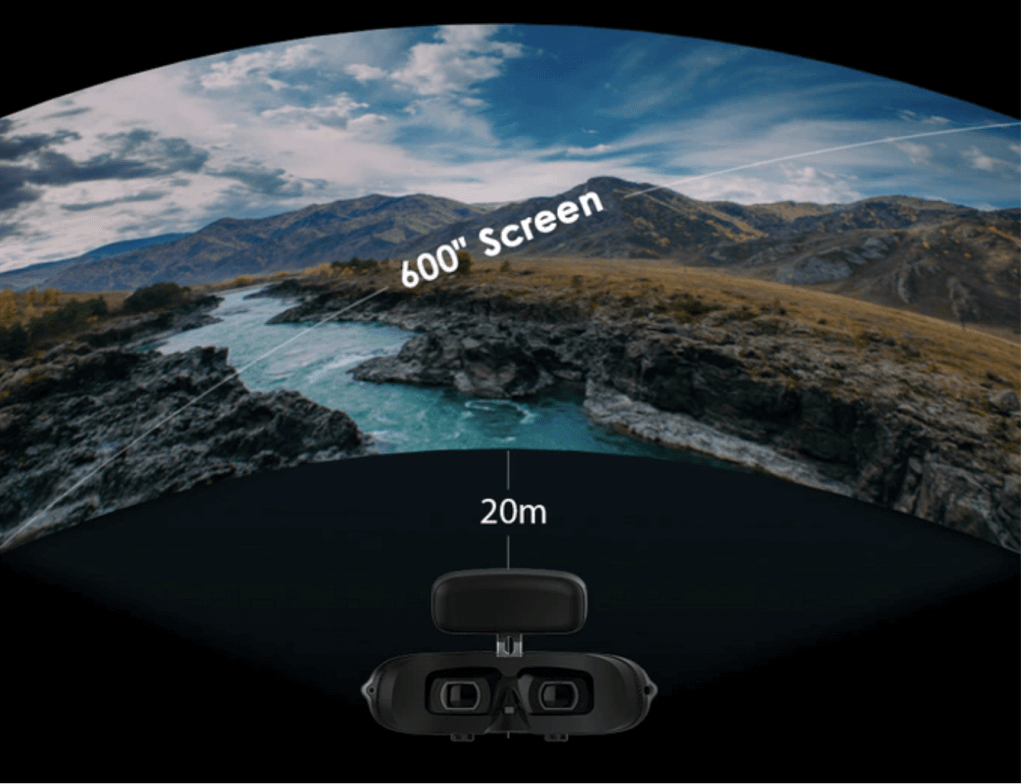 Specificiations
The GOOVIS LITE has the following specifications:
2 × 0.49″ AMOLED screens
1920 × 1080 pixel display per screen
4523 PPI
53 PPD
600″ virtual screen watching from 20 m
Distortion Control < 1.5%
42″ FOV
56 – 72 mm adjustable IPD
3.55 mm Jack
HDMI 1.4a
200g weight
Connection Options
You can connect your headset to any media device, including:
Smartphone
Tablet
PC
Laptop
Console
Set-Top Box
The hardware can cast to any platform including Android, iOS, Mac OS, or Windows. It supports all the most popular protocols including DLAN, Miracast, Airplay, and EZMira.
Pixel Per Degree
Pixel per degree is a good measure of the quality of screen on a head display. Assuming the display covers your entire vision, a higher PPD means that the headset is clear and high quality.
The PPD on the GOOVIS is 53, highest in the industry. This is 9 times more than the Apple iPhone 12 Pro and 3 times more than other HMDs.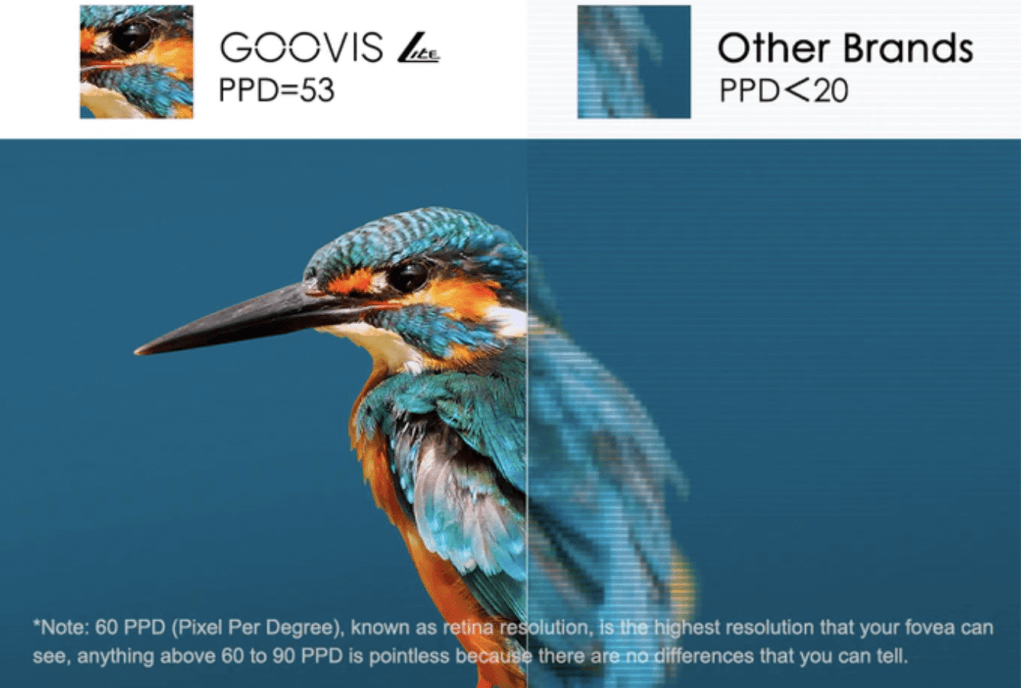 Distortion Control
Most VR headsets available today use an aspherical lens. This means that it has a "sweet spot" in the center of your vision and a distorted image in the corners of the display.
The screen on this hardware has a distortion rating of less than 1.5%, so that even the edges are clear.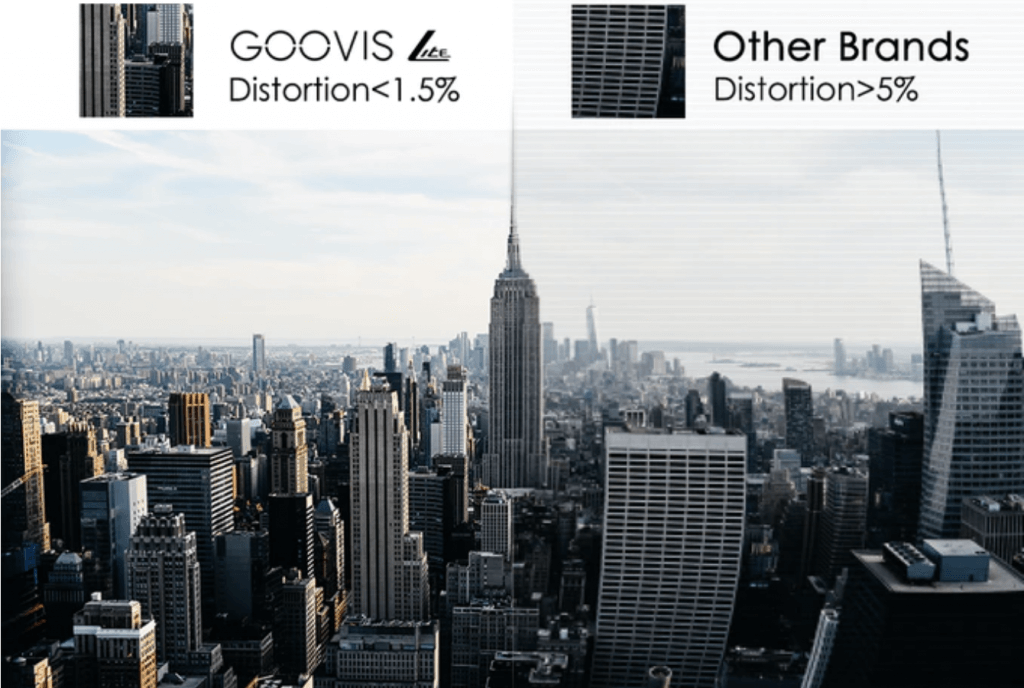 Wireless Cast or HDMI
The GOOVIS comes with two different options for connecting to your devices and bringing the display into your HMD.
The first option is the GOOVIS Wireless Cast. It plugs into your HMD and allows your computer, phone, or tablet to connect to it and wireless stream its display. It's the best way to watch or use media in your headset without a fully tethered wire.
The GOOVIS Lite also contains an HDMI output which can connect to all the connection options above.
Lightweight
The glasses weigh only 200g, which is over 60% lighter than the Oculus Quest 2. In addition to being light, the GOOVIS LITE is also extremely comfortable to wear.
GOOVIS LITE vs Oculus Quest 2
As a media display, the GOOVIS has some pretty impressive specifications verses the Oculus Quest 2. Check out a comparison between the two in the table below.
| | | |
| --- | --- | --- |
| | Oculus Quest 2 | GOOVIS LITE |
| Display | 1832 x 1920 per eye | 1920 x 1080 per eye |
| Field of View | 100 degrees | 42 degrees |
| Portable | Yes | Yes |
| Streaming Options | All Android | Wireless to Home Devices |
| 6 Degrees of Freedom | Yes | No |
| Price | $299 | $349 |
| BUY NOW OFFICIAL | CLICK HERE | CLICK HERE |
| BUY NOW AMAZON | CLICK HERE | |
Release Date
After the Kickstarter for the GOOVIS wraps up, final testing will be completed around the same time. Mass production and shipping is due to begin starting in March of 2021.
One More Time: How to Buy
Click here to check out and buy the GOOVIS LITE on Kickstarter.
What do you think of these media glasses? If you are curious, you aren't alone! These met their Kickstarter goal in just 4 minutes. We will keep you updated as these are released in full.k
You can find more information on the official GOOVIS website.