The GodView V5 is a pair of augmented reality glasses that displays media directly in your vision. Any content on your mobile phone can be cast wirelessly to the 300-inch virtual display in front of you.
Available now to back on Kickstarter, in this guide we will go over:
What the GodView is and why its such an exciting new product
A breakdown of all the GodView accessories offered on Kickstart
Features included in these augmented reality glasses
How to buy the GodView today.
The innovative GodView V5 has already shattered its goal on Kickstarter and a number of stretch goals are within reach!
What is the GodView V5?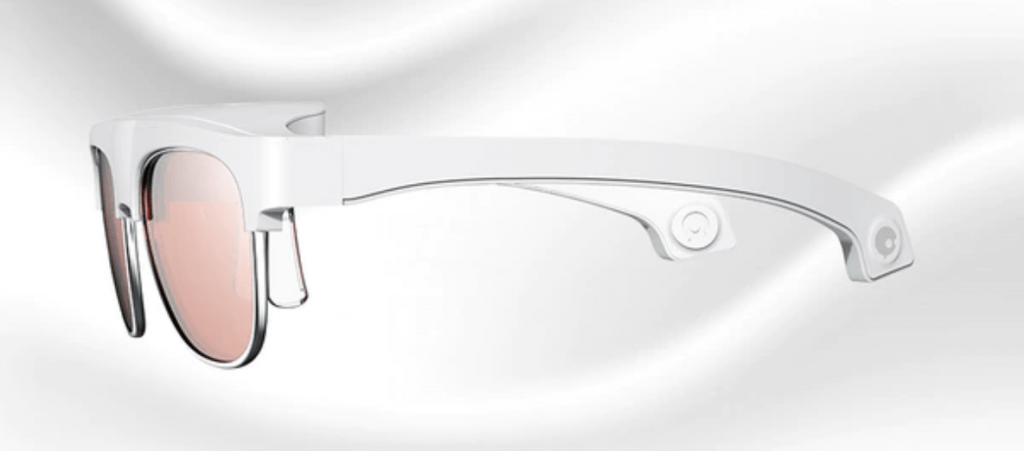 The GodView V5 is a pair of augmented reality glasses that offer an extremely high resolution for an augmented reality device.
They are similar to the RealMax Qian, another pair of mixed reality smart glasses we features recently.
Top-end hardware like the Microsoft Hololens 2 and Magic Leap One offer 2K and 2.5K resolution, respectively. The company claims its headset produces a 5K resolution projected display.
GodView comes with an amazing 110-degree field of view, nearly three times what you get in the HoloLens and Magic Leap headsets. In fact, it can produce a virtual screen equivalent to a 300″ projecting screen, with up to 2000 nits of brightness. The glasses do not include a computing device. Instead, the headset is powered from your mobile phone or computer.
GodView claims to give you a display that is brighter and higher quality than the Oculus Quest 2, while looking and fitting like a pair of sunglasses.
What is the GodView Light V1?
The Godview Light V1 are a cheaper and lighter version of the smart glasses vs the V5. They come with a 1080p display and 82 degree field-of-view.
The combination of titanium alloy and super waveguides give the V1 a more lightweight nature. The company designed this lighter version to meet the needs of consumers who yearn for portability.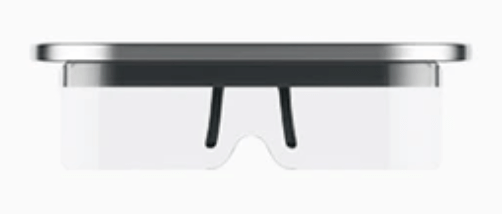 How to Buy the GodView AR Smart Glasses
Both the V5 and V1 of the GodView AR glasses can be purchased right now through Kickstarter. The V5 is $459 and the V1 is $239.
Click here to see the GodView V5 on Kickstarter.
Alongside the main smart glasses, a number of accessories are also available to purchase. Before we go into them in more detail below, here is a pricing chart for all of the accessories:
Game Controller = $29
PickMini = $269
Bridge = $49
USB-C to HDMI Cable = $29
TWS Headphones = $35
Accessories
Alongside the two pairs of glasses, GodView is also selling a number of accessories too.
GodView Game Controller
The Godview Game Controller is a device used to provide input to a video game. It controls an object or character in the game. The controller is compatible with iOS 9.02, Android 6.0 and above, Nintendo switch, Playstation, and Microsoft Xbox. It weighs about 230g and the battery capacity is around 380mA.
The Game Controller allows you to use your glasses to play games from your computer or mobile phone.
Detailed specs of the Game Controller are below.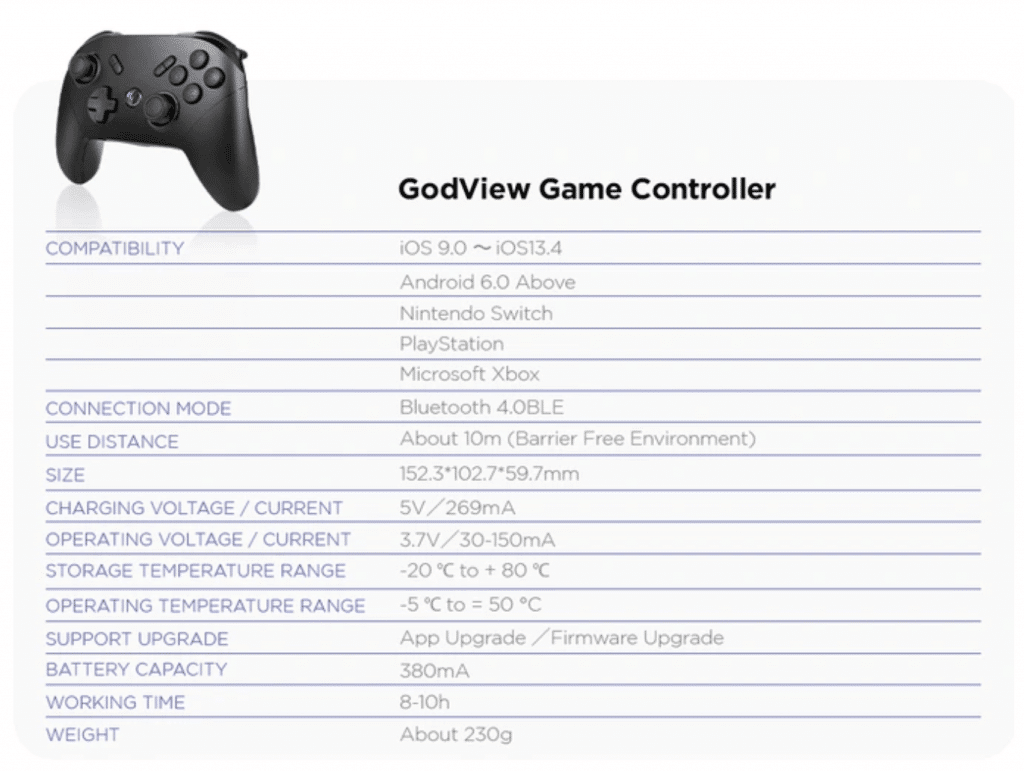 GodView PickMini
The Godview PickMini is a small computer device that you can tether to the headset. It comes in two models:
The first model is equipped with an Intel quad-core processor running Windows 10. The second model comes with a Qualcomm Snapdragon XR2 processor running Android.
The PickMini gives you a full standalone computer for the GodView so that you don't need to tether to your phone.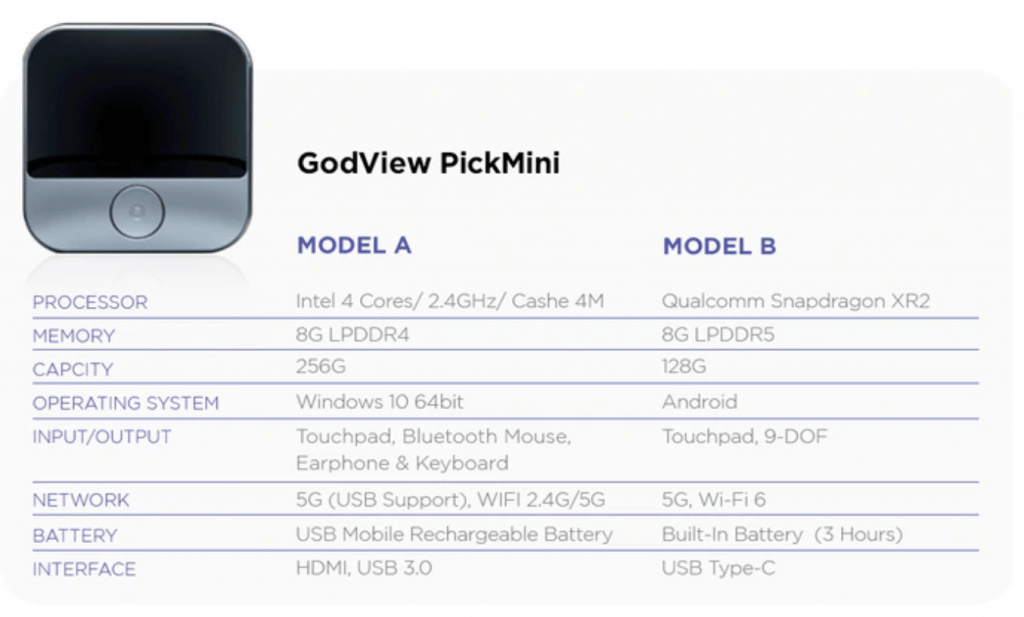 GodView Bridge
The Godview Bridge is what allows the smart glasses to look and feel so lightweight. They connect with a single cable to the Bridge, which is responsible for connecting to your nearby computer, phone, or console.
The Bridge is WiFi 6 compatible so that you can have the fastest possible data speeds.
A GodView Bridge is included with each order on Kickstarter.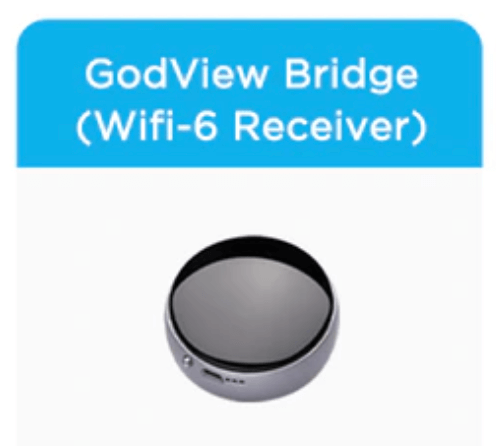 GodView V5 Features
The GodView V5 glasses come with some amazing features.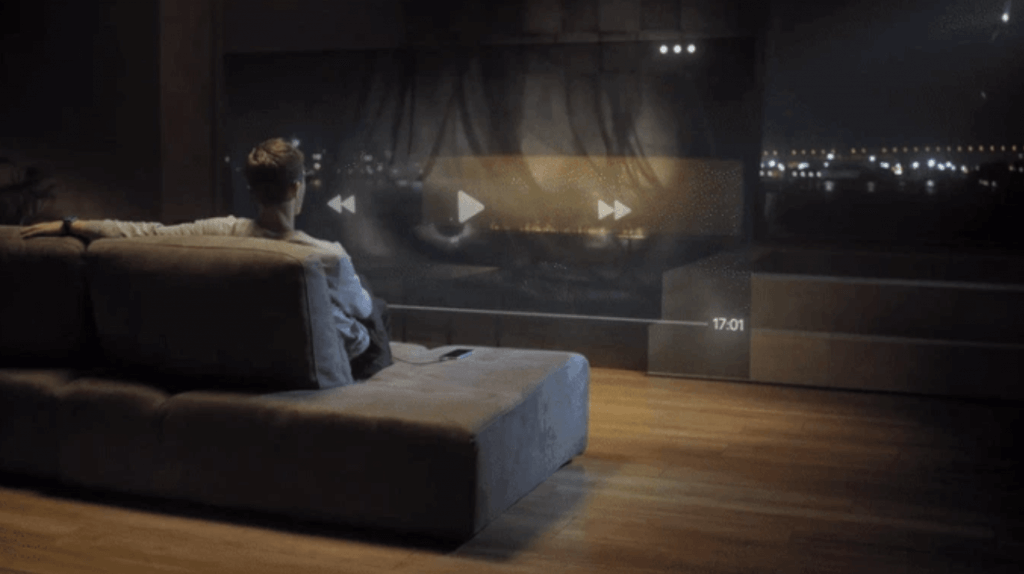 #1. Human Eyes Enhancement
The GodView V5 is designed to enhance your vision even more than what your eyes can show you. In fact, the moment you wear these smart glasses, it unveils vivid imagery before your eyes. In addition, the Godview V5 can wirelessly cast your mobile phone content onto a 300-inch virtual display in front of you.
#2. High Resolution
The GodView V5 glasses come at a high resolution of 2560 × 2560 per each lens. This is higher than both the Oculus Quest 2 and HP Reverb G2.
This resolution is also much higher than other top-end augmented reality hardware like the Microsoft Hololens 2 and Magic Leap One. With its high resolutions, the GodView V5 eliminates graininess, ghosting, as well as optical grating.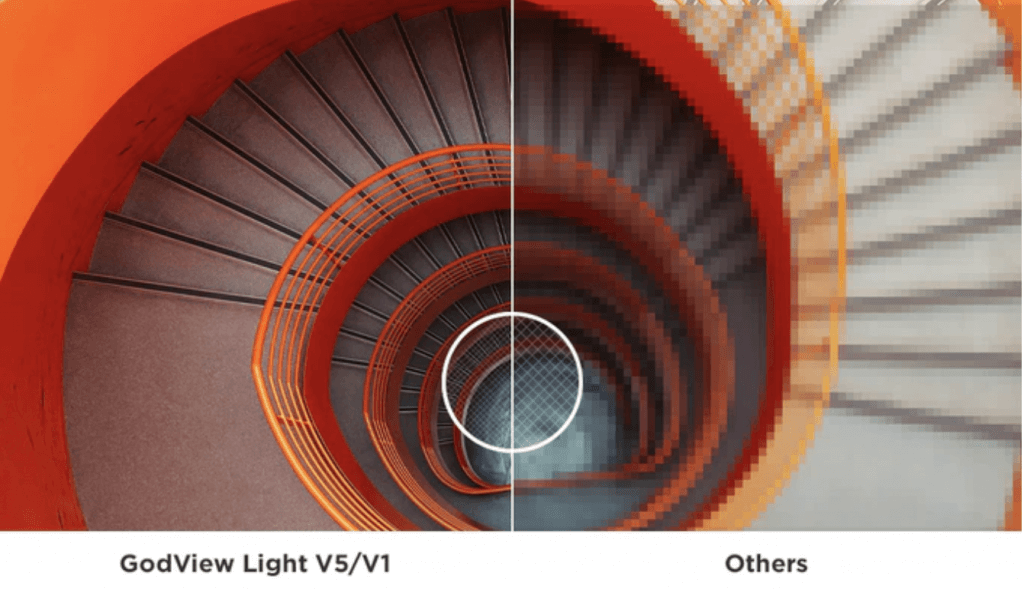 #3. Large Display Size & FOV
These smart glasses create a 300-inch virtual display in front of you. It does this using a binocular of 110-degree wide FOV for you to enjoy an amazing immersive experience.
#4. High Refresh Rate & Brightness
The GodView V5 not only comes with a brightness of up to 2,000 nits, it supports a refresh rate of up to 90Hz. At this refresh rate, you will see images with any flickering. Plus, even in bright daylight, the display is extremely clear.
#5. Myopia Adaptability
Another amazing GodView V5 feature is myopia adaptability. Myopia adaptability means the ability of the glasses to self-tune its clarity for myopia of -8D. Simply put, if you're suffering from shortsightedness, you can wear GodView V5 to see clearly without your usual glasses.
#6. Simple Design
GodView V5 is lightweight and comes in simple design. It is without a processor on board or heavy battery. GodView V5 guarantees the best visuals.
#7. Wi-Fi Connectivity
Seeking for a high definition visual experience on the go? Then the GodView V5 is a force to reckon with. These smart glasses use a compact Wi-Fi 6 bridge that houses a power supply unit. The power supply unit powers the device up to 4 hours of use.
#8. Omni-Compatibility
The Godview V5 is compatible with a range of devices, including desktops, laptops, as well as game consoles. You can connect your GodView V5 glasses to these devices using a USB C or HDMI cable.
Or, you can purchase the PickMini and connect directly to your very own personal computer.
One More Time: How to Buy
Click here to check out and buy GodView on Kickstarter.
What do you think of the GodView V5 AR glasses? If you backed it on Kickstarter, make sure to comment below!