In this guide, we'll show you how easy it is to download or load Beat Saber custom songs into the game. This Beat Saber mod is a must for all VR players because it makes the game way more enjoyable than the 20 or so songs that are loaded by default. Best of all, loading custom songs on Beat Saber is fast and easy!
This guide has been updated for the new Oculus Quest 2, the new Beat Saber 1.13 BTS Edition, and the new BMBF 1.13 to go with it!
Note that when you install BMBF 1.13, you will lose the ability to play the new Beat Saber multiplayer mode. However, there is a brand new method for toggling Beat Saber to play both the modded and unmodded versions here.
We'll try to keep things as simple and straight forward as possible!
Comment at the bottom of this guide if you have any problems with this Beat Saber mod not working or need any guidance loading music onto your headset.
After you read this, check out our 101+ VR Tips From Beginner to Expert for tricks on everything you need to know about virtual reality. If you click the link, it will open in a new tab so that you can read this guide and check that out after.
And then, go and check out our VR deals guide for the latest deals on VR games, hardware, and accessories.
What are Beat Saber Custom Songs?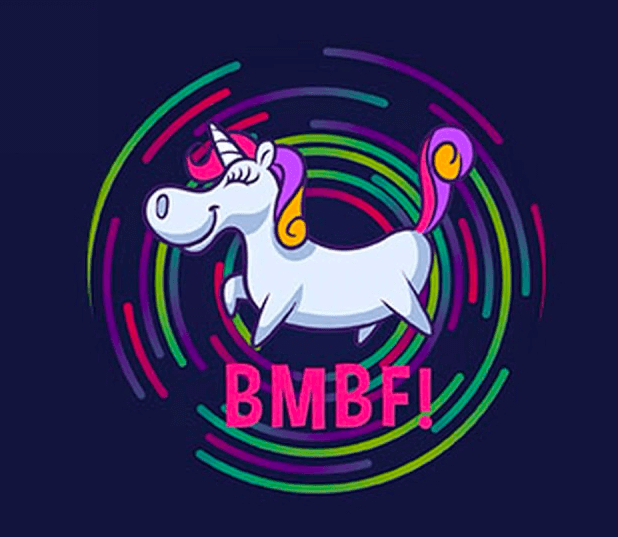 There are multiple communities on the internet dedicated to mapping real songs to Beat Saber. This means that you can play the latest Taylor Swift, Drake, Marshmello, or Five Finger Death Punch songs in Beat Saber.
Doing this allows your Beat Saber song list to grow into hundreds of real life tracks easily! This is one of the reasons why the game is one of the most popular Oculus apps of all time.
Being able to load custom Beat Saber songs is made possible with an app called BMBF. With BMBF, you can install Beat Saber custom songs in two different ways: directly on your VR headset or from your computer. Then, you can visit a Beat Saber song website called Bsaber to browser and save songs you like.
A lot of guides on the internet prefer the direct way on your VR headset, but we prefer to do it from our computer. The reason is that it's easier to navigate and download songs in bulk with your computer. Either way, we have instructions for both ways listed below!
Before You Mod Beat Saber..
Before you use the method below to install Beat Saber custom songs, there are some important things you need to know. When you do this, you are modding Beat Saber and the game will work slightly different compared to other games installed on your headset.
You must remember these important things:
NEVER attempt to update to the latest version of Beat Saber from the Oculus menus
NEVER attempt to uninstall Beat Saber from the Oculus menus
DO NOT upgrade to the latest version of Beat Saber until it is verified that the latest version is compatible with your custom songs
It is recommended that you backup your custom songs and custom playlists before performing any upgrades to Beat Saber
All Beat Saber mods and custom songs break each time the game is updated to the latest version. They require developers to make everything compatible with each latest version.
Below, you can see the latest version of Beat Saber, latest version of BMBF, and what is compatible with what. Before we go into that, let's learn a little bit about what the BMBF Beat Saber mod is.
What is BMBF Beat Saber?
BMBF is a mod manager for Beat Saber. It allows the installation of custom songs and mods into Beat Saber. BMBF is installed on your computer and also onto your Oculus Quest so that it can modify Beat Saber to allow customization.
BMBF integrates tightly with the bsaber website. You can bookmark songs on Bsaber and automatically sync them into your game using BMBF on your computer or headset.
If this sounds complicated, don't worry! Below we go through step by step instructions on how to use BMBF for Beat Saber properly.
Latest Version of Beat Saber and BMBF
The latest version of Beat Saber is v1.13 from November 12th. The new update adds the BTS song pack, which is available for purchase. The last version of Beat Saber added graphical improvements for the new Oculus Quest 2 and also multiplayer support and leaderboards for songs.
The latest version of BMBF is v1.13 from November 12th. 1.13 of BMBF is required to get Beat Saber custom songs working with the BTS version of the game.
Beat Saber v1.13 is THE ONLY VERSION compatible with BMBF v1.13. The old BMBF v1.12 is only compatible up to v1.12.1 which is the Quest 2 release day version with multiplayer.
Now that you know what is compatible with what, let's show you how to install new songs in your Beat Saber game.
The instructions below are how to install BMBF from new. If you want to upgrade BMBF and Beat Saber to the latest versions listed above, click here.
BMBF Features
BMBF 1.13 contains the following new features:
Compatibility with the BTS update for Beat Saber
Community approved core mods and libs
Improved warnings when you are on an out of date version of BMBF
Known Issues
MODDED GAMES DO NOT ALLOW YOU TO PLAY MULTIPLAYER! You have to choose between Beat Saber custom songs and Beat Saber multiplayer support by default. There is a tutorial for how to toggle between modded and unmodded versions of Beat Saber here.
Some playlist icons for OST may appear buggy in BMBF, they will appear normal in game
Only 3 playlists are visible in game due to an issue in Beat Saber's user interface. This will be solved very soon (maybe even within the next two days)
How to Install Beat Saber Custom Songs With BMBF New (Computer Method)
This guide shows you how to install custom songs from your computer onto Beat Saber with the BMBF mod. This will get you more songs on Beat Saber to play the next time you fire up your VR headset!
Total Time: 10 minutes
Install and Setup SideQuest

First off, use our SideQuest guide (don't worry, it will open in a new tab) and follow the first 9 steps to set your Oculus in Developer Mode and get SideQuest installed on your computer. You can also choose to install AdbLink instead of SideQuest.
When you get to the step about choosing an APK to load onto SideQuest, come back here and follow the next step.
Install BMBF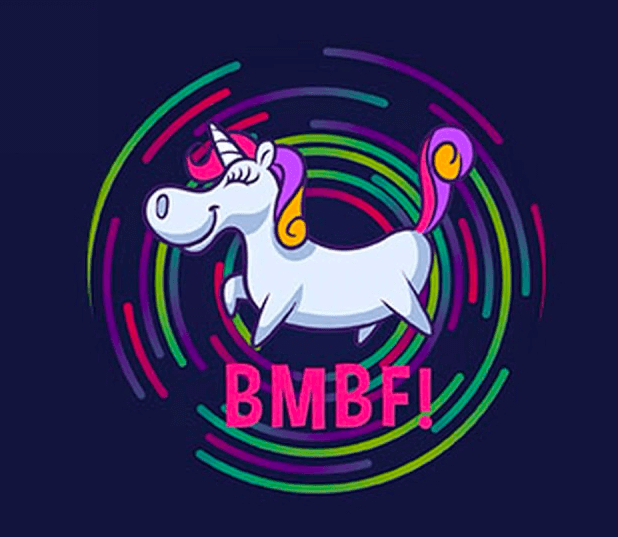 Go to the official BMBF page and download the latest stable version of BMBF. To use BMBF on your computer, you need the exe (Windows) or dmg (Mac) version.
If you plan on using BMBF directly on your VR headset, make sure you download the APK file too.
Launch BMBF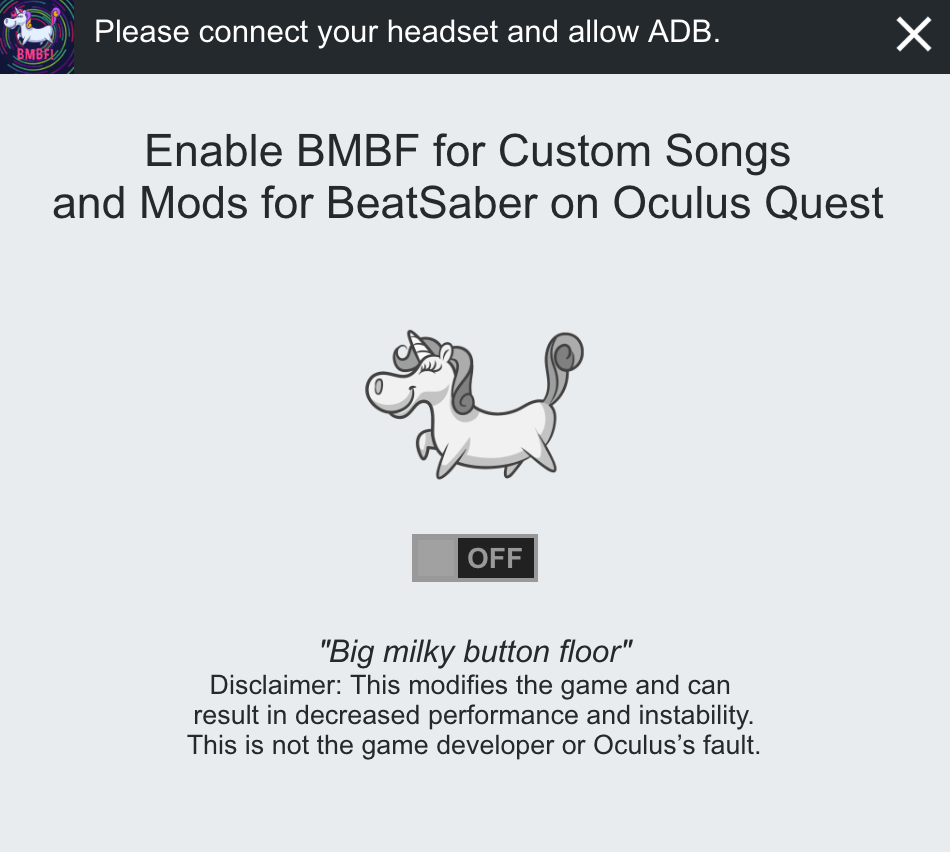 Connect your VR headset to your computer and then launch BMBF. When you turn BMBF on, it should launch in your web browser.
If it doesn't launch automatically, you can manually open BMBF using "Quest's IP:5000"
Download Beat Saber Custom Songs

The best place to download songs for Beat Saber is on the Bsaber website. Search through the website and click the download arrow under any song to download the zip file to your computer. Download as many songs are you wish.
Load Custom Songs onto Beat Saber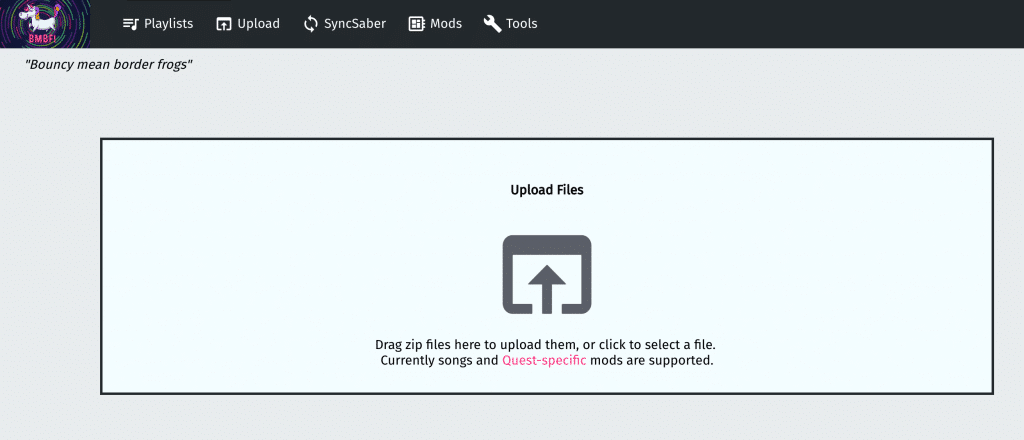 Go back to BMBF in your browser and drag and drop all of the custom songs you downloaded onto the window. Songs will be loaded onto Beat Saber.
Sync Custom Songs to Beat Saber
Lastly, to sync your songs onto Beat Saber, press the red Sync button in the top right corner.
And that's it! Your Beat Saber custom songs will be now be available the next time you launch the game in your headset.
How to Install Beat Saber Custom Songs (Bookmark + SyncSaber Method)
You can also sync custom songs by popular artists onto Beat Saber without downloading them. The bookmark/SyncSaber method lets you save songs to your BSaber account and then synchronize them to Beat Saber. You don't have to download any songs to your computer at all.
We didn't put this as the primary method because the synchronization process isn't 100% reliable. However, many people prefer this way and find it easier to load songs onto Beat Saber.
To do the bookmark method for loading Beat Saber custom songs, go to the BSaber website and click Log In on the top right corner.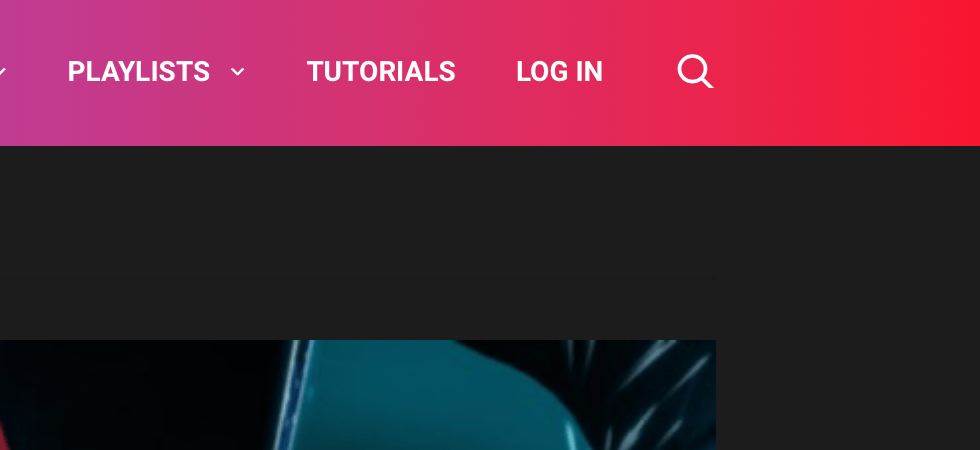 Click the Register button at the bottom.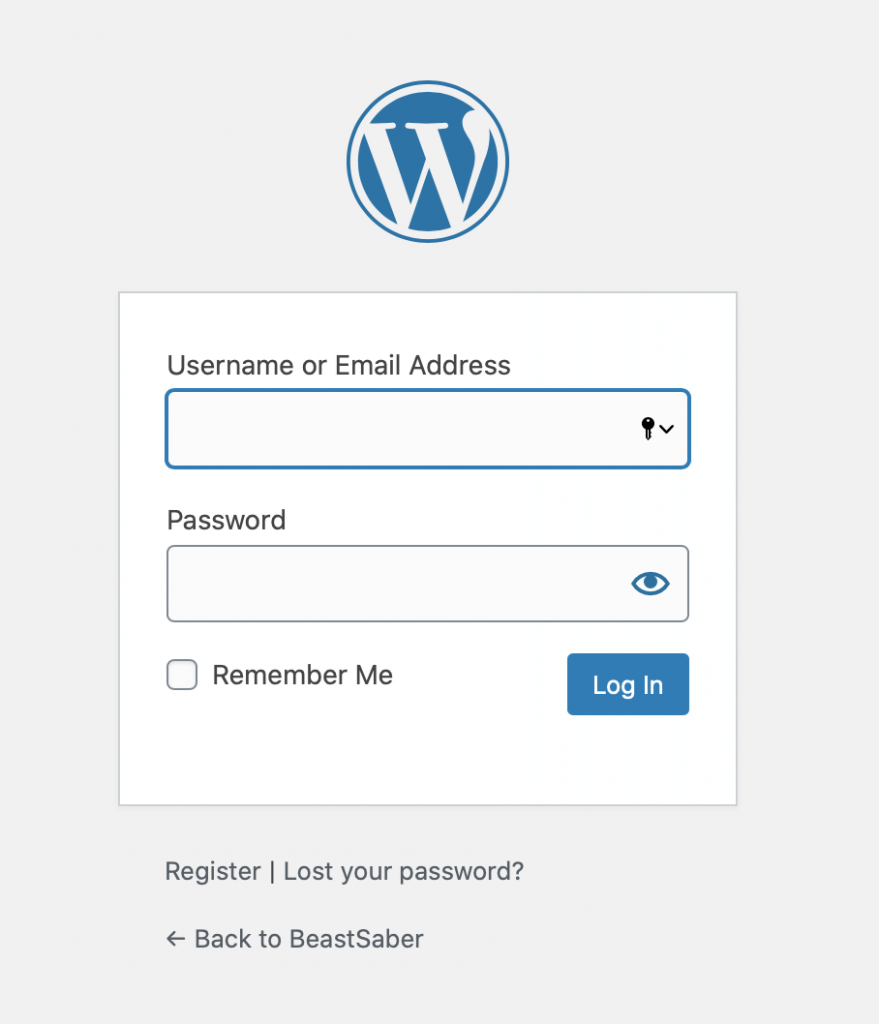 Enter in your username and password and then verify your account by clicking on the link in your email.
When you are logged in, you simply have to press the bookmark icon beside any song on BSaber to bookmark it to your account.

You can go nuts bookmarking as many songs as you want. When you are done, plug in your headset and launch BMBF.
Click on the SyncSaber link at the top.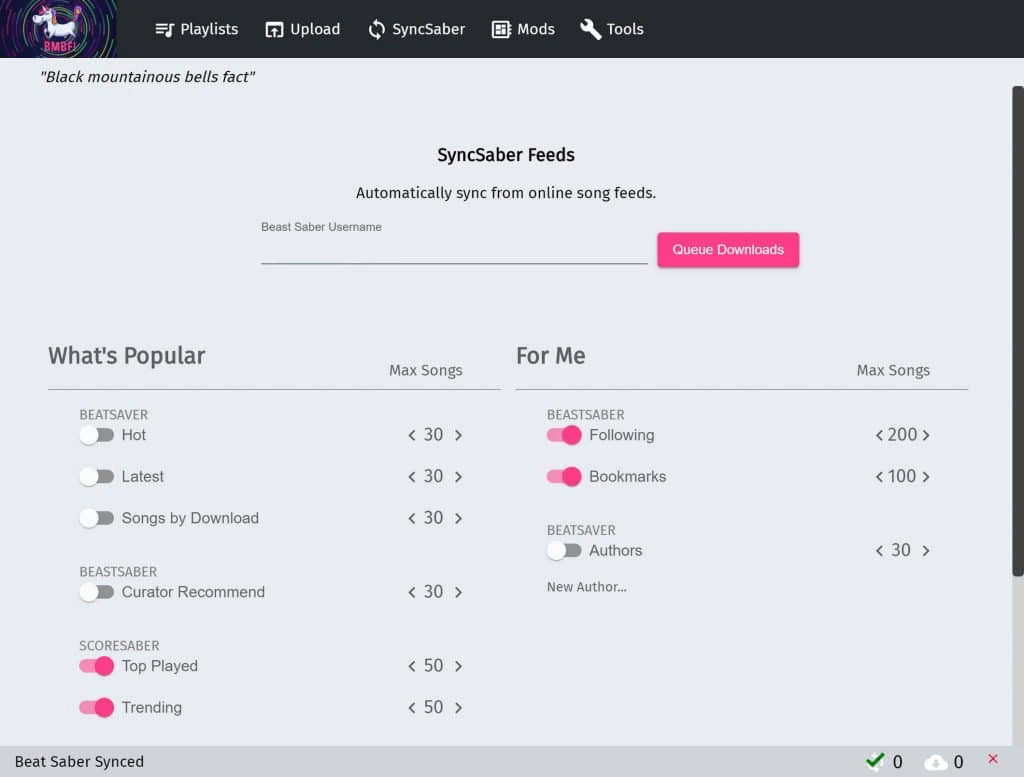 Simply enter in your BSaber account username and make sure that Bookmarks is checked on. If you've bookmarked over 100 songs, then increase the Max Songs so that everything gets moved to Beat Saber.
Click on Queue Downloads and SyncSaber will move all of the Beat Saber custom songs you've bookmarked onto the game.
You can now go and play Beat Saber with a ton of new songs! These two methods should both work fine.
If you are heaving any trouble loading Beat Saber custom songs, comment below and let us know!
How to Upgrade to BMBF v1.13 and to Beat Saber v1.13 (November 12th Update)
NOTE: These steps below should work if you are coming from BMBF v1.8 or later. If you are still running BMBF v1.7, you need to uninstall Beat Saber and uninstall BMBF and run the base install instructions.
Follow the first 3 steps above (click here) to install the latest version of BMBF and then come back here.
If you have Beat Saber open in your Oculus Quest, close out of it.
OPTIONAL: If you want to backup Beat Saber songs and playlists to be safe, go here (link will open in a new tab) and then come back here.
Plug your Quest into your computer and launch SideQuest VR. Make sure that SideQuest says CONNECTED in the top corner.
Click the Currently Installed Apps icon (3×3 icon grid).
Drag and drop the latest BMBF APK you downloaded above onto the SideQuest logo in the top left corner.
You can disconnect your computer from the Quest once the install of the latest version is complete.
In your Oculus Quest, run BMBF by navigating to Navigate > Library > Unknown Sources > BMBF
Select Tools and then click Uninstall BS to uninstall Beat Saber. Click OK when you are done to be returned to the Oculus home screen.
Navigate to Navigate > Library > Not Installed Apps. Wait until Beat Saber disappears from the list if it still needs a moment to refresh.
Reinstall the latest version of Beat Saber, following the prompts as needed.
Run Beat Saber and make sure all your downloaded content is there before exiting Beat Saber.
Run BMBF again from Navigate > Library > Unknown Sources > BMBF. This time, a First Run BMBF Wizard should appear.
Follow the first run wizard instructions as prompted. In some upgrades, you might be asked to uninstall the base Beat Saber, reinstall the modded version, and patch it. You should be asked to Restore your custom songs and playlists. Make sure to click the Sync button.
Run Beat Saber and accept the request for permissions.
Verify that everything works and is in tact.
Exit Beat Saber
If you have trouble upgrading BMBF and Beat Saber, comment down below at the bottom of this post. Make sure that you post the version numbers you are working with.
"Restore the Patched Beat Saber – as it may be in violation of the Platform Abuse Policy" Error
If you see this Oculus error message in your headset when you launch Beat Saber, click on CLOSE and do not allow Oculus to restore the original version of Beat Saber on your headset.
This new error message appears for Oculus Quest 2 owners.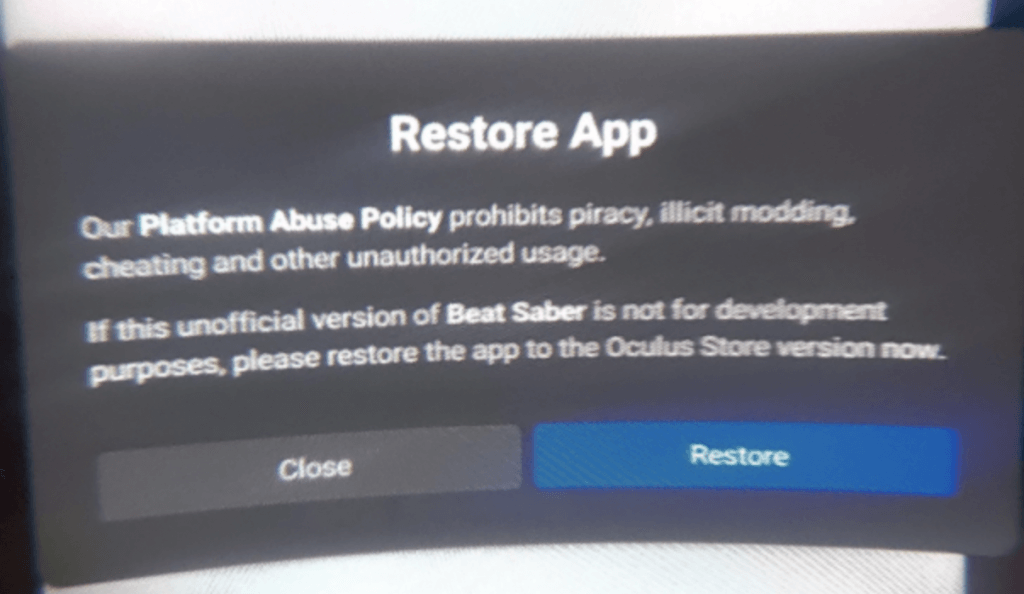 Beat Saber Mod FAQ
Are Beat Saber custom songs illegal?
No, downloading and playing custom songs in Beat Saber is not illegal. For personal use, it is completely fine to use the steps above installing mods for Beat Saber and getting new songs.
How do you create your own Beat Saber maps?
If you'd like to create maps for your favorite songs in Beat Saber, there are a number of resources you can check out. The Beat Saber Mapping Guide is a wikipedia style resource that tutorials for everything you need. You can learn how to create your own maps, mod Beat Saber, and do a ton of other cool things. It's our favorite custom modding group resource for Beat Saber.
If you prefer video tutorials, check out this series from Fruhead which walks you through step-by-step creating your own maps.
Does Mapping Extensions work with the latest version of Beat Saber?
Mapping Extensions is a Beat Saber mod that makes it easier for mappers to create their own custom songs. Maps created with Mapping Extensions require the user to have that mod installed on their headset in order to work. Mapping Extensions works with Beat Saber versions 1.8 up to 1.91. These versions are now obsolete and old. So if you keep your Beat Saber up to date, then do not download any songs that require Mapping Extensions.
Can You Play Beat Saber on the Oculus Go?
While technically possible to install and play Beat Saber on the Oculus Go, we do not think it is worth the effort. Among the reasons:
The Oculus Go only supports 3DoF (up, down, left, and right) so it's not ideal for a 6DoF game like Beat Saber.
The Oculus Go only supports a single controller at a time.
The Oculus Go is now marked obsolete by Oculus and is no longer supported.
The Oculus Quest is a much better option if you are just getting into VR. Or wait for the Oculus Quest 2 announcement in September.
How do I make sure I keep my BMBF and Beat Saber mod version up to date?
We update our guide above each time a new version of either Beat Saber or BMBF is released. Bookmark this page and you will get step-by-step instructions on how to update as soon as each new version is released.
Do NOT follow old and out of date Youtube videos explaining this process because it can be slightly different for each new version that is released. Only follow tutorial guides that specifically list the version of BMBF and Beat Saber.
Do you have any other Beat Saber questions? Comment below and let us know and we will do our best to answer them for you.