Struggling to choose between the Nvidia RTX 4070 vs 3080 for playing VR games? Fear not, fellow gamers! We've crafted an epic battle between these GPU gladiators to settle the score.
In this ultimate comparison, we'll go over:
Key features for VR on each Nvidia GeForce RTX graphics card
Where the RTX 4070 really improves things
How to buy each graphics card today
Spoiler alert: the RTX 4070 claims victory, but stick around to uncover the secret sauce behind its triumph!
If you are in a rush, buy your graphics card at the best prices below! Underneath that, we break down each GPU in detail.
Key Takeaways
The Nvidia RTX 4070 and 3080 offer similar performance, with slight advantages to the newer features found in the 4070.
The RTX 4070 features DLSS 3.0, lower power consumption, and 3rd Generation ray-tracing technology, making it a more future-proof option.
Upgrading from an RTX 3080 to a 4070 may not be necessary due to marginal performance gains.
Table of Contents
Nvidia RTX 4070 Graphics Card Overview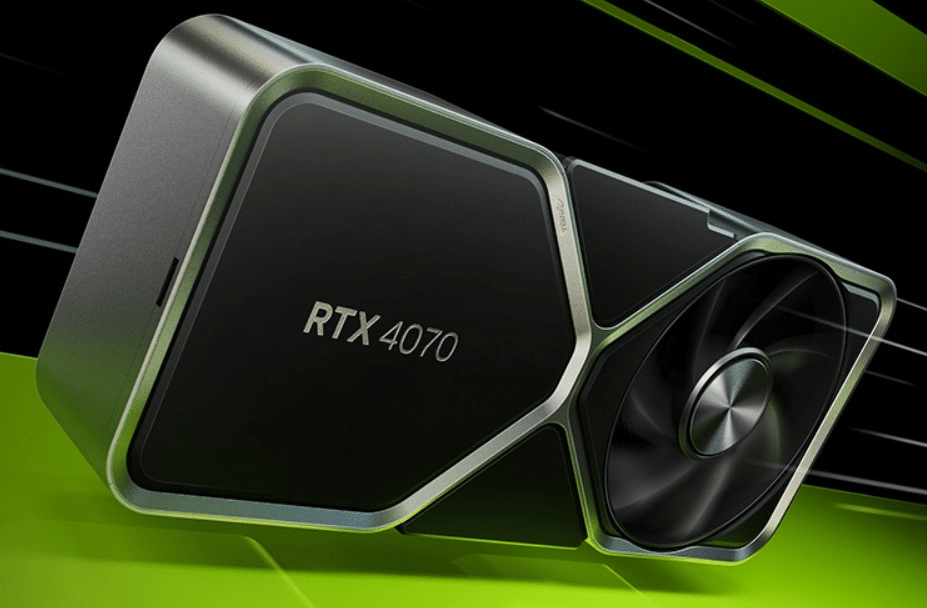 How to Buy the Nvidia RTX 4070
Buy your RTX 4070 today using the links below.
Nvidia Reflex
The new Nvidia RTX 4070 features Nvidia Reflex, the lowest latency, and the best response time for all your virtual reality games. Nvidia Reflex is a technology created to help you get the best in-game experience possible. Reflex allows quicker reaction times, faster aim, and overall better performance.
Nvidia Reflex will allow you to get the most competitive advantage over all of your opponents, all while using less power.
Nvidia DLSS 3.0 with Frame Generation
The Nvidia DLSS 3 addition helps to use Nvidia's new Frame Generation technology. This is only available exclusively on Nvidia 40-series GPUs.
DLSS 3 is deemed a revolutionary breakthrough in AI-powered graphics. This technology helps to use artificial intelligence to provide even higher-quality frames, which helps to make your graphics crisper.
This DLSS 3 technology is great for virtual reality, making everything look much better graphics and performance-wise.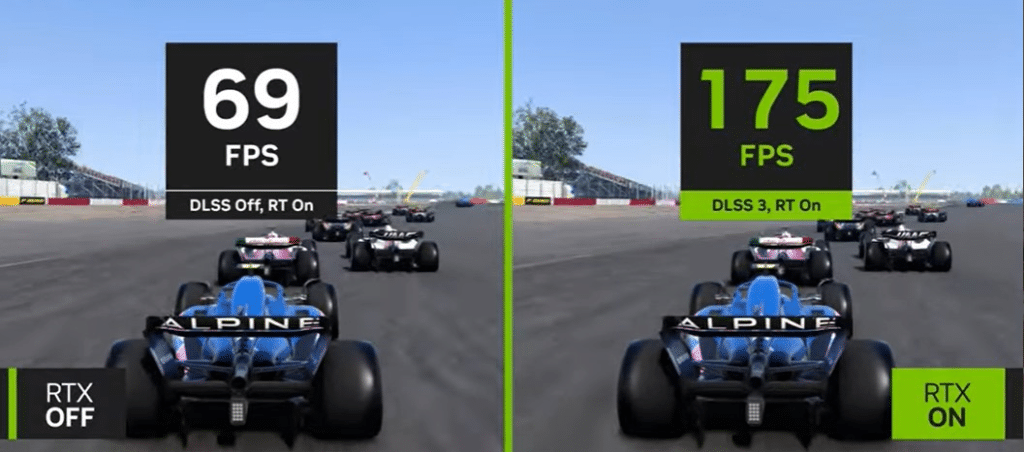 3rd Generation Ray Tracing
The new Nvidia RTX 4070 features its most advanced ray tracing yet in a graphics card. Ray tracing is a graphics rendering method that simulates how light behaves in the real world. This is then translated to your virtual reality headset, providing the most detailed virtual graphics you have ever seen.
The third generation of ray tracing provides even more realistic results and is compatible with more top modern games today.
Related: Check out the Nvidia RTX 4080 vs 4090 for VR.
Nvidia RTX 3080 Graphics Card Overview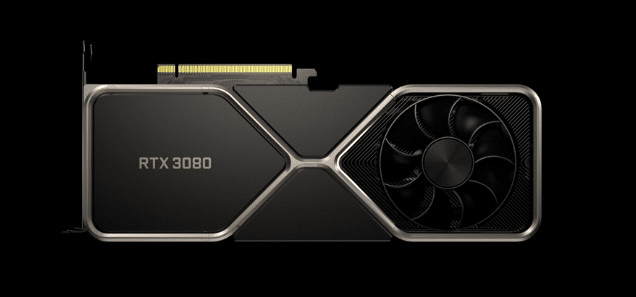 How to Buy the Nvidia RTX 3080
2nd Generation Ray Tracing Enabled
The Nvidia RTX 3080 features 2nd generation ray tracing cores. Ray tracing helps produce the most realistic graphics possible by simulating how light works in the real world.
The 2nd generation ray tracing cores may not give that extra performance that the Nvidia RTX 40 series does, but it still helps provide a difference when playing your favorite games.
Nvidia DLSS Enabled
The Nvidia RTX 3080 features the original DLSS technology. DLSS stands for Deep Learning Super Sampling, which helps to give your games a performance boost and better image quality.
The tensor cores on the GPU allow you to crank up your settings for higher resolutions and better performance. This will allow for certain games to have better frame rates.
Game Ready Drivers
Geforce Game Ready Drivers allow you to optimize your favorite game's settings with the click of a button and provide an even better experience while playing. Nvidia has collaborated with multiple game developers to incorporate this into their GPUs.
These drivers have been tested on many games, allowing you to jump into your game much faster.
Related: Check out the Nvidia RTX 3060 vs 3070 vs 3080 vs 3090 for VR.
Nvidia RTX 4070 vs 3080 Specs Overview
| | Nvidia RTX 4070 | Nvidia RTX 3080 |
| --- | --- | --- |
| Cuda Cores | 5,888 | 8,704 |
| Tensor Cores | 184 | 272 |
| RT Cores | 46 | 68 |
| Transistors | 35.8 billion | 28 billion |
| Memory Size | 12GB GDDR6X | 10GB GDDR6X |
| TDP | 200 W | 320 W |
| Clock Speed | 1920 MHz (base), 2475 MHz (boost) | 1440 MHz (base), 1710 MHz (boost) |
| DLSS Support | 3rd Generation | 2nd Generation |
| Price | $599 | $699 |
| | | |
| | | |
Nvidia RTX 4070 vs 3080 Clock Speed and Memory
The main differences between the Nvidia GeForce RTX 4070 and 3080 are the clock speeds and memory size. In the table above, you can see that the 3070 has slower clock speeds and less memory.
That isn't to say that the 3080 is worse, though.
The RTX 4070 needs higher clock speeds to help bridge the performance gap left by the difference in CUDA Cores. The difference between the two is negligible to the basic gamer or person.
Regarding memory size, the RTX 4070 only has 2 GB more than the 3080. It is disappointing that Nvidia didn't decide to put even more memory into this GPU.
Quite a few games available in 4K and at max settings will take up a lot of space already, so the more space, the better.
That being said, the increase in the 4070 is acceptable. We hope the 40-series GPUs that Nvidia releases will have much higher memory space in the future.
Price and Availability
The RTX 4070 release date was on April 13th, 2023, and it is now available to the public everywhere. The starting price of the graphics card is $599, making it the most reasonably priced 40-series card that Nvidia currently offers and cheaper than the previous gen 3080.
The RTX 3080 graphics card was released back on January 11th, 2022. The availability of the GPU is higher than it was at launch time. The launch price was $699, which it usually still retails at. Sometimes you can catch it on sale for $500, but you must keep your eye out.
Power Draw
The Nvidia GeForce RTX 4070 only needs a 650-watt power supply, compared to the 750-watts required for the 3080.
The 4070 also has a 200-watt TGP (thermal design power); however, it regularly runs below that on multiple games. The 3080 chip maxes out at a 320-watt TGP.
The RTX 4070 draws and uses less power based on these two things alone. The RTX 4070 only requires one 16-pin power connector to draw power, whereas the 3080 uses two 8-pin power connectors.
It is worth noting that it is impressive how the 4070 uses much less power while providing the same or even better performance metrics.
Performance
On paper, the RTX 4070 and RTX 3080 have identical performance metrics. Where the 3080 has more CUDA Cores, the 4070 has higher clock speeds to negate the difference. In most cases, you wouldn't even be able to tell the difference, but there are a few slight differences performance-wise.
The RTX 4070 utilizes the 3rd Generation of DLSS, which makes it 1.4 times faster than the RTX 3080. DLSS 3.0 allows Nvidia to use its new Frame Generation technology. They deem this the future of AI-powered graphics and help make everything much more crisp and clean.
The RTX 4070 also has the latest version of ray-tracing technology to help improve the pictures even more.
Regarding 4K, the RTX 3080 can deliver slightly better performance margins. As we said before, though, these differences are relatively negligible to most gamers. You can expect both graphics cards to perform similarly when gaming at the highest frame rate with ultra settings.
Nvidia RTX 4070 vs 3080 Game Comparison
Spiderman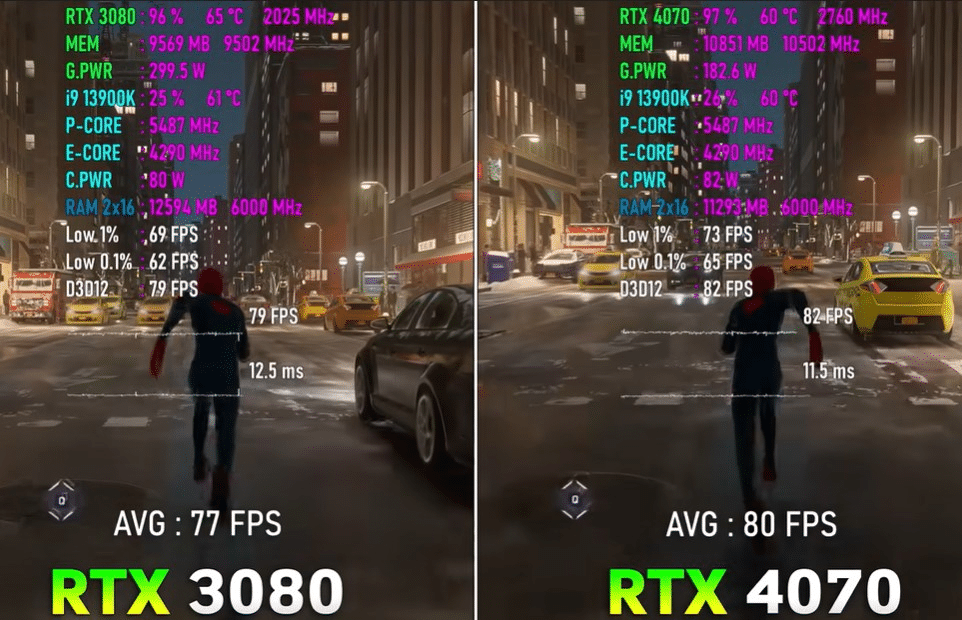 Red Dead Redemption 2
Microsoft Flight Simulator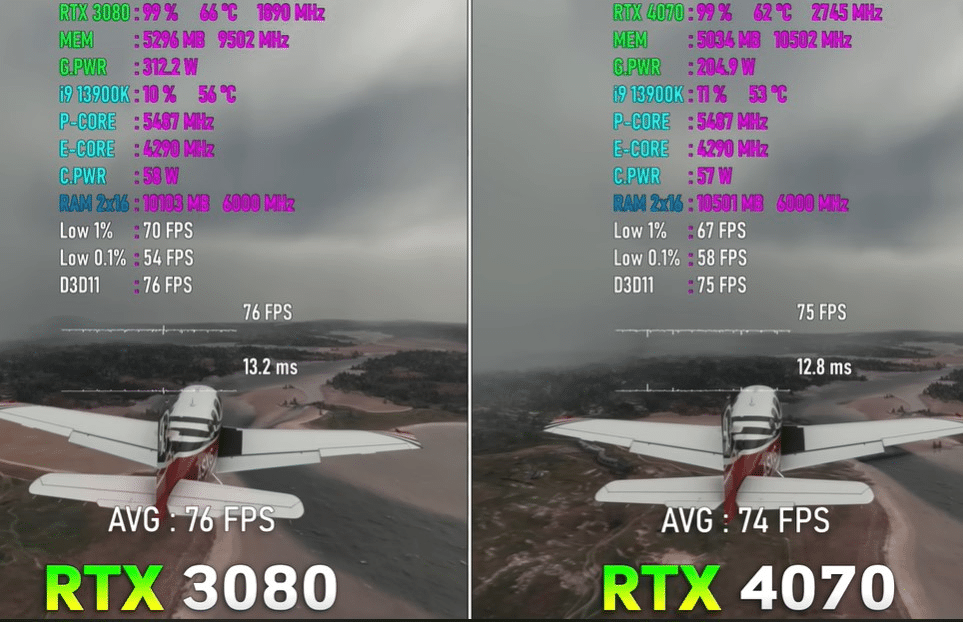 Cyberpunk 2077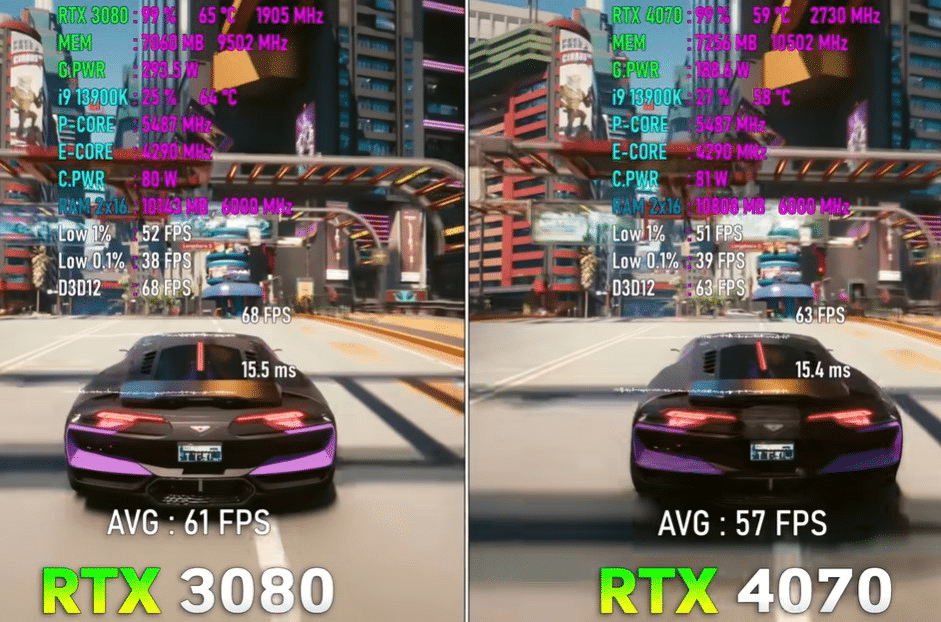 As you can see above, we tested out four popular games with both Nvidia graphics cards to see how the specs held up. For Spiderman and Red Dead Redemption, the frame rate was higher with the RTX 4070, and it was the opposite for Microsoft Flight Simulator and Cyberpunk.
You can also see that the clock speeds are higher with the RTX 4070 while using less power. The graphics are fairly similar, however.
With the advanced ray tracing and DLSS 3.0 on the 4070, we would lean in that direction.
Nvidia RTX 4070 vs 3080: Which one is better for VR?
Everyone wants to know if the RTX 4070 is worth the upgrade over the RTX 3080. If you already have the previous generation Nvidia GeForce RTX 3080 GPU, you don't need to run out and spend the money to upgrade to the 4070. The older card does the same thing and offers similar performance.
If you plan on purchasing a brand-new GPU, we recommend going with the RTX 4070 for three reasons.
DLSS 3.0 will only grow wider and become more available as more games come out with its compatibility
The RTX 4070 also uses much less power consumption than the 3080
The 3rd Generation of ray-tracing technology also makes the graphics that much better.
Video Review
Looking for more information? Here is a recommended Youtube review on these two graphics cards:
Conclusion
In conclusion, the Nvidia RTX 4070 and 3080 both deliver impressive performance metrics for gamers, with only slight differences between the two.
For those who already own an RTX 3080, upgrading to the RTX 4070 may not be necessary as the performance gains are marginal.
However, the RTX 4070 offers a more future-proof option for new GPU buyers due to its DLSS 3.0, lower power consumption, and advanced ray-tracing technology.
Ultimately, the choice between the two GPUs comes down to individual preferences and budget constraints, but in comparing the RTX 4070 vs 3080, the next gen GPU stands out as the better choice for those seeking the most cutting-edge gaming experience.
Frequently Asked Questions (FAQs)
Is Nvidia RTX good for VR?
Yes, Nvidia RTX GPUs are excellent for VR, providing high-quality graphics, realistic rendering, and improved performance.
Is RTX 3080 good enough for VR?
Absolutely, the RTX 3080 delivers impressive performance and is more than capable of handling VR gaming at high resolutions.
Is an RTX 4070 good for VR?
Yes, the RTX 4070 is a great choice for VR, offering advanced features like DLSS 3.0, lower power consumption, and 3rd-generation ray-tracing technology.
Is RTX or GTX better for VR?
RTX GPUs are better for VR because they include ray-tracing capabilities and DLSS technology, which improve graphics quality and performance.
Is RTX 3080 and 4070 compatible with the Meta Quest 2?
The Meta Quest 2 is a standalone VR headset that doesn't require a PC or a specific GPU. However, the RTX 3080 and 4070 can both be used with the Meta Quest 2 for PC VR gaming via Oculus Link or Air Link.
Do I need a powerful GPU for VR?
A powerful GPU is essential for a smooth VR experience, as it ensures high-quality graphics and maintains a high frame rate, reducing motion sickness and latency.
Can RTX 4070 run Half-Life: Alyx?
Yes, the RTX 4070 can run Half-Life: Alyx, providing a fantastic gaming experience with high-quality graphics and performance.
How much RAM do I need for VR gaming?
For an optimal VR gaming experience, it is recommended to have at least 16GB of RAM, though some games may run smoothly with 8GB of RAM.